5 Best Business Card Printing Companies in Dubai
Even in this digital age, having a well-designed business card is still vital in making a lasting impression on clients and business associates.
That is why if you still don't have one, this might be your sign to level up your game and actively network your brand with other professionals.
To help you get started, consider looking into our reviews of the best business card printing firms in Dubai.
Aside from our top picks, we'll also discuss the usual cost for this service, along with the tips on how you can have the right business card for you and your brand.
Cost of Business Card Printing in Dubai
Business card printing companies in Dubai may charge based on a range of variables, including cardstock type, size, template printing features, and finishings.
Some may offer fixed-fee pricing for a certain quantity of cards, while others prefer to charge per copy.
Nonetheless, for you to get an idea as to how much you'll have to prepare for this investment, we provide a table below that shows the estimated rates for a business card printed on standard paper and size.
Bear in mind that the actual costs can still change depending on your chosen provider.
| Quantity | Price per Copy | Price per Pack |
| --- | --- | --- |
| 250 pcs. | 0.36 AED | 90 AED |
| 500 pcs. | 0.21 AED | 105 AED |
| 750 pcs. | 0.16 AED | 120 AED |
| 1,000 pcs. | 0.13 AED | 130 AED |
| 1,500 pcs. | 0.11 AED | 160 AED |
| 2,000 pcs. | 0.09 AED | 185 AED |
As you notice, most business card printing firms in Dubai charge lower as the quantity of the cards increases.
The Best Business Card Printing Firms in Dubai
To create this list and select entries, we used the following factors below:
1. Print Arabia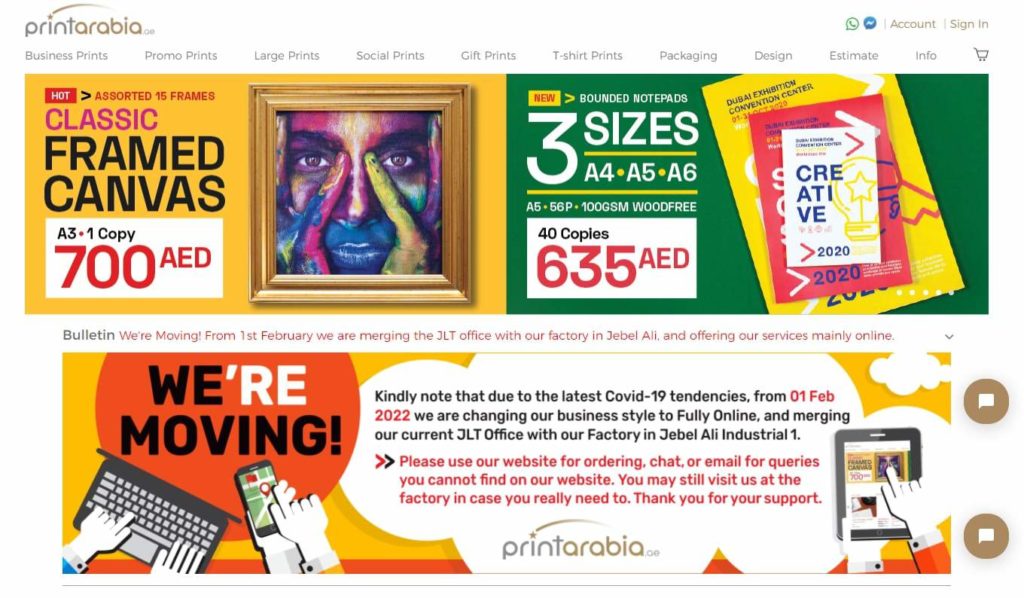 Test
Info
SERVICES

• Business Prints

• Promo Prints

• Large Prints

• Social Prints

• Gift Prints

• T-shirt Prints

WEBSITE
https://www.printarabia.ae/
ADDRESS
208 Goldcrest Executive Tower Cluster C - Sheikh Zayed Rd - Dubai - United Arab Emirates
CONTACT DETAILS
Phone: +971 4 551 6095

E-mail: [email protected]

OPERATING HOURS
Saturday - Thursday 9 AM - 6 PM
| | |
| --- | --- |
| SERVICE OFFERINGS | ★★★★★ |
| COST | ★★★★★ |
| FEATURES | ★★★★★ |
| CUSTOMIZATION | ★★★★★ |
| TEMPLATES | ★★★★★ |
| CUSTOMER SATISFACTION | ★★★★★ |
| CLIENT RATING | ★★★★☆ |
| TURN-AROUND TIME | ★★★★★ |
Print Arabia has been in the online and conventional printing business since 2014, and it is the first Japanese printing firm in the UAE. Since their team has relevant experience in print production, prepress, and graphic design, it's no surprise how diverse their services are.
In fact, it's the first thing we like about them. You see, their business print services alone cover a range of products, including business cards, letterheads, compliment slips, envelopes, NCR pads, notebooks, certificates, and presentation folders.
But let's focus on business card printing! For you to get a view of how extensive their offerings are, here are some of them:
Standard
Specialty
Shaped
Premium
Gloss laminated
Velvet laminated
The list goes on but what's really good about their business cards is that they offer over 1000 free templates. These are all customizable, so you can conveniently use them for your brand in case you find it hard to design a template on your own.
Alternatively, you can also avail of their graphic design services to achieve unique print data that is specifically tailored to your business card's requirements and preferences.
Furthermore, most of the papers they use are from Forest Stewardship Council (FSC) or Programme for the Endorsement of Forest Certification (PEFC) certified suppliers, which means that their materials are sourced from various recycled options. That gets big points from us.
Note that they offer flexible payment options for their services, so aside from bank transfers, they also accept direct billing from credit cards and cash on delivery (COD).
And there's more! If you spend more than 100 AED, the delivery will be free of charge for as long as the place is within Dubai.
All in all, Print Arabia is an easy pick for people looking for diverse and customizable options for their business cards.
However, we think that they might need to work on their customer support service because we found complaints about their unresponsiveness on email, call, and chat engagements.
Features a range of service offerings
Transparent pricing for all products and services
Offers flexible payment options
Quick turn-around time for business cards (1-2 business days)
Uses recycled papers and vegetable-based inks
Need to improve the customer support efficiency
Not open on Sundays
2. Deluxe Printing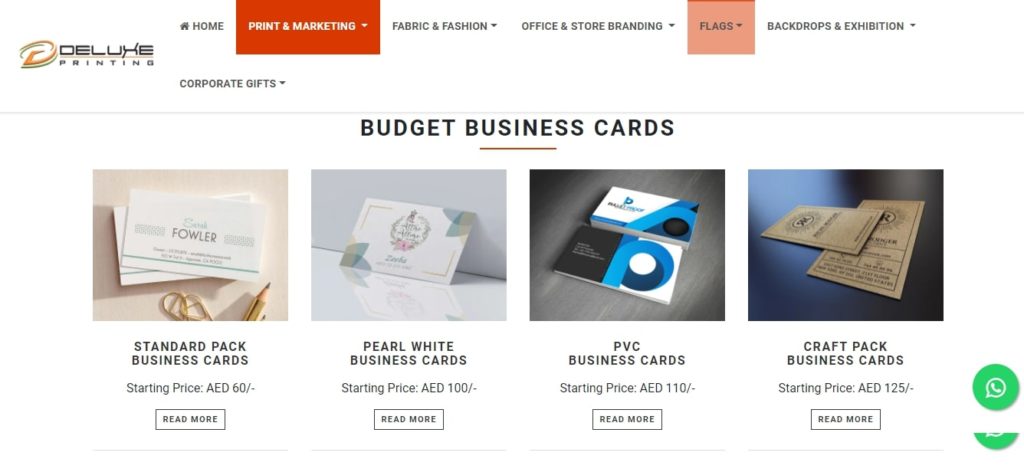 Test
Info
SERVICES

•Print and Marketing

•Fabric and Fashion

•Office and Store Branding

• Flags

•Backdrop and Exhibition

•Corporate Gifts

WEBSITE
https://www.dlxprint.com/index.html
ADDRESS
8th St - Al Khaleej Rd - Al Murar - Dubai - United Arab Emirates
CONTACT DETAILS
Phone: +971 4 272 5202

E-mail: [email protected]

OPERATING HOURS
Saturday - Thursday

9 AM - 1 PM

2 PM - 7 PM

Friday

9 AM - 1 PM

2:30 PM - 7 PM
| | |
| --- | --- |
| SERVICE OFFERINGS | ★★★★★ |
| COST | ★★★★★ |
| FEATURES | ★★★★☆ |
| CUSTOMIZATION | ★★★★☆ |
| TEMPLATES | ★★★★☆ |
| CUSTOMER SATISFACTION | ★★★★★ |
| CLIENT RATING | ★★★★☆ |
| TURN-AROUND TIME | ★★★★★ |
One of the most easily recognized printing companies in the city is Deluxe Printing. It was established in 1999, and its graphic and printing services are mainly focused on business cards, letterheads, posters, flyers, brochures, catalogs, roll-up banners, and envelopes.
When it comes to business cards, we can say that they can also give you a wide range of choices. They offer standard packs, PVC packs, craft packs, premium packs, translucent packs, and other high-end options.
Besides that, their rates are also reasonable. For example, if you need a standard business card with a matte finish, 50 pieces are 60 AED, and the cost will get even lower if you increase the quantity.
So if you avail of 1000 pieces of standard business cards, it will only cost 120 AED. We think this is already a good deal if you prefer a simple and minimalist card.
They also provide various templates for all the business cards they offer, which is pretty standard. And like most of their competitors, they can make you a design from scratch.
Of course, the service requires an additional fee, but if this is not much of a problem for you, we think they are worth considering.
Note that the same-day and next-day delivery they indicated for business cards may still change depending on certain conditions, though.
It's also worth noting that the colors they offer are based on CMYK digital standards, which means that if you require highly precise mixes of ink to get an exact or Pantone color, this is not the best printing firm for you.
They don't print Pantone colors, even, so even if you put them in your requirements, they will automatically convert them to CMYK colors.
In addition to that, they also don't guarantee that the color you see on your screen will be the same as the final product, so if you want to reprint your cards, you have to pay them again.
Well, this rule can be a bit of a dealbreaker for some, so if you pick them, we suggest that you read and understand their terms and policies first.
Affordable rates for business cards
Features various business card types and templates
Offers a range of services
Only uses CMYK colors
Does not shoulder the reprinting expenses due to color variation problems
3. Atlas Printing Press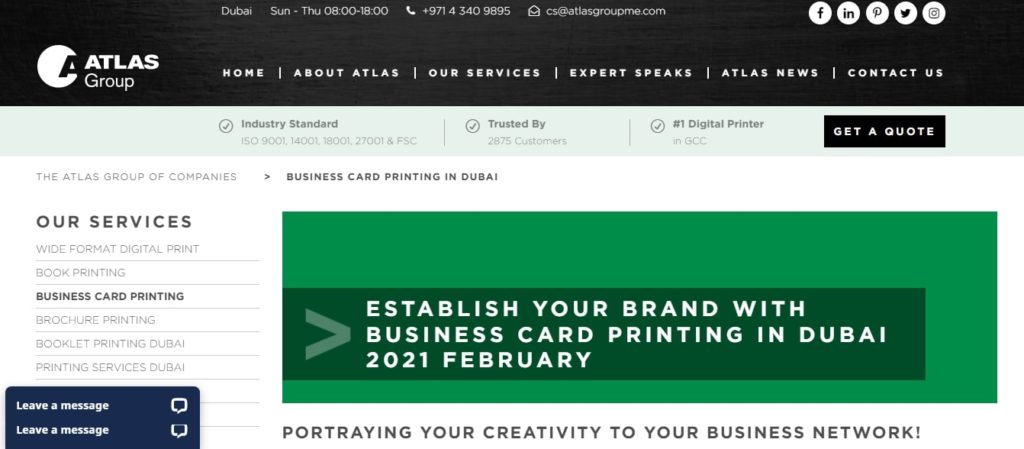 Test
Info
SERVICES

•Business card Printing

•Wide Form Digital Print

•Book Printing

•Brochure Printing

•Booklet Printing

•T-shirt Printing

•Sticker printing

•Photo Printing

•Flyer Printing

•Examination printing

•Wedding Card Printing

WEBSITE
https://www.atlasgroupme.com/
ADDRESS
4 26th St - Al Quoz - Al Quoz Industrial Area 4 - Dubai - United Arab Emirates
CONTACT DETAILS
Phone: +971 4 340 9895

E-mail: [email protected]

OPERATING HOURS
Sunday to Thursday 8 AM - 6 PM
| | |
| --- | --- |
| SERVICE OFFERINGS | ★★★★★ |
| COST | ★★★☆☆ |
| FEATURES | ★★★★☆ |
| CUSTOMIZATION | ★★★★☆ |
| TEMPLATES | ★★★★☆ |
| CUSTOMER SATISFACTION | ★★★★★ |
| CLIENT RATING | ★★★★☆ |
| TURN-AROUND TIME | ★★★★★ |
With over 25 years of experience in the industry, Atlas Printing Press has become one of the best-established printing firms in the city.
In fact, they have the largest printing infrastructure in GCC, so when it comes to equipment, materials, and network, they can be one of the top picks.
Aside from traditional printing methods, they also have specialized equipment to take on a range of publications through digital and software printing processes. That may also be the reason they claim to be the largest hybrid printing firm in Dubai.
To put it simply, Atlas Printing Press is a printing company that combines the capabilities of analog and digital printing methods.
This feature is an excellent advantage for their clients because, with hybrid printing, there is less room for errors and more room for productivity. The printing, labeling, finishing, coating, and cutting are automatically done so clients can expect a quicker turn-around time.
Nonetheless, to give you an idea of the range of business card options they can offer to you, here's a list:
Classic
Premium
Embossed
Glossy
Matte
Standard
Wide formatted
Typographic
Social network
We like that their business card printing offering is varied. However, we think it would be better if potential clients could already see the prices for each design.
Since there is no information stated on the website regarding each business card design, clients will not know the inclusions for each one.
Offers a wide range of business card designs
FSC certified printing company that obtains paper from responsibly managed forests
Features hybrid printing methods and equipment
Extensive years in the printing industry
Business card templates are not featured on the website
Prices for services and products are not on the website
4. Spog Print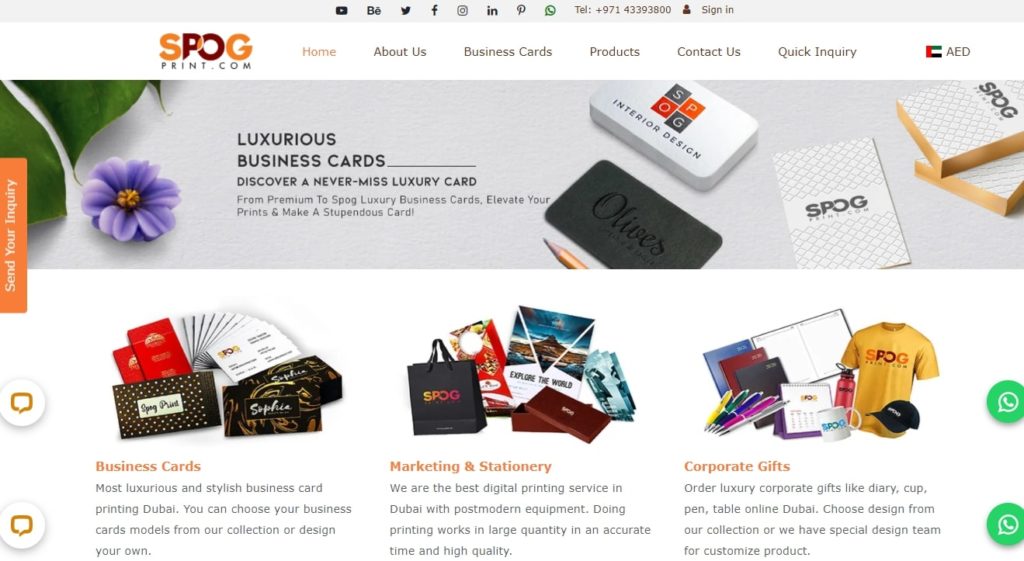 Test
Info
SERVICES

• Business Card Printing

• Marketing and Stationery

• Corporate Gifts

• Luxury Gift Boxes

• Business Startup Kits

WEBSITE
https://www.spogprint.com/
ADDRESS
Sobha Ivory 1 - 112 Al Asayel St - Business Bay - Za'abeel 2 - Dubai - United Arab Emirates
CONTACT DETAILS
Phone: +971 55 587 2287

E-mail: [email protected]

OPERATING HOURS
Saturday - Thursday

9 AM - 1 PM

2 PM - 7 PM
| | |
| --- | --- |
| SERVICE OFFERINGS | ★★★★★ |
| COST | ★★★☆☆ |
| FEATURES | ★★★★☆ |
| CUSTOMIZATION | ★★★★☆ |
| TEMPLATES | ★★★☆☆ |
| CUSTOMER SATISFACTION | ★★★★★ |
| CLIENT RATING | ★★★★★ |
| TURN-AROUND TIME | ★★★★☆ |
Next on our list is Spog Print. It is an online printing company that was founded in 2018. Although it's fairly new in the industry compared to other entries on this list, their team is composed of professionals with over 12 years of experience in the field of printing.
What we like most about this printing company is that you can easily place your order using their website. For example, if you want to order a business card, the first step you'll take is click on the designated category for business cards.
After that, the website will take you to a list of options for that product. For your reference, here are the business card types they offer.
3D spot
Textured
Sandwich
Foil
Embossed
Digital 3D foil
Colour
Standard
Folding
Metallic
If you're done picking the design you want, you can set the quantity, size, paper type, corner shape, and lamination option using the drop-down boxes.
Next, you'll have the option to proceed with your ready-to-print design or go for a more customized design by hiring their design service.
Just remember that there is an additional charge for this service. It will cost you 500 AED if you need a new logo and 250 AED if you want to recreate your existing logo.
Besides that, it seems like they don't offer free templates because if you use the ones on their website, it will cause you an additional 100 AED.
In our opinion, if you want to have a business card that reflects all your specifications and preferences, the additional fee will be worth it. You see, when you hire their design service, you'll be able to access a range of customization options.
After that, you'll have to log in or register so they can get the important information for the delivery process. Once done, you can proceed to the checkout page and use the online payment portal.
Upon successful payment completion, you'll receive an email and invoice, and they'll start with the printing process. It usually takes two days for them to complete business card orders.
Aside from business cards, they also offer a wide variety of products that may be beneficial to your business, including corporate gifts, luxury gift boxes, business startup kits, and more.
Offers unique business card designs
Can easily place orders using the website
Features a range of other services and products
Has a live chat support
Minimum order for a business card is 500 pcs.
Design services fees are a bit on the high side
5. Star Bay Print Centre (LLC)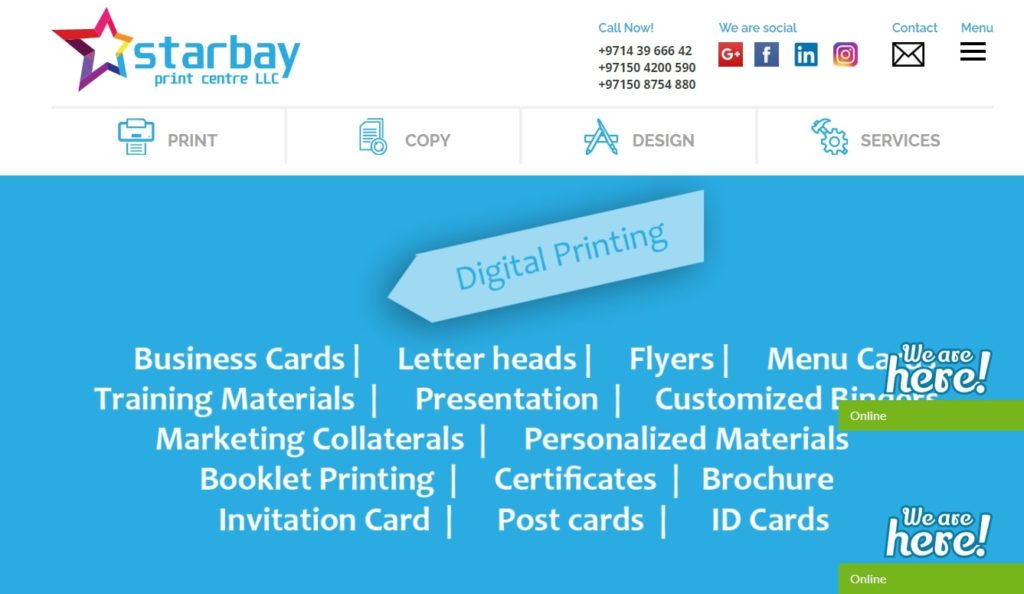 Source: Star Bay Print Centre
Test
Info
SERVICES

•Designing

•Digital Printing

•Scanning Services

• Finishing Services

•Mounting Services

•CD/DVD Duplication

•Large Format Printing

• Autocad Services

• Photocopying

•Offset Printing

•LaminationGift/Promotional Items

WEBSITE
http://starbayme.com/
ADDRESS
Street 8A - Zaa'beel St - Al Karama - Dubai - United Arab Emirates
CONTACT DETAILS
+971 4 396 6642

+971 4200 590

E-mail: [email protected]

OPERATING HOURS
Monday - Thursday 8 AM - 7:30 PM
| | |
| --- | --- |
| SERVICE OFFERINGS | ★★★★★ |
| COST | ★★★★☆ |
| FEATURES | ★★★★☆ |
| CUSTOMIZATION | ★★★★☆ |
| TEMPLATES | ★★★☆☆ |
| CUSTOMER SATISFACTION | ★★★★★ |
| CLIENT RATING | ★★★★★ |
| TURN-AROUND TIME | ★★★★☆ |
If you're looking for a well-equipped digital printing firm in Karama, Star Bay Print Centre can be an easy pick. Their service offerings cover design, printing, copy, Autocad, scanning, lamination, and more.
Compared to other printing firms in this list, Star Bay Print Centre doesn't offer ready-made templates for business cards because they are more focused on designing each one based on the client or brand's identity creation.
To avail of their business card design services, you have to visit their site so you can consult with a team of designers. During the meeting, they'll offer you designs and templates that are in line with your requirements.
Once you've chosen your top choices, they'll give you print proofs or the prototypes of your picks so you can have an accurate visual representation of what your business card will look like when it's printed.
We especially like this feature because this can give clients the chance to see the real card and suggest some corrections or modifications before the whole pack is printed. When the final design is approved by the customer, they will then proceed to the final printing.
Among other things, we think that their printing process is pretty straightforward. The only problem we notice is that the customers will have limited choices because here are the only technical specifications they can offer to you:
Sizes – 9cm x 5cm, 9cm x 5.5 cm, 8.5 cm x 5cm
Print – Single Sided, Double Sided
Paper Stocks – 350gsm Art Matt, Ivory, Ice Gold, Textured
Features a range of services for businesses
Offers design services for business card
Provides print proofs before the final printing
Not open on Fridays, Saturdays, and Saturdays
Does not offer ready-made templates
Limited technical specifications
Tips to Consider When Getting a Business Card
Now that you're done with our reviews of the top business card printing firms in Dubai, it's best to know the tips on how you can let your chosen provider design the right card for you or your business.
Choose a template that will reflect your brand's personality.
Since this simple card will be your first interaction with potential clients, you have to ensure that its template reflects your brand's personality.
For example, if you're a pet shop owner with an outgoing personality, it would be best to create a template that reflects the fun nature of your business. With that in mind, you can go for colorful, funky, or less formal templates for your business card.
On the flip side, if you're a home interior decorator with a specialization in modern and minimalist styles, you can go for clean and simple templates.
Of course, if you're in doubt of what template and style to use, you can also consult your chosen business card printing firm or a designer.
Settle on the right typeface, size, shape.
The font size, style, and shape you'll use on your business card are also a vital part of your brand. If there is a specific typeface that you're using on your website or marketing materials, we suggest that you stick to it and also use it on your card.
Make sure that the font style is easy to read, and the text's size should be at least 8pts (unit of measurement used in print). However, if it's your name or company name, it would be best to print it in a larger size or different typeface.
Make your logo eye-catchy.
Bear in mind that your logo is a visual representation of your brand, so placing it in a prominent part of the card and ensuring that it is eye-catching is important.
To make sure that you'll achieve the right visual branding, you can hire a professional designer that can help you finalize your logo and brand colors.
Avoid clutter and properly organize your information.
Since business cards are usually tiny, it's best to organize all the information well to avoid clutter. Believe it or not, not many people will take the time to look at a card with tons of information on it.
Aside from your name, brand name/job title, you also have to include your contact number, email address, website, and other social media handles that are relevant to your or your business.
Include a call to action.
Not all business cards have a CTA (call to action), but it can help attract potential clients to take the next step.
You see, if there's a special offer, discount code, or incentive written on your card, customers will be keener on checking out your business, so if you still have a space for a CTA, we suggest that you go for it.
FAQ About Business Cards
---
Do you think there are other business card printing firms that deserve a spot in our listicle? Message us now and tell us all about them!
Also, if you're about to start your own business in Dubai, here are some resources that may be of help to you:
More Resources for Startups