The 5 Best Companies to Hire for Digital Receptionist Jobs in Dubai
Owning an online business or a company without an office can be tricky when it comes to the front end of the business.
Having a digital receptionist can definitely not only make things easier when it comes to appointments and inquiries but also make the overall workflow faster.
So we scoured the internet to give you the best companies to hire for digital receptionist jobs in Dubai. We also included the factors we considered in choosing.
Ultimately, we answered some FAQs about digital reception jobs in Dubai.
How much do companies charge for digital receptionist jobs in Dubai?
The cost of hiring a digital receptionist varies on how many hours are required from them, the scope of the job, and the additional fees that might come from the company.
To give you a starting point, the average cost of hiring the services of a company providing digital receptionist jobs is AED500 per month.
The Best Companies to Hire for Digital Receptionist Jobs in Dubai
Before we get right into our top picks for the best providing digital receptionist jobs in Dubai, here are the factors we considered for our entries on this list:
1. Servcorp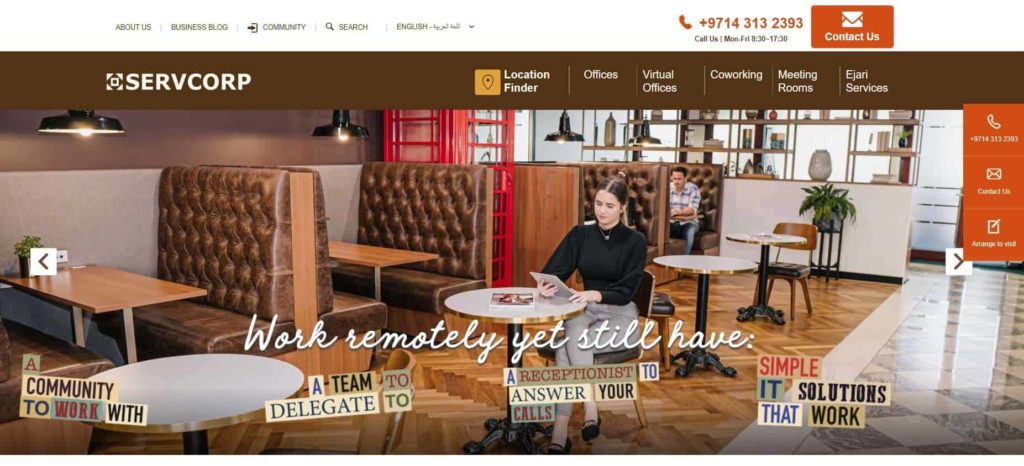 Test
Info
SERVICES
Digital receptionist, Virtual Office, Coworking Space
WEBSITE
https://www.servcorp.ae/en/
ADDRESS

Level 23, Boulevard Plaza Tower - 2 Sheikh Mohammed bin Rashid Blvd - Dubai - United Arab Emirates




Has 3 more branches in Dubai

CONTACT DETAILS
+9714 313 2393
OPERATING HOURS
Monday to Friday 8:30 am - 5:30 pm
| | |
| --- | --- |
| Criteria | Rating |
| Range of Services | ★★★★★ (5/5) |
| Competence | ★★★★☆ (4/5) |
| Benefits | ★★★☆☆ (3/5) |
| Other Services | ★★★★★ (5/5) |
A coworking space with multiple locations all over the world, Servcorp is confident in its services, including its digital receptionists, to expand its clients' businesses.
Servcorp's digital receptionists' come with a business address, which we absolutely love, especially for digital nomads and online business owners.
Digital business addresses provide clients with an actual professional location that customers can look up on the internet, projecting a more respectable and professional image.
Servcorp's digital receptionists can also forward mail to you, as well as answer telephone calls for you. Some administrative tasks are also within their digital receptionist's scope.
However, when it comes to the benefits of availing of its digital receptionist services, there is almost none.
In order to gain access to its numerous benefits, clients are required to avail of its virtual office services instead, which is definitely a drawback since not everyone will need a virtual office.
Despite that, Servcorp is not without its wide range of services that can help expand online businesses and remote workers.
Besides its virtual offices and coworking spaces, Servcorp also provides meeting rooms for important meetups, and office spaces for rent for actual face-to-face work
Servcorp's range of services is numerous and of excellent quality, that it's almost tempting to think that its virtual assistant services are kind of swept aside.
Great range of services that the digital receptionist can provide
Numerous services for online businesses and remote workers
No benefits with just the digital receptionist service
Customer Reviews
Servvcorp handles it wonderfully
"Was looking for a hot-desk coworking place for a month, Serv Corp handled it wonderfully 👌
Came there personally, was greeted by a very friendly staff who showed me around. They haven't told me the price right away (which is slightly inconvenient) but promised to send a price offer instead. The offer was sent in a couple of hours and was around 800 AED for a month, no strings attached.
Carefully read the agreement tho, as mine contained some weird policies such as a 5GB/month data cap (no mistake here), which was waived once mentioned.
Other than that, no complaints, they provide amazing service, 5 stars!" – Alexandr Zhurkov Ilao, Google Reviews
Servcorp was right there when we needed them
"Servcorp was right there when we needed to become effective at running our day-to-day business. Our free zone licensing process was going to take significant time and effort to sign a lease agreement so we turned to Servcorp. On Thursday we signed the lease. On Sunday we are sending emails and printing documents. The support team has been fantastic and the coffee machine works tirelessly for our team. We really could not be more satisfied. Thanks to Rawad, Dalia, Faten, and Anthony at the Al Habtoor Business Centre.
Regards from Allen Wazny, CFO, Regalis Petroleum." – Tim Perkins, Google Reviews
2. Volga Tigris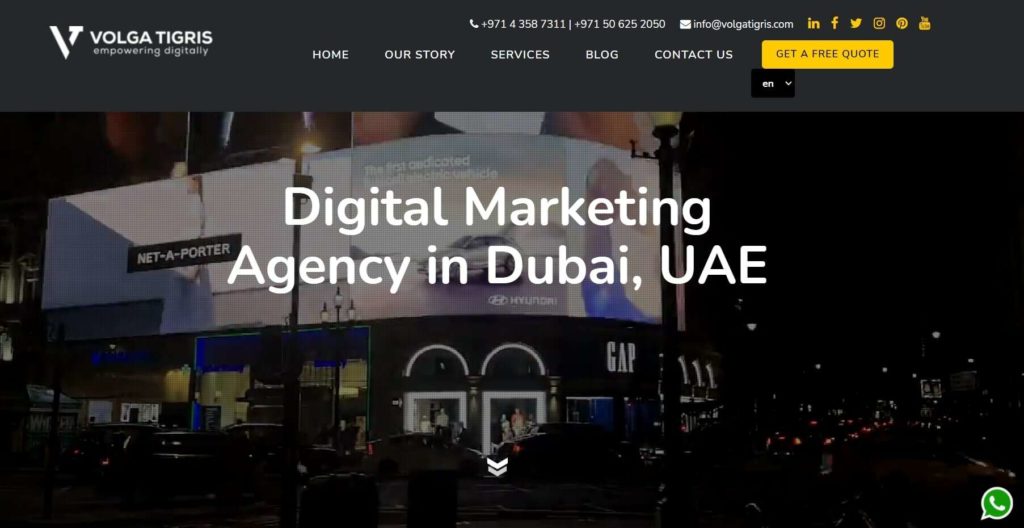 Test
Info
SERVICES
Virtual receptionist services, Web design & development, Social media marketing, SEO, Graphic design, Software Services, Google Ads management, Digital strategy
WEBSITE
https://www.volgatigris.com/
ADDRESS
Hamsah A, Mezzanine floor, Office No: 19, Al Karama - Dubai
CONTACT DETAILS
+971 4-3587311

+971 50 625 2050

OPERATING HOURS
Monday to Saturday: 9 am - 6 pm
| | |
| --- | --- |
| Criteria | Rating |
| Range of Services | ★★★★☆ (4/5) |
| Competence | ★★★★★ (5/5) |
| Benefits | ★★★★☆ (4/5) |
| Other Services | ★★★★★ (5/5) |
Being a premiere digital marketing firm in Dubai, Volga Tigris understands that every step of a client's experience with your business should be a perfect experience, including talking to your receptionist.
We love that Volga Tigris understands the importance of quality assurance as a central function of your business's customer service, and provides exactly that.
Its digital receptionist's job is to answer and redirect incoming calls and make an impressive professional impact during those initial calls, at the same time.
On top of that, the receptionist assigned to you can handle all your inquiries and follow-up requests and will collaborate with you to ensure that calls requiring future action are followed up in whichever way is necessary.
However, we don't like the fact that its digital receptionist's job does not include some if not all administrative tasks that usually come with it.
One great benefit when it comes to working with Volga Tigris is that its team can help strategize how to optimize and improve your business's customer service experience on top of the digital receptionist service.
Its strategizing arm can find ways to push past boundaries and reach KPIs through creative solutions that are tailored just for you.
However, it is the only notable benefit that clients get when it comes to working with this firm.
This is compensated by the fact that Volga Tigris has a complete range of digital marketing services that covers all the bases of every digital business.
From web design and development, SEO, and social media marketing to Google Ads management and digital strategy, Volga Tigris can set you on a really strong path to having a great digital presence.
Emphasizes a receptionist's job as a part of the customer service experience
Great range of skills that receptionists can offer
Complete set of digital marketing services
Digital receptionist's job barely covers administrative tasks
Only has one notable benefit to working with them
Customer Reviews
The team is excellent!
"Tigris Digital Agency, located in Dubai, and then there was no turning back.
They are a top-rated Web Design and Digital Marketing Agency. Laser-focused on their clients' online visibility, enhancement, and unique and responsive website along with their unmatched digital marketing skills. The team is excellent!!!" – Jerin Reji, Google Reviews
Offers the best digital marketing services
"They offer the best services when it comes to digital marketing. It could be said that they are one of the best digital marketing companies in Dubai. I'm very much satisfied with their services. Definitely recommended" – Asha Kollamparambil, Google Reviews
3. IBT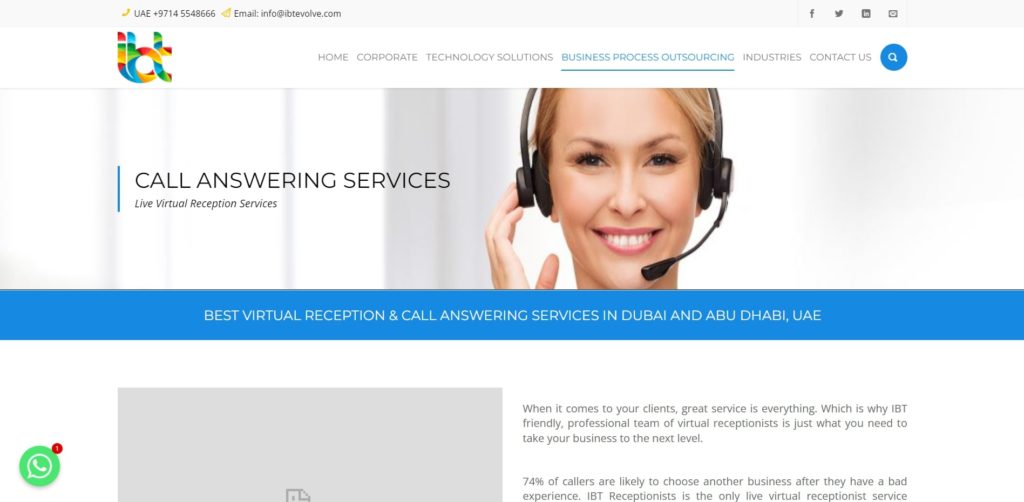 | Test | Info |
| --- | --- |
| SERVICES | Virtual receptionist services, IT outsourcing, Inbound & outbound call center, process outsourcing |
| WEBSITE | https://www.ibtevolve.com/ |
| ADDRESS | Al Shafar Tower 1 - 1901 - 1908 - Barsha Heights - Dubai - United Arab Emirates |
| CONTACT DETAILS | +971 4 246 8888 |
| OPERATING HOURS | Open 24/7 |
| | |
| --- | --- |
| Criteria | Rating |
| Range of Services | ★★★★★ (5/5) |
| Competence | ★★★☆☆ (3/5) |
| Benefits | ★★★★☆ (4/5) |
| Other Services | ★★★★★ (5/5) |
IBT is an outsourcing company that puts call-focused services at the forefront in order to help businesses improve on customer services and management.
Its digital receptionist's job includes providing 24/7 support for your customers, multilingual communication for convenience, and many, many more.
We love that IBT's digital receptionist arm comes with such a wide scope of services that all center around taking and making calls. However, administrative tasks are not included.
The benefits of having IBT behind your back are also one of its strong points.
Having its digital receptionist services means your business gets its own free local phone number, free voicemail box, advanced call screening, personalized call greeting a lot more.
We love that IBT does not hold back on having so many extra pros that come with its great digital receptionist service.
However, with so many digital receptionists under its employment, the quality is often inconsistent, which is especially bad if a client has multiple receptionists under them.
Despite that, its outsourcing business model gives way to many other services that can equip a company with all the digital solutions it needs for an excellent service.
From IT infrastructure and Cloud computing to inbound and outbound call centers, IBT has a whole lot of services and manpower it can provide.
Great range of services that digital receptionists can offer
Great range of benefits with the service
Has lots of other services for digital solutions
Too many employees can lead to inconsistent service quality
Customer Reviews
Excellent experience!
"Excellent experience to work with IBT with a friendly atmosphere, supportive management, good work culture & facilities, good opportunities to upgrade your skills. I am working with IBT for the last 3.7 years and have grown along with the company, as it is a great place to learn and grow. The work-life balance is great and flexible."- Naushad Patel, Google Reviews
Displayed the highest level of professionalism!
"I was very excited when I saw the IBT team and when I Joined 6 Years ago I got the same Passionate Team to work with.
This is one of the leading and fast-growing IT companies in UAE, with 10 Successful Years of IT History and with a lot of satisfied customers throughout the Globe.
IBT is the best in their IT Field and a company that has a total solution for automation. This platform could be software or hardware or a combination of both.
I would say IBT have one of the best Team to work within the Region." – Gaurav Arora, Google Reviews
4. Virtuzone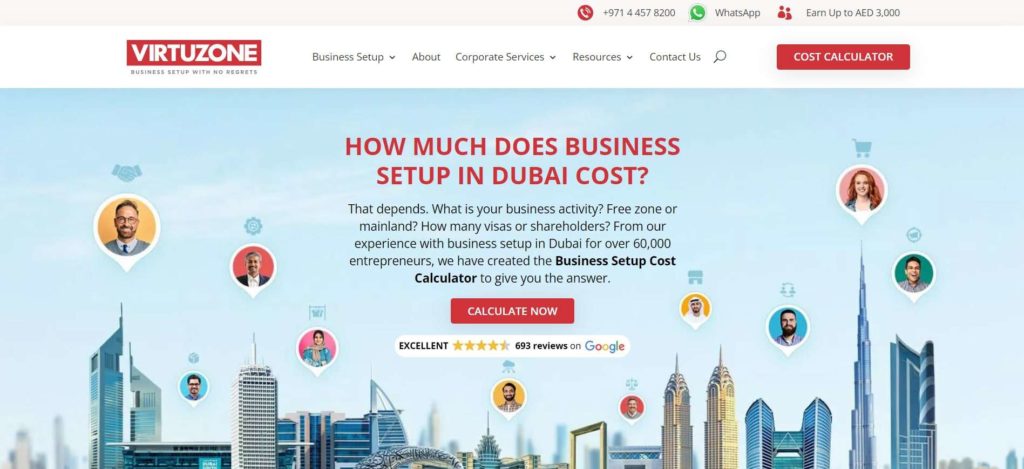 | Test | Info |
| --- | --- |
| SERVICES | Virtual receptionist services, IT services, Legal services, Accounting services |
| WEBSITE | https://www.vz.ae/ |
| ADDRESS | Office 404, Building B, Al Saaha Offices, Souk Al Bahar Old Town Island? Burj Khalifa District - United Arab Emirates |
| CONTACT DETAILS | +971 4 383 9122 |
| OPERATING HOURS | Monday to Friday 8:30 am - 5:30 pm |
| | |
| --- | --- |
| Criteria | Rating |
| Range of Services | ★★☆☆☆ (2/5) |
| Competence | ★★★★☆ (4/5) |
| Benefits | ★★★★★ (5/5) |
| Other Services | ★★★★★ (5/5) |
Focused on removing the complexities of setting up a company, Virtuzone provides all kinds of support so that owners can put their 100% into running their business.
However, its virtual receptionists don't come with a lot. Other than taking calls from customers and clients and forwarding calls to a trained staff or your designated numbers, Virtuzone doesn't offer much in this aspect.
But this company does make up for the fact that its virtual receptionist services have numerous benefits that help its clients stay organized and accessible.
Besides a personalized greeting, Virtuzone also gives its clients its own local phone number that anyone in Dubai can call.

But our favorite benefit that it has is the 24/7 accessibility that both local and international clients can reach for your business.
On top of that, it also offers a package that allows its clients to have a specially trained virtual receptionist that can answer all customer queries instead of just forwarding these to your designated phone number.
We also love that Virtuzone has a lot of different services that can retrofit and help set up a company in Dubai much easier and faster.
From IT and legal services to VAT tax consultations and accounting, Virtuzone allows anyone to outsource everything they need for a company.
Numerous benefits come with its virtual receptionist service
Includes training a virtual receptionist to answer business inquiries
Other services help setting up a company easier
Virtual receptionist job doesn't include administrative tasks
Special training is only included in a much more expensive package
Customer Reviews
Will definitely refer to my friends
"If you need help in business start-ups or even just to have your own trade license for your small business, Virtuzone is the best company to do the complicated things for you!
The people are great and very helpful. You will really feel their concern for you. The ladies at the front desk are doing a great job being the faces you see when you enter their office. They are very warm and welcoming. Their greetings and smiles will brighten your day and also their willingness to assist you will make you feel that you chose the right company!
Definitely will refer to friends!"- Alethea Mae, Google Reviews
I definitely recommend them
"I would highly recommend Virtuzone to anyone who is thinking of setting up their own business. The process from start to finish was very thorough and professional. I was in constant communication with my agents (Sangeetha & Joy) not to mention the PRO (Zain) who came to pick me up from my residence to help me complete my medical and also help deliver my passport back to me when my visa was completed. Great job guys!" – Andy Cheung, Google Reviews
5. The Virtual Office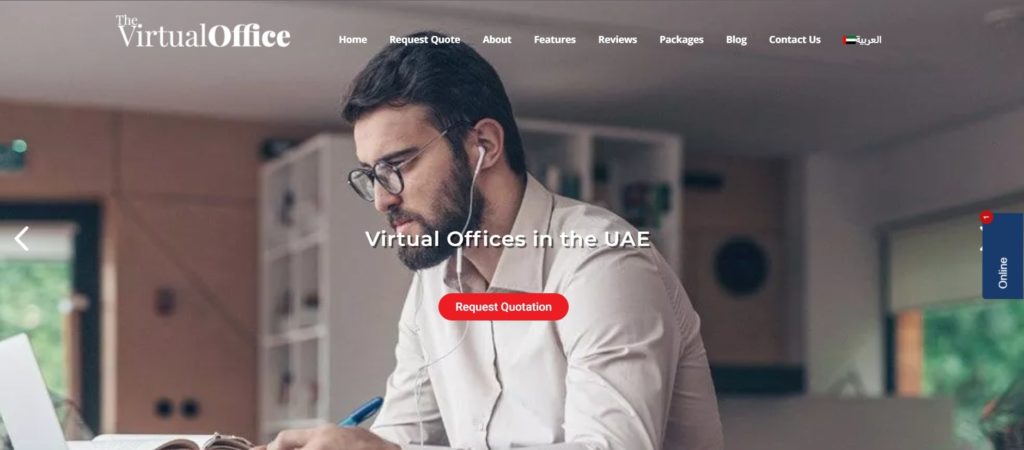 | Test | Info |
| --- | --- |
| SERVICES | Virtual receptionist services, Virtual offices, Office space rental |
| WEBSITE | https://www.virtualofficedubai.ae/ |
| ADDRESS | 21st Floor, Conrad Business Tower, Sheikh Zayed Road, In front of Dubai World Trade Centre, Dubai, UAE |
| CONTACT DETAILS | +97143827780 |
| OPERATING HOURS | Monday to Friday: 8:30 am - 6 pm |
| | |
| --- | --- |
| Criteria | Rating |
| Range of Services | ★★☆☆☆ (2/5) |
| Competence | ★★★★★ (5/5) |
| Benefits | ★★★★☆ (4/5) |
| Other Services | ★★★★★ (5/5) |
Founded by a group of passionate entrepreneurs and one of the top 100 Emirati businessmen in the country, The Virtual Office offers the complete range of services needed for virtual businesses and remote workers.
However, we think that its virtual receptionist job lacks the range of services necessary for it to be a strong contender in this aspect.
Besides providing phone answering and mail collection services, its virtual receptionist doesn't have that many in its scope of the job, which is quite disappointing.
However, we do like the fact that The Virtual Office has the added benefit of providing clients with their own dedicated phone numbers.
On top of that, your own virtual receptionist can use your company's special greeting, and clients have access to The Virtual Office's printing services, which come in quite handy for documentation and organization.
Not to mention, its virtual receptionists are highly competent in their limited scope of tasks, proving that the team really focuses on quality over quantity.
And as for its other services, The Virtual Office also provides a wide range of office management, including company formation, PRO services, IT support, and many more.
We love that anyone, from foreign company executives and startups to entrepreneurs can have a strong start with this company's services.
Handy benefits come with its virtual receptionist service
Other services help setting up a company easier
Highly competent team
Receptionist range of tasks is very limited
Number of benefits is not as many as other companies
Customer Reviews
We will continue to work with them for the foreseeable future
"We have been tenants at Spider Business Centre for almost 8 months now, and plan to continue our contract for the foreseeable future. Credit goes to the entire team for making our experience such satisfactory. The front desk staff is always cooperative, and facilities management staff ensure cleanliness and go beyond their job description to assist us. Our guests are also treated nicely when they come over to meet – leaving a nice impression about our company on them." – Yasir Naveed, Google Reviews
Highly recommend them
"The team at Spider Business Center and Consultancy are wonderful. I contacted them to set up my e-commerce business and the consultant guided me throughout the process and suggested I opt for the Sharjah Freezone package. Honestly, I contacted many consultants but the way they explained each and every detail was super helpful. Unlike others, the professional fees are reasonable, the consultants know what they are doing, and are very transparent. Highly recommend Spider." – Farzana Kamal, Google Reviews
FAQs about Digital Receptionist Jobs in Dubai
---
We hope this helped you find the right company providing virtual receptionist jobs in Dubai. Also, if you're looking for other remote office services, check out these articles: