The 5 Best Osteopathy Clinics in Dubai
You're probably here because you're looking for a drug-free and non-invasive treatment to address the underlying causes of your health problems.
If so, we're here to help with your search! Check out our reviews of some of the best osteopathy clinics in Dubai.
How much do osteopathic treatments cost in Dubai?
Just like with other medical services, the cost for each osteopathic service and treatment can vary depending on your chosen clinic or hospital. For your reference, here are the usual rates for these services.  
| PRICES (Side and back Tint) | Small Sedan |
| --- | --- |
| General Consultations | 100 AED - 600 AED |
| Follow-up Osteopathy Treatments | 300 AED - 800 AED/ per session |
Top Osteopathy Clinics in Dubai 
Before we proceed with our best picks, let's delve into the criteria we used to choose each entry on our list:
1. Osteopathic Health Centre Dubai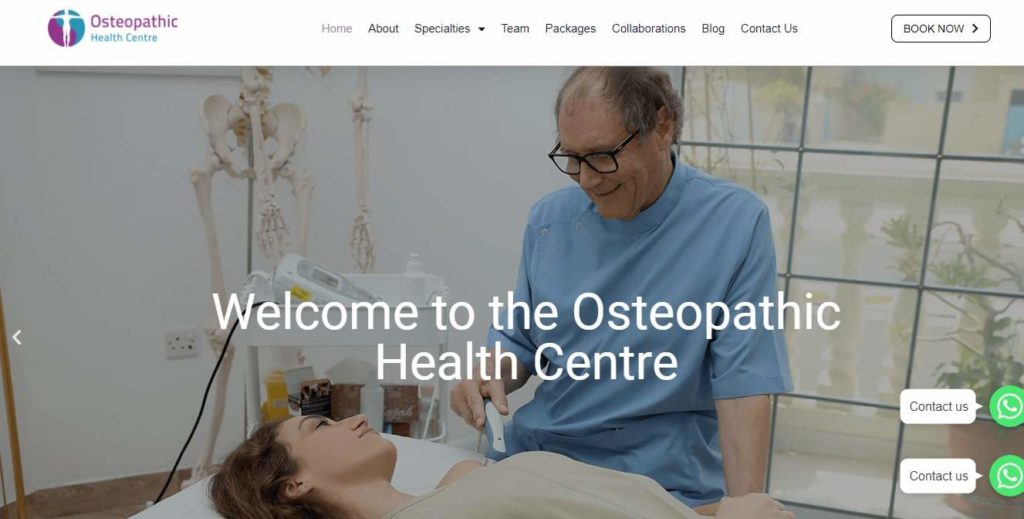 Test
Info
SERVICES

• Structural Osteopathy

• Visceral Osteopathy

• Pediatric Osteopathy

• Treatments for Chronic Pain

• Treatments for Pregnant Women

• Cranial Osteopathy

• Treatments for Sports Injuries

• Treatments for TMJ Disorder

• Antenatal & Postnatal Osteopathy

• Treatments for Digestive Disorders

• Treatments for Migraines

WEBSITE
https://www.osteopathydubai.com/
ADDRESS
969 Al Wasl Rd - Al Manara - Dubai - United Arab Emirates
CONTACT DETAILS
+971 4 348 7366
OPERATING HOURS
Saturday - Thursday 7:30 AM - 7:30 PM

Friday 9 AM - 6 PM
| | |
| --- | --- |
| TREATMENT OFFERINGS | ★★★★★ |
| FACILITIES | ★★★★★ |
| AFFILIATIONS | ★★★★★ |
The Osteopathic Health Centre Dubai is one of the most sought-after osteopathy clinics in Dubai, and it was established in 2000.
Malcolm Gregory, one of the founders of this center, was an osteopath of the former ruler of Dubai, Sheikh Maktoum Bin Rashid. He worked at Nad Al Sheba Club for 13 years.
On the other hand, Nargis Raza, Gregory's co-founder, was the owner of Total Fitness. With their combined expertise in the field and goal to help people in pain, the two bring quite a bit of expertise and cachet to Osteopathic Health Centre Dubai.
They believe that restoring the balance between the mind and the body can aid the natural healing forces of the body. That may be the reason the clinic's osteopaths use a multidisciplinary approach in their treatments.
You see, aside from non-invasive and manual therapies, they also integrate other practices. They use other techniques from physiotherapy, remedial exercise, hydrotherapy, counseling, meditation, and stress management.
To cater to a broad range of medical conditions, the Osteopathic Health Centre Dubai also offers family medicine.
Another notable feature of this clinic is that they have formed a partnership with the Organization for the Review of Care and Health Apps (ORCHA) in 2021. Through this collaboration, Emiratis and ex-pats based in Dubai can conveniently access Middle East's first digital health library and top-rated health apps.
As part of the partnership, the center's practitioners will receive CPD accredited training with regard to digital health care. We think this is a good advantage on their part.
That's because this program will let them access a Digital Health formulary that discusses how apps can be selected and prescribed in the same way that doctors prescribe traditional medicines.
All told, if you're looking for a well-established osteopathy clinic in the city, you can definitely include Osteopathic Health Centre Dubai on your list. However, it's best to note that they are currently not accepting walk-in clients, so make sure to book an appointment online or reach out to their customer service staff before visiting the site.
Open every day
Offers a wide range of osteopathic treatments
Affiliated with a range of clinics for other medical services 
Must have an appointment before visiting the clinic 
Rates for osteopathy treatments not stated on the website 
Patient Reviews
Very informative and helpful
"I went to see Greg who really helped me out for my recurring back problem. He was also very informative and helpful. I have also been back to see the doctors who were also very kind and professional. Will definitely be returning and highly recommend this clinic." – Regan David Faulkner
High quality treatment and holistic approach
"Youssef Youssef is the top of the top with his expertise, knowledge and the high quality treatment and holistic approach he offers. I am a Natural Health Consultant and Practitioner and I go to him regularly with all my family and highly recommend his work to everyone. He is an excellent Osteopath, physiotherapist, cranial sacral therapist, kinesiology and takes into account your health from A to Z. I truly appreciate him and his work." – Rana Kolankiewicz
2. PHHC – Osteopathic Center (Physical Health & Healing Center)

Test
Info
SERVICES

• Bio-dynamic Osteopathy

• Cranial Osteopathy

• Energetic Osteopathy

• Soft Tissue Osteopathy

• Structural Osteopathy

• Visceral Osteopathy

WEBSITE
https://phhc-dhcc.com/webssl/
ADDRESS
Building 24 Dubai Healthcare City - Umm Hurair 2 - Dubai Healthcare City - Dubai - United Arab Emirates
CONTACT DETAILS
+971 4 552 9210
OPERATING HOURS
Saturday - Thursday 7 AM - 7 PM

Friday - Emergencies only
| | |
| --- | --- |
| TREATMENT OFFERINGS | ★★★★★ |
| FACILITIES | ★★★★☆ |
| AFFILIATIONS | ★★★★★ |
The PHHC's owner is a true believer of osteopathy's benefits. Emmanuel Camus, the founder of this center, suffered from triple spinal disc herniation.
Most of the practitioners he consulted suggested back surgery, so he continued to look for alternatives until he stumbled into osteopathy. According to him, his symptoms disappeared and his quality of life, as well as condition, improved after the treatments and exercises.
Since he personally witnessed the results and benefits of osteopathy, he decided to establish Physical Health and Healing Center in 2016 with an osteopath with over two decades of experience, Dr. Emmanuel Hartmann.
The center's mission is focused on providing efficient, drug-free, and non-invasive recovery osteopathic services, which supports their vision to improve and nurture people's quality of life.
On top of that, we also commend PHHC and its practitioners because they actively provide free services across local communities. They offer voluntary services, including diagnosis, pain relief treatments, corrective exercises, osteopathic health screening, and occupational health physical consultations and advice.
Furthermore, even if their official operating hours are only from Saturday to Thursday, we like that they are also available for emergency services on Fridays. Should this not be enough, they also keep emergency slots during the week to cater to the immediate service requirements of their patients.
This just shows the dedication of the center's workforce to providing osteopathic services to all their patients. The only problem we see is that they only have two osteopaths right now, so booking an appointment with them can be a bit hard, especially with their large volume of clients.
We suggest that you book your appointment as early as possible to ensure that you can secure a consultation date.
Features a wide range of osteopathic services
Offers voluntary services 
Available for emergency services on Friday
Only has two osteopaths
FAQ section of the website is not updated 
Patient Reviews
Identifies very easily the origin of the pain
"Dr Hartmann is a very good professionnal. The best osteopathic I've tried so far in town. He's very calm and relaxed. He knows perfectly the human anatomy and identifies very easily the origin of the pain." – Yassine Ouzlifi
Improved my quality of life tremendously
"Suffered from dizziness and chronic neck pain for more than one year, visited countless Drs that wouldn't help me get better, until I found Dr Dominique Boudet. Within 2 sessions she improved my quality of life tremendously. I highly recommend her magic hands." – Pamela Miranda
3. UPANDRUNNING Medical Center (Al Wasl Branch)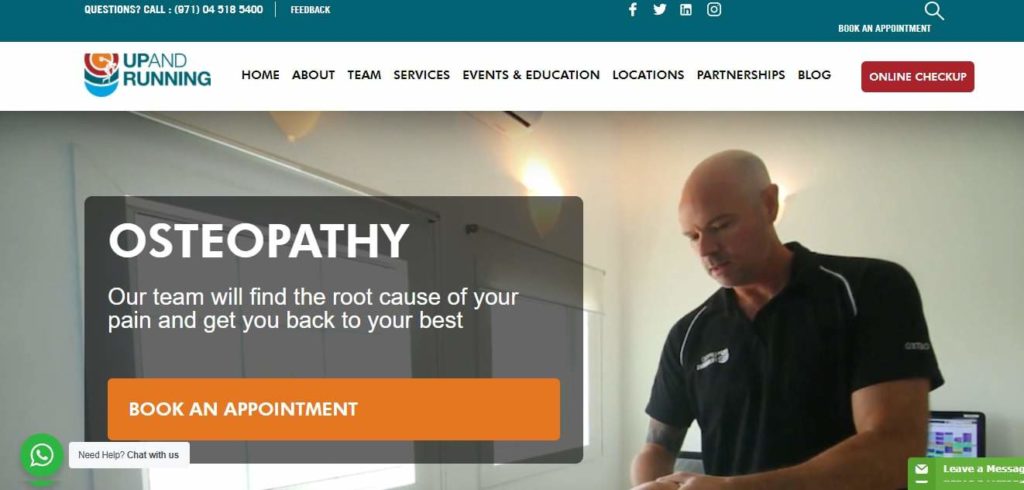 Test
Info
SERVICES

• Musculoskeletal Examination

• Individualized Treatment Plans for (Back Pain, Neck Pain, Cervicogenic Headaches, Joint Pain, Sports Injuries)

WEBSITE
https://upandrunningdubai.com/services/osteopathy/
ADDRESS
675 Al Wasl Rd - Al Safa - Al Safa 1 - Dubai - United Arab Emirates
CONTACT DETAILS
+971 4 518 5400
OPERATING HOURS
Sunday - Thursday 8 AM - 7 PM

Friday 9 AM - 2 PM

Saturday 9 AM - 6 PM
| | |
| --- | --- |
| TREATMENT OFFERINGS | ★★★★★ |
| FACILITIES | ★★★★★ |
| AFFILIATIONS | ★★★★★ |
Yes, you read it right, this multispecialty medical center is actually named UPANDRUNNING. Dr. Anna Zickerman, a sports and medicine specialist, founded this center in 2010.
UPANDRUNNING was actually the first integrated sports medical center in the UAE. Since then, it has become a popular pick not just for athletes but also for individuals seeking osteopathic treatments for common body aches and pains.
As of now, they already have two branches, one in Al Wasl and one in Dubai International Financial Center (DIFC). The Al Wasl branch is furnished with well-equipped private consultation rooms, multi-purpose gymnasiums, and yoga and pilates rehabilitation studios.
Anyway, the osteopathy services at this center include individualized treatment plans through a holistic and patient-centered approach.
On top of the osteopathy facilities, they also have rooms for chiropractic and physiotherapy, performance and fitness testing equipment, as well as sports therapy and massage rooms.
One thing we really like about this osteopathy center is that they have formed partnerships with several companies, brands, clubs, and associations not just in Dubai but also across the UAE. Due to their extensive network, they also sponsor various unique and high-level athletes in the country.
This just proves that they strive to provide convenient and ethical healthcare not just for their clients but also for talented individuals who can benefit more from these treatments.
However, we notice that even if the center is composed of a fairly big team of medical professionals, they only have one osteopath available in this branch.
On that note, scheduling an appointment and follow-up treatment with Matthew Clarke can be a challenge, especially if he is receiving many clients. Also, their consultation fees start at 500 AED, which we think is a bit more expensive compared to other entries on this list.
Offers online check-up
Has well-equipped facilities
Sponsors unique and high-level athletes
Features a range of osteopathic treatments 
Treatments are not specified on the website 
Consultation fees are a bit high 
Only has one osteopath
Patient Reviews
Got me back up and running in one session
"My Ostheopath practitionner (Matthew) just got me back up and running in one session and I could not be more grateful. Booking an appointment was very easy, welcoming was warm and smooth and the actual session seamless. The right questions were asked, the manipulation performed was fast, gentle and precise and I left the center in a much better condition that I have entered 30 mins before. 2 days after my consultation with Matthew my persistent lower back pain was gone. I could not recommend more not to hesitate to pick up the phone and get treated by Matthew. Again Thank you very much Matthew." – Ganes Francois
Best money I've spent
"Matt the Osteopath is a total legend. This guy is the best. I'm a teacher and cannot afford to be immobile. He's turned me from a creaking gate to a leaping lizard. Best money I've spent. Thanks so much." – Patrick Isbell
4. RU Active Sports Physiotherapy & Rehabilitation Centre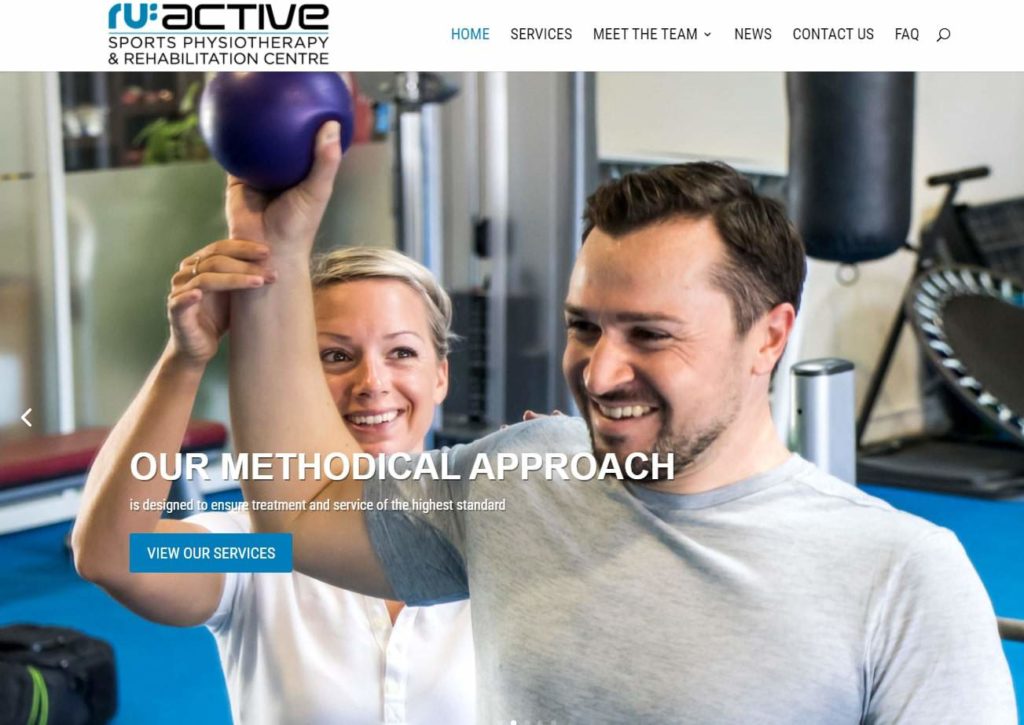 Test
Info
SERVICES

• Treatments for (Neck pain, Headaches, Back pain, Jaw Pain, Joint and Muscle Pain, Spinal and Posture Issues, Shoulder Pain, Facet Joint Dysfunction)

• Treatments for (Spinal, Disc, and Nerve Issues)

WEBSITE
https://www.ruactivephysiotherapy.com/
ADDRESS
Sports City, ICC Academy Ground Floor of Inside Dubai - United Arab Emirates
CONTACT DETAILS
+971 4 448 1399
OPERATING HOURS
Sunday - Thursday 8 AM - 7 PM

Saturday 9 AM - 3 PM
| | |
| --- | --- |
| TREATMENT OFFERINGS | ★★★★☆ |
| FACILITIES | ★★★★☆ |
| AFFILIATIONS | ★★★★☆ |
This center focuses on assessing, diagnosing, and treating musculoskeletal conditions. Aside from osteopathic treatments, they also offer rehabilitation services and treatments, including running assessments, pitch-ready systems, dry needling, and more.
Their goal is to help their clients do what they love, so they aim to provide straightforward advice and honest treatment options. Moreover, they also feature a nicely empowering self-managed approach in rehabilitation so their patients can take an active role in their recovery.
David Eakins is the only osteopath in this center. He is a qualified practitioner who finished a master's degree in osteopathy from the British College of Osteopathic Medicine in London.
After that, David completed his Master of Science in Sports Medicine, Exercise & Health at University College London.
On your first appointment, you will have to accomplish their registration form. For your convenience, we suggest that you do this when you schedule an appointment online.
After that, you will meet with David, and he will ask you about your medical history, lifestyle, current problems or complaints, your goals and expectations for the osteopathic treatments, and more.
Tests and procedures may also be conducted depending on your health condition and requirements.
Just note that they do not offer direct billing with insurance companies. However, since the center is affiliated with various insurance providers, you can still use the pay and claim basis.
Features self-managed approach for rehabilitation 
More focused on sports medicine practices and treatments 
Booking appointment online is easy
Doesn't accept direct billing from insurance companies
Only has one osteopath 
Patient Reviews
Very well run operation
"Very well run operation. Ciara and David. David was great in recovery from my chest issue and as a fellow triathlete, he know what to work on and how to do so as well. Ciara supports me through regular sports massages to help me recover from sessions and get ready for the week ahead. All superstars. Added bonus is that they are next to Fitrepublik." – Janahan Tharmaratnam
Extremely knowledgable in his field
"RU Active is a lovely friendly and professional practice providing both Osteopathy and Physiotherapy services. I go there for treatment from David Eakins the Osteopath, whom I have been receiving treatment from for the past 5 years. David is extremely knowledgable in his field and will also go out of his way to assist with sourcing other medical professionals should additional treatment be required." – Mary Ainley

Test
Info
SERVICES

• Structural Osteopathy

• Craniosacral Osteopathy

• Visceral Osteopathy

WEBSITE
https://25th.scandinavianphysiotherapycenter.com/
ADDRESS
Unit 2510 and 3309، Platinum Tower - Cluster I - Jumeirah Lakes Towers - Dubai - United Arab Emirates
CONTACT DETAILS
+971 4 551 6126
OPERATING HOURS
Sunday - Thursday 8 AM - 7 PM

Saturday 8 AM - 6 PM
| | |
| --- | --- |
| TREATMENT OFFERINGS | ★★★★☆ |
| FACILITIES | ★★★★★ |
| AFFILIATIONS | ★★★★☆ |
Another multispecialty clinic we recommend is Scandinavian Physiotherapy Center. Although they have a limited number of practitioners, the center is quite popular in Dubai, so most of the time, they are booked back to back from morning until evening.
The services and treatments they offer are grounded on their Scandinavian roots, which feature a long tradition of manual treatments and physiotherapy.
Since their osteopathic treatments are mostly focused on structural, craniosacral, and visceral aspects, you can expect to have a thorough assessment of your pain as well as assessments of other associated body structures.
Besides that, they can also help clients mobilize, restore, and improve joints, tissues, posture, and visceral functions through comprehensive treatments.
Now, they seem to provide quality service in all of those things. But we do have to note that what we like most about this center is that they help their patients optimize their insurance claims.
They understand that physiotherapy and osteopathy are often considered gray areas when it comes to insurance coverage, so they do their best to coordinate with various providers to aid their clients with direct billing and reimbursement of claims.
But as mentioned above, Scandinavian Physiotherapy Center is a well-established and sought-after clinic in the city, so you might experience difficulty in booking an appointment that will also work with your schedule.
On top of that, we also noticed some patients complaining about the delays between appointments, so you might lose at least 10 minutes of your treatment session. That is why if you're a very busy person who wants to make the most of your one-hour osteopathic sessions, this center might not be the best option for you.
Helps clients get better insurance claims
Offers a range of treatment modalities and specialties
Composed of experienced practitioners 
Can be difficult to book an appointment
Delays between appointments 
Patient Reviews
Incredibly knowledgeable and professional
"Scandinavian Physiotherapy Center is by far one of the best in Dubai. Andrea has worked wonders on my knee after having ACL surgery. He is incredibly knowledgeable and professional. We also used Scandinavian for my 5 year old daughter, after having traumatic hand surgery. Vera was so patient with her and made her feel so comfortable. She still asks when she can go back to Physio. Thank you to the whole team! Keep up the amazing work!" – Morgan-Jon Alston
Helpful, kind and professional
" After going through hip surgery I was treated by Felix who was super professional and always recommended me the right exercises to do at the right times to not only recover from the surgery but also becoming even stronger and more balanced than before. He even went the extra mile and talked to my doctors to help them better follow-up on my post-surgery recovery. I also would like to thank the admin and reception team for always being so helpful, kind and professional with everything related to bookings, insurance and paperwork. Absolutely recommended clinic!" – Daniel Niño
Factors to Consider When Choosing an Osteopathy Clinic
With all the osteopathy clinics in the city, selecting which one to go for can be a challenge. To help you determine the best clinic that can cater to your requirements, here are some factors to bear in mind.
1. You can ask for a referral.
If you want to try osteopathic treatments, it's best to ask for a referral from your general practitioner or other healthcare professionals you are consulting with. Your doctor can also tell if you really need these treatments.
In addition to that, you can also get recommendations from your family, friends, or colleagues who have already tried the services and treatments you might be needing.
2. Determine the osteopath's qualifications and specializations.
Even if osteopathy features non-invasive treatments, it shouldn't be taken lightly, so it's best to look for a licensed and experienced osteopath. You see, osteopaths and general practitioners are a bit similar because they can cater to a broad range of healthcare issues.
That is why it's vital to look for a clinic that can offer the treatments you require. For example, if you are a professional weightlifter, you can visit an osteopath clinic that is geared towards athletes and sportspeople.
3. Consider the cost of the treatments they offer.
Since osteopathic treatments can include several sessions, choosing a clinic that can offer you the best value for your money is an excellent advantage.
As with any service, some clinics may charge more than others, so make sure to compare the rates of one osteopath clinic to another before deciding which one to go for. You can also check the insurance plans they support and accept to get better deals.
FAQs About Osteopathy in Dubai
---
And that ends our review of the best osteopathy clinics in Dubai. If you would like to suggest other clinics, feel free to message us so we can look into them.
Besides that, if you need specifically targeted treatment or rehabilitation care that can nicely complement your osteopathic sessions, you can also visit one of the best chiropractors and top physiotherapy clinics in Dubai.