5 Firms for the Best Employment Lawyers in Dubai
Whether you are an employer or employee, when labor issues arise, it is crucial to have a good and dependable employment lawyer to assist you with your concerns.
In this article, we looked for the firms with the best employment lawyers in Dubai whom you can go to regarding employment legal matters.
We also answered common questions about them and the process of choosing a law firm. Let's start with what most people consider most pressing, though: the matter of cost.
How much does consulting with an employment lawyer cost in Dubai?
The fee for a legal consultation will depend on myriad factors: which law firm you'll go to, duration of engagement, complexity and nature of the case, and expertise of the lawyer.
Since every case is different, law firms in Dubai do not always have a set rate. However, we can present an approximate range of the cost.
Usually lawyers charge by the hour, though it will depend on your agreement with them. Here are some estimates:
| Service | Estimated Cost (AED) | Estimated Cost (USD) |
| --- | --- | --- |
| Partner Lawyers | ~1836.50 AED | ~500 USD |
| Senior Lawyers | ~1469.20 AED | ~400 USD |
| Lawyer Assistants | ~1101.90 AED | ~300 USD |
Top Law Firms for Employment Lawyers in Dubai
Now it's time to see our list of the best law firms that house the best labor lawyers in the country. We chose the following law firms based on the following criteria:
Check out our guide for choosing an employment lawyer at the end of our list too if you need more advice on this. For now, let's go over the ones we chose after our own research.
1. Al Safar & Partners Advocates and Legal Consultants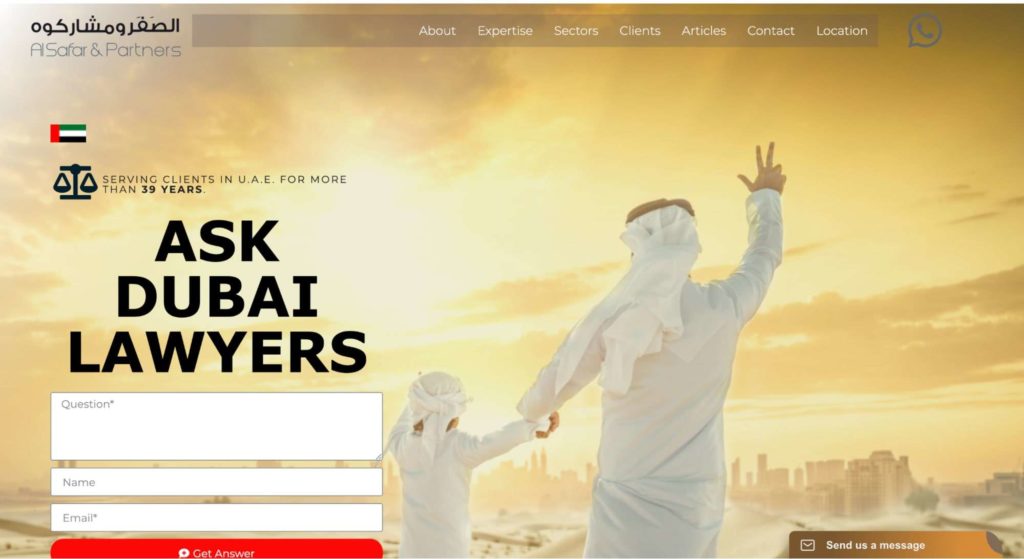 | Test | Info |
| --- | --- |
| WEBSITE | https://alsafar.dubailawyers.ae |
| ADDRESS | Saaha Offices 401A Block D, Old town, Downtown, Near Palace Hotel, Dubai, UAE. |
| EMAIL ADDRESS | [email protected] |
| TELEPHONE NUMBER | +971 4 4221944 |
| OPERATING HOURS | Monday to Sunday 8 AM - 6 PM (Closed on Fridays) |
| | |
| --- | --- |
| ACCESSIBILITY | ★★★☆☆ |
| EXPERTISE AND TRACK RECORD | ★★★★★ |
| EASE OF SERVICE | ★★★★☆ |
Al Safar & Partners is composed of professional attorneys who specialize in different fields, including labor and employment. This has enabled them to provide legal services to different clients and businesses for over 39 years.
In those 39 years, they have had extensive experience representing a high number of cases and legal matters in court and the Dubai International Arbitration Center. This shows us that they possess a deep understanding and experience of the inner workings of UAE law and legal system, which is something that all clients look for.
Their years of experience and high success rates are probably the reason they have a reputation as one of the most reputable law firms in Dubai.
They are also an ISO 9001:2008 certified law firm. For context, ISO 9001 sets out criteria for a quality management system.
It essentially helps ensure that clients get good quality services consistently. Being an ISO-certified business shows that they value continuous improvement in their service.
Their legal consultants and lawyers are of diverse nationalities with international experience. We think this is great news, especially for foreigners residing in Dubai who are seeking legal counsel.
Anyway, one of Al Safar & Partners' specializations is employment-related legal matters. Some of their services include handling breaches or anything related to employment contracts, wrongful termination situations, and explaining labor rights.
According to Al Safar & Partners, their consultation rate with an employment lawyer is 525 AED (VAT inclusive) for 30 minutes. Consultation can be done either through an office meeting, over the phone, or via Zoom online meeting.
Note that their fee is more or less the typical rate for employment lawyers in Dubai. However, if you are an employee with an employment concern and still find that a bit steep, there's some good news for you.
If you share some important details with them upon inquiry, such as name of the company, your designation, salary per month, amount owed by company, date of termination, reason, and number of years working at said company, they can check if you can qualify for a free consultation.
For further inquiries, you can try reaching them through their website. From what we've seen, they respond quite promptly via email.
They are not accessible on social media, either. In fact their last Facebook post was in 2017, so it might be best to just contact them via email or Whatsapp.
Extensive experience
Diverse portfolio
Diverse and inclusive lawyers
ISO 9001 certified
Offers both face to face and online consultations
Outdated and largely stagnant social media accounts unlike competitors
Customer Reviews
Very professional and supportive
Unfortunately, I had an unpleasant situation with my previous employer. I was lucky enough to find Ms. Luminita Rizescu and Ms. Nouran who were kind enough to support and advise me on my case. They are very professional and supportive and thanks to them my case was a success.I am recommending them as professionals and good advisors! -Iulian Paunescu
I knew my case was in the right hands
My experience with Al Safar Partners Advocates and Legal Consultants has been phenomenal. Ms. Kavitha Panicker handled my case smoothly and I honestly couldn't have asked for a better attorney to represent me. Moreover, she was always available and constantly called me to update me on how the case is doing. After every conversation with Kavitha, I knew my case was in the right hands and I felt nothing to worry about. I would highly recommend Al Safar & Partners Advocates and Legal Consultants to anyone looking for legal counsel. -Amra Zone
2. Ask The Law Lawfirm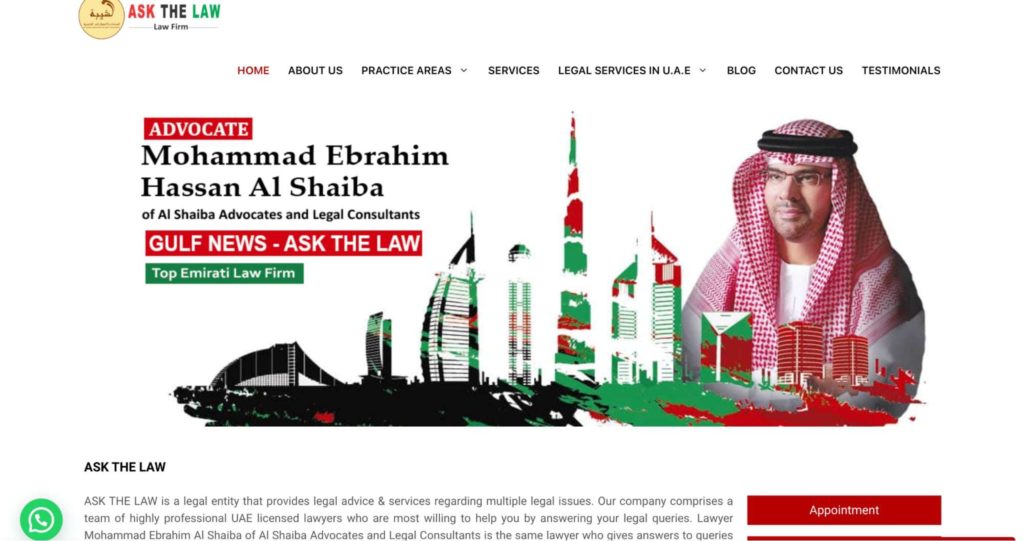 | Test | Info |
| --- | --- |
| WEBSITE | https://askthelaw.ae/ |
| ADDRESS | Fifty One Tower – Unit 1601 – Al Abraj St – Business Bay – Dubai |
| EMAIL ADDRESS | [email protected] |
| TELEPHONE NUMBER | +971 50 188 845 |
| OPERATING HOURS | Monday to Sunday 9 AM -6 PM (Closed on Fridays) |
| | |
| --- | --- |
| ACCESSIBILITY | ★★★★☆ |
| EXPERTISE AND TRACK RECORD | ★★★★★ |
| EASE OF SERVICE | ★★★★☆ |
Ask The Law is a law firm composed of consultants and lawyers with over two decades of experience practicing law in the UAE.
They have a lot of practice areas, including employment and labor issues. In fact, they seem to highlight their expertise in this area.
Their employment lawyers can help you with concerns regarding employment visas, wrongful termination, interpretation of obligatory employment laws, and more. They represent both individuals affected by legal decisions and companies and corporations handling labor concerns.
This law firm offers both in-house and online consultations with their clients. We're fans of the fact that they have an option to consult virtually, especially now that more people expect this sort of convenience.
You can browse previously answered legal queries by their consultants on their website and also on Gulf News, their in-house newspaper. There they answer FAQs and other legal concerns, which can be helpful if you want to see if they have handled a similar case to yours.
Their website is a bit cluttered and outdated, making it inconvenient to go through. It seems like they are mostly reachable through WhatsApp (they reply quickly there, so we recommend reaching out to them there).
For consultation, the rate is 1000 AED, but there is no time limit. So, if you think it's going to be a long consultation, you might get your money's worth here.
Expertise in employment and labor issues 
Extensive experience (over 20 years)
Offers both in-house and online consultations 
Answers legal queries on their website 
No time limit for consultation
Cluttered and outdated website
Outdated social media platforms 
Customer Reviews
Extremely professional and effective
The company I manage was recently represented in a labor case by the firm and found the service to be extremely professional and effective. The legal team assessed our case thoroughly and presented a strong course of action that we followed and obtained a fair, decisive and expected result. Going to court for the first time can be very challenging but the team here were supportive and reassuring every step of the way. I confidently recommend their services. -Tudor Oros
Result-oriented approach
It was an amazing experience to be helped and resolved regarding my labor case by Mr. Mohammad Ebrahim Al Shaiba and his team of Emirati Lawyers. They take up the legal matter on priority and deliver it on a result-oriented approach.The Al Shaiba Advocates is highly recommendable. It is the Best Law Company in UAE for Businesses, Expats and Local Citizens. -Rolly Dela Cruz
3. Proconsult Advocates and Legal Consultants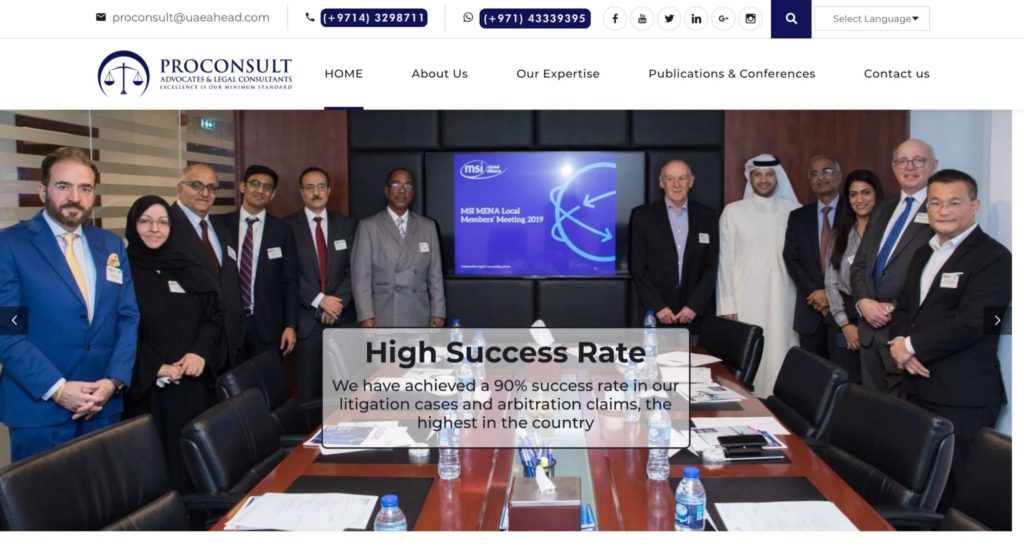 Test
Info
WEBSITE
https://uaeahead.com/
ADDRESS
ProConsult Advocates & Legal Consultants offices are located on Burj Khalifa blvd., Westburry Offices Tower, 7th Floor Office 707, Business Bay, PO Box 122352, Dubai, UAE
EMAIL ADDRESS

[email protected]

TELEPHONE NUMBER
Tel. (+9714) 3298711

Fax. (+9714) 3298733

OPERATING HOURS
Sunday to Thursday 9 AM - 6:30 PM

Saturday 10 AM- 2:30 PM

(Closed on Fridays)
| | |
| --- | --- |
| ACCESSIBILITY | ★★★☆☆ |
| EXPERTISE AND TRACK RECORD | ★★★☆☆ |
| EASE OF SERVICE | ★★★★☆ |
Proconsult Advocates and Legal Consultants is a full-service law firm in the UAE. They currently have a 90% success rate on their litigation cases and arbitration claims, which is as good a testament as any to their quality.
One of their practice areas is labor and employment law. They can give legal advice to employees and employers residing and functioning in the UAE regarding employment-related legal matters, whether in UAE law or DIFC law.
They have extensive experience in representing clients in different disputes. Some of the cases they've handled have covered termination for redundancy, enforcement and contesting of employment contracts, and unfair dismissal, among others.
Their website is current and intuitive, which makes it easy to look through their services and information. Even more interestingly, this law firm also has a mobile app.
We think this is an interesting and accessible way of keeping up to date with legal news in the UAE as well as the firm's services. It's available for both Android and iOS too.
However, this mobile application functions as more of a newsletter than anything else. It would have been much more impressive if they had developed the application further to accommodate online legal consultations, among other functions.
Although they are highly accessible online, by the way, they are not as easily available for face-to-face consultations. They are closed on Fridays and operate for less than five hours on Saturdays, so make sure to take this into account should you set up a consultation with them.
Intuitive website 
Accessible and often responsive online 
90% success rate 
Only open for limited time on Saturdays 
Tends to focus more on company formation and business law of late
Customer Reviews
Always helpful and professional
From my experience (and I have a lot) this is one of the best law firms in Dubai.
Tony Maalouli the managing director is always helpful and professional in any case of legal advice, always just a phone call away. If you need any legal advice or have some issues then I would strongly recommend to contact Tony. -Robert Erdelyi
4. Davidson & Co Law Firm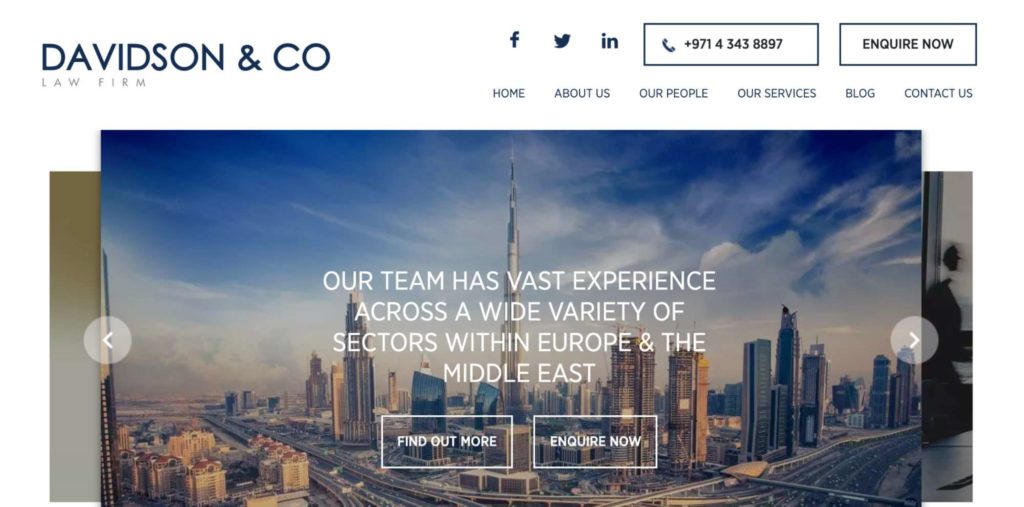 Test
Info
WEBSITE
https://davidsoncolaw.com/
ADDRESS
Suite 504 Shangri La Offices, Sheikh Zayed Road, Dubai, United Arab Emirates
TELEPHONE NUMBER
+971 4 343 8897
OPERATING HOURS
Sunday-Thursday 9 AM-5:30 PM

(Closed on Fridays and Saturdays)
| | |
| --- | --- |
| ACCESSIBILITY | ★★★☆☆ |
| EXPERTISE AND TRACK RECORD | ★★★★☆ |
| EASE OF SERVICE | ★★★★☆ |
Davidson & Co is a law firm established in 2008 by Jonathan Davidson. They offer a wide range of legal services in both the UAE and Europe. They have offices both in Dubai and Geneva.
One of their unique selling points is that they are composed of a multicultural and multilingual team. The firm offers lawyers who speak Arabic, English, Farsi, Russian, Hindi, Punjabi, and Urdu.
This shows their diversity and ability to handle different cases from different cultures. If you are a foreigner residing in Dubai, this can be a really good option for you.
As a team, their lawyers have collectively 50+ years' worth of experience under their belts. This covers private practice with local and international law firms, in the government, and FTSE and NASDAQ listed organizations.
One of their practice areas is employment law. They have extensive experience with catering to the legal needs of individual clients and local and international corporations.
This shows that they have a pretty good grasp of the UAE Labor Law and the DIFC Employment Law. They have experience with issues like end of service gratuity and benefits, disciplinary and grievance issues, termination, redundancy, etc.
They also have experience helping to produce documentation for contracts, fixing settlement terms, and giving advice on labor legal disputes.
However, it is important to note that they are a member of Legalink. Legalink is a legal network composed of more than 60 law firms that are business-oriented.
Business-related concerns seem to be their main expertise, and that is something to note should you avail of their services, i.e. they're more likely to take on employers as clients vs. employees.
As for their accessibility on other channels, there seemed to be a problem with their Facebook page when we last checked it. They are active on Twitter and Linkedin however.
You can also reach them through their website to ask for a quotation for your specific case.
Collectively has over 50 years of experience
Multilingual staff (Arabic, English, Farsi, Russian, Hindi, Punjabi, Urdu)
Open only 5 days a week
Focuses more on employers, so may not be ideal for employees
Customer Reviews
Very experienced, knowledgeable, professional
Very professional from start to finish, amazing knowledge of the UAE law and very ethical. Andrew Lyons was always there to assist, advise in the best way possible. In the process of finalizing will also as a recommendation also from his side. Very experienced, knowledgeable, professional, would highly recommend him. Process was very simple to understand and Andrew made it very easy and smooth. -Hunter VG
High calibre of talented lawyers
One of the best law firms in Dubai with a high calibre of talented lawyers. They are conveniently located in the heart of downtown Dubai. It's important that the person guiding you and looking after your legal affairs is well experienced and knowledgeable; my go-to trusted advisor here is Yousif Ahmed, one of the firm's best lawyers who comes from a high level western background. He is very dedicated and passionate about his cases and also well recognized internationally. Highly recommend him and this firm to anyone seeking corporate and commercial legal advice and assistance. -Sana Ali
5. Nour Attorneys and Legal Consultants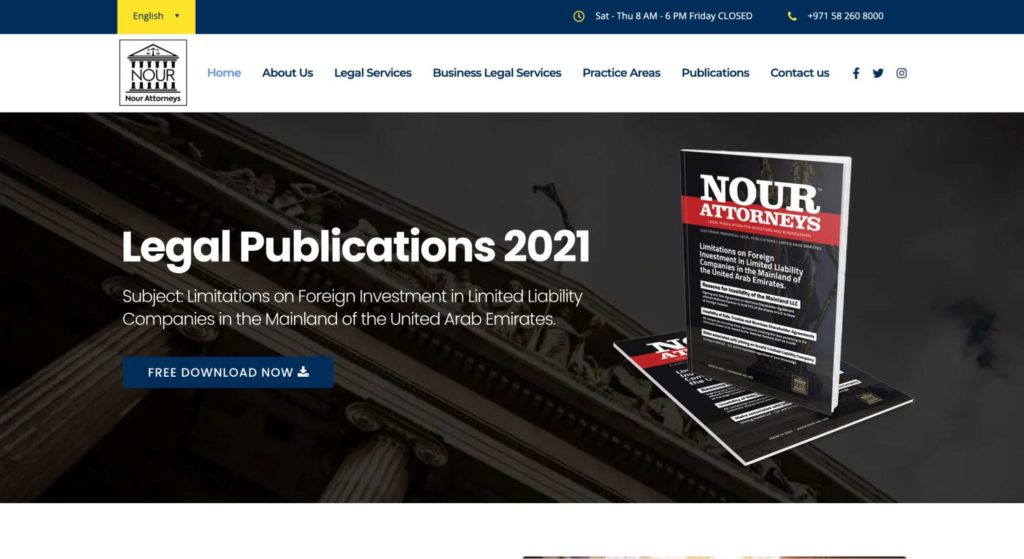 | Test | Info |
| --- | --- |
| WEBSITE | https://nourattorneys.com/ |
| ADDRESS | Office 402, Crystal Tower, Business Bay, Dubai, UAE A-0059-260, Flamingo Villas, Ajman, United Arab Emirates. |
| EMAIL ADDRESS | [email protected] |
| TELEPHONE NUMBER | +971 55 83 155 83 |
| OPERATING HOURS | Mondays to Sundays 8 AM - 6 PM (Closed on Fridays) |
| | |
| --- | --- |
| ACCESSIBILITY | ★★★☆☆ |
| EXPERTISE AND TRACK RECORD | ★★★★☆ |
| EASE OF SERVICE | ★★★★☆ |
Nour Attorneys and Legal Consultants is a full-service law firm that offers a comprehensive range of legal services to clients including consultations regarding employment.
Their founder, Mohamed Noureldin, is a lawyer with over 15 years of experience. He has a lot of experience with cases in Abu Dhabi, Dubai, and Egypt.
The firm was actually only launched in 2019, so they're pretty young. However we included them because despite being a new law firm, they have an impressive track record.
In just a few years in the business, they have successfully represented and won cases for clients involving employment disputes, compensation claims, disputes with banks and financial institutions, among many others.
For corporate clients, they have extensive experience in handling employment contracts, making guidelines for sanctions and dismissal decisions, and even drafting and reviewing internal regulations.
For employees, they can walk you through disputes with your employer, making sure you are well aware of your labor rights.
However, they are more of a business-oriented law firm based on their website, so this is something to consider.
This law firm also produces a lot of helpful content online. They have informative articles on their website and even a YouTube channel that you can check out to guide you with your case.
This shows us that they are very modern and know how to reach a younger client base.
Upon inquiring, we were told that their rate for legal advice depends on the complexity of the case – that's pretty standard. If it's a simple matter like handling an employment agreement, the rate is 1450 AED for 1 hour and 15 minutes.
If your case is a bit more complicated in nature, they will require you to send a brief of the case with the supporting documents.
From there, there are two ways to go about it and it's totally up to you. It's either they will study the case in full, so it will be full legal advice or they will just read the documents you have.
Time spent reviewing the case can be deducted from your time, or they can bill you separately for it. Then, they will proceed with giving you the legal advice you require over a meeting.
You can get a quotation for your specific case by inquiring through Whatsapp or their social media platforms. You can also reach them via phone call, and they'll assist you promptly and in detail.
However, the charge for consultation here is a bit on the high side (for the example we mentioned earlier, for example, that comes out to over 19 AED per minute). If you're looking for something cheaper, it might be better to go with another option.
Good track record 
Has a lot of helpful content and resources online 
Replies promptly to inquiries
Younger law firm compared to competitors
More of a business-oriented law firm 
Consultation fee is on the high side
Customer Reviews
A deliberate and considered methodology
Actually, I'm writing this review regarding my business legal services. Mr. Mohamed Noureldin was dependable, amenable and directly forthright. A deliberate and considered methodology managed the issues successfully. Clear and concise advice followed up with a similar way to deal with quick activities.I would strongly suggest NourAttorneys , without delay, when a challenging event is encountered. In short , excellent service of the highest order. -Khaled Fouad
Works with speed
From dozens of lawyers I have contacted and done business with, this is the ONLY one that actually works with speed. My requests get filled within days, instead of weeks going through other lawyers. Definitely will have a long term business relationship here. Thank you so much Nour & the rest of the team! -Sameer Moolana
Choosing the Best Employment Lawyer in Dubai
Picking the best employment lawyer for your needs can be an arduous task. There are so many law firms out there with their own sets of pros and cons that it can be confusing for a first-timer.
So we put together a list of things to consider when choosing a labor lawyer for your legal concerns. Hopefully, this will help make the process simpler.
1. Experience
It's obviously important to check out their expertise and experience. You can consider asking the following questions for this:
How many years have they been practicing law?
What does their track record look like?
Have they handled and won similar cases to yours?
2. Affordability
Consultations with lawyers don't come cheap, so it's important to find the best employment lawyer within your budget.
Once you have finalized your list of possible law firms, inquire and ask for a quotation. Usually, you can request this on their website by filling up necessary information, and they get back to you via email or you can give them a call directly.
Some law firms even have free initial consultations depending on the case, so make sure to look into this.
Note, however, that sometimes additional fees come up, so it's best to prepare for that.
3. Extent of services
Legal cases can be unpredictable, so it's best to find a versatile employment lawyer from a law firm with a varied portfolio and extensive practice areas.
The law firms suggested above are mostly full-service law firms with numerous practice areas. This makes it easier in case your case needs additional legal support.
4. Reviews and client feedback
Checking out testimonials from previous clients can help you gauge whether a particular law firm is for you or not.
These are usually available on the law firm's website, but make sure to also look through other sources for reviews such as social media.
Reviews usually cover how a particular law firm's attitude, accessibility, and efficiency are like.
FAQs about Employment Lawyers in Dubai
---
Employment disputes are more common than you think. Having a reliable and knowledgeable employment lawyer can help make the process simpler and smoother.
If we missed any good law firms with the best employment lawyers in Dubai on our list, shoot us a message and tell us about your experience!
By the way, here are more articles should you need more legal help in Dubai: