The 5 Best Michelin Star Restaurants in Dubai
Momentous occasions and significant milestones call for the best of the best, and nothing is better suited for that than dining at a Michelin Star restaurant.
With Dubai being known for its luxury and being home to world-class dining destinations, it is no surprise that the city has 11 prestigious restaurants with this coveted award.
So we went and tried out these places to give you Dubai's best Michelin Star restaurants.
How We Picked Dubai's Best Michelin Star Restaurants
Before we get right into our list of Dubai's best Michelin Star restaurants, here are the factors we considered for our entries on this list:
1. Ossiano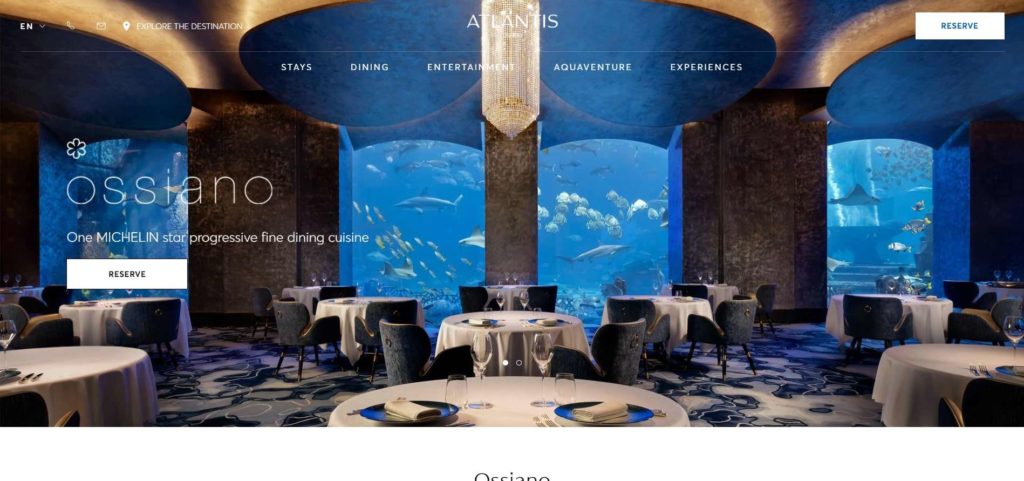 | | |
| --- | --- |
| Criteria | Rating |
| Menu | ★★★★☆ (4/5) |
| Customer Service | ★★★★★ (5/5) |
| Atmosphere | ★★★★★ (5/5) |
| Personality | ★★★★☆ (4/5) |
When we think of the Michelin Star dining experience, we think of beautifully plated courses in an elegant and understated restaurant, but rarely do we expect a luxurious meal with floor-to-ceiling views of Atlantis Dubai's gigantic aquarium.
With the freshest seafood prepared by Michelin-starred chef Grégoire Berger, Ossiano takes the sea's bounty and shares his gourmet conceptualizations with us.
Each dish has a uniquely extravagant presentation, and the taste, while often unconventional, is undeniably an experience.
The unconventional take on these dishes may be a polarizing aspect, but it definitely rewards adventurous diners and foodies.
The service is on par with the dishes it serves. Going more than what has been expected, the host and waiters did everything to accommodate us.
And the ambiance is unrivaled. We mean, where else can you dine while watching sharks and magnificent stingrays swim past you and your date?
The grandness of the aquarium is matched by the restaurant itself, with extravagant floral centerpieces, grand chandeliers, and beautiful carpeting.
When it comes to Ossiano's personality, we love how it roots in Chef Gregoire Berger's dedication to respecting the bounty of the ocean.
Albeit this comes a little too on the nose with the gigantic aquarium, we have to respect Ossiano's commitment to ingredients that are sustainably sourced from the oceans.
Gregoire also isn't the most colorful chef out there, but his mastery of French techniques shines as much as the light shooting through the waters.
Inventive take on seafood
Has an exclusive view of the Atlantis aquarium
The ambiance is lavish
Service is excellent
The food may be a little too unconventional for some
The restaurant relies too much on the aquarium for its personality
Customer Reviews
An amazing dining experience
"Had wedding anniversary there. What a great restaurant. The waiter was nice but a little inexperienced (this was two years ago) food was amazing and was presented and explained course by course, pairing wine was delightful too. Desert was to die for. An amazing treat from my husband." – Ana Stumpf, Google Reviews
The perfect restaurant for a perfect night
"My husband and I had an amazing night.
The food was delicious, the staff and service were outstanding and the fishes were super friendly and photogenic especially the stingray. I highly recommend this restaurant for a special night out." – Lama Khalifa, Google Reviews
2. Tresind Studio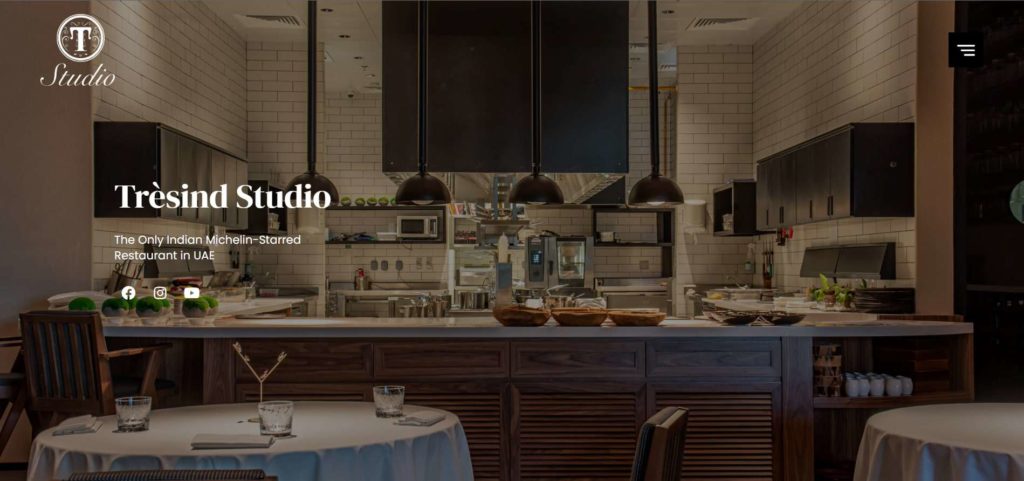 | | |
| --- | --- |
| WEBSITE | https://tresindstudio.com/ |
| ADDRESS | Rooftop East, Nakheel Mall – The Palm Jumeirah – Dubai |
| CONTACT DETAILS | PHONE: +971 4 242 1666, +971 58895 1272 |
| OPERATING HOURS | Tuesday to Sunday: 6 pm - 11 pm |
| | |
| --- | --- |
| Criteria | Rating |
| Menu | ★★★★★ (5/5) |
| Customer Service | ★★★★★ (5/5) |
| Atmosphere | ★★★★☆ (4/5) |
| Personality | ★★★★★ (5/5) |
A Michelin Star experience without all the distracting grandeur, Tresind Studio manages to keep the space intimate and charmingly homegrown despite being located in a swanky area on the Palm.
The only Indian restaurant in UAE to ever get a Michelin Star, this restaurant's menu showcases the magic of transformation and amplification of humble ingredients, elevating these in innovative ways.
We love how it carries the legacy of Indian cuisine by showing its potential to be a part of the contemporary gastronomic industry.
The result is Indian food that is both comforting and exciting, with classic dishes served in ways we did not expect.
When it comes to its service, we learned that it follows the philosophy, "Atithi Devo Bhava", which literally means 'Guest Is God'.
And this truly shines because it has been named the winner of The Art of Hospitality award at the Middle East and North Africa's 50 Best Restaurants 2022 awards.
When it comes to the atmosphere of space, we absolutely love how it has managed to preserve that sense of coziness that you get with intimate lighting and simple yet warm interior design.
However, with a space this small, its overcrowdedness can quickly turn this space into a game of trying not to eavesdrop on people at the next table.
Despite that, Tresind Studio's homegrown image is beautifully complemented and contrasted by Chef Himanshu Saini's ambition to propel Indian cuisine into the gastronomic stratosphere.
Serves innovative Indian food
Award-winning service
Intimate and cozy atmosphere
Authentic homegrown image
The small space can feel overcrowded on a full night
Customer Reviews
One of my most memorable dining experiences ever!
"One of my most memorable dining experiences ever! This concept is very unique and extraordinary! A journey through the Indian kitchen and it is wonderful to enjoy Indian dishes from different regions at a very high level! In my opinion, they should have awarded 2 Michelin Stars and not only one. Whenever I will be again in Dubai, I will visit this Restaurant again. Amazing hospitality compared with a unique Atmosphere and excellent dishes!" -Björn Claßen, Google Reviews
Everything I experienced was well worth it
"Excellent in any way.
I've been to Tresind a lot of times, attending their special events, as well as their standard menu. Everything I experienced was well worth it and definitely, an experience you shouldn't miss.
The Indian fusion food is very delicious and comes usually in a veg/non-veg menu.
Every single dish is prepared with an incredible amount of detail and care, making the experience pleasant for the look and feel, as well as the taste.
Their way of plating is unique and more creative than most other places I visited in Dubai.
The staff is really helpful, attentive and aware as well.
In comparison to the price, this place definitely blew my mind as it's fairly priced for the quality and service you get.
If you are a good lover, this place should be the next on your list." – Jannis Thümmig, Google Reviews
3. Il Ristorante
| | |
| --- | --- |
| Criteria | Rating |
| Menu | ★★★★☆ (4/5) |
| Customer Service | ★★★★★ (5/5) |
| Atmosphere | ★★★★☆ (4/5) |
| Personality | ★★★★★ (5/5) |
Awarded for its balance, purity, and clarity when it comes to serving its Italian fare, Il Ristorante is one of the two 2-star holders in Dubai, and the only one that reinterprets Italian flavors with utter modern simplicity.
Niko Romito, the culinary leader behind Bulgari Resorts' Il Ristorante's in Shanghai, Beijing, Milan, and Paris, has created a menu that showcases the rich heritage of Italy.
This commitment to serving Italian food in its purest form is so strong that the restaurant actually sources ingredients from across Italy and is flown into Dubai regularly.
Although, this refinement of Italian food through modern techniques can often be dismissed as bland and mundane by those who do not have a trained palette.
The service is top-notch. It is easily noticeable that its staff has been trained to work within global standards of hospitality.
The atmosphere can seem quite generic at first. The crisp white linen sheets, expensive cutlery and dinnerware, and contemporary architecture can seem a little cold.
However, it does make sense for Il Ristorante to approach its space with a contemporary minimalistic taste because it perfectly encapsulates its take on Italian food.
Il Ristorante's personality is somewhat understated, but it is undeniable that Niko Romito's dedication to blending the classic with the contemporary to showcase Italian food in its purest form is astounding.
Amazing Italian food
Top-notch customer service
Flies in high-quality Italian ingredients from Italy
The food may seem too simple for some
The interior design feels cold and generic
Customer Reviews
Impressive experience
"Impressive experience, food was pure bliss by Michelin Star Chef Niko Romito. The perfect setting for a romantic dinner with a view of the yacht club." —Sophie, Google Reviews
You can't go wrong here
"Great atmosphere, drinks to die for, and seriously good quality food. You can't go wrong here..whether coming for apar tivo or the weekend brunch, it a treat well worth the money!"—Faisal Al Mutairi, Google Reviews
4. 11 Woodfire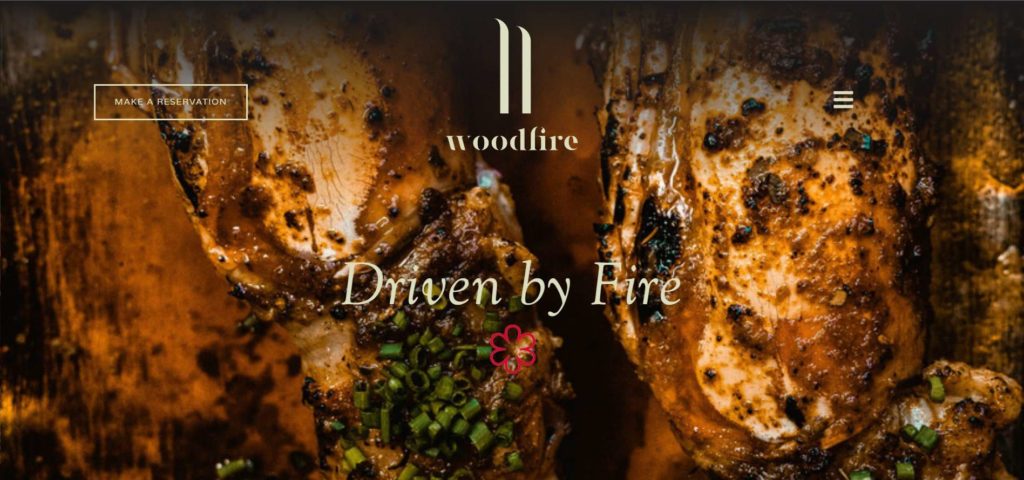 WEBSITE
https://11woodfire.com/
ADDRESS
Villa 11 75B St - Jumeirah - Jumeirah 1 - Dubai - United Arab Emirates
CONTACT DETAILS

PHONE: (+971) 4 491 9000

OPERATING HOURS
Monday: 6 pm - 12 pm

Tuesday to Friday: 12 pm - 12 am

Saturday to Sunday: 10 am - 12 am
| | |
| --- | --- |
| Criteria | Rating |
| Menu | ★★★★★ (5/5) |
| Customer Service | ★★★★☆ (4/5) |
| Atmosphere | ★★★★★ (5/5) |
| Personality | ★★★★☆ (4/5) |
Owned by Singaporean chef, Akmal Anuar, 11 Woodfire is a Michelin Star experience that focuses on the beauty and smokiness of open-fire cooking.
Its menu showed us what it means to perfect this primal method of cooking, offering a global variety of vegetables, seafood, and meats grilled over oak, hickory, or hay.
Seemingly simplistic at first glance, this menu is a nuanced study of the way open fire and the type of wood transform the aroma and the flavors of the food.
On top of that, anything grilled will always be something that we were down to eat, so the accessibility of the food here is definitely a great selling point.
The service could use some improvement in terms of timing because the spacing between courses felt a little longer than it should have.
The atmosphere of the restaurant is elevated by the fact that it was a villa that was transformed into a restaurant.
The limewashed walls and the dark leather-clad furniture gave off this sleek energy that matched the restaurant's contemporary approach to open-fire cooking. We love how it has much elegance in its simplicity, much like its food.
And when it comes to personality, while we definitely see what it has to say with its food and ambiance, Chef Akmal Anuar is seemingly too lowkey for us to know what he's all about.
While elevating grilling into Michel Star levels is definitely impressive, we don't know much about him besides his mastery of the grill
Amazing grilled dishes 
The atmosphere perfectly matched the menu and the restaurant's theme
The timing of the dishes needs improvement
Personality is too subdued
Customer Reviews
Well deserved the Michelin star!
"Just amazing!!!! We try 6 different dishes and 1 dessert. The white clams are outstanding, I can have 10 times this dish and I will never get bored. The burger is a must. Another special mention to the bar, the drinks without alcohol and the homemade kombucha were amazing. Definitely, I will come back to try the rest of the menu. Attention also is another special thing from the restaurant. Well deserved the Michelin star! ❤️❤️" —Guido Ojeda, Google Reviews
Definitely will be back!
"Wow! Well deserved Michelin star – every dish was incredible and full of flavor, especially the bone marrow. Great service and very attentive staff, did not have to ask for anything. Definitely will be back!" —Laura Bates, Google Reviews
5. STAY by Yannick Alléno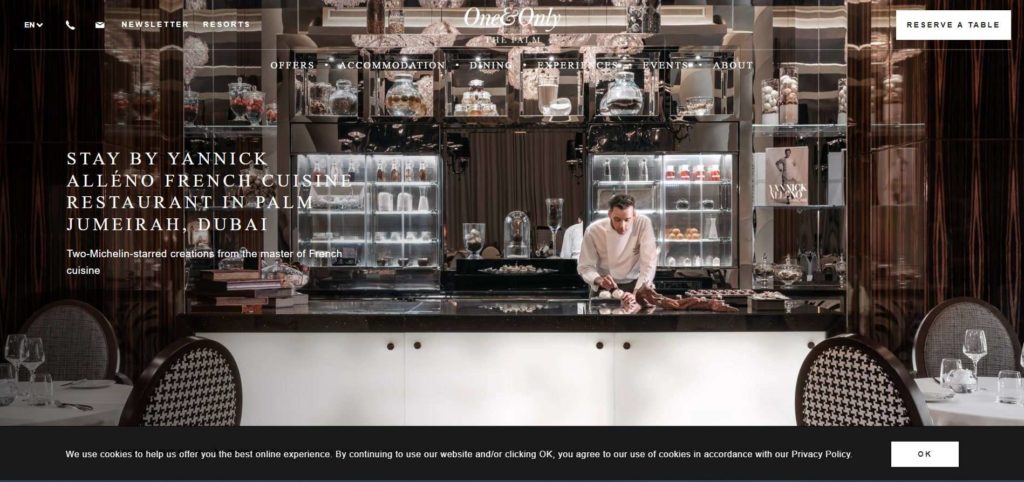 | | |
| --- | --- |
| Criteria | Rating |
| Menu | ★★★★☆ (4/5) |
| Customer Service | ★★★★★ (5/5) |
| Atmosphere | ★★★★☆ (4/5) |
| Personality | ★★★★★ (5/5) |
With a seasonally changing menu and a less-is-more approach to French dining, Stay by Yannick Alléno is a 2 Michelin Star experience that stays intriguing and sophisticated.
Its menu is all about precision and elegance, opting to do the simple with perfection. It is French cooking and dining at its best.
Despite its simplistic approach to food, we love how Stay pushes to be innovative and inventive with its dishes, showing mastery over cuisine with its seasonal menu.
However, casual foodies may often find the food hard to understand and flavors not as accessible.
The service, however, was excellent. Our waiter was attentive yet not to the point that he was intrusive. We absolutely loved how knowledgeable he was, explaining each dish in great detail.
The atmosphere was a blend of French countryside coziness and the elegance and sophistication of a gourmet restaurant.
The outdoor balcony area provided much-needed relaxing energy to the seemingly uptight energy that gourmet restaurants usually have.
When it comes to the personality of the restaurant, we love how unrestrained it is in its refinement and sophistication, and shows so much control and restraint when it comes to its food.
The paradoxical traits of Stay are what makes it so special, and we love how rather than oppose each other, they work in perfect harmony.
Elegant and refined French dining
Excellent service
The balcony area provides a relaxing energy
The restaurant is the epitome of French sophistication
The flavors can be inaccessible to some customers
The ambiance is relatively uptight
Customer Reviews
It was the most fabulous dining experience
"It was the most fabulous dining experience. The restaurant has beautiful settings, a very charming and romantic outdoor terrace. The food was absolutely delicious, beautifully plated, and full of flavors. We were looked after so well, service was attentive but not intrusive, every dish was explained with the most details. Overall amazing evening, and would definitely be back soon." — Jo S, Google Reviews
An overall brilliant dining experience
"Overall brilliant dining experience.
The outdoor terrace is cozy and relaxing at night.
The quality and flavor of each dish are absolutely spot on. The service is amazing.
Definitely worth a visit when in Dubai." —Theo, Google Reviews
FAQs about Michelin Star Restaurants in Dubai
---
We hope this helped you find your favorite Michelin Star restaurant in Dubai. Also, if you're looking for more restaurant recommendations, then check out these articles: