The 5 Best Mental Health Clinics in Dubai
Our mental health is one of the most critical aspects of ourselves that is often overlooked and could lead to dire consequences.
Thankfully, the city of Dubai knows this and has several mental health clinics ready to address issues such as burning out and deep-seated unresolved internal conflicts.
So we scoured the city to give you the best mental health clinics in Dubai. We're also sharing with you the factors we considered in choosing.
In the end, we answered some FAQs about mental health clinics in Dubai.
How much does going to a mental health clinic in Dubai cost?
The cost of going to a mental health clinic depends on the kind of treatment you need, and the counselor's or psychologist's professional fee.
To give you a starting point, seeing a counselor or a psychologist at these mental health clinics costs around AED350 and AED1200 per session. These sessions usually last around an hour.
The Best Clinics for Mental Health in Dubai
Before we get right into our top picks for the best clinics for mental health in Dubai, here are the factors we considered for our entries on this list:
1. Camali Clinic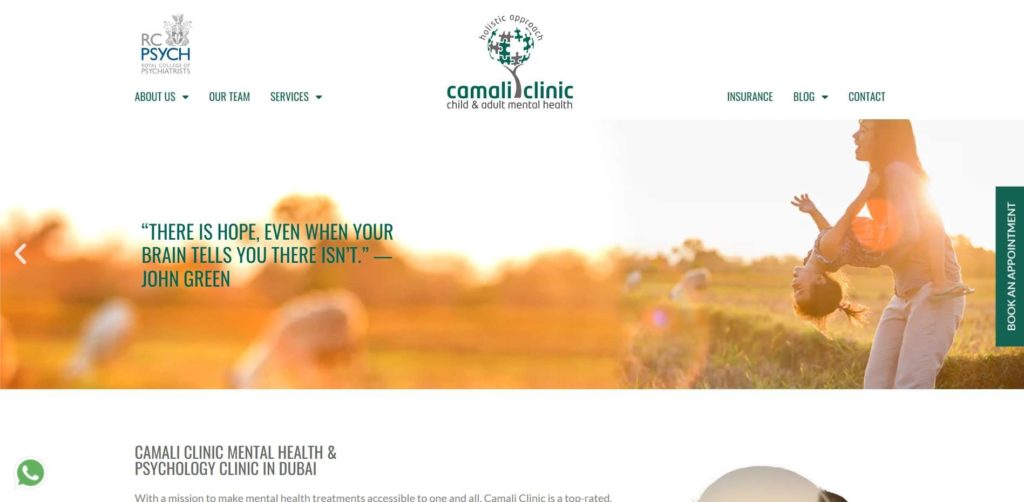 Test
Info
SERVICES
Adult and Child Psychiatry, Adult and Child Psychology, Speech and Language Therapy, Occupational Therapy, Day Therapy
WEBSITE
https://camaliclinic.com/
ADDRESS
Dubai Healthcare City, Block A, Ibn Sina Building no. 27, Unit 102 B, First Floor
CONTACT DETAILS
+971 (0) 4 276 6064

+971 (0) 58 940 5900

Has 1 more location in the city

OPERATING HOURS
Saturday to Thursday: 8 am - 6 pm
| | |
| --- | --- |
| Criteria | Rating |
| Credibility | ★★★★★ (5/5) |
| Approach | ★★★★☆ (4/5) |
| Range of Treatments | ★★★★☆ (4/5) |
| Other Services | ★★★★★ (5/5) |
Camali Clinic has a multidisciplinary framework that its diverse team of clinicians follows to ensure holistic and comprehensive treatments that positively impact its patients.
We love that it is recognized by the UK's Royal College of Psychiatrists Quality Network for Community (CAMHS).
This means that the clinic follows a set of peer-reviewed quality standards. This ensures that all of its policies and protocols are proven to be effective.
On top of its diverse team, its psychiatrists and psychologists are well-experienced, and coming from different nationalities means they know the cultural nuances that some patients deal with.
However, the years of experience of the team vary, with some having more than 20 years, while others only have around 2 to 5.
When it comes to its treatments, Camali Clinic covers all the bases for both adults and children.
The clinic deals with speech therapy, counseling, eating disorders, psychiatry, and many more. We love that it offers a well-rounded set of treatments for all ages.
On top of that, Camali Clinic also has a handful of therapy-based services that branch out beyond individual sessions.
It also serves as a day therapy center and holds group therapy for companies, as well as community support groups.
A member of an international psychiatric community
Diverse team with different ethnic backgrounds
Well-rounded set of treatments
Numerous treatments outside of individual sessions
The team's experience varies largely
Customer Reviews
Amazing experience at Camali
"What an amazing customer experience at Camali clinic. We tried several clinics before finding them and honestly we have been so impressed with how good and professional the therapists are. They called us personally to understand what we are looking for! 100% recommend them!" – Aurore Robinot, Google Reviews
They helped me a lot
"Receptionist is very friendly and accommodating. And I love Dr. Eleonor because she helps a lot in me be a good person and returns to my normal life. I perfectly recommend her on helping to cope with the depression, anxiety, and other things that make confusing on yourself. Thank you Camali Clinic you are perfectly fit to a people like us" – Emm Gumiran, Google Reviews
2. Priory Wellbeing Centre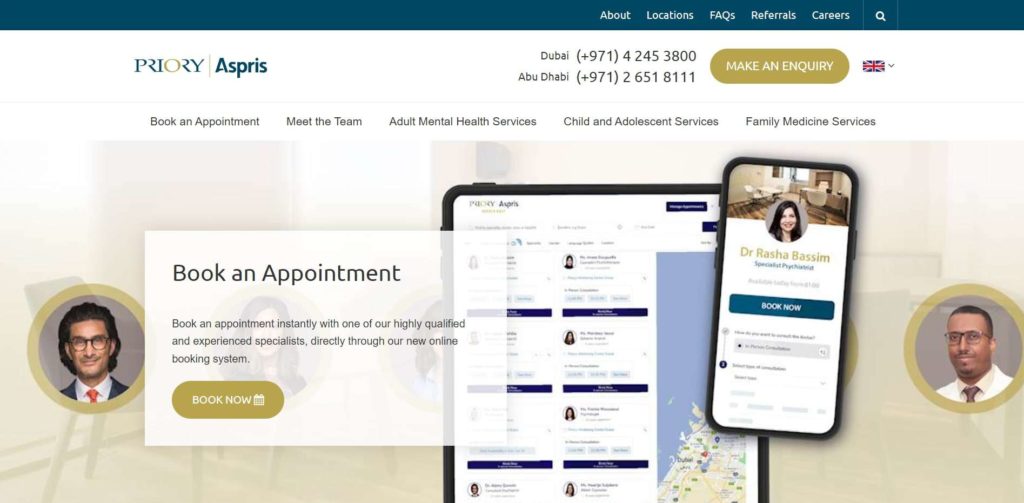 Test
Info
SERVICES
Adult and Child Psychiatry, Adult and Child Psychology, Disorder Treatment, Speech and Language Therapy
WEBSITE
https://www.priorygroup.ae/
ADDRESS
Ground Floor, Al Razi Building 64, Block F, Oud Metha Road - Dubai - United Arab Emirates
CONTACT DETAILS
+971 4 245 3800
OPERATING HOURS
Monday to Tuesday: 8 am - 7 pm

Wednesday: 8 am - 6 pm

Thursday: 8 am - 8 pm

Friday: 8 am - 5 pm

Saturday: 10 am - 4 pm

Sunday: 9 am - 6 pm
| | |
| --- | --- |
| Criteria | Rating |
| Credibility | ★★★★☆ (4/5) |
| Approach | ★★★★☆ (4/5) |
| Range of Treatments | ★★★★☆ (4/5) |
| Other Services | ★★★★☆ (4/5) |
Made to become a health and wellness destination, Priory Wellbeing Centre focuses on recovery in its approach and is backed by its state-of-the-art facilities.
And while we think it lacks connections and notable affiliations within the industry, we cannot deny that Priory Wellbeing Centre has a heritage that is rare and unrivaled.
Starting its roots way back in 1872 in London, The Priory Hospital Roehampton is Priory's most well-known hospital, which treats a wide range of mental health conditions up to this day.
However, we do think its approach to mental health has a limited view on it. Focusing too much on recovery, its treatments are also affected by this.
While it's great that this mental health clinic helps patients get back up on their feet, we think that it's critically missing an approach and treatments that can better an individual's well-being.
And while we can't deny that it covers a wide range of disorders for both adults and children, we think it's even better if it offers treatments that can even prevent it from getting to that point.
On top of that, Priory Wellbeing Centre doesn't have many extra services outside of these. It has a great Family Medicine department, though.
And while it is a strong aspect of its clinic, it can afford to have much more valuable additions to its repertoire.
Comes from one of UK's most well-known mental health centers
Covers both adults and children with its treatments
Has a great family medicine department
Approach and service focus too much on recovery
Only has one other extra service
Customer Reviews
They have helped me deal with my past traumas
"I have been coming to Priory for the past 8 months and Dr.Nisrine has been helping me process my past traumas. Her experience and knowledge have really changed the way I deal with my past and the way I view and understand my mental health. I really appreciate the sessions I am having with her and really recommend her to anyone looking into starting therapy." – Mira Jawahiry, Google Reviews
They helped me learn my triggers
"Ghania is the best therapist I have been to! She is so kind, professional and knows how to tackle the situation, and gives u the right tools!
I have learned to become more aware of my triggers and feelings and know how to act accordingly! This has made my stress level way lower and has set the expectations for my day and my family around me! I highly recommend her! Thank you Ghania" – Christelle Haddad, Google Reviews
3. Dubai Community Health Center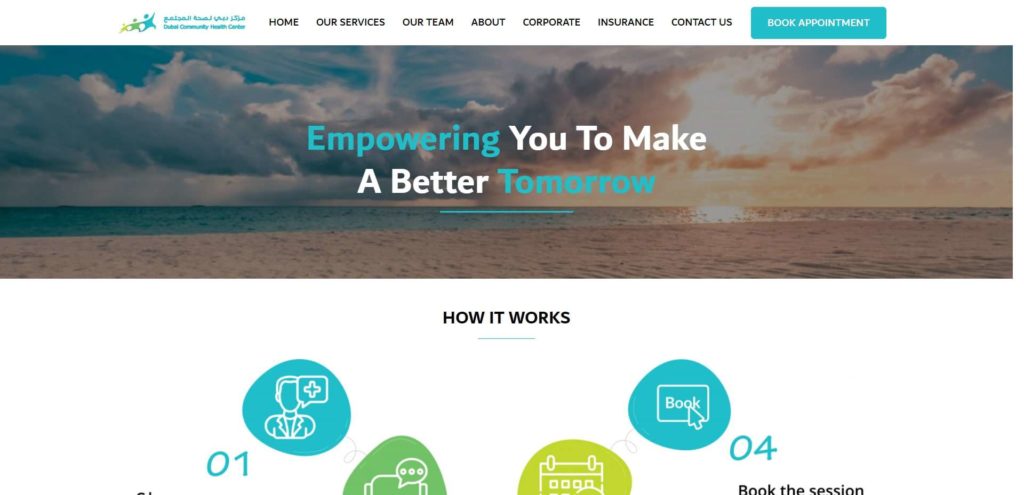 | Test | Info |
| --- | --- |
| SERVICES | Adult and Child Psychiatry, Adult and Child Psychology, Marriage Therapy, Occupational Therapy, Speech and Langauge Therapy |
| WEBSITE | https://www.dubaicommunityhc.com/ |
| ADDRESS | Faisal Al Gurg Building - first floor - Oud Metha - Dubai - United Arab Emirates |
| CONTACT DETAILS | 9714 507 8000 |
| OPERATING HOURS | Sunday to Friday: 9 am - 8 pm |
| | |
| --- | --- |
| Criteria | Rating |
| Credibility | ★★★★★ (5/5) |
| Approach | ★★★★☆ (4/5) |
| Range of Treatments | ★★★★★ (5/5) |
| Other Services | ★★★★☆ (4/5) |
Licensed by essential medical organizations, the DHA and the CDA, Dubai Community Health Center offers a wide range of psychiatric help for those in need.
The mental health clinic has a large team of expert consultants that are licensed. However, this means it has a widely varied approach, depending on the psychiatrist you will get.
While it is great to have a diverse approach when it comes to a mental health clinic, we think that specializing in a specific approach will allow patients to know what to expect.
Despite that, its team consists of psychiatrists with more than 10 years of experience, and we think that no matter the approach, each one can help patients get to where they mentally need to be.
On top of that, Dubai Community Health Center has a wide range of services, including adult & child psychiatry, psychology, counseling, assessments, speech & language therapy, and occupational therapy.
Overall, the mental health clinic definitely has a great, well-rounded set of treatments for individuals and groups.
However, its great range of treatments is offset by the fact that it really doesn't have a lot of other psychiatric services.
Other than its corporate services, which we think is a great addition that caters to the workforce, we wanted to look for some type of specialized treatment that would differentiate itself from the rest.
Licensed by the DHA and CDA
Has a highly experienced team
Well-rounded range of treatments
No focused approach
Only has one extra service
Customer Reviews
They have done an amazing job!
"Ms. Earncey Johnson (speech therapist) has done an amazing job with my 8 years old SEN student. She is working with him for 4 years and I noticed a very big improvement in his speech development. He is getting more understanding during class instructions, he is getting more active during discussions, and his communication skills with peers improved. She is using various games and instructional techniques to engage the child, also she makes group sessions to build communication skills with peers, and uses positive reinforcement to encourage child behaviors. I highly recommend this center, especially ms. Earncey Johnson for any parents who are concerned with their child's social and communication developments." – Wahyu Utami, Google Reviews
I was instantly comfortable
"Very grateful that I had the chance to interact and work with Nikita Barretto over numerous sessions. She instantly made me feel comfortable by being a good listener, taking the time to make notes, and remembering them all throughout our sessions, many weeks later. This makes one feel important and heard. She is very kind, understanding, and able to put forth an idea in a pleasant way which makes it easy for the receiver to accept and apply changes. She helped me recognize childhood patterns that needed amendments and with her help, I was able to accept these and make changes. She also has a good sense of humor and is able to lighten the mood during intense sessions. I definitely recommend her and look forward to working with her in the future." – Ricky S., Google Reviews
4. LifeWorks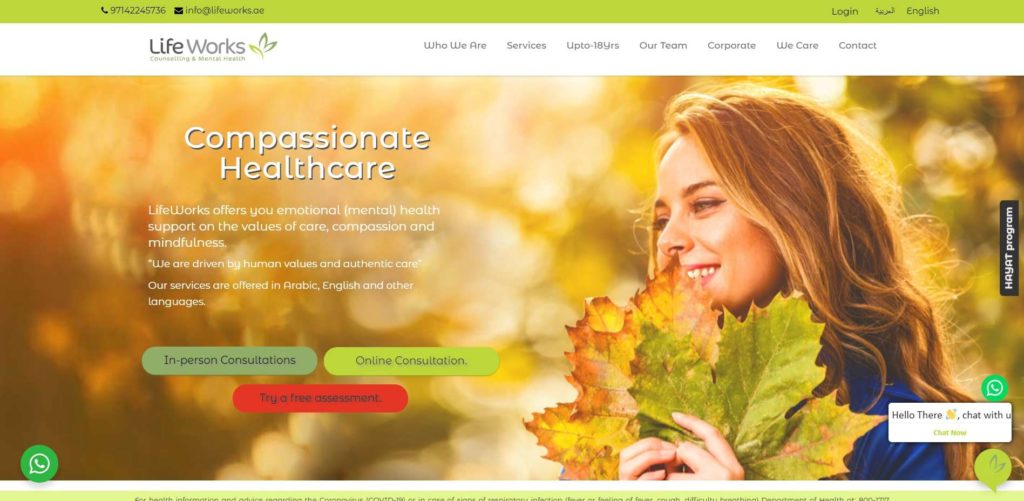 Test
Info
SERVICES
Adult and Child Psychiatry, Adult and Child Psychology, Elderly Care, Crisis Intervention, Adoption Assistance, Aviation Medicine
WEBSITE
https://www.lifeworks.ae/
ADDRESS
1230 Al Wasl Rd - Umm Suqeim - Umm Suqeim 2 - Dubai - United Arab Emirates
CONTACT DETAILS
+971 54 400 2698
OPERATING HOURS
Sunday to Thursday: 8 am - 9 pm

Friday to Saturday: 8 am - 9 pm (on appointment)
| | |
| --- | --- |
| Criteria | Rating |
| Credibility | ★★★★☆ (4/5) |
| Approach | ★★★★★ (5/5) |
| Range of Treatments | ★★★★★ (5/5) |
| Other Services | ★★★★☆ (4/5) |
Licensed by the DHA and CDA, LifeWorks has a multidisciplinary team of psychiatrists and psychologists that follows a unique healthcare approach.
The clinic places a special focus on mindfulness wherein the entire team operates on the belief that mental health largely affects everyone's physical health and overall wellbeing.
We love that it has a unique approach integrated into all of its psychiatric treatments, and these being girded on mindfulness, compassion, and care really affect the entire journey of each patient.
Another strong point of LifeWorks is its strong range of psychiatric treatments that cover every stage in a person's life.
From child and adolescent therapy to adult psychiatry to elderly care, and everything in between, LifeWorks is always ready to accommodate any kind of mental trouble that comes through its doorways.
And what differentiates this mental health clinic from the others is the other mental-social services that it offers.
Adoption assistance, aviation medicine, and online consultations, among many others, are just some of its offerings that contribute to more than just an individual.
Overall, while LifeWorks doesn't really have any special certification or membership to a world-renowned psychiatric network, its unique approach and wide range of treatments make it an excellent choice.
Has a unique mindful approach to treating patients
Great range of psychiatric treatments
Has lots of other services
No special certifications or achievements
Customer Reviews
Helped me through a difficult time
"Dr. Sravani is the epitome of compassion and kindness. Her empathy for her patient's concerns allows her to provide insightful advice. She works with the client to provide a solution that is tailored to the client's needs. She has tremendously helped me with dealing with some challenges in my life. Especially during a difficult period in my life, she went above and beyond. Dr. Sravani always has a positive outlook and provides a safe environment for the patient. Without a doubt, I would recommend her to anyone seeking help." – Vichalya Wisidagama, Google Reviews
Gained so many insights and experience great compassion
"Corina is an incredibly insightful and compassionate therapist. She was skilled at listening to me and helping me piece together patterns in my life that led to the repeated cycles of anxiety. In the short time I worked with her I made more progress than years of working on this on my own. I feel like she helped walk me home and let me see the path so I could always find my way back. Would highly recommend Corina and LifeWorks too." -Atul Sohoni, Google Reviews
5. Cambridge Medical Centre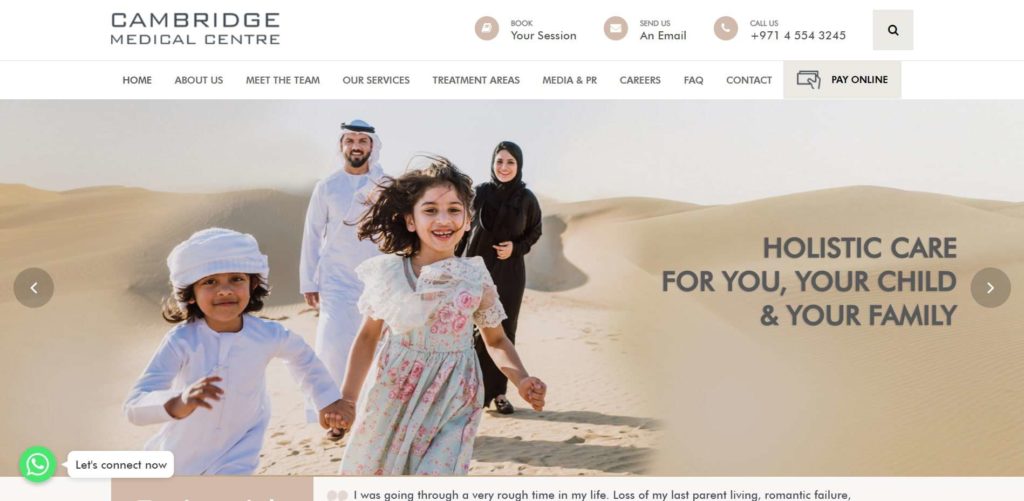 Test
Info
SERVICES
Adult and Child Psychiatry, Adult and Child Psychology, Family Therapy, Marriage Therapy, Speech and Langauge Therapy
WEBSITE
https://cambridgemedicalcentre.com/
ADDRESS
Cambridge Medical Centre, Clinic 303-304, Building 47, Dubai, Healthcare City, Dubai, UAE.
CONTACT DETAILS
+971 4 554 3245

+971 52 191 1175

OPERATING HOURS
Monday to Friday: 8 am - 8 pm

Saturday: 8 am - 6 pm
| | |
| --- | --- |
| Criteria | Rating |
| Credibility | ★★★☆☆ (3/5) |
| Approach | ★★★★★ (5/5) |
| Range of Treatments | ★★★★★ (5/5) |
| Other Services | ★★★☆☆ (3/5) |
With services that range from individual, group therapy, couples and family therapy to psychiatric services and disorder treatments, Cambridge Medical Centre provides thorough care for its patients.
The mental health clinic covers all the areas of child and adult psychiatry, as well as a large range of treatments for disorders, addiction, and mental health issues.
We love how complete this clinic is when it comes to offering different comprehensive programs, as well as evidence-based, cutting-edge treatments.
However, we're disappointed to discover that it doesn't really have any special kind of affiliations and unique set of standards that it follows for it to have that kind of edge.
Despite that, its multidisciplinary intensive approach proves effective and consistent results, giving this clinic and its treatment amazing feedback from its patients.
However, it's brought down by the fact that outside of psychiatry and disorder treatments, Cambridge Mecidal Centre doesn't really offer any other services.
We think that there are missed opportunities here because its facilities are topnotch, and can definitely be used beyond its primary purpose.
All in all, Cambridge Medical Centre's range of treatments and intensive approach to mental health proves effective results that make it one of the best in Dubai.
Consistent and effective approach
Complete range of psychiatric sessions and disorder treatments
No special affiliations and achievements
No other services
Customer Reviews
Love the support I got from here
"I loved the support provided by the team at Cambridge, These months of staying at home and uncertainty related to work really affected my mental health which leads to having negative thoughts in my mind and weight loss, however, after a few sessions of talk therapy I feel much better and have renewed my outlook towards life, I highly recommend them." – Harpreet Singh, Google Reviews
Great talent at this clinic!
"Hats off to Dr. Sara El Nabulsi!
A great counselor with great expertise and talent.
The mind is the most complex machine ever, and there is no one better to help than an expert in the mind and how it works as a psychologist. Almost everything in our lives is an effect of the mind & vice versa, learning to control and master our minds is all it takes to achieve one's potential and have a better life." – Ahmed Al Wadiya, Google Reviews
FAQs about Mental Health Clinics in Dubai
---
We hope this helped you in finding the right mental health clinic in Dubai. Also, if you're looking for other therapeutic services, then check out these articles: