The 5 Best Lunch Restaurants in Dubai
Whether it's for an important business lunch meeting or a great place for catching up with loved ones, Dubai is rich with restaurants with amazing lunch menus.
So we scoured the city to give you the best lunch restaurants in Dubai. We also included the factors we considered in choosing.
Ultimately, we answered some FAQs about lunch restaurants in Dubai.
What are the specialties of the different lunch restaurants in Dubai?
The special dishes served in these lunch restaurants vary from one to the other, so it can be quite overwhelming to pick out something if you're already sitting at the table.
To give you a starting point, we've made a table of the restaurants we included in this list, as well as the specialties that they serve.
| Restaurant | Specialty |
| --- | --- |
| Tan Cha | Peking Duck |
| | Tea Smoked Crispy Skin Chicken |
| | Honey Nut Crispy Beef |
| The Artisan | Guanzia De Manzo |
| | Tartufo Nero |
| | Gnocchetti Al Gorgonzola E Noci |
| LPM Restaurant & Bar | Faux Filet De Wagyu Grille |
| | Cotelletes D'Agneau Vivienne |
| | Poulet Au Foie Gras |
| ROKA | Kral Yengeç Maki, Avokado Ve Wasabi Tobiko |
| | Chu-toro Sashimi Aburi, Zencefilli Ponzu Sos Ile |
| | Bonfile, Susamlı Zencefilli Acı Sos Ile |
| Indochine | Koji Entrecote |
| | Konbu Cured Wagyu Beef |
| | Indochine Fried Rice |
The Best Lunch Restaurants in Dubai
Before we get right into our top picks for the best lunch restaurants in Dubai, here are the factors we considered for our entries on this list:
1. Tan Cha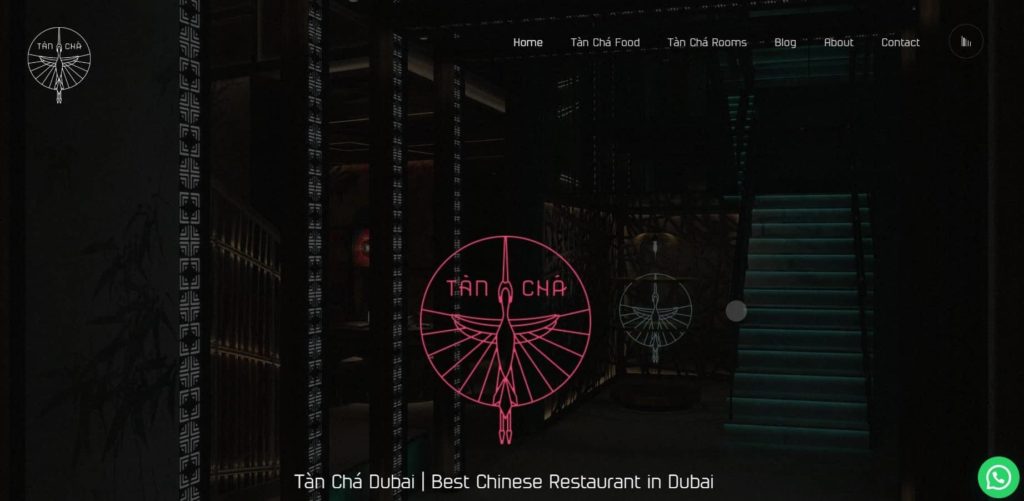 | Test | Info |
| --- | --- |
| WEBSITE | https://tanchadubai.com/ |
| ADDRESS | Dubai, JW Marriott Marquis Hotel, UAE |
| CONTACT DETAILS | +971 56 681 8881 |
| OPERATING HOURS | Every day 12 pm - 3 pm & 6 pm - 2 am |
| | |
| --- | --- |
| Criteria | Rating |
| Menu | ★★★★★ (5/5) |
| Customer Service | ★★★★☆ (4/5) |
| Atmosphere | ★★★★★ (5/5) |
| Location | ★★★★☆ (4/5) |
Matching the hustle and bustle of lunch rushes, Tan Cha delivers a vibrantly energetic ambiance with flavorful signature Chinese dishes to match.
Curated by the chef of a two-Michelin star restaurant in London, this restaurant boasts the kitchen's mastery of the cuisine shaped by traditional influences and contemporary takes from all over the world.
We love the unexpected selections on its menu like the soft shell crab and buttered oatmeal and its tea-smoked crispy skin chicken.
We adore that its dishes take contemporary and foreign methods to reinterpret traditional Chinese cooking and ingredients so that the dining experience provides intrigue for the table.
As for the restaurant's atmosphere, we love the contemporary Oriental style of the decor. Intricate embroidery on the upholstery is matched with geometric accents found in Chinese landmarks like the Forbidden City.
The space is generally lit low, with soft lighting, making the restaurant feel elegant and cozy — a great escape for a midday retreat from work.
The dishes are appropriately plated to be beautiful, with some creatively put into bento-like boxes that add to the overall fun of the dining experience.
Tan Cha is located inside the JW Marriott Marquis Hotel, so it is often out of the way if you just wanted a great lunch restaurant for today's break.
But its location does come in handy, projecting a great respectable image for business lunches, and it is convenient for clients staying at the hotel.
Chinese classics reinvented using modern techniques
Elegant and intimate atmosphere
Beautifully decorated
Great place for business lunch
Location is a bit out of the way for casual dining
Customer Reviews
Food is amazing
"The food is amazing! Many options for vegetarians. Plum pickled tomatoes, scaled kingfish, tofu, and vegetable spring rolls were my top fav. The banana fritters dessert with lotus ice cream was from another planet. Hands down the best Chinese I have ever had. Our waiter Martin was super nice and very knowledgeable! Many people don't know that the hotel has a back entrance for quicker access to the restaurant :)" – Silvia Salmoiraghi, Google Reviews
Highly recommend
"One of the best restaurants I've been to (if not the best). Awesome food, awesome service, and awesome atmosphere. Also if you go you have to try the Peking duck with truffle. Our waitress was May and she gave us a 7-star service the staff manager, Thibaut, showed great hospitality and kindness. Highly recommended." – Ahmad Almarzooqi, Google Reviews
2. The Artisan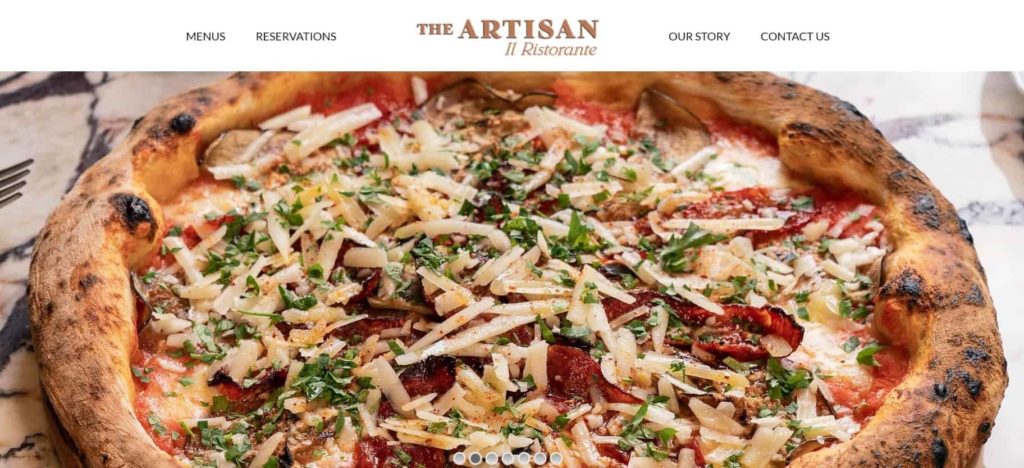 | Test | Info |
| --- | --- |
| WEBSITE | https://www.theartisan.ae/ |
| ADDRESS | Waldorf Astoria, DIFC, Dubai, UAE |
| CONTACT DETAILS | +971 04 338 8133 |
| OPERATING HOURS | Every day: 12 pm - 10:30 pm |
| | |
| --- | --- |
| Criteria | Rating |
| Menu | ★★★★☆ (4/5) |
| Customer Service | ★★★★★ (5/5) |
| Atmosphere | ★★★★☆ (4/5) |
| Location | ★★★★★ (5/5) |
Found in the center of Dubai's business hub, The Artisan offers elevated Italian food that's perfect for lunches that are filling enough to get you through the rest of the day.
It has a business lunch menu that includes great dishes inspired by the flavors of Italy. For only AED135, you can get a starter, a main, and a dessert, which is great for business lunches.
We highly recommend its Carpaccios and the Brasato E Polenta, but mixing and matching its somewhat limited options for business lunch is always fun.
If you're dining with a bigger group, then its main menu is much more suitable, although a bit more expensive.
The staff was helpful and quite detail-oriented. Their attention to their customers and anticipating our every need was quite impressive despite the lunch rush.
And while the restaurant doesn't shout Italian in its decor, we do appreciate the bistro-like quality of the space.
Its stark white linen table sheets, beautiful blank white ceramic plates, and gleaming stainless steel utensils give a sense of refined sophistication to the overall dining quality.
But one of its strong points, as a restaurant, is the fact that it is located in the middle of the Dubai International Financial Center, one of the biggest financial centers in the world.
So whether you're looking for a great place to spend your lunch break or an impressive restaurant to meet your client, this is the place to be.
Attentive and detail-oriented staff
Great central location
Lunch menu is somewhat limited
Decor isn't very Italian for an Italian restaurant
Customer Reviews
Amazing restaurant
"Amazing place with great food and greater vibes. We have some delicious dishes and u should try their complementary chocolate at the end. Thank you Noah for being so kind and hospitable." – Muna Al Mazam, Google Reviews
Authentic Italian food is found here
"Located in Waldorf Astoria Dubai
Very good food
Excellent service from the staff
Amazing ambiance perfect for a date or business
Anyone looking for authentic Italian food should come here!
Lamb shank is to die for" – Navin Khanijow, Google Reviews
3. LPM Restaurant and Bar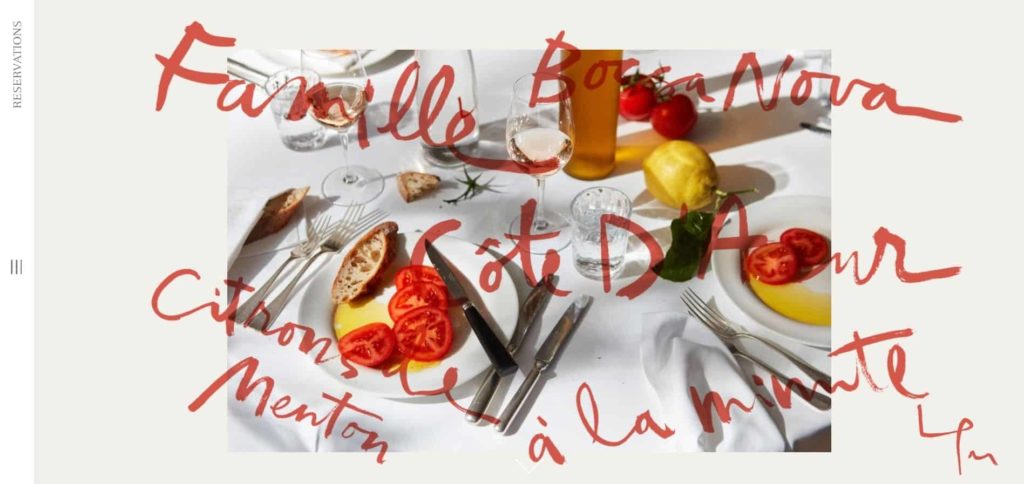 Test
Info
WEBSITE
https://lpmrestaurants.com/dubai/
ADDRESS
Gate Village No, 8 - DIFC - Dubai - United Arab Emirates
CONTACT DETAILS
+852 2887 1113
OPERATING HOURS
Monday to Friday: 12 pm - 2:30 pm & 6 pm - 10 pm

Saturday to Sunday: 12 - 3 pm & 6 - 10 pm
| | |
| --- | --- |
| Criteria | Rating |
| Menu | ★★★★☆ (4/5) |
| Customer Service | ★★★★☆ (4/5) |
| Atmosphere | ★★★★☆ (4/5) |
| Location | ★★★★★ (5/5) |
Combining the luxury and casualness of French Mediterranian cuisine, LPM Restaurant and Bar is the perfect spot to have a relaxed yet upscale lunch experience with friends and colleagues.
The menu has a balanced and wide range of hors d'oeuvres, salads, upscale French desserts, and pasta. Although, its pasta is definitely the weakest part of its menu.
We also love the creative cocktail menu inspired by Mediterranean flavors and Western European ingredients, however, it was a bit disappointing that it is only limited to 6 cocktails.
And when it comes to its service, it was average. There was nothing special about it besides its sommelier that expertly paired up our dishes with great choices of wine.
There was nothing great, but there was nothing bad about the service either. Overall, it was middling, and we came out quite okay with it.
And as for its atmosphere, we appreciate the fact that it brought in the beauty of the French Riviera as much as it could with its decors.
The paneling on the walls gives an elegant texture to the otherwise generally stark white space, the wooden floors complement the tiled sections of the space, and the white linen sheets rounded out that feeling of sophistication.
However, rather than feeling like we're basking under the Mediterranian sky, the restaurant feels like we're cooped up indoors because of the lack of windows.
The location more than makes up for its weaknesses, though. Found in the center of DIFC, it's a stone's throw away from hundreds of offices, perfect for a break or an important lunch meeting.
Great range of French Mediterranian dishes
Elegant decor
Centrally located in DIFC
Pasta is not that good
Average service
Lack of windows tightens the space
Customer Reviews
Excellent experience!
"From the moment we walked in, everyone was very engaged and I felt cared for. I knew people were watching for my needs and coming over when my body language told them I needed something. It was really impressive.
We ended up sitting at the bar for lunch, which was a delight to watch. I always love seeing people in a state of flow, and everyone on the LPM team is so obviously in their element. The bartender we had was SO SO SO good. Chatting us up just the right amount."- Bodor Mohammad, Google Reviews
One of the best lunch experiences in Dubai!
"One of the best lunch experiences in Dubai. The service was consistently exquisite. We were served by Cyril, very friendly, professional, and caring. The entire staff was amazing. The food was tasty, with color, flavors, texture, and aroma. The ambiance was perfect. The cleanliness exceeded expectations. I highly recommend this establishment. Definitely going back." – Muki Khoza, Google Reviews
4. ROKA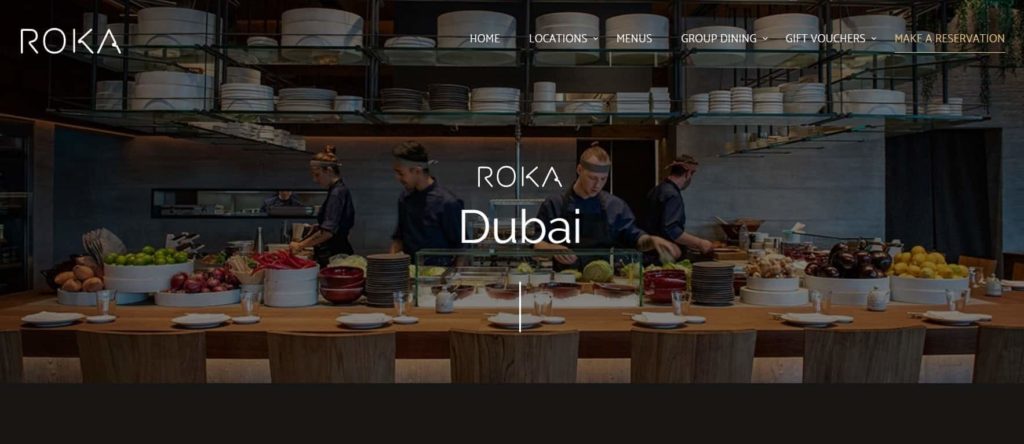 | | |
| --- | --- |
| Criteria | Rating |
| Menu | ★★★★☆ (4/5) |
| Customer Service | ★★★★★ (5/5) |
| Atmosphere | ★★★☆☆ (3/5) |
| Location | ★★★★★ (5/5) |
Bringing in a unique take on contemporary Japanese cuisine, ROKA has established award-winning restaurants in multiple cities, including Dubai.
If it is your first time, we recommend its tasting menu for a more well-rounded first time as well as to give you the opportunity to identify your favorites for when you come back.
Overall, its lunch menu, while having limited options, is enough to give every customer a well-rounded and filling 3-course dining experience.
We recommend trying out its Kankoku Fu Kohitsuji and Sake No Taru Taru for a luxurious lunch dining experience, and then finish it off with its refreshing ginger ninja drink.
We also like the service here. The staff was absolutely knowledgeable about the menu and gave recommendations with confidence.
On top of that, they were all courteous and friendly, it was hard not to feel instantly comfortable the moment we sat down at our table.
However, while the restaurant is beautifully decorated with a nice balance of sophistication and rusticness, we immediately noticed that the restaurant was getting too warm for comfort.
By the time our meal ended, we had to use some of the table napkins provided to wipe off the thin layer of sweat on our foreheads.
On top of that, the music was simply too loud, and it was not a fun experience trying not to shout but still be heard by our friends at the table with us.
As for its location, ROKA is located in Business bay, another popular area for offices, hotels, and commercial complexes.
It's a great central location that is accessible to everyone in the area, and to other necessary destinations that people might stop by during their lunch break.
Great mix and match lunch menu
Knowledgable and friendly service
Centrally located
Lunch menu only has a few options
Restaurant can get hot in the middle of the day
Music is too loud
Customer Reviews
Will definitely refer to my friends
"Unforgettable Experience at this Japanese Restaurant ROKA.
The ambiance and design are wonderful.
We went for a business lunch set menu, classic and premium! It was a perfect selection for two and we shared all 9 starters.
The main courses Seabream was cooked perfectly and so delicious
and the Steak fillet was so tender and juicy, perfectly cooked.
Everything was so delicious and the food was brought to the table so quick!"- Ebrahim Bushager, Google Reviews
Super unique and delicious dishes
"Went here for lunch on my birthday and it was super tasty. We went for the premium lunch menu which was a very good selection of dishes and the perfect portion for lunch, a good amount of food but not stuffed. For the main, I had the miso sea bream which was very well cooked but still had a good hibachi char on it. The highlight was the dessert though, especially the almond yogurt cake with mango toffee. Super unique but absolutely delicious, would come back just to have that again. Really appreciated the little birthday gesture as well, and very glad they didn't do any singing or other cringy stuff!" – Isabelle Schreuder, Google Reviews
5. Indochine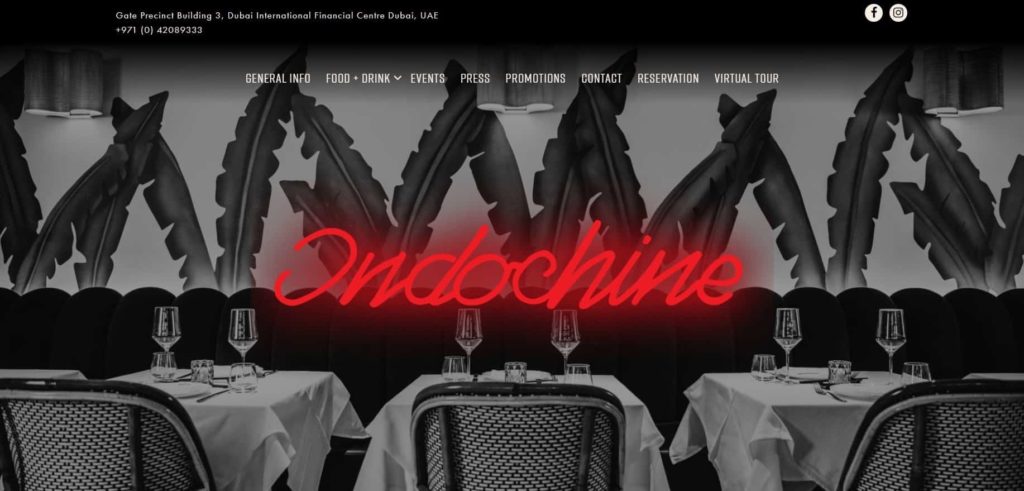 Test
Info
WEBSITE
http://www.indochinedxb.com/
ADDRESS
Gate Precinct Building 3 - Level 2 - DIFC - Dubai - United Arab Emirates
CONTACT DETAILS
+971 4 208 9333
OPERATING HOURS
Monday to Wednesday: 12 pm - 1 am

Thursday: 12 pm - 2 am

Friday: 12 pm - 3 am

Saturday: 12 pm - 5 pm & 8 pm - 3 am

Sunday: 7 pm - 1 am
| | |
| --- | --- |
| Criteria | Rating |
| Menu | ★★★★★ (5/5) |
| Customer Service | ★★★★★ (5/5) |
| Atmosphere | ★★★★☆ (4/5) |
| Location | ★★★★★ (5/5) |
This French-Vietnamese restaurant is a natural standout with its uniquely flavorful dishes, and the space is more than capable for great conversations over lunch.
It's got a business lunch menu where customers can choose between 2 or 3 courses. What we love about this one is how full the business menu is.
For most restaurants, this menu would have around six to ten dishes per course, but Indochine has almost 25 dishes overall.
From Banh Mis and rolls to salads and mains, the business menu delivers variety without question.
The beef pho is an excellent choice if you're looking for something comforting and feeling for a midday break.
The crispy duck autumn rolls are the perfect lovechild of Vietnamese ingredients and French cooking, and the wrapped chicken sticky rice is unapologetically Vietnamese.
The staff was quite friendly and attentive to our needs. We appreciated how quickly they accommodated our requests, and our food was served in a timely manner.
However, our lunch experience was quite dampened by the music, which was a bit too loud and did not match the overall ambiance of the space.
But the location is in the middle of DIFC, which is more than what we could have asked for.
Surrounded by offices and hotels in the middle of downtown Dubai, it can't get better than that.
Great business lunch menu
Friendly and attentive staff
Centrally located in DIFC
Music mismatched the ambiance and is a bit too loud
Customer Reviews
Exceeds expectations
"We have heard a lot of good reviews about this restaurant from friends. Finally, we have decided to try it out for ourselves. Indeed it is really good. We were here for the business lunch. The staffs were great, friendly, and helpful. The ambiance is really pleasant. The food was great and we love it so much." – Carmen Cheah, Google Reviews
A gem of a place
"Food is amazing from presentation to the taste was incredible. The place is beautiful and romantic. Excellent service to ANTHONY, he is so amazing very smart, He knows how perfectly everything from suggestions to upselling to very good service. Working in the same industry I can say he is a gem of the place." – Danica Santos, Google Reviews
FAQs about Lunch Restaurants in Dubai
---
We hope this helped you in finding a lunch restaurant to try out. Also, if you're looking for other restaurants, then check out these articles: