The Top 5 Jewellery Stores in Dubai
Jewellery is one of the best things you can give as a gift to show your appreciation towards someone.
As a place known for its gold and jewellery industry, you may find yourself easily overwhelmed by the amount of options Dubai has to offer. That's why we're here to help you with our recommendation of the top jewellery stores in Dubai.
How much does jewellery cost in Dubai?
Dubai lives up to its reputation as the "Jewellery Destination of the World" with the rich assortment of jewellery you can purchase at competitive prices. However, you can easily fall victim to overpriced purchases if you're not familiar with how much things normally cost.
In order to help you determine whether an item is within the reasonable price range, you may refer to the table below:
| Test | Info |
| --- | --- |
| Gold Purity | Price per gram |
| 18k | AED175 |
| 21k | AED205 |
| 22k | AED215 |
| 24k | AED230 |
We've also looked into the average costs of different types of jewellery that are commonly sold in Dubai:
| Test | Info |
| --- | --- |
| Diamond Necklace | AED3,700-25,000 |
| Engagement Rings | AED7,500-23,500 |
| Wedding Bands | AED2,700-14,700 |
| Diamond Earrings | AED1,850-9,250 |
The Best Jewellery Stores in Dubai
In order for us to determine the top jewellery stores in Dubai, we had to assess each store using the following criteria:
1. Malabar Gold & Diamonds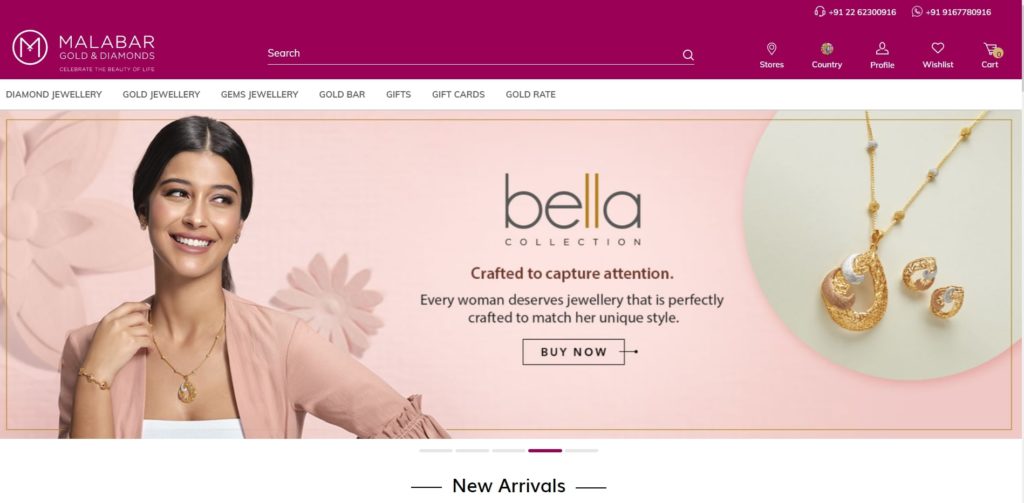 Test
Info
PRODUCTS
Earrings

Pendants

Nosepins

Necklaces

Mangalsutras

Bangles

WEBESITE
https://www.malabargoldanddiamonds.com/ae//
ADDRESS
Meena Bazar Cosmos Lane, Near Dubai Museum, Dubai, United Arab Emirates
CONTACT DETAILS
+971 4 388 7916
OPERATING HOURS
Monday - Sunday, 10:00 AM - 10:30 PM
| | |
| --- | --- |
| JEWELLERY SELECTION | ★★★★☆ |
| PRICES | ★★★★★ |
| SERVICES | ★★★★☆ |
| RETURN POLICIES | ★★★★★ |
| PRODUCT FEEDBACK | ★★★★★ |
With over 285 retail outlets spread across 10 countries, Malabar Gold & Diamonds has truly come a long way ever since its foundation in 1993. With the help of its 14 manufacturing units in India and the GCC, it continues to bring world class jewellery to its market in Dubai.
If you're the type of buyer or jewellery enthusiast who is conscious about the origins of the diamonds in your jewelleries, then this store is definitely the one for you.
The company has been verified by the renowned Kimberley Process Certification Scheme (KPCS), which means that they only offer "conflict-free diamonds".
And in case you're wondering what "conflict-free diamonds" are, it refers to diamonds that are acquired in an ethical way. It also means that it wasn't sourced from armed groups in conflict-stricken areas of the world.
Thus, we commend Malabar Gold & Diamond's commitment to using only "conflict-free diamonds."
Its buyback policy also offers you as high as 96% of the prevailing gold value, which is probably among the highest in Dubai.
Our only complaint about this store is its poor customer service.
We even got reports from a previous customer that they had to wait for 30 minutes before they got accommodated. Said customer also added that they felt like it had something to with the fact that they were seeking assistance on one of the less expensive items on display.
But when it comes to quality, you trust that your purchases from Malabar & Gold Diamond will last for a long time. Some of their previous customers even plan on using their jewelleries as family heirlooms.
Offers lifetime maintenance for all jewellery
Conflict-free diamonds verified through KPCS
Worldwide shipping through Fed-Ex
Complaints about poor customer service
Long waiting times for jewellery repairs
Customer Reviews
Good place for gold purchase
"Good place for gold purchase…huge collection…sales persons are very friendly…highly recommended for jewellery shopping" – Mujahid Ali
Divine collections
"One of the biggest chains in dubai with awesome varieties and most of the weekends it is busy in evenings. Divine collections, precious gems and hand made varieties are something special here. Genuine buyers must visit." – J. Ganesh
2. Tanishq Jewellers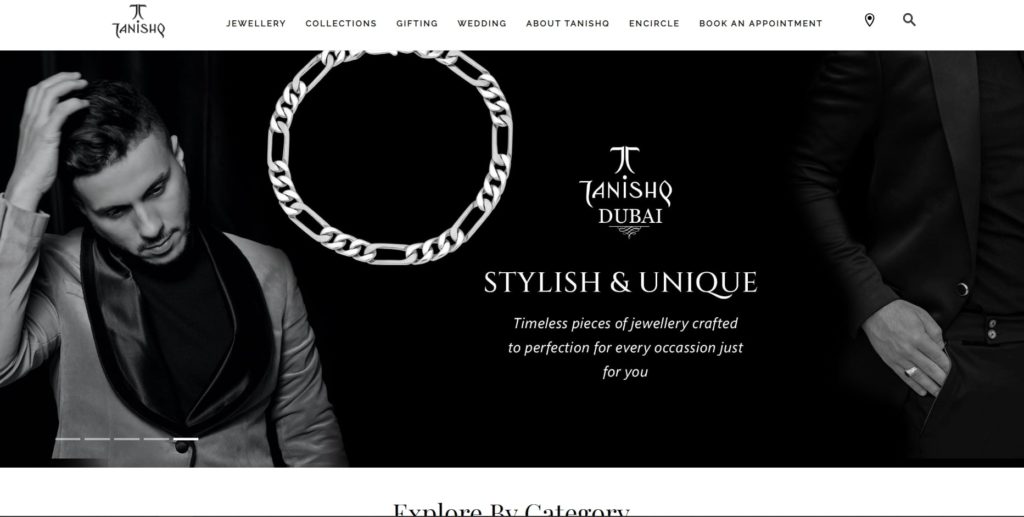 Test
Info
PRODUCTS
Gold and Diamond Jewellery

Festive Jewellery

Wedding Jewellery

Jewellery Watches

WEBESITE
https://www.tanishq.ae/
ADDRESS
Showroom No. 3, Plot 312/177, Al Souq Al Kabeer Meena Bazar, Cosmos Lane Near Dubai Museum Bur Dubai, 90320, Dubai, United Arab Emirates
CONTACT DETAILS
+971 4 228 1458
OPERATING HOURS
Monday - Sunday, 11:00 AM - 10:30 PM
| | |
| --- | --- |
| JEWELLERY SELECTION | ★★★★★ |
| PRICES | ★★★★★ |
| SERVICES | ★★★★☆ |
| RETURN POLICIES | ★★★★☆ |
| PRODUCT FEEDBACK | ★★★★★ |
If you're looking for jewellery that brings out the perfect blend between modern outlooks and traditional values, Tanishq may be the store you're looking for.
They offer a vast selection of more than 4,000 jewelleries, with nearly half of it costing just below AED2,370.
We also found more than just gold and diamond jewelleries at Tanishq. Their platinum, rose gold, and dual tone collections offer a lot of stylish accessories you don't want to miss out on.
However, we would really appreciate it if their website listed the exact prices of the items in order to help potential customers plan their budget.
We also noticed that their website lacks important information customers may want to know in advance, such as their policies on shipping, returns, refunds, and the like.
But we've found reports that Tanishq has rather stringent return policies. So before making your purchase, you may want to inquire with their personnel about everything you want to know in advance.
On the bright side, each store comes with its own state-of-the-art Karatmeter that reassures you about the purity of gold you're about to purchase. You are also only charged for the weight of gold, so you don't have to worry about paying for the gemstones at the rate of gold.
More than 4,000 collection of stylish jewellery
Accommodating and friendly staff
Karatmeter present in each store
Jewellery prices not available on their website
Strict return policies
Customer Reviews
Love their collection
"Came here with my friend to shop. Love their collection. It is unique. The staff members are extremely helpful. Mr. Niyza attended us and helped choose a piece that matched our taste. He is extremely knowledgeable about designs in general. He had an extremely polite attitude and a humble man. Thank you for the support." – Kairavi Oza
Elegant designs and world class service
"TANISHQ, where elegant designs and world class service come together!! Such a pleasure visiting the store!! The staff is highly professional and willing to go the extra mile with a smile!! Here I must mention the very helpful and lovely natured Aida!! We were bowled over when they presented us with a bouquet on our anniversary!!" – Amitha D'Souza
3. Kanz Jewels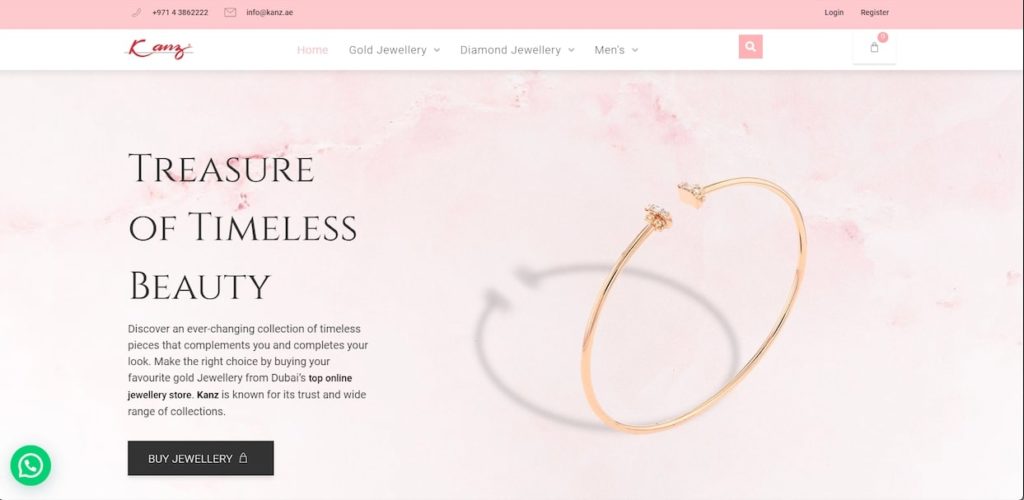 Test
Info
PRODUCTS
Bracelets

Necklaces

Earrings

Pendants

Rings

WEBESITE
http://www.kanzjewels.com/
ADDRESS
Kanz Tower, Gold Market, Dubai, United Arab Emirates

19 50 B St, Al Fahidi, Dubai, United Arab Emirates

CONTACT DETAILS
+971 4 235 3111

+971 4 386 2222

OPERATING HOURS
Monday - Saturday, 9:30 AM - 10:30 PM

Sunday, 9:30 AM - 10:00 PM
| | |
| --- | --- |
| JEWELLERY SELECTION | ★★★★☆ |
| PRICES | ★★★★★ |
| SERVICES | ★★★★☆ |
| RETURN POLICIES | ★★★★☆ |
| PRODUCT FEEDBACK | ★★★★★ |
Established in 1991, Kanz Jewels is a joint family business built up from scratch by founder Anil Dhanak. From its humble beginnings, the company now has seven outlets throughout the Gold Souk, and even a special workshop where they manufacture their own jewellery.
They offer more than 380 gold and 160 diamond jewelleries, which includes bracelets, rings, necklaces, pendants, and earrings.
You can also find gold jewellery imports on their stores from countries like Saudi Arabia, India, South Korea, Spain, and Turkey.
One of the things we love about Kanz Jewels is their accommodating and friendly staff. They will even offer you tips on how to take care of your purchased jewellery.
We also appreciate the effort they put in trying to find the perfect jewellery that fits your budget. They also have this talent for finding you the sort of designs that would suit your tastes even after just a brief explanation of what you're looking for.
However, we'd like to advise you to be vigilant when discussing VAT charges.
One of the previous customers we have spoken with had reported paying for additional tax charges on their purchases once they arrived at the airport. This is despite the fact that the store personnel have told them that this fee was already included in their bill.
Nonetheless, you can rest assured that none of their jewellery is gold-plated and all of them are made from solid metals.
Offers worldwide shipping via DHL
On-stock imported gold jewellery
Buy-back policy available at 94% of the prevailing gold rate
Complaints about cancelled tax return charges despite in-store promises
Reports of poor after-sales services
Customer Reviews
One of the best stores
"This is one of the best stores in the entire Dubai Gold Souk. I came back after 4 years and they truly appreciated me as a customer. I wound up exchanging some old jewelry and bought twice as much as I came for. Wasim Ahmed is truly helped me assist with my requirements. I highly recommend their team for any gold purchases. A++" – Deepak Sharma
Good collection of rings
"Had a very good experience with Kanz jewels Main branch. They had a good collection of rings. Mr. Umesh (Manager) is a very pleasant and gentle person. He helped finalise our deal. Mr Amit P and Mr. goswami were very patient in showing the variety of rings. Thankyou." – Lakshay Taneja
4. Tiffany & Co.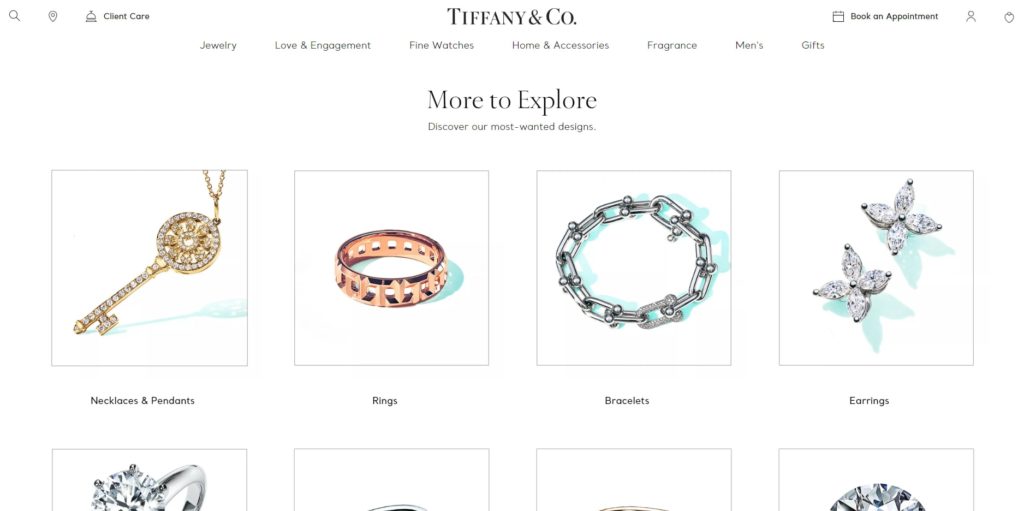 Test
Info
PRODUCTS
Necklaces

Pendants

Brooches

Rings

Earrings

Fine Watches

WEBESITE
https://www.international.tiffany.com/jewelry-stores/the-dubai-mall/
ADDRESS
Financial Center Rd, Downtown Dubai, Dubai, United Arab Emirates
CONTACT DETAILS
+971 4 339 8350
OPERATING HOURS
Sunday - Wednesday, 10:00 AM - 11:00 PM

Thursday - Saturday, 10:00 AM - 12:00 AM
| | |
| --- | --- |
| JEWELLERY SELECTION | ★★★★★ |
| PRICES | ★★★☆☆ |
| SERVICES | ★★★★☆ |
| RETURN POLICIES | ★★★★☆ |
| PRODUCT FEEDBACK | ★★★★★ |
Being among the oldest names in the jewellery industry, it comes as no surprise that Tiffany & Co. also made its way among the best jewellery stores in Dubai.
With a legacy of more than 180 years of expert craftsmanship, it brings you a wide array of jewelleries you can choose from.
Its inventory comprises 375 gold, 380 sterling silver, 220 platinum, and 358 rose gold jewelleries, all in stylish designs that fit modern tastes.
However, its products are definitely on the more expensive end as around half of its inventory costs above AED18,000. The exact prices aren't also listed on their website, so it can be hard for customers to accurately prepare a budget in advance even if something catches their eye.
It also doesn't offer any customisation on its jewelleries aside from resizing. But you can count on them for professional cleaning, polishing, and repairs.
We also love the professionalism that their in-store personnel have shown. They are knowledgeable about the jewellery they sell and share some insightful maintenance practices.
As a globally established brand, Tiffany & Co. also makes a lot of efforts to be part of the sustainable movement. We've found out they reuse or recycle the precious metals left over during the crafting process.
Additionally, their diamonds are also "conflict-free" and sourced from responsible and reputable suppliers.
Excellent customer service
Offers platinum, sterling silver, and rose gold jewelleries
Sustainable jewellery production practices
Expensive price range for most accessories
Customisation services not available
Customer Reviews
Top notch service
"Absolutely TOP NOTCH service from staff in Dubai Mall. Ilya in particular, was brilliant. Very knowledgeable, kind, attentive and seriously nice young man. His knowledge about Tifanny jewellery is incredible. We felt greatly taken care of. By him and also by the store manager Stephanie, that's one fine lady. 👌 Highly recommended this store run by professionals with very high standards." – Suzanne Jane Coll
Great customer service
"Visited them thrice over a span of many weeks. Finally bought something during my last visit but they maintained the same Great Customer Service throughout." – Agnelo Dias
5. Bafleh Jewellery LLC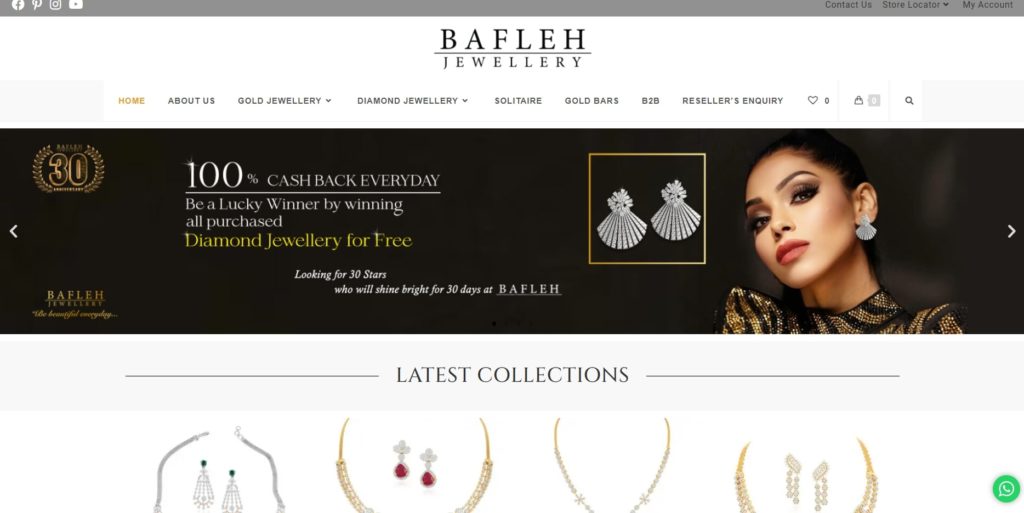 Test
Info
PRODUCTS
Rings

Bangles

Bracelets

Necklaces

Pendant Sets

Earrings

WEBESITE
https://bafleh.com
ADDRESS
25 50 B St, Al Fahidi, Dubai, United Arab Emirates
CONTACT DETAILS
+971 4 388 0315
OPERATING HOURS
Monday - Sunday, 9:30 AM - 10:30 PM
| | |
| --- | --- |
| JEWELLERY SELECTION | ★★★★☆ |
| PRICES | ★★★★☆ |
| SERVICES | ★★★★★ |
| RETURN POLICIES | ★★★☆☆ |
| PRODUCT FEEDBACK | ★★★★★ |
Having won the "Highest Importer of the Year (Middle East)" award for years 2015-2016 and 2017-2018 from India's GJEPC, Bafleh Jewellery earns a well-deserved spot among the list of the best jewellery stores in Dubai.
Bafleh Jewellery has seven retail showroom outlets across Dubai and one in Sharjah. It offers more than 120 diamond jewelleries and 350 gold jewelleries.
The store is well-known for the beautiful variety of items available on hand. They also provide engraving and customisation services.
One satisfied client even shared that even on a rushed deadline, the store was able to deliver their customised jewellery request for a special occasion. Kudos to Bafleh Jewellery for their dedication and thoughtfulness in delivering their customers' needs.
Although we ought to let you know that they impose stricter return policies compared to other stores. You can only exchange gold jewelleries within a week after purchase, which is much shorter compared to the two weeks for diamond jewelleries.
Customised and special order jewelleries can also be only exchanged within two days, and only if there are defects in the product.
But on the bright side, they offer some of the most competitive prices for gold jewelleries in the market.
So if your budget is on the tighter end, we definitely recommend their gold collection. Who knows, you might find something that feels like it's been made especially just for you.
Corporate gifting and jewellery customisation services available
Certified by IDT Gemological Laboratories
Can work around tight deadlines for custom orders
Shorter exchange period for gold and customised jewelleries
Higher starting price point for most diamond jewelleries
Customer Reviews
Designs are trendy
"I found Bafleh by chance when roaming around gold souk. I am so happy I found them and have been a repeated customer ever since. Designs are trendy, new and affordable making charges compared to other brands. Will come again." – Amjad Ahamed
Great variety of earrings and bangles
"Do visit Bafleh retail store on the first floor of a Gold Center shopping area. It has great variety of Earings and Bangles. I would advise uppity visit this store once before buying. Mr. Akbar, who is the shop in charge is very helpful and will show great designs according to your preference. The making charges are competitive or lower than the market." – Kashyap Gandhi
FAQs about Jewellery Stores
---
We hope that this article has helped you find the perfect jewellery store for you! Also, if you know some other stores we might've missed, don't hesitate to let us know so we can check them out too!
Finding the perfect gift can be really hard, even more so if you cannot give it in person. Luckily for you, we have also compiled the best stores for gift delivery in Dubai!