6 Options for the Best IT Services in Dubai
Unsure of where to turn for network security concerns and data storage problems? Not to worry—we've compiled a list of companies that provide the best IT services in Dubai.
We'll go over what they offer, what we like (or dislike) about each one, and more. But before we get to all of that, we'll talk about what you should expect to pay for IT services in the city.
How much do IT services cost in Dubai?
How much you stand to pay for your IT services depends on a number of things:
1. How many users are there?
It goes without saying that the more devices or users that you have, the more things there are to manage. Be mindful that this also includes gadgets like mobile devices or tablets—as long as they are used for work, they will be factored in.
Prices tend to vary by company and inclusions, of course. In the main, you can expect to shell out about 50 to 400 USD per user per month.
2. How many servers do I have?
An increase in the number of servers also means an increase in price. And if you do not have a server yet, your provider will suggest that you acquire one.
Upkeep of servers for small businesses may cost around 150-1500 USD per month on average, depending on what other services the business requests.
3. How much service time do I need?
As a business, you must already be prepared with the information your IT Service provider may ask for when it comes to the services you require.
You may ask yourself questions like "Do you run your business 24/7?" and "What kind of IT issues do you keep having?"
All of these questions, when answered, give your provider an idea of just how much of their service you are going to need and the length of time they will have to spend on these concerns.
Depending on what specific service you require of them, you may end up paying anywhere from 50-250 USD per user a month.
4. Do I need any upgrades?
Once you've gotten past the previous hurdles, your provider may want to sit down and discuss with you if your current IT network setup may need to be upgraded so they can do their job.
Again, depending on just how much needs to be changed and other factors such as the size of your company and the kind of services you require, you may spend anywhere from 50-1000 USD per month per user applying the upgrades.
Now that we have that out of the way, let's talk about the providers.
The Best IT Services in Dubai
Now that we have an idea of the price range, let's talk about the providers and see what they have to offer.
1. Bluechip Computer Systems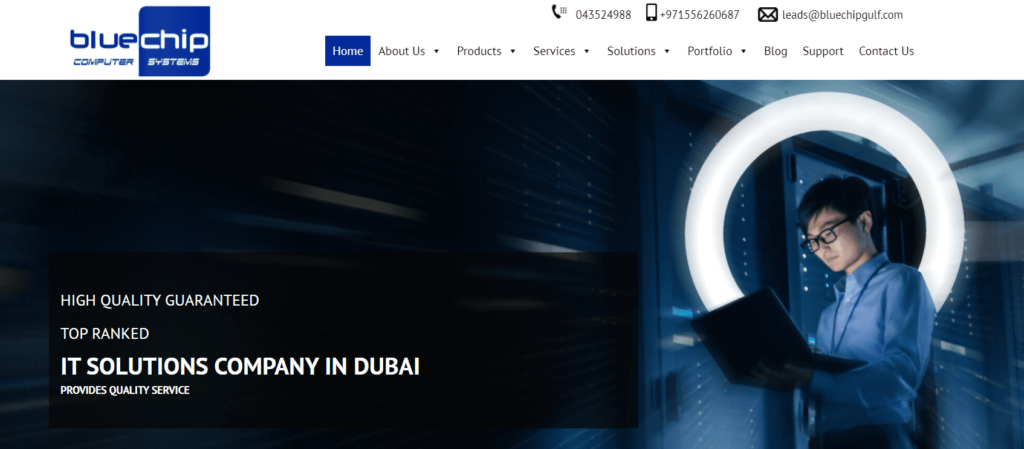 Address:
18th St, Al Jahra Building, Office 703, Khalid Bin Al Waleed Road, Near Hotel Royal Ascot, PO Box: 233468, Dubai, UAE
Website:
https://www.bluechipgulf.ae/
Contacts:
+971-556260687 | +04-33524988 |

[email protected]

Services Offered:
IT Consultancy, Server Management, Firewall Installations, IT Support in Dubai, Structured Cabling, Printer Repair, Security Cameras, Antivirus
Starting this list is a popular IT service company in Dubai that's been serving small-to-medium-sized businesses from Abu Dhabi to Sharjah.
Bluechip Computer Systems is one of the best choices among IT service providers here, we think, boasting a service reach extending all the way to some GCC countries.
Not only does the company provide managed IT service 24/7, but they are also suppliers of products and materials you may need for your digital security and data communication. Their server monitoring and IT support services work round-the-clock, too.
One very positive thing to note about Bluechip is their invaluable accommodation towards companies that are financially struggling, whether that's because they're still starting, are unfortunately closing down, or simply downsizing. They have plenty of discounted rates to offer.
Their Service Level Agreement is also offered multi-level, meaning that you as a client will have more control and a more defined idea of the services they offer, and whether or not you will include them in the package you avail of.
Bluechip is also capable of delivering cost-effective designs and maintenance even to large enterprises such as airlines, banking, education, and healthcare. However, they do specify that standardized pricing is not to be expected when it comes to managed IT services.
This just means that while their prices are considered more affordable than their competitors, you should still allow for the possibility of quote variation.
Hiring them may mean you would have to be clear about other charges that may come up along the way. It would also help greatly to ask them to clarify what classifies as "high-end services", as those can come with a heftier price tag.
Affordable
Multi-level SLAs
Managed service available 24/7 
Prices may change according to many variables
Customer Reviews
The team is updated with the latest technology.
"Bluechip Computer System is one of the leading IT system integrators and has solutions for all verticals and domains. Bluechip Computer System has the highest level of OEM partnership with 30+ vendors and provides niche skills in various areas. Sales and presales team is amazing and has lots of potential to help and the team is updated with the latest technology in all domains." – Syed M. Noufal
Fast response, competitive pricing, and flexible.
"Bluechip is one of our reliable IT suppliers. Fast response, competitive pricing, and flexibility are the reasons we happily continue to work with them." – Ensiyeh Ghotbi
2. Mignet

Address:
1901/19F 48-Burj Gate, Downtown, Dubai, UAE
Website:
https://mignet.ae/it-support-in-dubai/
Contacts:
+971-44030601 |

[email protected]

Services Offered:
Information Security, Server and Storage, Web Development, AWS Cloud Services, Unified Communications, Software and Network Solutions, UX and UI Design
Specializing in Cloud Computing and IT Infrastructure, Mignet is undoubtedly one of the best IT services in Dubai and the leading Information Technology company in the UAE. The company even boasts a clean track record—they have never lost a single client because of poor service before!
A unique advantage to choosing Mignet over the others is that they can temporarily step in should any of your internal IT personnel be absent from work.
Aside from that, they also offer a centralized printing management service that may be very useful for businesses that make use of the printer quite a lot. This allows the business owner to stay on top of any and all printing expenses.
Mignet seems to offer fast response time in addition to guaranteeing that your business meets your goals. Their knowledge of cyber security also keeps up with its ever-changing landscape, always staying on top of what is new while providing expert CTO advice.
The company has convenient packages that you can avail of according to your budget. The basic, standard, and enterprise packages come with their own features.
The basic and standard packages give clients support from 9 AM to 6 PM, Sunday to Thursday. The standard package has quarterly preventive maintenance, however.
The enterprise package has the most features out of the three, with 24/7 support being the most enticing inclusion. Of course, it's also the most expensive option.
Focused mainly on software services
Proven track record with the big clients that they handle
Temporary IT Support
Their "Basic" and "Standard" packages only cover Sunday to Thursday
Customer Reviews
The team is professional, efficient, and very knowledgeable.
"I cannot speak highly enough of Mignet. We have just renewed our annual contract for the 3rd year and are highly satisfied with their service. The team is professional, efficient, and very knowledgeable. I would absolutely recommend Mignet to any company looking for 5-star service." – Emma Whittall
Their work is efficient and reliable… plus, friendly staff!
"We availed a yearly contract with Mignet. They are always present and on time when we need them. Their work is efficient, reliable, PLUS friendly staff. Mignet solved our Wi-Fi connection problem, Macbook and windows computer problem and routers, and telephone problems! In our line of work, it is important to have a working computer and internet connection so interruption is a big no-no so I highly recommend getting the services of Mignet." – Roxie Guieb Vlogs
3. Datawave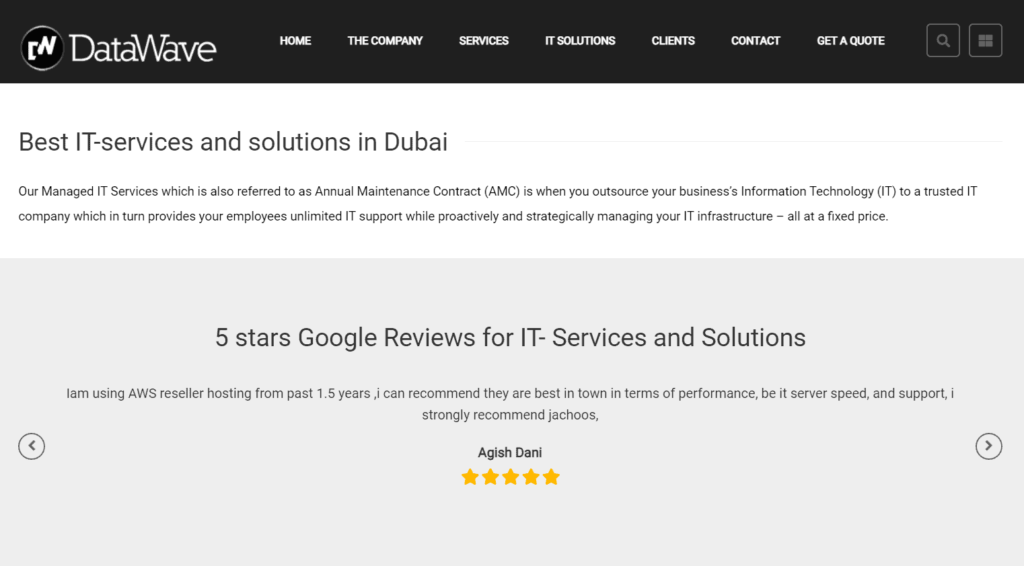 Address:
Datawave Technologies LLC. PO Box 52676, Dubai, UAE
Website:
https://datawave.ae/managed-it-services-and-solutions-in-dubai/
Contacts:
+971-43468939 | +971-43553067 |

[email protected]

Services Offered:
Cloud Computing, Cyber Security, Custom Software, IT Support, IT Consultancy, Managed IT Services, Structured Cabling, Software Integrated Solutions, Security IP Camera
A privately owned IT Support and IT Service company that's been in the business for a decade, Datawave has in its ranks professional IT engineers who are dedicated to solving IT concerns. They also boast global coverage that's available 24/7.
They offer clients a wide range of customizable service bundles that clients can choose from according to the size and nature of their business. We like the simplicity of such bundled offerings.
If you're afraid that means they only have predesigned service packages, though, don't worry. They also have IT Services that can be customized according to your needs, whether that be corporate, banking, healthcare, business offices, education, and manufacturing.
Security also appears to be among the list of their services. Not only do they protect your network via security software, but they can also install CCTV in your office.
This is, of course, just a bonus. What we're really looking at here are their IT services.
Related to those, they employ a "fixed monthly fee" model, which means that you pay an exact amount of money every month that is determined by the complexity of your network. The good news is that this makes budgeting easier, with no extra charge should you need their support at any time.
The slightly bad news is you're paying every month for the readiness of their response whether or not you actually call them. Still, it's a good thing to have an emergency response on standby.
Another potentially disappointing possibility about this company is that they may try to upsell certain brands to you—brands that may be beyond your budget.
The good news is you can always tell them your preferred brand, as they generally aim to be vendor-neutral when it comes to products and services.
Lets you scale services according to what you need
Offers a wide array of services that also include hardware supply Offers security camera installation
May try to upsell certain tech brands
Customer Reviews
Trustworthy and within budget.
"Highly professional team with dedication, trustworthy and within budget, affordable." – Sibin Chandran
Best in town in terms of performance.
"I am using AWS reseller hosting for the past 1.5 years. I can recommend them. They are the best in town in terms of performance, be it server speed or support. I strongly recommend them." – Agish Dani
4. VRS Technologies LLC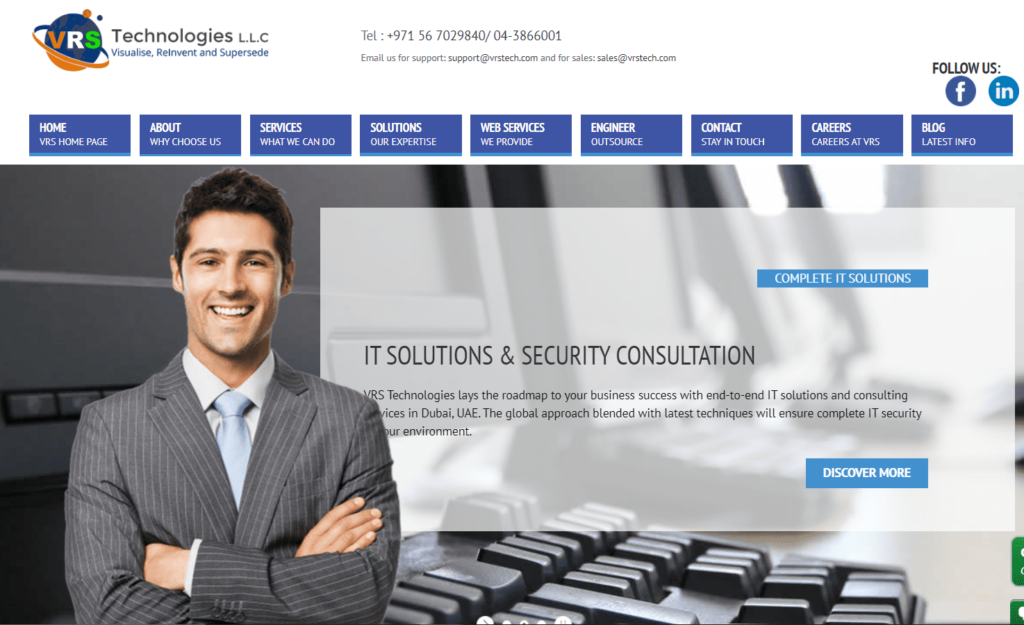 Address:
Silver Home 507, Al Rolla Street, Opp. Baqer Mohebi, Bur Dubai, PO Box 242026, Dubai, UAE
Website:
https://vwww.vrstech.com/
Contacts:
+971-567029840 | +04-3866001 |

[email protected]

Services Offered:
Business Telephony, Biometric System, Data Recovery, CCTV DVR, Structured Cabling, Fiber Optic Cabling, We Design, Mobile Application Development, Virus/Malware/Spyware Removal
Having been in the business for over ten years now, VRS Technologies has proven itself to be one of the best IT Services in Dubai by providing advanced technology to their clients' businesses. They've even branched out into other IT Services such as Cyber Security and Mobile Application Development.
They have some pretty interesting offers – not many IT Service providers offer biometric systems as they do, for example. This service enables business owners a more streamlined way of keeping track of employee time in and time out.
The company also offers AMC or Annual Maintenance Contracts to ensure that your technology remains up-to-date and that you are running the best security available for your network. This also comes with defragmentation of your hard disk to keep it in top condition.
It appears that this company has a proven track record of quality service and a good reputation, as evidenced by the big names they are in partnership with.
And they can cover so many tech services! For business owners who are only starting and want to put their brands out there, for example, VRS Technologies can help you with your website with your domain registration and hosting.
That way, you won't have to worry about outsourcing services like these to a different provider. It makes things awfully convenient.
A thing to take note of is that they appear to be hard-selling their Annual Maintenance Contract, though, which is an agreement that basically ensures that no matter what time of day and whatever the issue may be, you will always have this provider available to assist you.
While this sounds good on the surface, it may prove too expensive for any starting business.
If nothing breaks down for an entire year, for example, you will have paid for a service that you did not need at all.
If you do decide to sign into this agreement, you may need to have the services defined or the contract modified to make sure that everything still fits within your budget.
Offers biometric systems, domain registration and hosting services, and many other tech services
Good range of maintenance contracts
May try to upsell you on their Annual Maintenance Contract 
Customer Reviews
Effortless upgrades.
"It's been really nice working with guys at VRS technologies. They effortlessly upgraded the memory and storage of all our desktops at all our UAE branches." – Deepak K. Yadav
Setting up a new office is a nightmare… with VRS, it was a breeze.
"The thought of setting up a new office was a nightmare. With the help of VRS technologies, it was a breeze. We just had to walk into a new office with all the IT infrastructure in place, including the cabling, Epabx System, CCTV Surveillance Systems, Biometric Access System, Server room, Firewall, Exchange Server and just about everything that we needed. They lifted the weight off our shoulders when we needed them the most." – Nebu Thomas
5. Whitehats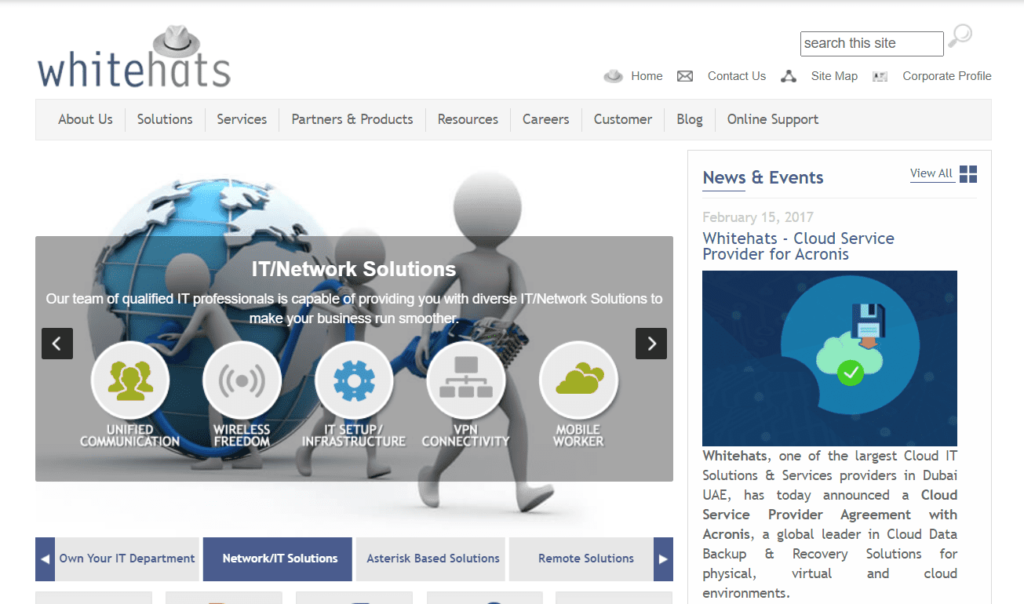 Address:
PO Box 38149, Al Quoz 3 Dubai, United Arab Emirates
Website:
https://whitehatsme.com
Contacts:
+971-43382500 | +971-43388785 (fax) |

[email protected]

Services Offered:
Networking Support, Wireless Networking Support, Security Camera Installations, Hardware Installation and Troubleshooting, PC and Workstation Support, Storage and Server Solutions, Data Backup
Whitehats provides a wide range of support for different types of clients across the board—from small business startups to multinational companies—their services are available for anyone who needs them.
Not only do they provide IT support and solutions in partnership with international service providers, but they are also official distributors of world-renowned software and hardware. Whitehats also ranked number 56th in the recent Forbes Middle East in recognition of their impact in the Arab world.
Overall, Whitehats appear to be an impressive company with a wide range of services and solutions.
From what we've heard, they live up to the promise they make on their site—"We at Whitehats are very [enthusiastic] about providing our customers with services that they cannot get from any of our market rivals."
That being said, they are affiliated with big brand names such as Apple and HP. Should you reach out to them in need of new hardware, they may try to upsell brands that are beyond your budget.
Make sure to communicate this with them beforehand if you have any concerns about that, or if you have a preference for more affordable brands.
Offers biometric systems Offers an extremely wide range of services
May try to upsell you big brands they are affiliated with
Customer Reviews
Polite, professional, and confident.
"I contacted Whitehats through their website and was immediately served by a customer service agent. I briefly explained my concern and gave my contact details. The same day in the afternoon I was contacted by an IT engineer and we scheduled a date for a visit to my apartment. Upon arrival the next day the engineer was polite, professional, and confident and got the job done in an appropriate manner. I'm very satisfied with the service provided by Whitehats and plan to contact them in case of any future services. Therefore I would also recommend them for any IT-related services." – Saba Elahi
Very reliable IT company.
"I have known Whitehats for the past four years now. They are very reliable IT Company efficient in their work and you could have them at your back and call anytime.
Besides their staff are very co-operative and accommodating." – Renate Fernandes
6. Resolution IT

Resolution IT is a company that provides all-around IT support services in the UAE region and is even one of the few Microsoft Gold Partners in Dubai. They are comprised of a team of IT consultants who have extensive experience in the field geared especially for professionals and businesses.
They clearly invest in a team of only the most qualified and well-trained consultants that can deliver robustly and secure IT services. This is further concretized by their innovative fixed-fee contract to help enterprises reduce costs without sacrificing proactive support from experts.
A clear picture of their professionalism and expertise is seen on their testimonials and case studies which are readily available on their website for clients to understand how they work. However, they lack information regarding the price ranges of their packages and their inclusions as well which could have been very useful for first-time clients.
Furthermore, they usually respond in the form of calls which could create time complications, but they are always open to being contacted for any queries and reviews.
Affordable services
Accessible case studies
User-friendly website
Price ranges are not readily available
Customer Reviews
"Resolution IT has been our consistent and dependable IT service provider in making sure that our system is working accordingly in suitable in the company needs. They are very consistent in providing any possible needs at all times." – Bernadette Nangca
"Resolution IT communicated well and responded to our requests promptly and successfully. Time was of the essence to have our production up and running and our communications available which Resolution IT achieved with high quality work outside normal working hours to avoid disruption. We look to them as our trusted advisor when it comes to IT and would highly recommend Resolution IT." – Hassan Jomaa
FAQs about the Best IT Service in Dubai
---
Ask yourself questions like, how many people do I have in my company? Does my network have the latest technology?
Then, you're ready to start making calls. It would also be helpful to double-check which providers some other businesses are recommending.
Finding a long-term relationship between you and the best IT Service that you can find may prove to be tricky, but our list above should help narrow down your choices.
Now that you've found a new IT Service to help in maintaining your network, how about spicing up your website? You can read about the best website design companies in Dubai to help bring to reality your artistic new ideas.