The 5 Best Apps for GPS in Dubai
Navigating through a city as large as Dubai has its own set of challenges. With numerous highways and a complex road system to accommodate heavy traffic, driving around can get you easily lost.
Thankfully, GPS is a pretty common app for many drivers and commuters, and can easily help you navigate your way to your destination.
So we scoured the city to give you the best apps for GPS in Dubai. We're also sharing with you the factors we considered in choosing.
In the end, we answered some FAQs about GPS in Dubai.
How much does an app for GPS in Dubai cost?
Most GPS apps are available for free on everyone's smartphones. These free apps come in with full features that are more than enough to get you set for traveling.
However, some more detailed GPS apps include advanced features. These apps usually cost around AED12 to AED700.
The Best Apps for GPS in Dubai
Before we get right into our top picks for the best apps for GPS in Dubai, here are the factors we considered for our entries on this list:
1. Google Maps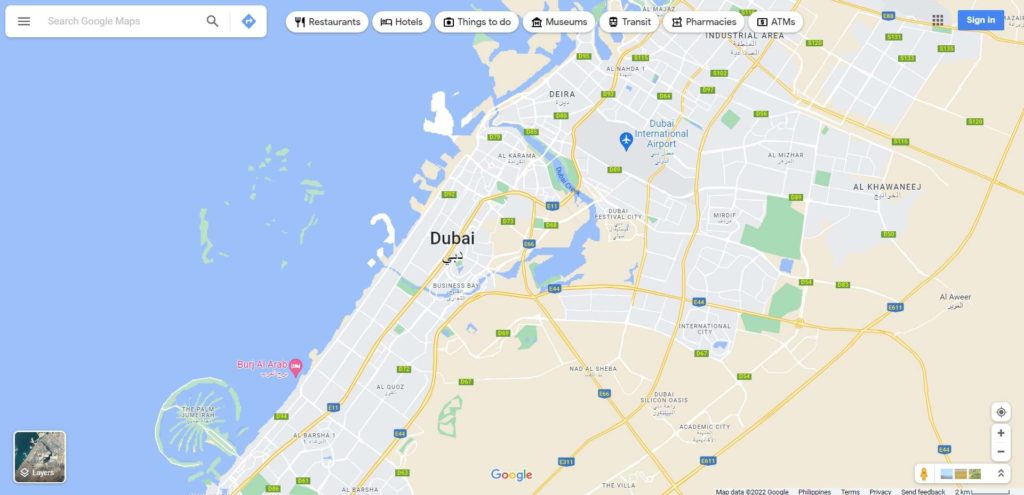 | | |
| --- | --- |
| Criteria | Rating |
| Features | ★★★★★ (5/5) |
| Interface | ★★★★★ (5/5) |
| Accessibility | ★★★☆☆ (3/5) |
| Extra Benefits | ★★★★★ (5/5) |
Hailed as one of the best navigation apps not just in Dubai but in the world, Google Maps brings in all of the most necessary and essential tools in one easy-to-navigate app.
Google Maps has everything a driver and commuter needs. It finds the best routes with the least amount of traffic, updates users on road enclosures, gives an estimated time of arrival, and many, many more.
We love that this app also allows you to navigate depending on your mode of transport, from walking and biking to driving a car and riding trains.
And all of this is displayed in a very intuitively designed interface that allows users to search, explore, and navigate through the app without much effort.
If you're driving, it has a voice feature that allows you to give commands by speaking to it so you won't have to take your hand and eyes off the steering wheel.
On top of that, some great extra features it has is that it is synced to the google database, so landmarks, business, and a nearby option that shows you popular destinations near you.
However, it doesn't have access if you don't have an internet connection unless you download your area's map.
And even then, you really can't search destinations unless you have it saved before you went offline, so you're basically staring at a plain map which isn't so helpful if you're inexperienced.
Has all the essential tools for navigation of all types
Easy-to-learn interface
Has a lot of extra features for exploring
Offline mode lacks flexibility
Offline mode requires to be downloaded
2. RTA Smart Drive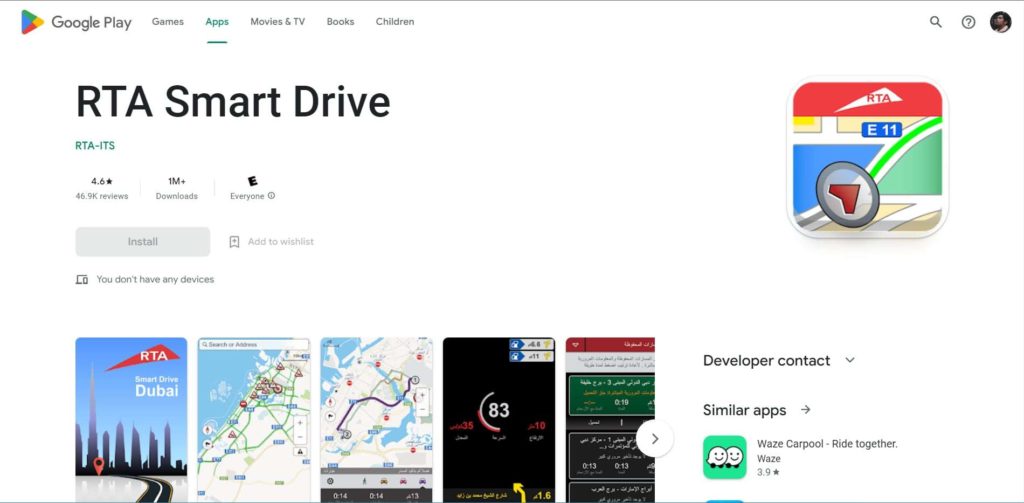 | | |
| --- | --- |
| Criteria | Rating |
| Features | ★★★★★ (5/5) |
| Interface | ★★★☆☆ (3/5) |
| Accessibility | ★★☆☆☆ (2/5) |
| Extra Benefits | ★★★☆☆ (3/5) |
The Road and Transport Authority's official GPS navigation app, RTA Smart Drive is great for navigating throughout the UAE with its route planning tools.
The app features a great auto-rerouting program that intermittently recalculates planned routes to save time and avoid heavy traffic.
On top of that, the app has visual and vocal instructions that notify drivers of instructions, speed limit alerts, and live traffic updates throughout the trip.
The vocal feature is a great addition that allows drivers to navigate through the city of Dubai without having to constantly look down on their phones.
And since it's developed by the government of Dubai, it has a great extra feature that allows users to see special points of interest on the map of the city, making it a great option for tourists.
However, besides that, it really doesn't have any other special features that make it unique from other GPS apps.
On top of that, the interface needs lots of improvement because we found it difficult to really explore all of its route planning tools due to some of them being hidden behind abstract-looking buttons.
And another really weak point it has is the fact that it's unavailable offline, which limits its flexibility and accessibility severely.
This means that this app is useless in some corners of the city where internet and cellphone reception is spotty.
Has great route planning tools
Has both visual and vocal instructions for navigation
Shows local points of interest on its maps
Interface needs improvement
Unavailable for offline use
Has no other extra features
3. Waze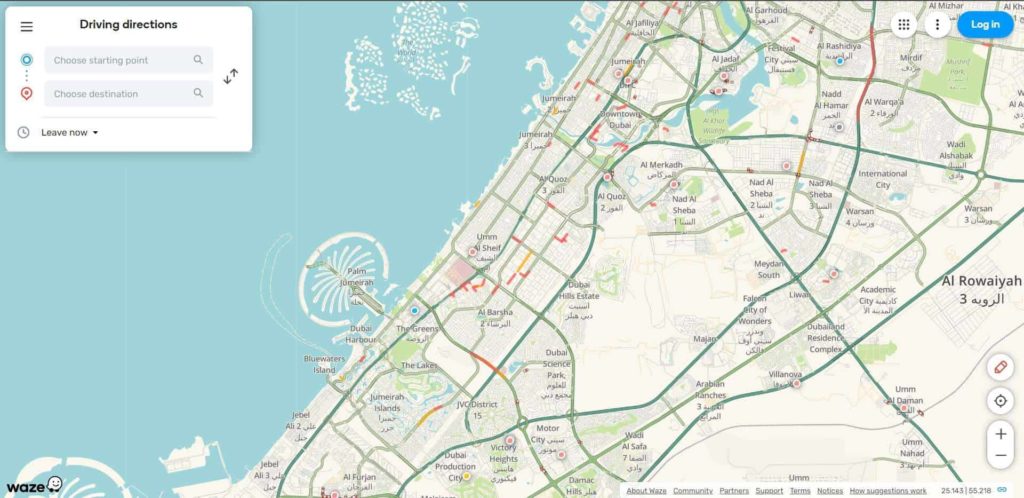 | | |
| --- | --- |
| Criteria | Rating |
| Features | ★★★★★ (5/5) |
| Interface | ★★★★★ (5/5) |
| Accessibility | ☆☆☆☆☆ (0/5) |
| Extra Benefits | ★★☆☆☆ (2/5) |
Another popular navigation GPS app, Waze differentiates itself from big competitors, like Google Maps, with how the app processes traffic data.
While there's not much difference when it comes to its features compared to Google Maps, its navigation tool gathers data from drivers and riders, giving a more accurate representation of the status of traffic in real time.
This means that it has a map that constantly gets updates with information about the traffic, including hazards and speed cameras.
The interface is just like Google Maps as well, but we can see where improvements were made.
The map was designed to look cleaner, sleeker, and more minimalistic, making it easier to see it at a glance.
On top of that, Waze has a more organized design that makes it simpler and easier to navigate.
However, because of its user-generated map and features, Waze doesn't have an offline version, which is one of the pitfalls of the app's primary premise.
But we still think there's a missed opportunity here for the app to actually allow users to download maps and save destinations so that they can navigate without the need for an internet connection.
It also doesn't have a lot of extra features that really improve the user experience. Its minimalistic take on navigating has directed the app to forgo unnecessary features.
Complete necessary features
All information is updated in real-time by other users
Interface is well-designed and clean
Has no offline accessibility
Has no extra benefits
4. Moovit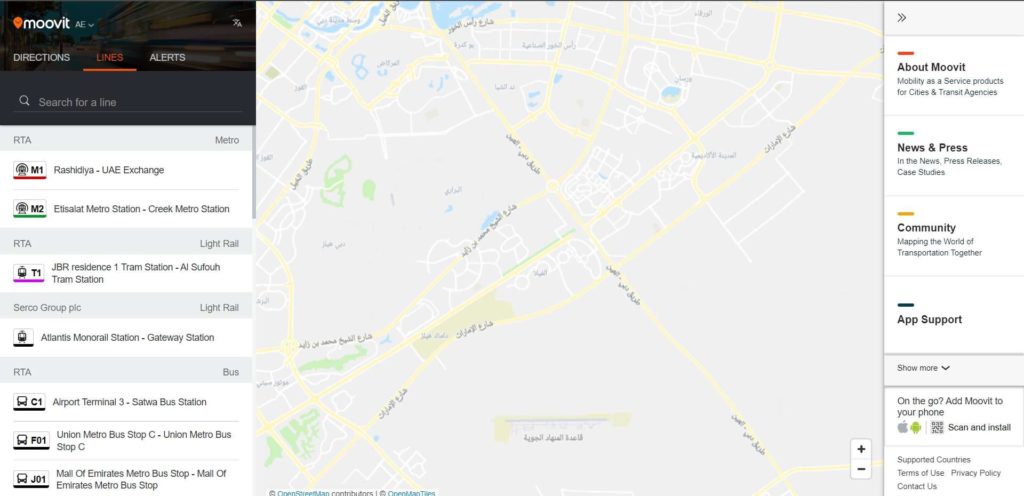 | | |
| --- | --- |
| Criteria | Rating |
| Features | ★★★★★ (5/5) |
| Interface | ★★★★☆ (4/5) |
| Accessibility | ★★☆☆☆ (2/5) |
| Extra Benefits | ☆☆☆☆☆ (0/5) |
A navigation GPS app for passengers and commuters — that is the main purpose of Moovit and its database of public transit routes, maps, and real-time schedules.
Moovit's features are simple and few, as they should be. Neatly organized through tabs, the app has its own map, train lines, and real-time alerts.
We love that its simplicity keeps it practical and very easy to use. Its no-frills take on commuting makes day-to-day use of it a pleasant experience.
And the interface matches this kind of attitude. The design is very straightforward, and users can open as many or as less tabs as they want, allowing them to be flexible with how they navigate through the city.
However, the ads are a tad too intrusive for the overall experience. We've had moments when we're looking at train schedules and before we could finish reading it, an ad would pop up.
On top of that, it doesn't have an offline mode because it does use the internet to update the app of the train arrivals and departures constantly.
We think it would be great if Moovit would allow users access to a downloaded version of a map that has the city's lines and routes so that they can check it out whenever they want to.
The app doesn't really have any other extra benefits to it either. It doesn't have another form of navigating outside of commuting and using other public transport vehicles.
Has all the features needed for commuting
Interface is simple and straightforward
Ads are too intrusive
Doesn't have an offline mode
No other GPS tools outside of commuting
5. GPS Kit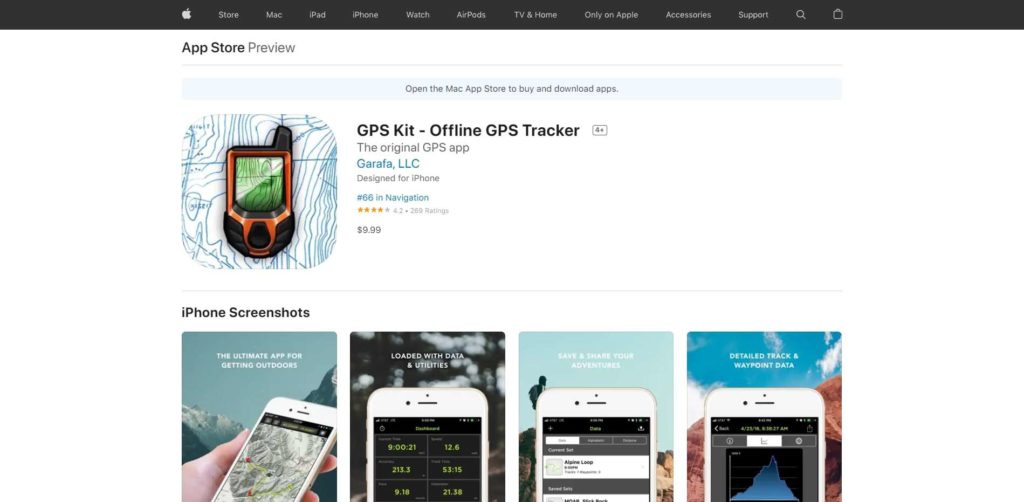 | | |
| --- | --- |
| Criteria | Rating |
| Features | ★★★★★ (5/5) |
| Interface | ★★★★☆ (4/5) |
| Accessibility | ★★★★★ (5/5) |
| Extra Benefits | ★★★☆☆ (3/5) |
Made to be taken and used anytime and anywhere, GPS Kit is an offline GPS tracker that is designed for off-the-grid activities and outdoor sports.
A favorite amongst hikers, hunters, skiers, campers, bikers, and many more, GPS Kit has high-quality fast-loading maps that are accessible even outside of cell range.
This means that it's the perfect app for avid outdoor enthusiasts looking for a more advanced and accurate navigation tool besides the compass.
The app also has advanced features that trained navigators will enjoy such as the ability to navigate through waypoints with a built-in compass, add photos and notes on waypoints, and access different navigational systems like the UTM and the MGRS.
The interface could appear intimidating and overwhelming to the untrained eye. The app is filled to the brim with features, and it's not shy about putitng everything to the front.
But navigators with some training will appreciate the accessibility of all these features as it will make their task easier.
However, since its primarily an offline GPS navigator app, GPS Kit can't really afford to have any other features outside of it as that will require constant internet connection.
This also means that real-time updates on traffic and routes does not happen on the app, so it's always better to use other online alternatives for that instead.
All of its features are availble offline, including maps and tracking
Complete navigation tools for trained navigators
Interface may overwhelm beginners
No other extra features
FAQs about GPS in Dubai
---
We hope this helped you in finding the right app for GPS in Dubai. Also, if you're looking for other transport guides, then check out these articles: