The 6 Best Clinics for Acne Scar Treatments in Dubai
Acne scars can really bring down our confidence. Marks and blemishes take away from the beauty of our skin, but acne scar treatments are here to help eliminate that.
With the high-end dermatology industry in Dubai, it can be tough to differentiate and pick the most suitable dermatology clinic for you.
So we scoured the city and give you the best clinics for acne scar treatment in Dubai. We're also sharing with you the factors we considered in choosing, and also answered some FAQs about acne scar treatments.
How much do acne scar treatments in Dubai cost?
The cost of getting an acne scar treatment depends on the severity of the scars, the number of sessions needed to eliminate these, the type of treatment used, and the dermatologist's professional fee.
The cost of a session commonly starts from AED1000, but the exact cost can only be determined by the doctor as several aspects influence the final price.
The Best Clinics for Acne Scar Treatments in Dubai
Before we get right into our top picks for the best clinics for acne scar treatment in Dubai, here are the factors we considered for our entries on this list:
1. Enfield Royal Clinic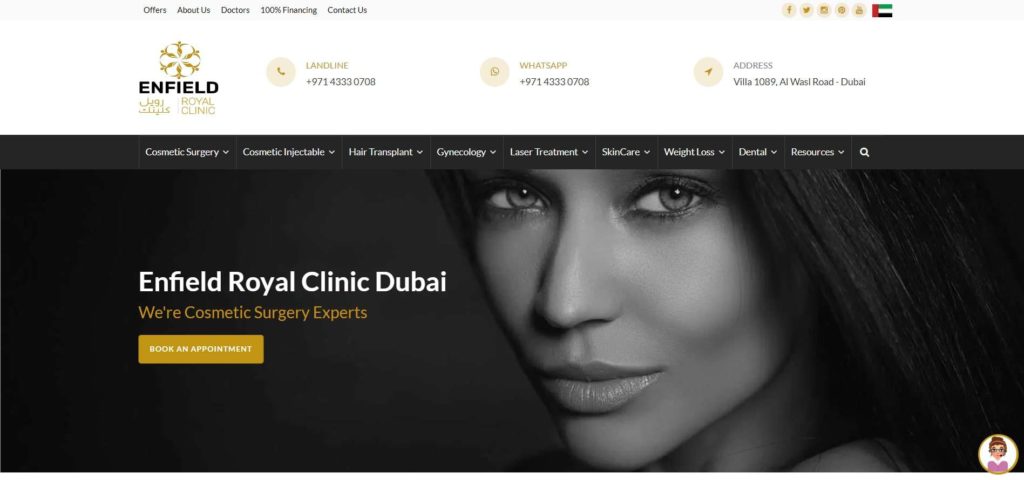 Test
Info
SERVICES
Acne Scar Treatments, Cosmetic Surgery, Hair Transplant, Gynecology, Laser Treatments, Skin Care Treatments, Weight Loss Surgery, Dental Services
WEBSITE
https://www.royalclinicdubai.com/en-ae/
ADDRESS
Villa 1089, Al Wasl Road - Dubai
CONTACT DETAILS
+971 4333 0708

+971 4333 0708

OPERATING HOURS
Every day: 10 am - 9 am
| | |
| --- | --- |
| Criteria | Rating |
| Credibility | ★★★★★ (5/5) |
| Competence | ★★★★★ (5/5) |
| Procedures | ★★★★★ (5/5) |
| Equipment | ★★★★☆ (4/5) |
Composed of award-winning cosmetic surgeons, plastic surgeons, and dermatologists, Enfield Royal Clinic has become one of the most successful cosmetic surgery clinics in Dubai.
With dermatologists who graduated from UK medical universities, trained in the US, and certified by the board in UAE, this clinic boasts international educational background and training.
We love how these dermatologists are equipped to perform under the guidelines and standards of global practitioners.
What's even better is that they make the effort to understand the basic needs of their clients, and always aim to provide the best results with minimally invasive procedures.
This is also great because not only is it safer, which has earned the clinic an astounding 0.8% complication rate, but it is also more efficient for both the doctors and the patient.
The clinic also has 7 treatments for acne scars, ranging from chemical peels and microneedling to more invasive treatments like laser therapy and microdermabrasion.
Its wide range of treatments allows doctors to give the specific treatment needed for the degree of acne scarring clients have.
The clinic also has the appropriate and specialized equipment needed for these treatments, and while it may not always be the latest tech in the industry, its team's competence more than makes up for it.
Doctors are trained and certified from all over the world
Prioritizes minimally invasive procedures
Has a 0.8% complication rate
Has a wide range of treatments for acne scars
Not all equipment is the latest in the industry
Customer Reviews
Amazing time with Enfield Royal Clinic
"I had a great time in Enfield Royal Clinic.
Dr. Rasha is such an amazing doctor. She handled me with care and is very gentle. She communicates with me throughout the procedure, making sure I am okay and comfortable. I am very satisfied with the outcome of my procedure and couldn't thank the team more. Furthermore, the staff of the clinic is very welcoming and fantastic. They greeted their patients pleasantly upon arrival and assist them instantly." – Chelo Bedeo, Google Reviews
Highly commendable dermatologists
"Super love this place! I have been to a couple of clinics but Enfield Royal Clinic is an exception. I really feel relaxed and pampered. Worth every penny your paying! Even other people notice the glow. Love love love especially Ms. Jenefa, she's highly commendable!" – Siame Davidson, Google Reviews
2. Kaya Skin Clinic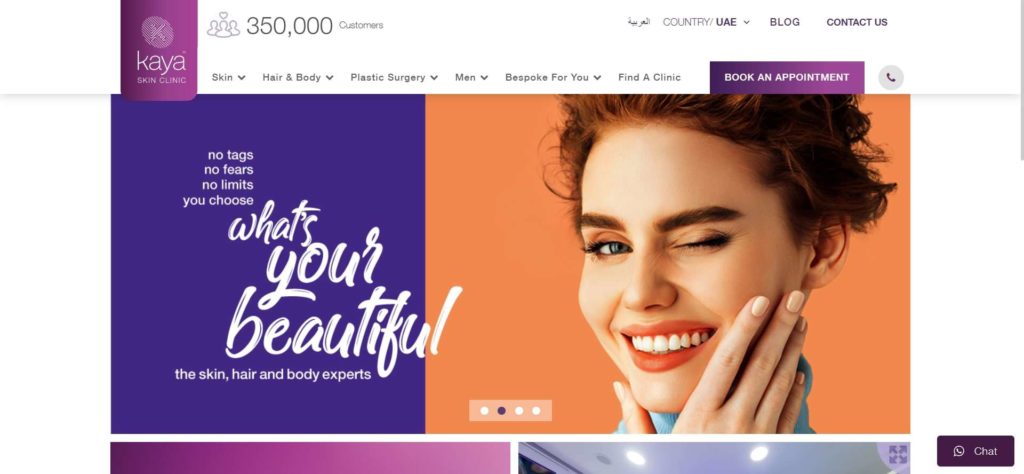 Test
Info
SERVICES
Acne Scar Treatments, Skin Solutions, Hair & Body Treatments, Plastic Surgery
WEBSITE
https://www.kayaskinclinic.com/uae/en/
ADDRESS

Unit 21 / 22 - Khalid Bin Al Waleed Rd - Al Mankhool - Dubai - United Arab Emirates




Has 5 more branches in Dubai

CONTACT DETAILS
+971 600 562620
OPERATING HOURS
Monday to Saturday: 10 am - 8 pm
| | |
| --- | --- |
| Criteria | Ratings |
| Credibility | ★★★★★ (5/5) |
| Competence | ★★★★☆ (4/5) |
| Procedures | ★★★★★ (5/5) |
| Equipment | ★★★★☆ (4/5) |
With clinics found in multiple countries in the Middle East and South Asia, Kaya Skin Clinic provides excellent advanced dermatological solutions for everyone.
Its dermatologists are graduates of the region, homegrown with a great understanding of how everyone's skin reacts to Dubai's climate.
However, our problem with the credibility of the clinic is that it has focused on quantity over quality, which is a necessity when it has 23 branches in multiple countries.
The result is an inconsistency in the standards and guidelines these doctors follow as they all have received different training and education.
However, when it comes to acne scar treatments, Kaya Skin Clinic is as much about techniques and treatments as it is about understanding an individual's skin.
Its team of dermatologists has worked together to create specialized approaches, customized to every individual's skin, combining advanced formulations and technologies to deliver a truly effective line of treatment to get rid of acne.
We love its bespoke treatments like the Palomar Fractional Resurfacing, which involves non-invasive deep-acting technology that uses light energy to stimulate the dermis while keeping the epidermis unharmed.
We also love its Jet Peel that exfoliates, hydrates, oxygenates, nourishes, and protects the skin — all of this with no pain and no downtime.
However, when it comes to its equipment, not all of its clinics are the same. The more popular ones often get the newer equipment, so that's something to keep in mind when visiting.
Despite that, its dermatologists know how to work with what they have, and safety and risk is always its priority.
Homegrown dermatologists that know how the climate affects the skin
Has a wide range of specialized acne scar treatments
Prioritizes understanding of how an individual's skin reacts
Inconsistent standards and guidelines due to varying educational backgrounds
Not all branches have new equipment 
Customer Reviews
Excellent therapies for the skin
"Have done multiple laser sessions with Silky. Excellent therapist, very friendly. The facilities and laser machine are also top-notch, and very hygienic. Virtually painless experience as compared to other clinics/ machines. Also, they shave the areas prior to the treatment, unlike other clinics where it needs to be done by ourselves. Pre and post-treatment also help soothe the skin and make the experience very luxurious. Very happy with the services and my therapist. Highly recommend" – Alpana Goel, Google Reviews
The experience has been amazing so far
"I recently started my laser with Kaya and I'm enjoying my experience so far. They provide you with all the necessary information and details so you know exactly what you're doing and how it's going to benefit you. Mica was super kind, professional and made my whole experience very smooth and I would recommend checking Kaya out for your laser treatment!" – Juanita Dsouza, Google Reviews
3. Biolite Dubai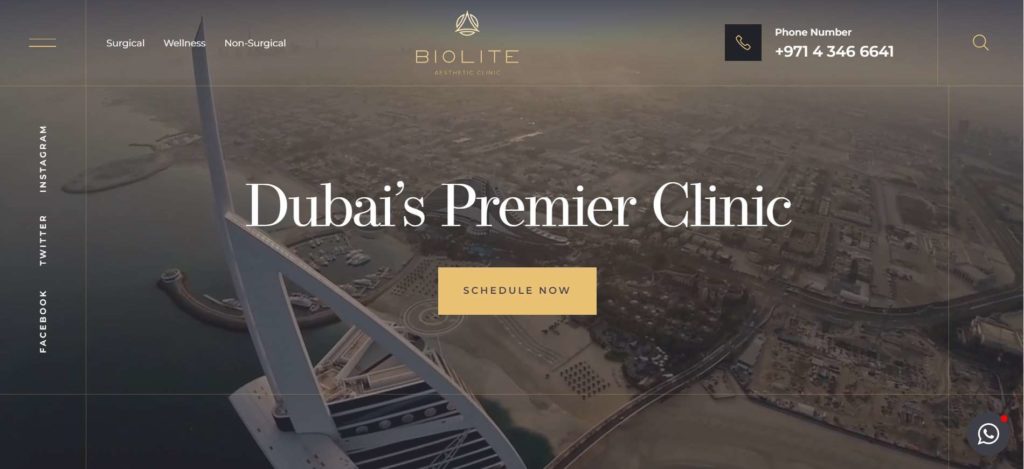 | Test | Info |
| --- | --- |
| SERVICES | Acne Scar Treatments, Cosmetic Surgery, Weight Loss Surgery, Hair Removal, Cosmetic Injections |
| WEBSITE | https://www.biolitedubai.com/ |
| ADDRESS | Villa 57, Al Thanya Road, Umm Suquiem 2, United Arab Emirates |
| CONTACT DETAILS | +971 4 346 6641 |
| OPERATING HOURS | Every day: 9:30 am - 9 pm |
| | |
| --- | --- |
| Criteria | Rating |
| Credibility | ★★★★★ (5/5) |
| Competence | ★★★★★ (5/5) |
| Procedures | ★★★☆☆ (2/5) |
| Equipment | ★★★★★ (5/5) |
Blending time-tested treatments with the latest science and innovation to offer a luxurious experience that transcends the clinical and medicinal aspect of aesthetic clinics, Biolite has been providing bespoke skin care treatments since 2007.
Its elite team of doctors has trained and worked internationally, bringing extensive experience and unique perspectives to clients in Dubai.
We love that its doctors come from world-renowned medical schools from all over the globe. From India to the UK, most of them have decade's worth of experience treating clients in different parts of the world.
And the experience shines through with the clinic's competence.
Its multidimensional services that involve plastic surgery, nonsurgical treatments, and spa and wellness services make up a clinic that's focused on the journey as much as the results.
We also love that Biolite continuously pushes the boundaries of what cosmetic medicine can achieve.
Known for being the first to introduce new treatments to the region, including the 24K Gold Facial, this clinic is a trailblazer in its industry.
However, when it came to its range of procedures, we were disappointed that it only has two treatments for acne scarring.
The Aquagold Microneedling and the Dermapen Microneedling and Mesotherapy are the only two treatments that directly treat acne scars.
And while these treatments are specialized and cannot be found anywhere else, they cannot cover all degrees and kinds of acne scarring.
Incorporates wellness treatments to the experience
Globally-trained doctors
Continuously introduces new treatments to Dubai
State-of-the-art equipment
Only has two treatments for acne scars
Customer Reviews
Biolite is the most incredible clinic in Dubai!
"Biolite is the most incredible clinic to visit! Not only are the staff so well polite, helpful and friendly- the services are the BEST! All the nurses are so professional and hygienic. There are lots of clinics in Dubai that force you to do treatments and pressure you into purchasing packages- Biolite truly looks out for the wellness of their clients and ensures they choose the best possible services for you. Being in the beauty industry- I've visited beauty clinics around the world…. There are only a few I would speak highly of and recommend and I would HIGHLY recommend anyone coming to Dubai to visit Biolite! it truly is incredible!" – Natasha Moor, Google Reviews
Best clinic in Dubai!
"Best clinic in Dubai!
I have gone for several treatments and the results are great. The staff is super qualified – especially the head nurse, Ivy. She is the best. She listens to her clients' concerns and suggests the best recommended & effective treatments. Friendly, and an expert in what she does, I cannot recommend her enough! 10/10" – Razan Katbe, Google Reviews
4. Skin Laundry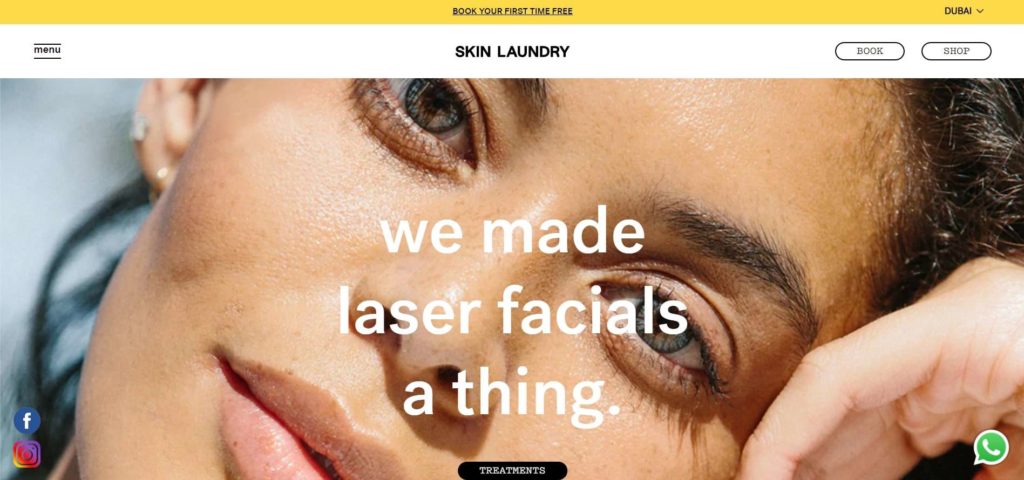 Test
Info
SERVICES
Acne Scar Treatments, Laser Treatments, Skin Care Treatments
WEBSITE
https://skinlaundry.ae/
ADDRESS

35W8+7PQ - Sheikh Zayed Rd - Dubai - United Arab Emirates




Has 1 other branch in the city

CONTACT DETAILS
+971 600 522288

800 4949

OPERATING HOURS
Monday to Thursday and Saturday: 8 am - 3:30 pm

Friday: 7:30 pm - 12:30 pm
| | |
| --- | --- |
| Criteria | Rating |
| Credibility | ★★☆☆☆ (2/5) |
| Competence | ★★★★☆ (4/5) |
| Procedures | ★★☆☆☆ (2/5) |
| Equipment | ★★★★★ (5/5) |
Originating from California, Skin Laundry combines the carefree culture of the states with medical-grade laser services and the safe hands of highly trained DHA-registered nurses.
Its team is composed of nurses who are all certified to operate within the guidelines that Dubai has set for its medical professionals.
However, Skin Laundry does not have its own team of expert dermatologists to attend consultations, just a set of treatments that have its own set of skin solution treatments.
And when it comes to its procedures, it's definitely brought down by the fact that it only has one procedure for addressing acne scars.
Its Duo Laser Facial treatment, the sole acne scar treatment, also does wonders in removing excess oil and dirt, resurfacing skin texture, and improving overall skin tone.
However, we do appreciate that this treatment is specialized and custom-made for Skin Laundry only.
And what makes it so special is that its treatments only take 15 minutes, and there is no downtime afterwards, making it a quick and efficient skin care experience.
And the equipment matches this too. Customized to really hone in on the skin issues that its treatments promise, the equipment carries the heavy work when it comes to fixing acne scars.
DHA-certified nurses
Specialized acne scar treatment
Custom-made equipment
Quick treatments with no downtime
No team of dermatologists for consultations
Only has one acne scar treatment
Customer Reviews
Excellent experience
"I am a person who does not usually go to skincare clinics but trust me when I say that this is definitely worth it.
I got greeted by the lovely receptionist Martha and she was accommodating and made me feel like I was at a friend's place. I was then greeted by the wonderful Mary who did my treatment.
I'm a man, but despite that, I was made comfortable by these two ladies that men need skincare too.
Mary was above and beyond in explaining my skin condition and recommended the best products that could work for me. I visited on my birthday (I was greeted by both ladies) to pamper myself- three days ago, so I waited before making this review.
By far my best birthday present to myself- I am coming back for sure to secure monthly skincare" – Jed Albert Contado, Google Reviews
My skin instantly looks better
"I went for the first time yesterday and my skin instantly looks better! More taut, fresh, and rejuvenated. The clinic staff was so lovely and helpful, I will be coming back again soon. Thank you :)" – Caríosa Sullivan, Google Reviews
5. Premium Cosmetic Laser Center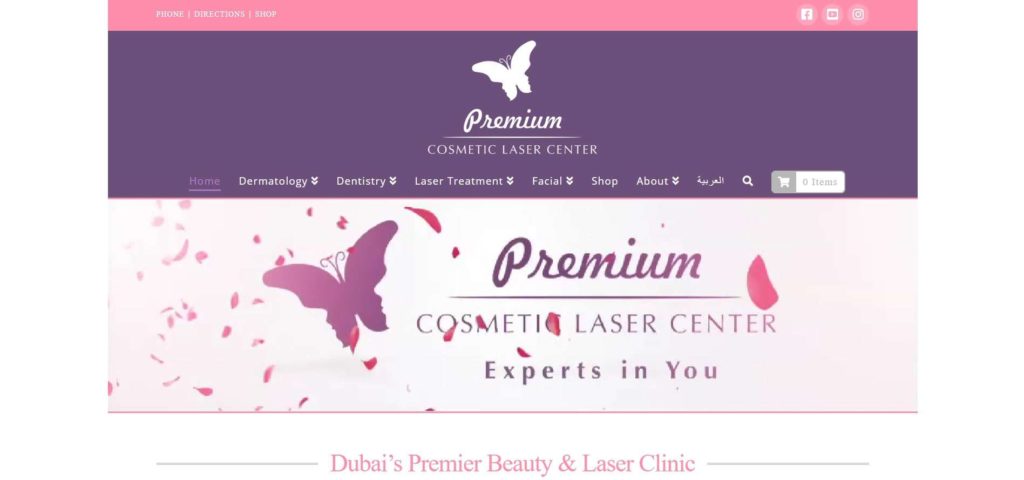 | Test | Info |
| --- | --- |
| SERVICES | Acne Scar Treatments, Skin Condition Treatments, Tattoo Removal, Dental Services |
| WEBSITE | https://gopremium.ae/ |
| ADDRESS | Al Shafar Building 7 - 102 - 102 Al Wasl Rd - Al Bada'a - Dubai - United Arab Emirates |
| CONTACT DETAILS | +97143436550 |
| OPERATING HOURS | Every day: 9 am - 7 pm |
| | |
| --- | --- |
| Criteria | Rating |
| Credibility | ★★★★☆ (4/5) |
| Competence | ★★★★★ (5/5) |
| Procedures | ★★★★★ (5/5) |
| Equipment | ★★★★☆ (4/5) |
Premium Cosmetic Laser Center's resident dermatologist, Dr. Ruba Bahhady, has a stellar track record.
She finished her medical degree at the American University of Beirut, completed her residency at AUB and was exposed to an observation ship at AKH University in Vienna, Austria.
And while she's the sole dermatologist in the clinic, we love that she is highly accomplished and has a global education and training.
And when it comes to her competence, it is undeniable.
She also trained at Columbia University in New York throughout her residency years and is currently a member of the American Academy of Dermatology and the European Academy of Dermatology and Venereology.
When it comes to the clinic's procedures, its bread and butter is the Laser Fraxel Dual treatment. We love how this treatment has multiple wavelengths for the laser, and multiple types of laser being used.
This means that it can really be modified and set to the severity and degree of acne scar each patient has.
But what makes it even better is that this clinic doesn't stop at laser treatments. It also offers the Diamond SilkPeel Hydrafacial and Secret RF treatments.
The equipment isn't top of the line nor custom-made, though. But it doesn't have to be because the treatments are industry standards that do not require specialized tools.
Highly accomplished globally-trained dermatologist
Wide range of treatments
Specializes in laser treatments for acne scars
Only has one resident dermatologist
Equipment is not top of the line
Customer Reviews
I highly recommend this place
"I love this center so much, from laser to dental they do have the best services. Kharyl is super nice and joyful! I have been doing my laser hair removal with Marivic who is the best and the machine doesn't hurt it's so gentle! Highly recommend this place :)" – Bouharaoua Nibel, Google Reviews
I love coming to them
"I love coming to Premium cosmetics for all my beauty and rejuvenating treatments.
Their doctors and estheticians are highly professional, the center is very clean and welcoming.
I would recommend it to all my friends." – May Daghestani, Google Reviews
6. SKINIII Medical Clinic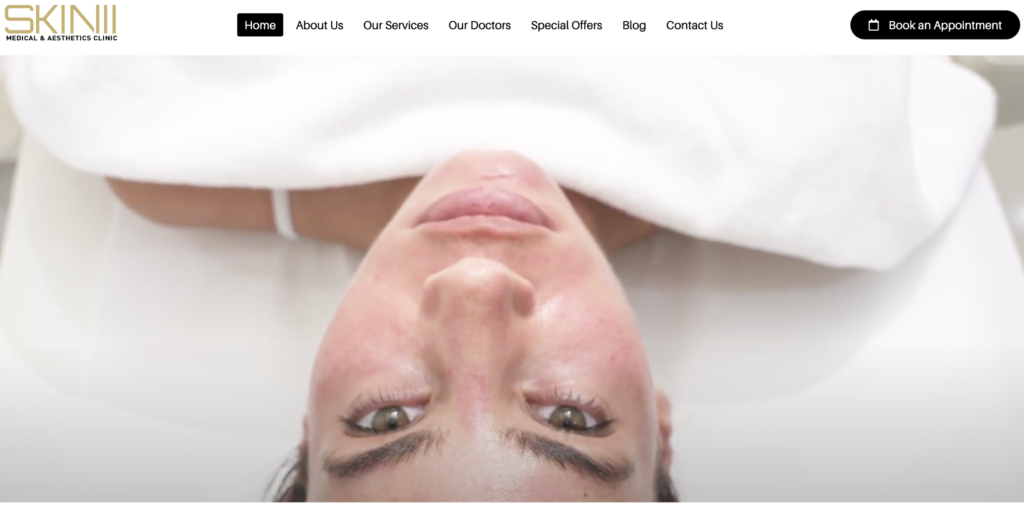 SERVICES
IV DRIPS & WELLNESS
AESTHETICS & ANTI-AGING
WEIGHT LOSS / SLIMMING / BODY CONTOURING / MUSCLE BUILDING
DIAGNOSTIC TESTS
HOME CARE SERVICES
WEBSITE
http://skin111.com
ADDRESS
Dubai DIFC, Gate Village, Building 05 (Opposite Cipiriani) / Palm Jumeirah, The pointe (opposite reel cinema)
CONTACT DETAILS
[email protected]
+971 50 751 7598
OPERATING HOURS
Monday – Sunday, 9:00 AM – 10 PM
| | |
| --- | --- |
| Criteria | Rating |
| Credibility | ★★★★☆ (4/5) |
| Competence | ★★★★★ (5/5) |
| Procedures | ★★★★★ (5/5) |
| Equipment | ★★★★☆ (4/5) |
Skin111 Clinic offers personalized Aesthetic and Medical treatments in Well-being, Dermatology, and General Medicine to help you feel and look your best from the inside out. They are located in the renowned DIFC (next Cipriani), The Pointe – Palm Jumeirah (near Reel Cinemas), and The Wharf – Bluewaters Island.
They are the main provider of IV Vitamin Drips, Glutathione Detox Drips, and Oxygen treatment, and have been in business for many years. Since 2007, there have been branches all around the UAE.
Their internationally certified and highly experienced team of World known specialist Well-being Doctors, Dermatologists, and General Practitioners offer first-rate treatments in beautiful settings at reasonable pricing.
Their customized therapies are tailored to each individual person's needs through invasive and noninvasive therapy utilizing cutting-edge technology and advancements. They offer full Aesthetic, Anti-aging, and Medical services for men and women, including diagnosis, treatment, and therapy, in order to give their clients the finest options.
High-end facilities
Quality equipment
Affordable rates
Experienced doctors
Customer Reviews
He always answers all our inquiries efficiently
"Highly recommended! The ambiance of the clinic is perfect and very clean. The receptionists are very accommodating. The staff are very quick to respond/act if you need something. Specially to Maylen, nurses Kenzo, Maggie, the head nurse Marwa and most specially to nurse Roshini because she is expert in inserting the IV to me since I have a very thin veins. I am super satisfied client. Special thanks also to Dr. Salim for being the best doctor. He always answers all our inquiries efficiently. He is very accommodating." – Sitti Aiza M. Loquez
I believe they giving the best service and products here in Dubai UAE.
"It's my 3rd week Ultimate IV drip session, I feel happy and comfortable with the ambiance, friendly and helpful staff specially nurse Mary. I believed they giving the best service and products here in dubai uae. Looking forward to get the best result, and to continue my healthy life journey here." – Dove Gonzales
FAQs about Acne Scar Treatments
---
We hope this helped you in finding the right clinic for acne scar treatments in Dubai. Also, if you're looking for other skin care solutions, then check out these articles: