The 5 Best Yoga Classes in Dubai
Namaste! Whether you're looking for a way to relax or learn a new way of staying fit, yoga classes are perfect to get you started on your journey to body awareness and mental peace.
So we scoured the whole city to give you our favorite yoga classes in Dubai. We included our criteria in choosing them and answered some FAQs about yoga classes in Dubai.
How much does going to a yoga class in Dubai cost?
Yoga classes are usually offered in sessions that last for an hour. The cheapest course can go as low as AED40 per hour, and the most expensive ones have a price that can go up to AED8000.
The average cost of an hour-long yoga class is AED849.
The Best Yoga Classes in Dubai
Before we get right into our list of the best yoga classes in Dubai, here are the criteria we considered in choosing them:
1. Karma Yoga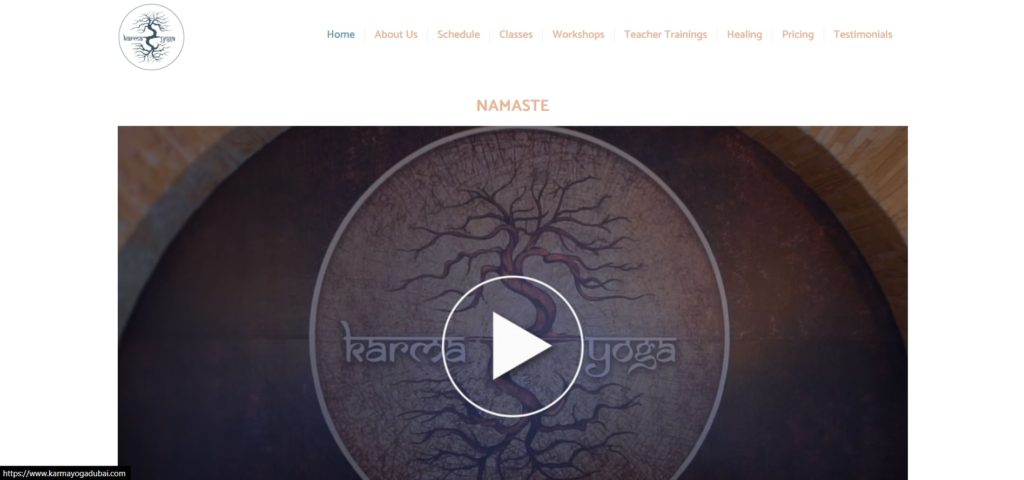 Test
Info
WEBSITE
https://www.karmayogadubai.com/
ADDRESS
Marina Plaza - Dubai Marina - Dubai - United Arab Emirates
CONTACT DETAILS
+971 4 399 9301
OPERATING HOURS
Sunday: 9 AM–12 PM & 4 PM–8 PM

Monday to Friday: 9 AM–12 PM & 5 PM–9 PM

Saturday: 8 AM–12 AM
| | |
| --- | --- |
| Criteria | Ratings |
| Quality of Teaching | ★★★★☆ (4/5) |
| Location | ★★★★☆ (4/5) |
| Atmosphere | ★★★★★ (5/5) |
A yoga academy, as well as an art gallery, Karma Yoga, is a scared space for those who want to embark on a spiritual journey without having to hop on a plane and fly east.
Its yogi teachers are fully certified to instruct students of any level — they even train future teachers looking to help others learn the beauty of yoga.
We love how hands-on the teacher was during our session. She would do the pose with us, and when we hold it, she'd go around and help us adjust our poses.
She spoke in such calming hush tones and paced the class slowly — almost too slow for us at some points.
The studio is located in Dubai Marina, which is bustling but has this relaxed undertone that you notice mostly around the coastline area.
And while it's easy to dismiss the location to be inappropriate because it is in the middle of a busy neighborhood, the studio is actually located on the 33rd floor of Marina Plaza.
Doing yoga while enjoying the sunset behind the Dubai skyline was surreal. It added a whole new layer of peace to the whole class.
The statues, crystals, and wood carvings also helped round up the spiritual vibe that enveloped the studio during our class.
We appreciate that art is utilized to accentuate the intention of doing yoga and complete the space's energy.
All in all, Karma Yoga is one of our favorites because besides the fully competent instructors and beautifully located studio, the energy that surrounds its classes really puts the class ahead of the others.
Pros
Cons
Offers teacher training
Art gallery elevates the atmosphere
Centrally located
Slow-paced class may not be for everyone
Surrounding area is busy and often noisy
2. Zen Yoga Dubai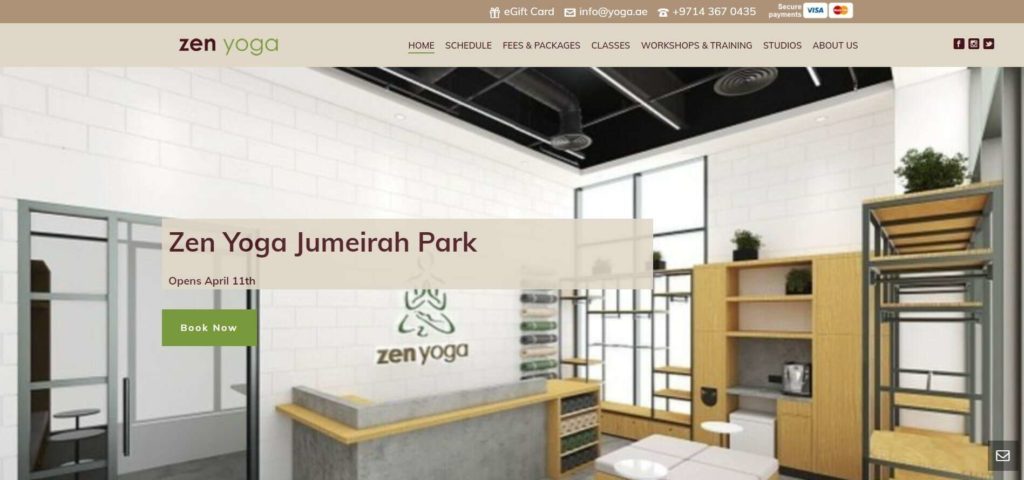 Test
Info
WEBSITE
https://yoga.ae/
ADDRESS
BBC building #10 Ground floor, Dubai Media City, Dubai, UA

Has 2 other locations in the city

CONTACT DETAILS
+9714-367-0435
OPERATING HOURS
Saturday to Thursday: 8:30 AM–8:30 PM

Friday: 8 AM–6 PM
| | |
| --- | --- |
| Criteria | Ratings |
| Quality of Teaching | ★★★★☆ (4/5) |
| Location | ★★★★★ (5/5) |
| Atmosphere | ★★★☆☆ (3/5) |
Home to the widest range of yoga and pilates classes, Zen Yoga has a class for everyone no matter what their skill level is — from popular forms of yoga like Hatha Ashtanga and Vinyasa, to lesser known ones like Yoga Nidra and Jivamukti.
And what we love about this studio is that it offers prenatal and postnatal classes, kid's yoga, and mom/baby classes, innovating yoga as an activity that bonds familial relations together.
It has over 28 yoga and pilates instructors, all certified to teach whatever class they handle. It also flies in internal teachers for teacher training, which really takes it up a notch compared to teacher training classes from other yoga studios.
We found the Vinyasa class we attended was perfectly paced, but after a few sessions, we noticed that the classes just repeated themselves and didn't really offer variety in what was taught.
As for its location, we attended its class at the main studio in Dubai Media City, which is not necessarily a busy region in terms of foot and vehicle traffic.
It is crowded in the sense that the area is jam-packed with office buildings, which is a perfect climate for yoga studios.
The media industry is a high-pressure fast-paced industry, and yoga is definitely a great activity to help these people unwind and disconnect from their jobs.
We love how the studio feels so spacious, too. Despite the number of students we went to class with, we felt like there was so much space for us to breathe in and out.
The floor-to-ceiling glass windows helped extend that space mentally and let so much natural light in that complemented the warm wooden flooring.
Although, we found the space to be lacking in personality or accents that help give the space some sense of focus.
Despite that, Zen Yoga Dubai's strongest argument as to why it has the best yoga classes in the metro is the range of yoga types it offers.
No other yoga studio can match the versatility that this studio shows to its students, and that is definitely why it's on our list.
Offers the widest range of classes for yoga and pilates
Instructor paces the class very well
Studio is spacious and well-lit
Classes can get repetitive
Lacks interior styling
Customer Reviews
Great studio for beginners
"I am new to Dubai and am new to yoga. I'm so happy to see Zen Yoga provides many opportunities to learn. Many studios forget about us beginners. Zen doesn't. Thank you to the management team for understanding yoga needs to be available to beginners. Also studio very clean, friendly and well organized. My friend and I have found a new home!" —Jane Lawson, Google Reviews
Helped me advance my yoga skills
"Zen Yoga is an authentic & professional studio. The best in Dubai by far! It's 3 locations in Media City, Emirates Hills and Umm Suqeim all offer a variety of classes adapted to levels and style preferences. Teachers are highly qualified, recognized in the yoga world and forever encouraging you to deepen your practice. Zen Yoga is a big part of my Dubai life, thanks to their wonderful team!" —Melanie Lapointe, Google Reviews
3. Dryp Sweat Hub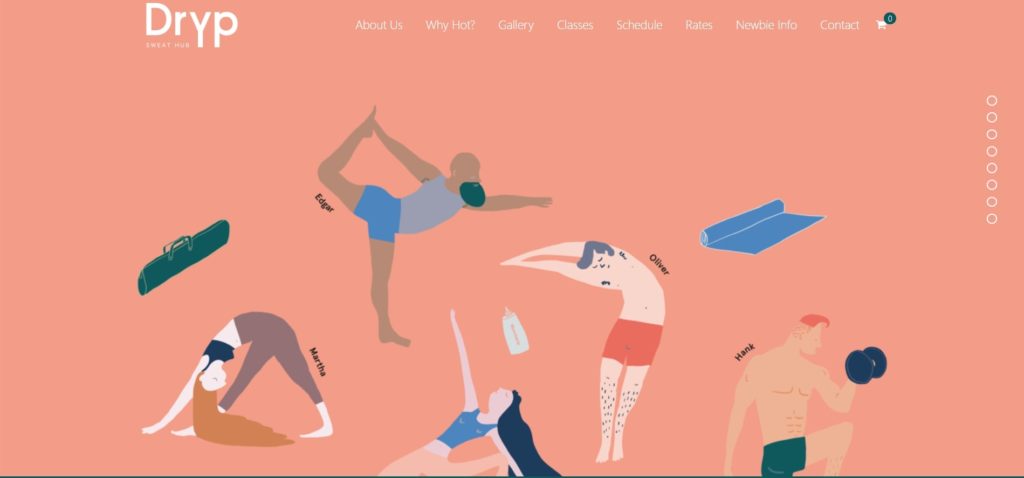 Test
Info
WEBSITE
https://www.dryp.ae/
ADDRESS
Dryp Yoga, Orra Marina Tower, (Marina Promenade Level), Dubai Marina, United Arab Emirates
CONTACT DETAILS
04 220 5330
OPERATING HOURS
Monday to Thursday: 6 AM–10 PM

Friday: 7:30 AM–9 PM

Saturday to Sunday: 8 AM–6:30 PM
| | |
| --- | --- |
| Criteria | Ratings |
| Quality of Teaching | ★★★★☆ (4/5) |
| Location | ★★★★★ (5/5) |
| Atmosphere | ★★★☆☆ (3/5) |
Combining Yoga with Hot Fitness, Dryp has been at the forefront of a new fitness movement in Dubai.
Its latest infrared heat technology maintains a consistent temperature throughout the workout that helps you sweat and achieve benefits like detoxing, weight loss, glowing skin, mental power, and many more.
And by sweat, it really means it. We found ourselves drenched in it by the end of the class.
We found the process to be highly challenging, but the after-effects did wonders. We felt so empowered and comfortable in our own skin after the class, and we had fun reaching that mindset too.
The studio offers a variety of fun yoga classes like hot yoga sculpting, hot yoga vinyasa, hot barre, and many more.
We love that while yoga classes are supposed to induce serenity and peace, Dryp changes it up and utilizes yoga and hot fitness to induce energy and helped lift our spirits up.
The instructors are lively and really helped us get into this lively yoga that we did not expect.
The studio is also located in Dubai Marina, which has a more relaxed vibe despite its busyness. It's inside Orra Marina Tower, which means it's secluded from vehicle traffic noise although doesn't really offer much of a view.
The studio really fits the whole personality of the classes it provides. The quirky and cute illustrations found throughout the whole studio provided lots of personality that teased the fun we got from the classes.
And although we didn't really like the blue tint on the windows because it had a visually dizzying effect on us, the light that it lets in added a layer of calmness throughout the class.
All in all, if you're looking to get into yoga but being calm and serene isn't what you're after, Dryp gives you an energetic yoga experience that's unlike any other.
Combines yoga with hot fitness
Instructors are energetic and approachable
Studio is well-lit and full of personality
Surrounding area outside can be noisy
Doing yoga with heating technology may be too much for newbies
Customer Reviews
The instructors hyped us up
It was my first time in dryp studio and my experience is amazing! Friendly staff, facilities are clean and modern. Instructors are highly motivating and knowledgeable about their work. Highly recommended and definitely go back again." —Jaze Santos, Google Reviews
Great value for money
"My favourite place to work out in Dubai!
The studio is professional yet friendly, and has a warm and welcoming atmosphere. Great crowd that attend regularly, facilities are clean and modern. There are really fantastic "value for money" memberships too particularly if you plan on regularly attending. I have definitely seen a progression in my own fitness and health coming to the studio and all of the instructors are highly motivating and knowledgeable about their work. Keep it up guys 🙂" —Gabriela Doran, Google Reviews
4. Yoga House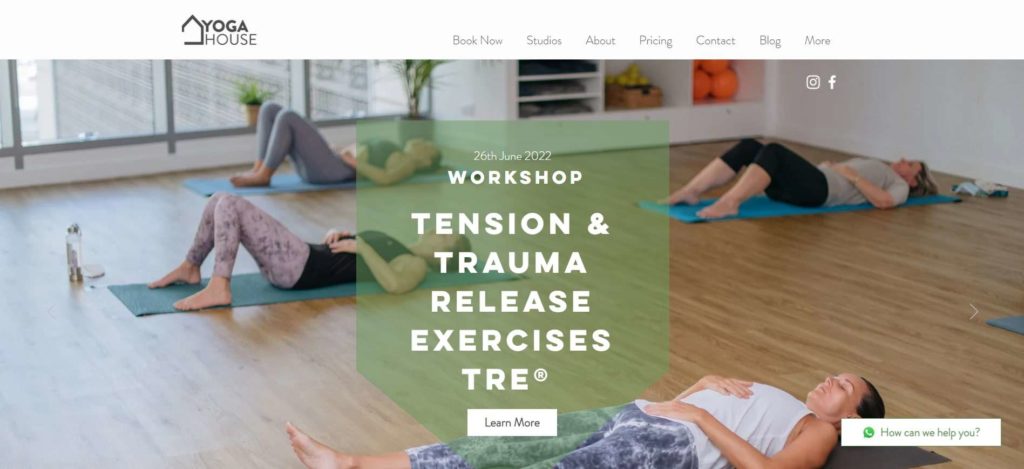 Test
Info
WEBSITE
https://www.yogahouse.ae/
ADDRESS
1st Street Building 4, Office 304 Emaar Business Park - The Greens - Dubai - United Arab Emirates

Has 1 other location in the city

CONTACT DETAILS
+971 4 5682972

+971 50 5789585

OPERATING HOURS
Monday and Wednesday: 7:30 AM–3 PM & 4 PM–9:30 PM

Tuesday and Thursday to Friday: 7:30 AM–11:30 & AM & 4:30 PM–8:30 PM

Saturday: 8 AM–1:30 PM & 4 PM–6:30 PM

Sunday: 7:30 AM–12:30 PM & 4 PM–9:30 PM
| | |
| --- | --- |
| Criteria | Ratings |
| Quality of Teaching | ★★★★★ (5/5) |
| Location | ★★★★☆ (4/5) |
| Atmosphere | ★★★★★ (5/5) |
Yoga House has quickly established itself as a highly respected yoga center in the city. It calls itself a Breathing Community that aims to help its clients practice and connect with themselves.
We love how it's notable why, in the span of just 3 years, it has become one of the trusted yoga studios in the city.
The reason behind that is mostly because of the quality of teaching it provides. We love that its lead yoga instructors have always been connected with their spirituality ever since they were young.
All of them have also undergone numerous certifications and training from all around the world, making them one of the most credible batches of yogi instructors in Dubai.
We also love that the studio often organizes yogi trips like holding a retreat in the desert or a trip to the Himalayas to learn the skill from its roots.
Its main branch in The Greens is one of our favorite locations out of all the yoga studios.
The walkability and lush greenery in the area just put us in the mindset that we want to have before a yoga class.
However, it is kind of geographically separated from the main avenues, which makes it inconvenient if you're using public transportation to go to the studio.
Despite that, The Greens plays an important role in the studio's atmosphere. It's the quietness that the lack of vehicular traffic brings that transports us when we attend a class at Yoga House.
All in all, the studio remains uncontested when it comes to the professionalism and capabilities of its instructors.
Learning yoga becomes even more compelling when the location lends itself to helping students unwind before classes and get them into the right headspace.
Certified and professionally trained instructors
Located in a walkable and lush neighborhood
Quiet and relaxing studio and exterior
Organizes yogi trips
Location is hard to go to via public commute
Customer Reviews
Doing yoga with them is something I'll always be grateful for
"The desert bliss retreat by Yoga House was one of the nicest experiences I've had in the UAE. The camp in Maliha desert was very well prepared, fresh air, clear sky, energising yoga and sound meditation sessions, breathtaking sunset and sunrise, quality time with beautiful souls. I recommend it for anyone looking to disconnect away from the noise of busy city life."—Zeina Kourki, Google Reviews
A lovely yogi community
"A lovely yoga studio in the heart of the Greens.
Yoga House also organise small retreats – I've been to one of these in the desert, which was a great combination of yoga, gong meditation, stargazing, delicious dinner & a beautiful sunrise. Well thought through and with some very approachable teachers, the experience was a relaxing yet invigorating break for anyone looking to get away from the city and getting to know some the team behind Yoga House!" —Konstantin von Wedel, Google Reviews
5. Inspire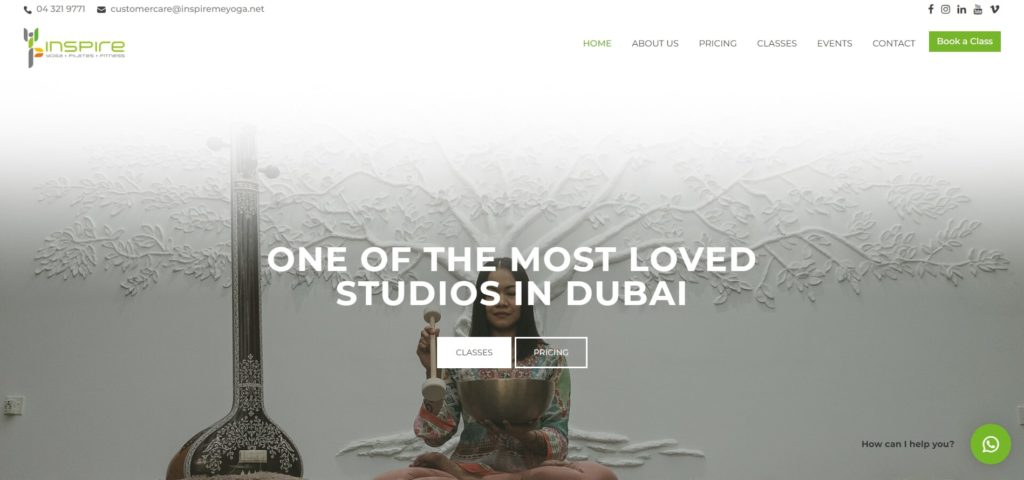 Test
Info
WEBSITE
https://inspiremeyoga.net/
ADDRESS
Indigo Central 8 - Al Manara - Dubai - United Arab Emirates

Has 1 other location in the city

CONTACT DETAILS
+971 4 321 9771
OPERATING HOURS
Monday to Thursday: 6:30 AM–7:30 PM

Friday: 9 AM–2 PM

Saturday: 10 AM–7 PM

Sunday: 6:30 AM–8 PM
| | |
| --- | --- |
| Criteria | Ratings |
| Quality of Teaching | ★★★★☆ (4/5) |
| Location | ★★★☆☆ (3/5) |
| Atmosphere | ★★★★☆ (4/5) |
Going beyond yoga as an exercise but treating it as a lifestyle that cultivates balance in life — that is what Inspire aims to do.
We love that the principle of this studio is not about eliminating indulgent experiences in life, but rather helping its students balance that out through doing yoga.
Elisa, the lead yoga instructor and one of the founders of the studio, is qualified in Hot, Yin, Swing, and Hatha yoga; Pilates Mat 1, Mat 1 Small Apparatus, and Mat 2; and is a Les Mills BodyBalance instructor.
The studio offers numerous types of classes from Sunrise flow sessions, Vinaya flow, and strengthening flow, to kids yoga, inferno hot pilates, and Jivamukti Spiritual Warrior classes.
The main studio is located in a high-end residential-tourist area of Al Manara. We're not really big fans of this location because it is intentionally less accessible to preserve the exclusivity of the area.
But the place is at least, quiet and mostly walkable despite the lack of greenery, which makes it pointless to walk around in the middle of the day.
As for the atmosphere of the studio, we love that while it still focuses heavily on achieving a state of calm and peace, there was something about the space that also energized us.
Whether it's the purple brick wall or the floor-to-ceiling glass windows, we are not sure, but we left that class feeling like we can still go for a run.
All in all, while it's not the most accessible studio, those who can drive down to it can treat themselves to a great yoga experience with Inspire.
Offers numerous yoga classes
Certified and professionally trained instructors
Energizing atmosphere
Location is inaccessible via public commute
Area lacks trees which makes it hard to walk around in
Customer Reviews
Warm and great high energy
"Inspire studio has got such a great energy to it! You feel warmly welcomed into a great community of like minded people. The ladies managing the place are kind and sweet. The teachers are all so awesome, each with something unique to share, I have learnt so much from all of them in my past couple of years, and so grateful to be continuing my yoga journey here! ❤️❤️❤️🙏🏽🙏🏽🙏🏽"—Parul Mishra, Google Reviews
Perfect studio for first timers
"I have to admit being a first timer in Yoga I certainly chose the perfect center. Inspire not only has one of the greatest instructors but overall environment, and staff are positive. They continue to help, and support me on a daily basis to choose suitable classes for my needs and that has truly made a huge difference for me physically and mentally." —Maryam Alhashimi, Google Reviews
FAQs about Yoga Classes in Dubai
---
We hope this helped you in picking out yoga classes in Dubai. If you're looking for other classes you can attend, then check out these articles: