The 5 Best Trophy Stores in Dubai
Whether it's for a small-scale competition in your school or community, or for a large-scale awards ceremony, trophies will be necessary for these events. Luckily, there are several distributors and makers located all over!
If you need a trophy for your next event, here are our top recommendations for the best trophy stores in Dubai.
How Much Do Trophies Cost
Trophies can vary in cost and there are multiple factors that can affect its price. They have quite a range in their design complexity, size and the material used to make the item.
The most common fee criteria, however, is based on type.
Simple trophies are essentially just a plastic figurine on a marble base with an engraved plate on the front. This looks like the typical trophies given in schools and such and are the least expensive.
The second type is a complex trophy made from stock parts. This means that even though the trophy can contain multiple stacks of designs on top of another, it is essentially using pre-made parts by the store.
Lastly, the most expanesive are hand-made complex trophies which are usually custom-made, to some extent. These trophies usually incorporate a new design based on the client's needs and are made from scratch.
With that being said, here's a table listing the average cost you can incur when commissioning or purchasing any of the previously mentioned trophies:
| Trophy  | Cost  |
| --- | --- |
| Simple  | AED 20 - AED 50  |
| Complex, Stock Parts   | AED 40 - AED  400  |
| Complex, Hand-Made  | AED 500 - AED 2,000 |
The Best Trophy Stores in Dubai
Here are the following factors we've used in assessing these trophy stores:
1. Trophy Shop LLC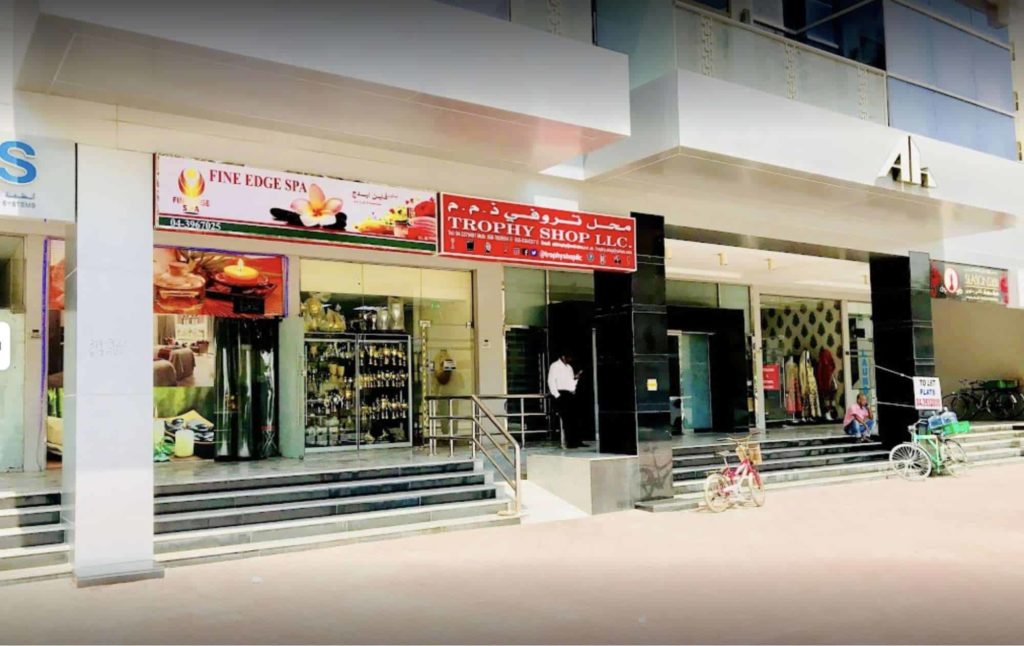 Test
Info
PRODUCTS
Trophies, Medals
WEBSITE
https://www.facebook.com/trophyshopllc
ADDRESS
18th St - Oud Metha - Dubai - United Arab Emirates
CONTACT DETAILS
Phone: +971 4 337 9401
OPERATING HOURS
10:30 AM - 3:00 PM, 4:00 PM - 9:00 PM (Sunday - Thursday)

11:30 AM - 3:00 PM, 4:00 PM - 9:00 PM (Saturday)
| | |
| --- | --- |
| Criteria | Ratings |
| Variety | ★★★★★ (5/5) |
| Services | ★★★★☆ (4/5) |
| Support | ★★★★☆ (4/5) |
| Store | ★★★★☆ (4/5) |
This store has been in the business since 1989. With decades of experience under their belts, Trophy Store LLC has provided awards for various companies and events.
Their product range is quite vast, consisting of awards, trophies, medals, and crystals. These trinkets come in various types and designs but this shop can also provide personal engravings and logos.
We've also observed that they release new designs every few months! This ensures the variety and options for their clients.
The store offers in-store pickup or delivery. Unfortunately, they do not have an online shopping platform as this store clearly encourages clients to visit or give them a call.
Speaking of which, the store is well-organised and is more than capable of accommodating walk-in customers. Each item is categorised by type and design, making it easy to browse through their offerings.
It's a little small inside though, so if there are multiple people inside, it might get a bit crowded.
Overall, we recommend heading here for their years of experience making awards and trophies for their clients. In addition, their variety in terms of design and customization services is certainly right up our alley!
Has a wide variety of designs available 
Allows trophy personalization 
Encourages contact or visit for more information 
Small store 
Customer Reviews:
Professional and Efficient Staff, Fast Service
"I have excellent experience with the choice, the service and the attitude with the people working in the shop! Very professional and very efficient! I received all options by WhatsApp and was able to choose before even coming to the shop. They made everything done with the engraving in just a day! Very good quality of work as well! Definitely recommending !" -Julia Amel'chenko
Big Product Variety
"Amazing experience with the team at Trophy Shop, both in the store and on WhatsApp !
They had exactly what I was looking for even though it was very specific and I was able to personalise it with a logo and text on a nice golden plate.
This was done in a few days, very efficient work.
The pricing is great for the quality and the design, solid quality.
They also have lots of options for many sports, school or business rewards, trophies of different sizes or colours, medals, etc .. I highly recommend you to visit the shop! Thanks again !" -Dordeblanc, via Google Reviews
2. Macro Trend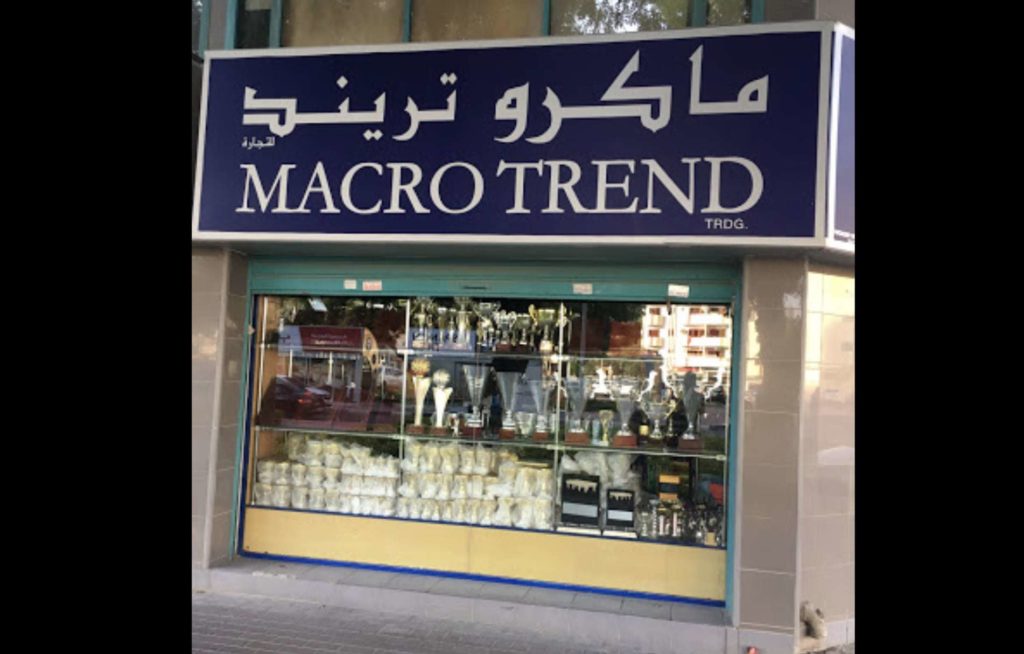 | Test | Info |
| --- | --- |
| PRODUCTS | Trophies, Awards |
| ADDRESS | 11th St - Al Karama - Dubai - United Arab Emirates |
| CONTACT DETAILS | Phone: +971 4 396 5558 |
| OPERATING HOURS | 9:30 AM - 1:00 PM, 4:30 PM - 9:00 PM (Monday - Saturday) |
| | |
| --- | --- |
| Criteria | Ratings |
| Variety | ★★★★★ (5/5) |
| Services | ★★★★☆ (4/5) |
| Support | ★★★★☆ (4/5) |
| Store | ★★★★☆ (4/5) |
Macro Trend is a trophy store that provides a fairly good amount of trophies and awards for its customers.
This place is primarily visited for the designs they carry. These include championship cup-style and the two-tier trophies we usually see in school events and other competitions.
Several companies and individuals have been purchasing from Macro Trend for about five years running now. While they may not be the most experienced on this list, they've still managed to create a reputation as a trophy store.
We recommend visiting the physical store itself so you can see the range of items they can create. In addition, seeing the range of trophy designs in person can help you decide on what you want.
The store's organization makes the trophies look scattered all over the place though. So, we recommend asking for help or any recommendations during your visit to avoid wasting a lot of time.
In terms of extra services they offer for their buyers, Macro Trend only has engraving options available. If you're aiming to commission a trophy store for a specific trophy design, this place will not be for you.
Overall, we recommend Macro Trend for its wide range of trophies available for its clients! It's certainly a good option for a place to look for some awards.
Good design variety 
Helpful and professional staff
Cluttered-looking store 
Requires contact or visit for more info
Customer Reviews:
Professional Team, Outstanding Service
"We have been dealing with Macro Trend for many years now; with Mr. Krishna Bangera as our primary contact. Mr. Krishna and his team are extremely professional and humble. They provide outstanding service and even suggest the type of awards / trophies to suit our budget. The items are of great quality; the timeline to prepare and deliver our items are met even before the expected date. Thank you Macro Trend for being experts with trophies and awards. We love your positive and creative approach." – Jennifer Lobo
Good Customer Service
"The best place for any corporate awards. They provide excellent customer service." -Archana Navin
3. Winner Sports Trading LLC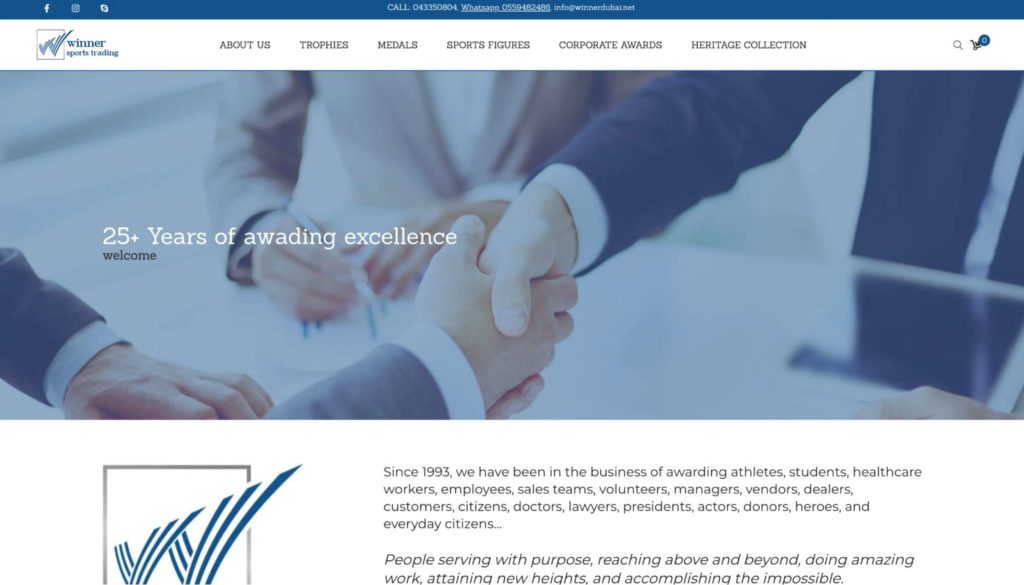 Test
Info
PRODUCTS
Trophies, Medals, Figures
WEBSITE
https://winnerdubai.net/
ADDRESS
36 13 St - Ras Al Khor Industrial Area - Ras Al Khor Industrial Area 1 - Dubai - United Arab Emirates
CONTACT DETAILS
Phone: +971 4 335 0804

E-mail: [email protected]

OPERATING HOURS
9:30 AM - 7:00 PM (Sunday - Thursday)
| | |
| --- | --- |
| Criteria | Ratings |
| Variety | ★★★★★ (5/5) |
| Services | ★★★★☆ (4/5) |
| Support | ★★★★☆ (4/5) |
| Store | ★★★★☆ (4/5) |
Winner Sports Trading is an award and trophy supplier. Since 1993, this company has provided commemorative trinkets for schools, organizations, and government institutions.
Their colorful list of clientele include the Dubai Government, the Jebel Ali School, Oracle, and Cisco.
What we like about this store is that it is very accessible. This means that people who wish to browse for their products can go to their website first to view their designs before visiting the company.
Winner Sports Trading has designs in multiple sizes and colors. From cup motifs to resin figurines as designs, clients will have some options to choose from.
We do have to note that the offered variations on sale look quite similar to one another. So yes, you have choices in how big or what color your trophy would be.
It's just that design-wise, everything seems to be an altered version of another, to the point that we believe it may be a signature design concept from the company.
Winner Sports Trading has a spacious interior. We've observed that the store is organized, and clients can easily browse through the items they have on sale.
We do have to note that the parking space here is quite limited. Get ready to look for a faraway location for your car or just not ride a car on the way to Winner Sports Trading.
We believe that Winner earns the spot on this list for their accessibility, years of experience in the trophy-making industry, as well as the variations they offer for clients.
Wide product variety 
Offers designs in multiple sizes and colors
Years of experience in the industry 
Has an online store 
Designs look a bit similar with each other 
Store has limited parking space 
Customer Reviews:
Good Quality, Great Customer Service
"The quality and customer service are amazing!They were so easy to deal with. They replied to WhatsApp messages right away and sent me PDFs of all my options. They fulfilled and delivered the order so fast and everything turned out even better quality than what we expected. They look better in real life than they do in the pictures. The way they put the images and words on the medals was precisely centered and neat. It looks like you spent over a hundred dirhams for each medal but really they're only about 25 dirhams. The folders that the certificates came in were also customized and branded to match the certificates themselves." -Bintfazer, via Google Reviews
Swift Delivery Time, Good Service
"Good prices and great delivery time. Very satisfied with the quality of service." -Nabil Jamil
4. Crystal Arc LLC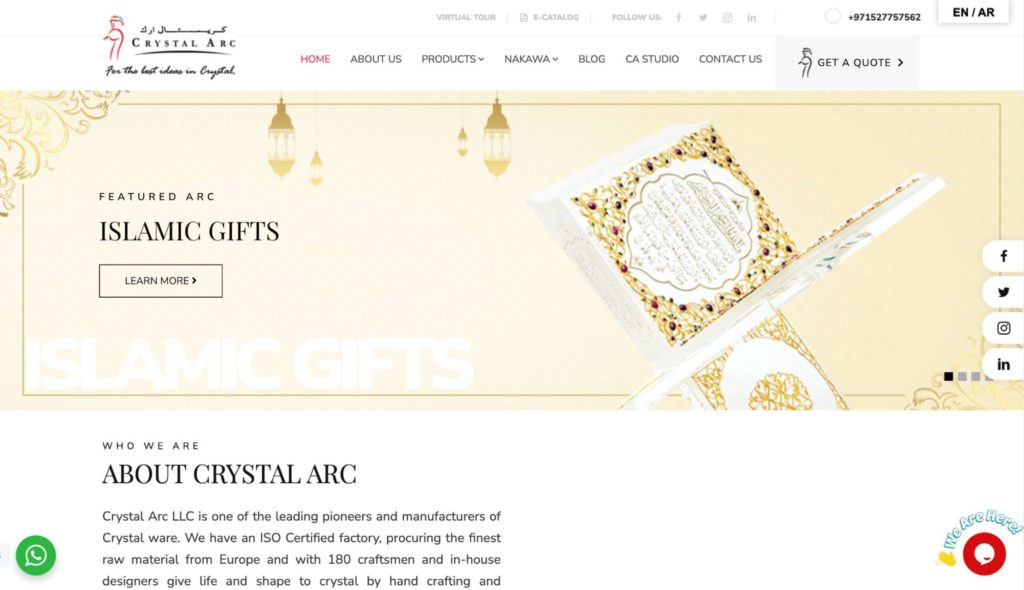 | Test | Info |
| --- | --- |
| PRODUCTS | Awards, Plaques, Trophies, Islamic Gifts, Wedding Gifts, and more! |
| WEBSITE | https://www.crystalarc.net/ |
| ADDRESS | INTERCHANGE 3 - Al Manara Rd - Al Quoz - Dubai - United Arab Emirates |
| CONTACT DETAILS | Phone: +971 4 347 9191 |
| OPERATING HOURS | 8:30 AM - 6:00 PM (Monday - Saturday)  |
| | |
| --- | --- |
| Criteria | Ratings |
| Variety | ★★★★★ (5/5) |
| Services | ★★★★☆ (4/5) |
| Support | ★★★★☆ (4/5) |
| Store | ★★★★☆ (4/5) |
If you're looking for detailed carvings and designs for trophies and awards, this place will be your best bet.
Crystal Arc LLC is a manufacturer of crystal ware. They create tableware, glassware, vases, trophies, plaques, and more.
What makes them such a good option for a trophy shop is the quality of their wares. All of their products are made in an ISO-certified factory. This guarantees the quality of their trophies and awards.
True to its name, crystal is the main material for all of the items they are selling. However, they still offer some non-crystal pieces.
For plaques and awards, Crystal Arc offers extremely detailed designs and engravings for their clients. While they do carry simple designs, we recommend availing their services for the high-tier items.
Do take note, that items can get expensive in this store, as their wares are very detailed and well made.
Interested parties can visit their store or hit up the company's online platform. This is because it has an online customer support system, where they can respond as soon as possible to your questions online.
For extensively designed and ISO-certified products, Crystal Arc is worth your time for your next trophy hunting!
Store has an ISO-certified factory 
Has great design and product variety 
Store has online customer support 
Trophies and awards not their main focus 
Can get a bit expensive (due to detail)
Customer Reviews:
Great Attention to Detail
"They are highly recommended for 3d models, perfectly captures minute details. You don't even have to submit the designs and you also have options amongst several designers. Their glass pasting ( Pate de verre ) is also very promising." -Masna Haseen
Great Customer Service, Good Product Variety
"Excellent customer service and amazing collection of figurines, trophies, gift ideas, crystal ware and show pieces. Thank you for the creative customization and prompt service." -Adnan Mukadam
5. Crystal Gallery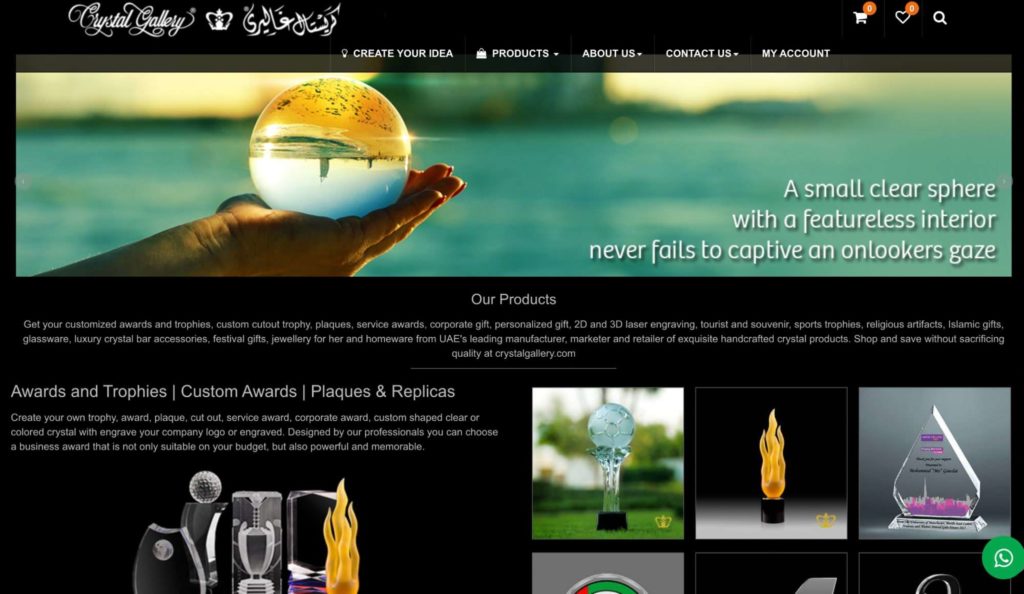 | Test | Info |
| --- | --- |
| PRODUCTS | Awards, Trophies, Custom Awards, Plaques, Replicas |
| WEBSITE | https://www.crystalgallery.com/ |
| ADDRESS | Al shafar Building 7 - 17-26, 533B - Al Awir Road - Dubai - United Arab Emirates |
| CONTACT DETAILS | Phone: +971 4 333 1660 |
| OPERATING HOURS | 9:30 AM - 6:00 PM (Monday - Saturday) |
| | |
| --- | --- |
| Criteria | Ratings |
| Variety | ★★★★★ (5/5) |
| Services | ★★★★☆ (4/5) |
| Support | ★★★★☆ (4/5) |
| Store | ★★★★☆ (4/5) |
Crystal Gallery has been a manufacturer, marketer and retailer of exquisite handcrafted crystal products since 1992. They have awards, souvenirs, and trophies for various events and occasions.
They have supplied for events such as the Dubai Quality Awards, Sheikh Khalifa Excellence Award, GITEX Award, and the Etisalat 25th Anniversary Awards.
While the designs they have on sale are great, people flock here for their custom award creation services. Heads up though: it's going to be made out of crystal.
Although there is a lack of material variety in this store, the design and product types available are well-designed. If you're looking for more traditional, wood and gold trophies, this company is not for you.
Clients can choose from shape, sign, design, engraving, and more for their customization services. They are ISO-certified which implies that the quality of their products are up to standard.
Even though they have a dedicated service for custom trophies, we've observed that it's not the main focus of the company. We see them leaning towards replicas of popular buildings like mosques, as well as 3D models of various objects such as swords, cups, and more.
However, that does not stop us from recommending this place. For their customization services and good crystal award and plaque qualities, we advise checking this place out!
Can make custom awards 
Great product variety 
ISO-certified 
Crystal awards and trophies only 
Awards and trophies not their main focus 
Customer Reviews:
Good Selection, Accommodating Staff
"Kudos to a great team at Crystal Gallery. Great selection of pieces and award plaques. Wonderful service by Leah for accommodating the last minute requests and delivering the items on time." – Wins Matthew
Great Product Variety
"Awesome collection and design for Coperate and personal Gifts…
Small to big and customised gifts available..
Prompt delivery…" -Rajesh Kumar
FAQs About Trophy Stores in Dubai
---
That's a wrap for our recommendations. Hopefully, any of the shops we recommended can be of assistance to you at your next event.
Speaking of events, if you're interested in other helpful articles, here are our top recommendations for the best event planners in Dubai!