The 5 Best Theme Parks in Dubai
From thrilling rides and water slides to light shows and dance shows, theme parks have it all for families and friends.
No two theme parks are alike, and each person has their favorite. To help you pick yours, we've searched the city to give you the best theme parks in Dubai.
We also included the factors we considered in choosing our entries and answered some frequently asked questions about theme parks in Dubai.
How much does a person spend in a theme park in Dubai?
The cost of a trip to a theme park in Dubai can vary depending on the kind of pass you will be availing yourself, the amount of food and merchandise you will be buying, and the extra services you need to make the visit convenient.
To make it easier, we've made a table of the average prices of the things visitors commonly purchase in theme parks.
| Item | Price |
| --- | --- |
| Admission Ticket | AED335 per person |
| Snacks | AED150 per person |
| Retail & Merchandise | AED80 per person |
| Parking | AED55 per person |
The Best Theme Parks in Dubai
Before we get right into our top choices for theme parks in Dubai, here are the factors we considered for our entries on this list:
1. Aqauventure Waterpark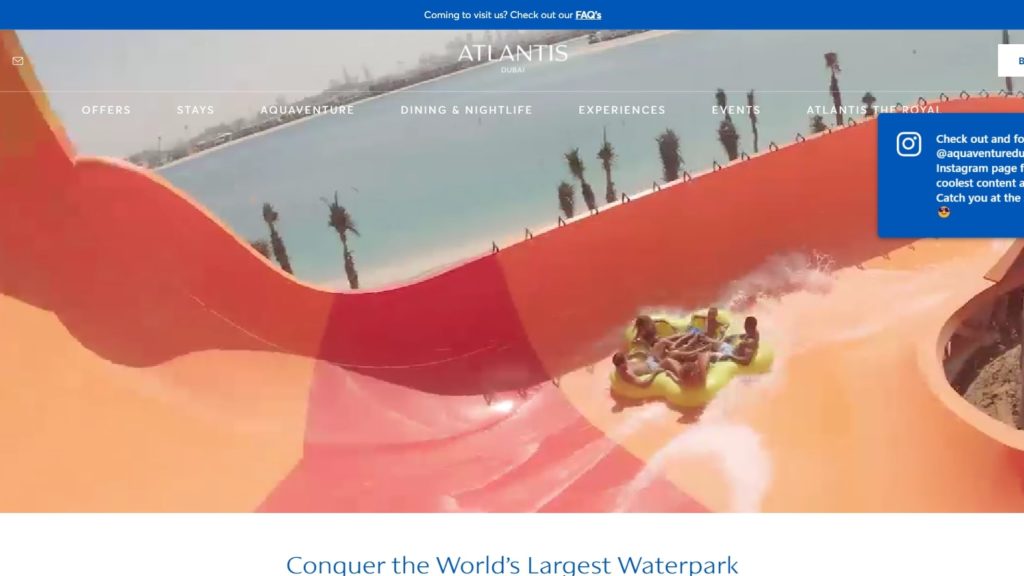 | | |
| --- | --- |
| Criteria | Rating |
| Attractions | ★★★★★ (5/5) |
| Theme | ★★★★☆ (4/5) |
| Safety | ★★★★★ (5/5) |
| Food | ★★★★★ (5/5) |
Aquaventure Waterpark is the epitome of excess and grandeur. With over 105 water slides, attractions, and experiences—a day is simply not enough to fully cover this 22-hectare waterpark.
We love that they have a little bit for everyone. The inclusivity in those 105 plus experiences really covers all the bases for every person that likes going to waterparks.
Their one-kilometer beach with a view of the city, the monorail, and the ocean is perfect for adults who need some time for peace while they let their children run free.
We tried out their Shark Safari, which let us literally swim with sharks, rays, and colorful fishes in the park's aquarium. It was a once-in-a-lifetime experience for us.
Being face-to-face with a shark was surreal, and we love how our guide helped to dispel any misunderstanding about these sea creatures and our baseless fears about them.
They also have some record-breaking slides in terms of height and speed, and we tried out a couple of these. It was exhilarating and really completed our experience here.
But what we absolutely love about their attractions is that they're not all slides and pools. We love that they also make the beach a highlight to enjoy and they push for marine education through immersive experiences like the Shark Safari.
The park was very vibrant and diverse in its designs for each attraction. We love that they utilized the full potential of the flora found in the Arabia desert.
The lush palm trees really complemented the blazing sun of Dubai, which just made it all the better when we find ourselves splashing in a pool.
The energy of the waterpark is even taken further by towering water slides and balanced out by the relaxing vistas of the beautiful shoreline where we ended up spending hours on.
Needless to say, there is certainly a sense of grandeur that matches Dubai. That being said, it does feel like the grandness makes the waterpark feel generic at times.
The lack of cohesiveness amongst the attractions, all in the name to make each one individually big and eye-catching, takes away from the focus of what the waterpark wants to become specifically.
As for the safety, we love how each personnel was detailed in explaining guidelines for every attraction.
There were also lifeguards stationed every 50 meters all over the park, so every problem that rose was immediately spotted and addressed accordingly.
As for the food, they have three restaurants located within the premises of the park. Although we found that Sharkbites and Snappers serve the same kind of food just done differently.
Sharkbites' dishes were the typical amusement park dishes, like burgers, hotdogs, and pizzas, but infused with more international flavors.
Snappers serves the same thing but is more of a family-friendly option because of their simple style of cooking that everyone is familiar with.
As for the Barracudas, the third restaurant, we love their elevated wagyu burger and shawarma sandwiches, which are still your typical go-to food for places like this, but they took it to the next level and put twists on it that made their dishes different.
All in all, Aquaventure Waterpark is our best choice if you're worried that someone in your group might not enjoy the experience as much as everyone else.
The sheer number of attractions in this park is amazing, and it cannot be emphasized enough that they really have something for everyone here.
Over 105 attractions and experiences
Some attractions are immersive and educational experiences
Lifeguards are numerous and stationed at strategic locations
Great dining options within the park
Designs of the attractions lack cohesiveness towards the overall theme
Customer Reviews
Lots of things to do for everyone!
"Situated in Atlantis, this is an amazing water park. Really huge with a lot of activities, totally recommend this. There are different sections depending on toughness levels, including pools for kids. Really had a great time. Also, do carry your towels and costumes for sure." —Rahul Jain, Google Reviews
Amazing and must-try rides at Aquaventure
"It was an amazing experience in Atlantis the palm. Visiting the new waterpark and the rides are awesome. My best ride was the Blackout and the leap of faith it's a must-try ride if you visit. The earlier you go the better cos later you start having very long queues and you won't really have fun. It's a good place to visit with friends or family." —Arnold Tchimmoe, Google Reviews
2. Legoland Dubai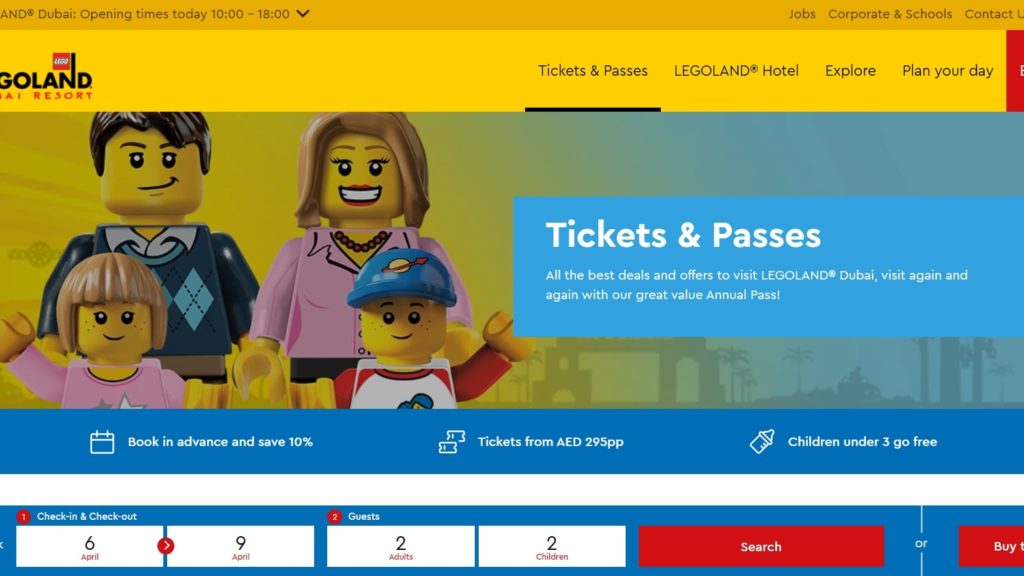 | Test | Info |
| --- | --- |
| WEBSITE | https://www.legoland.com/dubai/ |
| ADDRESS | Parks & Resorts - Sheikh Zayed Rd - Abu Dhabi - United Arab Emirates |
| CONTACT DETAILS | +971 4 820 0000 |
| OPERATING HOURS | Every day: 10 AM–6 PM |
| | |
| --- | --- |
| Criteria | Rating |
| Attractions | ★★★★★ (5/5) |
| Theme | ★★★★☆ (4/5) |
| Safety | ★★★★★ (5/5) |
| Food | ★★★★★ (5/5) |
If there's one thing we love about Legoland Dubai is that it is such a reminder of the fact that Legos are both for adults who want to feel nostalgic and children who are in it to have a great time.
Their Lego-centric attractions are great for people of all ages, especially their Factory Tours which showed us how Lego blocks are created.
We're also big fans of the MINILAND Light Show which happens at a central location of the park, and it's the perfect way to cap off everyone's visit there.
There were some great extreme rides, too, like the Beetle Bounce and family water slides like the Red Rush.
What we appreciate about these rides, though, is the restraint shown in their design.
They could have easily built something record-breaking for the intensity, but their awareness of the fact that children will mostly enjoy these rides made the attractions more accessible.
Besides that, their attractions are appealing and fit into the aesthetic style of Legos, and many of their activities are actually educational and really drive home the point that Legos can help unlock a child's imagination.
Speaking of aesthetic style, we love the Cubist style approach to the whole park.
The art style is an obvious reference to Lego blocks, and these designs are well-integrated and enhance the spaces without stealing unwarranted attention.
As for its safety, most attractions don't require heavy physical exertion, and the rides are designed with some sense of restraint because a lot of the riders are children.
This means that while the ride can be considered extreme, its design is actually fitted more for children rather than adults.
The personnel all seemed to be well-trained in handling children, as well. We like that they know how to handle and communicate with children effectively.
As for their food, all of their dining options are found inside the Legoland Hotel, which is quite out of the way if you're on the other side of the park.
Despite that, we love their Skyline Lounge, which has happy hours for us adults who want a break from all the excitement of reliving our childhood.
We enjoyed drinking some cocktails while enjoying the city skyline view that was made of Lego blocks.
They also have the Bricks Family Restaurant, which has great variety in its buffet and child-friendly menu.
All in all, Legoland Dubai is the perfect escape for both adults and children and a great way to rediscover the beauty of this toy in a world that is rapidly focusing on digital technology.
Being here is truly an immersive experience, it felt like we were in a world made out of Legos itself, and there's nothing better for a bunch of adults who grew up playing with this toy.
Great range of attractions for all ages
Extreme rides are well-designed to accommodate everyone
Clear and well-executed styling of the park
Personnel are trained in working with children
Great Lego-themed dining options
The restaurants are located in Legoland Hotel, not in the park
Customer Reviews
A perfect place for children
"The name says it all…its a perfect place for kids. Do not expect any adult rides since most of the rides are designed for kids…however, u can join your kids and have fun.
There is one roller coaster ride for adults and that was amazing…😍
The park has planted many plants and trees and it was not at all hot…Also, there are many benches all over the park.
Suggestion: Alternate seating in roller coaster can be avoided since there is anyways a gap between seating chairs." —Shareen Taj, Google Reviews
A toddler-friendly theme park
"The best theme park for toddlers and kids. Visited it with my little brother around Halloween and we both loved it !! I haven't really seen a lot of toddler-friendly rides in other theme parks, but this one is filled with them! My little brother loved experiencing different Lego worlds." —Khadija, Google Reviews
3. IMG Worlds of Adventure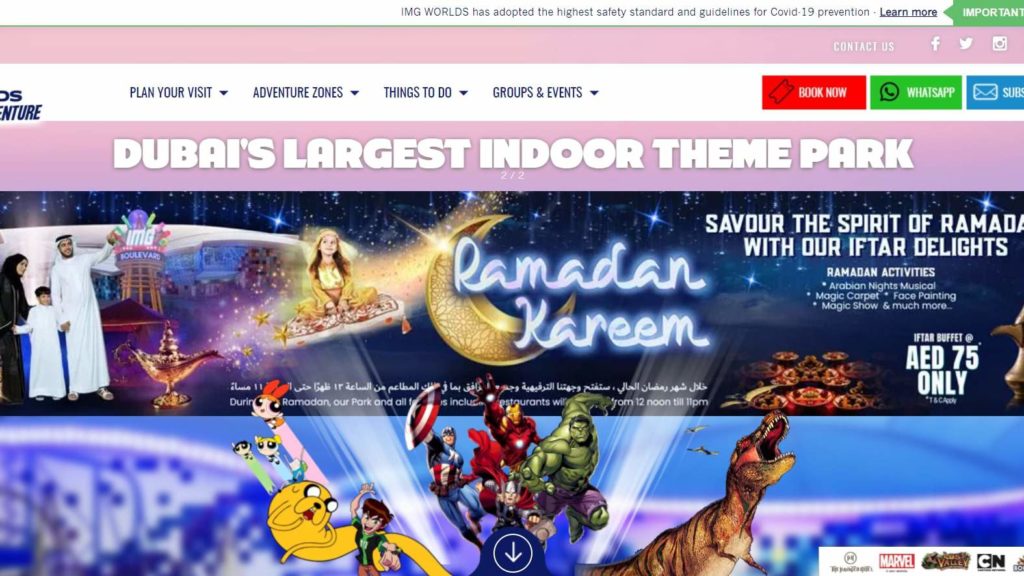 Test
Info
WEBSITE
https://www.imgworlds.com/language/en/#
ADDRESS
E311 Sheikh Mohammed Bin Zayed Rd - City of Arabia - Dubai - United Arab Emirates
CONTACT DETAILS
600 500 962

+971 4 403 8888

OPERATING HOURS
Every day: 12 NN–10 PM
| | |
| --- | --- |
| Criteria | Rating |
| Attractions | ★★★★☆ (4/5) |
| Theme | ★★★★★ (5/5) |
| Safety | ★★★★★ (5/5) |
| Food | ★★★★☆ (4/5) |
IMG Worlds Adventure is the multiverse of theme parks. Being the biggest indoor theme park in Dubai, it is home to multi-theme attractions that are based on pop culture.
We love that some of their attractions are actually 3D viewing experiences like sit-and-shoot games and immersive entertainment like their Haunted Hotel.
For us, IMG Worlds Adventure is doing a great job at pushing past the challenges of being an indoor park and giving visitors thrilling experiences without the need for wide-open spaces.
However, its weak point with all its attractions is that all of the attractions intend to pump adrenaline and excitement into the visitors.
There are no experiences for those who want a more relaxed and slow time at the park, and at some points, it became hard to catch our breath from one ride to another because of how high the energy was in all of the rides.
As for the overall appearance of the park, we love that this park has found cohesiveness in the lack of one.
The park is divided into different adventure zones with their own themes like Marvel and Cartoon Network.
Going from one zone to another felt like jumping into different portals and into different worlds because of how different and immersive each zone is.
We also like how strategic they are with the positioning of the zones because we ended up going into the ones that we wouldn't be interested in visiting, but we ended up having fun there nonetheless.
But most of all we love the fact that all these diverse experiences all come together to create a pop culture explosion that just appealed to our geeky side and made our inner child happy.
Another great thing about indoor theme parks is the fact that the rides are just so safe because these are constrained by the four walls of the building.
Through virtual technology and immersive set pieces, visitors can enjoy the thrill and excitement without actually having to get themselves 50 meters off the ground.
And when it came to food options, we love that the restaurants in the park were also a part of their pop culture theme.
Tony's Skydeck, which is based on Iron Man's tower residence, is reimagined into a fine dining restaurant with spectacular views of Dubai.
The Downtown Shawarma restaurant is a reference to the first Avengers movie, and we love it because eating there made us feel like we were a part of the Marvel Cinematic Universe.
That being said, besides the kiosks found throughout the park, they don't really provide any casual dining options, and we felt really limited with just upscale dining options.
All in all, IMG Worlds Adventures is just pure fun and excitement. With diverse attractions and beautifully designed spaces, the whole experience felt like an immersive sci-fi movie.
Great variety and inclusivity with the attractions
Virtual tech simulates the thrill without the physical danger of the rides
Beautifully designed adventure zones
Immersive experiences through digital technology
Lacks relaxed attractions and experiences
No casual dining options
Customer Reviews
An exciting place for every Marvel fan
"It was totally awesome. It is like once in a lifetime experience with all the rides and shows in IMG World. Had a great time here.
World's biggest indoor theme and amusement park with thrilling rides. It's approx 1.5 million square feet of a playground. One of the best was the themes of marvel. Exciting rides featuring super heroes and Cartoon Network" —Nitesh Mishra, Google Reviews
Had a blast with my daughters here!
"I went with my two daughters, 10 years old and six years old. It was a blast for everyone. This is a place to go if you have children. We loved all the rides and attractions, especially the Marvel-based ones, the Thor ride was particularly thrilling, but it's not for the faint-hearted; there are a couple of hardcore rollercoasters if you're a fan! I know I am. There was also a little show!" —Baqer Alghatam, Google Reviews
4. Wild Wadi Waterpark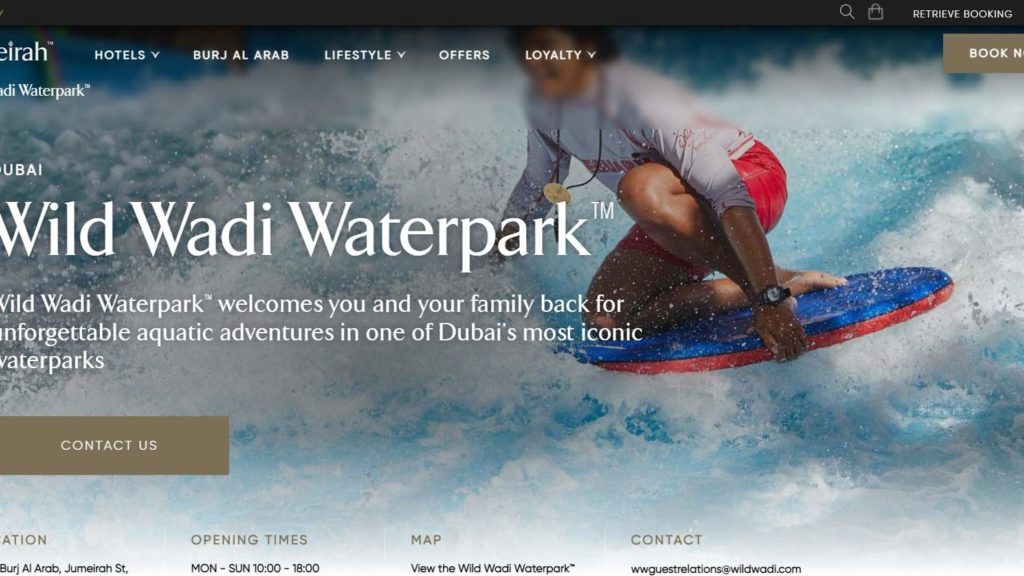 | Test | Info |
| --- | --- |
| WEBSITE | https://www.jumeirah.com/en/wild-wadi |
| ADDRESS | Opp. Burj Al Arab - Jumeirah St - Umm Suqeim - Umm Suqeim 3 - Dubai - United Arab Emirates |
| CONTACT DETAILS | +971 4 348 4444 |
| OPERATING HOURS | Every day: 12 NN–10 PM |
| | |
| --- | --- |
| Criteria | Ratings |
| Attractions | ★★★★☆ (4/5) |
| Theme | ★★★★☆ (4/5) |
| Safety | ★★★★★ (5/5) |
| Food | ★★★★★ (5/5) |
A waterpark that feels like a luxury resort—that is what it felt like when we entered Wild Wadi Waterpark.
With a view of the iconic Burj Al Arab and manicured landscaping, this waterpark elevates every visitor's experience with luxury that is unique to Dubai.
We love that when you're inside, the palm trees and date palms complement the rigidness and starkness of the Burj Al Arab. Together, they create such a utopic backdrop for the park.
The attractions all look very cohesive and reminded us of Indiana Jones movies with the ancient-looking stone bricks and pyramidal structures. They added a sense of adventure to the atmosphere of the park.
However, we think that the park could have taken it up a notch if it had access to the beach to fully sell that luxury resort vibe to us.
As for the attractions themselves, we think it's great that those are all neither mild nor too extreme, allowing all members of the family to join in on the fun.
That being said, the overall feel of the rides feels one-note; nothing really stands out in terms of an attraction for relaxing nor something for an adrenaline junkie.
However, we do like that they have a lot of group rides and slides, so we definitely recommend this waterpark for families.
We also spent hours tiring ourselves out at their Juha's Dhow and Lagoon, a play pool area with more than 100 activities.
But most of all, we are in love with the wadi cabanas that we got so we can have a more relaxing and VIP experience.
It guaranteed us private seating, a VIP fast pass to some of their most popular attractions, and a fridge filled with water, soft drinks, and fruits.
The attractions are all pretty safe too. We noticed that they have several lifeguards stationed at every attraction as well as complimentary life vests for those who are not confident with swimming.
Plus, the rides are not too extreme, and personnel managed the traffic of the rides well.
We also love that the park offers a wide variety of food options. Aside from the usual theme park bites like burgers, hotdogs, and pizza, they also have healthy options like salads, fruit juices, and smoothies.
But what we love the most about this park is that their restaurants can take note of food allergies so that they can modify the dish just for you.
All in all, the Wild Wadi Waterpark is perfect for the family. With rides that are accessible for all family members, inclusive food options, and well-managed attractions, it's hard to believe that it's even made better by the fact that Burj Al Arab is towering over you the whole time.=
Inclusive attractions
Cohesively designed park that matches its environment
Lifeguards situated strategically throughout the park
Inclusive food options
Attractions don't offer anything slow nor something too extreme
No access to the beach beside it
Customer Reviews
Definitely will come back for more
"This was amazing!!!! we had our staff event here and of course, it was very enjoyable, they have good precautions, especially during this pandemic. The staff is nice as well they really assist us in everything. The rides are all great!!! we really enjoyed it and I still want personally to come back here soon." —Kaizen Mazi, Google Reviews
Great waterpark experience
"There's mad fun in Wild Waldi. I enjoyed myself with all the rides and so did my children. There are about six different water rides here if not more and each of them had a different kind of adrenaline excitement!! It's just crazy.
The water rides that go through the tunnel, the ones that make you surf on the surface of the water, the pool that generates its own waves at different intervals, the tunnel water rides for little children, etc. It's been the best water experience for me and my kids this vacation. Aside from all this the water was clean and very comfortable to be in it.
Thank you wild wadi, thank you Dubai." —Lorraine Lartey, Google Reviews
5. Bollywood Parks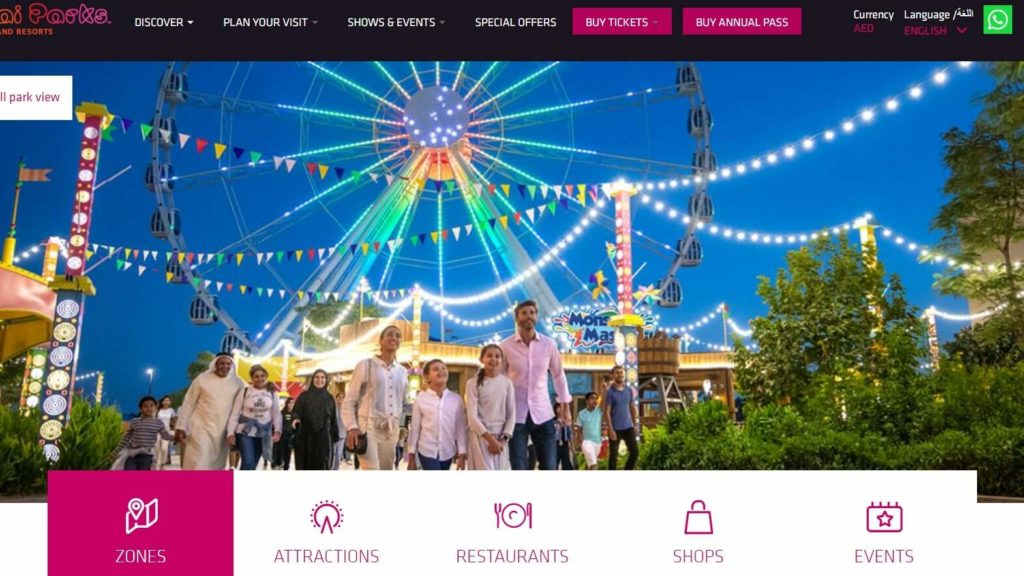 | | |
| --- | --- |
| Criteria | Ratings |
| Attractions | ★★★★★ (5/5) |
| Theme | ★★★★★ (5/5) |
| Safety | ★★★★★ (5/5) |
| Food | ★★★☆☆ (3/5) |
The one-of-a-kind Bollywood-themed park was definitely going to make it to our list one way or another.
Bringing the vibrance and fiery energy of Bollywood movies to life, Bollywood Park's attractions have amazing inclusivity.
We love their live shows that happen at the Crossroads Stage, Rangmanch, and Stars on Steps. Some numbers include iconic dance numbers from Bollywood films.
They also have an Indian cinema equipped with new-age technology at the Rajmahal Theatre, which not only does screenings of favorite Bollywood films but also serves as a landmark for the park.
If that's too relaxing for some visitors, they also have extremely thrilling rides like the Rocket, Wheel of Stars, and the world-breaking ride Bollywood Skyflyer.
And all of these attractions we did with Bollywood soundtracks as our background music. The park is fitted with speakers so that wherever we went, we always had the choice to vibe with the music.
Not only that, it made the whole experience of just seeing the sights so much more immersive. \In fact, they got the theme so accurately that it felt like we were walking in another country.
As for the park's safety, we're glad to learn that there haven't been any reports of major accidents within the park and that the rides are expertly well-designed by the same engineers from Legoland Dubai.
The personnel is also great in briefing visitors before getting onto the rides, and they offer complimentary wheelchairs for people with disability—which we think is such a great service.
As for the food, well, that's where it starts to get disappointing for us. For an amusement park rooted in Indian culture, we were actually looking forward to exploring dishes that we haven't tried out yet.
But that thought went out of the window when we knew that they only have one restaurant on the park premises.
Namaste Indi is a fine dining restaurant that serves authentic Indian food, and we have a couple of problems with this.
While the interior is fit for Indian royalty, we felt uncomfortable sitting down in such a glamorous place because we were sweaty and dressed casually for the park.
Another problem we have with it is that it's a restaurant and it really required us to take some time out of our visit to sit down when we could have eaten while walking had there been snacks around the park available.
Despite that, Bollywood Park really shines in selling the theme's fantasy of vibrant glamour.
With live dance shows, thrilling rides, and cinemas to visit, the park has captured the spirit of Bollywood so well that we left the park that day as fans of the Indian movie industry.
Great range of attractions that fit everyone
Accurately captures the Bollywood theme
Offers complimentary wheelchairs
Only has one dining option throughout the whole park
Customer Reviews
Amazing place!
"Amazing place!! Must visit! A good number of rides. 3 to 4 hours are enough to go through the rides. It is also connected to Riverland – French village where you can take a nice walk. it actually seems like you are in a different country." —Mohammed Aun, Google Reviews
A must-visit for everyone
"This is not a very huge park, but the place is very beautifully designed. Great for friends and family. All the rides are designed for kids and adults above 7 years old Must visit if you are staying at Lapita. The Indian restaurant is also nice. Suitable for vegetarians. The Krrish ride is also thrilling. You will need a minimum of 4 hours to experience all the rides. Jain food is available at the Bol Gappa restaurant outside the park. There is wheelchair accessible entrance to all the experiences." —RAVI SHAH, Google Reviews
FAQs about Theme Parks in Dubai
---
We hope this helped you in picking out a theme park for your next day out with friends and family. Also, if you're looking for other services for fun group activities, then check out these articles: