The 5 Best Festivals in Dubai
Festivals are a great way to gather communities and like-minded people to celebrate something culturally significant, and Dubai is one of the central locations for these types of events.
With so much happening around the city, we decided to give your our favorite festivals in Dubai, along with the factors we considered in choosing them. We also answer some FAQs about festivals in Dubai.
How much does attending a festival cost in Dubai?
The cost of attending a festival can vary from what kind of ticket you are availing yourself, the cost of food and beverages available at the venue, and the merchandise and items you will be purchasing.
To give you a starting point, we've made a table of the starting prices of tickets that are available for purchase for each festival we included on this list.
Festival
Starting ticket price
Dubai World Cup
AED50 for all ages
Dubai Marathon

Marathon: AED550




10-kilometer Road Race: AED312


4-kilometer Fun Run: AED92
World Art Dubai
AED20
Al Gaffal Dhow Race
Free
Dubai International Boat Show
AED35
The Best Festivals in Dubai
Before we get right into our favorite festivals in Dubai, here are the factors we considered for our entries on this list:
1. Al Gaffal Dhow Race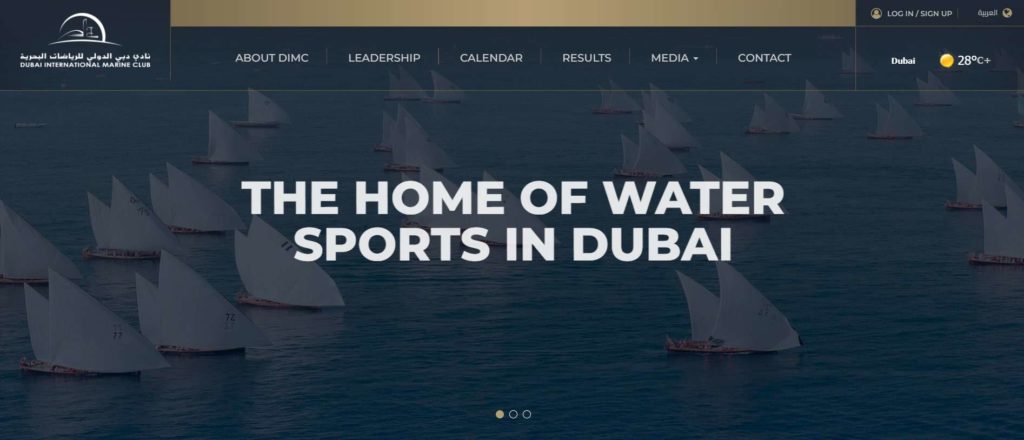 Test
Info
WEBSITE
https://dimc.ae/
EVENT PERIOD
2nd or 3rd week of April
CONTACT DETAILS
04-399 5777

04-4058800
| | |
| --- | --- |
| Criteria | Rating |
| Location | ★★★★★ (5/5) |
| Uniqueness | ★★★★★ (5/5) |
| Programming | ★★★★★ (5/5) |
| Ambiance | ★★★★★ (5/5) |
Something near and dear to the hearts of Emiratis is something that is closely tied to their own maritime ancestry.
The Al Gaffal Dhow Race is a festival celebrating Dubai's roots that started from pearl divers and dhow captains.
The race follows the historical route, which coincidentally shows some of the most impressive parts of Dubai's coastline, and ends at the Burj Al Arab.
We love how the course literally starts with the past and the dhows race towards Burj Al Arab, one of Dubai's most current landmarks.
It really shows how this city has come so far from being a harbor city to one of the richest cities in the world.
And it's of such cultural significance because of how tightly connected it is to the nation's identity.
In fact, it's so significant that the participating crew members must be Emiratis, and it is supported by His Highness Sheikh Hamdan Bin Rashid Al Maktoum, UAE finance minister and deputy ruler of Dubai.
But besides the prestige this festival holds, what we think is the most unique and most beautiful aspect about this festival is 60-feet dhows sailing majestically across the waters under the bright morning sun of the Middle East.
We also like that it didn't take us the whole weekend to experience something as special as this.
The festival only lasts for about half a day. The dhows start sailing at 5:30 am, and they cross the finish line just a little bit before noon.
Everyone is welcome to watch the race, and some even make a day out of it by hanging out by the shoreline of the city.
But we definitely recommend trying to get access to one of the ferries that are specially charted just for the event so you can get up close and personal with the race. We found this to be so much more exhilarating.
And speaking of exhilarating, the energy never goes down as the festival goes on. Even at 5:30 am, we felt the palpable excitement from the spectators on the ferries.
The whole experience felt like watching such a big race, but we love that there's that extra layer of depth that comes from the historical and cultural significance of the festival.
All in all, the Al Gaffal Dhow Race is one of the most special festivals that Dubai has, offering everyone a piece of the history and identity of the Emiratis from centuries ago—showing that their humble beginnings have led them to create their beautiful city.
Held at a culturally significant location
Closely connected to the identity of Emiratis
The festival is brief and straight to the point
Unique and exhilarating ambiance
Viewing from the shoreline doesn't do the festival justice
2. World Art Dubai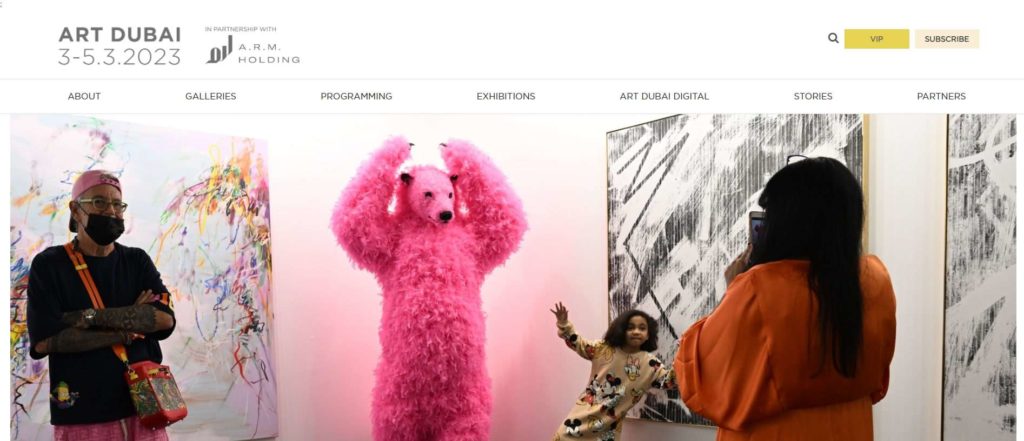 | | |
| --- | --- |
| Criteria | Rating |
| Location | ★★★★★ (5/5) |
| Uniqueness | ★★★★★ (5/5) |
| Programming | ★★★★★ (5/5) |
| Ambiance | ★★★★☆ (4/5) |
Art is a universal concept that is well-known and loved by most around the world. World Art Dubai knows that and doesn't take it for granted—and it shines through with their festival.
Held at the Dubai World Trade Center, World Art Dubai showcases the best pieces of art from the Middle East, North Africa, and South Asia.
We love how intentional the festival is with their decision to hold it in Dubai World Trade Center, a place for people of different ethnicities and perspectives to gather and share their insights on the world.
And it's just as practical, too. This venue can accommodate the 28,000 annual visitors that the festival attracts.
Besides that, we love that the place is also conducive to hosting talks about art, the community, and the impact of these kinds of festivals on the region.
And the venue isn't the only thing that's vast for this festival. The number of artworks being featured in this yearly art festival is astounding and is one of the things that makes this so unique.
World Art Dubai is known as one of the most globally diverse art fairs, and we think this is mainly because they provide such a great platform for emerging artists while also honoring and celebrating the leading artists in different fields.
We also love that it has a clear intention in what it wants to do. It's not just a gathering for art lovers, but it's also a global stage for discussions about the rich cultural heritage of the region.
Another strong aspect of this festival is its programming. For a festival that is held in such a large venue, they have managed to craft a program that caters to art lovers of any kind.
We like that they categorized the gallery into three sections: Contemporary, Modern, and Residents. This made it really easy for us to navigate through the maze that is the festival's gallery.
Besides that, we also enjoyed our insightful time attending the most significant art conference in the Gulf: The Global Art Forum.
It was really eye-opening listening to artists, leaders, curators, and writers from all over the world share their takes on where the future of art is heading towards to.
And while it is easy to see that World Art Dubai is just another international art festival, we can tell that there is a different atmosphere to it.
Yes, the gallery can be as quiet as all the others, and there is a sense of suffocating formality to the whole festival, but we actually loved listening in on conversations and having conversations ourselves with the other visitors.
Talking to the other visitors felt like we were celebrating an annual commemoration of what humans have achieved in the world of art albeit we talked in hushed tones all throughout.
All in all, World Art Dubai is not just an art festival, it's also a global platform for relevant discussions about the importance of art in the current times.
All of this while displaying and honoring brave individuals who put out their art for everyone to see and appreciate.
Centrally located at Dubai World Trade Center
One of the most globally diverse art festivals in the world
Hosts The Global Art Forum
The ambiance often feels too formal and restricting
3. Dubai World Cup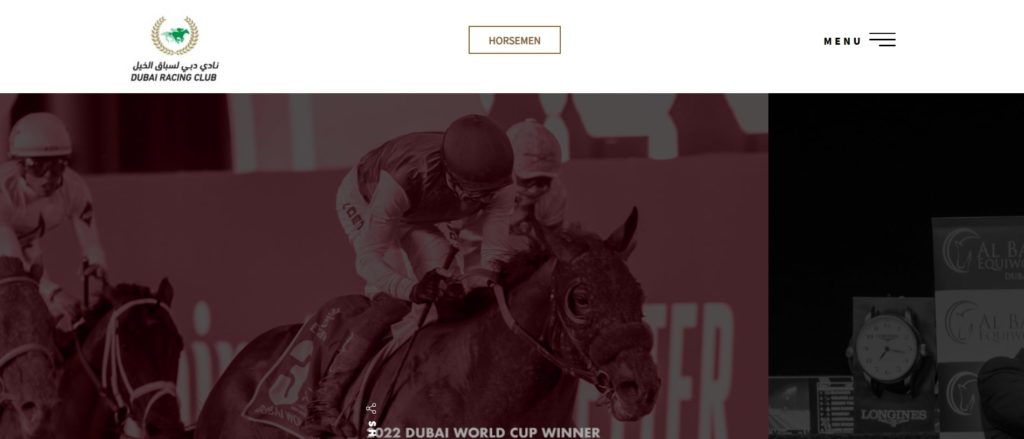 | | |
| --- | --- |
| Criteria | Rating |
| Location | ★★★★☆ (4/5) |
| Uniqueness | ★★★★★ (5/5) |
| Programming | ★★★★★ (5/5) |
| Ambiance | ★★★★★ (5/5) |
A day filled with the sound of thundering hooves along with the clinking of champagne glasses—that is a summary of our experience at the Dubai World Cup.
One of the world's most well-known horseracing festivals is both luxurious and exhilarating. There is something palpable and elegant in the air as we watched the crowd cheer and the horses run against the backdrop of the Arabian Desert.
The Meydan Racecourse is this festival's location. It can accommodate 60 thousand spectators and has its own five-star hotel.
We couldn't think of a more perfect venue for the Dubai World Cup, but we do think that it's the festival itself that makes the location iconic because there's really nothing special about it besides that.
Another thing that makes this festival stand out is that it's the most expensive race day in the world with over $30 million dollars in prize money.
Besides that, the elite group of thoroughbred horses racing for a coveted place in racing folklore is something that we think is special.
Furthermore, there's something picturesque about watching elite horses racing in a desert, and that image is something that we simply love recalling over and over again after attending the festival.
We also love that the general public can enjoy the races for free as long as they register before entering.
The premium ticket holders, meanwhile, have access to a more comfortable alfresco area for watching the races. It also holds a variety of food and beverage selections.
However, we were so happy to get tickets to the Apron Views because it has its own small village with activities and entertainment for all ages to enjoy the race day atmosphere.
All in all, the Dubai World Cup is definitely a must-see festival to really know what it's like to be a part of this niche community.
Horseracing is definitely something that everyone knows but hasn't seen, and this festival has proven to us that it's definitely worth seeing.
Large venue for a large crowd
The most expensive horseracing festival in the world
Flexible and varying tickets
Luxurious and exciting ambiance
The venue is not culturally significant
Can get a bit overcrowded
4. Dubai International Boat Show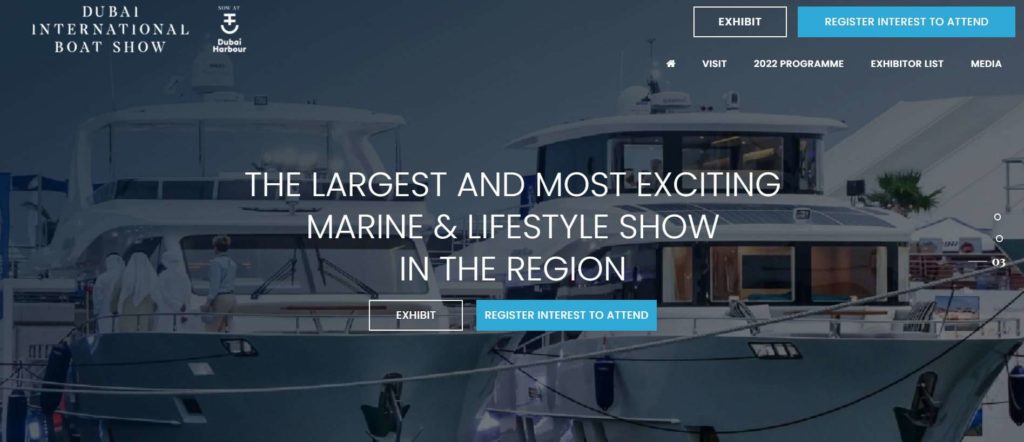 | | |
| --- | --- |
| Criteria | Rating |
| Location | ★★★★★ (5/5) |
| Uniqueness | ★★★★☆ (4/5) |
| Programming | ★★★★★ (5/5) |
| Ambiance | ★★★★★ (5/5) |
Held at the beautiful Dubai Harbour, the Dubai Boatshow is a festival of pure luxury and exclusivity.
With the location specially designed for the VIPs in mind, Dubai Harbour has a range of high-end food and beverage options, luxury retail shops, the most advanced cruise terminal, and the largest marina in the region.
This largest marina is then filled with no less than 50 superyachts that are attending the festival, which is a sight to behold.
The Dubai International Boat Show sets itself apart with the sheer exclusivity and luxury it offers to its annual participants and visitors.
We also love that it also has an underlying cultural significance, just like the dhow race, but done in a more sophisticated fashion, which we find to be alienating to some degree.
However, this is offset by the event's program, which holds a lot of opportunities for networking and socializing with some of the region's most elite.
We had a great time attending the Captain's Night where the attendees had access to the latest launches in the boating world while unwinding with members of the maritime community.
At this gathering, we partied with DJs and live acts and enjoyed some sophisticated bites and drinks—all perfect companions to enjoy the sunset view of the city and the sea.
Another great part of the program was the fishing competition where we got to see the skills of legendary anglers from around the region.
We also loved that the event balances out the opportunities for business dealings and networking with great outdoor activities that anyone can participate in.
The entertainment also cuts through the seriousness of big negotiations and lengthy product launches and exhibitions.
All in all, while it may be a luxurious niche for some, the program actually opens itself for everyone to enjoy no matter the background of the attendees.
Held at Dubai Harbour
Luxurious and fun ambiance
Has some cultural significance
Greatly crafted program
The luxurious ambiance can seem intimidating
5. Dubai Marathon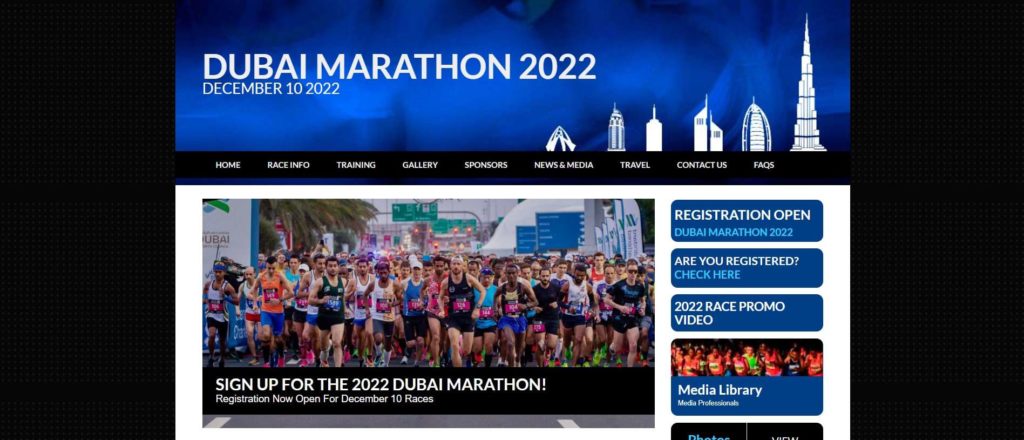 | | |
| --- | --- |
| Criteria | Ratings |
| Location | ★★★★☆ (4/5) |
| Uniqueness | ★★★★☆ (4/5) |
| Programming | ★★★☆☆ (3/5) |
| Ambiance | ★★★★☆ (4/5) |
While some people view a marathon as a sporting event more than a festival, athletes actually find these marathons as a great way to gather together for a great time.
The marathon and the two other race categories start and end on the Umm Suqeim Road opposite the Madinat Jumeirah and in the shadow of the iconic Burj Al Arab.
We love how such a flagship event like the Dubai Marathon is landmarked by something as iconic as the Burj Al Arab.
The area where the runners start and end is also pretty big and shady, making it a comfortable resting area for everyone.
However, we found that the surrounding area is pretty much impractical for those bringing their cars because parking is almost nonexistent, especially with the amount of foot traffic.
Another interesting part about Dubai Marathon is how its most unique aspects are contentious.
This marathon is attended by some of the most elite runners in the world. In fact, just last 2020, it became one of the fastest marathons to finish wih 11 athletes breaking the previous race record.
We think that while this may be seen as intimidating for amateurs, it can also actually be their only opportunity to run with advanced runners, which makes for a great challenge if you're up for it.
The flat course for this marathon is also another uncommon feature that has such a strong appeal for runners who are just beginning their journey.
However, we noticed during our run that running through a desert environment has little to no stimulation to the eyes, making it harder for us to distract ourselves from the tiredness.
Another challenge to this marathon is the sparse crowd support which could have helped, but with fewer of them, the marathon quickly became more of a challenge for the mind.
And while some may argue that this is better because the solitary experience can help them, some runners do better when they take their mind off the fatigue or be motivated by the crowd on the sidelines.
As for the programming, well, there really isn't much to say about it because it's as straightforward as it can get.
We got registered, we waited for the race to start, and we did our best to finish so we can get our medals and our freebies.
And we think there's nothing wrong with this. In fact, any kind of excessive program can be a problem for an athlete's focus
However, it was hard to feel celebratory or excited before and after the marathon because it's really an individualistic achievement for everyone participating.
As for its ambiance, the Dubai marathon is quite different from other internationally-renowned marathons.
For one, it's a marathon that's being held in a desert, making it extra challenging despite the flat course, and the lack of crowd cheers didn't help.
However, there's a sense of grittiness and authenticity that rose up from our experience during the marathon.
This atmosphere that feels raw and passionate came off from us who are mentally pushing ourselves in our way. As the result, the marathon felt inspiring and a stark reminder of what human effort can achieve.
Culturally iconic venue
Great opportunity to run with elite runners
Has a flat course
Straightforward program
Inspiring ambiance
No parking spaces
Lack of views and crowd support makes it more challenging
Lacks celebrations in the programs
FAQs about Festivals in Dubai
---
We hope this helped you in narrowing down your festival picks in Dubai. Also, if you're looking for travel guides when traveling to Dubai, then check these articles: