Top 6 Clinics for the Best Teeth Whitening in Dubai
Featured Image Source: Amir Seilsepour via Unsplash
Yellow teeth can be frustrating to deal with. So, to achieve pearly white teeth faster, you should consider getting the services of one of the clinics for the best teeth whitening in Dubai.
This article contains a guide on how to choose a clinic for the best teeth whitening in Dubai. We've also included a list of the top providers in the city to make your search easier.
To prepare you for the cost of the service, we also did the research and compiled the prices of teeth whitening services on a table which you will see below.
How Much Does Teeth Whitening Cost in Dubai
On the table below are the costs of the most common teeth whitening services in Dubai. Actual prices may vary depending on your chosen clinic.
| | |
| --- | --- |
| Laser teeth whitening | AED499 to 2,000 |
| Zoom teeth whitening | AED750 to 2,200 |
| Home teeth whitening kit | AED1,000 to 1,500 |
How to Pick the Clinic for the Best Teeth Whitening in Dubai
To guarantee your safety and the effectiveness of your teeth whitening procedure, make sure to choose the best clinic for teeth whitening in Dubai.
Below are some tips to consider in choosing the right clinic that will help you achieve a whiter smile.
Know which procedure to get
Do some research on different teeth whitening procedures.
In-office treatments are usually quick, only lasting up to 90 minutes. They also have drastic results but may cause a bit of gum sensitivity to some people.
On the other hand, home teeth whitening prescribed by a dentist is cheap and mild but takes 2 to 4 weeks to show any significant change.
Check their qualifications
Go for a clinic that has reputable dentists. The information about their licenses and certifications should be readily available on their website.
If not, you should be able to easily research their qualifications through the Internet.
Read online reviews
Know what previous clients think about a certain clinic's service.
Reviews tell you about the effectiveness of the procedure, the cleanliness of the facility, as well as the overall customer experience. You'll also know from reviews whether previous clients think they got the best value for their money.
The Clinics for the Best Teeth Whitening in Dubai
Now that you know what to look for in a clinic for your teeth whitening procedure, here are some of the best clinics for teeth whitening in Dubai that we know of.
1. American Medical and Dental Clinic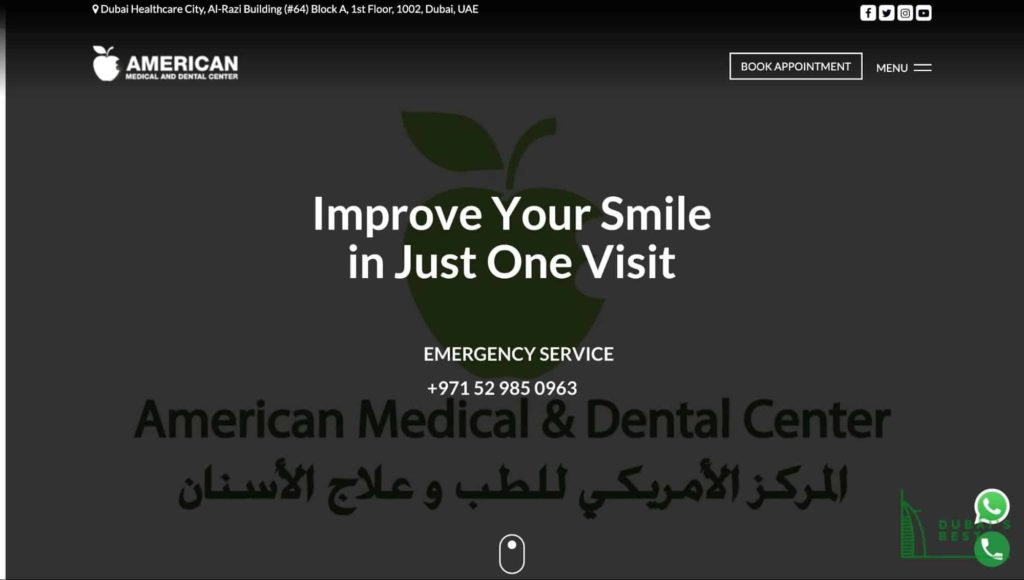 BEST FOR
Emergency dental services
WEBSITE
https://americanmdcenter.com/
ADDRESS
Dubai Healthcare City, Al-Razi Building (#64), Block A, 1st Floor, 1002, Dubai, United Arab Emirates
CONTACT DETAILS
+971 4 374 8428
+971 4 429 8290


[email protected]

OPERATING HOURS
Monday – Wednesday: 8:30 AM – 9:00 PM
Thursday – Saturday: 8:30 AM – 6:00 PM
American Medical and Dental Clinic uses state-of-the-art facilities for its zoom and laser teeth whitening services in Dubai. For those who want a gradual but painless procedure, they also offer home teeth whitening.
The clinic can cater to a wide variety of clients, with a multilingual team that speaks Arabic, English, French, and Filipino. They even have several female dentists for those who are more comfortable with them.
What makes them one of the clinics for the best teeth whitening in Dubai is that they offer same-day emergency services.
To help you save on your dental procedure, they also accept a variety of insurance plans.
Zoom, laser, and home teeth whitening
Multilingual team
Insurance plans available
Customer Reviews
Ana Chaves shared their experience with American Medical and Dental Clinic:
"After a few unpleasant experiences with other clinics in Dubai, I can finally say I had a very positive experience with the clinic and I'm able to recommend it.
The clinic itself is extremely clean and well equipped. Everyone starting with the staff and the assistants were very friendly and helpful.
Dr Giselle was very professional and detailed. She gave me confidence and provided me with a painless and effective fillings treatment that finally resolved my issue!
Oana Andreea also left a review:
"I would like to thank Dr Wael for his hard work and professionalism in making my smile so beautiful, increasing my confidence and offering me always his best services at American Medical and Dental Clinic.
I smile more often and feel happier thanks to Dr Wael and his dedicated team!"
2.   Dr Joy Dental Clinic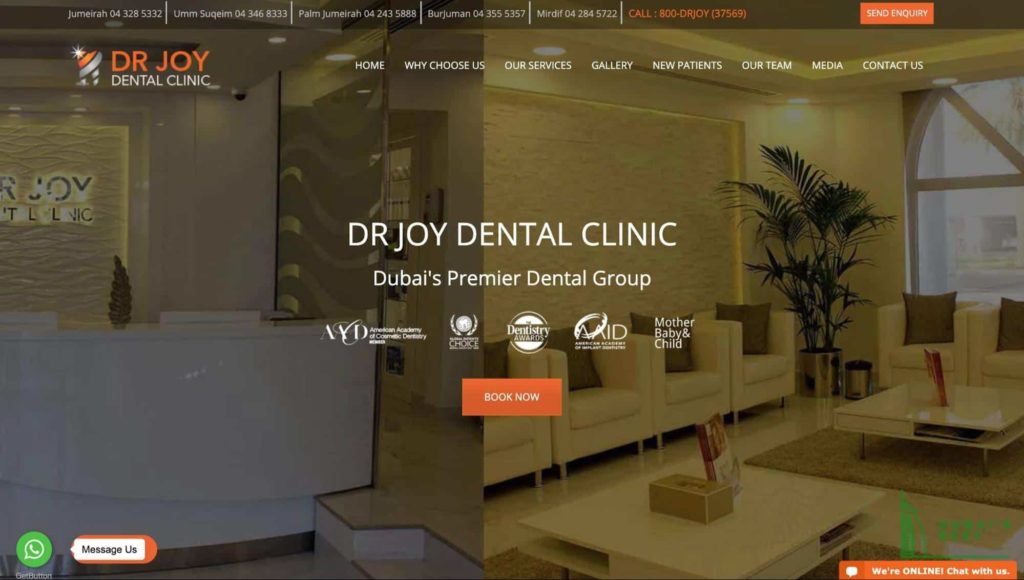 Dr Joy Dental Clinic offers a wide variety of teeth whitening procedures. Their excellent offerings qualify them as one of the clinics for the best teeth whitening in Dubai.
For their zoom teeth whitening procedure, patients are given a home whitening kit to support the treatment. They also offer diode laser whitening which whitens teeth in just 20 minutes.
For people who want to do the treatment at home, they offer the Philips Zoom! Take-Home Whitening Kit. This home whitening process only takes 10 to 14 days.
To best serve Dubai residents, they have multilingual staff in all of their 5 branches in the city. Each clinic is also equipped with the latest technology to provide the highest quality dental services.
Zoom, laser, and home whitening
Multilingual staff
5 branches in Dubai
4 branches are closed on Fridays
Customer Reviews
Jay Wilson was satisfied with Dr Joy Dental Clinic's service. They said:
"I am currently being treated by Dr Harris at the Jumeirah branch. He is very calm and professional and my procedures are quick and pain-free. No discomfort at all. Overall this clinic is the best dental clinic I've ever visited with lovely receptionists and very clean facilities."
Larissa Quat also shared:
"This clinic is so clean and is in a great location with parking. The staff are so friendly and helpful. Dr Omar is a true professional who actually cares about his patients, truly listens, and make sure to give the best treatment and advice, which is very rare to find in Dubai."
3.   NOA Dental Clinic
NOA Dental Clinic is one of the best clinics in Dubai for laser whitening. After the procedure, they send patients home with a maintenance kit to ensure that the effects of their services are long-lasting and worth their clients' money.
They also make teeth whitening in Dubai as accessible as possible. They offer a 6- or 12-month payment plan with zero-interest for certain credit cards.
Plus, they also have numerous insurance partners in Dubai to make teeth whitening even more affordable.
Provides a home maintenance kit
Payment plans with zero interest
Several insurance partners
Only one teeth whitening procedure offered
Closed on Fridays
Customer Reviews
Highly-satisfied client Elisha Slattery shared:
"Cannot recommend Noa Dental Clinic highly enough! Thanks to Dr Naeem and the rest of the team my smile has undergone a complete transformation. I would urge anyone considering orthodontic treatment or needing dental care to immediately book an appointment here."
Yash Jeswani also said:
"Dr Anoop Kumar was fantastic! Made my teeth sparkling clean without any discomfort! Thank you, NOA clinic."
4.   German Dental Oasis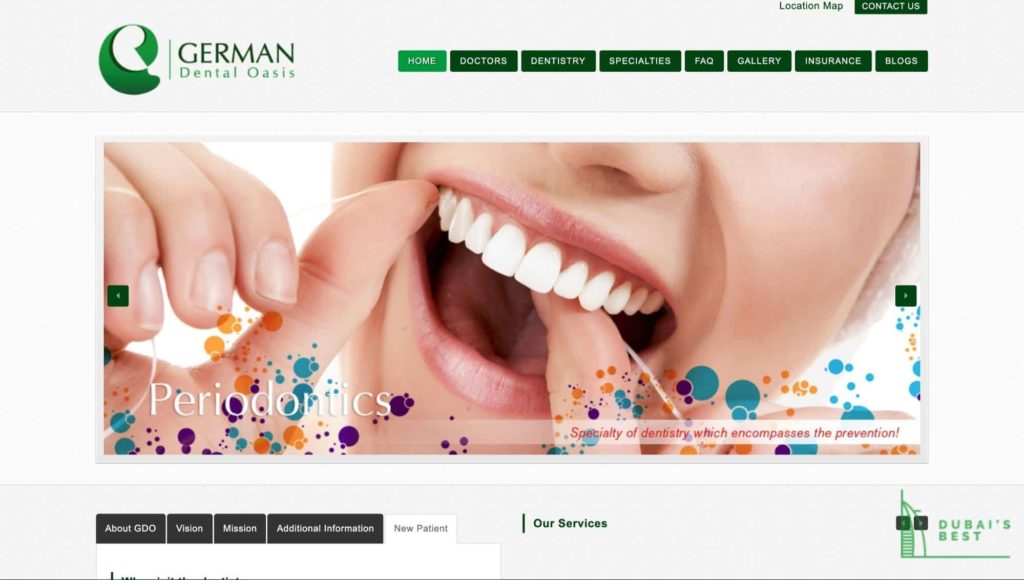 German Dental Oasis provides zoom, laser, and home teeth whitening in Dubai.
In particular, their zoom advanced bleaching takes only 30 minutes to an hour, making it the perfect lunchtime procedure.
Their dentists make sure to provide extra care for your gums, making them the ideal dental service provider for those with hypersensitivity.
Plus, to cater to as many patients as possible, they have multilingual staff who speak Arabic, English, Farsi, German, Italian, French, Spanish, and more.
The clinic can also accommodate your emergency dental needs.
Zoom, laser, and home teeth whitening
Multilingual staff
Provides emergency dental services
Customer Reviews
Layla Maj shared her review of German Dental Oasis:
"I have terrible anxiety and a phobia of doctors and dentists and didn't think I'd be able to go through with my treatment. As soon as I saw Dr Susan she calmed me down, put me at ease and she had incredible calming energy.
We went through with the treatment and I didn't feel a thing! I could not recommend her enough and will definitely be back. She will be my regular dentist now. I couldn't be happier!"
Meanwhile, Marwa Gamal reviewed:
"I met Dr Sussane for a zoom whitening experience and the way she welcomes you and her hospitality makes you feel beautiful.
She is professional and takes her time explaining every step as if you are her only patient. She also gives many advice on dental hygiene. I was comfortable, relaxed and happy with the results. Amazing hospitality and environment."
5.   Dr. Ahmed Amer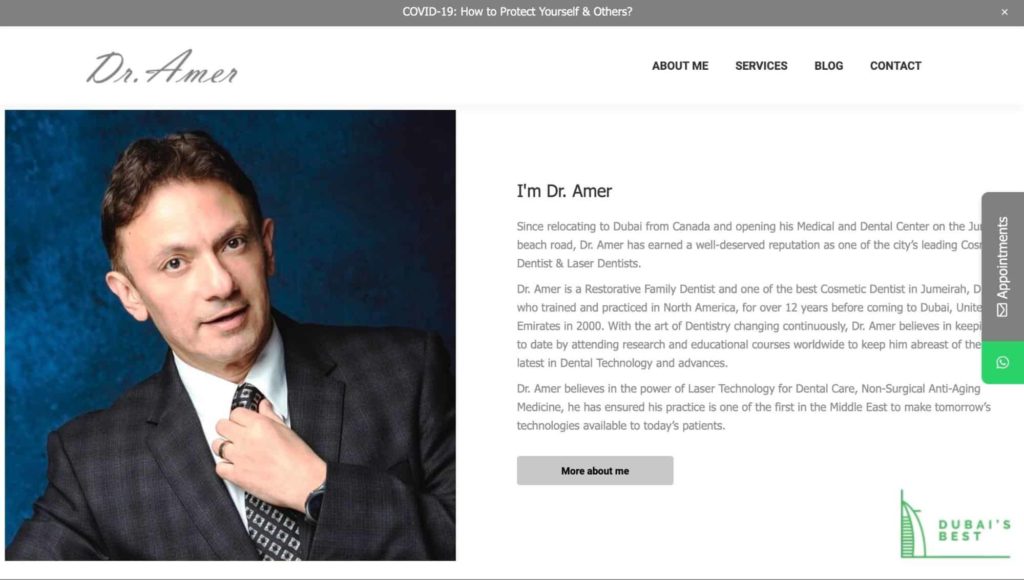 BEST FOR
Wide range of services; laser technology
WEBSITE
https://www.dr-amer.com
ADDRESS
1st Floor, Magrudy's Centre, Jumeirah St, Jumeirah 1, Dubai, United Arab Emirates
CONTACT DETAILS
04 344 9150 050 563 0611


[email protected]

OPERATING HOURS
Saturday – Thursday: 9:00 AM – 7:00 PM
Dr. Ahmed Amer is a restorative family dentist who has gained a reputation as one of the leading dentists in the city ever since he moved from Canada to Dubai in 2000.
Prior to his practice in Dubai, he trained in North America for over 12 years. However, learning has not stopped there for Dr. Amer.
Even with over 30 years of experience, he keeps up with the ever-changing industry of dentistry through research and educational courses from all over the world.
From this new knowledge, Dr. Amer ensures that his Jumeirah dental clinic is equipped with the latest technology to best serve his patients. In fact, although he offers a wide range of dental services, Dr. Amer puts emphasis on the utility of laser technology in dentistry.
Equipped with the latest technology
Wide range of dental services
Limited staff to see to patients on busy days
Customer Reviews
Ingrid Liekens left Dr. Amer a positive review that lets you know why he's highly recommended:
"Dr Amer has a gentle professionalism about him that puts you at ease, even in a dentist's chair. His knowledge and techniques are ahead of the times and he will make sure to explain in detail what he is doing and why he is choosing a particular treatment over another. I highly recommend his services."
6.   Sky Clinic Dental Center JLT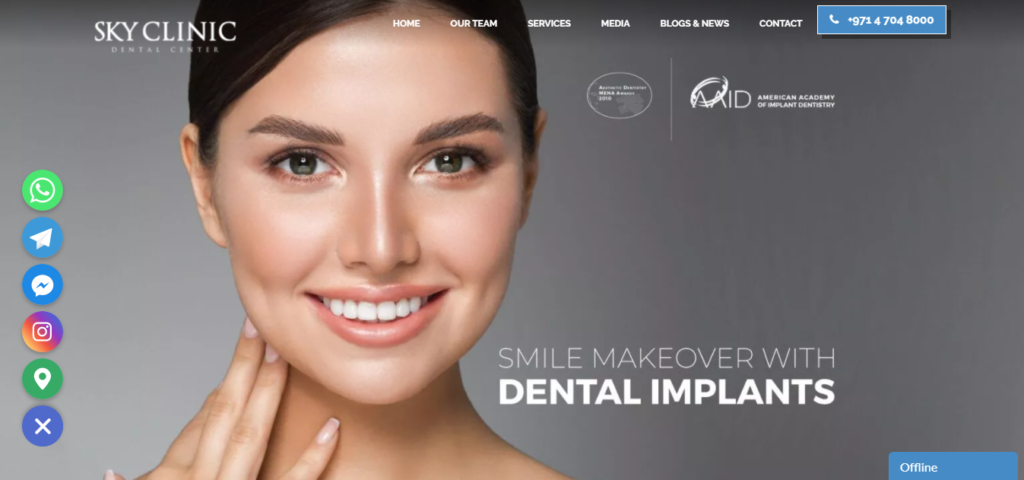 Choosing Sky Clinic Dental Center JLT is the best solution for your beautiful smile! Having the highest sucess rate in Dubai, you can ensure that you are in safe hands.
Sky Clinic Dental Center JLT, offers safe and comprehensive dental treatments including general, preventive, restorative and cosmetic dentistry.
Their aesthethic dentistry will rejuvinate your smile perfectly. This is a type of dentistry wherein there are various options that can be used to improve your smile even if you are not experiencing cavities or tooth decay.
Unlike others, their professionally skilled cosmetic dentists will give your smile a makeover to make you feel wonderful and it will also definitely boost your confidence!
All patients with emergency needs will be seen on the same day.
Wide range of dental services
Customer Reviews
Here's a reviwe from one of Sky Clinic Dental Center JLT's clients:
"I have been recommended this clinic a long time ago and always went there since many years! The clinic is top notch with the latest equipment, doctors are extremely experienced and the customer service staff is great:)"
Here's another one:
"Very nice clinic, friendly team and it's great having a German dentist with sense of aesthetics and high quality here in Dubai. Not easy to find someone you can fully trust especially when it comes to teeth."
FAQs about the Best Teeth Whitening in Dubai
---
That's it for our list of clinics for the best teeth whitening in Dubai! With one of these providers, you'll be sure to get pearly white teeth in no time.
If there are other providers you want us to include on our list, feel free to send us a message and we'll gladly check them out.
If you have other dental procedures that require the top specialists in the city, check out our list of the best dentists in Dubai.