The 5 Best SAT Prep Schools in Dubai
Scholastic Aptitude Tests (SATs) are examinations used by tertiary education institutions in determining the academic capabilities of incoming high school students.
For the students and their parents, it's a way of making sure they can get admitted to the schools they want. The scores from these tests will determine the number of options you will have for college.
So essentially, the higher the SAT score, the better. If you're looking for help in getting ready for this exam, here are the best SAT prep schools in Dubai!
How Much Does SAT Prep Cost
Classes for SAT prep are composed of multiple sessions over the span of days, weeks, or months. There's a lot of variety in how review sessions are conducted.
However, there seems to be a general range for the total duration these sessions would cover. With that being said, the table below lists the commonly offered duration for SAT prep and the estimated price range for them:
| Duration | Cost |
| --- | --- |
| 30 - 40 hours | AED 900 - AED 9,600 |
| 12 - 20 days | AED 1,000 - AED 7,000 |
The Best SAT Prep Schools in Dubai
What did we consider in assessing the schools on this list? The list below shows you our criteria for them:
1. EMCAN Educational Institute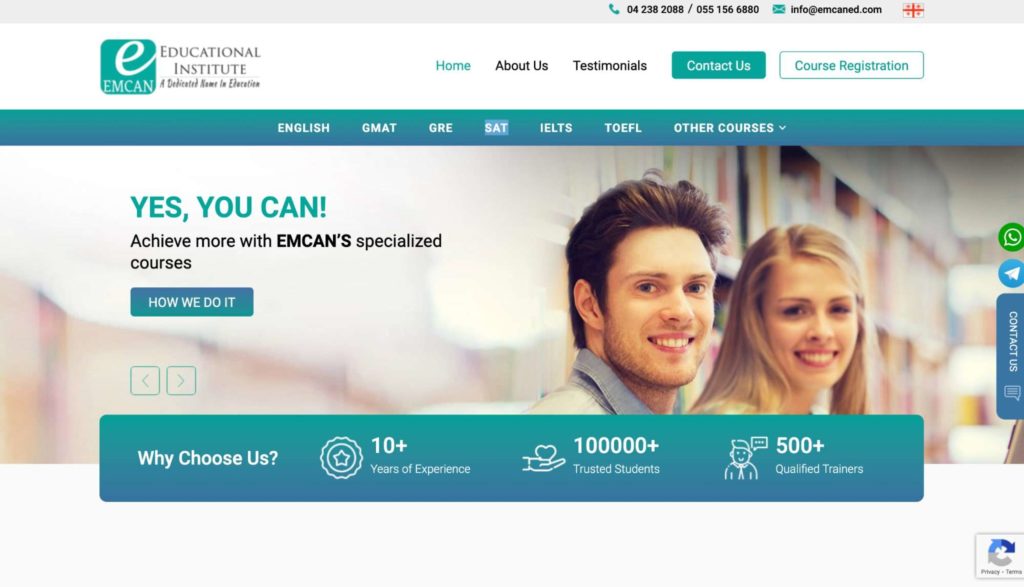 Test
Info
PROGRAMS OFFERED
GMAT, GRE, SAT, IELTS, TOEFL
WEBSITE
https://emcaned.com/
ADDRESS
Office #111, 1st Floor, Al Khaleej Center 70 Mankhool Road Rolla Street, Bur Dubai - Bur Dubai - Dubai - United Arab Emirates
CONTACT DETAILS
Phone: +971 4 352 5600

E-mail: [email protected]

OPERATING HOURS
10:00 AM - 9:30 PM (Saturday - Thursday)
| | |
| --- | --- |
| Criteria | Ratings |
| Expertise | ★★★★★ (5/5) |
| Facilities | ★★★★☆ (4/5) |
| Curriculum | ★★★★☆ (4/5) |
| Pricing | ★★★★☆ (4/5) |
EMCAN Educational Institute is an exam review company that offers a lot of preparation classes for different examinations. These include IELTS, OET, TOEFL, PTE, SAT, GMAT, and GRE.
Aside from review sessions, they also offer language courses in English and Arabic.
What's great about this school is that they have weekend classes if you're way too busy to attend on the weekdays. For their SAT course, the company offers in-house and online classes.
Their SAT Course runs for over 50 hours total. They offer classes for the exam's English and math sessions.
However, the trainers will first assess their students before offering counsel and strategies to work on areas that need more focus. One thing we noticed about their course program is that they hone in on plenty of practice sessions.
The trainers utilize a lot of mock exams to help the student familiarize themselves with how the exam will go. We would like to note that both their online and in-person classes have the same structure.
What we don't like is how they charge their students. By no means is SAT prep inexpensive, but we noticed that this company charges per subject (not for the entire duration).
Their course fee ranges from AED 1680 per subject to AED 3150 for the entire package. We recommend getting the latter so you can review all the possible areas that will be included in the exam.
Overall, we recommend EMCAN Educational Institute for their flexible course options, as well as their focus on utilizing practice sessions and mock exams!
Offers in-house and online classes
Trainers will strategize and plan for you
Focuses on mock exams
Booking required
Odd payment schemes
Customer Reviews:
Knowledgable and Friendly Tutors
"Had a best experience and helpful coaching sessions. There are best tutors in house who are very knowledgeable and friendly. The classes are user friendly and flexible. It was worth my time taking the training and achieved good result in short time. Thank you EMCAN." – Nelson Dzousa
Great Teacher
"After one set of my classes at EMCAN institute, I can say that this is a really great place. However, I'm mainly giving a 5 star for my English teacher, Ms. Geetanjali. Before attending the classes, I was quite nervous and stressed about what's in store for me. But Ms. Geetanjali was such a sweet and understanding teacher that I, at once, felt comfortable. She's also really good at teaching. I was someone who did not like writing essays and was not confident in doing so. But she and I slowly practiced writing essays together, and now I am relatively better at writing them. Thank you Ms. Geetanjali for helping me gain my confidence when it comes to writing. 😊💜" – Mimsi, via Google Reviews
2. Score Plus: The Princeton Review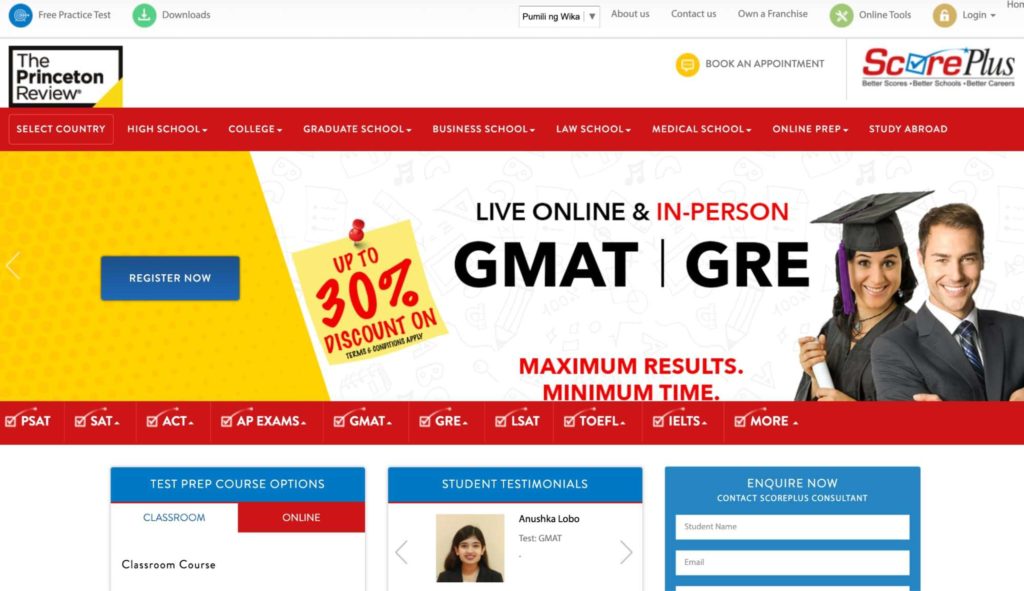 Test
Info
COURSES OFFERED
PSAT, SAT, ACT, GRE, LSAT, and more!
WEBSITE
https://www.princetonreviewme.com/
ADDRESS
Office # 506, Sultan Business Center,, Next to Lamcy Plaza - Dubai - Dubai - United Arab Emirates
CONTACT DETAILS
Phone: +971 4 334 0004
OPERATING HOURS
9:30 AM - 8:30 PM (Sunday - Friday)

10:00 AM - 8:30 PM (Saturday)
| | |
| --- | --- |
| Criteria | Ratings |
| Expertise | ★★★★★ (5/5) |
| Facilities | ★★★★☆ (4/5) |
| Curriculum | ★★★★☆ (4/5) |
| Pricing | ★★★★☆ (4/5) |
Opened in 2002, Score Plus is an educational service company that provides various prep courses for students. A unique aspect of their business model is working with international and well-known institutions to provide classes.
One of the companies they collaborate with is The Princeton Review, a popular company that publishes and sells reviewers and modules for entrance and assessment examinations.
In fact, their collaboration is what makes Score Plus earn the spot on this list. This is because they also utilize Princeton's review modules aside from the tutoring, lessons, and consultations.
If you avail of their courses, you will have access to The Princeton Review's SAT Manual, practice tests, and more than 20 variations of full-length tests. They also will provide a year of access to the company's video lessons, drills, and more!
So for their SAT prep, aside from that wealth of resources, students can pick from different modes of tutoring. These choices are classroom courses, small group tutoring, private tutoring, and home tutoring.
They also have an online class option for those who can't make it to their location. You can test out if their schedules and way of teaching will be to your benefit via their free sessions.

In conclusion, we recommend Score Plus for access to The Princeton Review SAT manuals and mock tests. Although you'll need to book for your slot, if you'd like to be home tutored or avoid the classroom setting for prep courses, we advise contacting them!
Has free sessions
Over 10 years of experience
Provides various resources and modules
Offers various modes of lessons or courses
Booking required
Requires contact for more information
Customer Reviews:
Great Teachers
"Great support from all teachers! They are all very encouraging and determined. Although, punctuality and being aware of the deadlines could've made the experience all the better. Reviewing documents such as Personal Statements and pushing the student to complete pending matters is something that should be worked on. Regardless, it was a good experience as I did land an offer from a reputed university. Thanks!" -Shruti Rajarman
Helpful Staff and Teachers
"Score plus have made me understand sat easily, there methods and techniques helped me a lot , the teachers and staff are very helpful and nice, it's like one family. score plus is a very good institution to prepare you for sat and other exams" -Kinda Al Otaibi
3. Option SAT Dubai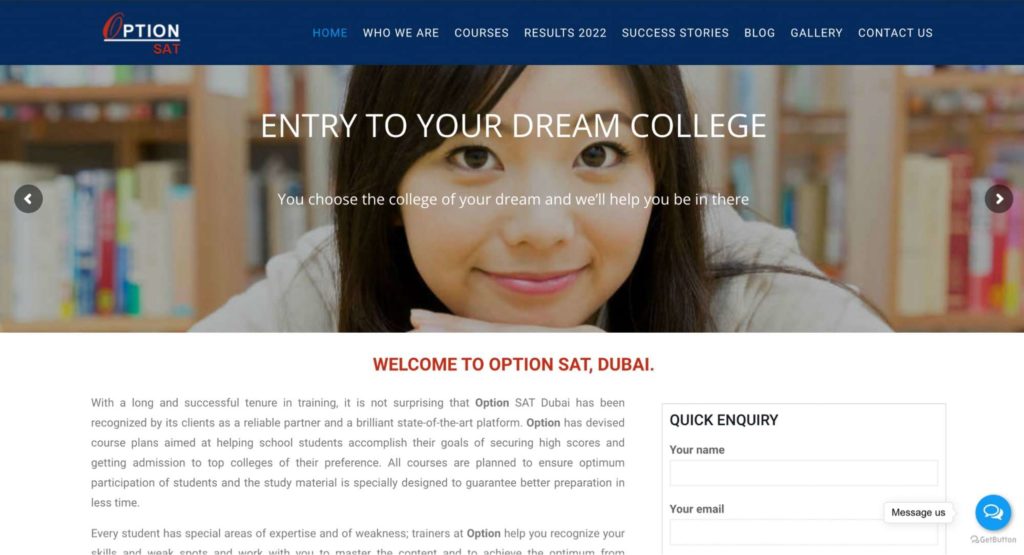 Test
Info
COURSES OFFERED
SAT, SAT Online, LCAT, UCAT, and more!
WEBSITE
https://optionsatdubai.com/
ADDRESS
Block 13 - G34 - Dubai - United Arab Emirates
CONTACT DETAILS
Phone: +971 50 926 7126

E-mail: [email protected]

OPERATING HOURS
11:30 AM - 8:30 PM (Tuesday - Thursday)

9:30 AM - 8:30 PM (Friday)

7:00 AM - 8:30 PM (Saturday - Sunday)
| | |
| --- | --- |
| Criteria | Ratings |
| Expertise | ★★★★★ (5/5) |
| Facilities | ★★★★☆ (4/5) |
| Curriculum | ★★★★☆ (4/5) |
| Pricing | ★★★★☆ (4/5) |
Option SAT Dubai is a review and training center that offers courses for various examinations. Primarily, as their name suggests, they have SAT prep classes and also offer help in taking the LCAT, UCAT, and more!
Usually, review centers or prep schools tend to accept graduating or incoming senior high school students. For this center, however, it seems that they go by the early bird policy.
What we meant by that is that they offer SAT coaching classes for students who are just in grade 8. So if you'd like to enroll in prep school to start reviewing early, we recommend this particular learning center.
Now, let's talk about what you can expect from their SAT prep classes. What's great about this school is that they primarily offer one-on-one customized SAT prep sessions.
This means that the classes and practice sessions they'll provide you with will be tailored to your needs. This spans over 80 to 100 hours and can be completed in 5-6 weeks.
Note that that specific time period is just for the classes. Students will also get 2 weeks' worth of mock exams for practice.
Another option they have is group training, which provides classes, appraisals, mock tests, and problem-solving sessions for a small number of students. The duration is the same as the one-on-one training.
We recommend Option SAT Dubai for the multiple choices they have for SAT prep, as well as their early-SAT prep school for students in grade 8 and above!
Multiple SAT courses available
Spacious and equipped classrooms
Offers a customized SAT prep course
Requires contact for more information
Long duration
Customer Reviews:
Excellent and Experienced Teachers
"Option is a great place to go! It is has become like a second home. I have done SAT preparation here in the past, the institute and the teachers have helped me make a 300+ point improvement, through repeated practice and pointers on how to improve.
The teachers here are truly exceptional, they are highly experienced, no matter the question you ask, they are always there to walk you through it and help you in the best way possible. I would highly recommend option for SAT preparation!" – Ineeya Nathan
Kind and Supportive Trainers
"Option Institute is the best! The trainers are kind and very supportive. This place is very customer oriented and the educators treat you like family. The true meaning of education is derived by them. They give you all the material needed and push you to successfully achieve your desired grades. I am so fortunate to have found a very genuine institution which I will never regret!" – Ariana A, via Google Reviews
4. Sage Education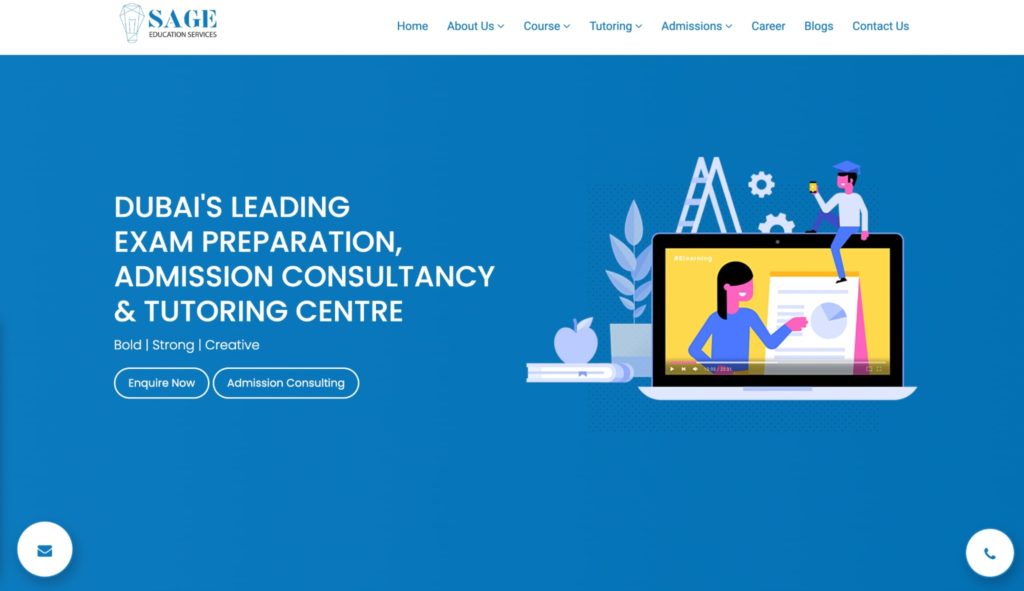 Test
Info
COURSES OFFERED
SAT, GMAT, GRE, Math Tutoring, English Tutoring, and more!
WEBSITE
https://www.sageeducation.ae/
ADDRESS
Tameem house Barsha heights, office 909, Dubai UAE Tameem house - Dubai - United Arab Emirates
CONTACT DETAILS
Phone: +971 56 408 1202
OPERATING HOURS
12:00 PM - 9:00 PM (Monday - Friday)

9:00 AM - 7:00 PM (Saturday - Sunday)
| | |
| --- | --- |
| Criteria | Ratings |
| Expertise | ★★★★★ (5/5) |
| Facilities | ★★★★☆ (4/5) |
| Curriculum | ★★★★☆ (4/5) |
| Pricing | ★★★★☆ (4/5) |
Sage Education is a review and tutoring establishment based in Dubai. They offer classes for SAT, GMAT, and GRE prep as well as tutoring in various school subjects outside the context of examinations.
The company offers some options for SAT prep. Students can choose from either a group or individual method of tutoring.
Alternatively, the variety also comes in what kind of classes they'll be taking. Note that this is outside the number of students in the classroom.
For example, they can choose if they want to focus on only one subject. They will also be given the option to do a crash SAT course, which runs for only 1-2 weeks.
The regular option, on the other hand, runs for over 76 hours in the span of multiple weeks with 36 hours of classroom training and 40 hours of mock exams. That's quite long, and honestly, can get a bit exhausting!
Nevertheless, we recommend that you go for the regular option. You should also avail it months before the SATs, so you don't get overwhelmed or mentally exhausted.
What we do like about this center is their experienced trainers. Most of the people on their roster have around 5 to 6 years of experience in helping students with SATs.
Overall, we believe that Sage Education gets a spot in this list for their crash course option, as well as their experienced teachers!
Has admission counseling for international universities
Offers different SAT prep options
Provides essay feedback
Experienced trainers
Long duration
Limited flexibility provided
Customer Reviews:
Great Quality, Expert Tutors
"I really recommend Sage education for the quality and comprehensive SAT classes in Dubai. Great institute with the presence of American SAT experts as tutors. Apart from this, they transform goals into results through university admission consulting to abroad universities like US, UK, Canada, Europe, and Asia." – Niyas Nazar
Attentive and Helpful Teachers
"I just want to say that Sage Education Services were super helpful during the stressful times of studying for my ACT/SAT. They really have the best teachers. Super attentive, nice and flexible! Without the services of Sage Education, I would have not gotten into UC Santa Barbara. Thank you so much!" – Juan Tavares
5. Brighter Prep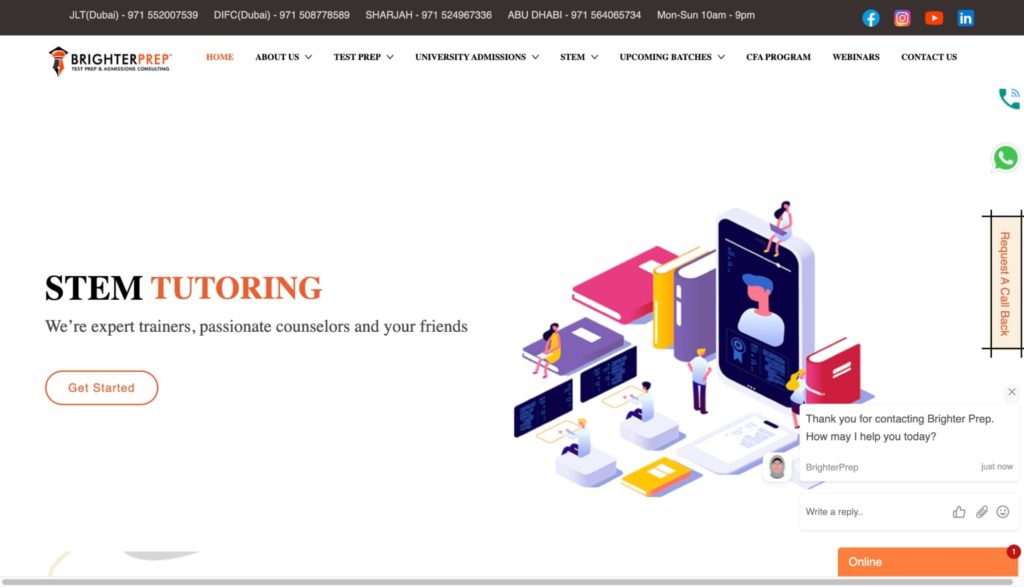 | Test | Info |
| --- | --- |
| COURSES OFFERED | SAT, BMAT, LSAT, STEM Tutoring, and more! |
| WEBSITE | https://www.brighterprep.net/ |
| ADDRESS | 1701R, Al Saqr Business Tower, Near to Emirates Tower Metro exit1 - Dubai - United Arab Emirates |
| CONTACT DETAILS | Phone: +971 50 877 8589 |
| OPERATING HOURS | 9:30 AM - 10:00 PM (Monday - Sunday) |
| | |
| --- | --- |
| Criteria | Ratings |
| Expertise | ★★★★★ (5/5) |
| Facilities | ★★★★☆ (4/5) |
| Curriculum | ★★★★☆ (4/5) |
| Pricing | ★★★★☆ (4/5) |
Brighter Prep is a review and tutoring school that primarily focuses on providing lessons and counseling for students who are taking SAT and other college-level examinations.
They also offer STEM tutoring for students who need help with these subjects. They are most notable for their intensive and detailed SAT prep offers, though.
Speaking of SAT, Brighter Prep offers various kinds of classes for students. These are group classes, hybrid classes, and private tutoring classes.
For their group sessions, the company only allows eight students per class. Those who are enrolled here will get access to workbooks, manuals, practice tests, and other training materials.
The second option is called hybrid classes. For this option, a student will be initially given one-on-one sessions during weekends before they go to a group class.
Last is their most advertised option: private tutoring classes. This is the option with the most benefits attached to it, including scheduling the sessions to your availability, one-on-one sessions, extra help and lessons (if necessary) from other instructors.
We recommend opting for the group classes if your schedule is light. Note that all classes will have access to review and refresher sessions.
Another good aspect of this school is their consultation services. They have U.S. education consultants who can guide you on how to apply to prestigious universities and Ivy League schools.
For its variety of class options, as well as the additional consultants that will aid you if you're planning to go to an international school, Brighter Prep earns a spot on this list.
Offers various options for SAT prep
Has consultation services for university admissions
Requires contact for more information
Primarily offers one type of prep class
Customer Reviews:
Great Teachers, Excellent Resources
"Fantastic place. Great teachers and learning environment. Everyone is very helpful. Brighter Prep helped me improve my SAT score a lot. They provide excellent resources such as plenty of mock papers and the teaching is very good." -Arvin Sethu
Patient and Helpful Trainers
"I joined Brighter Prep mainly for SAT coaching and counselling for university applications. The coaches are very patient and each of their classes is effective. Donita helped me a lot when I needed extra classes or wanted extra resources to practice. Roshan and Nishant, my counsellors, have guided me and helped me improve my application. Overall, The entire team is extremely supportive and I am grateful for all their efforts." – Meghna Jain
FAQs About SAT Prep in Dubai
---
Going to college is a difficult feat, and we hope that any of these prep schools will be of use as you take the SAT.
If you have the dream university but not the course, here's our advice on how to pick the right college major for you!