The 5 Best Recording Studios in Dubai
Do you want to make or record a song you've created? Or just aiming to polish some recordings of yours for publication?
Well, recording studios can certainly be of aid to you. These establishments are specially built for sound recording, mixing, and audio production.
Here's our recommendations for the best recording studios in Dubai, to help you narrow down the places you can visit!
How Much Do Recording Studios Cost?
Recording studios charge on an hourly rate. Additional rates can be charged depending on if you are hiring a professional to help you in the studio for mixing or production.
In addition, some studios would actually charge different fees based on what you will do inside the studio. For example, they would charge differently for someone who would just come in and record something or produce a song.
The following table lists the different services a recording studio can offer, and their corresponding fee:
| Service | AED / hour |
| --- | --- |
| Sound Recording | 110 - 250 |
| Sound Mixing | 700 - 800 |
| Audio Production | 1000 - 3000 |
The Best Recording Studios in Dubai
We've used the following criteria to assess the studios on this list:
1. GTR Recording Studio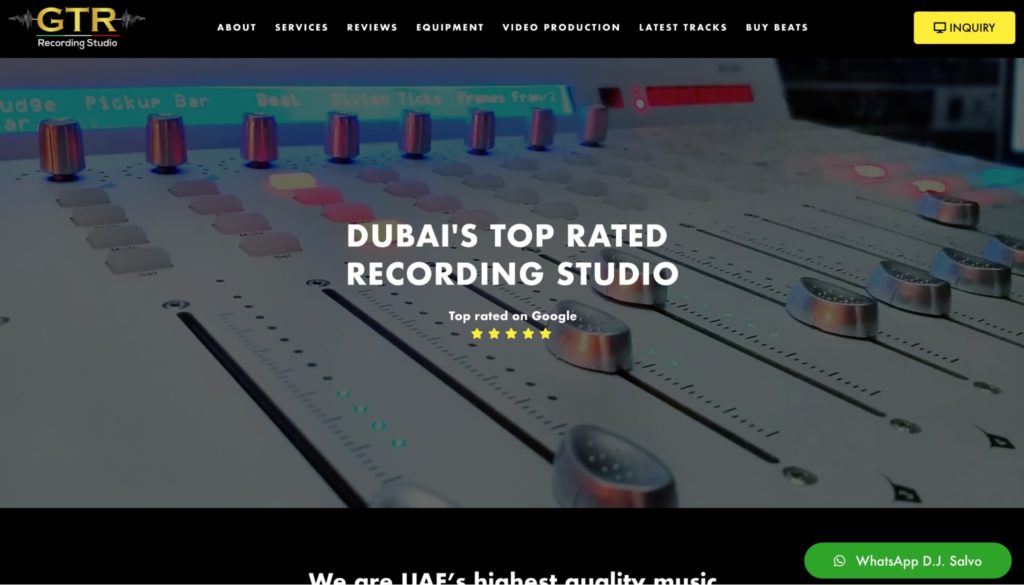 Test
Info
SERVICES
Music Production

Vocal Coaching

Post-production

Mastering

Publishing

Sound Mixing

and more!

WEBSITE
https://gtrrecordingstudio.com
ADDRESS
Axis 2 Block A 604A - Dubai - United Arab Emirates
CONTACT DETAILS
Phone: +971 56 774 8503
OPERATING HOURS
10:00 AM - 9:00 PM (Monday- Sunday)
| | |
| --- | --- |
| Criteria | Ratings |
| Facility | ★★★★★ (5/5) |
| Versatility | ★★★★☆ (4/5) |
| History | ★★★★★ (5/5) |
| Customer Support | ★★★★☆ (4/5) |
GTR Recording Studio was founded by Salvo Riggi in 2009. Since its conception, the establishment has provided assistance to popular international musicians such as Stormzy and Desiigner.
With over a decade of experience when it comes to music production and filmmaking, this recording studio has made sure its premises are of top-notch quality.
At a first glance, walking into one of their recording studios will honestly wow you. Their rooms are large and spacious, and well-decorated to have a homey comfortable vibe (which is perfect for long sessions in the studio).
Aside from the aesthetics, the company also makes sure to equip its facilities with high-tech equipment and software. Examples of these are Mac Pro 2020s, Logic Pro X, and more.
In terms of services offered, the studio assists in all steps involved in music production, such as composition, recording, mixing, and more. What we like about this company, aside from their experience, is the availability of their staff during production.
So in case you would want to hire extra help, GTR Recording Studio allows it– for an extra price, of course.
Interested clients can reach them through their official phone number. The company does require you to book in advance though, so keep that in mind.
Open seven days a week
Wide variety of services offered
High-end equipment
Advanced booking strictly required
Contact is needed for more information
Customer Reviews:
Great Equipment, Amazing Staff
"Undoubtedly one of the best recording studios in Dubai and a very talented music producer. I got in touch with GTR studios to book a slot to record a song . The communication was great, the booking and payment process was easy, effective and fast. When I got to the studio I was impressed with how cool was the acoustic room and the equipment ( with all the industry plugins and tweaks). Salvo, the producer, was very hospitable and professional. Even though it was my first time in the studio, he made me feel comfortable. Salvo is very experienced in music production field, he payed attention to all the smallest details and he took great pride in making sure my track turned out perfect. And I have to admit proudly, it sounds great. I would very highly recommend Salvo and the GTR recording studio for high quality Vocal Recordings and Music Production." – Patricija Karpa
2. Studio9 Productions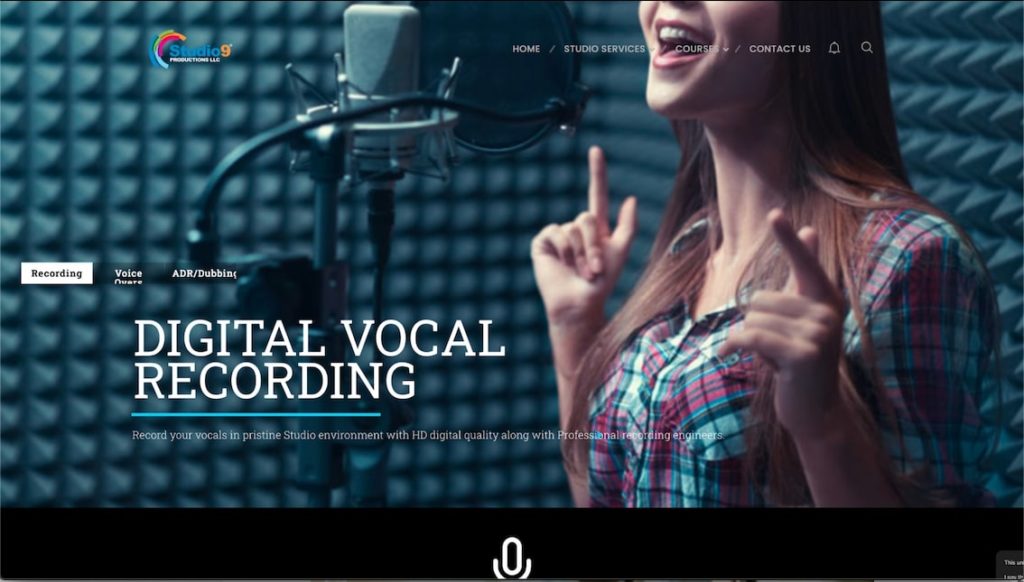 Test
Info
SERVICES
Audio Recording

Commercials

Interactive Voice Response

Related Courses On Music Production

WEBSITE
https://studio9dxb.com
ADDRESS
1213 Yes Business Tower - Al Barsha 1 - Dubai - United Arab Emirates
CONTACT DETAILS
Phone: +971 55 609 9953
OPERATING HOURS
Open 24 hours. (Monday- Sunday)
| | |
| --- | --- |
| Criteria | Ratings |
| Facility | ★★★★★ (5/5) |
| Versatility | ★★★★☆ (4/5) |
| History | ★★★★☆ (4/5) |
| Customer Support | ★★★★☆ (4/5) |
Studio9 is a recording company that offers various audio and music production services for artists, companies, and advertisers. We noticed that while they offer various processes for music-related requests, they focus more on recording voiceovers for corporations.
Stepping into their offices, you can see the aesthetically-pleasing interior of their waiting areas. Looking into their recording studio, the company's efforts in having a well-equipped studio can be seen.
Aside from all the items needed for audio production, the company utilizes some of the most highly regarded microphones to ensure that they can record sounds perfectly. The microphones they have in use are the Aston Spirit and the Rode NT2-A.
In terms of services they offer, the company allows production, recording, mixing, and mastering of audio. In addition, they can also record outside of the studio or "on location" recording, which is mostly used by clients for commercials or films.
This particular service of theirs is what makes them stand out compared to their competitors. Also, they are one of the few studios that are open 24/7, which makes them more available to accept clients.
They do require you to make an appointment before barging into their office and studio, though.
Overall, Studio9 is a recording studio that can be one of your potential options– we recommend giving them a call at least to know more about their services!
Open 24 hours
Provides on-location recording services
Experienced Staff
Appointment required
Focus on corporate services
Customer Reviews:
Experienced Staff
"Recording a song recently at Studio 9 with Mr. Neo, the very experienced sound engineer, was honestly and gratefully quite a pleasant experience. Everything went smoothly from the the recording session all the way through to me receiving the finished properly mixed and mastered song. I appreciated the fact that not only is any feedback you have taken seriously and implemented in the song but, the professional sound engineer with his trained ear and expertise would suggest valuable tips and advice about things I could add or remove vocally to help make the song the best it could become. Would definitely go back to record at Studio 9 and, I also highly recommend others to go record at the studio for a professionally pleasant recording/music making experience." – BOITU, via Google Reviews
3. Mindloop Studios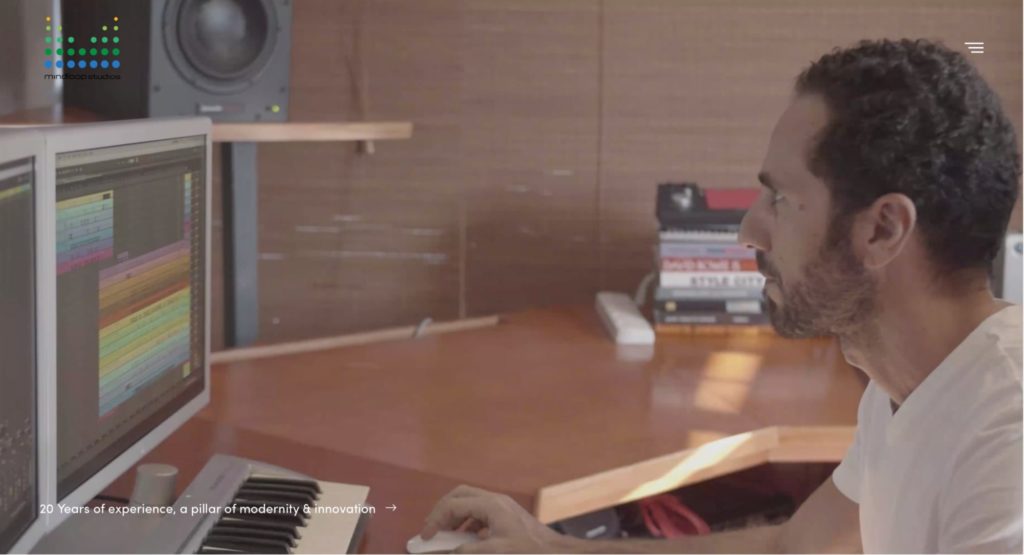 Test
Info
SERVICES
Audio and Voiceover Production

Sonic Branding

Jingle / Music Composition

Sound Mixing & Engineering – 5.1 & 7.1 (Dolby)

SFX and Sound Design

Music Business Consultancy

Podcast Production

WEBSITE
https://mindloopstudios.com/
ADDRESS
Al Sufouh - Al Sufouh 2 - Dubai - United Arab Emirates
CONTACT DETAILS
Phone: +971 4 391 4111
OPERATING HOURS
9:00 AM - 6:00 PM (Sunday - Thursday)
| | |
| --- | --- |
| Criteria | Ratings |
| Facility | ★★★★★ (5/5) |
| Versatility | ★★★★☆ (4/5) |
| History | ★★★★☆ (4/5) |
| Customer Support | ★★★★☆ (4/5) |
Mindloop is a recording studio that has been in the business for over two decades. With its long stay and experience, this company has worked with many clients.
The studio has worked with big brands like Kelloggs, TikTok, and Emirates Airlines. They mostly focus on voice-overs and sound designs for commercials, though.
Aside from their years of experience, the company has also garnered awards for its top-notch services. They won accolades such as UAE Prestige Awards and the MEA Markets award for the best production house in the country.
Looking at the services Mindloop has, the company offers the usual for audio production – recording, mixing, and engineering. They also offer SFX and sound design for corporations.
They also allow their clients to hire their personnel for adding the finishing touches to any music or audio recording.
Looking at their facilities, we've observed that their waiting areas are open and spacious. Their recording studios are filled with the necessary equipment needed, though we noticed that the space is a bit smaller in these rooms.
Moving to their staff, we've noted that they are very professional at their work. In addition, they are efficient at what they do.
Overall, we recommend Mindloop studio mostly for people who are looking for a studio that caters mostly to corporates and commercials.
20 years of experience
Professional staff
Customer Reviews:
Great Service
"Great studio. A little difficult to find, but worth it. It is on the 6th floor of the CNN building, but you need to take the elevator to the 5th floor, then the stairs to get to the 6th floor." -Justin Norvell
4. Al Watan Studio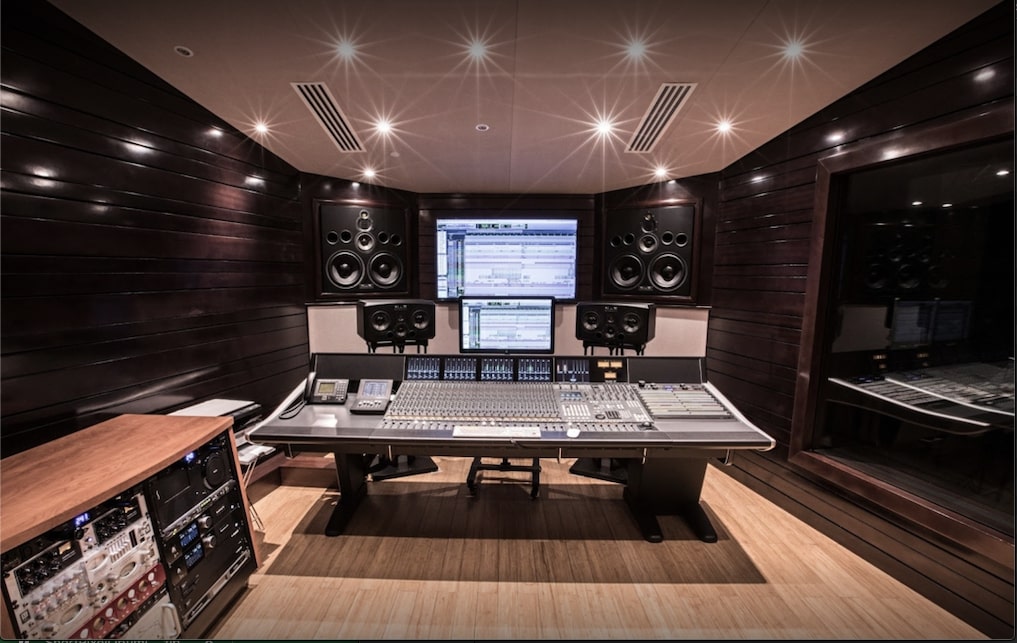 Test
Info
SERVICES
Sound Recording

Mixing

Production

ADDRESS
Al Karama - Dubai - United Arab Emirates
CONTACT DETAILS
Phone: +971 4 399 9931
OPERATING HOURS
Open 24 hours. (Monday - Sunday)
| | |
| --- | --- |
| Criteria | Ratings |
| Facility | ★★★★★ (5/5) |
| Versatility | ★★★☆☆ (3/5) |
| History | ★★★★☆ (4/5) |
| Customer Support | ★★★★★ (5/5) |
Al Watan Studio assists artists, choirs, musicians, and orchestras. With that being said, their facilities reflect their target clientele.
The most noteworthy aspect of this establishment is its recording studios. They have wide, spacious, booths that can fit a lot of people (including orchestras).
In addition to their big and well-designed recording booths, the company also has all the right set of equipment for recording and audio production.
Speaking of facilities, this studio has a wide parking space, so no need to worry about your car when you arrive at their location!
Another great thing about this studio is that they are open 24/7. You can call them at odd hours to see if they can rent you a studio when you get that sudden burst of inspiration.
Moving on to their services, Al Watan offers the basics for music and sound production: recording, mixing, and general production processes.
Unfortunately, compared to the rest of its competitors, we must point out that this is by far the least versatile studio we've seen. However, if you're looking for a place with wide space for big ensembles and need the basic production and recording processes, then this studio is perfect for you!
Professional staff
Ample parking space
Operates 24 hours a day
Big recording spaces
Requires contact for more information
Limited services offered
5. Operal Studios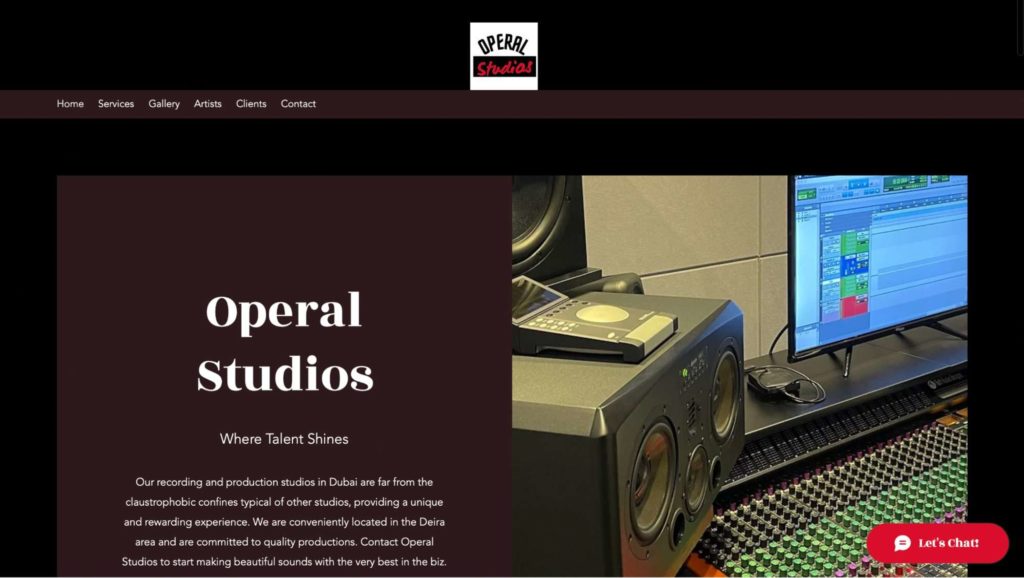 Test
Info
SERVICES
Audio Recording

Mastering

and Mixing

WEBSITE
https://www.operalstudios.org
ADDRESS
Deira, Al Maktoum Street Damas Building Office 1601 - Dubai - United Arab Emirates
CONTACT DETAILS
Phone: +971 56 693 8841

E-mail: 
E-mail: [email protected]

OPERATING HOURS
Open 24 hours. (Monday - Sunday)
| | |
| --- | --- |
| Criteria | Ratings |
| Facility | ★★★★★ (5/5) |
| Versatility | ★★★☆☆ (3/5) |
| History | ★★★★☆ (4/5) |
| Customer Support | ★★★★★ (5/5) |
Opera Studios is a company that has experience in terms of working with big corporations and local celebrities. This recording studio has certainly dealt with massive projects, such as commissions from Netflix and Huawei.
We do notice that they try to fully cater to all types of clients, whether they're big organizations or just individuals who want to make their music.
In terms of services, they operate on a per-hour, advanced booking basis. So, no, you cannot just waltz in and ask for a space at a random hour!
But they are open 24/7, so you can easily reach their staff to inquire and find an open schedule for you.
Clients can avail their facilities and services for audio mastering, mixing, and recording. Not a lot of variety on the table for this company, unfortunately.
However, they still cover the basic needs of musicians or people who just want to record something in a studio, so they can still serve as a good second option.
We've observed that their facilities are pretty well equipped and designed. From mixing consoles to microphones, and more– Operal Studios makes sure they can provide quality services for their clients.
Their recording booths cannot fit more than one person though, so heads up on that one.
Operal Studios, with the services and facilities they offer, is a good choice for individuals who wish to record and produce their music. A company you should definitely check out!
Open 24 hours
Covers all the basics needed
Requires contact for more information
Limited service variety
Customer Reviews:
Kind and Experienced Staff
"Honestly an amazing experience!! The people there are so kind, genuine and very experienced, and I was at ease the entire time. One of the best studio experiences I've had. I worked with the sound engineer/producer Omar and he was very encouraging and professional. Overall a 10/10 experience will for sure go again." – Umaya Al Shunnar
FAQs About Recording Studios in Dubai