11 Places for the Best Laser Hair Removal in Dubai
Featured Image Source: Steve Harvey via Unsplash
Among all of the things women do for grooming, shaving might just be the task we look forward to the least. Luckily, there are now places that offer the best laser hair removal in Dubai to make our lives easier!
But since there are many out there that claim to be the best, we've narrowed down your options to the top ones here. That should get rid of the confusion on your part!
So you can select the right clinic for your needs, we've also prepared a guide on how to choose the best clinic for your laser hair removal. To manage your expectations, we've even done the research on the cost of laser hair removal in Dubai which you may find in the table below.
How Much Does Laser Hair Removal Cost in Dubai
Below is an estimated cost of laser hair removal in Dubai. However, actual costs may vary for each clinic.
| | |
| --- | --- |
| Small body area | AED300 to 500/session |
| Medium body area | AED600 to 900/session |
| Large body area | AED1000 to 1200/session |
| Full body | AED2500 to 3500/session |
How to Pick the Place for the Best Laser Hair Removal in Dubai
Since the cost of each laser hair removal session is considerable, it's important to make sure you're choosing a clinic that offers the best laser hair removal in Dubai.
To guide you in making the choice, we listed below some important things to look for.
1. Investigate the clinical staff
When planning to undergo any procedure that concerns the body, it's important to ensure it's going to be done by professionals. You wouldn't want to come out of your laser hair removal session with burnt skin or pigmentation!
For this, make sure that they have a licensed dermatologist doing the procedure. If not, the procedure should at least be done under medical supervision.
2. Research the type of laser used
There are several types of lasers used in laser hair removal, so it's best to know which of these would be more suitable for you.
Intense Pulsed Light (IPL) promises a faster and less painful procedure but may last up to 10 sessions for permanent hair removal.
Diode Laser, which works best for people with light to medium skin tones, has minimal side effects but needs around 6 to 8 treatments to take effect.
Meanwhile, Nd: YAG is good for all skin types, does not result in discolouration, and requires only 4 to 6 sessions.
The best for quick large-area to full-body hair removal, however, is the Alexandrite Laser. It also needs only 4 to 6 treatments.
3. Read reviews
Websites, flyers, and promotional materials can tell you a laser hair removal clinic's offerings. However, to make sure a place actually provides satisfactory service, you should definitely check its reviews online.
Besides looking for proof that other people found their laser hair removal solutions effective, you should also be able to tell from reviews whether or not the procedures were done expertly.
The Places for the Best Hair Removal in Dubai
Now that you know what to look for in the best places for hair removal, let's get you started with some clinics that offer the best hair removal in Dubai in this list below.
1. Dermalase Clinic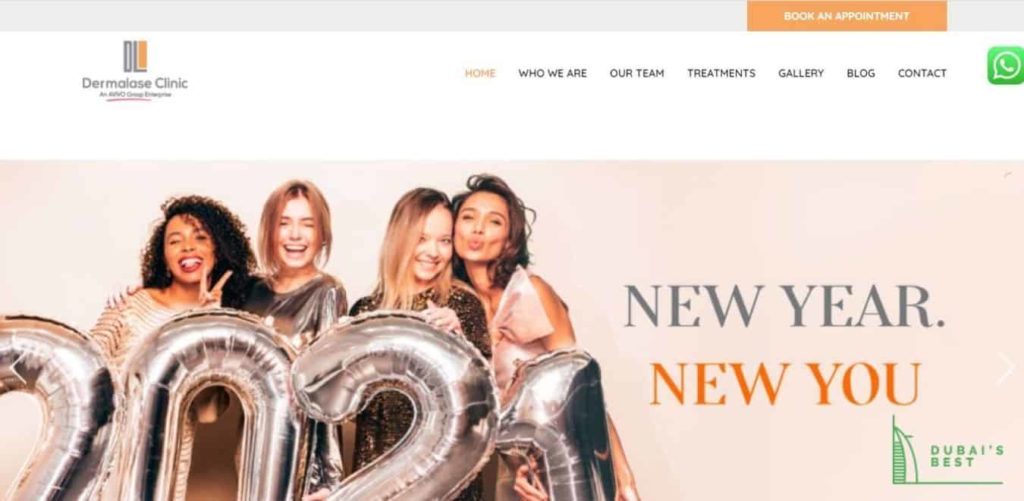 Dermalase Clinic is a beauty-enhancement clinic in Dubai run by a team of board-certified doctors.
While they offer an array of aesthetic procedures, they specialise in painless laser hair removal. For this, they offer two ultramodern solutions.
The first is Soprano ICE laser hair removal, a quick laser hair removal procedure that uses a machine that heats the hair follicles while keeping the surface of the skin cool.
Then, there's the Harmony Super Hair Removal, a quick, painless and effective procedure. This is best for eliminating fine hair on the face and arms.
The best thing is that you receive one free session if you avail of four sessions of any of these two laser hair removal procedures.
Their staff are also fluent in different languages so they can cater to a diverse client base. Is it any wonder we think they're one of the places to go to for the best laser hair removal in Dubai?
Run by board-certified doctors
4+1 deal for laser hair removal
Multilingual staff
Customer Reviews
Satisfied customer Rania Abdelkhaleq reviewed:
"If you are looking for a place to pamper yourself, then you are in the right place! The clinic has the most painless hair laser removal treatment! I highly recommend this clinic to everyone,"
2. Laser Skin Care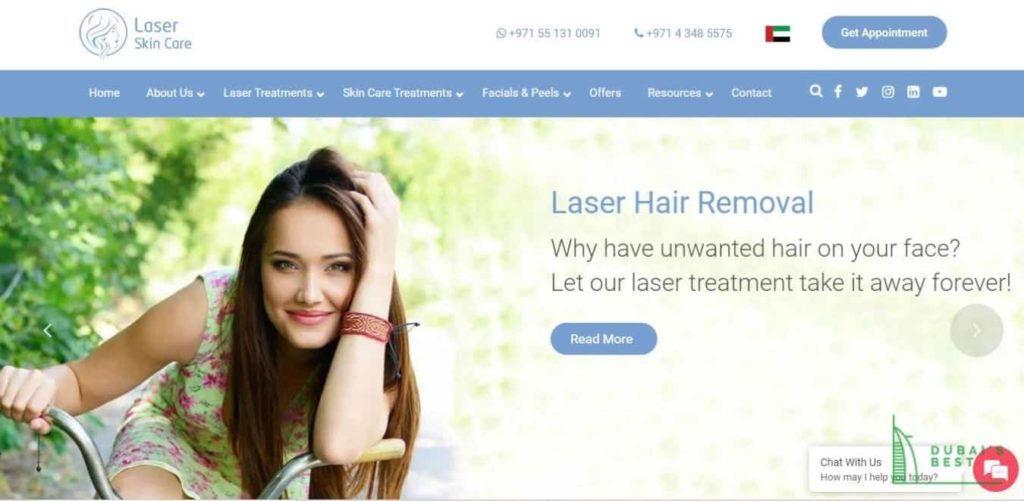 BEST FOR
State-of-the-art equipment
WEBSITE
https://www.laserskincare.ae/
ADDRESS
Jumeirah Beach Road Umm Suqeim 1 – Villa 611, P.O. Box: 57394, Dubai
CONTACT DETAILS
+971 55 131 0091


[email protected]

OPERATING HOURS
Saturday – Thursday: 9:00 AM – 9:00 PM
Led by famed cosmetic doctors in Dubai, Laser Skin Care has provided some of the best laser hair removal in Dubai since 2005.
Although Laser Skin Care is a multi-specialty cosmetic clinic, they invest a lot in state-of-the-art laser equipment.
Their latest laser hair removal offering is the Candela GentleMax Laser, which is proven to be a safe, effective, quick, and precise laser procedure. The procedure is guided by their laser therapist Nasim Rashidi Asl, an aesthetician with 15 years of experience in the industry.
Due to their efforts to better their laser hair removal procedures, they are ranked among the clinics that do the best laser hair removal in Dubai.
They also provide a free consultation and quotation for people who would like to know more about their services.
Experienced staff
State-of-the-art equipment
Guided by an aesthetician with 15 years of experience
Free consultation and quotation
No available Google reviews
Customer Reviews
One of Laser Skin Care's previous customers, Jacky Flint, reviewed:
"Laser hair removal gave me smooth skin for a lifetime. I finally got rid of my dark skin. Thanks, laser skin care."
3. The Nova Clinic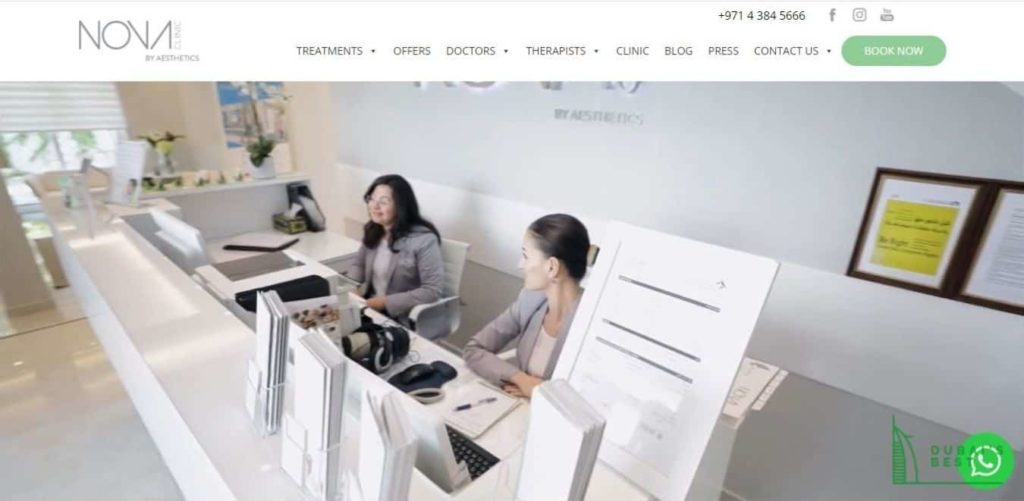 BEST FOR
Highly-trained therapists
WEBSITE
https://thenovaclinic.com/
ADDRESS
Utamah Villa 1047,Al Wasl Road, Al Manara, Jumeirah – Dubai
CONTACT DETAILS
+971 4 384 5666


[email protected]

OPERATING HOURS
Saturday – Wednesday: 9:00 AM – 8:00 PM Thursday: 9:00 AM – 6:00 PM
The Nova Clinic offers painless laser hair removal treatments in Dubai and uses the latest equipment and techniques. Their laser hair removal procedures are led by a team of experienced therapists who have been trained in different countries.
This clinic offers two laser hair removal procedures that use the latest technologies. One is the Alexandrite Laser for clients with fair to olive skin. Another is the Nd:YAG laser for all skin types.
Both of these laser hair removal techniques can cover large areas at once, so you can expect a quick procedure.
To guide prospective clients on which procedure would suit them best, The Nova Clinic offers a free consultation as long as you book one online at their website.
Highly trained therapists
Quick laser treatments
Free consultation
Customer Reviews
Yumi, a satisfied customer, wrote about her experience at The Nova Clinic:
"Nova Clinic is highly recommended! Superb team of doctors and laser therapists with lovely ambiance and friendly staff."
4. Aestheticon®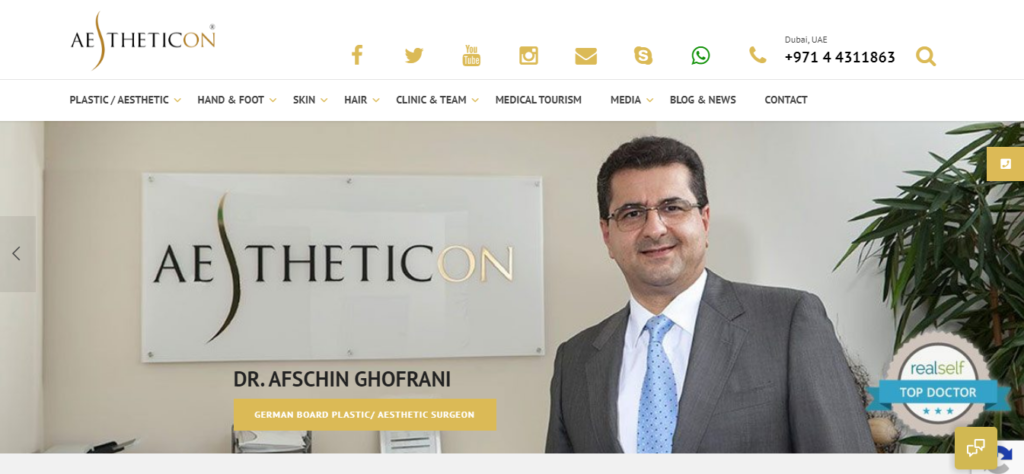 BEST FOR
Plastic & Aesthetic Services
WEBSITE
https://www.aestheticon.ae/
ADDRESS
Swiss Tower, Unit 2202
Cluster Y3, Jumeirah Lakes Towers (JLT)
Dubai, United Arab Emirates
CONTACT DETAILS
Tel: +971-4-4311863 / +971-52-9843498
WhatsApp: +971-52-9843498
Fax: +971-4-4313084
Email:

[email protected]

OPERATING HOURS
Sunday – Thursday: 10:00 AM – 8:00 PM
Aestheticon® is a clinic that specializes in plastic and aesthetic services in various areas of the body such as the arm, thigh, breast, face, and head among others. They offer a wide range of similar services as well such as skincare treatments, injectables, skin surgery, and advanced laser hair removal among others.
Highly acclaimed to be very welcoming and eager to attend to the needs of the clients, they pride themselves on being able to provide both proven and safe surgeries and treatments and is internationally renowned to do so. They have acquired the trust of many clients globally due to their excellent services and equally sincere and warming customer service as well.
Inaugurated back in 2012 in Dubai, the clinic prioritizes the perfection of its services for the utmost benefit of clients who choose to avail of their services. They are also renowned to offer specific surgeries that only a few clinics worldwide offer such as composite facelifts, specific breast surgery, tummy tuck methods, and other specific hand surgeries among others.
We recommend this clinic for clients looking for outstanding and trustworthy aesthetic services since they also utilize state-of-the-art equipment and facilities and a carefully selected team of professionals that work well together to produce optimal results.
Accredited by the Dubai Health Authority and the Dubai Multi Commodities Center
Accommodating customer services
Offers particular services only few clinics offer
Customer Reviews
Here are some reviews from their clients:
"HIGHLY RECOMMENDED !! Whenever you need medical advise or urgent help, Dr Afschin Ghofrani and his team will be there! He will provide the best cure / treatment for your personal medical problem – as customized solution. There is no standard / general procedure. He will listen careful to your problem and advise the correct treatment for your case." – Karin Buerger
"For a long time, I had comparing myself with some posh ladies and models as a fashion and imagined it would be impossible for me and I had been lost my self-confidence, but after communicating with Aestheticon's clinic and the unique experts , especially International professional doctor, Dear Dr. Ghofrani and my experience of his unique operations such as abdominoplasty, Breast and eyelids surgery and the beauty treatments of their great specialists, all my dreams have came true…!!! Dr. Ghofrani and their popular team are absolutely unique in all over the world … !!!Good Luck…!!!" – Ra Taheri
5. Riva Laser Medical Centre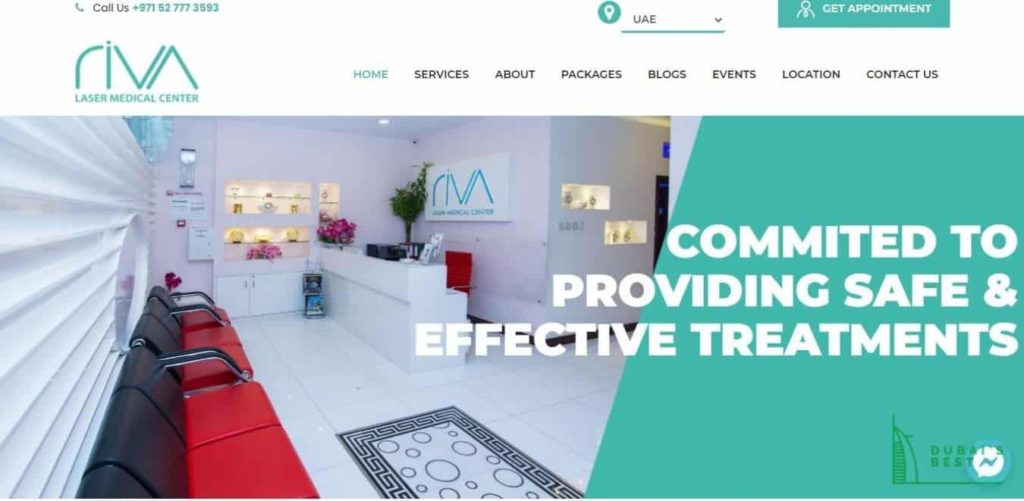 | | |
| --- | --- |
| BEST FOR | Innovative approach |
| WEBSITE | https://rivalasermedicalcenter.com/ |
| ADDRESS | Ground Floor, No. 9, Mai Tower, Al Nahda, Dubai |
| CONTACT DETAILS | 052 777 3539 04 259 8831 |
| OPERATING HOURS | Saturday – Thursday: 10:00 AM – 8:00 PM |
Providing the country with reliable cosmetic procedures for more than 10 years, Riva Laser Medical Center is an established aesthetics clinic in Dubai.
The clinic uses the latest laser hair removal machine in the market, the Duetto MT. This guarantees a quick, safe, and effective treatment for all skin types.
As for the procedure itself, they use an innovative, dual-laser approach that involves two of the latest laser technologies, Alexandrite and Nd: YAG. This ensures better-looking results that apply lly to patients with fine or thick and light, or dark hair.
Latest laser hair removal machine
Effective for all skin and hair types
Innovative, dual-laser approach
Customer Reviews
One of their happy customers left a review:
"I went for full body laser, obtained great results, my hair growth has become minimum. I also took laser treatment for my acne and it has reduced drastically, my face is almost clear now. Very happy with the staff and services."
6. Aesthetics International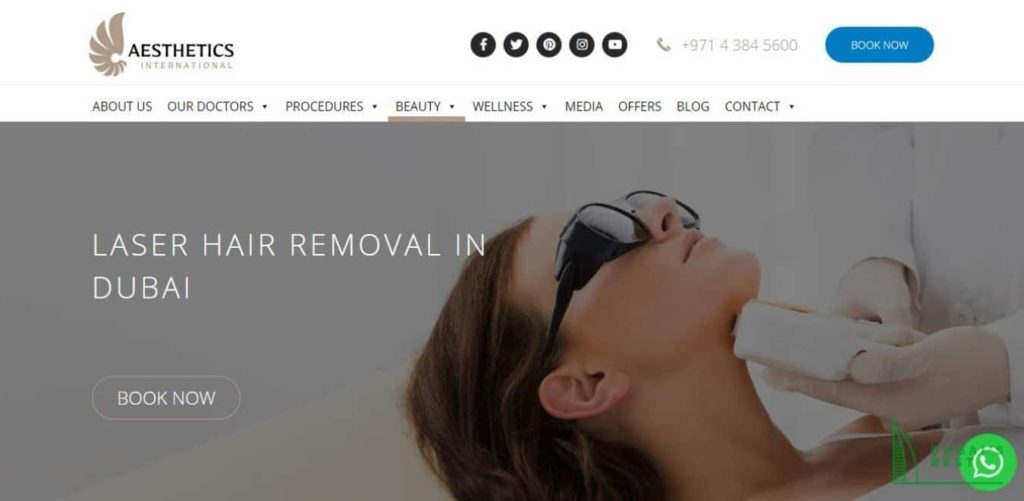 BEST FOR
Personalised treatments
WEBSITE
https://aesthetics.ae/
ADDRESS
Utamah Villa # 1049c, Intersection of Al Wasl Rd & Al Thanya Rd, Opposite Union-Coop Supermarket, Jumeirah, Dubai, United Arab Emirates
CONTACT DETAILS
+971 4 384 5600


[email protected]

OPERATING HOURS
Saturday – Wednesday: 9:00 AM – 8:00 PM Thursday: 9:00 AM – 6:00 PM
Aesthetics International is one of the leading laser hair removal clinics in Dubai. Using the newest medical-grade laser technologies, they provide some of the best laser hair removal we could find in Dubai.
The clinic boasts 3 different laser machines that each target a particular hair type or area of the body.
There is the high-end Cynosure Elite, for one. This machine blows out cold air as it heats the hair follicles, which removes the need for old icing methods and makes the treatment time faster.
The Cynosure Nd YAG Laser, on the other hand, has similar cooling functions, but is best for people with dark and thick hair. The final laser hair removal option is the DIODE laser, which is effective for those thicker hair and darker skin tone.
Before your laser treatment at Aesthetics International, expect to get a patch test that analyses your skin type and hair growth pattern. This will help their specialists identify which treatment is best for you.
3 different, modern laser machines
Conducts patch test before treatment
Personalised treatment method
Customer Reviews
Satisfied customer M. Mike Maatouk said:
"Amazing staff, amazing doctors and amazing work. Very friendly, polite and patient. Highly recommend this place. I am very satisfied with the quality of the work."
7. GSM Medical Center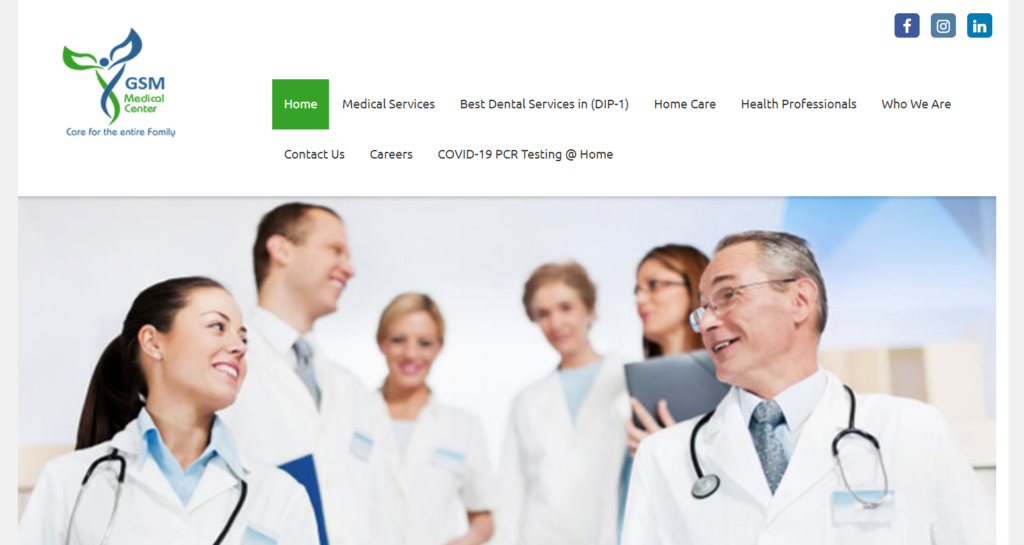 GSM Medical Center LLC is committed to providing compassionate, comprehensive and timely care to patients by offering a supportive and caring environment. Their medical team is highly trained and knowledgeable in caring and treating patients of all ages and backgrounds.
Their clinic boasts a wide range of treatments. They do not limit themselves to aesthetic medicine, but they also have offerings under dentistry, genecology and obstetrics, immunization, and more.
Although they offer a wide range of services though, it is important to note that finding reviews specifically for their hair removal services is difficult. Most of the feedback left by past patients for a different department or service altogether.
Also offers other medical services as well as dental and home care services
Reasonable pricing
Rates are unavailable online
Customer Reviews
Some customers left the following reviews:
"Best Clinic In DIP, Friendly Staff, great doctors in the town, Ali Shah and Doctor Ammar are amazing"
"Dr. Ammar Shalabi is best doctors of all in dentistry in Dubai. Great approach to his patients and very reasonable pricing."
8. Amwaj Polyclinic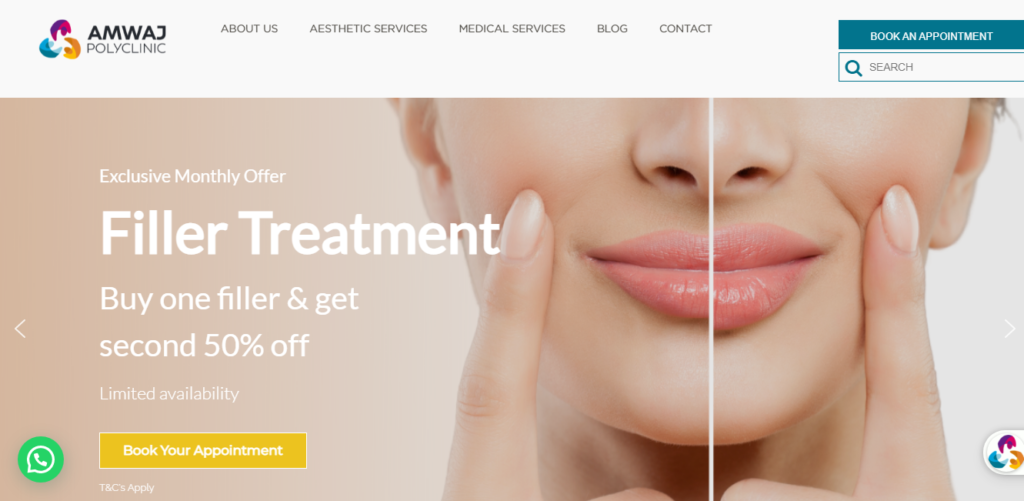 BEST FOR
Aesthetic Services
WEBSITE
https://amwajpolyclinic.com/
ADDRESS
Amwaj 2 Building, P11 Jumeirah Beach Residence, Dubai, United Arab Emirates
CONTACT DETAILS
04 422 1331 / 050 557 5780


[email protected]

OPERATING HOURS
Contact for more details
Amwaj Polyclinic is a top-class clinic that offers an excellent combination of medical and aesthetic services that is fit for your whole family as they offer an accommodating and caring environment that is suited for all ages. They have been in the industry for over a decade and have continuously provided outstanding services to each client that they have handled.
Their team is comprised of renowned and respected professionals in the field such as nurses and aesthetic therapists who are sure to offer trustworthy and reliable treatment and care just for you. The clinic prides itself on its highly specialized and developed patient-care program as well to complement with their outstanding staff and professionals.
They aim to deliver and ensure close personal attention in order to satisfy and address your specific need or issue and provide results that will not only reach your goal but surpass it as well. With an adequately trained staff and excellent facilities and equipment, they are set on providing only the best and most comfortable experience you and your family could experience.
We recommend this clinic for you due to their wide array of services along with the perfect balance between quality customer accommodations and service as well as professional and highly reliable aesthetic and medical services as well.
Offers both aesthetic and medical services
Highly specialized patient care programs and packages
Comprised of a team of highly specialized personnel suited for each service that they offer
Customer Reviews
Here are some reviews from their clients:
"I got a facial treatment today and am so impressed. After being disappointed a few times since being in Dubai because of tons of layers of cremes at other places this was the first facial when my pores got deep cleaned. I feel very refreshed today and for sure will be back soon. Thank you Theresa for your professional and friendly service."
"I highly recommend their LPG packages to improve the circulation of your legs. I have been doing it for over a year now, every week, and it is just great when you spent a lot of hours sitting in your office. Also their facials are phenomenal. Janice and Theresa are super professional. Thank you for taking care of me!"
9. TruCare Clinics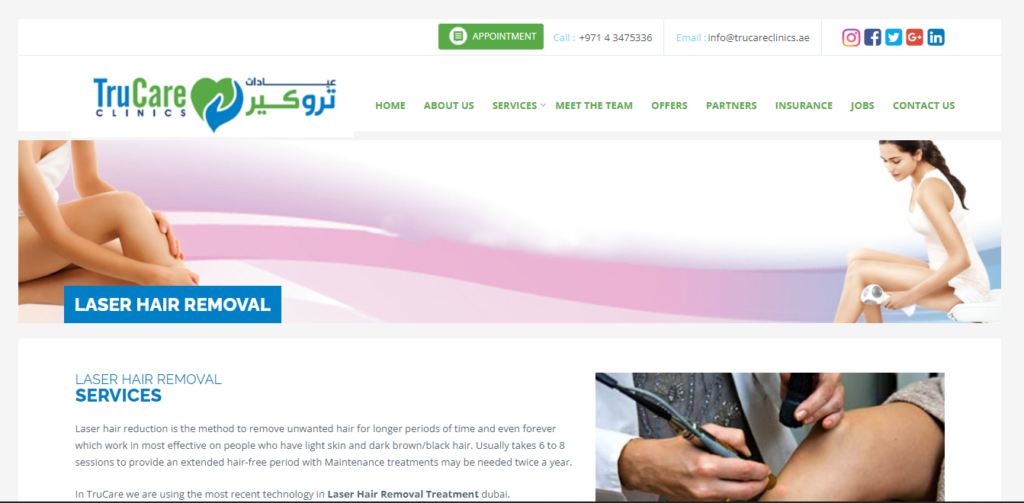 BEST FOR
Skincare, Cosmetics, Slimming, Body contouring, and Dental treatments
WEBSITE
http://www.trucareclinics.ae/
ADDRESS
Al Barsha 1, Ajyal Building, S01.
CONTACT DETAILS
+971 4 3475336


[email protected]

OPERATING HOURS
Saturday to Thursday 10:00 am – 10:00pm
Want to get rid of your unwanted body hair? With TruCare Clinics, your laser hair removal will be the most pleasant experience you have ever felt.
What made us recommend them is the fact that they use the most recent technology for laser hair removal treatment. They use Elite Cynosure, which is perfect for our beautiful dark skins, and Spectra for fine hair.
They stand out from the other clinic because of how this service of theirs works with all hair and skin types. You will not be in any type of pain and not feel any burning sensation.
Their well-experienced and overqualified staff directly follow their professional dermatology specialist. No need to be nervous because you are in the safest hand of their professional staff.
Offer multiple specialties
Can book an appointment online
Implement the latest cutting-edge techniques, laser therapy, skincare and state of art dentistry,
Closed on Fridays
Rates are not available
10. Medical Village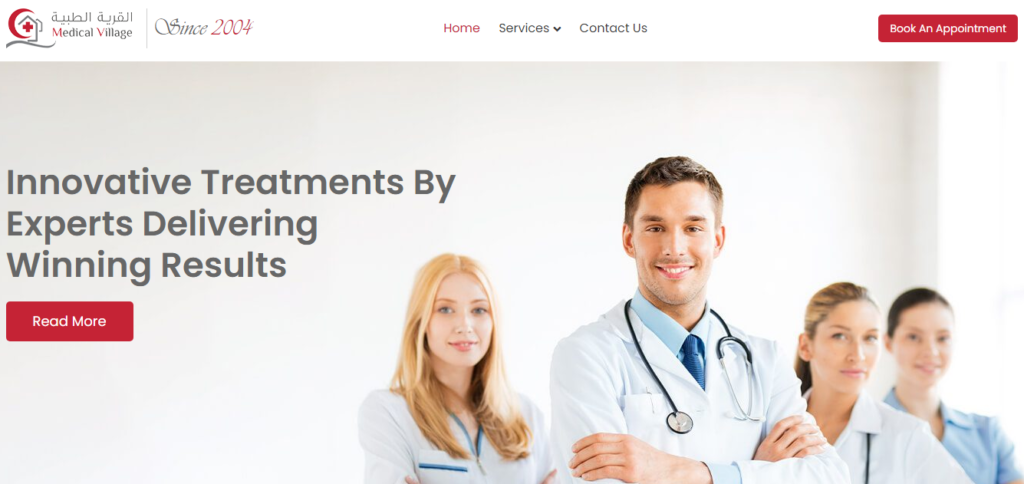 Medical Village is your one-stop-shop for all of your medical needs due to their multi-disciplinary services. Their services include dentistry, clinical dermatology, tattoo removal, laser hair removal, and plastic surgery among many others.
They employ only highly qualified experts for each job and treatment so that you can receive reliable medical assistance. They believe in building rapport with their patients and so they try to showcase their professionalism through your experience with them.
Each of the treatments that they do is up-to-date and innovative in the field so rest assured that they will always deliver the most efficient one for your issue. Furthermore, they utilize state-of-the-art facilities and equipment so that you can have the best and comfortable experience possible.
We recommend this clinic for your medical concerns due to its wide range of services and equally dedicated personnel to accommodate your queries and issues.
Additionally, Dr. Hamid Taghaddos, the general surgeon and founder of Medical Village, is the first person in the region to introduce the surgical laser, hair removal laser, and tattoo removal laser technology. Hence, he can be considered a pioneer as well as the most experienced in this field within the area.
Wide range of services
Multi-disciplinary team
Innovative services
Closed on Fridays
Rates are not available
11. Reveal Medical Centre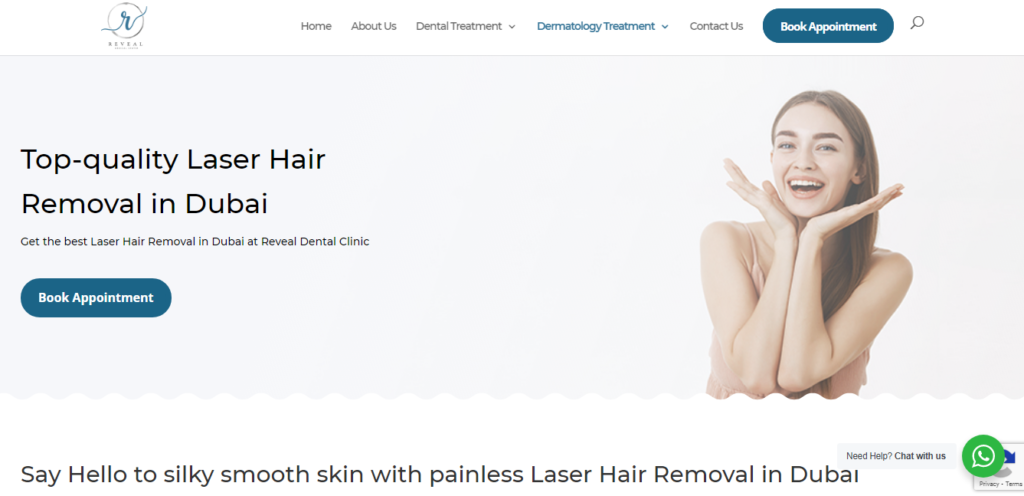 Reveal your inner beauty and get that silky smooth skin you desire through the help of Reveal Medical Centre. Other than that, they also offer amazing dental services to show off your beautiful smile to complete your look.
They offer personalized services that are done by competent staff and FDA-approved products and technology. It is also effective and proven time and time again through their valid testimonials which presents pictures both before and after treatment as well.
Other medical care may be overshadowed but feel free to explore their website for more information and reach out to them regarding your concern about a certain treatment. Should you also have any skin complications, it is always best to utilize their consultation feature and put it to good use.
Book an appointment now and experience the difference that isn't so hard on your skin and on your pocket as well.
State-of-the-art facilities
FDA-Approved products
Experienced professionals
Reception services could be improved
FAQs about the Best Laser Hair Removal in Dubai
---
Were you able to find a place for the best laser hair removal in Dubai from this article? We sure hope you did!
If you also happen to be looking for a spa for the best massage in Dubai, you can check out our list here.