The 4 Best Psychics in Dubai
In times of uncertainty and struggle, there is no harm in relying on other people to find enlightenment or guidance. Some would turn to close friends and families.
Some, on the other hand, would turn to people who have abilities to ask the entities beyond our moral comprehension. This is where psychics come in.
If you're looking for people that can help you divine what's in store for you in the future, here are our top picks for the best psychics in Dubai!
How Much Do Hiring Psychics Cost?
Psychics use different methods to provide aid or counsel for their clients. Some use cards to tell the future or what their client is thinking.
Others use astrology, while some employ the assistance of special stones with energy.
The point is that these professionals have different ways and offer various types of psychic sessions for their customers.
In-person sessions are relatively more expensive than online. The table below lists the general estimated rates for psychic sessions based on where they will be held:
| Session Type | Price / Hour (in AED) |
| --- | --- |
| Online | 500 - 1400 |
| In-person | 600 - 1500 |
The Best Psychics in Dubai
The following criteria were used in the assessment of these psychics and their services:
1. Kyra van den Berg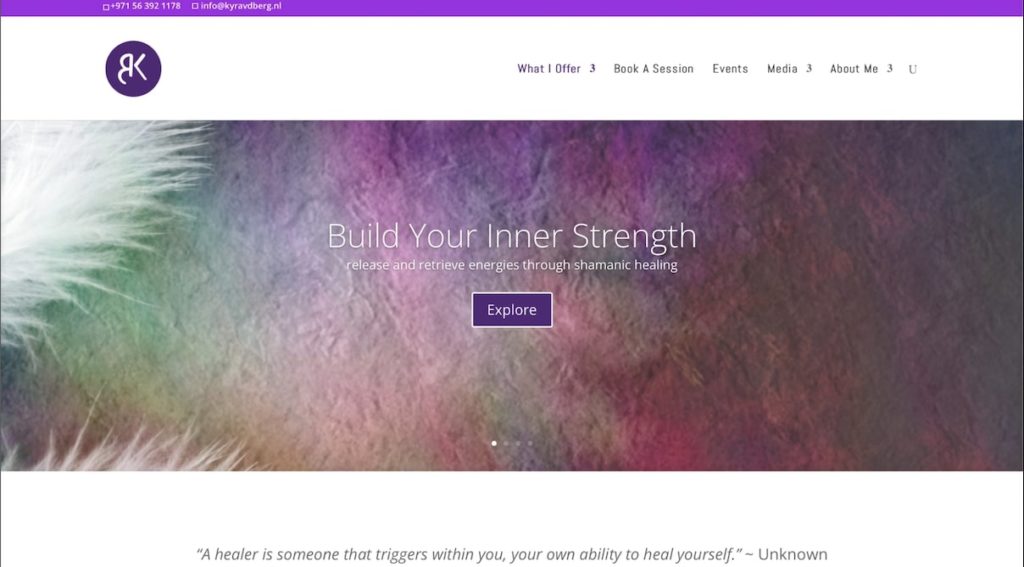 Test
Info
SERVICES
Energy Healings

Tarot Readings

Readings

Energy Clearing

Space Clearing

Sea Blessing

Guided Meditation

WEBSITE
https://www.kyravdberg.com
ADDRESS
Latifa Tower - Trade Centre - Trade CentreTrade Centre 1 - Dubai - United Arab Emirates
CONTACT DETAILS
Phone: +971 56 392 1178

E-mail: [email protected]

OPERATING HOURS
10:00 AM - 1:00 PM (Tuesday - Wednesday)

12:00 NN - 4:30 PM (Friday)

10:00 AM - 2:30 PM (Saturday)

10:00 AM - 11:30 AM (Sunday)
| | |
| --- | --- |
| Criteria | Ratings |
| Expertise | ★★★★☆ (4/5) |
| Customer Service | ★★★★☆ (4/5) |
| Availability | ★★★☆☆ (3/5) |
| Variety | ★★★★☆ (4/5) |
Here's the first thing you will notice about Kyra van den Berg: healing and meditation. This soul coach offers spiritual assistance through clearing spaces and energies.
Her main specialty is doing sessions that can help her clients heal and regain confidence and enthusiasm in their lives. Basically, she works as a life coach and psychic at the same time.
Van den Berg offers tarot readings to help customers learn about their life and other issues they might need to come to terms with. She started doing these readings and energy clearings in 2014.
With eight years in the business, clients have observed this soul coach be kind and helpful. She aims to make clients feel comfortable and at home during their sessions.
Speaking of sessions, she offers both online and offline meetings, which is great! She does require an AED 150 booking fee first.
Said booking fee will be reduced from the full price– so it basically works as a deposit, so it's not an additional charge.
For online sessions, clients are required to pay the full price of their chosen service first before the meeting.
In terms of availability, she can be reached on the majority of the days of the week. However, we did observe that she has odd and short opening hours compared to the others we've looked at.
Overall, if you're looking for a tarot card reading that can help you heal or be enlightened about the different facets of your life, Kyra is somebody you should definitely check out!
Average pricing
Service variety
Kind and professional
Short opening hours
Requires a booking fee
Customer Reviews:
Good Quality of Service
"So far I've had two sessions with Kyra and already I can feel a huge shift in my energy. Kyra makes you feel comfortable from the first moment you meet her. I feel safe with her and I look forward to the next session. Thank you Kyra 😊" – Francine Degaye
2. Tahreem Shah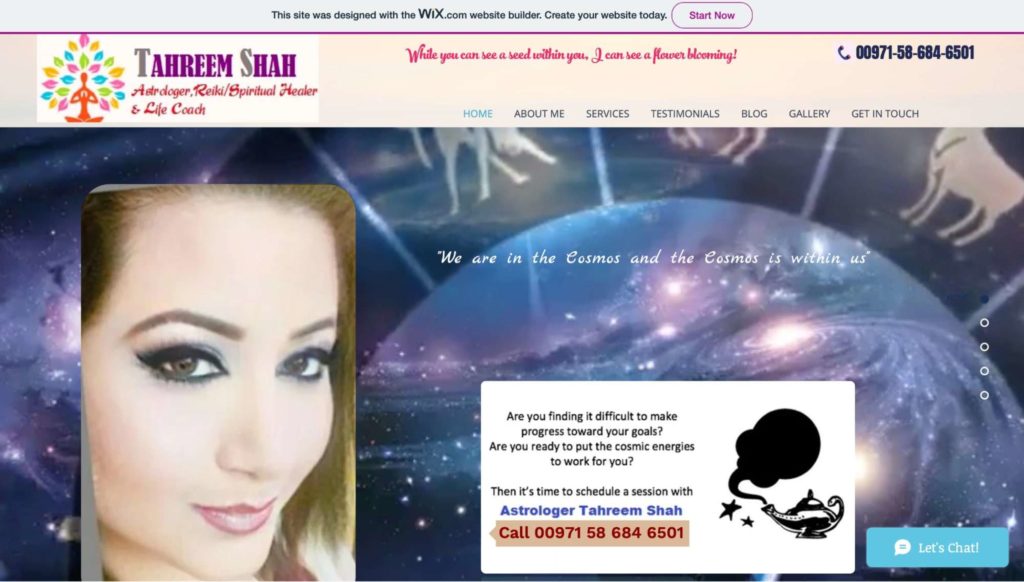 Test
Info
SERVICES
Astrology Consultations

Life Reports

Spiritual Healing

Career Consultations

Numerology

Palmistry

and more!

WEBSITE
https://tahreemshah.wixsite.com/astrologerindubai
ADDRESS
Jumeirah - Jumeirah 1 - Dubai - United Arab Emirates
CONTACT DETAILS
Phone: +971 58 684 6501
OPERATING HOURS
12:00 NN - 10:00 PM (Monday - Sunday)
| | |
| --- | --- |
| Criteria | Ratings |
| Expertise | ★★★★★ (5/5) |
| Customer Service | ★★★★☆ (4/5) |
| Availability | ★★★★★ (5/5) |
| Variety | ★★★★★ (5/5) |
Tahreem Shah is a Vedic astrologer that deals with readings and consultations in Dubai. This particular psychic has been providing spiritual guidance and healing for seven years.
Her main focus, astrology, can be seen in the wide variety of services she offers in that field. These include providing advice, healing, and gemstone selection.
Aside from being an astrologer, Tahreem can also divine clients through palmistry. She reads palms to foretell her clients' future, upon their request.
What's great about this psychic is that she is clearly well-versed in a lot of different facets of her trade. The wide range of services or types of divination she can offer is great, as clients can freely choose, especially for people who are not really familiar with Vedic astrology.
According to her previous clients, this astrologer is caring and very capable of really reading their life and issues. In addition, she is also skillful at answering all her customers' concerns and issues through her craft.
In terms of availability, she can be reached on all days of the week. Also, she has long opening hours, so you can definitely call her to book a session without any worries.
Unfortunately, she does not offer online consultations. Get ready to travel to her to seek her counsel!
Open seven days a week
Service variety
Mainly an astrologer
Requires contact for more details
Customer Reviews:
Expertise
"I had astrology and healing sessions with Mam Tahreem Shah. The way she put forth all the events happened in my life till date just opened up a different dimension altogether in me as they were so accurate and I was in wonder as I didn't believe in astrology much before. I was facing some health issues and I was able to see the betterment in no time just by her spiritual healing process, Guidance. Mam Tahreem Shah is a down to earth, loving, caring, true and authentic human being with motherly love, great Mystic powers which words cant explain but one can only experience. She can change your life in totality. I would recommend each and everyone who is sailing through tough patches in their life wether it is health, finance, relationship etc to seek support from Mam Tahreem Shah.
Thank you Mam for making difference in my life." – Arnold Menezes
3. Mr. Yogi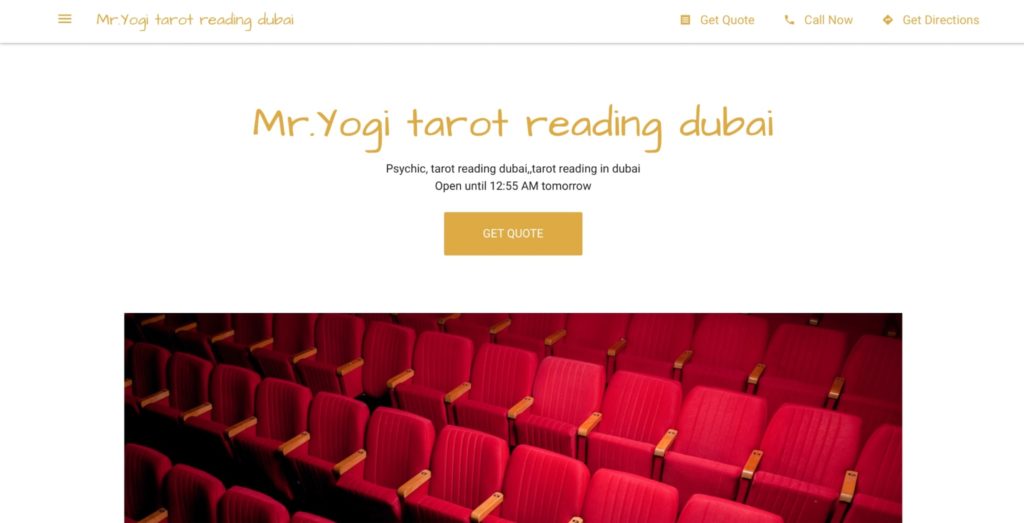 | Test | Info |
| --- | --- |
| SERVICES | Tarot Card Readings |
| WEBSITE | https://mryogi-tarot-reading.business.site |
| ADDRESS | Dubai Clock plaza. All rigga,deira Street .45C - Dubai - United Arab Emirates |
| CONTACT DETAILS | Phone: +971 50 985 8281 |
| OPERATING HOURS | 10:00 AM - 12:55 AM (Monday - Sunday) |
| | |
| --- | --- |
| Criteria | Ratings |
| Expertise | ★★★★☆ (4/5) |
| Customer Service | ★★★★★ (5/5) |
| Availability | ★★★★★ (5/5) |
| Variety | ★★★☆☆ (3/5) |
If tapping into unknown and mystical sounding psychic readings scare you a little bit, you can certainly just try the well-known methods. Tarot reading is one of them.
Hell, you don't even need to be worried about this kind of divination as it is well assimilated into popular culture.
So if you're just looking for a bit of general advice or counsel, or alternatively, just curious about psychics in general– perhaps Mr. Yogi can be of service!
This tarot card expert provides his knowledge of the arcana to give advice on love, finance, career, and health. He also offers to divine the ways in which one can reach their goals or dreams.
So he's technically a card-wielding life coach.
In terms of services, he only offers online and offline tarot card readings. He can also do it via call, which is honestly a unique option in the market.
We've observed that he is very professional towards his clients. In addition, he responds promptly to inquiries and bookings.
Another good thing about Mr. Yogi is his availability. You can call or reach him on all days of the week, with not much hassle.
Overall, if you're looking for a psychic who primarily deals with tarot cards for advice, we recommend hitting up Mr. Yogi!
Open seven days a week
Professional
Energetic
Tarot reading only
Requires contact or visit for more information
Customer Reviews:
Professionalism, Experience
"Mr. Yogi is a very professional and experienced person when it comes to card reading. He has helped me a lot during my difficult times by giving me an unbiased reading. He's a friendly person and I will surely recommend him to anyone who is in need of guidance. His ability is superb and great and you will never regret asking help from him. I will definitely come back to him. 5 stars." – Shiela Avery
4. Humeira's Tarot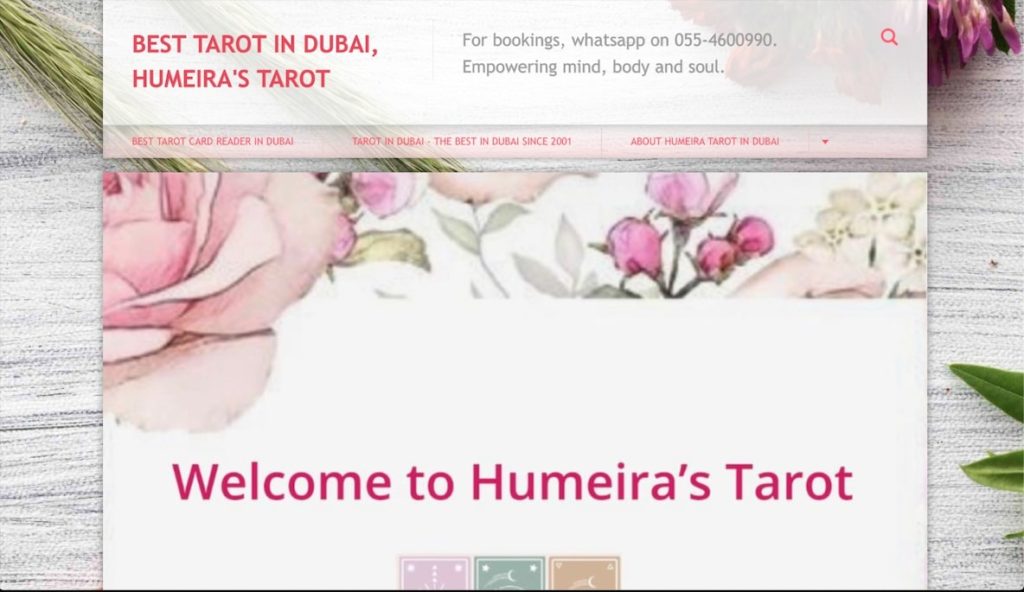 Test
Info
SERVICES
Tarot Card Reading

Healing Consultations

Feng Shui

WEBSITE
https://www.humeirastarot.com
ADDRESS
Jumeirah Islands - Dubai - United Arab Emirates
CONTACT DETAILS
Phone: +971 55 460 0990

E-mail: [email protected]

OPERATING HOURS
Open 24 hours. (Monday - Sunday)
| | |
| --- | --- |
| Criteria | Ratings |
| Expertise | ★★★★★ (5/5) |
| Customer Service | ★★★★☆ (4/5) |
| Availability | ★★★★★ (5/5) |
| Variety | ★★★★☆ (4/5) |
Humeira is a psychic that provides counsel through her knowledge of tarot cards and feng shui. She also does some healing sessions using her cards as well.
What's note-worthy of her is the years of experience under her belt. With over two decades of providing her counsel, clients who wish to seek her out will definitely feel her expertise.
Her services mostly focus on tarot card readings. We've noticed that aside from giving advice, she also teaches others the art of the arcana.
She doesn't have a lot of variety in terms of psychic readings or coaching. But, she can be hired for online and offline sessions.
In terms of availability, she can be reached 24/7. Which makes her stand out from the rest of her competition.
However, she does encourage future clients to book in advance. So we recommend that if you are interested in getting a reading from her to do so.
According to the customers we've talked to, Humeira is very professional and friendly to her clients. She is noted for her spot-on readings and energetic sessions.
We recommend reaching out to Humeira for her experience in tarot card reading and her very flexible availability!
Open 24/7
Years of experience
Does online and offline readings
Focuses more on tarot card readings
Prefers advanced booking
Customer Reviews:
Professionalism, Expertise
"I first met Humeira a few months ago and all I can say is that Magic doesn't even begin to describe the skills she brings to her craft. Her professionalism combined with her generous spirit, honesty and warm personality are what makes her tarot sessions the best and worth every minute. She is my go to person whenever I'm feeling a bit down, need advice or just want a boost of energy! And it's because of all these qualities, she is known to everyone who knows her to be the absolute best tarot reader!" -Albert Michael
FAQs About Psychics in Dubai
---
We recommend focusing on breathing deeply if you easily get anxious. Our topmost advice, however, is to list down all the questions you want to ask a psychic.