The 6 Best Entertainers in Dubai
Corporate events, special and personal occasions, and the launch of something new—all of these moments deserve entertainment to complete the experience and make it unforgettable.
In a city full of glitz and glamor, it's not hard to look for an act for your special event, but the greats are far and few.
That is why we've decided to search the city for the best entertainers in Dubai. We also included our criteria in choosing them and answered some FAQs about entertainers in Dubai.
How much does hiring an entertainer cost in Dubai?
The cost of hiring an entertainer can vary depending on the arrangement between the client and the entertainer, production costs, number of appearances, and the length of the act.
To give you a starting point, we've made a table of the price ranges of common acts hired for different events.
| Entertainment Act | Price |
| --- | --- |
| Musical quartets/trios/duos | AED4,500 - 5,300 per day |
| Magicians | AED1,100 - 30,000 per appearance |
| Singers | AED1,500 - 2,500 per set |
The Best Entertainers in Dubai
Before we get right into our favorite entertainers in Dubai, here are the factors we considered for our entries on this list:
1. Voice Guy Joe Mohan
| | |
| --- | --- |
| Criteria | Rating |
| Uniqueness | ★★★★★ (5/5) |
| Versatility | ★★★★★ (5/5) |
| Production Requirements | ★★★★★ (5/5) |
| Experience and Accolades | ★★★★★ (5/5) |
Joe Mohan, aka VoiceGuyJoe, is a Middle Eastern MC, Host, Anchor, TV Presenter, Voice Over Talent, Singer, and Actor with over a decade of experience in the events and media sectors. He has done hundreds of VoiceOvers for TV Commercials, Radio Spots, Corporate Videos, IVR Systems, and other projects for companies including Downy, VOX Cinemas, ADNOC, Etisalat, BigTicket, IKEA, Hyundai, Milan, and many others.
He has staged over 500 Corporate Events, Pageants, Awards, Private Parties, Weddings, Launches, Team Development Events, and Product Activations for leading companies such as Landmark Group, Damas, Lulu Group, Bank Muscat, Adani Group, Emirates Logistics, DreHomes, BANKE, Bulwark, RedTag, GITEX, and others.
As one of the leading entertainers, he proved to be flexible and adaptable as he emerged as an entertainer during the Covid-19 Pandemic Lockdown Period, keeping his audience interested and engaged with his weekly Quiz Nights, Online Gaming Nights, and eConcerts. Joe's efforts and accomplishments were recognized and highlighted on FM Suno1024, Talk 100.3 Talk, Gulf News, Khaleej Times, and other media outlets.
He is also a multi-faceted entrepreneur who owns a Voice Over Agency, an Educational Services Company, and an Immigration Consulting Company in the UAE. If you ever need one of the best entertainers in Dubai, then Joe Mohan is the one for you.
10 years of experience
Flexible and adaptable services
Affordable rates
Great customer communication
2. Mind2Mind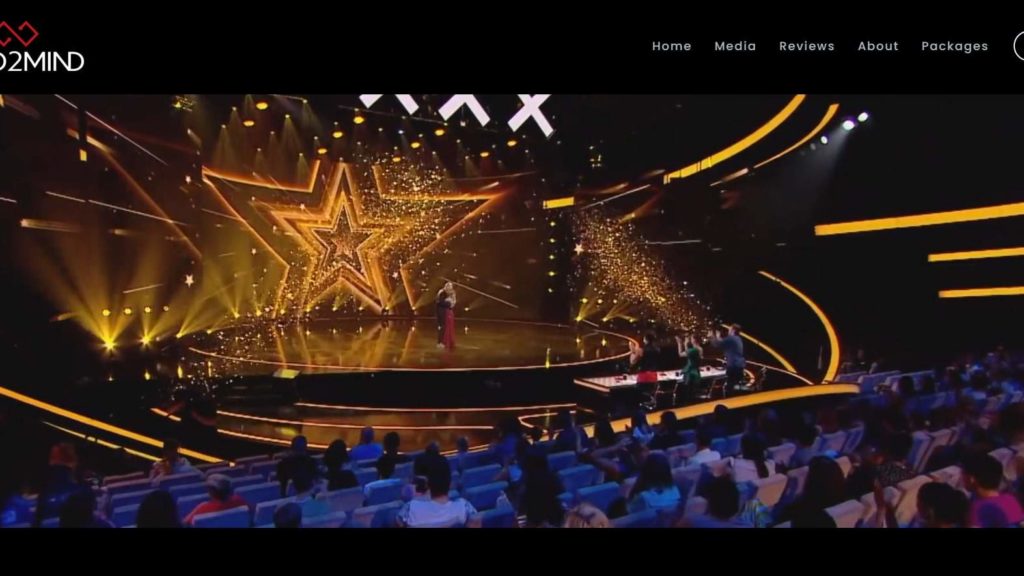 | Test | Info |
| --- | --- |
| WEBSITE | https://www.mind2mind.live/ |
| ADDRESS | Sarai Apartments - The Palm Jumeirah - Dubai - United Arab Emirates |
| CONTACT DETAILS | +971 (0)56 690 8911 |
| | |
| --- | --- |
| Criteria | Rating |
| Uniqueness | ★★★★★ (5/5) |
| Versatility | ★★★★☆ (4/5) |
| Production Requirements | ★★★★★ (5/5) |
| Experience and Accolades | ★★★★★ (5/5) |
With a Golden Buzzer from "Ukraine's Got Talent" and a finalist position from "Britain's Got Talent," Mind2Mind puts a cerebral approach to their magic act.
What makes them unique is Marina, one-half of the duo, a woman who has the gift of second sight, which is the ability to effectively see through the eyes of others without any aid.
What we really like while watching Marina and James' show is that they prove that all you need is your talent and skill to give the audience an unforgettable experience.
And while they can definitely hold on their own when they're hosting their shows, we think that they're not fit for hosting other events and shows.
But what makes them versatile in their own way is that their mentalist magic is fully customizable for the event.
Their reveals and surprises can be branded for the event of their client, and we really like the customizability of this because it really opens the act to so many possibilities in terms of production.
We also like that their type of magic and James' award-winning close-up acts allow them to be able to perform in small venues just as well as performing on a big stage in front of thousands.
And this is because they don't need much for their act. With a good-quality stage, some lighting, and some participation from the audience, they can already work out an act.
Their talent is further proven not by their appearances in international shows but by their certifications.
Both Marina and James are members of The Magic Circle, which is the highest degree of qualification for magicians and mentalists possible through examination.
We think that the fact that they are certified members of this exclusive society makes them even more prestigious and mysterious, adding intrigue to the entertainment they bring to the stage.
All in all, Mind2Mind pushes the boundaries of what magic acts can be. Their cerebral take on magic really makes audiences sit there and be awed by the power of the human mind.
Members of The Magic Circle
Competed in two "Got Talent" franchises
Mentalist magic act
Act can be customized according to the event
Minimal production requirements
3. Magic Phil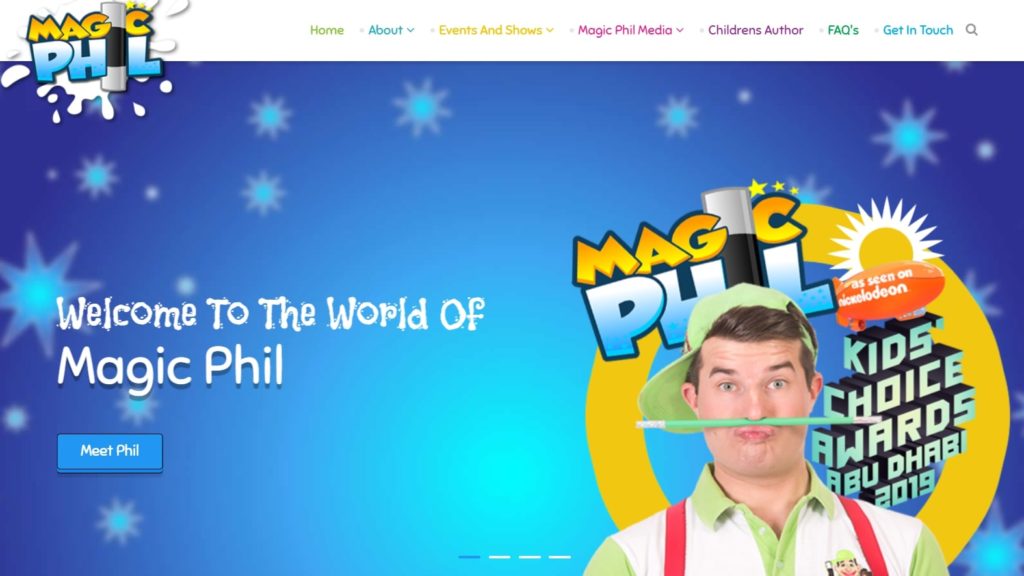 | Test | Info |
| --- | --- |
| WEBSITE | https://magicphil.ae/en/ |
| ADDRESS | Al Wasl Rd - Umm Suqeim - Umm Suqeim 3 - Dubai - United Arab Emirates |
| CONTACT DETAILS | +971 52 865 0530 |
| | |
| --- | --- |
| Criteria | Rating |
| Uniqueness | ★★★★☆ (4/5) |
| Versatility | ★★★★★ (5/5) |
| Production Requirements | ★★★★★ (5/5) |
| Experience and Accolades | ★★★★☆ (4/5) |
A magician, a radio host, a columnist, and a professional pantomime—that is Magic Phil.
With the public speaking skills to back up his magic acts, he is our most versatile entry for this list. We think he has the background and abilities that makes him such a great host and entertainer.
His charisma and lightheartedness that we saw in his shows can pull the audience in so easily, and we can really see how comfortable he is on stage.
And while it's easy to dismiss Magic Phil as just another magician, we think that his comedy chops are what really sets him apart from other acts.
While he is known as a kid-friendly entertainer, it's his versatility and skill set that make him such a great choice even for corporate events.
And that versatility doesn't just stop with his skills and experience, it's his act itself that is adaptable to the production constraints that clients may encounter.
We definitely think that all that a charismatic magician like him needs is his props, a stage, and a microphone, and he's ready to make people laugh with his goofy magic tricks.
Despite that, Magic Phil hasn't earned many awards when it came to his career.
However, we think that it's only a matter of time before he starts winning some because his act has brought him to perform for VIPs, celebrities, and royal clients.
Magic Phil proves that having a great act isn't enough. Being charismatic, knowing how to connect with the audience, and being able to hold their attention with the way you execute your act are what you need to have a successful career as an entertainer.
Can host and be the entertainer
Act can be adapted and adjusted as needed
Minimal production requirements
Comedic, charming, and has great stage presence
His magic act itself isn't unique
Doesn't have many accolades
4. Hara Hiroki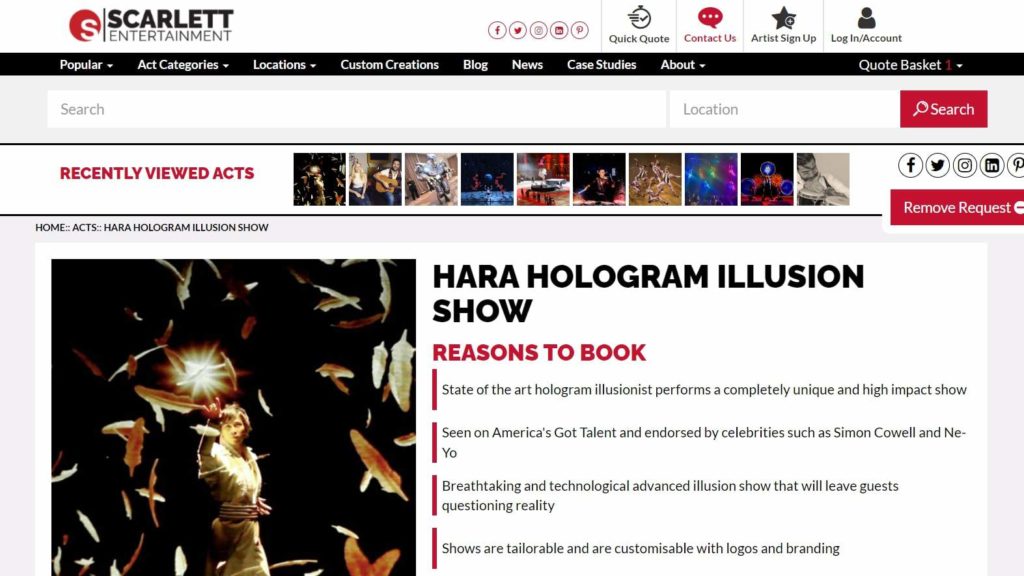 | | |
| --- | --- |
| Criteria | Rating |
| Uniqueness | ★★★★★ (5/5) |
| Versatility | ★★★★☆ (4/5) |
| Production Requirements | ★★★☆☆ (3/5) |
| Experience and Accolades | ★★★★★ (5/5) |
Combining state-of-the-art hologram technology and sleight-of-hand techniques, Hara Hiroki creates one of the most unique illusionists acts in the world.
Watching one of his shows, we found beauty in his ability to combine centuries-old techniques of magic and modern technology to really push the boundaries of entertainment.
We're big fans of how he also incorporates so much grace and effortlessness in performing his acts. It completely complements the power of the holographic visuals that perform with him.
And while we don't see him hosting an event anytime soon as part of his gigs, we love that his hologram technology allows him to integrate any kind of branding and identity to his acts for specific events.
That being said, this means that Hiroki's acts require great time and effort to be pulled off effortlessly.
Not only does Hiroki have to rehearse his movements to harmonize with the hologram, but the hologram also has to be made and adjusted to the specifications of the space he'll perform in.
We think that this is the biggest setback for hiring entertainers like Hiroki. However, we also think that the time and effort put into this will definitely blow away audiences of any kind.
And we think that because his act has earned him multiple awards, multiple features on shows like the BBC series "The Magicians" and "America's Got Talent."
His act has been endorsed by well-known celebrities like Simon Cowell and Ne-Yo, and he has also performed for brands like Ferrari, Dior, and McKinsey & Company for some of their biggest events.
All in all, Hara Hiroki's Hologram Illusion act is the epitome of innovation and proof that a person's creativity and talent are endless with a little bit of help from the right tools.
Completely unique act
Act is customizable to integrate branding
Multiple TV appearances
Has won multiple awards
Act requires a lot of time, effort, and energy
Act is limited by the confines of the stage
5. Alistair Stevenson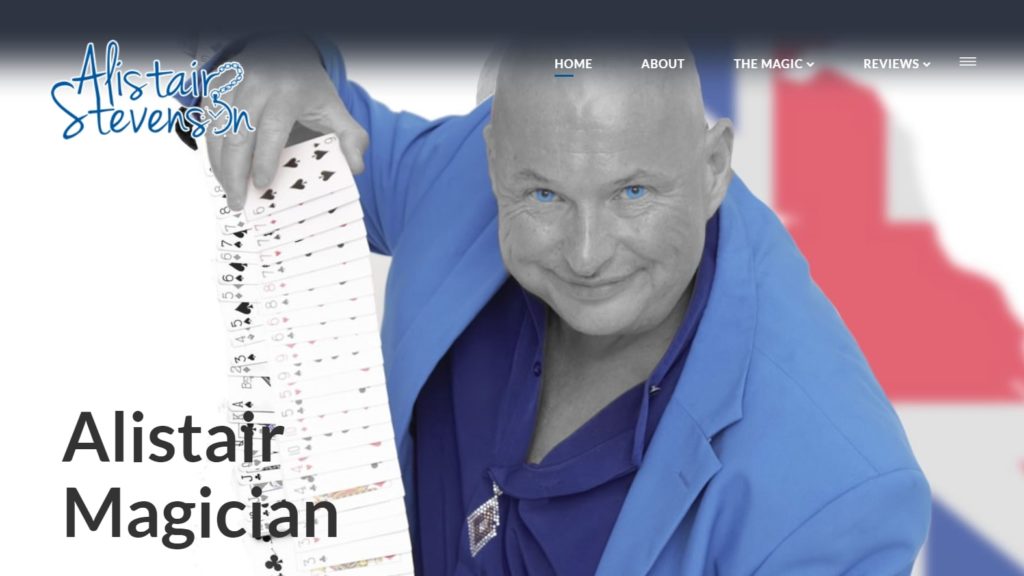 | Test | Info |
| --- | --- |
| WEBSITE | https://www.alistair-magician.com/ |
| ADDRESS | Opp. Burj Al Arab - Jumeirah St - Umm Suqeim - Umm Suqeim 3 - Dubai - United Arab Emirates |
| CONTACT DETAILS | +971 4 348 4444 |
| OPERATING HOURS | Every day: 10 AM–6 PM |
| | |
| --- | --- |
| Criteria | Rating |
| Attractions | ★★★★☆ (4/5) |
| Theme | ★★★★☆ (4/5) |
| Safety | ★★★★★ (5/5) |
| Food | ★★★★☆ (4/5) |
A comedian and a magician in one, that is Alistair Stevenson. With 20 years of experience being an entertainer, there is no audience that he can't get a laugh out of and dazzle at the same time.
While it's easy to see Alistair just as another funny guy who knows how to do magic for an audience, we think that he elevates that combination with something somewhat unique.
He actually mixes hypnosis into his magic acts and does it in such a way that we find ourselves laughing along with his hijinx.
We think that it's his comedic chops that make it easy for the audiences to get used to the fact that he's doing legit hypnotic techniques to pull off funny and goofy miracles.
But the nature of his act is also where we find its weakness. Alistair's hypnosis act requires him to be up close with the audience for his trick to work effectively.
And this can be a struggle for events in gigantic venues, and that's where his versatility comes in.
What we really like about Alistair is that in his 20 years of being an entertainer, he has learned and knows how to adapt, and because of that, he does more than just his comedic magic acts.
His ability to be funny and sociable also makes him such a great event host, which can come in really handy for events held in venues where he can't do his close-up magic.
Besides that, he only needs minimal production requirements. Props, the audience's participation, a microphone, and a laugh or two to get him going are all he needs to give the audience a fun night.
While he may not have any special awards won as a magician, he has been on TV and radio numerous times and has performed for celebrities, and corporate clients such as Al-Futtaim, Viceroy Yas Abu Dhabi, and Emirates Golf Club Dubai.
All in all, Alistair Stevenson is our top pick if you want a magic act and more. His personality is an act in and of itself and can be invaluable for all kinds of event programs.
Comedic hypnotic magic act
20 years of experience as an entertainer
Can host and do comedy
Minimal production requirements
Close-up act limits the number of audiences he can perform for
6. The Sparks Trio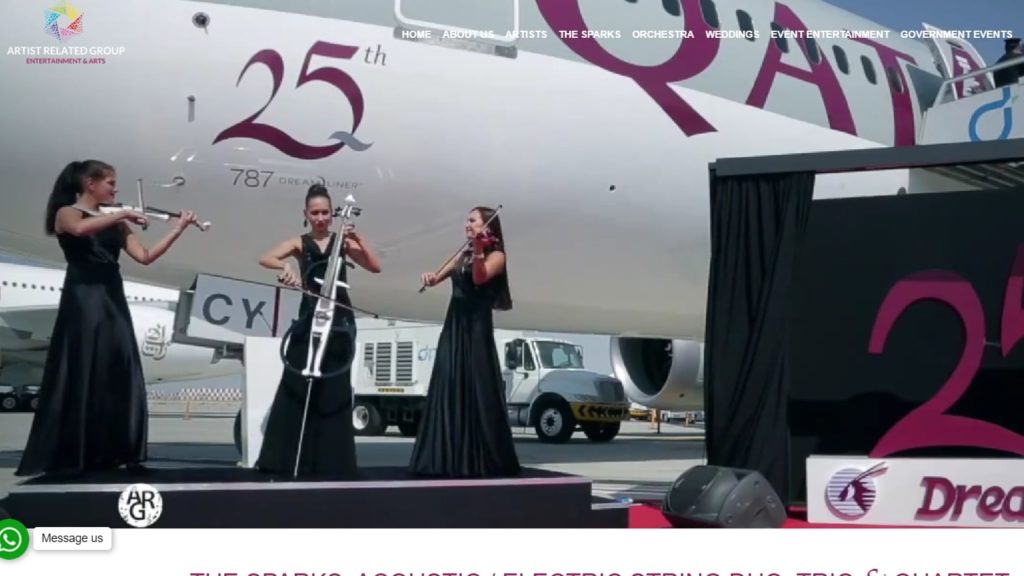 Test
Info
WEBSITE
https://artistrelatedgroup.com/sparks/
ADDRESS
Office 430, Building B, Al Saaha Offices, Souk Al Bahar, Old Town Island, Burj Khalifa District, Dubai UAE
CONTACT DETAILS
+971552167639

+971528632482
| | |
| --- | --- |
| Criteria | Ratings |
| Attractions | ★★★★☆ (4/5) |
| Theme | ★★★★☆ (4/5) |
| Safety | ★★★★★ (5/5) |
| Food | ★★★★☆ (4/5) |
Music is a great way to set the mood and liven things up in an event. It lets the event breathe and gives something for people to listen to when the host isn't speaking.
And while there are many musical acts to choose from in Dubai, we believe that the Sparks Trio is the best instrumental musical act in the city.
Our main reason as to why this is is because while this group is all classically trained instrumentalists, they bring in a sense of diversity not just in their repertoire but also in their members.
The group consists of Eastern Europeans, Middle Easterns, and East Asians, all coming together to bring their culture to how they approach the arrangement of the music they play.
We love that their shows are often a mixture of electric and acoustic stringed instruments, and the pieces they play are experimental fusions of classic music with jazz, rock, South American-Arabic, and Indian tunes.
We think that these kinds of musicians are perfect for both grand productions and intimate events, and that's because they know how to put songs together that can really help set the mood.
And with these musical acts, it's fairly easy in terms of production requirements. The group has their instruments with them, so all they will need is a space to perform in and audio equipment.
But what we think will take some effort and time into their act is building their setlist, preparing, and rehearsing the pieces.
This is especially true if the setlist includes some original pieces that they have not played before or they have just finished composing.
We also think that this group is very special because despite having only been performing for seven years, they have already made countless appearances around the world.
They have performed in the Middle East and India for royal weddings, TV performances, and international fashion brands.
All in all, The Sparks Trio brings in cultural diversity that is not often emphasized in classical music acts, and their willingness to experiment and fuse different genres brings an element of originality to their acts.
Diverse members and repertoire
Experimentally combines classical music with different genres
Average production requirements
Has made countless appearances worldwide
Act is limited to stringed instruments only
Sets will need to be rehearsed beforehand
FAQs about Entertainers in Dubai
---
We hope this helped you in finding an entertainer that will suit your event. Also, if you're looking for other services to elevate your business besides events, then check these articles: