Top 9 Clinics for the Best Plastic Surgery in Dubai
Featured Image Source: Valerie Elash via Unsplash
As plastic surgery slowly becomes a norm in self-improvement, many plastic surgery services have become more affordable. However, this shouldn't mean sacrificing the quality of your surgery.
For the best plastic surgery in Dubai, always choose a reputable aesthetic clinic.
In this article, we have provided a guide on how to select a trustworthy plastic surgery clinic. So you can find a provider quicker, we've also included a list of clinics for the best plastic surgery in Dubai.
To prepare you for the cost of plastic surgery in the city, we've done the research and compiled them in the table below.
How Much Does Plastic Surgery Cost in Dubai
The table below contains the usual prices of the most common plastic surgery procedures offered in Dubai. Note that the actual cost may vary depending on your clinic.
| | |
| --- | --- |
| Face Surgery | |
| Nose surgery | AED28,000 to 35,000 |
| Eyelid surgery | AED10,000 to 12,000 |
| Facelift | AED5,500 to 35,000 |
| Chin surgery | AED20,000 to 25,000 |
| Buccal fat removal | AED10,000 |
| Body Surgery | |
| Arm lift | AED25,000 |
| Thigh lift | AED25,000 |
| Butt lift | AED25,000 |
| Liposuction | AED10,000 |
| Tummy tuck | AED20,000 to 45,000 |
| Breast Surgery | |
| Breast augmentation | AED30,000 to 35,000 |
| Breast reduction | AED35,000 |
| Breast lift | AED30,000 |
| Gynecomastia | AED18,000 |
How to Pick the Clinic for the Best Plastic Surgery in Dubai
Like any medical procedure, it is important to choose a clinic that guarantees your safety when getting plastic surgery.
To help you select the best clinic for your plastic surgery, we've prepared a few tips to serve as your guide.
Check the surgeon's credentials
Look for a clinic that has board-certified plastic surgeons. You can also find out about a surgeon's medical school, fellowships, training, and certifications on their website.
This tells you that they have the knowledge and skills to conduct surgical procedures.
You might also want to opt for a practitioner with more years of experience and expertise in a certain treatment.
As they have done many surgeries in that particular procedure, they can easily detect problems during your surgery and provide prompt and effective solutions as needed.
Choose a surgeon with good communication skills
If you want the result of your surgery to be exactly as what you have in mind, go for a practitioner who listens to you.
On your first consultation with your plastic surgeon, they should listen to your concerns and provide easily understandable information.
They should also honor your preferences yet discuss with you the risks of the procedure you're about to undergo.
Read reviews
Finally, read online reviews from their previous patients. Here, you get to know how the surgeon does the procedure.
Usually, previous patients also share whether or not the result of their surgery through reviews.
Some clients also assess the clinic itself, including the customer service, wait time, and cleanliness.
The Clinics for the Best Plastic Surgery in Dubai
You should now know what to look for in a reputable plastic surgery clinic. To find a clinic for the best plastic surgery in Dubai for your procedure faster, check out this list we've prepared below.
1. European Medical Center and Aesthetic Surgery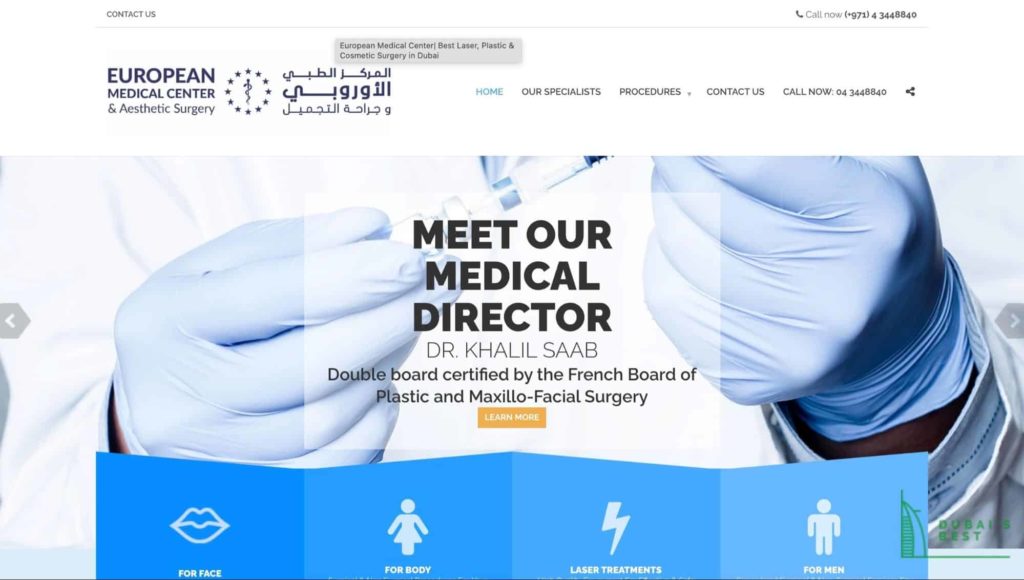 BEST FOR
Plastic surgery for men
WEBSITE
http://emc.ae/
ADDRESS
122 Jumeirah Beach Road, Villa #6, Dubai, United Arab Emirates
CONTACT DETAILS
04 344 8840
+971 4 344 8840
[email protected]
OPERATING HOURS
Sunday – Thursday: 10:00 AM – 8:00 PM
European Medical Center and Aesthetic Surgery is led by Dr. Khalil Saab, a double-board certified plastic surgeon in France. The clinic offers an array of surgical and non-surgical aesthetic procedures for the face and body.
Equipped with 3 decades of experience in plastic surgery, they can provide you a unique aesthetic treatment plan that is tailored to your needs.
They are specialized in natural looking plastic surgery and aesthetic treatments for both women and men. In fact the majority of their patients are women and don't mind a male doctor because of the natural looking results, which is hard to find.
Furthermore, they also offer medical facials, laser hair removal, and other non surgical beauty treatments for women and men by licensed laser and skin therapists.
Besides various breast surgeries and other common aesthetic surgery procedures, they also offer services specifically catered to men, provided by two topnotch male doctors Dr. Saab and Dr. Paraskevas Kontoes.
Led by a French double-board certified plastic surgeon
Offers a wide variety of surgical and non-surgical aesthetic procedures
Customer Reviews
A client named Jemima Mendonca was highly-satisfied with European Medical Center and Aesthetic Surgery's service. They reviewed:
"I visited the clinic to fix my stretched earlobes and I am so pleased with the results! Dr Saad is absolutely incredible. He is very experienced and made me feel so comfortable through the whole experience.
My case was considered 'complex' and I am so delighted with the results as you can barely see any scarring. All the staff are delightful and so friendly. I also received a complimentary underarm laser sessionworth 300dhs! Highly recommended."
Haifa Ahmed also shared:
"Very good consultation regarding surgery. I felt as if they were considering best options for me rather than their profit. I liked the doctor and they have a very nice villa."
2. Al Shunnar Plastic Surgery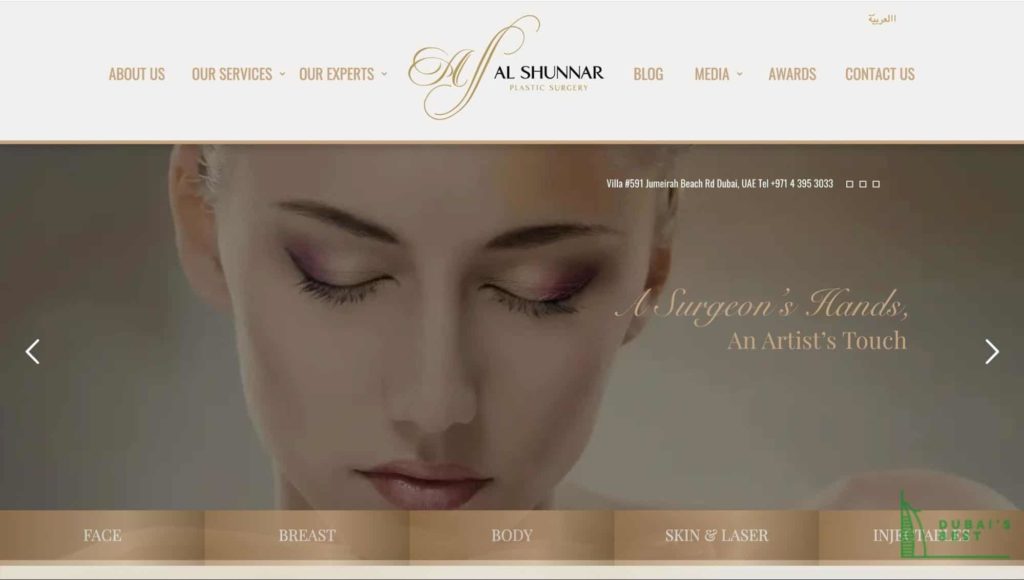 BEST FOR
Cancer reconstruction procedures
WEBSITE
https://alshunnarplasticsurgery.ae/
ADDRESS
Villa #591, Jumeirah Beach Road, Dubai, United Arab Emirates
CONTACT DETAILS
+9714 395 3033
+971 50 435 8760


[email protected]

OPERATING HOURS
Saturday – Thursday: 9:00 AM – 6:00 PM
Al Shunnar Plastic Surgery's three plastic surgeons are double board-certified in the US. They were trained at John Hopkins Hospital in Maryland, a prestigious research facility and teaching hospital.
The clinic offers a comprehensive range of plastic surgery procedures in Dubai. In particular, its plastic surgeons specialise in breast surgeries, facial surgeries, and body sculpting procedures.
Their expertise also lies in plastic surgery which addresses skin or body deformations due to cancer.
While there are other plastic surgery clinics who partner with a bigger medical facility to provide their services, Al Shunnar Plastic Surgery is fully-equipped to conduct any aesthetic procedure at their location.
The clinical staff also keeps themselves updated with the latest plastic surgery technologies to be able to offer clients safe and effective procedures that promise less downtime.
Double-board certified, highly-trained surgeons
Fully-equipped facility
Multi-awarded clinic
Does not mention insurance cards accepted
Customer Reviews
Waqqas Arif left Al Shunnar Plastic Surgery a positive review:
"This is really a welcoming clinic. They keep you happy from the consultation till the end of your treatment procedure. They also respond to you even after surgery with the same friendly manner. Thank you, team Al Shunnar Plastic Surgery, especially Dr. Buthainah Al Shunnar."
Meanwhile, another client named Umme Hania shared:
"It was my very first time at Al Shunnar Plastic Surgery. Experience with the staff, surgeons, and the place compelled me to write over here.
It was such a clean and nice place and the staff is amazing and very welcoming. Surgeons are experienced and professional, especially Doctor Buthainah, one of the best doctors I have ever met."
3. McBody Clinic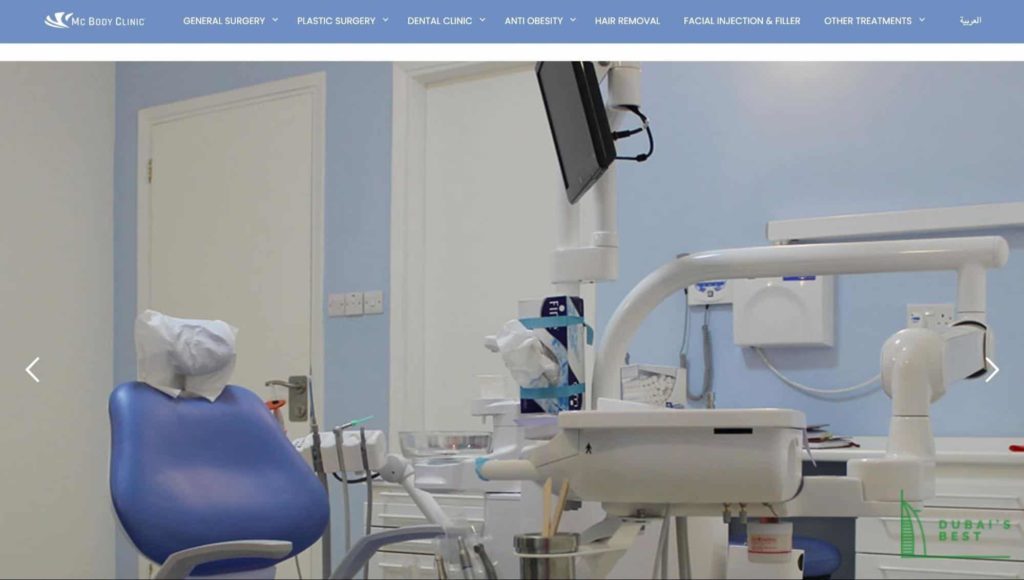 BEST FOR
Reconstructive surgery
WEBSITE
https://www.mcbodyclinic.com/
ADDRESS
Al Wasl Rd. Opposite Jumeirah Post Office Villa 412 Dubai, United Arab Emirates
CONTACT DETAILS
+971 4 385 5552


[email protected]

OPERATING HOURS
Saturday – Thursday: 11:00 AM – 8:00 PM
McBody Clinic provides a variety of medical services in Dubai, including face and body plastic surgery.
With 2 doctors in their team specialising in reconstructive surgery, correction of cleft lift and palate are among the many plastic surgery procedures they conduct. Besides these, they also offer non-surgical aesthetic procedures.
In fact, one of their plastic surgeons, Dr Abolhassan Ghaisari, incorporates surgical and non-surgical procedures to provide the best nose and face surgeries in Dubai.
To give clients the best results on their plastic surgery procedure, McBody Clinic also assures that they use the best equipment to conduct their treatments.
Provides aesthetic and reconstructive surgery procedures
Offers non-surgical aesthetic procedures
Fully-equipped clinic
Limited plastic surgery offerings
Customer Reviews
Viona Goldooz shared her experience with McBody Clinic. They reviewed:
My experience at this clinic was better than I could imagine. I'm extremely happy with the results of my surgery and I want to thank Dr. Ghaisari especially for his amazing work.
The whole experience was made so easy and comfortable thanks to the clinic and Tina who checked in on me at every point. I highly recommend this clinic to anyone considering any cosmetic surgery!"
Another previous patient, Elyazia Alsayegh, said:
"Dr. Babak Hatami In Dubai, at McBody Clinic is the best surgeon in the clinic. I came for consultation for my breast reduction and lift. He has helped me a lot and kept following up on a daily basis.
He also gave me the right measurements and right choices for my breasts. Now, I feel more comfortable in my own body and even happier. I would like to refer this doctor to anyone who would like to do any plastic surgery."
4 Aestheticon®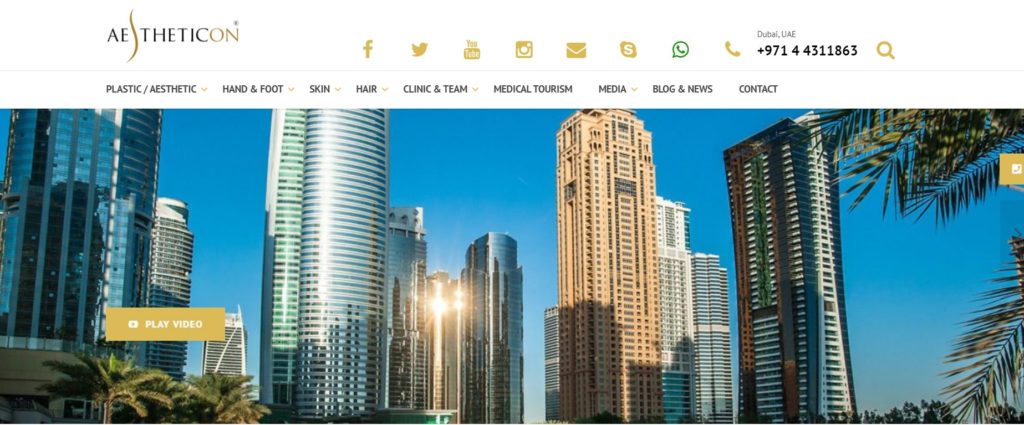 BEST FOR
Plastic & Aesthetic Services
WEBSITE
https://www.aestheticon.ae/
ADDRESS
Swiss Tower, Unit 2202
Cluster Y3, Jumeirah Lakes Towers (JLT)
Dubai, United Arab Emirates
CONTACT DETAILS
Tel: +971-4-4311863 / +971-52-9843498
WhatsApp: +971-52-9843498
Fax: +971-4-4313084
Email:

[email protected]

OPERATING HOURS
Sunday – Thursday: 10:00 AM – 8:00 PM
Aestheticon® is a clinic that specializes in plastic and aesthetic services in various areas of the body such as the arm, thigh, breast, face, and head among others. They offer a wide range of similar services as well such as skin care treatments, injectables, skin surgery, and advanced laser hair removal among others.
Highly acclaimed to be very welcoming and eager to attend to the needs of the clients, they pride themselves for being able to provide both proven and safe surgeries and treatments and are internationally renowned to do so. They have acquired the trust of many clients globally due to their excellent services and equally sincere and warming customer service as well.
Inaugurated back in 2012 in Dubai, the clinic prioritizes the perfection of its services for the utmost benefit of clients who choose to avail of their services. They are also renowned to offer specific surgeries that only a few clinics worldwide offer such as composite facelifts, specific breast surgery, tummy tuck methods, and other specific hand surgeries among others.
We recommend this clinic for clients looking for outstanding and trustworthy aesthetic services since they also utilize state-of-the-art equipment and facilities and a carefully selected team of professionals that work well together to produce optimal results.
If you're still looking for someone who can help you, Aestheticon also recommends Dr. Ghofrani. He has a super-specialization in breast and face surgery and is welcoming patients from all over the world.
Accredited by the Dubai Health Authority and the Dubai Multi Commodities Center
Accommodating customer services
Offers particular services only few clinics offer
Customer Reviews
Here are some reviews from their clients:
"HIGHLY RECOMMENDED !! Whenever you need medical advise or urgent help, Dr Afschin Ghofrani and his team will be there! He will provide the best cure / treatment for your personal medical problem – as customized solution. There is no standard / general procedure. He will listen careful to your problem and advise the correct treatment for your case." – Karin Buerger
"For a long time, I had comparing myself with some posh ladies and models as a fashion and imagined it would be impossible for me and I had been lost my self-confidence, but after communicating with Aestheticon's clinic and the unique experts , especially International professional doctor, Dear Dr. Ghofrani and my experience of his unique operations such as abdominoplasty, Breast and eyelids surgery and the beauty treatments of their great specialists, all my dreams have came true…!!! Dr. Ghofrani and their popular team are absolutely unique in all over the world … !!!Good Luck…!!!" – Ra Taheri
5. Aesthetics International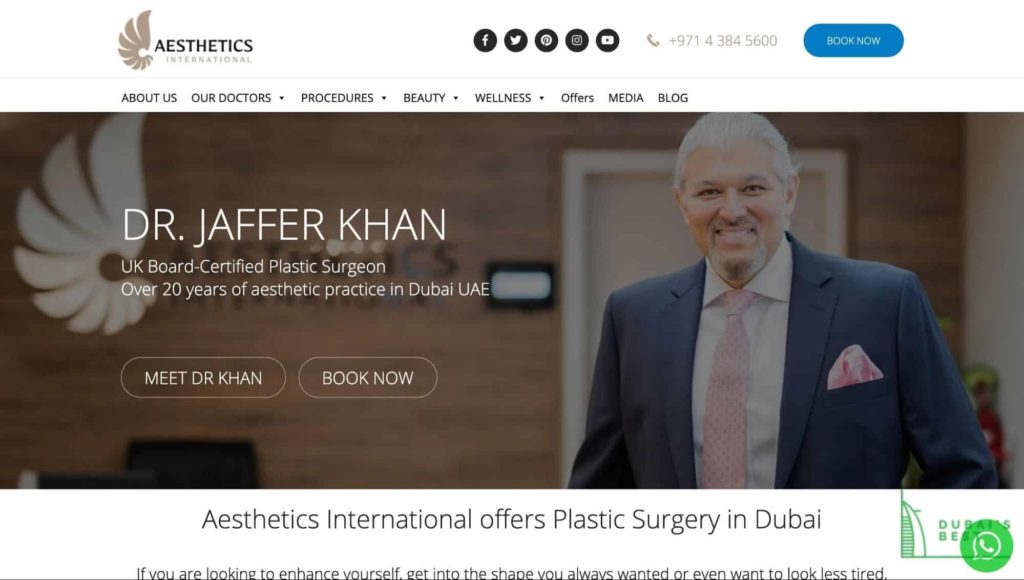 BEST FOR
Medical tourism
WEBSITE
https://aesthetics.ae/
ADDRESS
Utamah Villa #1049c, Jumeirah, Dubai, United Arab Emirates.
CONTACT DETAILS
+971 4 384 5600


[email protected]

OPERATING HOURS
Saturday – Wednesday: 9:00 AM – 8:00 PM
Thursday: 9:00 AM – 6:00 PM
Aesthetics International has a team of board-certified cosmetic surgeons headed by United Kingdom board-certified plastic surgeon, Dr Jaffer Khan.
What sets the clinic's plastic surgery practitioners apart is their consultation approach. They take time to speak to their clients to provide them a personalised treatment plan.
On top of this, their clinic's spa-like environment is also sure to put you at ease during your procedure. Plus, they have expert aftercare nurses to help you with your fast and smooth recovery.
Aesthetics International is also the perfect plastic surgery clinic for medical tourism. They work in partnership with firms and agencies such as Emirates Airlines and Dubai Health Authority to make your trip to Dubai hassle-free.
Provides aftercare nurses
Accredited by medical societies worldwide
Expensive services
No female surgeon
Customer Reviews
Chloe Chernenko rated Aesthetics International five stars on Google. Check out her:
"Dr Francisco was AMAZING!! I couldn't recommend him more. He's been so supportive and available all of the time for any problems or worries I had. His assistant, Princess was extremely efficient, understanding and dedicated. I felt so comfortable with her. I thoroughly recommend this team. This clinic are truly amazing and waaaay better than Harley Medical Group in London!! I got a true feeling that they cared so much about me, my recovery and what was best for me. 100% recommend!!!"
Butch Machur also shared a review:
"Dr. Jaffer Khan is most professional, talented and knowledgeable plastic surgeon in the Uae and i have met a few.. He is also super kind and nice. With Dr. Khan, you can never go wrong. I will always recommend him with 100% confidence. Mariam"
6. AIG Clinics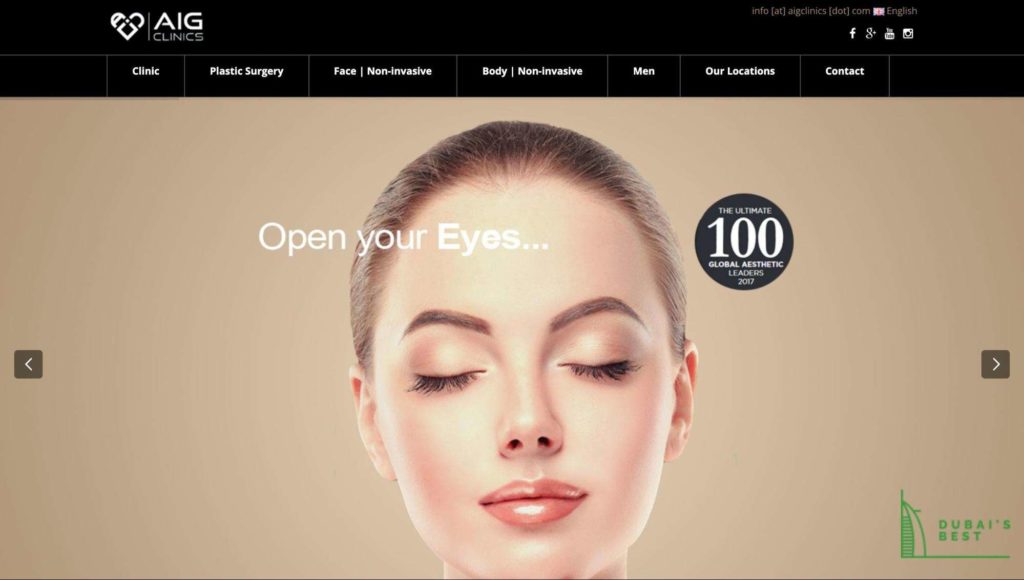 BEST FOR
Lifting procedures
WEBSITE
https://www.aigclinics.com/
ADDRESS
Arenco Beach, Villa No. 4, 506A, Jumeirah Road, Dubai, United Arab Emirates; Street 9, Nad Alhamar Avenues Mall, Dubai, United Arab Emirates
CONTACT DETAILS
(Jumeirah) +971 4 338 8979
(Wellness Avenue) +971 4 223 1110
OPERATING HOURS
Saturday – Thursday: 9:00 AM – 9:00 PM
AIG Clinics in Dubai offers a series of "lifts" for a tighter, toned-looking body. These include arm, thigh, butt, breast, and body lifts for body plastic surgery and eye and face lifts for facial plastic surgery.
Besides these, they also provide other aesthetic surgery procedures. With three experienced male plastic surgeons, procedures like liposuction and breast reduction are made less daunting for males.
Aside from providing excellent plastic surgery procedures in Dubai, AIG Clinics also makes sure that you get the best surgery experience with them, with topnotch patient care in their luxe, calming environment.
Offers male plastic surgery procedures
Two branches in Dubai
No female plastic surgeon
Customer Reviews
Israa Salhab reviewed AIG Clinics. They said:
"Can't get over my beautiful body! I've never thought I'd be sharing something so private like this ever! I was so much hesitant at the beginning to travel all the way to Dubai for VASER liposuction. But having done it already by now, I regret not having done it a lot earlier!
Trust me ladies. I entrusted my body with the most experienced plastic surgeon ever at AIG Clinics and I highly recommend you give it a try! Do not postpone. I am super confident 100 times more than ever in my life! Can't thank you enough AIG Clinics you are all wonderful!"
Sasha Coen also shared:
"Dr. Carmelo is an extremely genuine foctor who know's what he is doing and won't just try to sell you more to make more money but will give a trustworthy, honest opinion on what you should get done. No more, no less."
7. Dr Rory McGoldrick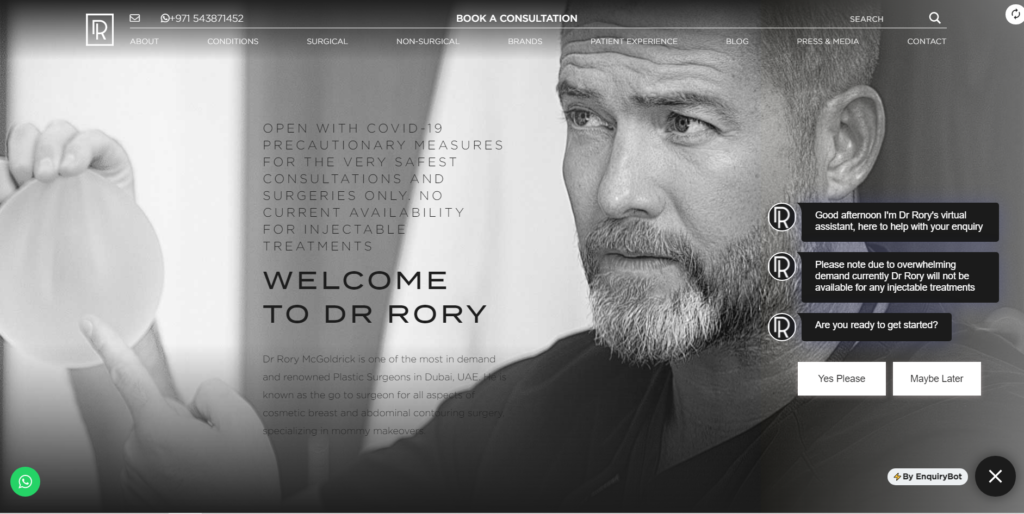 Dr Rory McGoldrick is one of the most in demand plastic surgeons in the country. He was originally born and raised in London, but now practices full time within Dubai.
For each of his patients, he strives to achieve the most natural results. Over the years, his reputations has grown such that he usually gets his patients from word of mouth recommendations.
It is important to note that when under his care, he works closely with his patients so that the outcome is just as how they want it to be. However, this doesn't meant hat he approves every request.
Dr Rory makes sure that each adjustment is proportional with your measurements to ensure that the results is as natural looking as possible.
Strictly follows COVID-19 protocols
Has over 18 years of experience
Specializes in breast augmentation
Not the best option for those looking for a female surgeon
Customer Reviews
Here's what past patients have to say:
"I could not recommend Dr Rory enough! I had wanted to get breast augmentation surgery for many years and finally booked a consultation after hearing very positive reviews from others who had surgery with him. Dr Rory very quickly made me feel at ease from the moment we met and listened to my reasons as to why I wanted the surgery. Taking all into consideration, he expertly advised me on the best size for my body type. On the day of surgery, he was calm and went through the procedure with me and my partner again, taking my partners mobile number so he could text him as soon as the surgery was done and let him know how it went. I met with Dr Rory almost every week for the following four weeks after my surgery for him to check the healing process and see how I was getting on. I am only just over a month since surgery and the results are absolutely amazing! I am so happy I went with such an experienced and lovely surgeon as Dr Rory. Really can't thank him enough!"
"I cannot recommend Dr Rory & his amazing team highly enough! From the initial consultation, through to all the post-operative care, Dr Rory has been incredible. So professional, passionate about his work & clearly a master of his profession, but also such a warm & caring person, making you feel at ease every step of the way. I could not be happier with my results & feel very reassured knowing I have the best surgeon ever just at the end of a phone, or to visit, if ever I need to! Thank you so much to you all ⭐️"
8. Prof. Dr. Alexandre Dionyssopoulos M.D., Ph.D.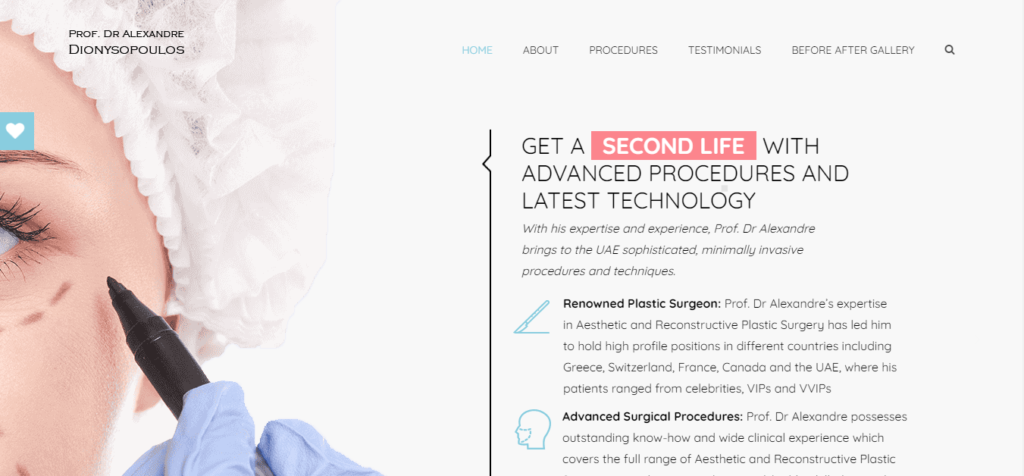 BEST FOR
Aesthetic & Reconstructive Plastic Surgeon
WEBSITE
https://plastic-surgeon.ae/
ADDRESS
LA CLINIQUE ME
Saba 1 Tower
Suite 901
Cluster E, JLT 115594
Dubai, United Arab Emirates

MEDICLINIC AL NOOR HOSPITAL
Khalifa Street
Abu Dhabi, United Arab Emirates
CONTACT DETAILS
LA CLINIQUE ME
TEL: +97144437895
WHATSAPP: +971569897355

MEDICLINIC AL NOOR HOSPITAL
TEL: 8002000 +97126264440
OPERATING HOURS
Contact for more details
Professor Dr. Alexandre Dionyssopoulos M.D., Ph.D. is a licensed Plastic Surgeon in the United Kingdom (General Medical Council), the European Union and the United Arab Emirates (HAAD, DHA and DHCC).
Unlike other doctors, he brings to UAE the most sophisticated and minimally invasive procedures and techniques in plastic surgery! With this are their state-of-the-art facilities that are designed to deliver an amazing and unique experience to their clients.
Previous patients have mentioned that with Dr. Alexandre thoroughly explains every single detail that the patient will go through. And with his vast experience, they were able to feel comfortable and at ease for their surgery.
Choosing Dr. Alexandre will surely make your dreams come true and gain even more confidence!
Has services for both women and men
Very caring about his patients
All previous patients are satisfied with his work
Operating hours are unavailable
Customer Reviews
Here are some reviews of Prof. Dr. Alexandre Dionyssopoulos M.D., Ph.D.'s previous patients:
"There is probably just a handful of plastic surgeons worldwide that have the skill to deliver aesthetic results at such a level of perfection! We are so fortunate to have one of them in the UAE. I still can't believe that I look 20 years younger, with a spectacular result, no complications and minimal downtime. Thank you, Dr Alexandre"
"Ι lost 25 kgs 2 years ago and with that I got a pair of sagging breasts which was a real concern for me. I wanted to get a breast lift but I was very worried about the fact that this could impair beast-feeding ability. I saw a post on instagram @dr.alexandre_dion about Dr Alexandre's advanced technique which allows preservation of Breast-Feeding ability and Nipple sensation, and made an appointment right away. His manner – professional, knowledgeable, attentive, honest, focused on detail – made me decide to go on with surgery. So many Thanks Dr Alexandre! My new breast is nothing but perfection!"
9. Dr. Dora Evangelidou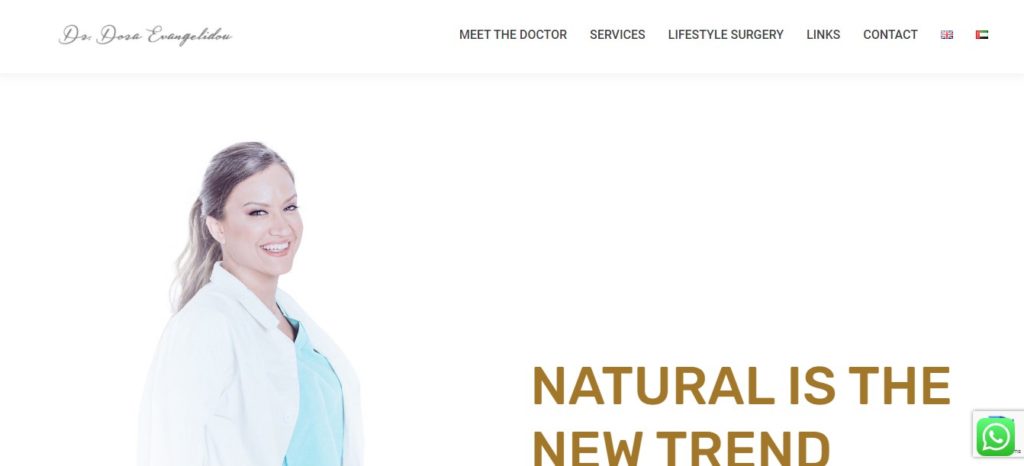 BEST FOR
Lifestyle Changing Plastic Surgery
WEBSITE
https://www.doraevangelidou.com/
ADDRESS
Villa 813, Jumeirah Beach Road Suqeim 3, Dubai – UAE
CONTACT DETAILS
+971 58 566 3900 / +971 4 33 2222 4 /

[email protected]

OPERATING HOURS
Monday – Thursday: 9:00 AM – 9:00 PM, Saturday – Sunday: 9:00 AM –9:00 PM
Dr. Dora Evangelidou is a Consultant Plastic Surgeon with expertise and passion when it comes to science-based and lifestyle approaches to body treatments. Having published manuscripts for journals about aesthetic and reconstructive surgery, she has since then been an advocate for positive aging awareness and is perceived to be renowned in her profession.
Dr. Dora combines the techniques of microsurgery precision surgery with the aesthetic surgery to provide the best natural results for her clients. Placing safety and customer care at the pinnacle of their services, she applies her years of experience in the field to deliver precise and personalized services to clients.
Price ranges are not directly available on their website, but they do offer a personalized consultation wherein clients can readily fill up their own details and needs online.
Recent reviews claim that they have had a pleasant experience in which exemplary hospitality along with adequate facilities and care for the clients' detailed needs.
Highly certified
Dr. Dora has a double master's degree: one dedicated to microsurgery and the second dedicated to breast surgeries
Customized surgical plan
Extremely caring pre- and post-surgical follow up and care
Price ranges unavailable

Closed on Fridays
Customer Reviews
"The clinic staffs and the doctors are very friendly and absolutely dedicated towards patients comfort and needs. They treat their clients with respect. Very professional and well-trained." – Nairam Oadlos
"Love everything about working at Glamour Care Clinics. The best employer I have ever had! The atmosphere is amazing and I couldn't asked for better leads and the support that is given." – Irfan Khan
FAQs About The Best Plastic Surgery in Dubai
---
One of these clinics for the best plastic surgery in Dubai can surely help you get the confidence boost you need!
Do you know any other plastic surgery clinics in Dubai we should add to this list? Send us a message and we'll check them out as soon as we can.
Take your self-improvement project up a notch and visit a specialist that can help you achieve clear, smooth skin. For this, you can check out our list of the best dermatologists in Dubai.