Top 8 Clinics for the Best Physiotherapy in Dubai
Featured Image Source: Nino Liverani via Unsplash
Persistent pain can affect your daily activities. Thankfully, one of the clinics for the best physiotherapy in Dubai can help you get rid of the pain and enjoy life as you should.
In this article, we've provided a guide on how to choose the best physiotherapy clinic in Dubai. At the same time, we've listed some of the most trusted physiotherapy clinics in the city for you to check out.
To prepare you for the cost of physiotherapy in Dubai, we've even researched the prices of common physiotherapy services which you will see in the table below.
How Much Does Physiotherapy Cost in Dubai
This table below shows the cost of physiotherapy services in Dubai. Note that actual prices may vary depending on your chosen provider.
| | |
| --- | --- |
| Initial Assessment (45 minutes) | AED500 |
| Physiotherapy Treatment (45 minutes) | AED500 |
| Complete Decongestive Therapy | AED500 |
| Remedial Massage (30-60 minutes) | AED250 to 400 |
| Personalised Exercise Program (45 minutes) | AED500 |
How to Pick the Clinic for the Best Physiotherapy in Dubai
When choosing a clinic for the best physiotherapy in Dubai, it is important to make sure that the staff are professionals at what they do. This is to avoid harming yourself further while seeking treatment.
To select a trustworthy clinic for physiotherapy in Dubai, take note of these tips below.
Check for licenses
Make sure the physiotherapists at your chosen clinic graduated from reputable medical schools and have obtained the necessary licenses to perform their job.
At the same time, you should take note to go to a physiotherapist that specialises in your specific need. There are physiotherapists that focus on treating sports injuries, providing geriatric care, and so on.
Opt for a clinic with private treatment rooms
A clinic with private treatment rooms lets you discuss your health concerns with your physiotherapist. This can help your treatment become more effective, as your physiotherapist can tackle the problem head-on.
At the same time, having a private room can help you feel more relaxed as you receive the treatment.
Ensure the clinic's ethical practice
Be wary of clinics that will only try to sell you medicine or treatments that will not really address your concern.
A good physiotherapist should not force you to sign up for their physiotherapy sessions. Instead, they should inform you about your condition and offer only the necessary treatments.
You can check the clinic's ethical practice during your consultation or through client reviews online.
The Clinics for the Best Physiotherapy in Dubai
You should now know what to look for in choosing a clinic for the best physiotherapy in Dubai.
To set your search in motion, here is a list of some of the best physiotherapy clinics you should definitely consider.
1. NorAlign Functional Rehabilitation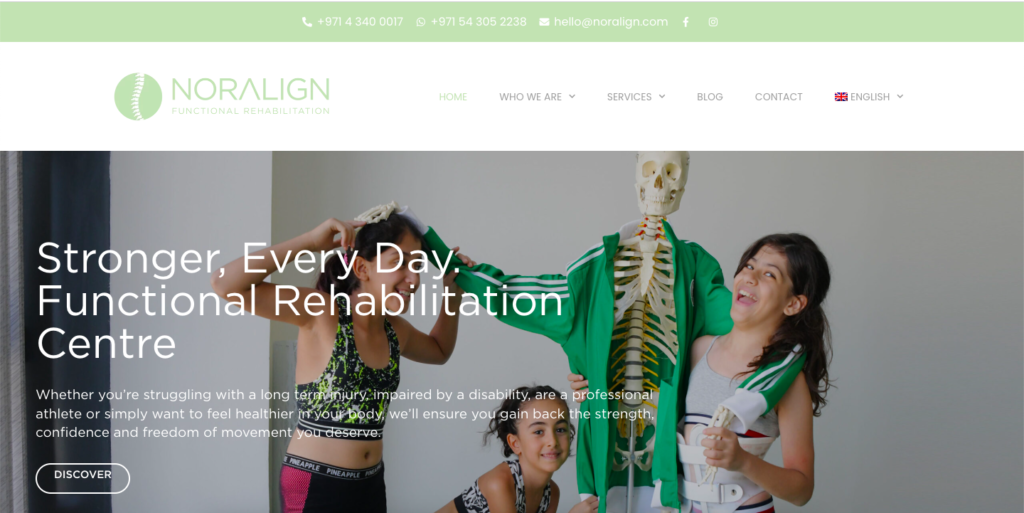 BEST FOR
Functional Rehabilitation
WEBSITE
https://noralign.com/
ADDRESS
Noralign – Functional Rehabilitation Centre Unit No. 212 (2nd Floor) Al Shafar Building-7, Al Wasl Road (Jumeirah) P.O. Box 119190, Dubai, UAE
CONTACT DETAILS
[email protected] | +971 4 340 0017 | +971 50 875 3133 | Whatsapp: +971 54 305 2238
OPERATING HOURS
Mon – Sat 7AM to 8PM
Sun 10AM – 3PM
NorAlign Functional Rehabilitation is a functional rehabilitation centre that helps get individuals back on track.
Whether it's because you're struggling with a long term injury, impaired by a disability, a professional athlete, or just someone who wants to feel healthier, they can assist in ensuring you get back your strength, confidence and freedom of movement!
Their services include physiotherapy, pediatric physiotherapy, spinal therapy, women's health, nutritherapy, and postural alignment.
We like that they work one-on-one with their patients to provide customised rehabilitation treatments, tailored to individual needs because they understand that every individual and body is different.
We think it's also a great thing that they analyse and rationalise every case from a holistic perspective.
Many of their patients experienced significant improvement after sessions with NorAlign, and we think they might be able to help you as well.
Holistic perspective to treatments focusing on the cause
Variety of services across musculoskeletal medicine and GI tract
Effective conservative treatments including Schroth Method for Scoliosis
Can be hard to book an appointment due to influx of patients
2. Korehab Clinic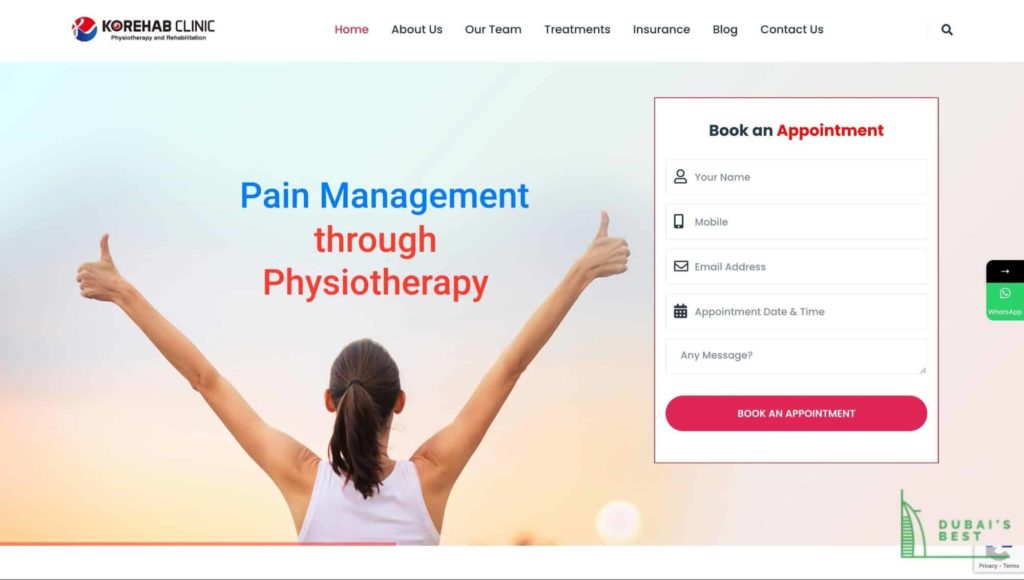 BEST FOR
Neurological rehabilitation treatments
WEBSITE
https://www.korehab.com/
ADDRESS
Building 64 – Ground Floor, F Block Dubai Healthcare City, Dubai, UAE
CONTACT DETAILS
+971 4 243 3145
+971 4 243 3153
(Korean) +971 58 873 9651


[email protected]

OPERATING HOURS
Sunday – Saturday: 9:00 AM – 6:00 PM
Korehab Clinic does expert musculoskeletal pain management as well as neurological rehabilitation treatments in Dubai.
They deal with a variety of musculoskeletal conditions from joint pain to scoliosis. They also provide physical therapy for people who've had spinal cord injury, traumatic brain injury, or other neurological disorders.
The clinic has a physical rehabilitation specialist, 10 licensed physiotherapists, and an occupational therapist.
They also have state-of-the-art facilities and materials, which includes 10 private therapy rooms and a gymnasium.
Open daily
Deals with sports injuries, joint pain, and neurological conditions
Large team of highly-capable specialists
Private therapy rooms
Customer Reviews
Satisfied customer Basma Eissa said:
"Best physiotherapy I've ever had. Mrs. Mihyang Park worked perfectly on my physical problems, taking into consideration the stress level effect on physical health.
She explained well to me the connection between both and taught me how to control my pain by thoughts, where possible.
I recommend this place to every patient who needs physiotherapy. What you get there is a lot more than just physiotherapy sessions."
3. Nightingale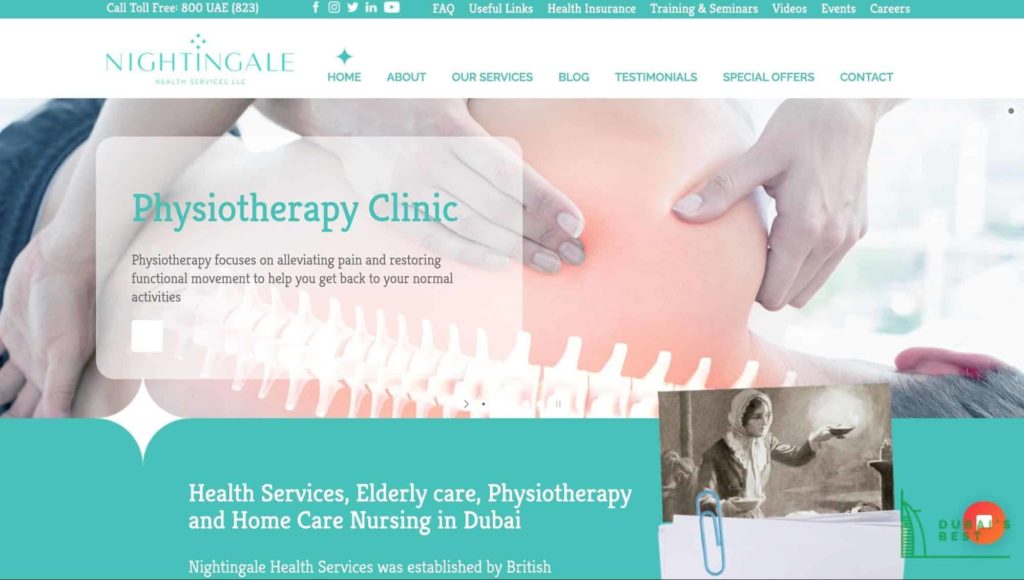 BEST FOR
Home and hotel physiotherapy services
WEBSITE
https://www.nightingaledubai.com/
ADDRESS
Gold and Diamond Park, Building 7, Office 118-119, 217-219, Dubai, United Arab Emirates
CONTACT DETAILS
800 823 971 4 320 3847
OPERATING HOURS
Saturday: 9:00 AM – 4:00 PM
Monday – Friday: 9:00 AM – 6:00 PM
Friday: 10:00 AM – 4:00 PM
Nightingale's physiotherapy treatments are done by physiotherapists trained in the UK. They do sports, pre- or post-operation, cardio-respiratory, and neurological physiotherapy.
The clinic's specialists also perform geriatric physiotherapy, which addresses pain due to illnesses, falls, or surgeries in the elderly.
To help manage obesity, they also offer bariatric physiotherapy.
What makes Nightingale one of the clinics for the best physiotherapy in Dubai is that they give their clients the option to be treated in the comfort of their home or even their hotel.
UK-trained physiotherapists
Wide range of physiotherapy services
Irregular operating hours
Has only 2 physiotherapists
Customer Reviews
Roaa Talal left Nightingale a positive review:
"I did a physiotherapy session with Jony. It was awesome. I felt a lot of pain relief from my lower back and the place is so comfortable."
4. Diversified Integrated Sports Clinic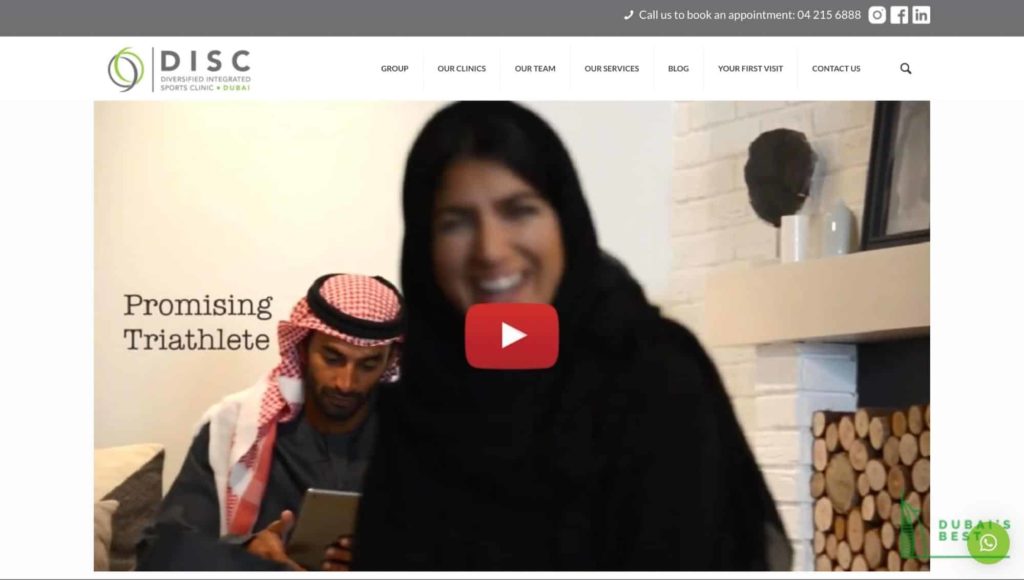 | | |
| --- | --- |
| BEST FOR | Sports and women's health physiotherapy |
| WEBSITE | https://www.disc-dubai.clinic/ |
| ADDRESS | Ibn Sina Building 27, Block B, Unit 304, Dubai Healthcare City, Dubai, United Arab Emirates |
| CONTACT DETAILS | +971 4 215 6888 |
| OPERATING HOURS | Saturday – Thursday: 7:00 AM – 7:00 PM |
Diversified Integrated Sports Clinic has a large team of physiotherapists and other specialists. This allows them to address a variety of musculoskeletal ailments.
The clinic treats chronic conditions, movement disorders, and sports injuries. They also address post-operative conditions, aging disorders, and neurological conditions.
To help pregnant, postpartum, and menopausal women deal with the changes in their body, the clinic also offers women's health physiotherapy services.
Diversified Integrated Sports Clinic also has a Jumeirah Lakes Towers branch, which helps them serve more Dubai residents.
Large team of physiotherapists and other specialists
Treats a wide range of conditions
2 branches in Dubai
Closed on Fridays
Tendency to have scheduling problems
Customer Reviews
Nizar, a highly satisfied client, said:
"I've been going to DISC since it first opened its doors. Dr. Tamara and her entire team are top-notch professionals and are the elite in their industry. I've visited DISC for multiple sports-related injuries and everything was resolved without fail.
I've tried chiro, physio, sports massage, and rehab and every member's attention to detail and personalised approach is second to none. As long as I'm in the UAE, DISC is my go-to sports clinic."
5. Dubai Homeopathy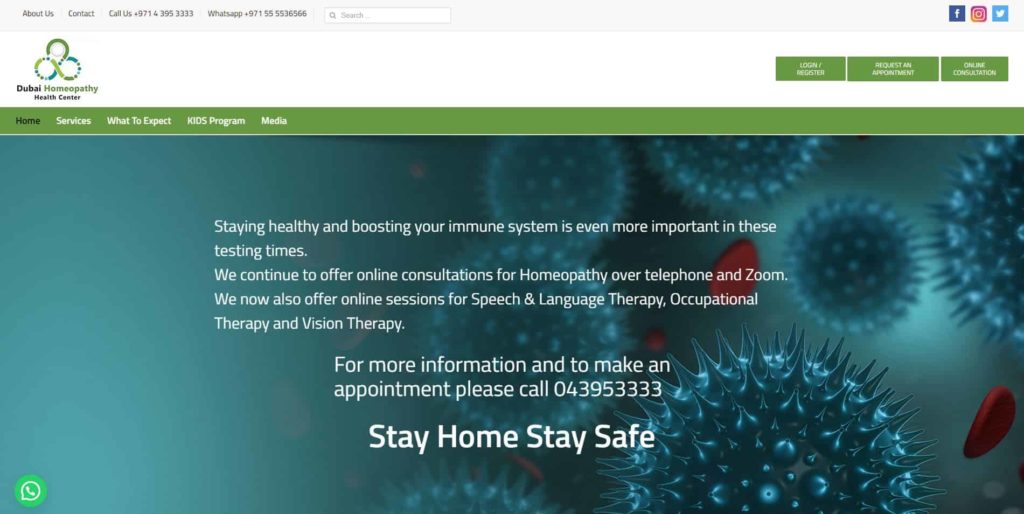 BEST FOR
Wide variety of physiotherapy techniques
WEBSITE
https://dubaihomeopathy.ae/
ADDRESS
Villa 756, Al Wasl Road, Jumeirah 3, Dubai, United Arab Emirates
CONTACT DETAILS
+971 4 395 3333
+971 55 553 6566


[email protected]

OPERATING HOURS
Saturday – Thursday: 9:00 AM – 6:30 PM
Dubai Homeopathy's resident physiotherapist applies different physiotherapy techniques to address a variety of concerns.
Among the methods they apply are NeuroPilates, acupressure, active isolation stretching, and manipulation thrust technique. They combine these to address chronic pain, vestibular problems, and other neurological and musculoskeletal conditions.
Aside from being one of the best clinics for physiotherapy in Dubai, they also provide teleconsultation services to make enquiries hassle-free to their clients.
Various physiotherapy treatments available
Teleconsultation services
Closed on Fridays
Limited number of therapists
Customer Reviews
Ummehani Amijee, a previous client, reviewed:
"Dr Jameela treated me for a persistent hip issue that made some everyday tasks extremely difficult. Her treatment of NeuroPilates helped me get over something I battled with for years in just 6 months!
She's great at what she does, friendly and extremely compassionate. Her sessions were something that I looked forward too unlike most physiotherapy sessions!
6. Neuropedia Children's Neuroscience Center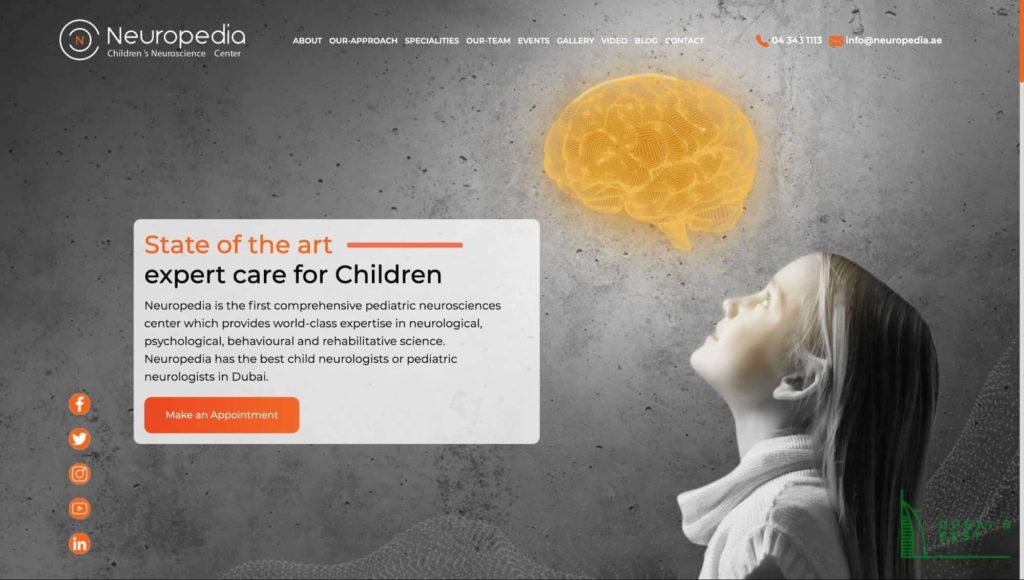 BEST FOR
Pediatric physiotherapy
WEBSITE
https://neuropedia.ae/
ADDRESS
136 Jumeirah St, Jumeirah 1, Dubai, United Arab Emirates
CONTACT DETAILS
04 343 1113
+971 4 343 1113


[email protected]

OPERATING HOURS
Saturday – Thursday: 8:30 AM – 7:30 PM
Besides offering psychological and behavioral therapy, Neuropedia Children's Neuroscience Center also offers some of the best physiotherapy services in Dubai.
They have a number of European-trained physiotherapists who work hand-in-hand with their pediatric neurologists. They use a multidisciplinary approach to guarantee an effective treatment approach for your child.
Specifically, the clinic helps children with their motor coordination, gross motor skills, and physical endurance. They also deal with children's body alignment, posture, balance, and more.
The specialists from this clinic conduct their treatment sessions in a child-friendly space to ensure your child's safety.
Highly-trained physiotherapists
Multidisciplinary approach
Safe, child-friendly space
Customer Reviews
A previous client, Lora Nielsen, wrote the clinic a favorable review:
"Very satisfied with the assessment we got in there. The doctor, who's also the director and co-founder of this clinic, was very professional and accommodating which made our visit quite pleasant.
All the staff are very polite and helpful. I'm happy to have been forwarded to this place which helped me kill my doubts and show me the real picture of my girl's situation."
7. Eupepsia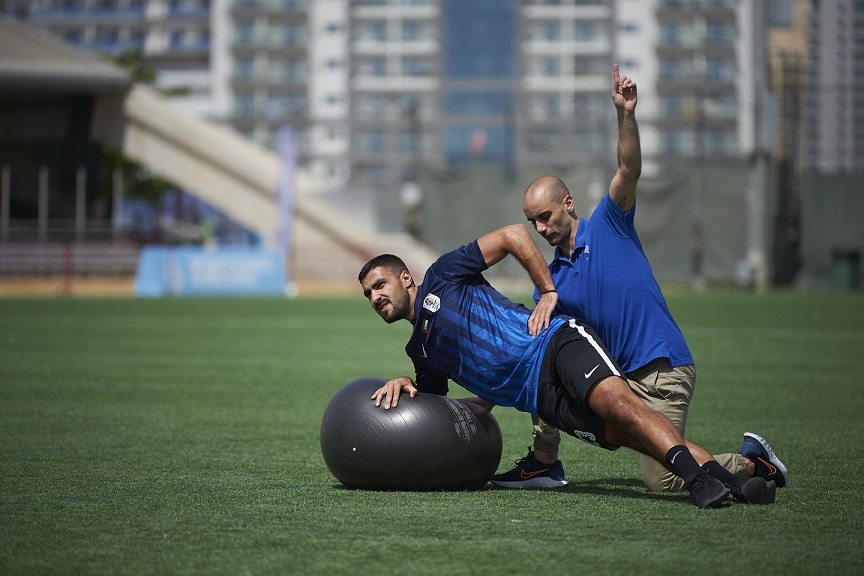 Eupepsia is a wellness sanctuary and facility that is located in Virginia that aims to help and guide people to reconnect with themselves in various aspects such as body, energy, emotion, mind, and spirit. Located in the vicinity of the Jefferson National Forest at the Blue Ridge Mountains, the said resort is founded on the science and philosophy of Ayurveda.
The facility combines Advanced Health Screenings with both traditional and progressive therapies in order for the client's stay to become more authentic and holistic in nature. Furthermore, the said resort also offers fresh vegetarian farm-to-table food that is adjusted in order to suit the body type of the clients.
The sanctuary also provides a lot of benefits should clients choose to stay there and avail of their services such as a deepened understanding of the self, improvement of inner balance, revitalization, and regaining positive energy. Furthermore, they also offer a free phone consultation in order for clients to be able to inquire about the perfect offer and packages for them during their stay.
We recommend this facility for clients looking for a facility that is specially geared to rejuvenate, heal or rehabilitate from the stresses of daily life. Eupepsia not only offers breathtaking sceneries but also all-around service to accommodate and give each client an excellent stay.
Free phone consultation
Beautiful sceneries
Numerous revitalizing activities and services
Location might be too far for some clients
Customer Reviews
Here are some reviews from their clients:
"Just returned from Eupepsia and I cannot express how lovely it was. If you seek to reset your body, mind, and soul; if you long for untarnished nature, wellness, rejuvenation, delicious wholesome foods, beautiful scenery, seclusion and relaxation, this is the place.
The property, the meals, the wellness treatments… every detail thought out and presented by the staff with impeccable attention to detail and a genuine desire to create the most amazing experience one could imagine. I actually cringed as I just used the word "staff", because those running this resort are so much more than staff. They are your family from the minute you arrive and I suspect they will stay that way long after you leave.
I thought long and hard about telling everyone how perfect this place is because quite frankly I want Eupepsia to stay the way it is forever – hidden away from the rest of the world on that beautiful piece of land. But that would be unfair to those who run it. They deserve all the accolades.
I will be back."
"One week was not enough. Amazing staff, amazing spa & Ayurvedic treatments, amazing plant-based food, amazing facilities, and amazing scenery. I'll be back."
8. Mirdif Center for Physiotherapy & Rehabilitation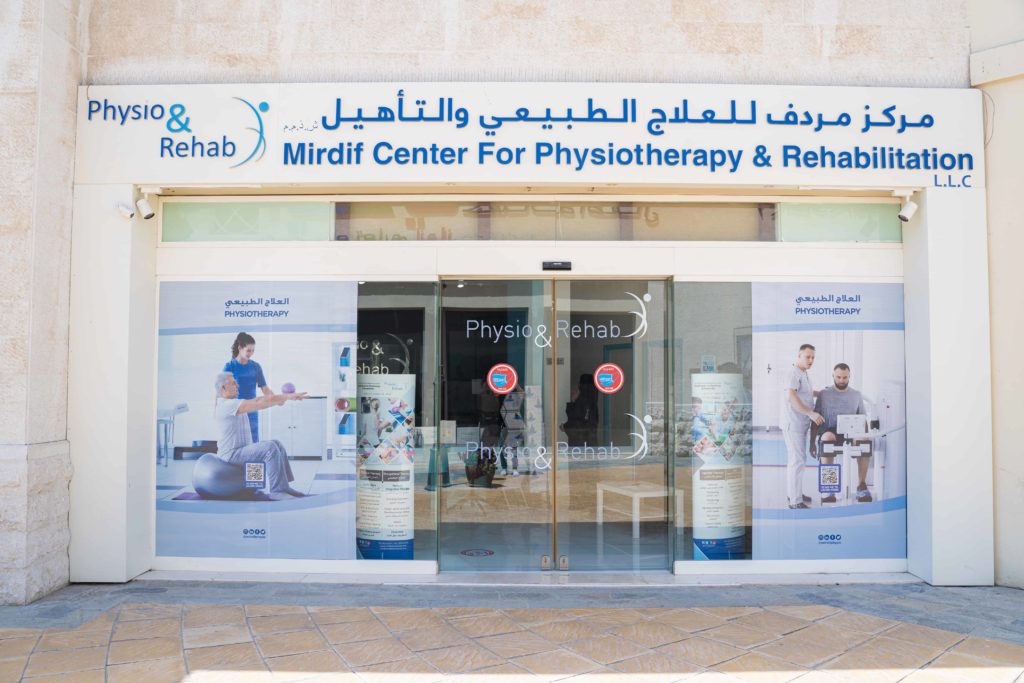 BEST FOR
State-of-the-art Rehabilitation Services
WEBSITE
https://mirdifphysiorehab.com/
ADDRESS
Uptown Mirdif, Shop # 10, P. O. Box 119590 Dubai, UAE
CONTACT DETAILS
Tel: +9714 255 9297
Mob: +971 55 584 5248
Fax: +9714 255 9298
E-mail:

[email protected]

OPERATING HOURS
Sat- Thur: 8am-10 pm
Fri: 8 am-7 pm
Mirdif Center for Physiotherapy and Rehabilitation is a facility that offers multidisciplinary rehabilitation and physiotherapy services for all individuals. Run by physiotherapists as well, they have a collective experience of over 60 years in the industry and is also a member of the Sheikh Mohammed Establishment for Young Business Leaders.
They are highly commended for their dedication and accommodating attitude when it comes to treating clients and the usage of effective treatments to produce optimal results. However, some reviews also suggest there should be improvement when it comes to client handling for aftercare support and assistance.
Their website is brimming with details and information for clients who want to have a background on what each treatment entails. No price rates are available however which implies that consultation must first be done for an assessment of fees.
The center can accommodate treatment for all ages and even extend to speech therapy and psychological services should the client's need arises. They are situated in a mall, which is very convenient but may present space limitations among other concerns.
Prompt feedback system
Highly experienced professionals
Effective methodologies
There may be space limitations
Customer Reviews
Here are some reviews from their clients:
"Going for Physio sessions at this facility was one of the best decisions I've made. I chose this centre because of close proximity to our house, but turns out that the PT I went with is actually great. A back problem that I've had since I had a baby 3 yrs ago is almost gone so I highly recommend Antonio."
"I would take this opportunity to recommend Ms Arshiya Menon, Physiotherapist , for her professionalism, warmth and impeccable care to our daughter. She is diagnosed with arthrogryposis and her ability to stand and take few steps now is due to her passion and determination. She was able to transform julia from a fearful to a friendly & confident child with determination! Professionals like her change the lives of children and the parents and make Mirdiff Center proud!"
FAQs about the Best Physiotherapy in Dubai
---
That's all for our list of clinics for the best physiotherapy in Dubai! With one of these providers, you will surely be able to enjoy your daily activities once again.
Do you know other physiotherapy clinics in Dubai we should add to this list? Let us know by sending us a message.
If you want to consult with a chiropractor for your body pain instead, check out our list of the best chiropractors in Dubai.