The 5 Best Places to Play Padel Tennis in Dubai
Padel tennis is one of the fastest-growing sports in the world right now, and with its popularity growing amongst the tennis community in Dubai, we knew we just had to try it out.
Thankfully, the community welcomed us with open arms and took us to a number of Padel tennis clubs to play and meet new players.
We've tried a number of them, and now we give you our picks for the best places to play Padel tennis in Dubai!
How much does it cost to play Padel tennis in Dubai?
The cost of playing Padel tennis depends on the pricing structure of the court you are renting out.
Some Padel tennis clubs operate on a membership basis while others go on a per-session basis. 
To give you a starting point, we made a table of the rates of each tennis court we included in our list.
| PADEL TENNIS CLUB | RATES |
| --- | --- |
| SMASH | AED260 - AED360 per hour per court |
| World Padel Academy | AED1900 per membership per year |
| Club Padel | AED150 per hour per court |
| Padelae Sports Club | AED300 per hour per court |
| The Padel Kingdom | AED226 per hour per court |
How We Picked the Best Places to Play Padel Tennis in Dubai
Before we get right into our places to play Padel tennis in Dubai, here are the factors we considered for our entries on this list:
1. SMASH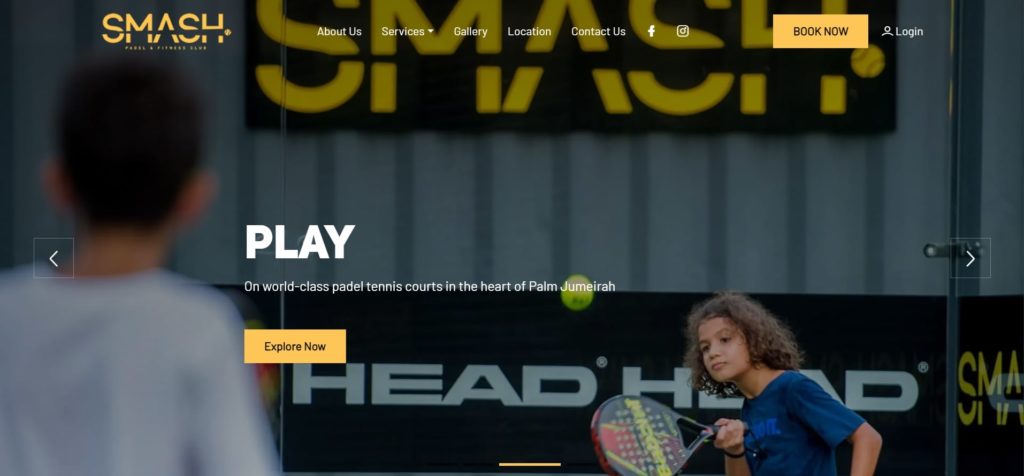 WEBSITE
https://www.smash.ae/
ADDRESS
Palm Jumeirah, Golden Mile Building 1 - Palm Jumeirah - Dubai

Has 1 other branch in the city

CONTACT DETAILS

PHONE: +971 585930805

OPERATING HOURS
Every day: 6 AM - 10:30 PM
| | |
| --- | --- |
| Criteria | Rating |
| Court Quality | ★★★★☆ (4/5) |
| Amenities | ★★★★★ (5/5) |
| Programs | ☆☆☆☆☆ (0/5) |
| Services | ★★★★☆ (4/5) |
A boutique fitness club at Palm Jumeirah meant for both residents and workers of the area, SMASH has an indoor and outdoor gym, and three world-class Padel tennis courts.
Sadly, its three outdoor Padel tennis courts make it impossible to use without putting yourself at risk while playing, especially when it is hot outside.
And by nighttime time, slots are already completely full, which sucks for everybody who waited for the heat to go away before playing.
However, we do love that its courts give players access to fridges stocked with Gatorade and water, the perfect choices for cooling down the heat.
It also has an in-house bar that serves coffee and smoothies, which are great additions to pre-workout rituals.
However, be sure to come to SMASH knowing your Padel tennis basics because the facility does not have its own coaches that can help you get started.
It was disappointing to learn that a Padel tennis facility has world-class courts, but can't formally accommodate people who want to start playing the sport.
It is made up by the fact that at least it has a great gym with a great team that is set out to help you attain what you want to get out of it.
This is perfect for Padel tennis players that are looking to build up strength, power, and endurance outside of the court.
And speaking of the court, players can rent it out for up to 30 matches, making it perfect for organizing friendly neighborhood competitions amongst the players.
Has 3 world-class Padel tennis courts
Excellent amenities and facilities
Does not have an in-house Padel tennis coach
The courts are located outdoors
Customer Reviews
Always a pleasure to play Padel here
"Always a pleasure to either play Padel or train in the gym. Suraj is always so friendly and makes this place special! Big recommendation" —Karel Huisman, Google Reviews
The place is fantastic
"This place is fantastic! Great staff, great vibes. Even the people that come through are nice. It's easy to join games and fun to play even if u don't know anyone. The courts are outdoors so make sure u play from 6 pm onwards in the summer (it's totally fine)! They have 2 easy access fridges with Gatorade and water so it's all good! 6 stars!! Highly recommend playing here." —Mukund Dhar, Google Reviews
2. World Padel Academy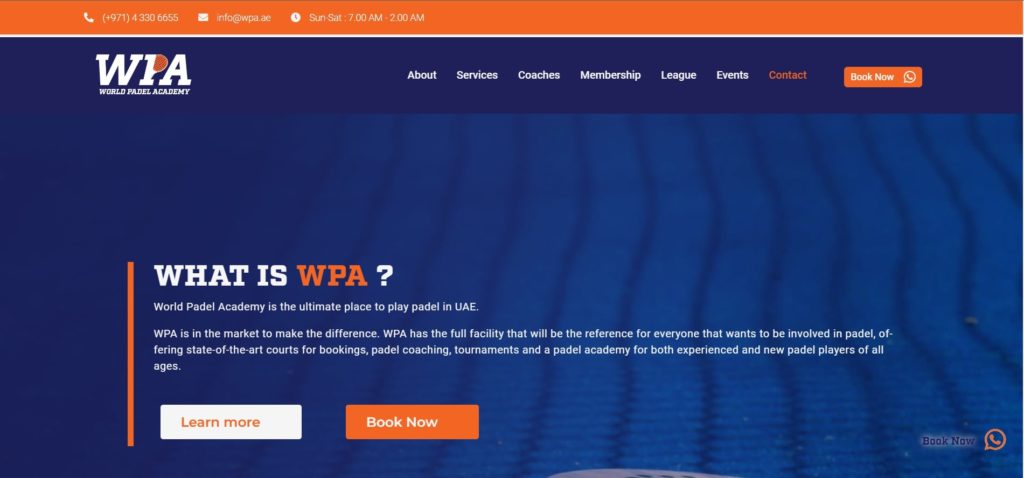 | | |
| --- | --- |
| WEBSITE | https://wpa.ae/ |
| ADDRESS | 3B St, Al Quoz 1 - Dubai, UAE |
| CONTACT DETAILS | PHONE: +971 4 330 6655 |
| OPERATING HOURS | Every day: 7 am - 2 am |
| | |
| --- | --- |
| Criteria | Rating |
| Court Quality | ★★★★☆ (4/5) |
| Amenities | ★★★★★ (5/5) |
| Programs | ★★★★★ (5/5) |
| Services | ★★★★☆ (4/5) |
Aiming to push the Padel tennis sport into the athletic mainstream, World Padel Academy has all the makings that could turn it into a flagship presence of the sport.
The sheer number of high-quality Padel tennis courts on the premises amazed us. With 7 indoor courts and 3 more outside, players can always find a game and someone to play with.
However, some of its courts have obvious signs of it being worn out from regular use.
Despite that, it has great amenities that make going and playing here such a fine time for us.
It has its own in-house coffee shop, a store that sells Padel equipment, and an area dedicated to cardio and stretching.
The place is even big enough to fit in sitting areas for the tournaments that the World Padel Academy organizes.
And, of course, true to its name, World Padel Academy has programs that cover all stages, from first-timers who just want to learn basics and enjoy Padel to professional players who compete in the Professional Circuit.
Its coaches are some of the best players in the country, including Saeed Almarri, the top 1 player in the UAE.
However, when it comes to other services besides organizing tournaments and offering coaching services, World Padel Academy still needs to do a lot more in order to help Padel gain more popularity.
Has 7 indoor courts and 3 outdoor courts
Excellent range of amenities
Offers excellent Padel programs
Offers excellent coaching services
Some courts are worn out
Needs more services for Padel tennis
Customer Reviews
It was really an awesome experience
"It was an awesome experience, they treated us very well. Everything inside is like really neat, tidy and professional obviously. They taught me how to play padel tennis 🎾, and stayed as a referee to support the gameplay." —Badhusha Majeed, Google Reviews
Can't wait to go back here and play some more!
"One of the most friendly staff and people managing this complex. The courts are built to the highest standards and quality. The prices are great for the value you get (worth every penny). Great atmosphere as well. Can't wait to go back and play some Padel. Love this place already." —Ahmed AlAbdouli, Google Reviews
3. Club Padel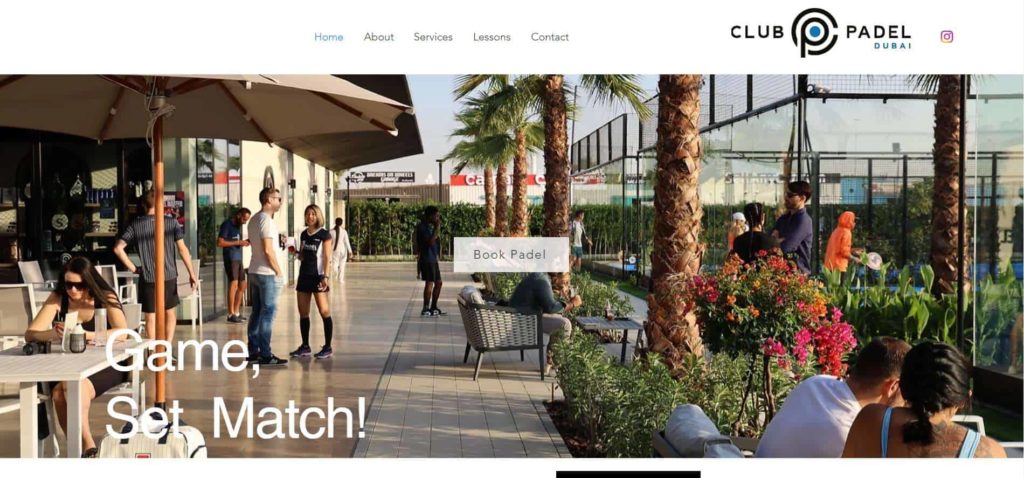 | | |
| --- | --- |
| WEBSITE | https://www.clubpadel.ae/ |
| ADDRESS | 6B Street - Al Quoz - Al Quoz Industrial Area 3 - Dubai |
| CONTACT DETAILS | PHONE: +971 50 174 5656 |
| OPERATING HOURS | Open 24/7 |
| | |
| --- | --- |
| Criteria | Rating |
| Court Quality | ★★★★☆ (4/5) |
| Amenities | ★★★★★ (5/5) |
| Programs | ★★★★☆ (4/5) |
| Services | ★★★★★ (5/5) |
Backed by the European Padel and sports community, Club Padel is a high-end club with scenic views and amazing amenities that are designed to give you the best Padel playing experience.
Club Padel has a whopping 8 Padel tennis courts, each with its own amazing view of the Al Quoz district.
However, this club is relatively young and has not yet finished building its indoor courts, so playing here during the daytime can be risky for your health.
It can still be fun though, because of its amenities. It has dedicated lockers and changing rooms, a Padel shop, and a coffee shop on the premises.
Its amenities definitely cover everything a player needs before, during, and after Padel tennis. On top of that, it is in the process of adding a fitness and yoga center for that holistic physical wellness.
And since it is in the business of riding the growth of Padel tennis, Club Padel also offers lessons and coaching services for players of all levels.
However, compared to more established Padel clubs, like the WPA, its coaches are not that far along in their careers.
But Club Padel makes do with what it has and it can organize and host Padel tournaments as well. On top of that, its shop is fully equipped with everything a player needs for the sport.
Has 8 Padel tennis courts
Excellent amenities
Offers coaching services
Organizes tournaments
All of its courts are outdoors
Coaches are not as experienced
Customer Reviews
A fabulous club
"A fabulous club with a great location, plenty of free parking space, super clean and amazing facilities from changing rooms, social spaces, landscaping, specialty coffee shop, and most of all top-notch courts.
a lovely place to play quality padel and spend a great time too.
the management is super friendly and well organized.
been there a few times with a wonderful social padel group and me as well, and love playing at their facility. one of the best places played at and with fair prices for such a glamorous place." –
Islam El Hamouly, Google Reviews
Beautiful place to play Padel in
"Beautiful place to play padel, it's the best place to play and learn about this sport. And I would like to thank the head coach Andres. I had my first coaching session with him and it was absolutely amazing. He has the ability to adjust no matter what level you play and really cares about his students from the physical to mental aspects of the game. I highly recommend this place to anyone and especially to new players to give it a try. And this place is also dog friendly so I can't wait to go there with my baby pug." – Beate Ezerina, Google Reviews
4. Padelae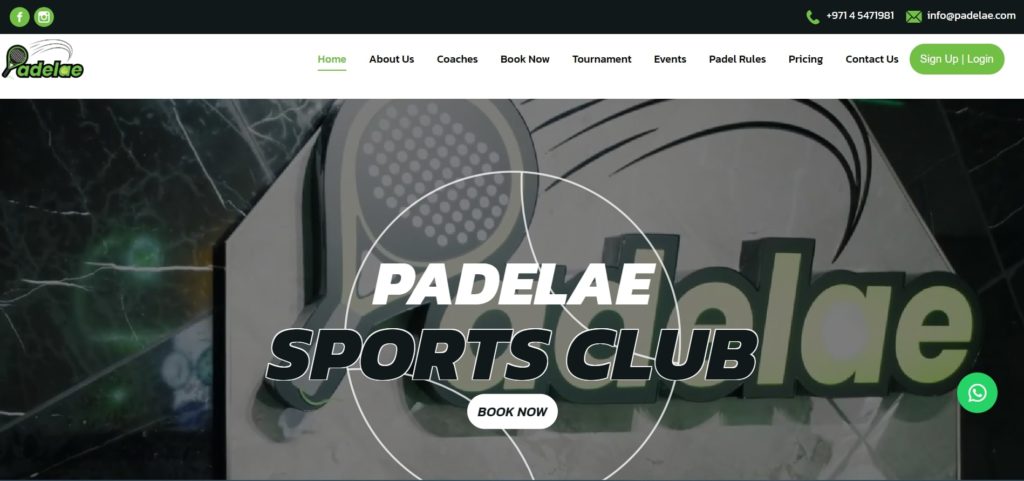 WEBSITE
https://padelae.com/
ADDRESS
PADEL LAND SPORTS AND AMUSEMENT TRACKS LLC

Padelae, Warehouse No. 701, Al Quoz Industrial Area 2, Dubai

CONTACT DETAILS

PHONE: +971 4547 1981, +971 4491 9144

OPERATING HOURS
Every day: 10 am - 3 pm
| | |
| --- | --- |
| Criteria | Rating |
| Court Quality | ★★★★☆ (4/5) |
| Amenities | ★★★★★ (5/5) |
| Programs | ★★★★★ (5/5) |
| Services | ★★★★★ (5/5) |
Considered as the largest indoor Padel tennis club known in Dubai, Padelae has expanded into 4 branches throughout the entire UAE.
Each branch, 2 of which are in Dubai, has complete amenities in excellent condition. Padelae has changing rooms, valet parking, an in-house cafe, professional Padel shops, and a dedicated ladies' Padel club.
We love how it spares no expense to really put its best foot forward and show that Padel tennis is as much of a social activity as it is a sport.
But what we love the most is that its Dubai branches have a total of 8 indoor courts, which are perfect.
It has the right amount of courts to accommodate everyone, even on a busy day, and these being indoors means that players can play any time of the day.
However, it is obvious that its courts are not in the best condition as the fences and the flooring are all worn out from daily use.
It is made up by the fact that it has excellent coaching services. Its head coach, Francisco, has 11 years' worth of competitive Padel tennis and is ranked 20th best player by the Portuguese Padel Federation.
On top of that, Padelae also organizes its own tournaments and events, as well as services players with its in-house Padel shop, among many other things.
Has 8 indoor courts
Excellent range of amenities
Has experienced coaches
Organizes social events and tournaments
Its courts are worn out from overuse
Customer Reviews
Amazing place for indoors Padel tennis
"Amazing place to play indoor Padel tennis and they provide excellent customer service from the start you came in until you exit the place. Highly recommended to bring your family to have fun, at the same time start your career sport. They also have a Cafe that provides varieties of fresh food and beverages with excellent service from the staff. Very professional baristas!" – Anthony James Sales, Google Reviews
Love this court!
"Love this court..staff were super friendly, hygiene and good facility provided. They also have choices of drinks Cafe shop inside the club which was super convenient to relax after the game. Overall our experience was amazing we will definitely keep visiting." – Esther Hrahsel, Google Reviews
5. Padel Kingdom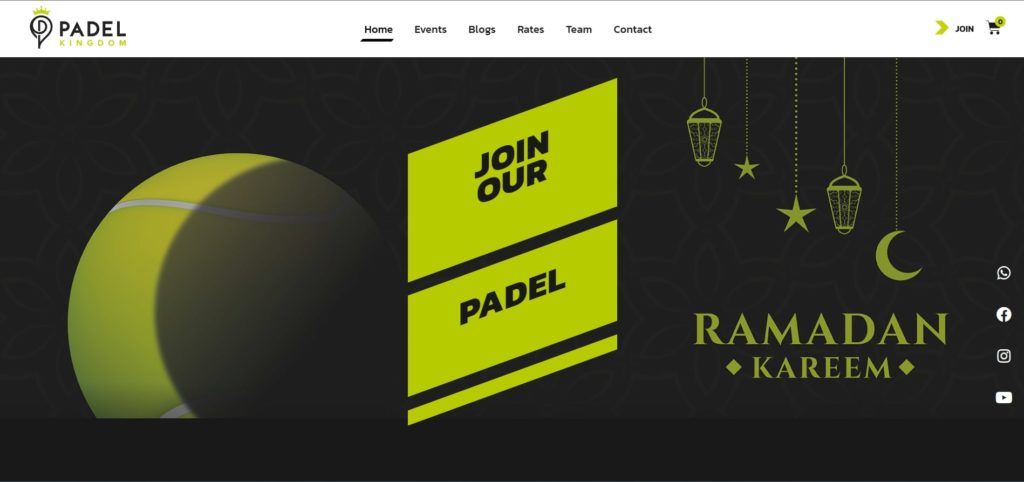 | | |
| --- | --- |
| Criteria | Rating |
| Court Quality | ★★★☆☆ (3/5) |
| Amenities | ★★★☆☆ (3/5) |
| Programs | ★★★★★ (5/5) |
| Services | ★★★★★ (5/5) |
Offering a robust range of Padel tennis programs and events that allow players and enthusiasts to play with the pros, Padel Kingdom has made a community out of the sport.
It has 4 indoor courts and while we are happy about it being indoor, the fact that it only has four really sets Padel Kingdom back a bit. On busy days, playing here involves some long waiting time.
On top of that, the club's roof is too low for the games, and the ball often hits it, ruining trajectories.
It also does not help the fact that it lacks amenities that are easily found in other Padel tennis clubs. Besides changing rooms and lockers, it really does not have anything much to offer.
However, its strongest point is its amazing range of programs that cover everything from social playing to high-intensity competitive practice, to a junior academy for children.
It also organizes events that are perfect for fans and enthusiasts of the sport. The Padel Kingdom always has something organized from playing with pros to amateur and professional level tournaments.
Has 4 indoor courts
Has a robust range of programs for learning Padel tennis
Has great events and tournaments
Lacks amenities
Courts are badly designed
Customer Reviews
An amazing place to get better with Padel
"It's an amazing place to get better and to feel the good
Well trained staff and friendly. Clean and safety instructions are implemented. Well, an organized play area and the locker room are available. I want to go back soon it's fun and to get more confidence" —Mouna "Moejana" Ouni, Google Reviews
Management always finds a way to make your experience better!
"Great place, management always finds a way to make your experience better!
Very good coaches too" —Ilya M, Google Reviews
FAQs about Padel Tennis in Dubai
---
We hope this helped you in finding your favorite place to play Padel tennis in Dubai. Also, if you're looking for other sports articles, then check these out: