The 5 Best Outdoor Romantic Restaurants in Dubai
Dates are one of the more straightforward ways to leave a lasting impression and make sure they go home with you on their mind.
So it's critical that the meal is not only delicious, but the dining experience should be unforgettable.
Thankfully, Dubai is home to some of the most romantic restaurants that use the outdoors as the perfect partner for a great dinner.
So we went around the city to try out some highly recommended spots and give you our favorite outdoor romantic restaurants in Dubai.
How We Picked the Best Outdoor Romantic Restaurants in Dubai
Before we get right into our list of the best outdoor romantic restaurants in Dubai, here are the factors we considered for our entries on this list:
1. The Beach Bar & Grill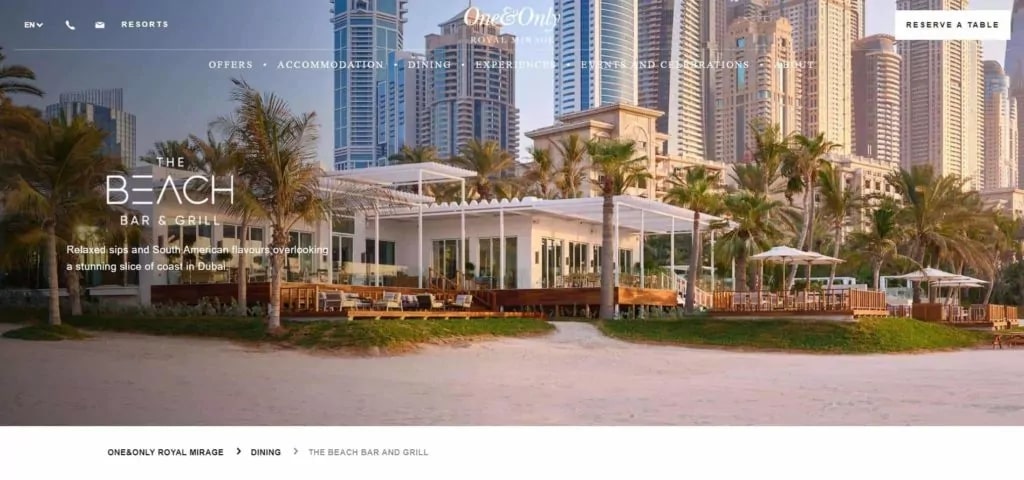 | | |
| --- | --- |
| WEBSITE | https://babalmansour.ae/ |
| ADDRESS | One&Only Royal Mirage - King Salman Bin Abdulaziz Al Saud St - Dubai Marina - Dubai - United Arab Emirates |
| CONTACT DETAILS | PHONE: +97143999999 |
| OPERATING HOURS | Every day: 12 pm - 10:30 pm |
| | |
| --- | --- |
| Criteria | Rating |
| Menu | ★★★★☆ (4/5) |
| Service Quality | ★★★★★ (5/5) |
| Ambiance | ★★★★☆ (4/5) |
| Location | ★★★★★ (5/5) |
Let's be honest, nothing really beats a romantic dinner by the beach while the sun sets behind you and your date.
In partnership with chef Mauro Colafreco, The Beach Bar & Grill has recently upped the ante with a new menu that consists of South American delicacies.
We love how the food was served to us because it was served for sharing.
This meant that we had to get closer and enjoy large plates of ceviches, empanadas, and freshly caught seafood over intimate conversations.
However, some dishes can get too heavy for just 2 people, so it's advisable to wear loose-fitting clothes so that you're both comfy rather than conscious.
The service was impeccable. For a place this large, we were amazed at how the staff moved so efficiently. Everything we asked for, and every order we got came in perfectly.
Another thing we love about this place is its casualness. No need to dress up, to a certain limit.
The breeziness of the alfresco beachside and the flickering of the lights coming from our table's candles and from afar set the mood for beautiful conversations and carefree laughter.
And for a restaurant that's located by the beach, we didn't even have to travel that far to get there.
Surrounded by numerous hotspots for work, The Beach Bar and Grill is a stone's throw away from many pre or post-dinner activities.
Has a view of the beach and the sunset
Alfresco dining is intimate and comfortable
Food is mainly for sharing
Casual ambiance
Some dishes can be heavy for date night
Being the beach, it's not really a good option if the skies aren't clear
Customer Reviews
A fantastic dining experience
"We had a fantastic (almost) fine dining experience. So many flavors are combined in special, creative ways. The location must be one of the most beautiful ones I've seen in Dubai! Big recommendation." – Isabeau Ayoubi, Google Reviews
A relaxing spot for dinner
"We had an amazing dinner at the Beach grill.
Sea views and along the beach, quiet surroundings in the amazing hotel resort One&Only. All to relax. Thank you to Sevan the restaurant manager and his staff for helping us select the best selection of dishes and get a taste of all the fine gourmet specialties on their menu: meat, fish, octopus, empanadas, and delicious fresh desserts.
The staff is very kind and looking after all details of our dinner.
We will be back!" – Stephanie Rollet, Google Reviews
2. Thiptara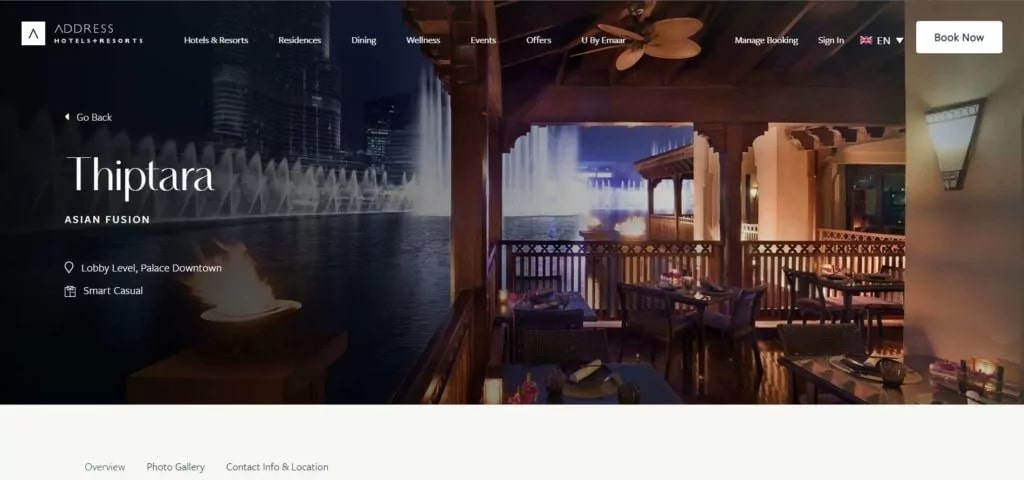 WEBSITE
https://www.addresshotels.com/en/restaurant/thiptara
ADDRESS
Ground Level, Palace Downtown 9770 - Sheikh Mohammed bin Rashid Blvd - Dubai - United Arab Emirates
CONTACT DETAILS

PHONE: +971 4 428 7961

OPERATING HOURS
Saturday to Thursday: 6 pm - 11:30 pm

Friday: 12:30 pm - 11:30 pm
| | |
| --- | --- |
| Criteria | Rating |
| Menu | ★★★★★ (5/5) |
| Service Quality | ★★★★★ (5/5) |
| Ambiance | ★★★★☆ (4/5) |
| Location | ★★★★★ (5/5) |
With a waterfront view, nothing is as intimate and as beautiful as having a nice dinner at Thiptara.
This restaurant at Palace Downtown Dubai perches along the Dubai Fountain, offering a view of the landmark from an angle that is only yours throughout the meal.
The menu evokes the excitement and symphony of Bangkok-style seafood — subtle yet complex in the depth of its flavors.
Its signatures like the Satay and the Goong Mung Kurn introduce spicy and fresh flavors to famous proteins that lighten the fattiness of the dish.
The result is filling yet intriguing on the palate — the right kind of combination to excite and entice a date on a romantic night of getting to know each other.
We got assigned a dedicated waiter that allowed for some really tuned-in service, and we got the focus and attention that we really needed to make the night special.
The alfresco dining area is accompanied by the sound of the fountain water falling in on itself.
The view that comes along with it is breathtaking, and we can spend half of our time there just looking at the landmark — but the restaurant doesn't stop there.
The intimate lighting accompanied by the dark flooring made for a cozy atmosphere, but we were disappointed by the fake-looking woven chairs and tables.
We felt like the furniture did not fit the luxury of the view and the restaurant's location.
And speaking of location, Thiptara is right across the Burj Khalifa. And if that's too far of a walk, we also love that The Palace Downtown makes for a great stroll, too.
Menu offers Thai cuisine
The restaurant has a view of the Dubai Fountain
Tuned-in service
Intimate ambiance
Located right across from Burj Khalifa
The furniture seems cheap compared to the luxurious area and the food
Customer Reviews
It's always a great experience coming here
"I have been here a few times and every time it's been a great experience. The staff are very courteous and go out of their way to make your dining experience a wonderful one. The outdoor seating is right next to the Dubai Mall fountain and every half hour you're able to watch the beautiful fountain light and sound show. It serves Thai food and the ingredients and taste are top-notch. It's located inside the Palace Downtown Hotel and valet parking is available. Try the Laughing Buddha cocktail 🍸 and end with a nice dessert. It's pricy and so best to go there for a special occasion" – Gurudutt Nayak, Google Reviews
Deliciously incredible food
"Delicious. Definitely not cheap but everything we ate was incredible. We took the CHEF'S PREFERRED SPECIAL SET MENU which included nearly all our favorites. I especially enjoyed the Thai green curry and the chicken skewer. Can highly recommend coming here. Definitely not cheap but very good." – Miroda Otto, Google Reviews
3. Fish Beach Taverna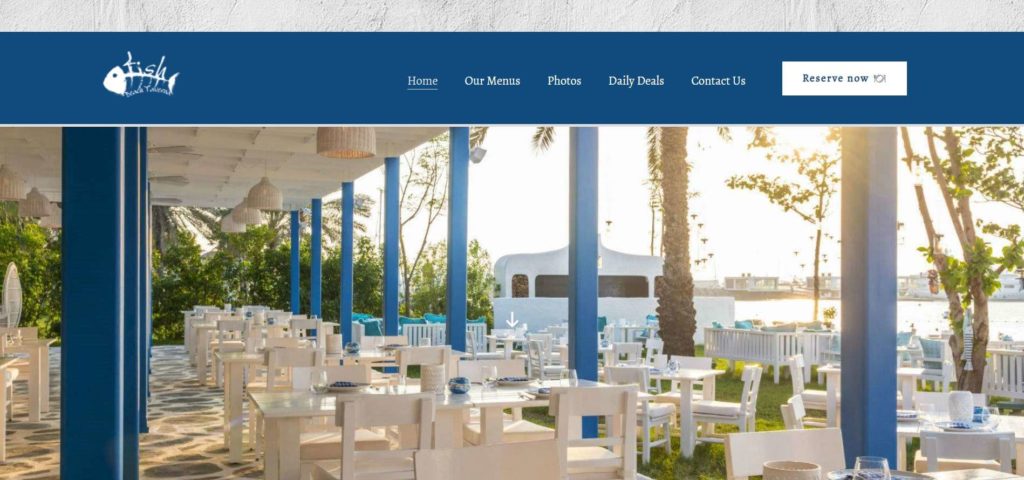 | | |
| --- | --- |
| WEBSITE | https://www.fish-dubai.com/ |
| ADDRESS | Le Meridien Mina Seyahi Beach Resort & Waterpark, Dubai, 34367 |
| CONTACT DETAILS | PHONE: +971-4511-7373 |
| OPERATING HOURS | Every day: 12 pm - 11 pm |
| | |
| --- | --- |
| Criteria | Rating |
| Menu | ★★★★☆ (4/5) |
| Service Quality | ★★★★★ (5/5) |
| Ambiance | ★★★★★ (5/5) |
| Location | ★★★☆☆ (3/5) |
Make a date unforgettable by transporting yourselves into a Mediterranean fairy tale at the Fish Beach Taverna.
With shimmering fairy lights, whitewashed paint on the walls and furniture, and the beach right next to you, it's as if the Greek goddess of love made this place herself.
With signature Greek and Turkish sharing plates such as salads, salmon, sea bass, mussels, and pasta, get ready to scoop a spoonful so you can get close and help your date to those amazing flavors.
The strongest parts of its menu are the fish dishes that have been cooked to perfection with it Aegan-inspired flavors that are both rich and healthy.
However, we do wish its menu had more alcoholic offerings because the place just really felt perfect for letting your hair down with attractive company.
The staff did not waste any time making us feel right at home. They were very welcoming, and their whole demeanor was casual, which really helped in immersing ourselves in the ambiance of the restaurant.
Speaking of ambiance, it really is perfect. Fish Beach Taverna has built and curated a space that feels like a lover's secret escape that we wanted to keep all to ourselves.
However, the restaurant is a bit inaccessible with it being inside an exclusive resort. And with nothing else but the beach, there's not much to do after dinner.
Serves Greek and Turkish food for sharing
Excellent service
Romantic escapist ambiance
Limited alcohol selections
Location is a bit inaccessible
Customer Reviews
Amazing seafood restaurant
"Amazing seafood restaurant. Octopus is delicious. Impressed even by baked potatoes. The view is nice. The choice of seafood is great. Very much recommended. PS. Wish they had a choice of pasta or risotto seafood, which they don't but anyway, it's a great one" – Yevgen Sysoyev, Google Reviews
Had a great dinner with friends here
"Had a great dinner with friends here. The food was good and really brilliant service. The setting is quite spectacular, I have to say. Get there before sunset to fully enjoy the view." – Darren Hayward, Google Reviews
4. TOMO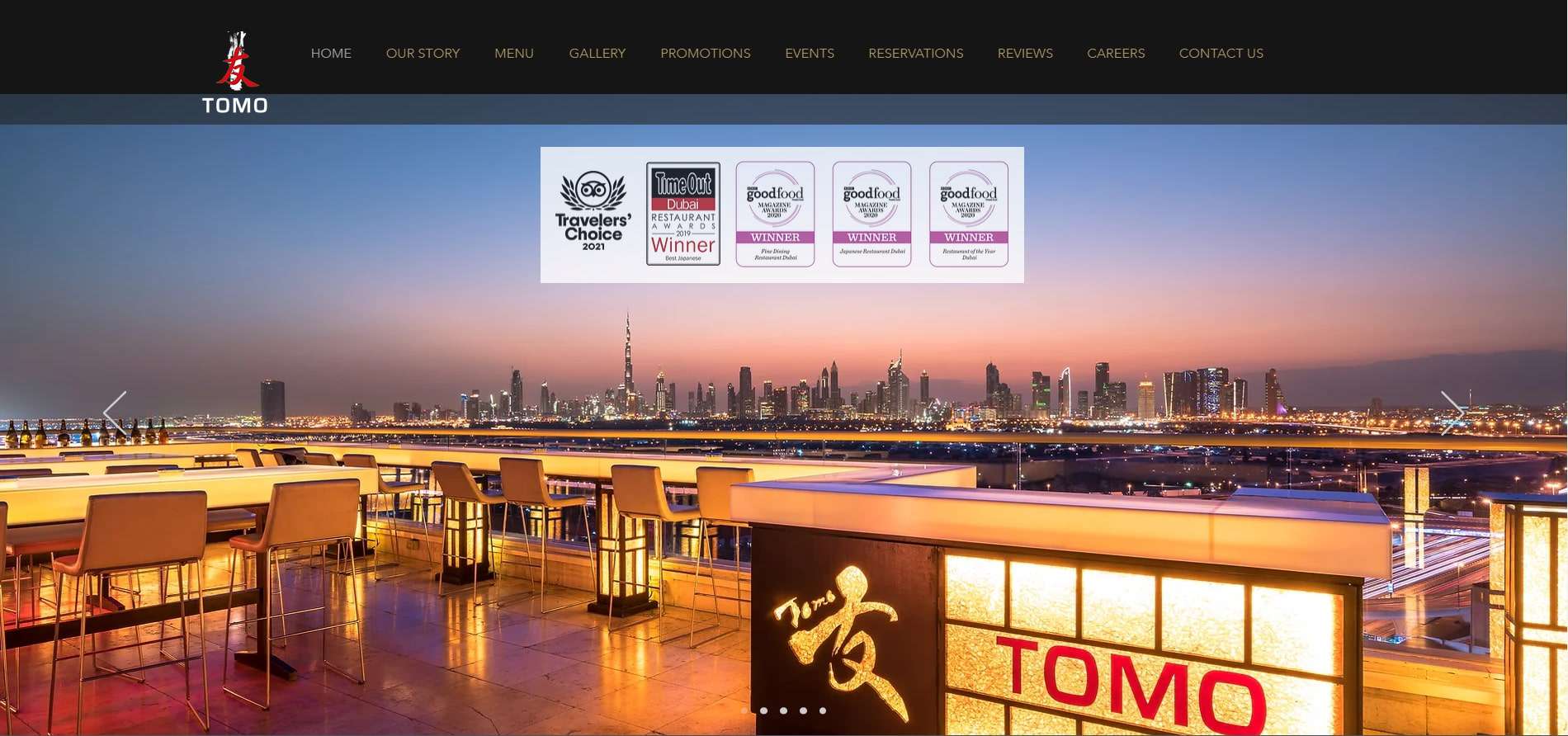 | | |
| --- | --- |
| WEBSITE | https://www.tomo.ae/ |
| ADDRESS | 17th Floor, Raffles Hotel, Dubai |
| CONTACT DETAILS | PHONE: +971 4357 7888 |
| OPERATING HOURS | Every day: 12:30 PM to 3:30 PM & 6:30 PM to 12:00 AM |
| | |
| --- | --- |
| Criteria | Rating |
| Menu | ★★★★★ (5/5) |
| Service Quality | ★★★★☆ (4/5) |
| Ambiance | ★★★★★ (5/5) |
| Location | ★★★★☆ (4/5) |
The sophistication of Japanese cuisine and the view of Dubai from Raffles Hotel's rooftop is unparalleled at TOMO.
With food made with seasonal ingredients imported straight from Japan, authenticity is only comparable to the attraction between you and your date.
When it comes to the food, TOMO offers a set menu which we do think comes with its own pros and cons.
If you have a particularly picky partner, you may find trouble with the dining experience because it is not the most flexible menu.
However, adventurous couples may find dining on something exotic the highlight of the night.
Its alfresco area offers amazing views. Enjoy conversations and sashimi with the Dubai cityscape as the backdrop, and you've got a perfect date experience in your hands.
When it comes to the service, we love how attentive they were. Though we think they should be a bit more proactive in letting us know which drinks and items are not available as we sat down.
The restaurant is located at The Palm Jumeirah, which is some ways away from the main parts of the city, but the area itself is filled with attractions that are perfect for when you want to keep the good vibes going.
Good spot for authentic Japanese cuisine
Impressive view of the Dubai cityscape
Restaurant is surrounded by great attractions
Service needs to be proactive with informing customers of the unavailable items
Location is a bit separated from the main parts of the city
Customer Reviews
Best place to catch the sunset
"Epic bar. Quite possibly home to the best place in Dubai to watch the sunset on a clear evening. Magic. Drinks were great, staff were awesome and the food was perfect too." – David O'Sullivan
One of the very few authentic Japanese restaurants in Dubai.
"One of the very few authentic Japanese restaurants in Dubai. The style of serving, the decor and ambiance, and the sushi are authentic and quite excellent. If you are more to the trendy fusion Japanese food then you may not like this." – Habib Al Mulla
5. Folly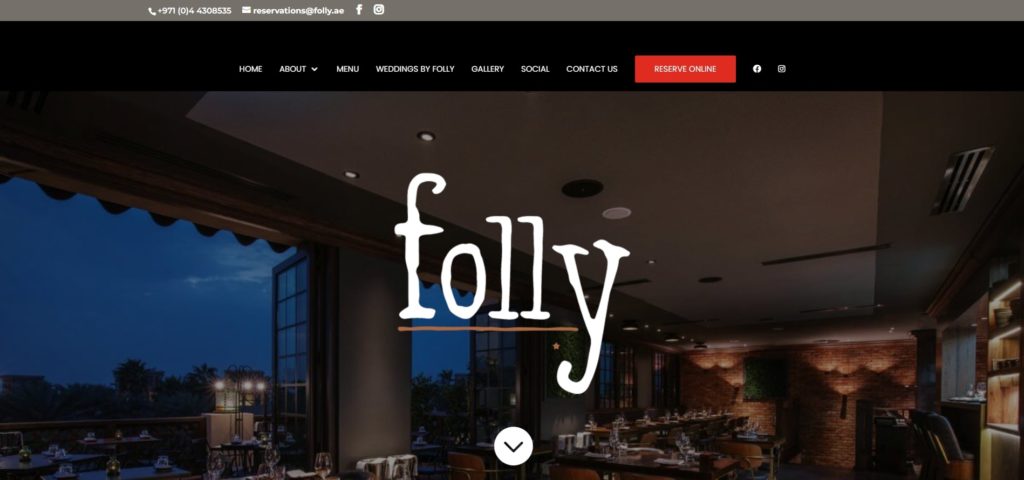 WEBSITE
https://folly.ae/
ADDRESS
Unit 27, Souk Madinat Jumeirah, Dubai
CONTACT DETAILS

PHONE: +971 4430 8535

OPERATING HOURS
Mondays to Fridays: 7 PM - 12 AM

Saturdays to Sundays: 1 PM - 4 PM & 7 PM to 12 AM
| | |
| --- | --- |
| Criteria | Rating |
| Menu | ★★★☆☆ (3/5) |
| Service Quality | ★★★★★ (5/5) |
| Ambiance | ★★★★★ (5/5) |
| Location | ★★★★★ (5/5) |
We're at our best when we're relaxed and comfy. Folly exactly does that, which is why it is perfect for dates.
The alfresco area is a terrace that gives way to great views of the Madinat waterways and the Burj Al Arab. We love looking at these places with the sunset sky in the background, making Folly a great palace for early dinners.
The surrounding foliage also makes the place feel more intimate and separated from the bustling energy of the city.
The combination of these makes for some moments where we can really let our guards down without hesitation.
Its menu is composed of experimental and innovative dishes by Chefs Nick Alvis and Scott Price. You can try items like oxtail and hen's egg, which the chefs prepare with innovative techniques.
However, because of this, we do think that some dishes may be a challenge for some less adventurous couples. Some customers also found some portions to be quite small for the price.
When it comes to its service, the staff was very attentive throughout service and the food arrived at the tables at a good pace.
The restaurant is located in Souk Madinat, which is a bazaar that is great for walking around after dinner, and perhaps for surprising your date with a small token to remember the evening by.
Stunning garden dining experience
Fast and attentive service
Location is surrounded by shops
Some experimental food options may not be for everyone
Portions are quite small
Reviews
One of the best Saturday brunches in Dubai.
"One of the best Saturday brunches in Dubai. Fantastic food and wine pairings. Great service and pleasant surroundings in the Souk Madinat Jumeirah." – Richard Fagan
This is definitely one of the best restaurants in Dubai.
"This is definitely one of the best restaurants in Dubai. Innovative food and exceptional service. Many come for stunning views, but this place is so much more! Food is simply amazing." – Mandy Monaghan
FAQs about Romantic Restaurants in Dubai
---
We hope this helped you find your favorite outdoor romantic restaurant in Dubai. Also, if you're looking for date guides, then check out these articles: