The 5 Best Nephrologists in Dubai
When you believe you require the assistance of a professional for kidney conditions, finding a skilled nephrologist who focuses on diagnosis and therapy is one of the most important steps you can take.
Using a range of standards, we've compiled a list of suggestions for the top nephrologists in Dubai. For each of our entries, we'll provide in-depth evaluations, trustworthy client reviews, as well as advantages and disadvantages.

This list, by the way, is in no particular order.
How Much Does a Nephrologist Cost in Dubai
As with any illness, there are various costs associated with nephrologists.
There is a significant difference in the fees or rates among our chosen nephrologists. This is due to their wide range of treatments, services, years of experience, and of course your needs.
If you only need consulting, you can obviously expect a lower cost. However, if you need tests, dialysis, or even hospitalization, the cost will be much higher.

To give you an idea of how much consultation fees might cost, we've rounded up some basic fees in the table below:
Doctor
Estimated Cost
Dr. Ahmed Ewaida
AED 550
Dr. Loai Eid
AED 600
Dr. John Cherian Varghese
Consultant Nephrologist - AED 250-550

Pediatrics Nephrologist - AED550 and above

Dr. Amir Malik
AED 400
Dr. Mazen Abou Chaaban
AED 200-450
The Best Nephrologists in Dubai
We graded each of our selections using the following criteria in order to maintain our entries accurate and credible:
1. Dr. Ahmed Ewaida of Al Zahra Hospital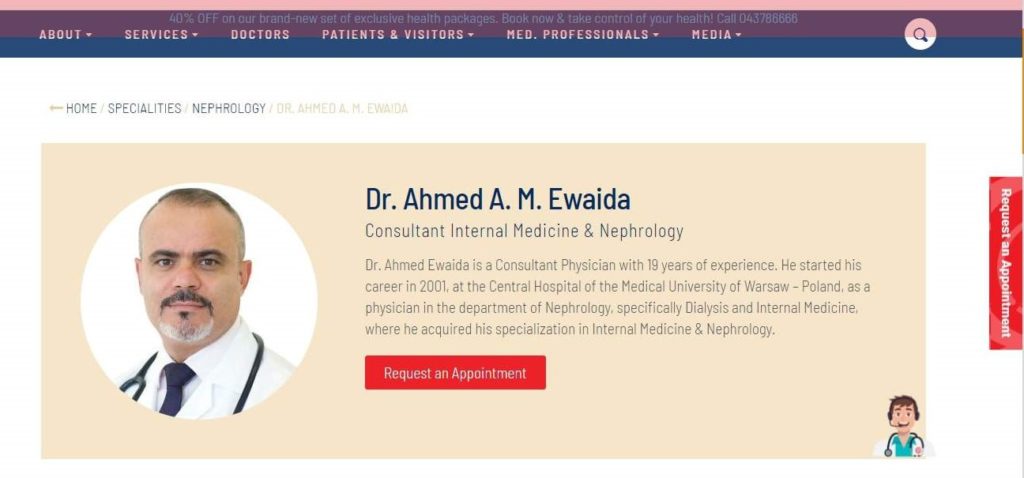 Test
Info
SERVICES
Nephrology, Allergies, Heart Diseases, Hormone Disorders, Blood Disorders, Infectious Diseases, Kidney Diseases, Lung Disorders, Rheumatology, Arthritis
WEBSITE
https://azhd.ae/doctors/dr-ahmed-a-m-ewaida/
ADDRESS
Sheikh Zayed Rd - Al Barsha - Al Barsha 1 - Dubai - United Arab Emirates
CONTACT DETAILS
Phone: +97143786666

Email: [email protected]

OPERATING HOURS
By online appointment only
| | |
| --- | --- |
| Criteria | Rating |
| Credentials | ★★★★☆ (4/5) |
| Experience | ★★★★☆ (4/5) |
| Review of Patients | ★★★★☆ (4/5) |
| Excellent Service | ★★★★★ (5/5) |
Dr. Ahmed Ewaida has been practicing medicine for almost two decades. He provides a wide range of services, including dialysis, internal medicine, and nephrology.
Furthermore, he specializes in the treatment of patients suffering from a variety of conditions, such as chronic renal disease, post-transplant care for kidneys, and end-stage renal disease patients' care, just to name a few.

Not only is Dr. Ewaida certified in internal medicine and nephrology, he is also a member of both the British General Medical Council (GMC) and the Polish Medical Chamber (RMC-Warsaw). What's more, he can speak three languages namely Arabic, English and Polish.
One thing we like about Dr. Ewaida is that booking an appointment online is easy and free of charge. You simply choose your preferred date on the website and the staff will call you back to confirm your appointment.
The best part is that his consultation fee is not extremely expensive, unless of course, you need to undergo a set of tests. However, there is no need to be concerned because there are numerous insurance partners available to supplement your medical insurance, such as NGI, Neuron, Aafiya, and others.
As for the hospital itself, Al Zahra Hospital was only established in 2013, so it's still fairly new. It has over 180 beds and a combined total of almost a thousand doctors and nurses to help treat patients.

They also have special VIP rooms that offer stunning views of the city, should you decide to upgrade your stay there. Moreover, there are plenty of parking spaces for clients, which include underground parking, green spaces, and roofed parking.
Additionally, the clinic offers a variety of dialysis packages at a 40% discount, as of the time of writing. You may choose to use their services for one, two, three, or six months, which include the cost of the procedure, medications, and consumables.
But keep in mind though, that the laboratory and consultation fees are excluded from this special offer. If you need these services, this will require additional fees.
Wide range of services available
Speaks Arabic, English and Polish
Various insurance options available
No additional charges for booking an appointment
Limited availability due to high demand
A little bit delayed on responding to inquiry due to the volume of patients
Customer Reviews
Dr. Ahmad Ewaida is a world-class nephrologist.
"Dr. Ahmad Ewaida is a world-class nephrologist. He is approachable, energetic, patient, and an expert in all matters related to his expertise area; we came to him after our case was not adequately managed elsewhere. My 81-year-old in-law recovered completely under his supervision and medical guidance " – Tashi
Fantastic. Very attentive, clean, and well-organized.
"Fantastic. Very attentive, clean, and well-organized. My two-day stay was fantastic. The nursing staff and doctor were extremely attentive. Thank you very much." – Ross.
2. Dr. Loai Eid of SGH Dialysis Center Dubai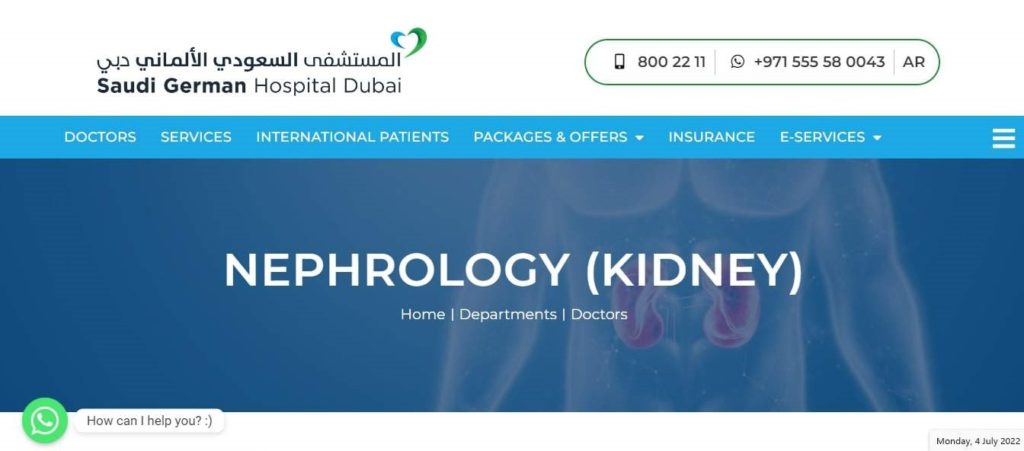 Test
Info
SERVICES
Kidney Stone Clinic, Pre- and Post-kidney Transplant Management, Provision of Plasmapheresis, Resistant Hypertension Diagnosis and Management, Fluid Overload Management
WEBSITE
https://sghdubai.ae/kidney-centre/
ADDRESS
Hessa Street 331 West, Al Barsha 3, Exit - 36 Sheikh Zayed Rd - Dubai - United Arab Emirates
CONTACT DETAILS
Phone: +9718002211

Email: [email protected]

OPERATING HOURS
Sunday to Thursday: 8AM - 6PM

Friday: Closed

Saturday: 8AM - 7PM
| | |
| --- | --- |
| Criteria | Rating |
| Credential | ★★★★★(5/5) |
| Experience | ★★★★★ (5/5) |
| Review of Patients | ★★★★☆ (4/5) |
| Excellent Service | ★★★★★ (5/5) |
Saudi German Hospital (SGH) Dubai provides a wide range of medical treatments, including all major disciplines and sub-specialties. It is a reputable, well-established provider that has an advanced critical care unit, 165 beds and a comprehensive range of dialysis services.
They have a team of highly qualified, experienced specialists utilizing the latest cutting-edge technology. This includes a greater range of screening and treatment equipment that processes crucial ECG parameters that alerts staff of increased risks of stroke or heart attack.
We like that they have an E-Service on the website where you can register a patient appointment. Alternatively, you can call the medical center to schedule an appointment and meet with a doctor at SGH Dialysis Center.
One of the best nephrologists in SGH Dubai is Dr. Loai Eid. He is a pediatric nephrologist that has over fifteen years of experience.
He successfully finished the Pediatric Nephrology and Pediatric Residency programs in the United States and received American Board certification for both programs. He served as an adjunct clinical assistant professor at Dubai Medical College as well.
Dr. Eid is knowledgeable in the management and treatment of chronic kidney disease, acute renal failure, and recurrent or chronic urinary tract infections. In addition, he treats kidney stones and blood or protein loss in the urine.
Now, unfortunately, SGH Dubai doesn't offer any special promotions for their nephrology services. However, they offer various "health packages" that cover dermatology, general wellness, diabetes and more.

Overall, we recommend Dr. Loai Eid for those that are looking for a skilled pediatric nephrologist. He has over a decade of medical experience in the field and is a top option worth considering.
Dr. Eid has more than 10 years of experience
Accepts walk-in and online appointments
American Board Certified in Pediatric Nephrology
Limited availability due to high demand
Expensive
Customer Reviews
They make sure that dialysis patients are well taken care of.
" SGH Department is very friendly in a very professional way. All staff are very keen on their process. Very hygienic place. And they make sure that dialysis patients are well taken care of. Kudos to Dr.Kassem & Nurse Andrew Team, they're superb. Keep it up guys. God Bless You All. Thank you for your wonderful service. " – Belle T.
I had three sessions of dialysis at the Saudi German Hospital and everything was great.
"I had three sessions of dialysis at the Saudi German Hospital and everything was great. Hygiene top, staff top – everything was clean and disinfected and opened in front of the eyes – nurses work very hygienically – super friendly and nice – I felt good
Beds were comfortable and always freshly made. I can't say anything about the food, since I've always eaten in the hotel. But as I've noticed, almost every wish is fulfilled and you're asked several times if you want something." – Gülhan C.
3. Dr. John Cherian Varghese of Aster Hospital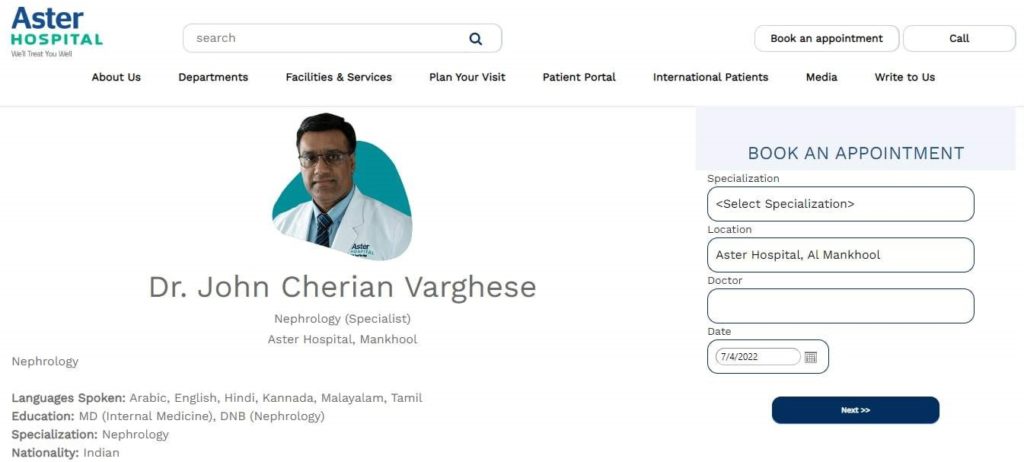 Test
Info
SERVICES
Chronic Kidney Disease and Hypertension Clinic, Hemodialysis, Post Kidney Transplantation Follow up, Glomerular Disease, Systemic Lupus Nephritis, Critical Nephrology, Resistant Hypertension, Kidney Stone Disease, Kidney Biopsy, Renal Nutrition Clinic, Kidney Biopsy
WEBSITE
https://www.asterclinic.ae/
ADDRESS
9 A Street, Al Qusais Industrial Area 2, Al Qusais, Dubai – United Arab Emirates
CONTACT DETAILS
Phone: +971 4 3312627

Email: [email protected]

OPERATING HOURS
Monday to Saturday: 9AM -5PM
| | |
| --- | --- |
| Criteria | Rating |
| Credential | ★★★★★(4/5) |
| Experience | ★★★★☆ (4/5) |
| Review of Patients | ★★★☆☆ (3/5) |
| Excellent Service | ★★★★★ (5/5) |
Aster Hospital, part of the Aster DM Health Network, has been providing medical care for nearly 30 years. This conglomerate runs 323 medical facilities which include hospitals, clinics, and pharmacies, across nine countries.
The hospital's services are notable in that their official website also serves as an online platform for booking appointments. Furthermore, we like that they have a patient portal where all information and medical services can be stored and easily accessed.
We particularly liked the hospital's peaceful surroundings, spacious interiors, and technologically advanced facilities that can make visitors and patients feel at ease. When it comes to parking, they have plenty of space for all of their patients.
Moving on to the hospital's expert medical care, the hospital's doctors have plenty of experience. That said, we can safely say that you'll be in safe hands at this treatment facility.
Dr. John Cherian Varghese, an Indian national, is one of Aster Hospital's doctors. With over 18 years of experience, he is a full-time Specialist Nephrologist and one of the most sought-after in the United Arab Emirates.
He holds an MD in Internal Medicine and a DNB in Nephrology. He has been a member of professional organizations such as Emirates Medical Association, Nephrology International Society of Nephrology, and American Society of Nephrology.
Dr. Varghese is well-versed in the treatment of chronic kidney disease and hypertension, which makes him one of our top picks in Dubai. Add to that the convenience of a patient portal, and a wide range of medical services, it's not hard to see why this entry made our list.
Online patient portal
Facilities are comfortable
Dr. Varghese has a decade of experience in nephrology
Multilingual (English, Hindi, Malayalam, Kannada, Arabic (Basic) )
Dr. Varghese is unavailable on Sunday
Availability is  a bit limited
Customer Reviews
Overall rating expectations.
"The first time experience to be a patient in Aster is excellent. The staff from doctors, nurses and housekeeping staff are very accommodating, especially nurses they are very attentive to my needs. The doctor also is very friendly and always assured the patient is fine. Overall rating expectations, I will give 5 stars and this hospital is well recommended." – Adil Nawaz
It was good to be treated with professionalism and care.
"We were very pleased with our experience at Aster Hospital Mankhool. It was good to be treated with professionalism and care. The doctor and all the other employees of the hospital made us feel that we're in safe hands and made us smile when we left." – Aravind Mangalappally
4. Dr. Amir Malik of Cleaveland Clinic Dubai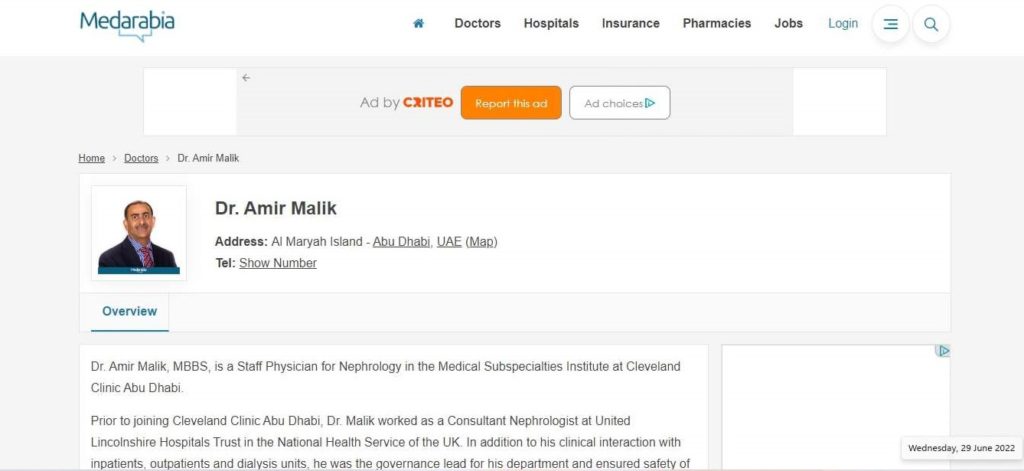 | | |
| --- | --- |
| Criteria | Rating |
| Credential | ★★★★★(5/5) |
| Experience | ★★★★ ★ (5/5) |
| Review of Patients | ★★★★☆ (4/5) |
| Excellent Service | ★★★★★ (5/5) |
Dr. Amir Malik has extensive medical expertise in the acute and chronic management of kidneys from his sixteen years of experience. He is experienced in hemodialysis, peritoneal dialysis treatments, and managing various kidney problems.

He received his degree from the University of Nottingham in 2010, practices nephrology as a consultant, and joined the Cleveland Clinic as a Staff Physician for Nephrology.
Dr. Malik gained his nephrology experience primarily while employed by the National Health Service of the United Kingdom. He is a member of the Royal College of Physicians and assists in educating newly hired staff at Cleveland Clinic Dubai.
We appreciate that the clinic where he works provides online appointments for a more structured schedule. Cleveland Clinic likewise has a patient portal that helps patients manage their medical needs even without going to the clinic.
To access their digital healthcare, all you need to do is download the app. Some of the noteworthy features include video calls for virtual appointments, results viewing, and even the ability to order and track prescription medication refills.
However, do take note that Dr. Malik is not available on the weekends. While his clinic hours are still convenient for a great number of people, it may cause some scheduling conflicts with those who work during the weekdays.
Nevertheless, we highly recommend Dr. Malik because he has extensive clinical experience with inpatients, outpatients, and dialysis units.
Has an online patient portal for an appointment
16 years of nephrology experience
Long clinic hours
Dr. Malik is unavailable on weekends
Fees might be higher compared to other hospitals
Customer Reviews
He is always ready to hear your concerns and questions.
"He is always ready to hear your concerns and questions. Making sure you understand and feel comfortable about the decisions being made." – Diane G.
Excellent doctor.
"Excellent doctor. Knowledgeable, helpful and knows what he is doing. I will highly recommend him." – K. P. Sood
5. Dr. Mazen Abou Chaaban of Merrimac Dialysis Center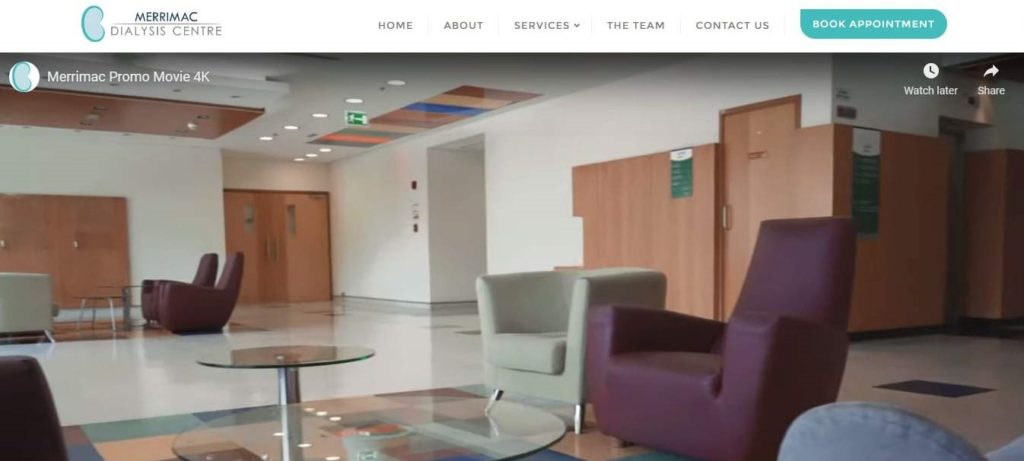 Test
Info
SERVICES
Renal Care, Nephrology Consultation, Hemodialysis, Internal Medicine, General Medicine, and Diabetic Clinic
WEBSITE
https://merrimacme.ae/services/
ADDRESS
Unit # 2022 – 23, Block C Building 64, Al Razi Medical Complex, Dubai HealthCare City
CONTACT DETAILS
Phone: + 97142408521

Email: [email protected]

OPERATING HOURS
Sunday to Wednesday : 7:30AM – 5PM

Saturday to Thursday: 7AM – 3:30 PM
| | |
| --- | --- |
| Criteria | Rating |
| Credential | ★★★★★(5/5) |
| Experience | ★★★★ ★ (5/5) |
| Review of Patients | ★★★★★(5/5) |
| Excellent Service | ★★★★★ (5/5) |
Merrimac Dialysis Center provides high-quality dialysis and renal care in the UAE. This center provides a wide range of services that includes renal care, nephrology consultation, hemodialysis, internal medicine, general medicine, and a diabetic clinic.
Moving on, we've noticed that the facility has a pleasant atmosphere and plenty of space for patients and visitors. The lobby resembles, quite simply put, a homey living room, which helps to put you at ease while waiting.
Do take note though, that the price at this center is a little higher. They have, however, received accreditation and commendation from the Government of Dubai.
Now, Dr. Mazen Abou Chaaban is senior consultant in the field of pediatrics and pediatric nephrology at Merrimac Dialysis Center. He earned both his undergraduate and medical degrees from the prestigious Ain Shams University in Cairo, Egypt.
He also had the opportunity to work at the renowned Children University Hospital in Cologne, where he completed his German Board in Pediatrics with distinction.
He has knowledge of and expertise in treating kids with a variety of pediatric issues and illnesses. A few other conditions he can treat include urinary tract infections (UTI), high blood pressure, bedwetting, and assessments of newborns' nutritional status, growth, and neurological development.
Moreover, he is able to communicate with other nationalities since he speaks German, Arabic, and English. This makes him a great choice for native speakers of those respective languages.
Facilities are comfortable
Open daily
Free dialysis to underprivileged kidney patients
Short  clinic hours
Expensive rate
Customer Reviews
Greatly thankful to the entire management team.
"This is my second week in Merrimac Dialysis Centre. Greatly thankful to the entire management team for considering my request by granting the admission. Really amazed to see the professional and friendly staff who attend to the patient's needs and the venue is very hygienic with proper PPE and health kits. Special thanks go to Mr. Babu Rajan – Director, a person with simplicity and high values. Dr. Biju K. Gopinath – Nephrologist for his professional approach, knowledge, confidence and guidance. Last but not least my compliment would not end thanking the team who attends me with broad smiles and confidence on their faces by boosting my energy and hope during every Dialysis session, Jeethi, Jenni, Alvin and the remaining team members who directly and indirectly assist me. I love Merrimac… Great, great and satisfactory experience." – Pachat P.
Excellent Center from all points of views.
"Merrimac is providing the best and latest medical services. Patients are taken care of with high class international standards. Our experience with them is very good. Staff is trained very well and all of them are very kind, supportive and they deal with the patients skillfully & patiently. Excellent Center from all points of views."– Sabiha
FAQs About Nephrologists in Dubai
---
We hope this post has given you more options when choosing a nephrologist to treat your kidney disease.If you're interested in reading more about specialists in Dubai, check out our article on the best ENT specialist in Dubai.