The 5 Best Music Schools in Dubai
Interested in learning an instrument? Do you want to pursue a career leaning towards music?
Worry not, as Dubai is home to multiple institutions that provide courses and programs for aspiring students of any age and gender!

With that said, here are our top picks of the best music schools in Dubai!
How Much Does Music Classes Cost
The cost of music schools will depend on what kind of course you plan to take. Some are priced higher than others, but we observed that the difference is around a few hundred AED.
The other factor to consider is how the school assigns rates for their classes. Some charge per hour or per session, while others ask you to pay for a certain period of time or the duration of the course.
With that being said, the table below lists the estimated cost for the fees for enrolling in a music class corresponding to its respective rate type:
| Rate Type | Cost (in AED) |
| --- | --- |
| Hourly | 200 - 500 |
| Monthly | 300 - 2000 |
| N number of sessions | 300 - 2000 |
The Best Music Schools in Dubai
Here are the factors we've taken into consideration in assessing the companies we picked:
1. Crystal Music Institute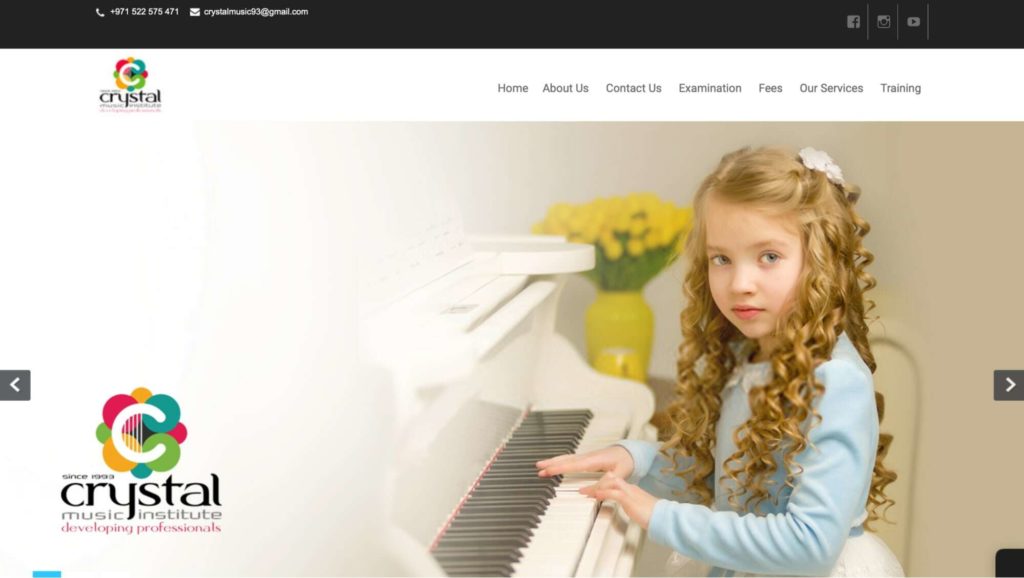 | Test | Info |
| --- | --- |
| PROGRAMS | Electronic Keyboard, Piano, Guitar, Violin, Drum Kit, Saxophone, Western Vocal, Hindustani Vocal |
| WEBSITE | https://crystalmusicdubai.com/?page_id=120 |
| ADDRESS | 18 6 A St - Al Karama - Dubai - United Arab Emirates |
| CONTACT DETAILS | Phone:  +971 52 808 2981 |
| OPERATING HOURS | 3:00 PM - 9:00 PM (Monday - Sunday) |
| | |
| --- | --- |
| Criteria | Ratings |
| Price | ★★★★★ (5/5) |
| Facilities | ★★★★☆ (4/5) |
| Faculty | ★★★★★ (5/5) |
| Requirements | ★★★☆ ☆ (3/5) |
Crystal Music is a learning institute based in Dubai. Opened in 1993, this particular school offers year-round classes and courses for interested parties.
What we like about them is the number of choices you will have. Their range of courses can be sorted into two different categories: instruments and vocals.
For instrument courses, they provide classes in electronic keyboard, piano, guitar, and more. We recommend going here for these classes, but more so for their saxophone classes.
This is the most unique option in the list, and not a lot of schools offer classes for this kind of instrument.
On the other hand, there are also vocal classes for those who are more inclined in singing. The best part about it is that they offer two different methods: Western and Hindustani.
We recommend picking this school if you want a more genre or style-specific way of singing.
This school also offers examinations by Trinity College London. These grade examinations test the student's expertise in instruments such as electronic keyboard, piano, drum, violin, and guitar.
With all of these being said, we observed that this school is the only one that has a very short opening time. However, they're open on all days of the week, so you can book a free trial class so you can experience how their courses run.
If you're fully interested now and ready to enroll, the Institute requires you to actually
contact them or visit their location to actually start the enrollment process. Take note that aside from the tuition or course fee, you'll be paying a registration fee.
Overall, we recommend this school for their wide variety of music courses available!
Good prices
Offers free trial classes
School has a lot of lessons available
Limited opening hours
Requires registration fee

2. Melodica Music and Dance School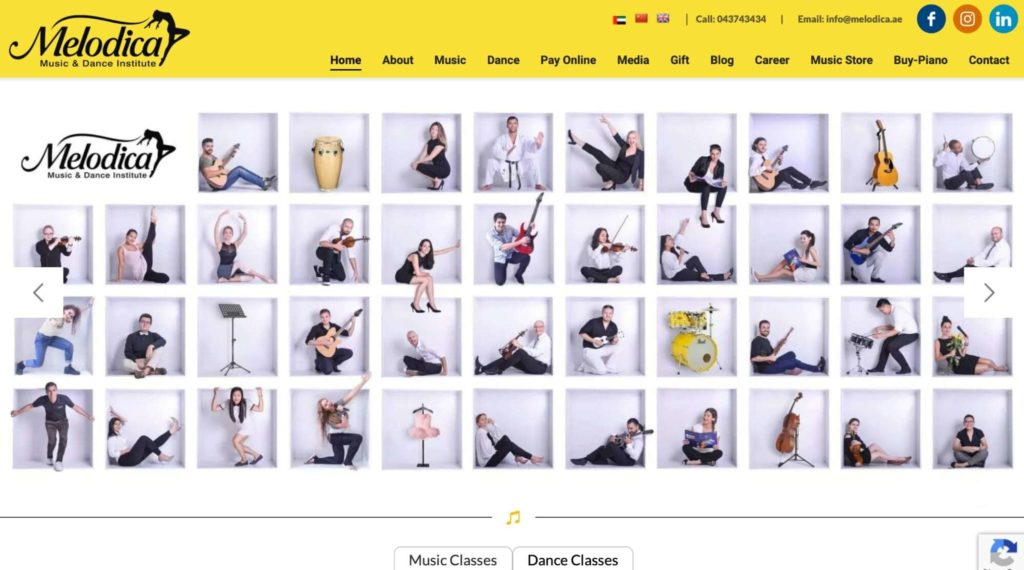 Test
Info
PROGRAMS
Vocal Lessons, Musical Instrument Lessons, Dance Lessons
WEBSITE
https://melodica.ae
ADDRESS
LT, Mazaya Business Avenue, AA1, 1001 - Dubai - United Arab Emirates
CONTACT DETAILS
Phone: +971 4 583 3459
OPERATING HOURS
9:00 AM - 6:00 PM (Monday - Thursday)

9:00 PM - 12:00 AM (Friday)

12:00 AM - 6:00 PM (Saturday)
| | |
| --- | --- |
| Criteria | Ratings |
| Price | ★★★☆☆ (3/5) |
| Facilities | ★★★★★ (5/5) |
| Faculty | ★★★★★ (5/5) |
| Requirements | ★★★★★ (5/5) |
Melodica Music and Dance School is a multi-disciplinary learning institute that has multiple branches around the UAE. Said establishment was opened by pop star Ashfin, and offers various lessons in music and dancing.
For their music classes, you can enroll in different instrument-focused and vocal courses. There are available lessons in piano, guitar, drums, violin, flute, ukulele, and saxophone.
Their vocal classes are of one type only, and mostly focus on the general singing lessons. We wouldn't recommend their vocal courses if you're looking for a more genre-specific or style of singing.
Where this school shines is in their instrument courses. We've found them to have the most number of options, from the common instruments (such as piano and guitar) to more unique choices such as the ukulele and the saxophone.
Another great aspect about this school is their facilities. The classrooms are spacious, well-lit, and aesthetically pleasing!
Their great facilities and wide range of class options comes at a very expensive cost. Melodica allows you too to pick from their many packages, which include how many sessions and their duration.
We've seen that you can pay from AED 600 to AED 9600, which, in our opinion, is expensive.
Regardless, we think that Melodica, with its great facilities and learner-friendly classes is a great place to consider for getting music classes. We recommend enrolling here if you have the extra finances to spare.
Private music lessons
Offers online sessions
Great facilities
Requires registration fee
Expensive
Customer Reviews:
Helpful Staff, Great Class Variety
"I came across melodica at Wasl and got impressed by the music class packages they offer. The staff were very helpful and nice. Highly recommend this school for adults and kids." – Whinston P
Professional Teachers, Supportive Staff
"The teachers are extremely helpful and professional. They adapt to the needs of the students. The staff at the front desk is also quite friendly and supportive. It's a fantastic location to learn music and pursue your interest." – Neriza David
3. Symphony Music Learning Center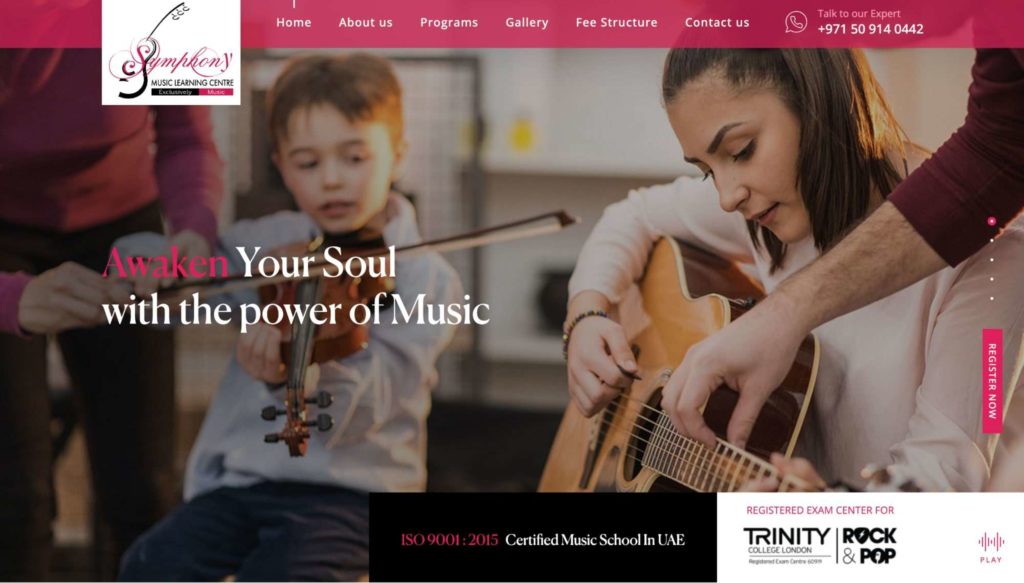 Test
Info
PROGRAMS
Piano, Guitar, Violin, Drums, Vocal
WEBSITE
https://www.symphonymlc.com/
ADDRESS
Ahli House 1 - Al Nahda - Al Nahda 2 - Dubai - United Arab Emirates
CONTACT DETAILS
Phone: +971 4 220 5533

E-mail : [email protected]

OPERATING HOURS
2:00 PM - 10:00 PM (Tuesday - Friday)

10:00 AM - 9:00 PM (Saturday - Sunday)
| | |
| --- | --- |
| Criteria | Ratings |
| Price | ★★★☆☆ (3/5) |
| Facilities | ★★★★☆ (4/5) |
| Faculty | ★★★★☆ (4/5) |
| Requirements | ★★★★☆ (4/5) |
Symphony Music Learning Center is an establishment that offers a wide variety of courses for music enthusiasts and those who want to make it a career path.
The first thing we noticed is that this school is quite detailed when it comes to their courses. If we look at the general list of classes they offer, it's quite basic: piano, guitar, violin, drums, and vocals.
What sets Symphony Music apart from its competitors is that they have various tiers for students of varying skill levels. These are beginners, intermediate, advanced, and professional.
Take note that there is an assessment beforehand to determine where the student can be enrolled in. We like that aside from the casual classes, a person can choose to enroll in the professional level classes as well.
Students can choose how long their course will run, from 3 to 18 months. With that being said, expect to pay around AED 2,000 – 12,000 for the entire duration of the course.
The price is quite high, yes, but the school makes up for this through their level courses. In addition, each course has a 2-hour guided learning session with your teacher.
This is like a one-on-one session that allows you to further hone your skills. Also, upon request, you can actually receive dedicated competition training.
Another thing that we like about this school is that they offer orchestra practice. There is also a chance of students joining an ensemble in the future.
Symphony Music Learning Center earns a spot on this list for their detailed and lengthy courses. Also, if you want dedicated competition training or to join an orchestra practice, try giving them a call!
Offers different levels for courses
Has orchestra practice
Offers competition training upon request
ISO-certified school
Expensive
Appointment required
Customer Reviews:
Great Facility, Quality Services
"An excellent place to learn music. I strongly recommend to visit the center and feel the ambience. They have only private lessons and teachers are very friendly. Thank you Symphony for giving me the opportunity to learn Piano." -Cristine Joy
Friendly Staff and Teachers, Good Classes
"My son Jeff John joined in Symphony Music Learning Center in 2013 for Singing and Piano, he was just turning 5 at that time. Still he's continuing with Symphonymlc and now he's preparing for Grade 6 exam of the Trinity College London. The classes here are well conducted, friendly staff and teachers who are dedicated and specialized in music teaching. Also Jeff loves to perform on stage, Symphony provides a great opportunity that every student can showcase their talents and progress to their parents and friends every week. I recommend Symphonymlc for everyone who is looking for quality, enjoyable and personalized music lessons." – Ansu Varghese
4. VASA LIVE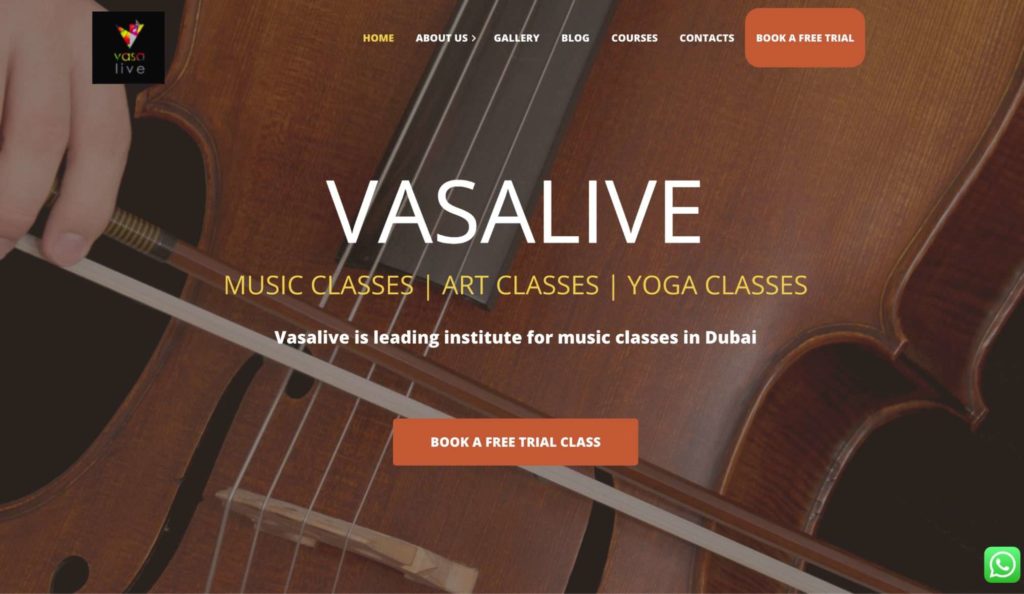 Test
Info
PROGRAMS
Yoga Classes, Drum Classes, Violin Classes, Vocal Classes
WEBSITE
https://vasalive.com/
ADDRESS
1208, DAMAC Executive Heights - Jebel Ali Race Course Rd - Barsha Heights - Dubai - United Arab Emirates
CONTACT DETAILS
Phone: +971 50 316 2756

E-mail: [email protected]

OPERATING HOURS
8:30 AM - 9:00 PM (Monday - Sunday)
| | |
| --- | --- |
| Criteria | Ratings |
| Price | ★★★★★ (5/5) |
| Facilities | ★★★★☆ (4/5) |
| Faculty | ★★★★☆ (4/5) |
| Requirements | ★★★★☆ (4/5) |
VASALIVE is an educational institution that offers courses in different creative fields. From what we've observed, they mostly cater to art, music, and health enthusiasts.
This learning center offers musical lessons for individuals who would like to learn how to play instruments. The courses you can avail include drums and violins.
They also offer vocal classes. We find that the variety for musical courses is quite limited compared to the rest of its competitors.
Regardless, we think that VASALIVE thrives on how it teaches its students. They offer a curriculum that gradually progresses in difficulty.
Their lessons are scheduled into different semesters, similar to a university. In those semesters, the school caters to each individual student's needs.
While the teachers in the school take the time to learn more about the students, they also make sure to apply good methods to help them hone their skills.
One of the methods they use is called the learner-centered type, which focuses on the student. VASALIVE also has the interactive or participative teaching style for its lessons so their clients can fully immerse in the environment as they learn.
We recommend this school if you want to be in a university-like course. In addition, VASALIVE earns a spot on here for their intensive and learner-focused teaching methods!
Offers free trial classes
Spacious classrooms
Booking required
Requires contact for more information
Customer Reviews:
Affordable Rates, Quality Education
"Great school where kids get qualitative education while having fun. Instructors are dedicated and professional. Price is affordable. After 3 sessions my son started playing a song on his guitar and this is really very encouraging thanks to his instructor.
Highly recommended." – Jean Bitar
5. S&C Music Instruction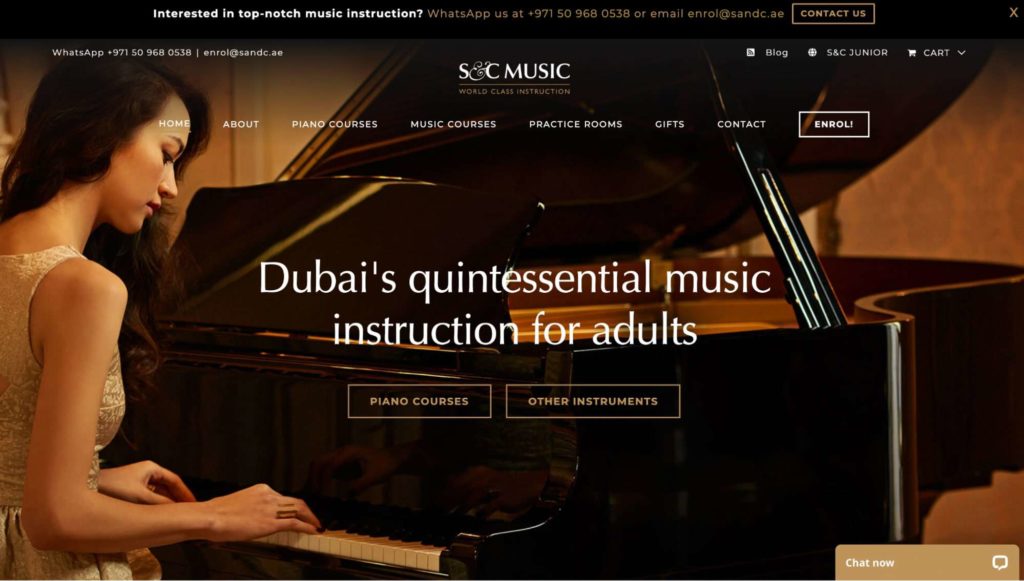 | Test | Info |
| --- | --- |
| PROGRAMS | Piano, Singing, Violin, Guitar, Cello, Drum |
| WEBSITE | https://sandc.ae/ |
| ADDRESS | Unit 174 Gate Avenue Mall - DIFC - Dubai - United Arab Emirates |
| CONTACT DETAILS | E-mail: [email protected] |
| OPERATING HOURS | 10:00 AM - 10:00 PM (Monday - Sunday) |
| | |
| --- | --- |
| Criteria | Ratings |
| Price | ★★★★★ (5/5) |
| Facilities | ★★★★☆ (4/5) |
| Faculty | ★★★★☆ (4/5) |
| Requirements | ★★★★☆ (4/5) |
S&C Music Instruction is dedicated to introducing and producing piano experts and enthusiasts. These piano classes are open to adults, regardless of their level of expertise..
We noticed that they provide a relaxing and helpful environment so their adult piano learners can be comfortable in making mistakes! This helps students learn from their errors and progress much quicker.
What's great about these classes is that a player can choose from a wide variety of genres. These include classical, jazz, blues, rock, and popular piano classes.
While they primarily focus on piano instruction, S&C Music also offers singing and guitar lessons for adults.
We also like that they have a flexible learning schedule, set to the availability of the student. They can, upon special request, move a schedule to a new date.
We do have to note that if you decide to do that, get ready to pay an extra fee and have less options for the rescheduled date of your class.
S&C actually offers music classes for kids and toddlers, but these are focused on introductory and appreciation courses. One available option is the music discovery class where young students will be taught how to learn the basics of music.
Aside from that, they also have rock band classes for kids, which we think is a fun thing to consider!
Overall, we recommend S&C for its focus on piano lessons as well as if you're an adult who would want to learn in a relaxed and accepting space.
Offers rock band classes for kids
Courses are available in different levels of difficulty
For adults only
Primarily focuses on teaching piano
Customer Reviews:
Quality Lessons, Helpful Instructor
"I have always wanted to learn to play the piano and after research and trying certain studios in Dubai I came across S&C. I have been very impressed with the people, the quality, the attention to detail and how I progressed so quickly without even knowing anything about music. I take my lessons with Stefan and I have progressed quicker then expected just because of his teaching method. Very disciplined and ensures the best quality on each lesson. I am super pleased and continuously amazed with the learning experience. I would highly recommend the studio and instructors for all levels." – Elly Malandrakis
Expert Teacher, Great Experience
"I started my guitar journey with Stefan four months back and he has been a great teacher and a mentor in this journey. He is extremely systematic in his approach and very patient with his students. He has not only helped me to improve my solo playing style but as well understand the basics and concepts of guitar. Stefan has a warm personality, a lot of passion and wants to genuinely see you progress becoming a well rounded guitarist. He is always available to answer your queries and I would recommend him to anyone who is either starting or is an intermediate player." -Aashish Sharma
FAQs About Music Schools in Dubai
---
And that's all we have for you! We hope that any of the schools we recommend would have piqued your interest.
Looking for more music-related classes? Here are our top picks for the best piano schools in Dubai.