The 5 Best Microdermabrasion Clinics in Dubai
Skin care is important. Taking good care and effort in maintaining the condition of your skin would lead to not just looking better, but also avoiding any skin conditions.
One of the possible treatments you can get to maintain your youthful glow is microdermabrasion. This is a type of exfoliation that buffs away the surface layer of the skin to show the younger skin below.
Here are our top picks for the best microdermabrasion clinics in Dubai, so you can have a short guide on your next skincare adventure!
How Much Does Microdermabrasion Cost
Clinics usually charge microdermabrasion treatments per session. Depending on the establishment, they usually recommend more than one.
This is because the sessions will depend on the patient's concerns and expectations. We've listed an estimate on how much it would cost to avail of these treatments in the table below.
| Number of Sessions | Cost  |
| --- | --- |
| 1 | AED 300 - AED 600 |
| 3 | AED 900 - AED 1500 |
The Best Microdermabrasion Clinics in Dubai
Here is the criteria we've used in assessing these specialists:
1. Kaya Skin Clinic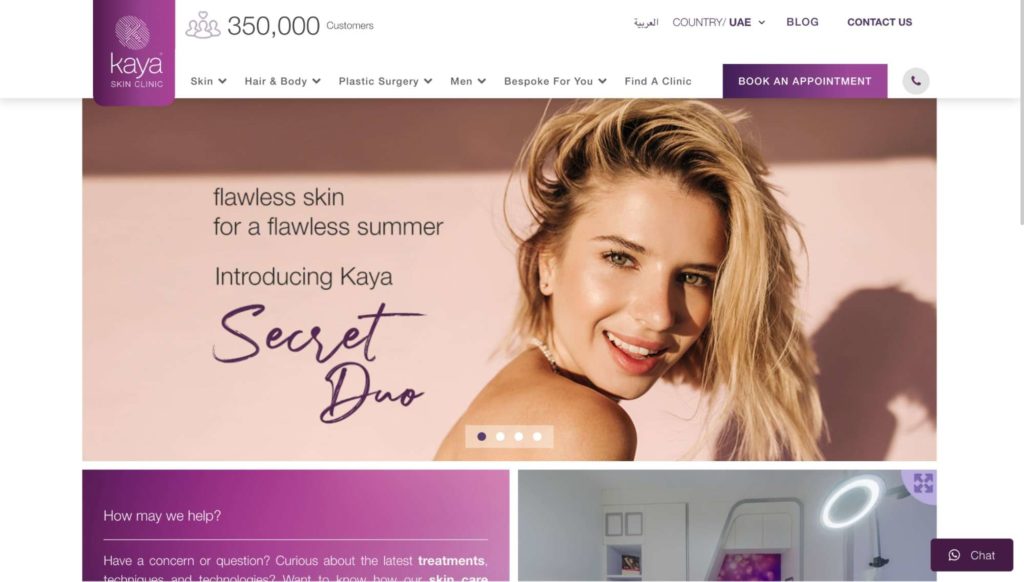 Test
Info
SERVICES
Mesotherapy, Chemical Peel, Liposuction, Tummy Tuck, and more!
WEBSITE
https://www.kayaskinclinic.com/uae/en/
ADDRESS
JBR Walk, opposite The Ritz-Carlton hotel Shop GM11, Al Murjan - Dubai - United Arab Emirates
CONTACT DETAILS
Phone: +971 600 562620
OPERATING HOURS
10:00 AM - 8:00 PM (Monday - Saturday)

12:00 NN - 8:00 PM (Sunday)
| | |
| --- | --- |
| Criteria | Ratings |
| Expertise | ★★★★★ (5/5) |
| Pricing | ★★★★☆ (4/5) |
| Customer Service | ★★★★★ (5/5) |
| Facilities | ★★★★★ (5/5) |
Kaya Skin Clinic reached the lands of the UAE in 2003. Since then, the international dermatology company has opened 23 clinics all around the Middle East, Dubai included.
This establishment caters to men and women, providing services for their skin care needs. Part of their offerings is microdermabrasion treatments, which can leave the skin softer, and more even-toned.
Most of the expert specialists employed at this clinic have 10 years of experience. In addition, the majority have received their master's degrees in dermatology so you'll undoubtedly be in good hands!
Aside from that, the clinic also offers flexible payment options for their patients. If you're a credit card holder, you can pay for their services in installments!
This means that you can slowly pay them in 3,6, or 9 months. We like that they offer this option aside from the regular means of straight-up payment.
Additionally, the clinic also offers promotions and packages frequently, so you can check out their website for updates.
Overall, we recommend getting their services if you want the expert care of the clinic and its doctors!
Clinic has experienced dermatologists
Frequently offers promos and packages
Clinic has ample parking space 
Encourages contact for more information
Appointment required
2. Mirrors Beauty Lounge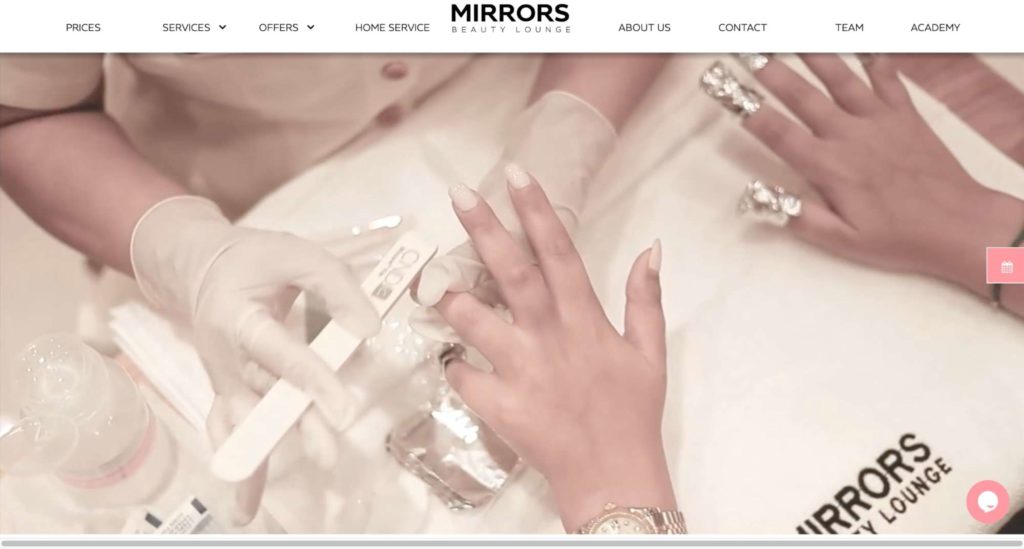 | Test | Info |
| --- | --- |
| SERVICES | Threading, Microblading, Lip Tattoo, Microdermabrasion, and more! |
| WEBSITE | https://www.mirrorsbeautylounge.com/ |
| ADDRESS | M03 - Buhaleeba Plaza  Muraqabat Road - Dubai. |
| CONTACT DETAILS | Phone: + 971 42 69 1499 |
| OPERATING HOURS | 10:00 AM - 10:00 PM (Monday - Sunday) |
| | |
| --- | --- |
| Criteria | Ratings |
| Expertise | ★★★★☆ (4/5) |
| Pricing | ★★★★★ (5/5) |
| Customer Service | ★★★★☆ (4/5) |
| Facilities | ★★★★★ (5/5) |
Opened in 2016, Mirrors Beauty Lounge is a salon that offers primarily hair and makeup services. They offer skincare and other dermatological services as well.
We believe that the most attractive aspect of this establishment is its rates. For just AED 120, you can get a microdermabrasion treatment in their salon.
The Lounge also offers discounts and package deals if you come in with other people to avail of their services. So if you want to, you can hang out with your friends and have a microdermabrasion facial together!
This place primarily focuses on diamond microdermabrasion which is where a diamond tip is used to exfoliate the top layers of the skin. This kind of treatment can make your skin look softer and more alive, as it removes dry and loose dead skin.
Another thing we liked about the location is its spacious and comfortable interior. After all, you'd want to stay in a comfortable, cozy store while having a facial, right?
If we may say one thing, what we find odd about the Lounge is that they require appointments. Since this is a salon, it's quite expected that you can just walk in.
However, the Lounge requires you to book and call in advance for all of their services. So if you plan on going, make sure to set our appointment ahead of time.
Overall, we recommend Mirror Beauty Lounge as an affordable but great option for those who are aiming to get a microdermabrasion facial on a budget!
Affordable rates 
Spacious, comfortable interior 
Offers packages and discounts
Booking required 
Microdermabrasion is not the store's primary focus 
3. Dermalogica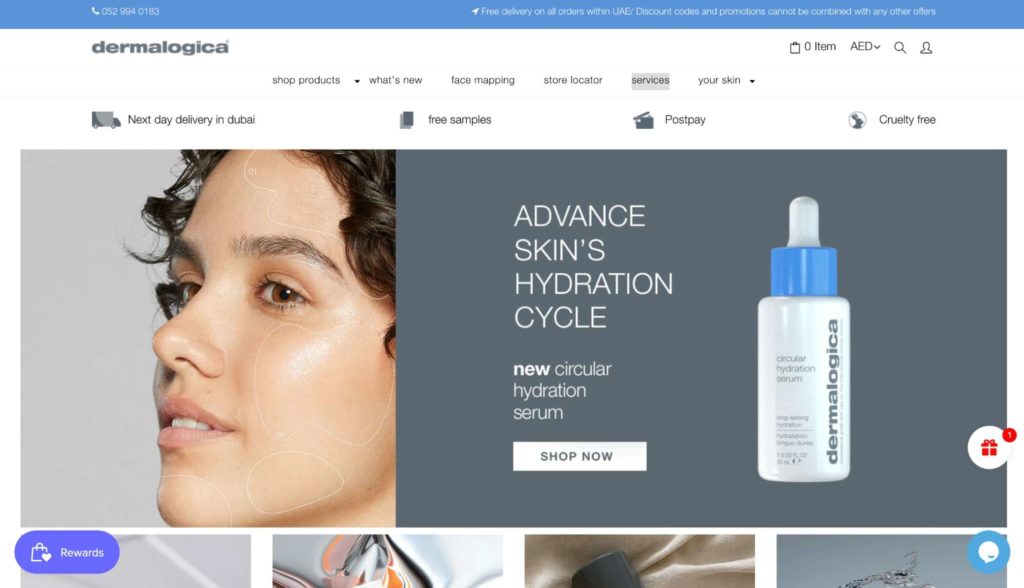 | Test | Info |
| --- | --- |
| SERVICES | Microcurrent, Microdermabrasion, Oxygen Treatment, Face Mapping, and more! |
| WEBSITE | https://dermalogica.ae/ |
| ADDRESS | Unit FF - 189 - Financial Center Rd - Downtown Dubai - Dubai - United Arab Emirates |
| CONTACT DETAILS | Phone: +971 4 339 8250 |
| OPERATING HOURS | 10:00 AM - 11:00 PM (Monday - Sunday) |
| | |
| --- | --- |
| Criteria | Ratings |
| Expertise | ★★★★★ (5/5) |
| Pricing | ★★★★★ (5/5) |
| Customer Service | ★★★★☆ (4/5) |
| Facilities | ★★★★☆ (4/5) |
Dermalogica is primarily a skin care brand that creates products that help clients in maintaining their skin. Additionally, they also offer treatments that handle various conditions or help revitalize one's skin conditions.
Here's what we initially noticed: Dermalogica functions primarily as a store. They lean on selling and advertising their products via the treatments that they offer as well.
This doesn't mean that their treatments, such as their exclusive microdermabrasion facial, is of poor quality for the sake of marketing.
What's great actually is that the products they use are not only made by them but are also certified cruelty-free by PETA (People for the Ethical Treatment of Animals). Additionally, the products they use for their microdermabrasion treatment are vegan.
Furthermore, Dermalogica is recognized by Leaping Bunny, the international organization that checks and assesses the products on the market.
Aside from that, Dermalogica also hires expert skin therapists that will be responsible for handling their services. Their specialists are licensed and also have around five to fifteen years of experience on their belt.
So, if you're interested in availing their services, we recommend getting the package deal, which is multiple sessions for the price of one. This can be around AED 600 to AED 1,000, which is a deal compared to the per session rate of around AED 200.
Offers package deals for 4 or 10 sessions 
Spacious establishment 
Good rates 
Uses vegan and cruelty-free products in their treatments
Booking required
Primarily focuses on selling their products
Customer Reviews:
Great Therapists, Expert Care
"Just got a facial for the first time at their Dubai Mall branch and I got the 90 minutes one with microdermabrasion oxygen and LED light and I'm glowing and there's no redness at all. Great therapists and the staff are very knowledgeable and only recommend what your skin really needs. Best facial in Dubai. Go see Judy or Farzana they're the best." – Dina Yousef
Professional Staff, Quality Service
"It's my third time visiting Dermalogica Dubai mall and I really appreciated the treatment and professionalism here. Mpho is my skin therapist and she is always doing a great job, explaining in details what she is doing and how to use the products properly. I definitely recommend +++" – Pauline Jozefiak
4. Derma One Medical Center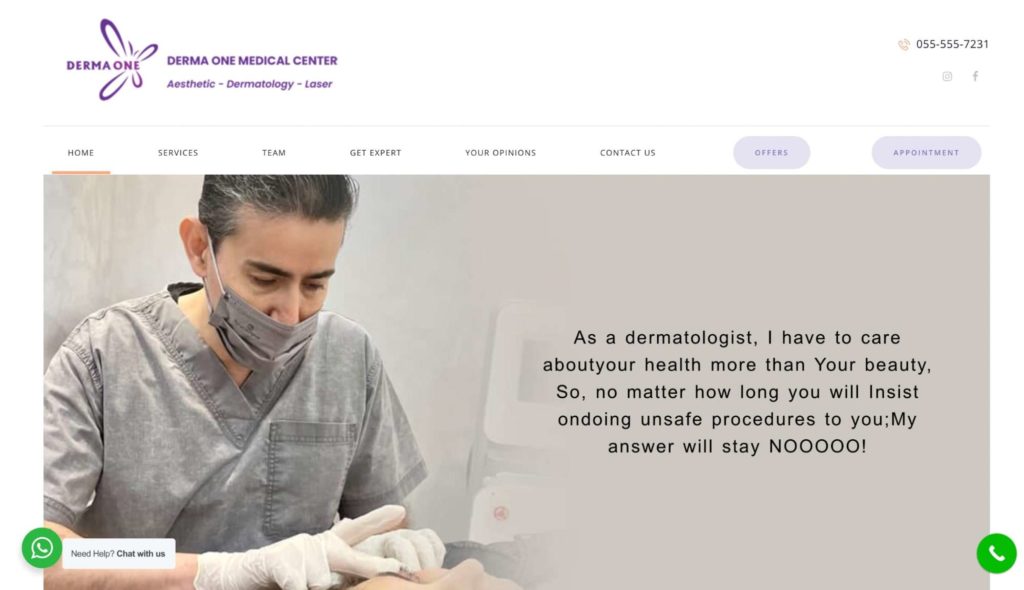 Test
Info
SERVICES
Microneedling, PRP Concentrate, Lip Fillers, Microdermabrasion, and more!
WEBSITE
https://dermaone.ae/
ADDRESS
JLT - Lake Promenade Level - Cluster M - Dubai - United Arab Emirates
CONTACT DETAILS
Phone: +971 55 555 7231

E-mail: [email protected]

OPERATING HOURS
9:00 AM - 9:00 PM (Saturday - Thursday)

9:00 AM - 6:00 PM (Friday)
| | |
| --- | --- |
| Criteria | Ratings |
| Expertise | ★★★★★ (5/5) |
| Pricing | ★★★★☆ (4/5) |
| Customer Service | ★★★★☆ (4/5) |
| Facilities | ★★★★☆ (4/5) |
Derma One Medical Center is a multi-specialty clinic in Dubai. They offer various invasive and non-invasive aesthetic and medical treatments for their patients.
Interestingly, this establishment offers two kinds of microdermabrasion, the Diamond type, and a HydraFacial. Both can cleanse and exfoliate the skin – the main difference is in the process.
The Diamond Microdermabrasion uses a diamond-tip device to remove dead skin cells. On the other hand, the HydraFacial, which the clinic calls a "wet microdermabrasion", utilizes a chemical mixture to sand or remove dead skin.
We noticed that they primarily offer HydraFacial, or encourage clients to get both treatments for better effects (not at the same time). You can just get the regular microdermabrasion if you so wish!
However, if you want a treatment that also infuses nourishing serums into your skin, we recommend getting HydraFacial.
Nevertheless, we've observed that the staff are licensed by the DHA as well as other medical boards in other countries such as the Arab Board of Health Specializations (ABHS). The doctors have around 5 to 10 years of experience, which is nice!
For the variety of their treatments, as well as their expert staff and doctors, Derma One is certainly a good place for getting a microdermabrasion facial!
Offers two types of microdermabrasion 
Has expert staff available 
Occasionally offers discounts and promos 
Appointment required 
Primarily offers hydrafacial 
Customer Reviews:
Quality Service, Polite Staff
"I got my microdermabrasion and hydrafacial done at Derma One today, and I am very pleased with the service I received. The staff was very polite. Dina did my procedure, she was amazing at what she does, she explained each step, and was kind enough to push her working hour a bit as I reached 10 minutes late for my appointment (my bad) due to traffic. I highly recommend her." -She Flies, via Google Reviews
Great and Professional Doctors and Staff
"Nice place! Highly recommended for many treatments. I have to say big thank you to Barbara who did my microdermabrasion /hydrofacial treatment. She is super friendly very professional and informative about every step of the treatment! And makes you love facials 😊 cant wait to go back !" – Asma Nsiri
5. Cosmo Secrets Medical Center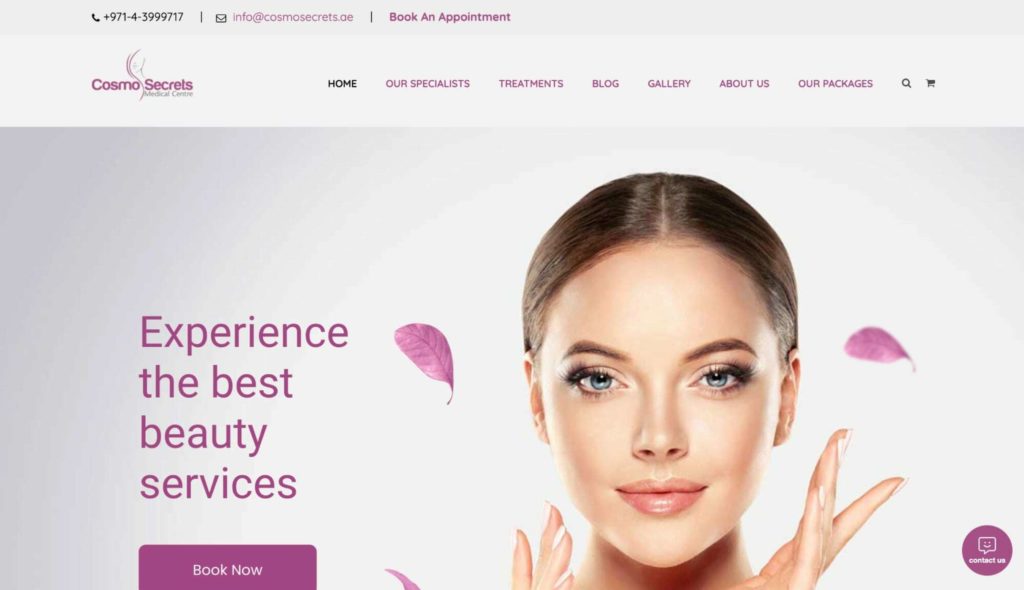 Test
Info
SERVICES
Laser Hair Removal, Dark Circles Reduction, Skin Tumours Detection, Hydrafacial, Microdermabrasion, and more!
WEBSITE
https://cosmosecrets.ae/
ADDRESS
Al Barsha Rd, Al Deyaar Building (near Novotel Suites Mall of Emirates 4th Floor, Office 407 Parking: B2 - 43, 44 & 45 - Dubai - United Arab Emirates
CONTACT DETAILS
Phone: +971 4 399 9717
OPERATING HOURS
9:00 AM - 9:00 PM (Saturday - Thursday)

9:00 AM - 6:00 PM (Friday)
| | |
| --- | --- |
| Criteria | Ratings |
| Expertise | ★★★★★ (5/5) |
| Pricing | ★★★★☆ (4/5) |
| Customer Service | ★★★★☆ (4/5) |
| Facilities | ★★★★☆ (4/5) |
Cosmo Secrets Medical Centre is a dermatology-focused establishment. They also offer services in the field of cosmetology and aesthetics! 
This clinic caters to both men and women of any skin color and age.
Looking at the treatments available, we've noticed that there's only one type of microdermabrasion facial– the HydraFacial treatment.
Compared to the commonly-utilized method, this process uses a HydraPeel Tip as well as a mixture of chemicals (salicylic and glycolic acid) to wash out and remove dead skin cells, dirt, and oil.
This treatment is perfect if you want to remove any impurities in your skin, as well as to help it look more soft and plump.
We like that the dermatologists and practitioners here are dedicated to providing quality facial treatments. They have around 5 to 15 years of experience, so rest assured that you will be in capable hands.
One thing we do have to point out is that this clinic strictly does not accept any insurance policies, which is quite disappointing. On the other hand, they do offer discounts and promotions occasionally.
Regardless of this, if you have the budget and can pay out of pocket, we recommend getting their HydraFacial for smoother, plumper-looking skin!
Caters to men and women 
Clinic has expert specialists 
Aesthetically pleasing and spacious clinic
Frequently offers promos 
Appointment required
Does not accept any insurance
Customer Reviews:
Great Service, Professional and Satisfactory Care
"Few days back I did my hydra facial with Microdermabrasion with TINA ! OMG shes really good she did it very perfect! Im satisfied , I will always do my facial in this amazing clinic" – D Almm92, via Google Reviews
Quality Service
"I got microdermabrasion done from Ms Katrina she did an amazing job would highly recommend this place and good luck" – Shruti Punnapu
FAQs About Microdermabrasion in Dubai
---
We recommend visiting any of the clinics we've recommended above to rejuvenate and restore the youthfulness of your skin. Interested in more skincare procedures?
Check out our recommendations for the best acne treatment clinics in Dubai!