The 5 Best iOS Developers in Dubai
Sometimes, we may get ideas for software or an app. Unfortunately, not everybody has the technical skill to make one from scratch.
Whether it's for business or pleasure, there are experts in Dubai that can create applications native to iOS. So if you're looking to create the next game changing app for Apple devices, you're in the right place!

With that said, here are our picks for the best iOS developers in Dubai!
How Much Does IOS App Development Cost
Prices are usually determined according to the basic development process. Professionals charge depending on the scope and requirements set by a client.
There are different types of projects based on their scale and complexity. These include small, medium-scope, large, and enterprise.
A small project would involve minor changes to pre-existing software or bug fixes. A medium-scope project will have developers add solutions and functions to an existing source of data.
Larger projects are complex and might need multiple systems such as a database, log-in features, and security. Enterprise-level, on the other hand, are the most expensive and resource-heavy.
With that being said, here's our estimate of how much it can cost you if you ask a company to make an iOS app, depending on its complexity:
| Project Type | Cost of Development  |
| --- | --- |
| Small  | AED 11,019 - AED 220, 380 |
| Medium  | AED 73, 460 - AED 367, 300 |
| Large  | AED 294,000 - AED 600,000 |
| Enterprise  | AED 370,000 - AED 460,000 |
The Best iOS Developers in Dubai
1. Eiconix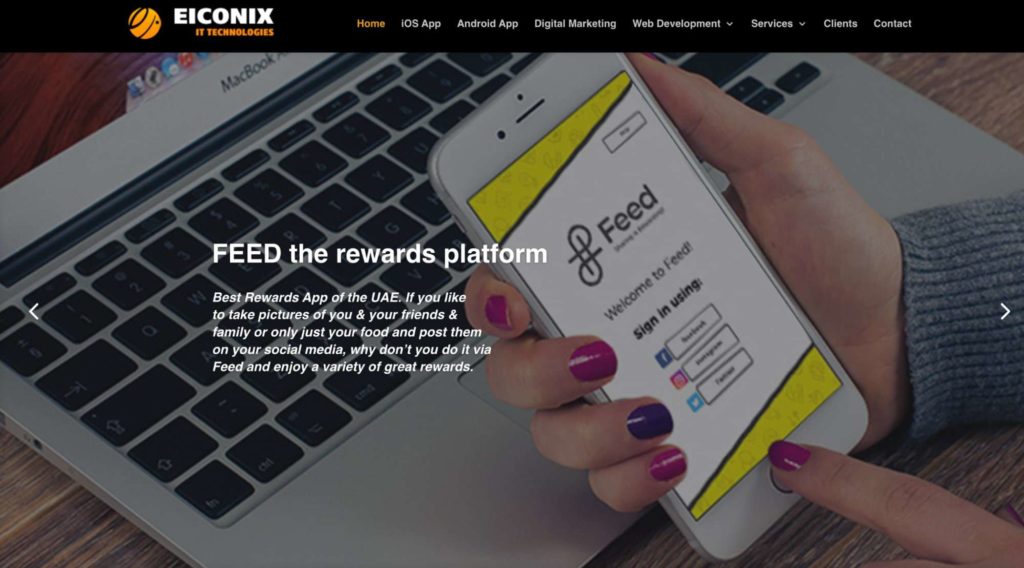 Test
Info
SERVICES
iOS App Development, Android App Development, Web Development, and more!
WEBSITE
https://eiconix.com/
ADDRESS
Al Wahda Building - Port Saeed - Dubai - United Arab Emirates
CONTACT DETAILS
Phone: +971 54 449 7421

E-mail: [email protected]

OPERATING HOURS
8:00 AM - 6:00 PM (Sunday - Thursday)
| | |
| --- | --- |
| Criteria | Ratings |
| Expertise | ★★★★★ (5/5) |
| Support | ★★★★☆ (4/5) |
| Post-Dev Support | ★★★★☆ (4/5) |
| Availability | ★★★★☆ (4/5) |
Eiconix is a mobile application and design company based in Dubai. They offer user-friendly applications for various companies and organizations, such as Almosafer, UAPP and Foodate.

What we observed is that this company tends to accept commissions that relate to the food and service industry. They can work on native iOS and Android apps, as well as web platforms.
For their iOS development services, the company utilizes a lot of tools that help with the quality of their work. Some of these include Swift, a programming language that creates user interfaces that are easy to use for Apple products.
They also have an in-house quality assessment team that tests the application before submitting it for your scrutiny. To further hone the quality of their work, they also use TestFlight, an application that invites test users to test your application.
We like their usage of different resources and QA tools to create high-quality applications. They also offer post-dev support and maintenance packages.
However, these are different transactions that usually get offered after your app is finally launched to the market.* Regardless, we still appreciate the support.
Eiconix earns a spot in this list for its usage of resources and QA systems during its development. With their experience in creating applications for food and travel industry companies, this company can be of help to similar businesses!
Experienced in iOS application development
Has partnered with multiple companies
Utilizes established and in-house QA for software 
Provides post-launch support 
iOS development not their main focus 
Post-launch support is a separate transaction
2. Mobiiworld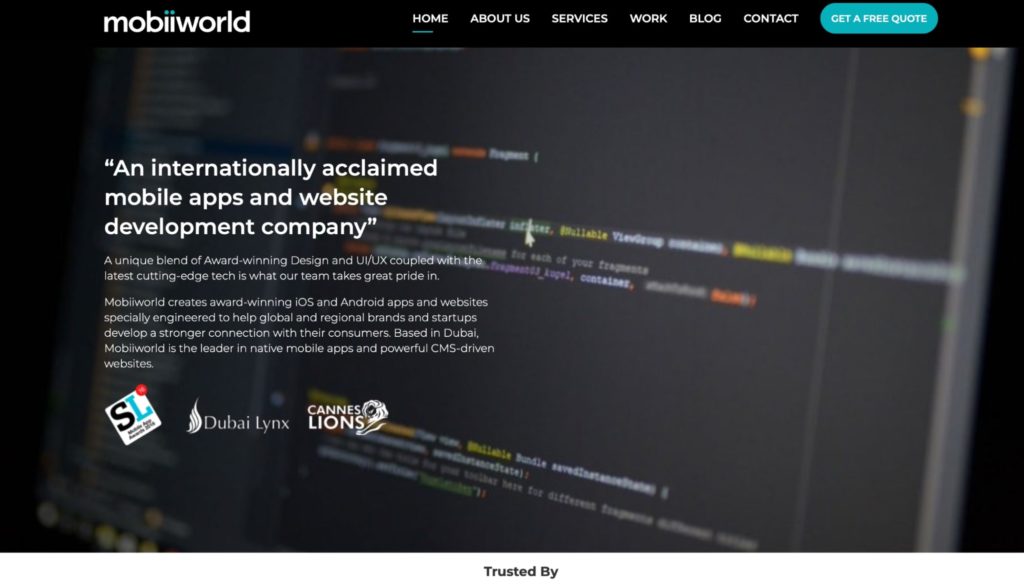 | Test | Info |
| --- | --- |
| SERVICES | Mobile App Development, Website Development, Content Management System Development, Software Development, and more! |
| WEBSITE | https://www.mobiiworld.com |
| ADDRESS | 5th floor, Gateway Building, Block A - Dubai - United Arab Emirates |
| CONTACT DETAILS | Phone: +971 4 450 6800 |
| OPERATING HOURS | 9:00 AM - 6:00 PM (Monday - Friday) |
| | |
| --- | --- |
| Criteria | Ratings |
| Expertise | ★★★★★ (5/5) |
| Support | ★★★★☆ (4/5) |
| Post-Dev Support | ★★★☆☆ (3/5) |
| Availability | ★★★★☆ (4/5) |
Dubai-based software development agency Mobiiworld is a company that creates mobile applications and websites. They also do custom software development for special cases.
They have worked with multiple companies such as the UAE Pro League, where they created an application where fans of the Arabian Gulf League can check for updates and team statistics.
Aside from that, Mobiiworld has also created a booking application for Lymo, a company that provides lift and transportation services for customers in Geneva, Switzerland.
Their work has provided geolocation, call masking, and payouts for the drivers employed by the company. We recommend going to Mobiiworld if you're looking for a developer that has experience with real-time updating of information.

Also, we'd like to note that they lean on taking enterprise-level projects that attract up to 100,000 concurrent users. We also advise commissioning them if you want an iOS application that can handle a lot of traffic.
Now, in terms of post-launch support, they don't really offer a lot. Not much is said about maintenance and support during an application's life as well.
Overall though, we think that Mobiiworld is great for companies that aim to cater to a lot of users in real-time. If you are in need of a developer for an iOS application that can provide current tracking and updates, this company would be of service to you!
Worked with various clients and companies 
Ten years of experience in the industry 
Expert in native iOS and Android apps 
Offers free consultation services 
Heavy focus on mobile applications 
Minimal post-dev support 
3. DeviceBee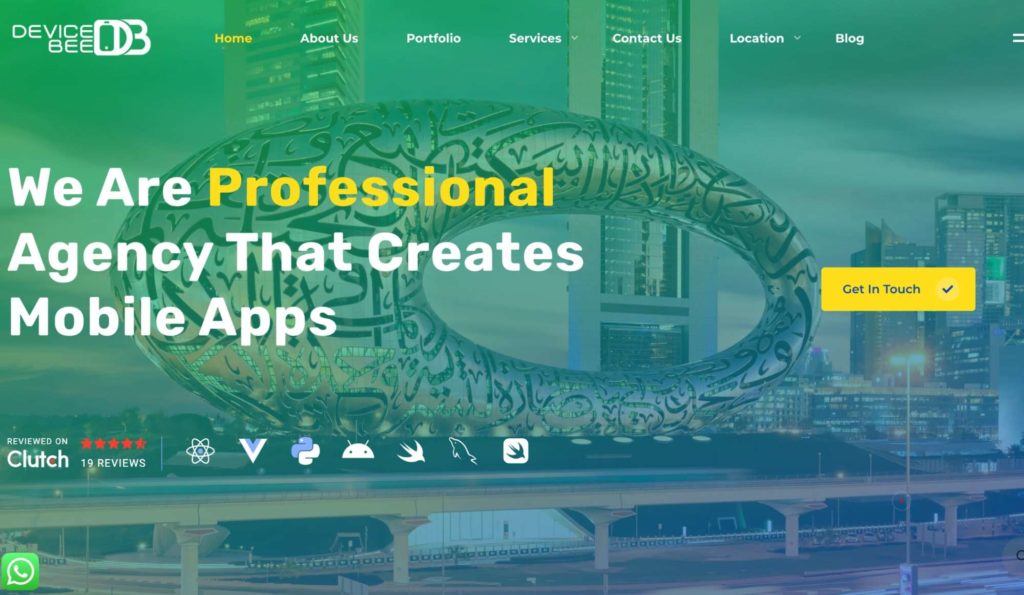 | Test | Info |
| --- | --- |
| SERVICES | iOS Development, Android Development |
| WEBSITE | https://www.devicebee.com/ |
| ADDRESS | Office 110, Building A, Dubai Outsource City - Dubai - United Arab Emirates |
| CONTACT DETAILS | Phone: +971 52 519 5366 |
| OPERATING HOURS | 9:00 AM - 7:00 PM (Monday - Sunday)  |
| | |
| --- | --- |
| Criteria | Ratings |
| Expertise | ★★★★☆ (4/5) |
| Support | ★★★★☆ (4/5) |
| Post-Dev Support | ★★★☆☆ (3/5) |
| Availability | ★★★★☆ (4/5) |
Device Bee is a professional development agency that focuses on creating mobile applications for business-to-business (B2B) companies. They also create software for business-to-customer (B2C) establishments.
What we noticed is that they primarily focus on doing native Android and hybrid applications. They still do iOS-native software though.
In terms of what they've done for Apple systems, they've created mostly food ordering applications, such as Mysofra and Chowking mobile applications.
They also created an iOS app for Glamji, an on-demand service company. Their application displays the available beauty and dermatology establishments that a client can pick and book for treatments.
Looking at their user interface, we saw that they usually lean on a minimalistic style. Using neutral colors, their interfaces are easy to look at (and also easy to work through).
For development, Device Bee can do the following types of applications: cab booking, e-learning, e-commerce, as well as tour and travel applications.
Another good thing about this company is that they are ISO-certified, so you don't need to worry about quality! They also have experienced app developers dedicated to just doing Apple-compatible applications.
What we don't like is that they have very minimal post-launch support, mainly offering bug fixes. We recommend that you consider adding maintenance to the contract if you're hiring them.
In conclusion, we believe that this company will be good if you want minimalistic applications for retail or service booking applications!
Experienced with handling different kinds of applications 
Has worked with multiple companies 
ISO-certified 
Primarily works on hybrid and android apps 
Minimal post-launch support 
Customer Reviews:
Creative Staff
"They are best and very creative team. devicebee is working with me on my mobile app since long and i am very happy with their work." – Mohammed Zabeh
Efficient Technicians
"We have worked with DeviceBee, they have been very helpful to define the scope and to design the overall user experience. Addressing any issues that appeared was sorted out with the help of their experienced Devs." – Zeba Guli
4. ZaffleSoft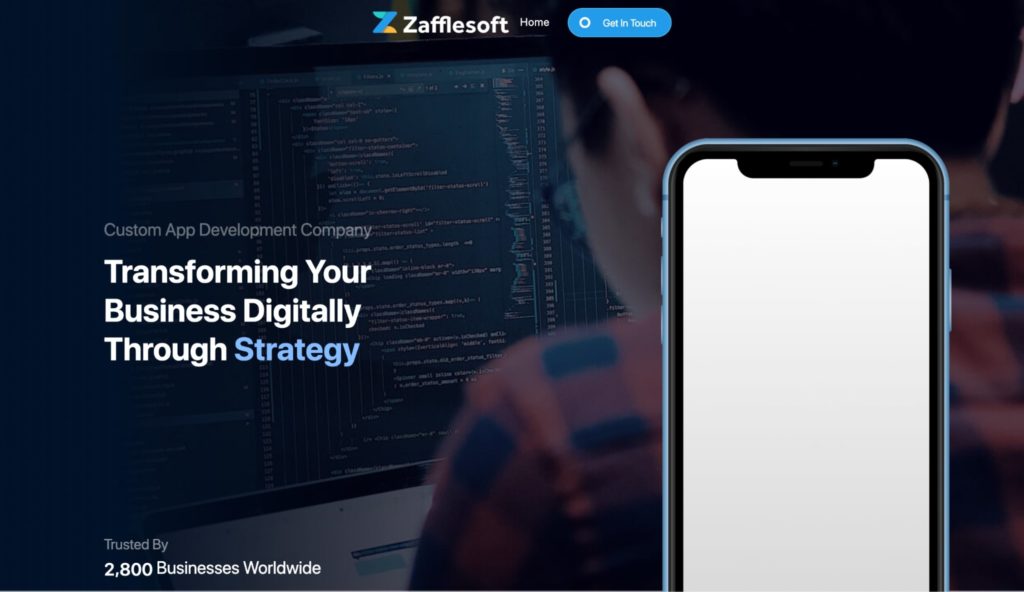 | Test | Info |
| --- | --- |
| SERVICES | App Development, Design, Blockchain, Cryptocurrency, and more! |
| WEBSITE | https://zafflesoft.com/ |
| ADDRESS | Level- 26, Dubai World Trade Centre Tower - Sheikh Rashid Tower - شارع الشيخ زايد - Dubai - United Arab Emirates |
| CONTACT DETAILS | Phone: +971 52 205 2610 |
| OPERATING HOURS | 12:00 NN - 9:00 PM (Monday - Friday) |
| | |
| --- | --- |
| Criteria | Ratings |
| Expertise | ★★★★★ (5/5) |
| Support | ★★★★☆ (4/5) |
| Post-Dev Support | ★★★★☆ (4/5) |
| Availability | ★★★★☆ (4/5) |
Zafflesoft is a software company that caters to developing new applications that have to do with online currencies as well as blockchains. With over six years of experience in the industry, they have provided solutions to various companies and individuals.
They create applications for mobile and desktop computers, but their focus mostly relies on hybrid applications. They still do iOS apps, of course having produced transportation, food service, pickup and delivery applications, just to name a few.
Although we're impressed with Zafflesoft's diverse portfolio, they can also do custom iOS app development. They offer their services for upgrading and migration of software to Apple devices.
So if you have an app that only runs on Android applications but want to expand that compatibility to iOS-run phones, we recommend Zafflesoft for the job.
What's unique about this company is that they offer Flutter app development. This is a framework that allows programmers to create an application that runs on both iOS and Android systems.
Do take note, this is a separate option from the iOS-exclusive offers. So the company has a dedicated team for each kind of application.
Now, moving on to the other services they have: quality assessment. Zafflesoft provides a dedicated assessment team to ensure that the app will work properly during and after its launch.
They also have post-development services, such as bug fixing and maintenance for your applications. 
We mostly recommend Zafflesoft if you want to create an iOS app that can be ported to other systems in the future, as well as iOS-exclusive applications.
Has a dedicated QA service team 
Offers bug fixing and security 
Also has application support and maintenance services
The maintenance services are a separate transaction 
iOS apps not their primary focus
Customer Reviews:
Professional Staff, Great Customer Service
"I can't say enough about the quality of these guys' work. They are always professional, trustworthy, and on top of things. I am so glad that I chose them as my designers. Their prices are very reasonable and they do an amazing job. What more could you ask for? I just can't get over how amazing their customer service is. All of my questions were answered very quickly and to the fullest. I am grateful for this experience. I would everyone who is looking for a mobile application development that is going to help their business." – Laurel Reese Rose Forbes
Quality Work
"They are the best app development company, having experienced developer and provide you the best application for your business." – Sofia Kelly
5. Branex
| Test | Info |
| --- | --- |
| SERVICES | Website Development, Mobile App Development, UI/UX Design, Launch and Deployment |
| WEBSITE | https://www.branex.ae/mobile-app-development/ |
| ADDRESS | BB2, Mazaya Business Avenue - 2602, 26TH FLOOR - Dubai - United Arab Emirates |
| CONTACT DETAILS | Phone: +971 4 241 7179 |
| OPERATING HOURS | 9:00 AM - 6:00 PM (Sunday - Thursday)  |
| | |
| --- | --- |
| Criteria | Ratings |
| Expertise | ★★★★★ (5/5) |
| Support | ★★★★☆ (4/5) |
| Post-Dev Support | ★★★★★ (5/5) |
| Availability | ★★★★☆ (4/5) |
Branex, opened in 2014, is a developer that creates websites and mobile applications. What's most notable about them is the design and functionality of their products.
They have a great focus on presenting a somewhat signature take on the user interface of the applications they've worked on. They mostly lean towards a minimalist design with a modern look, using colors that are pleasing to the eye.
For mobile applications, they offer their expertise in iOS, Android-exclusive applications as well as hybrids. They mostly focus on applications that run in both systems, though.
Regardless, they can still offer good-quality applications for iOS alone. You can certainly be assured of the quality of the software you commission via the updates the company will give you constantly.
Branex provides transparency by sending the latest builds of the application they make. Essentially, you will get to review their progress via these builds.
In terms of post-launch support, Branex has one of the best offers in the market. This is because they are available 24/7 when it comes to providing solutions and bug fixes!
They also offer these fixes as well as maintenance as part of their development services, which is something that we liked about this company.
Overall, for their customer and post-launch support and their minimalist and modern style of UI design, Branex earns a spot on this list.
Has good post-dev support 
Offers 24/7 customer service 
Appointment required
iOS app, not their main focus
Customer Reviews:
Professional and Efficient Staff
"Branex was really profesional and were very patient with all my needs since this was my first website made. They helped me out with all the necessary requirements that was needed for a new startup. Recommend working with them." – Abeer Maghrbia
FAQs About iOS Developers in Dubai
---
Interested in more tech-related services? Here are our recommendations for the top IT service providers in Dubai!