The Top HVAC Services in Dubai
Maintaining your home is part of what makes it last longer. If you have an air conditioning system or a heater – you need those to be tuned up occasionally so they can perform better.
HVAC companies are in charge of maintenance, repair, cleanup, and other technical service to help your machines do well for your convenience.
If you're looking for one for your home or business, you're in the right place! Check out our list of the best HVAC services in Dubai!
How Much Do HVAC Services Cost
Honestly, the price depends on what kind of service you're actually going to call these companies for.
There are multiple services offered for your HVAC: installments, replacements and maintenance.
The table below lists an estimated range for each of the services we mentioned, so you can prepare your budget:
| HVAC Service | Cost  |
| --- | --- |
| Installment  | AED 11,000 - AED 70,000 |
| Replacement  | AED 19,000 - AED 90,000 |
| Maintenance  | AED 5,000 - AED 10,000 |
The Best HVAC Services in Dubai
The following criteria were used in assessing the companies featured in this article:
1. SocialSafe Technical Services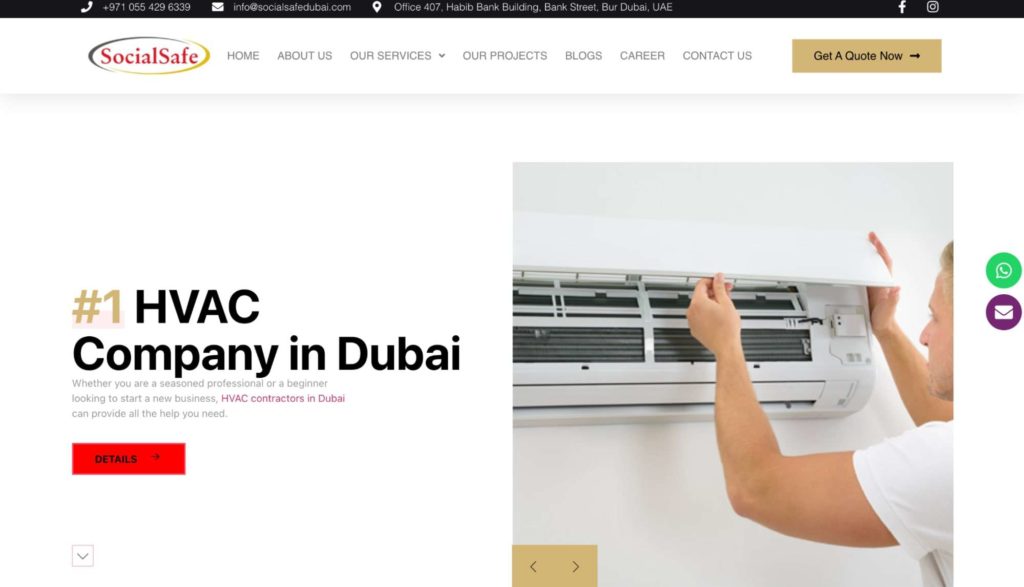 Test
Info
SERVICES
AC Repair, AC Duct Cleaning, Heater Repair, Chiller Repair, Wall Painting, and more!
WEBSITE
https://www.socialsafedubai.com/
ADDRESS
Bank Street Building - Office 407, Habib Bank UAE - Dubai - United - Bur Dubai - Dubai - United Arab Emirates
CONTACT DETAILS
Phone: +971 55 429 6339

E-mail: [email protected]

OPERATING HOURS
Open 24 hours. (Monday - Sunday)
| | |
| --- | --- |
| Criteria | Ratings |
| Expertise | ★★★★☆ (4/5) |
| Price | ★★★★☆ (4/5) |
| Variety | ★★★★☆ (4/5) |
| Support | ★★★★★ (5/5) |
SocialSafe Technical Services is an all-around repair and maintenance company that provides industrial, commercial, and residential solutions.
If you're looking for a company that's easy to contact, this company is available 24/7! So whether you need repairs, upkeep, or installation services, you can give them a call and they will respond as soon as possible.
From the customers we've conversed with, we've heard that SocialSafe Technical Services arrives to provide their service within the agreed upon hour or earlier.
Now, even though we've already mentioned the general tier of services they have available. However, there's another thing that we like about them – their range of services.

They can do cleaning, maintenance,and installation of HVAC parts, such as its ducts. They can also provide accessories, gas refill, and air filter cleaning.
We mostly recommend them if you want your current unit to be cleaned and maintained, as it is the service that they focus on the most.
They also provide an annual contract for AC maintenance. Not only does it cover the usual standard procedures but you'll get additional spare parts for your machine as well.
We recommend asking for a quotation if you think that you will need either their annual AC maintenance service or their general HVAC repair or cleaning services.
Wide variety of services available 
Open 24/7
Offers annual contractual maintenance 
Quotation required
Big focus on repair and maintenance 
Customer Reviews:
Helpful and Friendly Technicians, Prompt Response
"I've used their services several times, including most recently for an emergency water leak from the chiller pipe. They are excellent at what they do, are very friendly and helpful, are always on time, and have been a pleasure to deal with. Highly recommend for any HVAC related repairs or projects!" – John Dudley
2. Seth International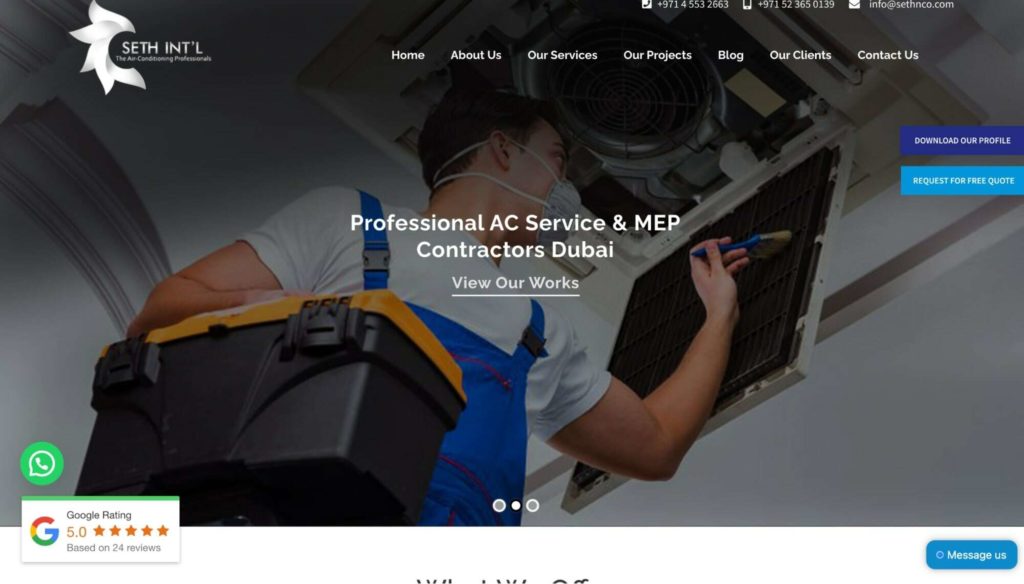 | Test | Info |
| --- | --- |
| SERVICES | HVAC, MEP, Painting, Maintenance, and more! |
| WEBSITE | https://www.sethnco.com/ |
| ADDRESS | Sama Tower - 203 B - Sheikh Zayed Rd - Dubai - United Arab Emirates |
| CONTACT DETAILS | Phone: +971 52 365 0139 |
| OPERATING HOURS | 8:30 AM - 6:00 PM (Monday - Saturday)  |
| | |
| --- | --- |
| Criteria | Ratings |
| Expertise | ★★★★★ (5/5) |
| Price | ★★★★☆ (4/5) |
| Variety | ★★★★☆ (4/5) |
| Support | ★★★★☆ (4/5) |
Seth International is a maintenance, repair, and painting company that provides contractual services to different companies and residences in Dubai. Their origins are actually India, where Seth N Co, its parent company, was opened in 2007.
Essentially, this company is like its Dubai branch. Overall though, Seth iInternational has been in the business for over 15 years.
They have worked mostly on retail establishments, such as stores and restaurants. Some of their previous projects include HVAC services for the Metro Falcon Restaurant in Dubai and the Al Madina Hypermarket in Riyadh, Saudi Arabia.
Now, in terms of services, this company has quite a lot available for their HVAC clientele. They have repairs, maintenance, and installation of HVAC units.
However, they offer layout and design services as well, which makes them stand out amongst the competition! These include duct schematic layout & design, HVAC drawing & design, and many more!

While we would also recommend them for the basic offers, we will mostly recommend them to clients who are interested in creating the perfect unit for their home or place of business.
You can even commission them to maintain and install the designed hardware in your space!
Over 15 years in the business 
Good service variety
Appointment required
Focuses on retail projects
Customer Reviews:
Detailed and Transparent Service
"Recommended by an interior designer friend of mine who said they are the best she tried. They performed in line with these high promises. Very detailed, attentive and transparent. They provided explanations all along the way and kept costs under control. They also really seemed to genuinely care about fixing the issue permanently and about my satisfaction. Highly recommended" – Olivier Meynet
Professional Staff
"Very professional and helpful they will minimize your cost as much as possible and get the job done, many thanks to Mr. Ahmad :)" -Hamza Al-Khatib
3. AC Repair Dubai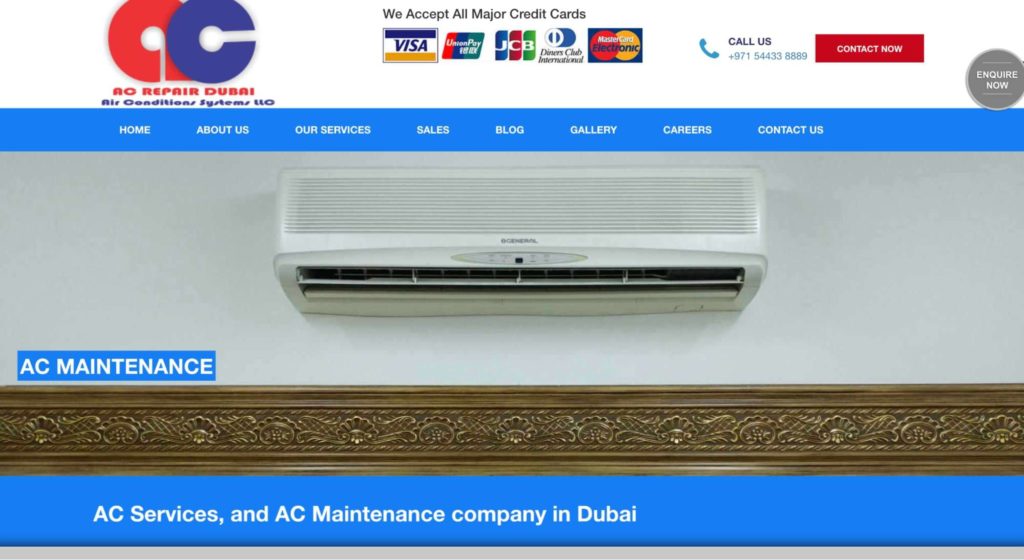 Test
Info
SERVICES
AC Installation, AC Maintenance, AC Repair, Central AC Installation, and more!
WEBSITE
https://www.acrepairdubai.ae/
ADDRESS
79HP+F6G - Damascus Street - Al Qusais Industrial Area - Al Qusais Industrial Area 1 - Dubai - United Arab Emirates
CONTACT DETAILS
Phone: +971 50 658 7312

E-mail: [email protected]

OPERATING HOURS
8:00 AM - 7:00 PM (Saturday - Thursday)
| | |
| --- | --- |
| Criteria | Ratings |
| Expertise | ★★★★☆ (4/5) |
| Price | ★★★★☆ (4/5) |
| Variety | ★★★★☆ (4/5) |
| Support | ★★★★★ (5/5) |
AC Repair Dubai mostly has all the basic services you can find in the HVAC market. They can easily be called, and customers have told us that their technicians are prompt after setting appointments.
For their services, the focus is definitely on the AC part of HVAC. We honestly would recommend going here if it's your air conditioning unit that needs a bit of love.
Some of the offers you can avail in this company include multi-brand AC installations, maintenance, and repair. They can also install a central system in your home, company, or store.
What's great about them though is that you can hire them once or grab their annual AC maintenance contracts!

There are two options for you to consider: the first is availing just the services, and the second is getting the labor and the spare parts for free.
We think that AC Repair Dubai earns a spot in this list as a good second option if you want to hire a company that mainly specializes in dealing with AC units and installing a centralized type of that machine in a location.
Prompt response
Good service variety 
Appointment required
Focuses more on AC-related services
Customer Reviews:
Prompt Response, Quality Service
"I called them for service. They had given me time for one hour to come. I was thinking that may be they are also like other companies who never come on time but they were at my villa at 3:50. And also done nice and clean job. I would like to suggest all to use their services." -Hoor Laraib
Friendly and Efficient Staff
"Couldnt be more satisfied. Im new to dubai, only a couple of months since i moved here, and this is the first hiccup i ever had. Honestly, I did not know what to do, so i looked them up upon a colleague's recommendation, and the service of AC Repair and Maintenance Dubai was unbelievably friendly and efficient. I strongly recommend this hardworking lot to everyone!" -Rabia Qazi
4. ADS AC Repair Service Dubai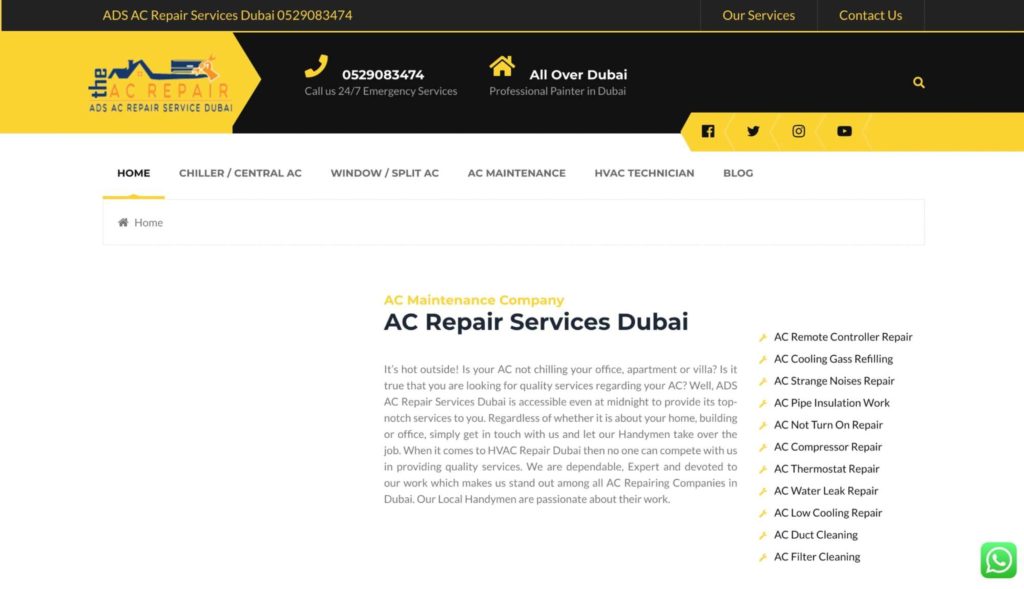 Test
Info
SERVICES
AC Repair, AC Pipe Insulation Work, AC Duct Cleaning, AC Filter Cleaning, and more!
WEBSITE
https://acdubaiservices.com/
ADDRESS
Off 304D, ICon Tower, JLT, PBux 115192 - Dubai - United Arab Emirates
CONTACT DETAILS
Phone: +971 55 752 7630
OPERATING HOURS
7:00 AM - 11:00 PM (Saturday - Thursday)

2:00 PM - 11:00 PM (Friday)
| | |
| --- | --- |
| Criteria | Ratings |
| Expertise | ★★★★☆ (4/5) |
| Price | ★★★★☆ (4/5) |
| Variety | ★★★★☆ (4/5) |
| Support | ★★★★★(5/5) |
ADS AC Repair Service Dubai is a company that you can go to if you want a specific kind of aid for your AC unit.
Primarily, this company does all the basics you can expect from a HVAC company: repair and maintenance. It serves as a good second option if your first choice isn't available.
The variety, however, comes in the specifics. ADS AC Repair specializes in handling the different parts of an AC unit.
Take for example some of the services they can do for your AC. These include repairing its corresponding remote control, refilling the unit's cooling gas, and doing some pipe insulation work.
For the types of AC units they can work on, the company can handle both window and split-types. So there's no need to worry about whether or not they can handle your old unit.
We think that one of its best aspects is in their other offer though: emergency repair services. This means that if you really need an urgent repair, they can come to your door any time of the day!

Overall, we think that this company would be the best match for those in need of a service in such short notice, or if you would need to have a specific part of your AC unit repaired.
Great service variety
Offers 24/7 emergency services 
Quotation required
Appointment needed
Customer Reviews:
Great Staff, Reasonable Prices
"My air conditioner was suddenly stop cooling. I was much worried then I contact Handyman. The guys on reception is very nice . He guide me properly and they are at my home in an hour. They repair air conditioner in an hour in reasonable price." -Hassan UAE
Easy Scheduling Process, Great Service
"Reached out to ADS to enquire about AC Filter duct cleaning. Scheduling the appointment and getting all details was simple and easy over WhatsApp. Overall it was outstanding service. Very knowledgeable and well organized team. Highly recommended." -Abinash Gurung
BONUS. Cost Air HVAC Contracting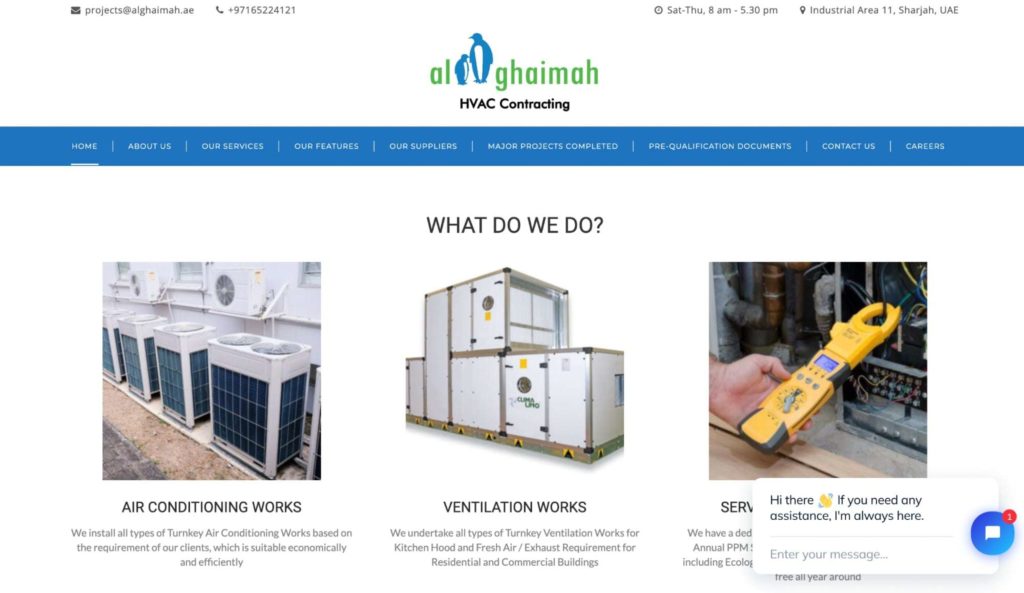 Test
Info
SERVICES
Ventilation Work, AC System Installation, Repair and Maintenance, Duct Fabrication, and more!
WEBSITE
https://alghaimah.ae/
ADDRESS
Fourth Industrial Street - Warehouse - 2 - Al Rehan St - Industrial Area 11 - Sharjah - United Arab Emirates
CONTACT DETAILS
Phone: +971 6 522 4121

E-mail: [email protected]

OPERATING HOURS
8:00 AM - 5:30 PM (Saturday - Thursday)
| | |
| --- | --- |
| Criteria | Ratings |
| Expertise | ★★★★★ (5/5) |
| Price | ★★★★☆ (4/5) |
| Variety | ★★★★☆ (4/5) |
| Support | ★★★★☆ (4/5) |
Previously called Al Ghaimah HVAC Contracting, Cost Air HVAC Contracting is a company that handles installation, maintenance,and designing units for companies and residences.
Even though their office is located in Sharjah, this company gets hired in a lot of Dubai-based projects. Their service range also can be availed in the city.
You will either have to give them a call so they can go to your location or visit them in Sharjah.
With over 10 years of experience in the industry, this establishment has worked on both small and large-scale projects.

They've created ventilation and AC systems for the different offices and locations in Dubai's Global Village as well as Ark Oilfield Supplies Fzco's warehouse.
We believe that when it comes to service variety, Cost Air has it in the bag (so to speak). They can do installation, maintenance, and designing HVAC units.
They can also create turnkey ventilation works specifically for restaurants. Aside from that, you can also hire them for annual repair and maintenance services for your devices.

Another attractive aspect of their work is that you get to have a 1-year warranty after the project has been completed.
In conclusion, with the wide variety of services and the additional warranty given, Cost AIR HVAC Contracting is a company that's worth the call for your needs.
Over 10 years in the industry
Offers 1-year warranty for their work 
Has annual and single-repair services
Leans more on retail or large-scale projects 
Focuses more on AC systems
FAQs About HVAC Services in Dubai
---
And that's all we have for you! We hope that any of these companies will be able to help you maintain or repair your HVAC units.
Looking for more suggestions on home maintenance? Here's our essential home maintenance checklist.