The 6 Best HIFU Treatment Centers in Dubai
High-intensity focused ultrasound (HIFU) is a cosmetic treatment for skin tightening. Using lasers, the specialists would then aim these at the skin to encourage the production of collagen.
More collagen would result in firmer, more youthful looking skin. If you're interested in getting this noninvasive procedure, here is our list of the best HIFU treatment centers in Dubai!
How Much Does Getting HIFU Treatment Cost
Now the price or fees you'll be paying will vary from clinic to clinic. Usually, however, establishments would charge per session.
There are also various HIFU treatment types which vary depending on the machine the clinic will be using.
The first procedure is called Ultraformer HIFU, where clinics would use a HIFU machine of the same name. The Ultraformer can produce ultrasound waves up to 4.5mm deep in the skin, and with its high energy outputs, patients can only go under one session.
The next kind is called Ulthera HIFU, which works similarly as the previous type. Patients undergoing this procedure can also only take it once.
The Ulthera is usually recommended for darker skin types, or if the patient got tanned.
The next kind is the Sygmalift HIFU can target three different depths of skin, namely at 1mm, 1.5mm, and 2mm. This means it can do three areas at once.
However, since it cannot penetrate as deep as the others, patients undergoing the Sygmalift HIFU will have to take multiple sessions to fully achieve their target skin condition.
The last type of procedure is the SonoQueen HIFU. Its waves can reach up to 1.5 to 4 mm – depending on the area of the body being treated.
This treatment is mostly employed on patients who would want to restore the tightness of some areas in their body.
With this being said, the following table lists the estimated cost and the possible number of sessions these HIFU treatments can take:
| HIFU Treatment Type  | Average Number of Sessions | Estimated Cost / Session |
| --- | --- | --- |
| Ultraformer | 1 - 3 | AED 1,000 - 5,300 |
| Ulthera  | 1 - 3 | AED 1,000 - 5,300 |
| Sygmafit  | 3 - 5  | AED 600 - 3,000 |
| SonoQueen  | 1 - 3  | AED 500 - 5,000 |
Other factors that can play a big factor in how companies will charge you per HIFU treatment session include the areas you would want to be treated, and other equipment and any medical treatments needed prior to the procedures.
The Best HIFU Treatment Centers in Dubai
Here are the following factors we've used in assessing the centers in this list:
1. 7 Derma Center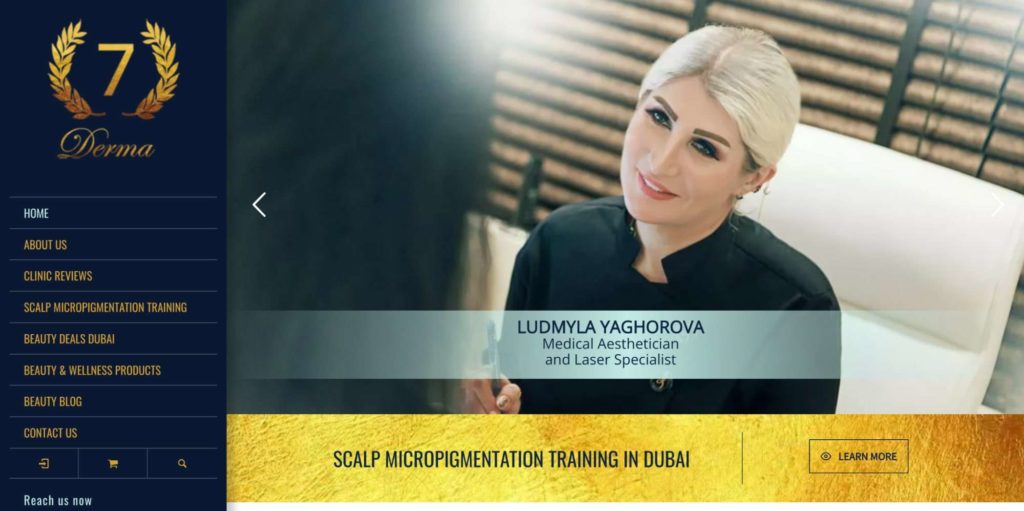 Test
Info
SERVICES
Body Contouring, Teeth Whitening, Laser Carbon Peel, Hifu Treatment, And More!
WEBSITE
https://7dermacenter.com/
ADDRESS
Jumeirah Road 3, Near Sunset Mall, Dubai UAE
CONTACT DETAILS
Phone: +971 55 454 1545

E-mail: [email protected]

OPERATING HOURS
9:00 AM - 9:00 PM (Monday - Sunday) 
| | |
| --- | --- |
| Criteria | Ratings |
| Variety | ★★★★★ (5/5) |
| Expertise | ★★★★☆ (4/5) |
| Facilities | ★★★★☆ (4/5) |
| Pricing | ★★★★☆ (4/5) |
7Derma is an aesthetic clinic that specializes in providing various cosmetic and plastic surgery treatments. The clinic has great facilties, with spacious lounge areas and well-sanitized treatment rooms.
In terms of services, the establishment has two varieties of HIFU treatments – one with the SonoQueen Machine and the other with the Ultraformer machine.
The clinic utilizes the SonoQueen treatment for areas outside of the patient's face, while the Ultraformer is used for facial HIFU treatments.
They allow HIFU treatments on various body parts aside from the face. These include full neck, upper and lower arms, abdomen, inner thighs.
We would like to note that the clinic would require a consultation first for areas outside the face. Depending on how much fixing is needed in your problem areas, prices can go higher if you would be advised to undergo more than one session.
What's nice about this clinic is that they offer special combos with their HIFU treatments. These can vary, from adding a laser carbon peel, to vampire facelift, and more!
Prices range from AED 999 – AED 5,000, depending on the body part you'll be requesting to be put under their HIFU machine. We'd like to note that 7Derma offers an installment plan option for payments as well!
Aside from that, the clinic's aestheticians and specialists have around ten to 20 years of experience in their fields. This lets you know that you're in good hands.
We recommend booking a session with 7Derma if you like the clinic's payment options, variety of HIFU treatments available, and their special offers as well!
Offers monthly promos 
Has treatment packages 
Allows installment payment 
Free online consultation
Expensive 
Appointment required 
Customer Reviews:
Quality Service
"I had an amazing experience with HIFU treatment and Ultherapy. My desired results are achievable, look younger and confident. I will use the clinic for my future treatments and will definitely recommend to my friends!" – Nina Pekina
Friendly and Professional Staff
"Had a Hifu treatment for lower face and neck, really pleased with the results a definite improvement seen. Friendly and professional consultation, no over promising and under delivering. All the staff are courteous and help you relax. I have now booked other treatments here – this will be my go to place." – Toni Turner
2. Ivory Aesthetics Clinic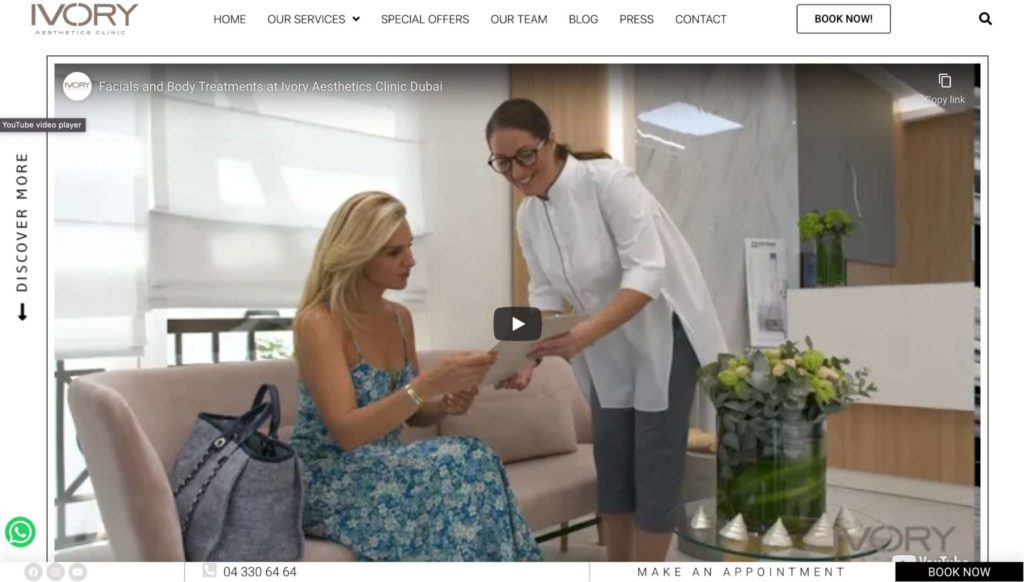 | Test | Info |
| --- | --- |
| SERVICES | HIFU Treatment, Skin Peels, Hydrafacial, Laser Hair Removal, and more! |
| WEBSITE | https://ivoryaesthetics.com/ |
| ADDRESS | Al Wasl Road, Street B, Villa No. 49 - Dubai - United Arab Emirates |
| CONTACT DETAILS | Phone: +971 4 330 6464 |
| OPERATING HOURS | 10:00 AM - 7:00 PM (Monday - Saturday) |
| | |
| --- | --- |
| Criteria | Ratings |
| Variety | ★★★☆☆(3/5) |
| Expertise | ★★★★☆ (4/5) |
| Facilities | ★★★★☆ (4/5) |
| Pricing | ★★★★☆ (4/5) |
Ivory Aesthetics Clinic, founded in 2014, is a boutique skin and body care center that provides a wide range of services to fix or enhance their patients' bodies according to their wishes.
So what's unique about this clinic is the specifics behind their HIFU treatments.
Each session with their machine and their aesthetician takes up to 90 minutes. From what we've seen so far, this is the longest session duration we've seen.
Aside from that, the procedure will be done by their resident expert, Shohreh Bagherian.
This aesthetician has 20 years of experience and specializes in various treatments, including administering HIFU on patients for a non-surgical facelift. This means you'll be in good and capable hands!
Something to note of their services though: the clinic only offers one type of HIFU treatment and it's solely for the areas of the face.
Their prices are quite expensive at AED 5,250 per session, but the treatment runs pretty long, so you get your money's worth per session in a sense. Also, they usually recommend a one-time session only.

We advise booking a session with Ivory Aesthetics Clinic for their expert aesthetician and their 90-minute treatment duration to get the most out of your money.
Experienced aesthetician 
Occasionally has special offers 
Booking required 
A bit expensive
Customer Reviews:
Great Quality HIFU Treatment
"Thank you so much, i loved the HIFU treatment my face looks fresh and lifted, my double disappearing, my cheeks showing more and my eyes dark circle almost gone👏👏👏🙏🙏🙏" -Nanaz Azari
Informative, Nice Staff
"had a facial here and it was very comfortable with super nice staff, the facialist was super informative and told me alot about what my skin needed and what i should change in my skincare. definitely would recommend it to anyone looking to get a facial in dubai" -F xx, via Google Reviews
3. Nova Clinic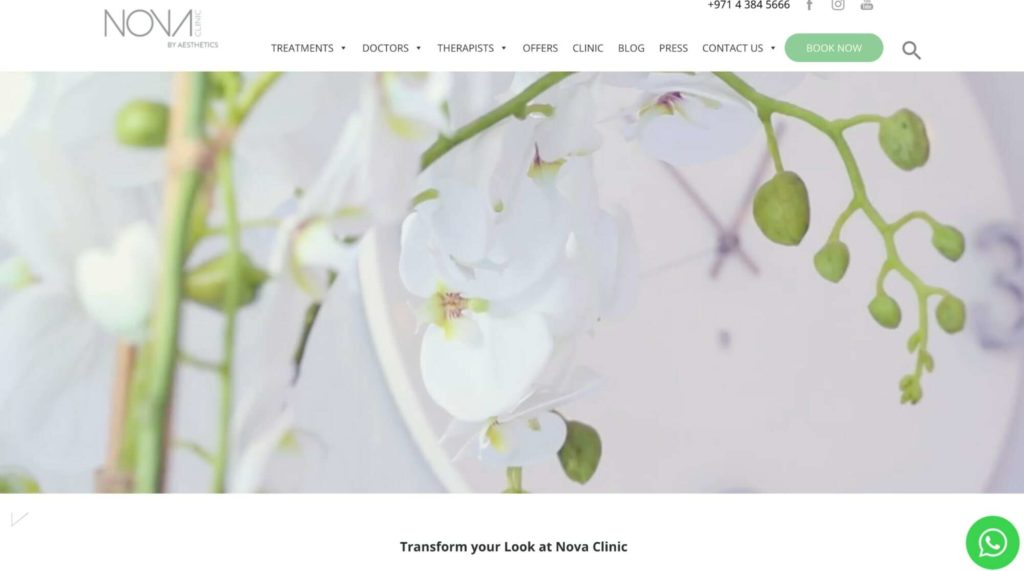 Test
Info
SERVICES
Breast Augmentation, Facials, Skin Peels, HIFU Treatments, and more!
WEBSITE
https://thenovaclinic.com/
ADDRESS
047 Al Wasl Rd - Al Manara - Dubai - United Arab Emirates
CONTACT DETAILS
Phone: +971 4 384 5666
OPERATING HOURS
9:00 AM - 8:00 PM (Sunday - Thursday)

9:00 AM - 6:00 PM (Friday)
| | |
| --- | --- |
| Criteria | Ratings |
| Variety | ★★★☆☆ (3/5) |
| Expertise | ★★★★★ (5/5) |
| Facilities | ★★★★☆ (4/5) |
| Pricing | ★★★★☆ (4/5) |
If you're looking for an establishment that solely provides a specific type of HIFU treatment, you might want to check out this clinic!
Opened in 2016, Nova Clinic is a one-stop plastic surgery, skin care, and cosmetic center that offers various invasive and non-invasive procedures for the beautification of a patient.
In terms of their HIFU treatment, the clinic only offers one: their SonoQueen HIFU. Essentially, what this means is that the establishment exclusively uses one kind of machine or treatment.
The duration will depend on the number of areas that will be treated, as well as the severity of your condition. The clinic usually requires an initial consultation to learn more about the patient's case.
The cost is also a case-by-case basis. The clinic usually offers sales and monthly packages, so you can wait for when their HIFU treatments would have a promotion and book an appointment.
Looking at the doctors and aestheticians that can handle HIFU treatments, we've observed that they have over 10 to 25 years of experience. You will definitely be treated with utmost care should you avail their services.
Nova Clinic is the place to go if you want to be handled by aestheticians and staff that have years of experience under their belt.
Spacious, well-designed facilities 
Experienced staff and doctors 
Clinic has monthly sales and/or offers
Encourages contact or booking for more information 
One type of HIFU treatment only
Customer Reviews:
Amazing Service, Great Facilities
"Just had a facial, would highly recommend. My face looks fabulous and never had such good results. Great place and great staff, thanks!" – Reem Reem, via Google Reviews
4. SUNFACE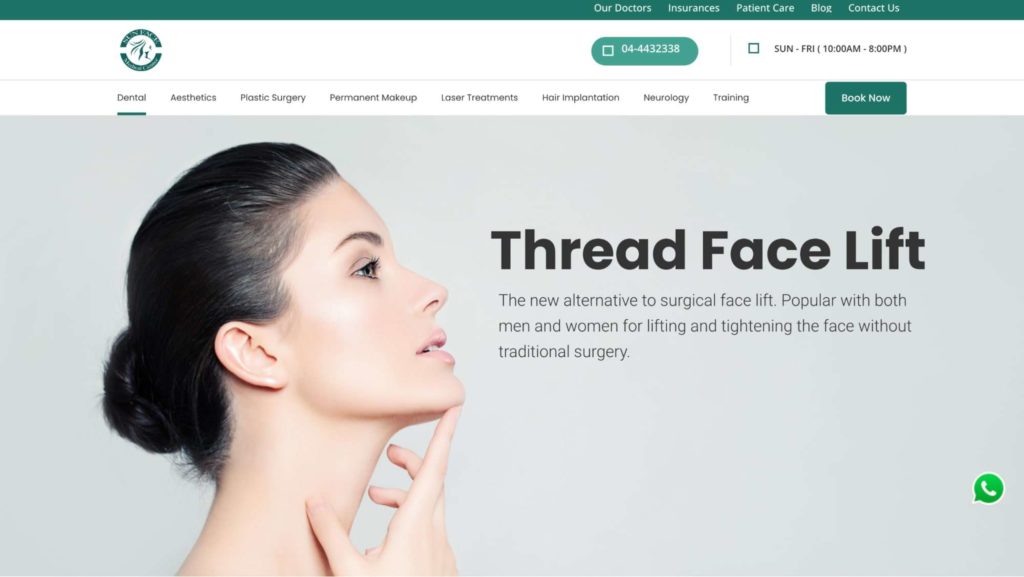 Test
Info
SERVICES
HIFU Treatments, Cosmetic Dentistry, Endo Lifts, Scar Removal, Laser Hair Removal, and more!
WEBSITE
http://sunface.ae/
ADDRESS
No.1003 , 10th Floor Cluster X Jumeirah Bay X2 - Dubai - United Arab Emirates
CONTACT DETAILS
Phone: +971 4 443 2338

E-mail: [email protected]

OPERATING HOURS
10:00 AM - 8:00 PM (Monday - Sunday) 
| | |
| --- | --- |
| Criteria | Ratings |
| Variety | ★★★☆☆ (3/5) |
| Expertise | ★★★★☆ (4/5) |
| Facilities | ★★★★☆ (4/5) |
| Pricing | ★★★★☆ (4/5) |
SUNFACE is a medical aesthetic center that focuses on giving a wide variety of cosmetic and skin care treatments for their client's needs.
Here's what sets their HIFU treatments apart from the rest of their competitors: they require their patients to undergo these procedures for more than a session.
Patients or interested individuals will have to undergo said treatments under SUNFACE for three times.

While this is within the range of the recommended sessions for the procedure to fully integrate into the body, this is the highest minimum number of sessions we've seen.
As we've observed, the clinic only has one type of treatment or HIFU machine available. Called Ultra Skin, the procedure targets the deep dermis area without the patient getting any damage.
The price per session is set at AED 2,500 which is still quite reasonable. However, the clinic is usually putting the fees for their HIFU treatment on sale – it can go as low as AED 899 per session, which is nice!
In terms of the doctors and staff that will be handling said procedures in the clinic, they have over ten years of experience in handling facelifts including the HIFU variety.
In conclusion, with their flexible prices and expert staff, your HIFU treatments in SUNFACE will certainly go off without a hitch!
Experienced doctors 
Luxurious-looking facility
3 sessions required
Appointment required
Customer Reviews:
Professional and Attentive Statt, Skilled Doctors
"I visited the clinic couple of times and I always had very good experience. The clinic is clean and modern. All the staff are highly professional, attentive and kind. Dr Majid Farouzesh is literally the best aesthetic doctor in Dubai. He is highly skilled, experienced and at the same time very kind and approachable. I'm very happy I found this clinic and Dr Majid. I highly recommend!" -Dagmara Osinaka
Quality Customer Service
"Great experience and extremely professional staff, starting from the Christina at the reception who has been really informative, thoughtful and caring before the procedure and following up the next day ( an outstanding Customer Service). Shohreh is always extremely gracious and by far the best microbalding expert anywhere I know. Overall, Sunface is THE ideal destination for cosmetic procedure in the city of Dubai!!!" – Riham Elsharif
5. Elite Style Poly Clinic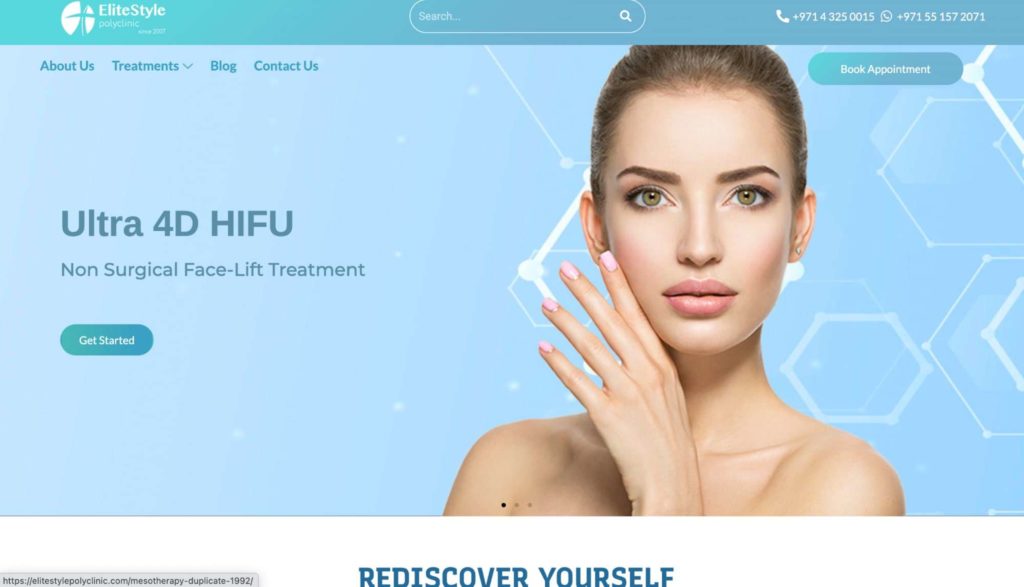 Test
Info
SERVICES
4D HIFU, Skin Rejuvenation, Coolsculpting, Face Countouring, and more!
WEBSITE
https://elitestylepolyclinic.com/
ADDRESS
1304 1305 1306 , Al Attar Tower - Sheikh Zayed Rd - Dubai - United Arab Emirates
CONTACT DETAILS
Phone: +971 55 157 2071

E-mail: [email protected]

OPERATING HOURS
10:00 AM - 7:00 PM (Monday - Thursday)

11:00 AM - 7:00 PM (Friday)
| | |
| --- | --- |
| Criteria | Ratings |
| Variety | ★★★★★ (5/5) |
| Expertise | ★★★★☆ (4/5) |
| Facilities | ★★★★☆ (4/5) |
| Pricing | ★★★★☆ (4/5) |
With over 15 years in the business, Elite Style Polyclinic continues to provide various medical procedures for clients who wish to change or alter their appearance.
The treatment usually lasts for around 30 to 90 minutes, depending on how much skin needs to be treated. In terms of variety, the Polyclinic offers very little.
There is only one type of treatment available, but their procedure can cover various areas of the body. It mostly concentrates on the face, but a patient's arms, legs, thighs, and more can also be treated.
Moving away from the treatment, stepping inside the clinic, we've observed that it's very well-designed and lit. The waiting areas are comfortable and plush with enough seating.
Aside from that, the consultation and treatment rooms are organized and look very clean. Some patients have shared that the clinic's rooms can get too cold, but that is mostly a matter of preference.
Speaking of patients, one of the most notable things about this establishment are their staff. According to the people we've conversed with, they are friendly, efficient, and easy to talk to during the patients' visits.
Overall, if you're looking for a clinic that does HIFU treatments outside just the face, we recommend booking an appointment with Elite Style Polyclinic!
Spacious, well-designed facilities 
Friendly and efficient staff 
Offers HIFU for various parts of the body 
One type of HIFU treatment available
Booking required
Customer Reviews:
Clean Clinic, Helpful and Kind Staff
"Honestly! 100% recommended. Dr Rida was super kind and she explained absolutely everything before start. The clinic is really nice,clean and quiet. Reception staff helpful and kind.
Prices are affordable too." – Guillermo G
Friendly and Caring Staff, Knowledgable Doctos and Aestheticians
"Always an amazing experience with Elite Style. Starting from the reception-Miko and Madam who are very friendly and caring. Since I first visited the clinic, Miko has been very helpful and attentive to my needs. I Did laser with Ms Joy who is very knowledgeable, patient and with light hands in doing the procedures and professional as she also teaches me what's best for my skin. Highly recommended. And I will always come back for more. See you soon. 😉" – Slayer 2020, via Google Reviews
6. DrypSKin Aesthetic Well-Being Clinic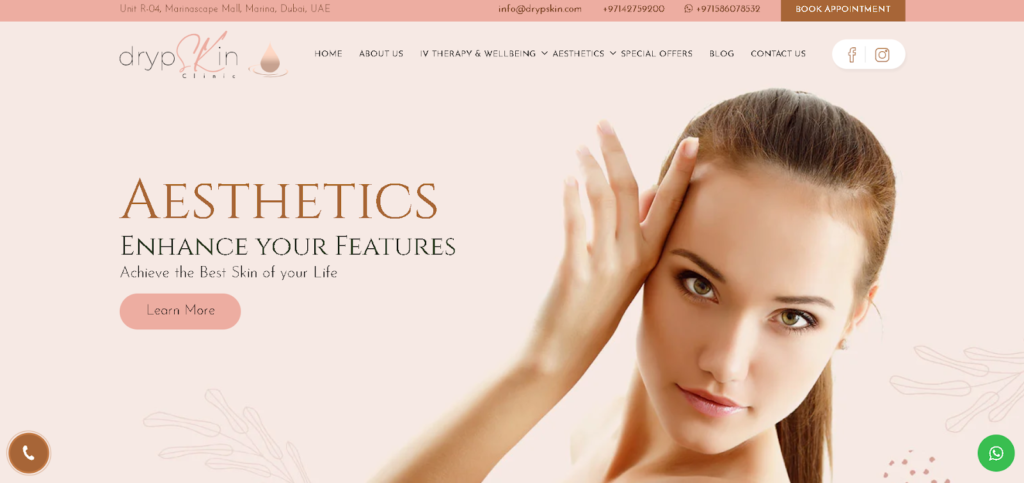 SERVICES
IV Therapy & Wellbeing:
IV vitamins and infusions
Blood diagnostic tests
Radiology treatments
Oxygen Therapy
Aesthetics:
Injectables
Lifting and tightening
Facials
Acne treatments
Weight Loss treatments
Eye treatments
Laser treatments
Skin boosters
Surgical treatments
Double chin treatments
WEBSITE
drypskin.com
ADDRESS
Unit R-04,Marinascape Mall,Marina, Dubai, UAE
CONTACT DETAILS
[email protected]
+97142759200
+971586078532
OPERATING HOURS
Monday – Sunday, 10:00 AM – 10 PM
| | |
| --- | --- |
| Criteria | Ratings |
| Variety | ★★★★★ (5/5) |
| Expertise | ★★★★☆ (4/5) |
| Facilities | ★★★★★ (5/5) |
| Pricing | ★★★★☆ (4/5) |
If you want to look and feel your best on the inside and out, DrypSKin is the place to be. They provide the most advanced aesthetics technologies in Dubai to help you live a better and happier life. Their worldwide certified personnel not only specializes in employing cutting-edge technology, but they also bring the greatest practices from all ideologies.
Among the services they provide, they exceptionally do well on their skin treatments including in their HIFU. It is a recent clinical skin tightening procedure. This therapy can target different depths of tissue in the body to tighten, lift, and shape the skin. HIFU devices are fully non-invasive and promote new collagen formation and collagen regeneration at the source by targeting deep layers of the skin.
This treatment is ideal for someone over the age of thirty who wants to prevent aging and address fine lines, wrinkles, and skin sagging. Each session takes about 30 to 90 minutes and what we like about this is that it is a relatively safe procedure that is ideal for non-surgically contouring the post-pregnancy tummy, abdomen fat, bingo wings, thighs, and under the buttocks.
High-end facilities
Website has useful information regarding each of their treatments
Provides special offers
Available seven days a week
Rates are not available online
Customer Reviews
This place is absolutely amazing!!
"This place is absolutely amazing!! I flew all the way from Los Angeles, California and had an Wonderful experience! Gayaathri and Dikshe were the nurses who assisted me and made me feel at home with their Humorous and well experienced character. Dr. Khan is extremely Knowledgeable and taught me so much about my health and body. We only get one body in this life we just take care of it and this is the place to go if you are interested in taking care of your Health! " – Mohammad Safir
The clinic staff are very professional and understanding
"I visited dr faraz khan. It is the only skin clinic I trust especially dr khan . My hair fall stopped after his treatment ( PRP) and I'm glad I met him at the right time . He explained everything in detail to me about my concerns and treated me accordingly .The clinic staff are very professional and understanding . The nurses do their work in a very systematic way . " – Syeda Ruqsana
FAQs About HIFU treatment centers in Dubai
---
Hopefully any of these clinics can be of assistance to you! If you're interested in other aesthetic or cosmetic procedures, here are our recommendations for the best facelift centers in Dubai!