Top 5 Picks for the Best Handymen in Dubai
Featured Image Source: Elena Rouame via Unsplash
Home repairs and renovation work can be tough to do yourself. So, for your general home maintenance needs, be sure to get the services of the best handymen in Dubai.
In this article, we've provided a guide on how to select a reliable handyman. We've also compiled the best handymen in Dubai in a list below to make your search easier.
To prepare you for the cost of handyman services in the city, we've even included a price list which you will see below.
How Much Do Handyman Services Cost in Dubai
The table below shows the cost of the common handyman services offered in Dubai excluding VAT. Actual prices may vary depending on your provider.
| | |
| --- | --- |
| General handyman services, electrical and plumbing repairs | |
| 1 hour | AED129/hour |
| 2-3 hours | AED119/hour |
| 4+ hours | AED109/hour |
| TV mounting | |
| <55 inches | AED99 |
| 55-65 inches | AED149 |
| >65 inches | AED199 |
| AC installation, cleaning, or repair | |
| 1 unit | AED179 |
| 2 units | AED339 |
| 3 units | AED499 |
| 4 units | AED649 |
| 5 units | AED799 |
| Home appliance repair | AED129/hour |
| Annual maintenance contract | AED1,500 to 5,000 |
How to Pick the Best Handyman in Dubai
To guarantee that your home and appliances will be in their best shape after your handyman work, make sure to pick the best handyman in Dubai.
Below are some tips you should consider when choosing a handyman to do any repair and maintenance work for you.
Ask for referrals
Ask friends and family members for handymen they can suggest. A service provider they know and trust is likely to be one you can trust as well.
If you can't get handyman recommendations, you can also look up handymen in your area and read reviews on their work online.
Get estimates
Upon narrowing down your options, get estimates from three or more service providers. This allows you to get the best price for the same service.
Some handymen can give you a quotation online for free while others may ask to see your space or appliance first and for a minimal fee.
Choose a provider with a guarantee
A warranty protects you from substandard home maintenance and repair work. Guarantees usually last anywhere from a week to a year, so choose a provider that offers a longer guarantee period.
Make sure to ask this upfront to ensure that you get the best quality handyman services.
The Best Handymen in Dubai
With these tips, you should now be able to choose a reputable handyman. Find a handyman easier with our list of the top handyman picks in the city below.
1.   HomeGenie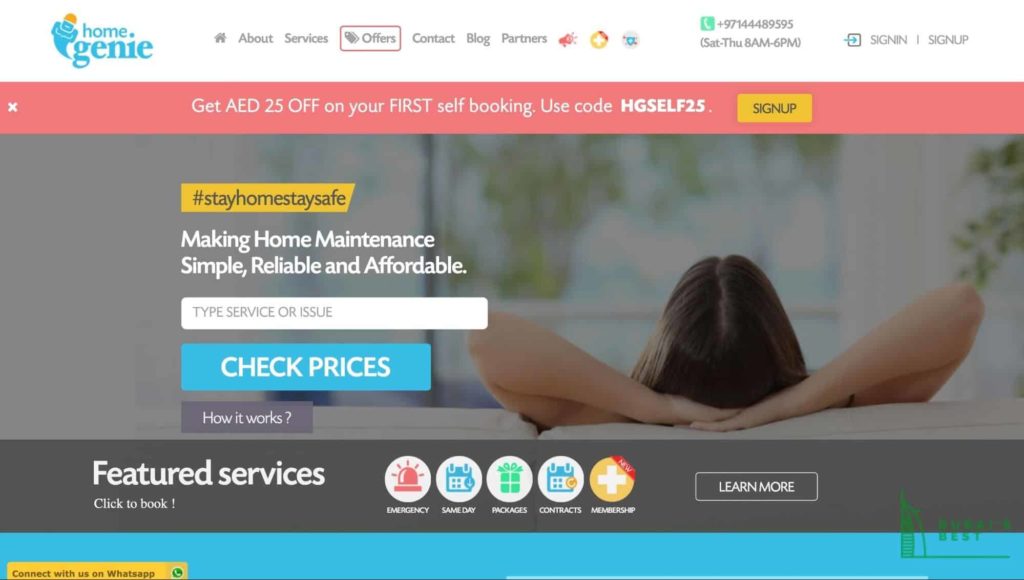 BEST FOR
Special offers
WEBSITE
https://www.homegenie.com/
ADDRESS
Unit 3O-01-2686, Jewellery & Gemplex 3, Dubai, United Arab Emirates
CONTACT DETAILS
+971 4 448 9595


[email protected]

OPERATING HOURS
Saturday – Thursday: 8:00 AM – 6:00 PM
HomeGenie provides one-stop home maintenance and repair services in Dubai. For a cheap price, you can hire them for any odd job for your home, no matter how easy or complicated.
If you need immediate assistance, they offer same-day and emergency services. They can also provide you with quick repairs before 6 PM given that you book their services before noon.
You can also have a handyman over within two hours for an added charge if you avail of their emergency service.
What's more, Home Genie's special offers help you save money on home maintenance and repairs. They also provide a 15-day guarantee on their repair and installation jobs.
Same-day and emergency services available
Open on Fridays and holidays
You can book the same professional on your next booking
Limited service guarantee
Customer Reviews
Previous client Simon Wickham was highly-satisfied with HomeGenie's service. They shared:
"The guys hung my wallpaper. They were very polite, efficient, and offered great value compared to some other quotes I received. I would recommend it."
Shant Daldalian also said:
"HomeGenie is definitely the best service provider available in the market. Very punctual, responsive, and absolutely easy to reach and communicate with."
2.   JustCare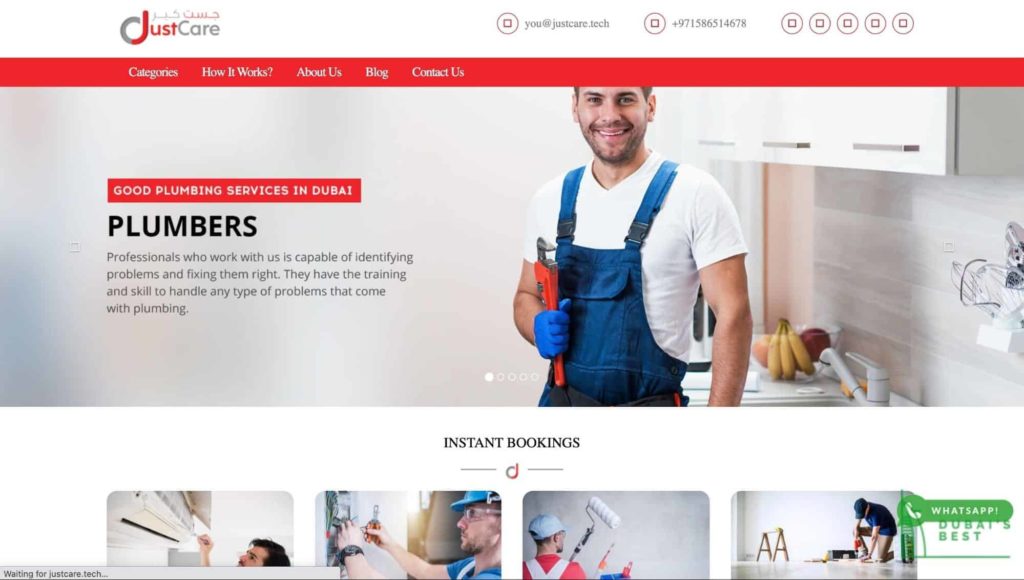 JustCare is a general maintenance service provider that provides affordable handyman services in Dubai, Sharjah, and Abu Dhabi.
They charge AED95 for inspection, which also includes the first hour of service. AED45 would then be charged for every 30 minutes of work.
JustCare's handyman services include furniture assembly, mounting, and repair, curtain and blind installation, and doorknob installation and repair. Their staff can also address paint scratches and tile cracks, helping make your home good as new.
Plus, they even offer a 30-day service guarantee on their handyman services, giving you the best value for your money.
Services are available to Dubai, Sharjah, and Abu Dhabi
Provides a 30-day service guarantee
Customer Reviews
Nudrat Majid reviewed JustCare:
"I am not normally one to write a review. However, I just had to write about the incredible service I just received from Just Care Technical Services.
I called them to get some artwork put on the walls and they did not disappoint. They arrived on time, were very courteous, did the work to a professional level and very quickly.
I will definitely be using their services again and would not hesitate to recommend them to others. Thank you guys."
Shariq Mahmood also said:
"Great professional service. Very reasonably priced. They helped with fitting, an additional service not originally quoted, for a marginal fee. Would recommend to anybody."
3.   Vfix Maintenance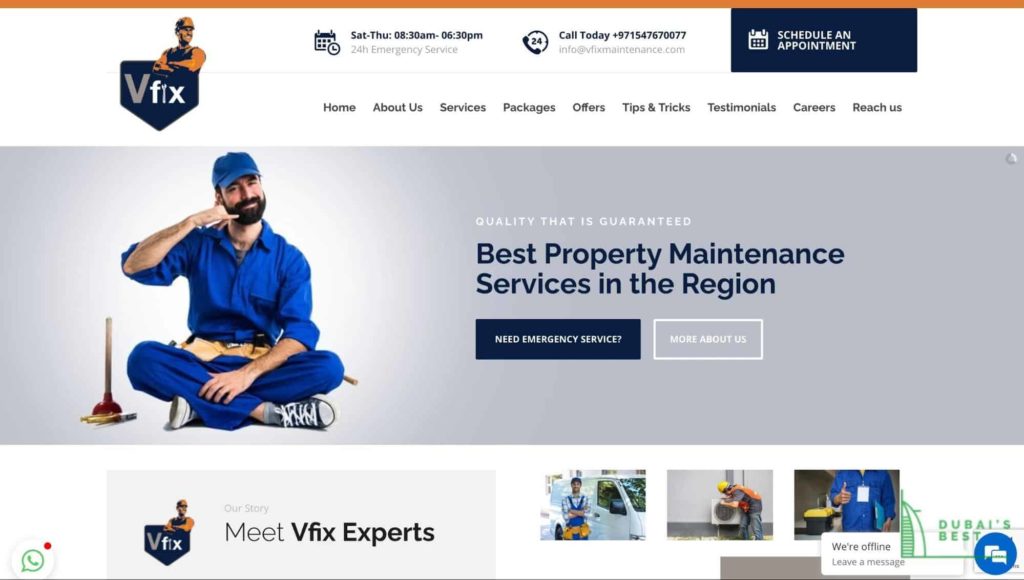 BEST FOR
Residential and commercial packages
WEBSITE
https://vfixmaintenance.com/
ADDRESS
Prime Business Centre, Office #402, Block A, JVC, Dubai, United Arab Emirates
CONTACT DETAILS
+971 54 767 0077


[email protected]

OPERATING HOURS
Saturday – Thursday: 8:30 AM – 6:30 PM
Vfix Maintenance's team of 80+ highly-trained and experienced staff provides 24/7 handyman services in Dubai.
They do all sorts of installation, maintenance, and repair services. Among these are furniture assembly, appliance installation, and various electrical and plumbing works.
To help you save on your home maintenance needs, they offer residential and commercial packages, including annual maintenance contracts.
Signing up for their email newsletter also gives you access to their special offers.
Large team
24/7 services
Special offers and packages
No mention of a guarantee
Customer Reviews
Amarpreet Singh Dhillon, a previous client, shared:
"Vfix provides good service and very fast response. They reacted fast when tenants in my home needed assistance with leakages and repairs. Will continue to use their services."
Meanwhile, Shirad Salaheddine reviewed:
"Exceptional team, from booking to service delivery. Clean and well organized."
4.   Well Done Handyman Services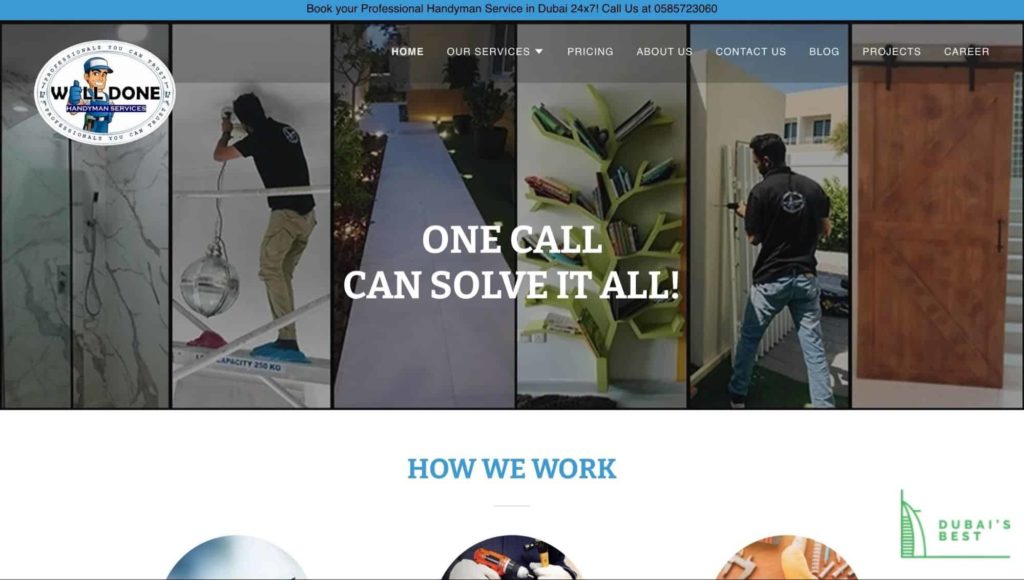 BEST FOR
Expert chandelier installation; relocation services
WEBSITE
https://welldoneservices.me/
ADDRESS
Spectrum Building, Plot No. 6, Dubai, United Arab Emirates
CONTACT DETAILS
058 572 3060
+971 58 572 3060
OPERATING HOURS
Open 24/7
For trusted handymen for repairs and odd jobs in Dubai, Well Done Handyman Services is a provider you can rely on.
Their handymen are versatile and can help you with installing curtains, blinds, window screens, TVs, chandeliers, and other light fixtures.
They can also assist you in relocating, doing tasks such as dismantling and re-assembling furniture and appliances.
The company guarantees that their handymen are equipped with the best tools to carry out any requirement for your home maintenance and repair.
24/7 services
Equipped with the best tools
Customer Reviews
Begona Albaladejo left Well Done Handyman Services a positive review:
"I contacted them to cut the legs of my bar chairs that were too high for my kitchen island. They came not only once but twice because I decided to cut a little bit more with no extra costs.
Clean service and very professional. I will not hesitate to contact them again if I need a handyman in the future. Thanks."
Dom M. also reviewed:
"Gurdeep and team installed two large chandeliers on my double height ceiling and did an excellent job! It was my first time using Well Done Handyman.
The company communications were simple, easy, and efficient. I got in contact with them by Whatsapp and explained my requirements. They understood the necessary scope of work required immediately which was very reassuring.
The team arrived and promptly set up scaffolding in order to reach the high ceiling and carried out their work with great attention to detail. They were able to install the lights and necessary support with minimal ceiling openings and finished the job with perfect detailing!
I highly recommend them and shall definitely be using them again in the future."
5.   The Home Team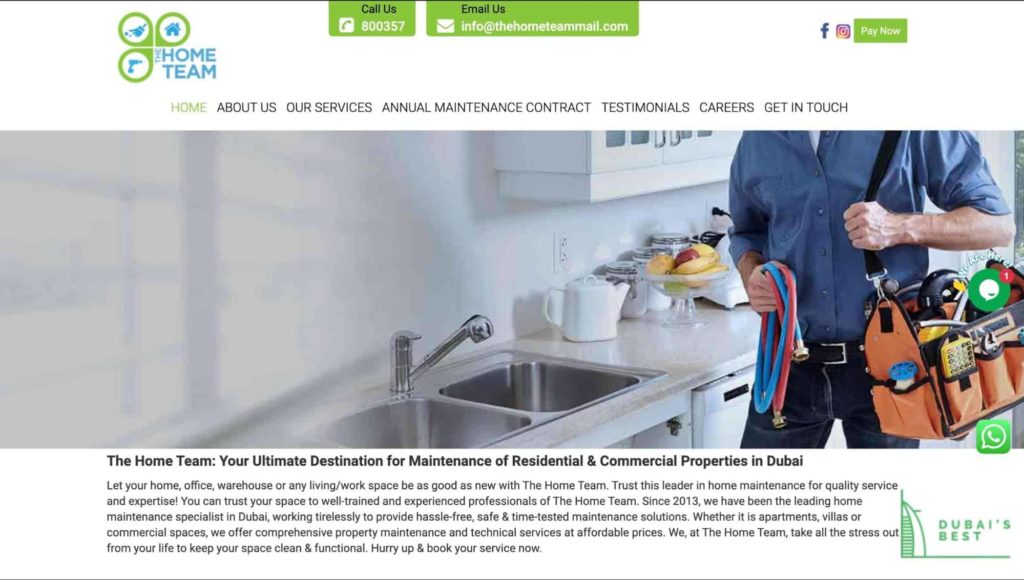 BEST FOR
Flexible annual contracts
WEBSITE
https://www.thehometeam.ae/
ADDRESS
Suite 116, Diamond Business Center 2, Arjan, Dubailand, Dubai, United Arab Emirates
CONTACT DETAILS
800 357

[email protected]

OPERATING HOURS
Saturday – Thursday: 9:00 AM – 9:00 PM
The Home Team offers residential and commercial maintenance services in Dubai. In particular, they have experience in providing their services to apartments, villas, and offices.
They have trained and screened technicians who can do a variety of bathroom renovation tasks, kitchen works, and plumbing services at your preferred time. They also provide expert AC servicing and duct cleaning.
However, what makes The Home Team one of the best companies for handymen in Dubai are their flexible annual maintenance contracts.
This entitles you to round-the-clock support and unlimited emergency calls. They also guarantee their timely response plus free inspection and quotation.
Residential and commercial handyman services
Screened technicians
No mention of a guarantee
You can only make changes to your contract every 4 months
Customer Reviews
Nilesh Dave, a satisfied client, reviewed:
"I have done water heater replacement with The Home Team. They were very professional, with a human touch in handling the enquiry.
They quoted the same price as their competitors, however, I went ahead with them as I felt that their team was more active in getting the job done.
The guys arrived on time, fixed the issue proactively, and cleaned the space after they finished. Would definitely refer to my friends and will be using their service again."
Another previous client, Mason Kelly, shared:
"The Home Team provides hassle-free and on-time services. I have hired them to install fire security and smoke alarms in my office. The electricians seem to be well trained and experienced. I would love to work with the company again. Keep it up, The Home Team."
FAQs about the Best Handymen in Dubai
---
With one of these companies for the best handymen in Dubai, your home maintenance work will surely be done in no time!
Are there other handyman companies you'd like us to include in this list? Let us know by sending us a message.
If you're also looking for fridge repair specialists, check out our list of the providers for the best fridge repair in Dubai.