7 Clinics for the Best Hair Transplant in Dubai
Featured Image Source: Asadullah Rao via Unsplash
Receding or balding hair can reduce one's self-confidence. To remedy this, you'll need the expert services of clinics that offer the best hair transplant in Dubai.
This article will provide a guide on how to select a clinic for the best hair transplant in Dubai. We've also included a list of providers to make finding a reliable hair transplant clinic easier.
We've even done our research to help you prepare for the cost of various hair transplants in Dubai. We listed them.in a table here for you.
How Much Does Hair Transplant Cost in Dubai
Here is a table of the cost of various types of hair transplants in Dubai. Note that prices may vary depending on your chosen provider.
| | |
| --- | --- |
| FUE (Follicular Unit Extraction) Hair Transplant | AED10,000 to 20,000 |
| Beard Hair Transplant | AED5,000 to 20,000 |
| Eyebrow Hair Transplant | AED5,000 to 12,000 |
| Crown Hair Transplant | AED8,000 to 15,000 |
| Body Hair Transplant | AED10,000 to 20,000 |
How to Pick the Clinic for the Best Hair Transplant in Dubai
To guarantee that your hair transplant will be a success, below are some things you should consider in selecting a clinic for your procedure.
Know the procedures
Clinics often offer two hair transplant procedures: the Follicular Unit Extraction (FUE) and the Follicular Unit Transplantation (FUT).
FUE requires the extraction of individual strands of hair, making it a more costly and time-consuming process. However, the recovery time for this method is shorter. It also does not leave a visible scar.
FUT, on the other hand, makes use of a strip of scalp tissue that is then separated into grafts. This ensures better quality hair grafts but leaves a visible scar, so it is best for people who will keep their hair long.
Know your clinic and doctor
Check your chosen clinic for licenses from the Dubai Municipality as well as authorities in the medical field.
Then, do a quick background check of your doctor, ensuring that all details posted about them on the clinic's website aligns with other information about them on the internet.
You should also look online for reviews to know whether previous patients were pleased with their work as well as to find out any history of malpractice.
Book a consultation
Note down all of your pertinent questions and schedule a consultation with your doctor to ask these.
Here, you can also request for before and after photos of their previous patients for reference.
After informing them of your concern, they should be able to lay down a personalised treatment plan for you, explaining clearly the process, the aftercare, as well as the cost.
The Clinics for the Best Hair Transplant in Dubai
With the tips above, you should now be ready to find a reputable clinic for your hair transplant procedure in Dubai.
To make your search quicker, here's a list of some of the best clinics in Dubai you should consider for your hair transplant.
1.   Bizrahmed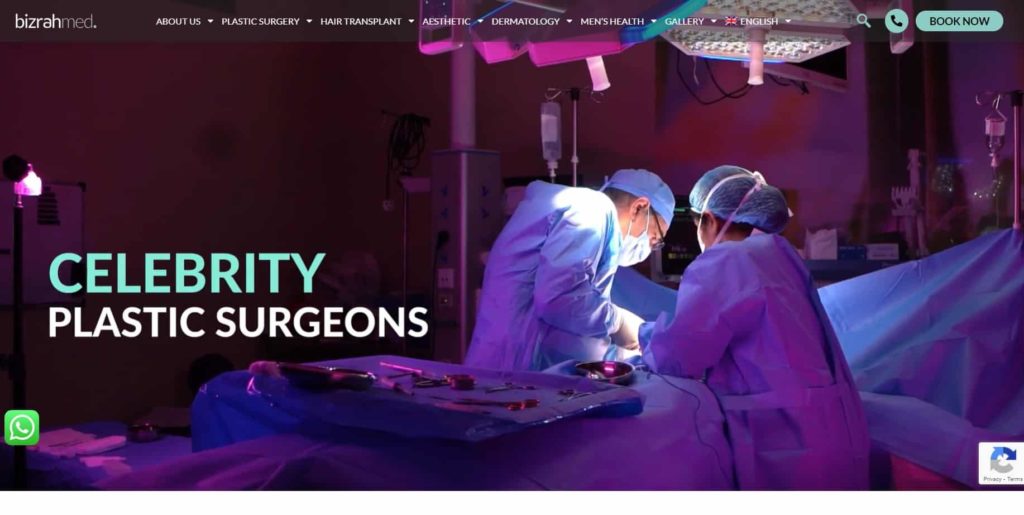 BEST FOR
Quality Cosmetic Surgeries
WEBSITE
https://bizrahmed.com
ADDRESS
Bizrahmed, Al Sarraf Avenue, 2nd Floor, Umm Al Sheif, Dubai
CONTACT DETAILS
800 249724
+971 800 249724


[email protected]

OPERATING HOURS
Monday – Sunday: 10:00 AM – 9:00 PM
Bizrahmed is a center that provides its clients with a wide array of comprehensive and professional cosmetic surgeries and treatments specializing in three distinct fields which are Rhinoplasty, Hair Transplant, and Contouring services among others.
With over 30 years of experience in the field, we like that they readily employ diversely experienced personnel and professionals for the job alongside state-of-the-art equipment and techniques for an overall satisfactory treatment with them.
Aside from this, past clients that have experienced their services have commended them for their expertise in the field that ensured each treatment is done in a smooth and hassle-free way that ensures less discomfort will be experienced.
Note though that rates of their treatments and services aren't readily available on their website to which interested clients may need to inquire further for more information on this.
Nonetheless, with their professional team of personnel employed, hassle-free and excellent procedures, and effective services offered, we highly recommend interested clients in the area to check them out.
Effective and customized treatments
Informative and information-rich website
Professional and experienced personnel employed
Rates of their treatments aren't readily available
Customer Reviews
Here are some reviews from their clients:
"The skilled surgeons at Bizrahmed understood my concerns and provided me with personalized care throughout the entire process. Now, I can breathe freely and confidently without any discomfort or congestion. I highly recommend Bizrahmed for anyone looking for exceptional results in blocked nose surgery."
"Our experience with dr bizrah has been exceptional, from the moment we walked in till the very end. The staff were very professional, and functioned in a very organized and systematic manner. Dr. Bizrah and his team explained the process involved in the procedure we were curious about, very reassuringly, during our consultation. Aside from the clinic's success and the speed of service provided, Dr. Bizrah's expertise was also very evident since he was able to produce incredible results through his work. He is a highly skilled and respectable surgeon that understands every patient's needs and meets them in a manner that compliments existing features. We're very satisfied with our decision to have chosen bizrahmed."
2.   Bionix Clinic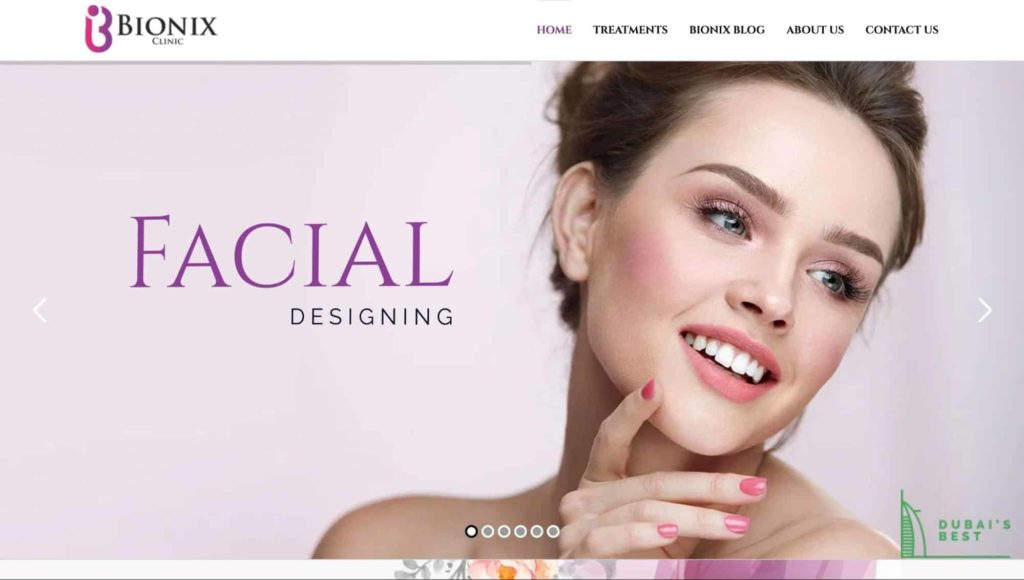 BEST FOR
Quick hair transplant procedures
WEBSITE
https://bionixbody.com/
ADDRESS
Villa 7, 27th Street, Al Wasl Road, Dubai , UAE,
CONTACT DETAILS
04 352 0705
04 355 2066
+971 (0) 55 317 4269


[email protected]

OPERATING HOURS
Saturday – Thursday: 9:00 AM – 9:00 PM
Bionix Clinic specialises in both FUE and FUT in adult men and women of a variety of ages.
Their hair transplant procedures are done under 3 to 4 hours under local anaesthesia. They make sure to take hair grafts from the donor area without drastically changing how it looks.
Your new hair is guaranteed to start growing in 3 months. In most cases, you'll also only need 1 to 2 more hair transplant sessions at 4-month intervals to get a thick head of hair.
With Bionix Clinic's meticulous process, you can also resume your normal activities 24 hours after your hair transplant sessions.
Specialises in FUE and FUT
Quick procedure
Does not address teenage balding in men
Does not offer beard, moustache, and eyebrow transplant
Customer Reviews
Rodha Repayo, a satisfied customer, said:
"It was the time when my marriage plans kick started. I'd been worried about my hair loss for a long time and anxious about to start facing it. Then I first made enquiries, at the Bionix Body Clinic and made an appointment for the hair transplant surgery.
The surgeon and the staff were reassuring, realistic and highly professional. And I am very happy with my results and it was the best decision"
3.   Tunio Aesthetics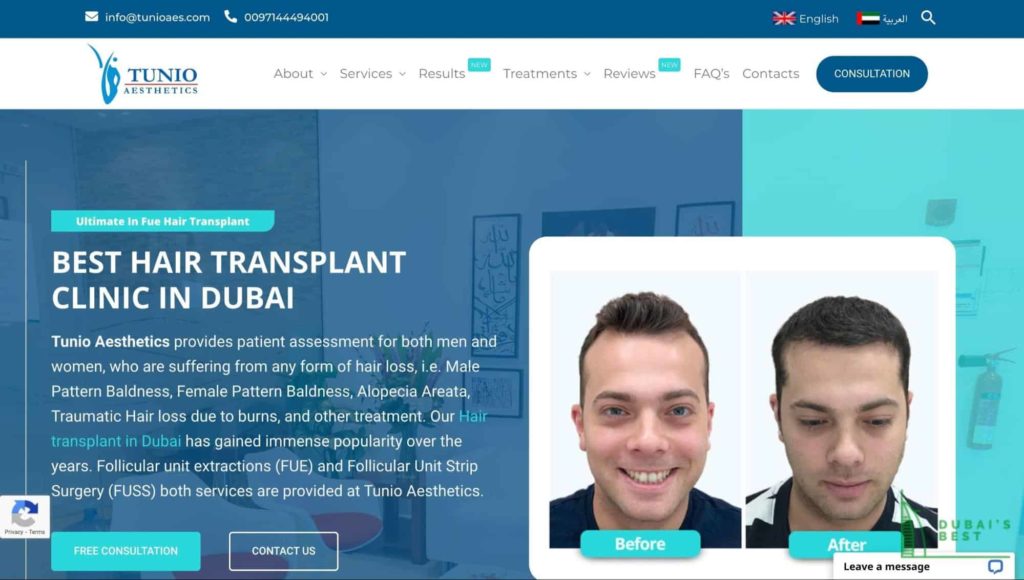 Tunio Aesthetics, addresses male and female pattern baldness, traumatic hair loss, alopecia areata, and various other types of hair loss through FUE and FUT.
What makes them one of the clinics for the best hair transplant in Dubai is that they don't only perform hair transplants but also beard, moustache, and eyebrow transplants.
To meet the international standards of hair transplant procedures, they ensure that they are equipped with the latest equipment and technologies in hair transplant.
The head of the clinic, Dr. Zulfiqar H. Tunio, is also one of the best hair transplant surgeons in Dubai, with over 25 years of experience and many awards to prove his expertise.
Open daily
Addresses many forms of hair loss
Award-winning doctor
Expensive service
Short operating hours
Customer Reviews
One of Tunio Aesthetics's previous clients, Mohammed Ibrahim, said:
"I had a FUE hair transplant done by Dr. Tunio 1 year back. The results are excellent. Being a doctor myself, I knew I had to be forbearing…and after a year I am really happy with the results.
Their service, during and after the transplant was excellent. I am looking forward for the next session with them for the crown area."
4.   MAXIM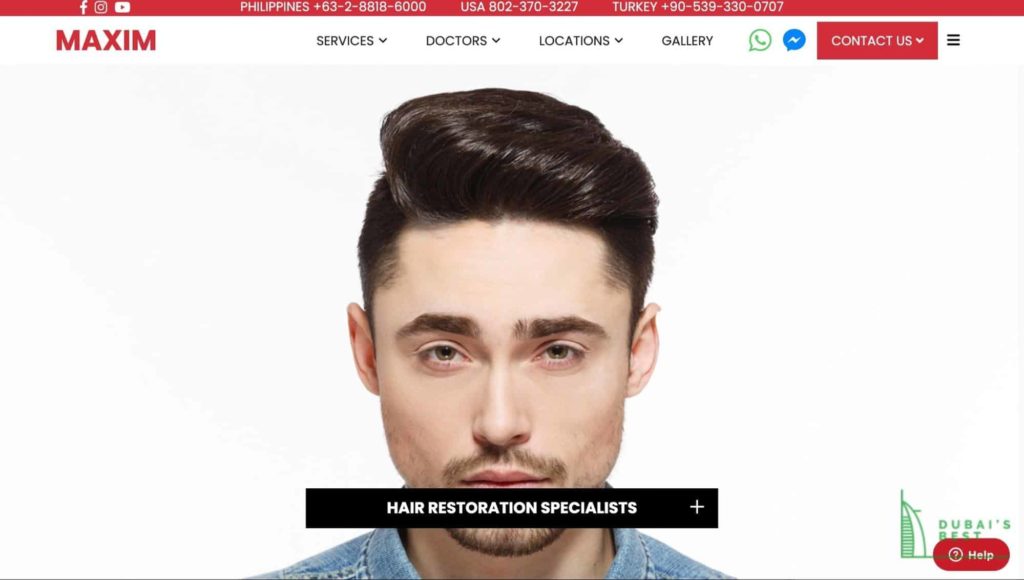 | | |
| --- | --- |
| BEST FOR | Facial hair transplant |
| WEBSITE | https://www.maximhairrestoration.com/ |
| ADDRESS | Villa 929-B, Al-Wasl Road Al-Manara Area, Dubai, United Arab Emirates |
| CONTACT DETAILS | +971 56 789 7074 |
| OPERATING HOURS | Saturday – Thursday: 9:00 AM – 8:00 PM |
MAXIM's team of certified surgeons, nurses, and clinic staff conduct excellent FUE and FUT procedures.
However, what makes them one of the clinics for the best hair transplant in Dubai is their facial hair transplant offering. Through FUE and FUT, the clinic conducts beard, moustache, and eyebrow transplants.
They also provide hybrid hair restoration procedures, which combines surgical and non-surgical techniques. This includes hair transplant, 3D scalp micropigmentation, and microneedling, among others
What's more, the clinic also offers free online or physical consultation for prospective clients.
Facial hair transplants
Hybrid procedures
Free in-office or online consultation
Customer Reviews
Fareed Bhatti left MAXIM a positive review:
"My experience with Maxim Hair Clinic Dubai is amazing. I would like to share my review and rank this clinic 10 out of 10. I am very happy and can recommend anyone with my awesome experience. Collectively the whole team did an amazing job on me."
5.   Hair Clinic Dubai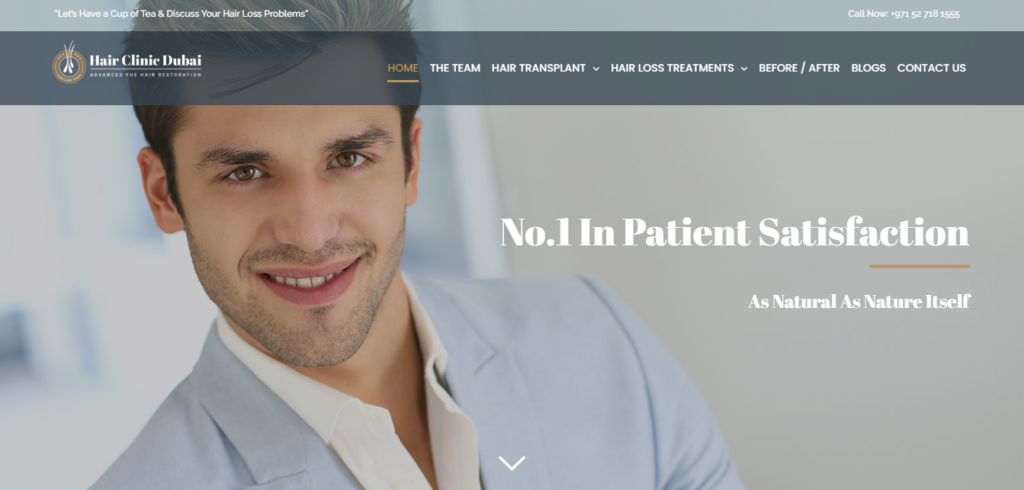 BEST FOR
Hair transplant procedures
WEBSITE
https://www.hairclinicdubai.com/
ADDRESS
Villa #929B, Al Wasl Road, Al Manara Dubai, UAE
CONTACT DETAILS
+971 4 348 5600
+971 52 718 1555


[email protected]

OPERATING HOURS
Monday: 10:00 AM – 7:00 PM
Tuesday: 10:00 AM – 7:00 PM
Wednesday: 10:00 AM – 7:00 PM
Thursday: 11:00 AM – 7:00 PM
Friday: CLOSED
Saturday: 11:00 AM – 7:00 PM
Sunday: 10:00 AM – 7:00 PM
Hair Clinic Dubai is a hair transplant and hair restoration centre and is one of the finest one in Dubai, UAE as they offer minimally invasive hair transplant procedures. They provide similar services to both men and women who have issues with their hair such as balding and loss of hair.
They can utilize only the best and latest technology such as FUE, FUT, PRP among others in order to treat these hair predicaments. Their transplants are also beneficial as it helps the healthy growth of hair on areas where clients experience thinning and/or loss of hair.
With over 25 years of experience in the field, it is now a well-renowned hair transplant clinic among others in Dubai and has been placed as a top choice for hair treatment clinics as well.
We recommend this clinic for clients looking for high-quality treatments at an affordable cost and with highly personalized attention to each of their client's specific needs as well before, during and after the procedure.
One of the top hair clinics in Dubai
Affordable rates
Advanced technology and solutions
Customer Reviews
Here are some reviews from their clients:
"I did hair transplant and PRP treatments. My experience with hair clinic Dubai is excellent. I am very happy and definitely recommend anyone to have consultation and treatment. The staff is very friendly and cooperative. Doctors are highly skilled and professional." – Ghulam Bhatti
"I am so grateful to the hair clinic for the wonderful care I have received since I started with them. My hair is growing beautifully. Enjoying every minute of it ! procedure has worked amazingly. Best thing I did!!" – Zeeshan Rajpoot
6.   Alborj Hair Clinic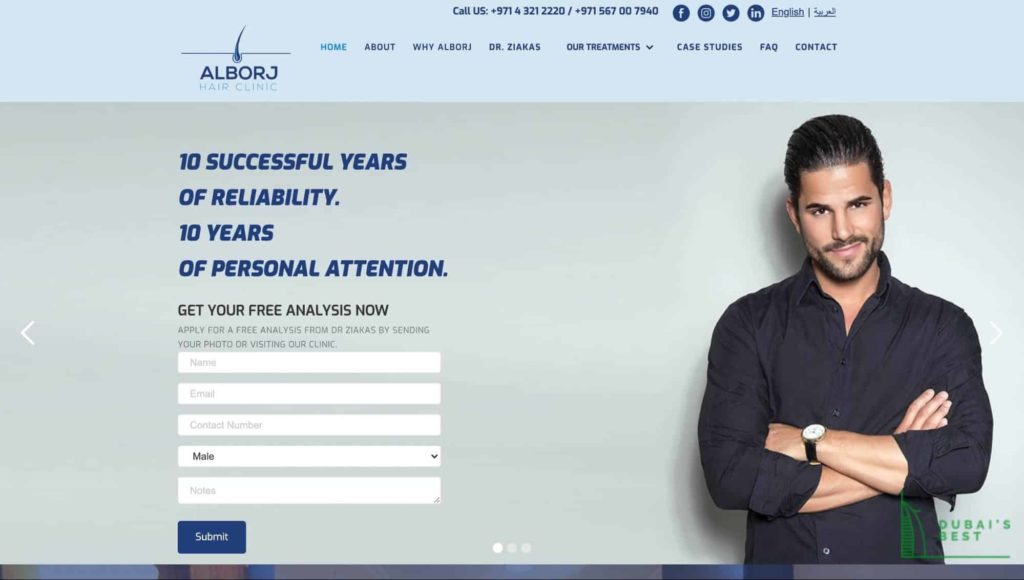 BEST FOR
Personalised hair restoration solutions for women
WEBSITE
http://www.alborjhairclinic.com/
ADDRESS
Mazaya Centre, Sheikh Zayed Collector Rd, Al Wasl, Dubai, United Arab Emirates
CONTACT DETAILS
+971 432 122 20
+971 56 700 7940


[email protected]

OPERATING HOURS
Saturday – Thursday: 9:00 AM – 09:00 PM
Alborj Clinic provides eyebrow transplant, beard transplant, as well as hair transplant to address male pattern baldness in Dubai. For women, on the other hand, they offer personalised hair restoration solutions.
Led by Dr. Dimitrios Ziakas, the clinic performs their hair transplant procedures using their 'Au Naturale' technique, which promises healthy and natural-looking hair with minimal scarring.
Dr. Ziakas also attends to one patient per day to ensure that each client has all his attention.
The clinic also provides free online or in-office analysis where you can learn more about the procedure that is best suited for you.
Variety of hair restoration procedures for men and women
'Au Naturale' technique
Free online or in-office consultation
Tendency to be fully-booked
Customer Reviews
A client named Shawqi Thabet reviewed Alborj Clinic:
"I want to thank Dr. Dimitrios and his team for the wonderful experience. They were very helpful and understanding. It was like dealing with a friend not a doctor so once again thank you very much Dr Dimitrios."
7.   Medispa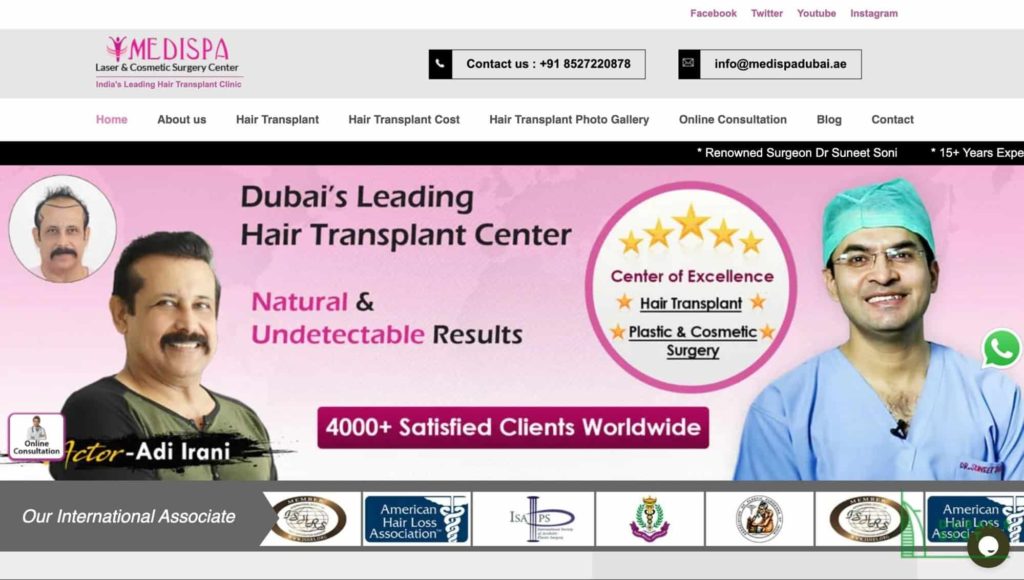 BEST FOR
Combined FUE and FUT procedure
WEBSITE
https://www.medispadubai.ae/
ADDRESS
Suite No. 206, 2nd Floor, Oud Metha Road Office Court Building, Dubai, United Arab Emirates
CONTACT DETAILS
+91-85 272 20878
+91-95 717 50906


[email protected]

OPERATING HOURS
Saturday – Thursday: 10:00 AM – 7:00 PM
Medispa provides affordable FUE and FUT hair transplant procedures in Dubai for both men and women. Specifically, they offer hair, beard, and eyebrow transplants in Dubai.
Furthermore, the clinic also offers combined FUE and FUT procedures for successful hair transplants and natural-looking results.
However, what makes them one of the providers of the best hair transplant in Dubai is not just their wide variety of offerings but also their meticulous process which includes applying a natural hairline design for a more seamless result.
The clinic also offers a free online consultation where you can disclose your hair loss concern and be informed of the appropriate treatment plan.
Natural hairline design
Free online consultation
Customer Reviews
A customer named Nirav Kumar reviewed:
"I had a great experience with Medispa clinic. After a lot of research finally I did my hair transplant from Medispa 8 months back. Till now I am very much satisfied with the outcome.
Dr Suneet and his team have done a great job . The whole team is very much co-operative and helpful.I am really happy with the results."
FAQs about the Best Hair Transplant in Dubai
---
With one of these clinics for the best hair transplant in Dubai, you'll be sure to get a full head of healthy, natural-looking hair in a few months' time.
Do you know any other hair transplant clinics in Dubai we should add to this list? Send us a message and let us know!
If you're also looking for the cosmetic dentists in the city, you can also check out our list of the best dentists in Dubai.