The 5 Best Greek Restaurants in Dubai
Gyros, lamb chops, and amazing salads are just of the many favorite Greek dishes enjoyed around the world. Dubai is no exception with the amazing number of these spots around.
So we scoured the whole city to find our top Greek restaurants in Dubai. We're also sharing with you the factors we considered in choosing and answering some FAQs about Greek restaurants in Dubai.
How much does it cost to eat in Greek restaurants in Dubai?
The cost of eating at a Greek restaurant may vary depending on the restaurant and the dishes you will be ordering.
To give you a starting point, we made a table of the average amount of money a pair of customers spend at our chosen restaurants.
| Greek Restaurant | Average Amount of Money Spent |
| --- | --- |
| Mythos Kouzina and Grill | AED250 for 2 people |
| Gaia | AED450 for 2 people |
| Opa | AED260 for 2 people |
| Avli by Tashas | AED520 for 2 people |
| Taverna Greek Kitchen | AED350 for 2 people |
The Best Greek Restaurants in Dubai
Before we get right into our top picks for the best Greek restaurants in Dubai, here are the factors we considered for our entries on this list:
1. Mythos Kouzina and Grill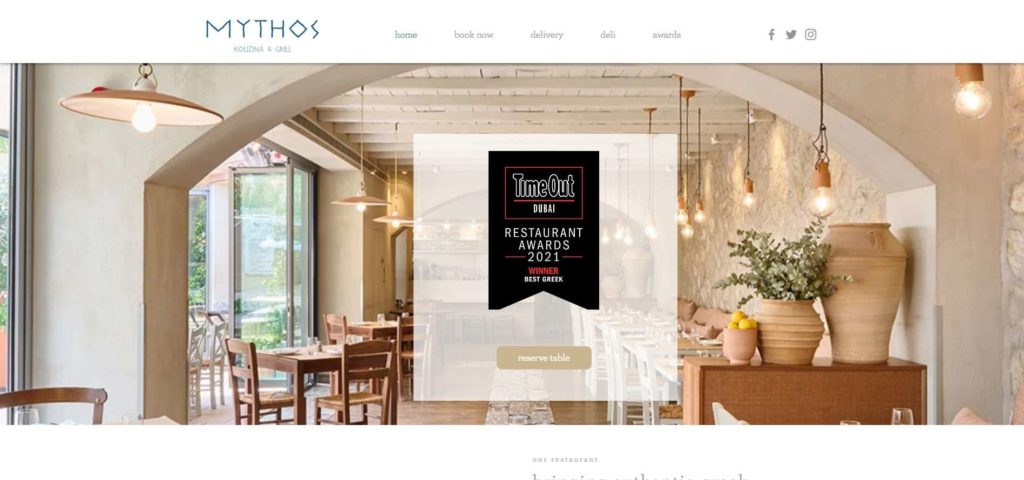 Test
Info
WEBSITE
https://www.mythoskouzina.com/
ADDRESS
B1 Level, Armada BlueBay Hotel, Cluster P, JLT - Sheikh Zayed Rd - Dubai - United Arab Emirates
CONTACT DETAILS
+971 (0) 4 399 8166
OPERATING HOURS
Monday to Friday: 12:30 pm - 4 pm, 6 pm - 12:15 am

Saturday to Sunday: 12:30 pm - 5 pm, 6 pm - 12:15 am
| | |
| --- | --- |
| Criteria | Rating |
| Authenticity | ★★★★★ (5/5) |
| Customer Service | ★★★★☆ (4/5) |
| Ambiance | ★★★★★ (5/5) |
| Location | ★★★★☆ (4/5) |
This multi-award-winning Greek restaurant is a local favorite that would be a cardinal sin for us not to include in this list.
Resembling the whitewashed taverns of Santorini, Mythos serves up some delectable grilled dishes, alongside freshly baked bread, and flavorful salads.
The menu is full of authentically traditional Greek dishes and has a nice balance of light and healthy choices alongside some filling ones that are perfect for a feast with friends.
The tzatzikis are easily the best in the entire city of Dubai, and we never not order them whenever we go there.
The service is full-on Grecian hospitality; warm, cheerful, and bright. And while the waiters can stand to be a bit less rushed when taking our orders, their smiles were contagious — and that was enough for us.
On top of that, the ambiance is beautifully done. Bright natural sunlight bathes the beige stone walls. Earthy tones on the upholstery alongside the white-painted tables give the space a homey feeling to it as well.
The whole space lends itself to upbeat energies that get every conversation going over beautifully plated dishes.
Although, the restaurant focuses more on group gatherings over intimate dates, so expect a talkative crowd alongside loud yet mellow music.
As for its location, it's located inside the complex of the Armada BlueBay Hotel. So while it is centrally located in the city, it is a bit inaccessible via common public transportation.
All in all, Mythos Kouzina and Grill delivers the best of the best of Grecian cuisine. With friendly service and an ambiance that just helps uplift everything, it is easily one of our favorites.
Serves authentic Greek food
Friendly service
Lively ambiance
Centrally located
Location is inaccessible via most public transportation methods
Service feels rushed
Customer Reviews
A reason to go back to Dubai
"This was one of the best meals we've ever had. The food was phenomenal — even better than the Greek food I had in Athens, the staff was super friendly, and the atmosphere was really comfortable. Even though we ate here over a month ago, we still talk about it almost daily. If I am ever in Dubai again, this is the first restaurant I am going to!!!" —Austin Johnson, Google Reviews
Exceptional restaurant
"I made it to the Mythos Kouzina & Grill finally for lunch yesterday. Since the time it opened I was planning to visit and am glad that I visited this amazing restaurant. The interior is cozy, rustic, and charming. They have a cute outdoor terrace too. Expect excellent Greek food, a lively atmosphere, and exceptional service. A must-visit venue!" —Meghana Rao, Google Reviews
2. Gaia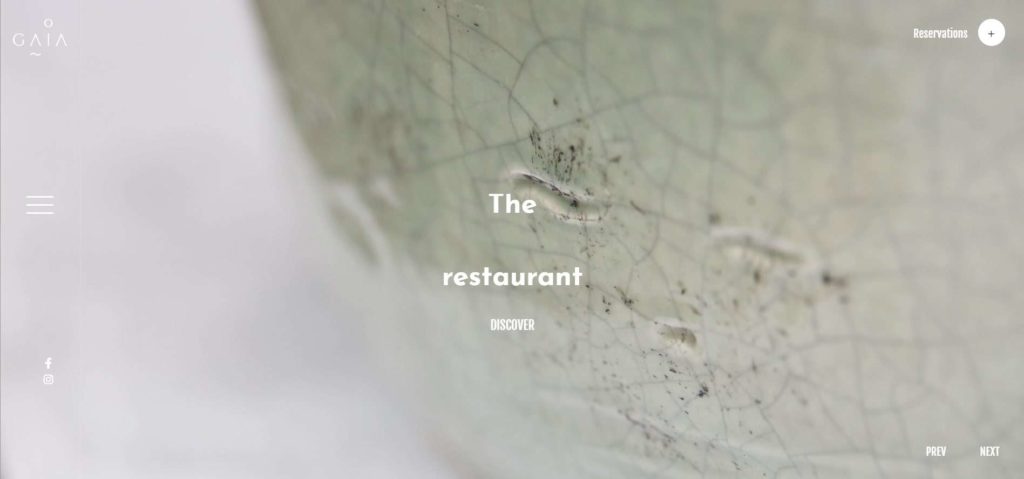 | Test | Info |
| --- | --- |
| WEBSITE | https://gaia-restaurants.com/dubai/ |
| ADDRESS | Dubai International Financial Centre, Gate Village Number 4, Dubai, United Arab Emirates |
| CONTACT DETAILS | +97142414242 |
| OPERATING HOURS | Every day: 12 pm - 4 pm, 7 pm - 11:30 pm |
| | |
| --- | --- |
| Criteria | Rating |
| Authenticity | ★★★★★ (5/5) |
| Customer Service | ★★★☆☆ (3/5) |
| Ambiance | ★★★★☆ (4/5) |
| Location | ★★★★★ (5/5) |
Chef Izu Ani's love letter to Grecian culture, Gaia showcases the best of Greek food through the simplicity of home cooking traditions and fresh ingredients.
We love that the menu is filled with all-time Greek favorites, accompanied by a market-style fish counter customers can go to pick out the kind of seafood supper they want.
But what elevates Gaia is the flavors of each dish, while prepared traditionally, have a modern take to it. Subtle twists and artistic decisions give each bite a "wow" factor.
The Greek-style doughnuts, loukoumades, are the personification of Grecian comfort food, If we had a Greek grandmother, this is the kind of food we'd expect from her.
The service embodies the warm hospitality expected from the Greeks, although the host was an exception. He lacked a certain level of courteousness that we would expect from a restaurant host.
Despite that, the waiters and the rest of the staff were splendid and made the dining experience amazing.
The ambiance has a certain contemporary luxury to it, with beautiful white table sheets and minimalistic warm lighting to make the space intimate.
However, besides the painting hanging on the wall, the restaurant does not necessarily exude Greek, which is something we wanted to see more of.
Located in DIFC, it's right there among the other amazing restaurants in Dubai. We love that it is centrally located and easily accessible at any time of the day.
All in all, Gaia is one of our favorites because its simple and straightforward Greek food is tweaked just enough to give us something exciting and unique.
Serves traditional Greek food with a twist
Mostly great service
Centrally located
Host was seemingly rude
The space doesn't feel Greek
Customer Reviews
There's nothing better than this!
"We had an incredible anniversary lunch at Gaia, the hospitality, food, and overall service were excellent. Highly recommend the restaurant.
I read all the reviews and trust me the quality and service is impeccable. Totally worth the price and the portion size is quite decent." —Sarita Lakhiani, Google Reviews
Best Greek place in Dubai
"Menu is perfect with a moderate number of items so it's easy to pick and plan your course of the meal.
Food is delicious and has perfect ingredients, high-quality with really great value for money.
Music is also really great not jamming loud just right
Well done GAIA …best place in Dubai
Rodrigo was our host waiter and he is really fantastic, friendly and above all very polite and helpful." —Hattan B, Google Reviews
3. Opa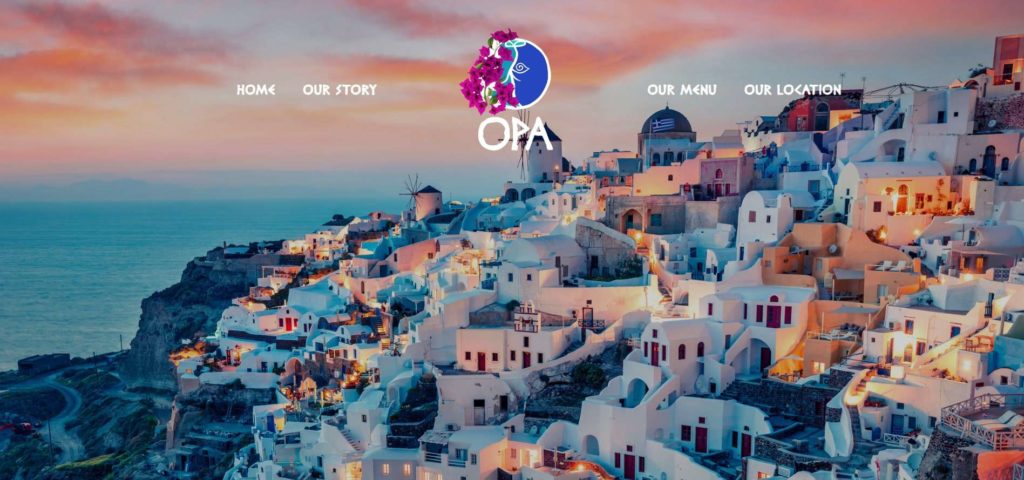 Test
Info
WEBSITE
https://www.opadubai.com/
ADDRESS
1st Level, Fairmont Dubai, Sheikh Zayed Road, Trade Center Area, Dubai, UAE
CONTACT DETAILS
+97143570557
OPERATING HOURS
Sunday to Monday and Wednesday: 7 pm - 2 am

Tuesday: 8:30 pm - 11:30 pm

Thursday to Friday: 7 pm - 3 am

Saturday: 7 pm - 1 am
| | |
| --- | --- |
| Criteria | Rating |
| Authenticity | ★★★★★ (5/5) |
| Customer Service | ★★★★★ (5/5) |
| Ambiance | ★★★★★ (5/5) |
| Location | ★★★★☆ (4/5) |
Started by the father of a Grecian expat, Opa is Thassos' way of sharing the beauty of Greek food with Dubai and the rest of Middle East.
The restaurant's menu is pure and unadulterated Grecian dishes that conjure the images of festive Mediterranian weddings.
With a penchant for tender meat selections and a wide range of zesty salads, Opa is our go-to restaurant for Greek food that you can expect to find in Greece itself.
The service is unrivaled. There is not another restaurant that we have tried where the staff dances and celebrates everybody's presence in the restaurant like they do.
We love that it's a celebration every time we go to eat there. It's our favorite pick-me-up restaurant just because of how lively the staff is.
On top of that, the restaurant is designed to simulate a Grecian celebration. Its whitewashed walls with crawling vines that go up to the ceiling and round tables that can fit eight people lend themselves to a lively gathering no matter what.
Situated across the Dubai World Trade Center and surrounded by international hotel chains, Opa knows that it shines when customers are looking for a place to gather.
We love that its central location isn't just strategic, but it also plays up to its branding of Grecian celebrations.
All in all, Ope is one of our favorites solely because of how dedicated it is to sharing the beauty of Greek culture and cuisine.
Serves purely authentic Greek food
Amazingly lively staff
Centrally located
Amazing ambiance
The dishes may be too common and expected for some
Only has 1 branch
Customer Reviews
One of the best Greek restaurants out there
"This was our second visit to Opa in just as many months. It is a great place to celebrate a special occasion and is also equally as good to go out for a good meal with family and friends. Their Opa Salad, Hummus, Tyrokefteri, Kleftiko, and Bougatsa were our top picks. The rest of the food was also good. The 1st time we went we didn't really like the flavor of the chicken souvlaki. They have a nice entertainment show during each dinner seating. Two dinner seating options available 8pm to 10pm or 10pm to 12am." —Kunaal K, Google Reviews
I want to give it 6 stars
"Absolutely awesome.
The vibes, design, food- everything is perfect.
A great night out
You have to reserve in advance to guarantee a spot." —Amira Mohamed, Google Reviews
4. Taverna Greek Kitchen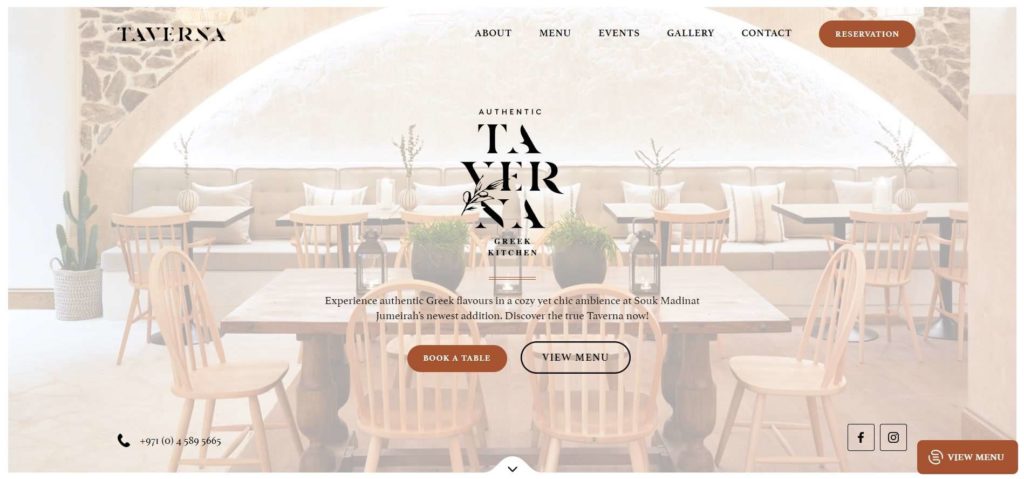 Test
Info
WEBSITE
https://www.tavernagreek.ae/
ADDRESS
Waterfront at Souk Madinat Jumeirah, Dubai, UAE
CONTACT DETAILS
+971 (0) 4 589 5665
OPERATING HOURS
Sunday to Wednesday: 12 pm - 12 am

Thursday to Saturday: 12 pm - 1 am
| | |
| --- | --- |
| Criteria | Rating |
| Authenticity | ★★★★☆ (4/5) |
| Customer Service | ★★★★☆ (4/5) |
| Ambiance | ★★★★★ (5/5) |
| Location | ★★★★★ (5/5) |
Carefully balancing chicness with authentic rusticness, Taverna Greek Kitchen presents Greek food in a beautiful and modern fashion.
What we love about this restaurant is that the menu is full of traditional Grecian dishes, but the elevation comes in its presentation.
Beautifully plated, these photogenic dishes are something out of a food magazine. The taste isn't something to be ignored either.
While we'd like to think the flavors are a bit watered down for the local palette, it's undeniable that all of the flavors we're looking for were there. We strongly recommend trying out the spinach pie salad and chargrilled octopus.
As for its service, we can tell that its waiters serve tourists on a daily basis. Consistently polite and attentive, Taverna's staff is amazing albeit a bit slow in serving the food.
And when it comes to the ambiance, we love that despite being a tourist hotspot, it hasn't become a tourist trap. With a view of the waterfront, the restaurant is surrounded by busy and bustling activities but manages to maintain a sense of intimacy inside its space.
We love that it feels like it's separated from its surroundings, and we enjoy the waterfront view away from the crowds.
All in all, Taverna Greek Kitchen manages to modernize the traditions of Grecian cuisine while also curating an amazing ambiance that left us engrossed.
Serves traditional Greek food presented in a modern way
Service is polite and attentive
Amazing ambiance with a great view
Slow serving time
Flavors are a bit watered down
Customer Reviews
A delightful dining experience
"We visited for the first time just for the nice environment and menu we liked. We tried some dishes, wine, dessert, and coffee and were delighted by their taste of them and the quality of service. Dessert was served with delay and chef personally apologized for inconvenience and asked personnel to add another dessert for free. Of course this kind of attitude is always appreciated. I recommend to spend at least one evening at Madinat Jumeira and visit Taverna." —Gega Metepshishvili, Google Reviews
The best Greek restaurant in Dubai
"The best Greek food restaurant in Dubai! The vibe, the music, and the decoration gives you a very nice greek authenticity. The staff is nice and fast, professional and helpful. While the food is nicely presented and tastes perfect. It is a definite must-go as they have both indoor and outdoor seating, and the food is amazing! The tzatziki, the greek salad, and the lamb souvlaki are a must." — Georges Fakhoury, Google Reviews
5. Avli by Tashas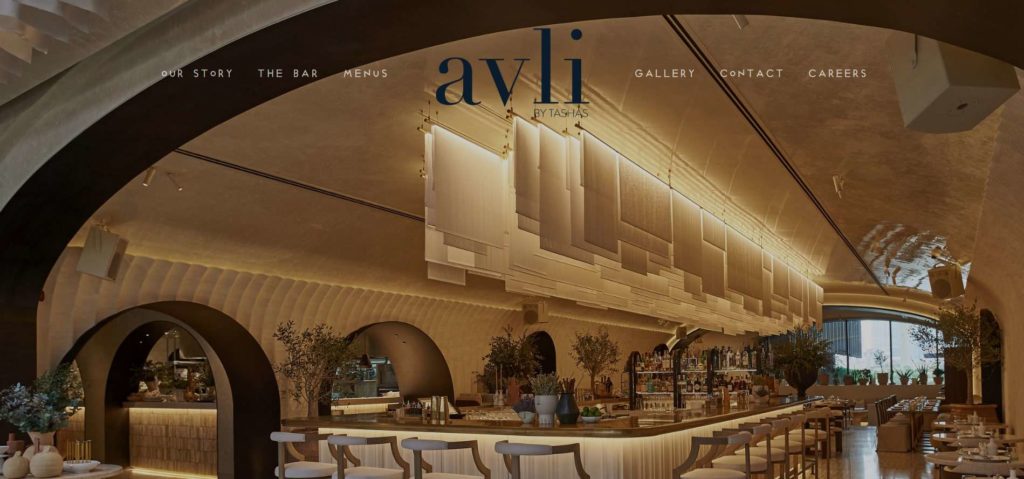 Test
Info
WEBSITE
https://www.avlibytashas.com/
ADDRESS
Unit C01, Gate Village Building 9, DIFC, Dubai
CONTACT DETAILS
+971 4 359 0008
OPERATING HOURS
Sunday to Wednesday: 12 pm - 4 pm, 7 pm -1 am

Thursday to Saturday: 12 pm - 4 pm, 7 pm -2 am
| | |
| --- | --- |
| Criteria | Rating |
| Authenticity | ★★★★★ (5/5) |
| Customer Service | ★★★★★ (5/5) |
| Ambiance | ★★★★★ (5/5) |
| Location | ★★★★★ (5/5) |
Inspired by the rustic courtyards of the Mediterranian countryside and the culture of Athens, Avli by Tashas serves dishes made with heart and respect to the Grecian traditions.
We love that the menu is a journey through an exploration of authentic Greek food prepared and served within the premises of a gourmet kitchen.
The great thing about its food is that the dishes are inspired by traditional dishes, elevated with a contemporary twist to keep the options exciting and unique.
And in true Greek fashion, most of its main courses are for sharing, making it a great option for gatherings.
The service also rises to the level of its dishes. Exceptionally friendly and meticulous, we can tell that their jobs are something of a craft to them.
As for the restaurant's ambiance, we love that despite being in the center of Dubai, we are immediately transported to a rustic yet contemporary space. The furniture sports a certain sense of warmth elevated by sleek finishing and accents.
The lighting is magnificent. Compared to harsh overhead lighting that plagues many restaurants, Avli by Tashas knows how to soften and provide an intimate setting with its lighting set-up.
All in all, Avli by Tashas is our favorite pick for authentic gourmet Grecian food. Elevated by a beautifully curated space and amazing service, this restaurant is easily one of the best.
Serves authentic gourmet Greek food
Excellent service
Rustic and chic ambiance
Centrally located
Customer Reviews
Flawless restaurant
"Absolutely could not fault this restaurant experience last night in Dubai. The service was absolutely impeccable – and the food was to absolutely die for. I'm from Australia and have eaten my fair of seafood in my life, but the octopus that I was lucky enough to eat last night was by far the best I have experienced in my 43 years of life on this planet. There are a lot of great places to eat in Dubai – But for ambiance, great food, and next-level service – you have to go to this place." —Chris Worsfold, Google Reviews
Strongly recommend their food
"Faultless fine dining experience at this Greek fusion restaurant. Service was impeccable and the social distancing in force was excellent (wishing silently all restaurants keep this up even after this pandemic situation).
The food was excellently prepared and had a touch of fusion on traditional Greek fare and starters are small portions in contrast to the larger mains that are great for sharing.
Price-wise, it's a pretty penny, but for the ambiance, atmosphere, service, and location, I'd honestly say it's definitely worth it." —Malek Mroueh, Google Reviews
FAQs about Greek Restaurants in Dubai
---
We hope this helped you in finding a Greek restaurant to try out. Also, if you're looking for other ways to celebrate moments or reward yourself, then check out these articles: