The 5 Best Golf Courses in Dubai
Golfing is just as much a sport as an opportunity to meet people, and the golf course plays an important part as the setting for these situations. Businessmen, socialites, and people looking to have a good time all strive to look for the golf course that best suits them.
This is why we've scoured the city to give you the best golf courses in Dubai. We also included the criteria we used in considering our entries and some FAQs about golf in Dubai.
How much do used cars cost in Dubai?
Golfing isn't the same without its much-needed equipment, specifically your set clubs to be used for hitting the golf ball.
We've compiled the estimated prices of the different types of golf clubs commonly used for you to check below.
| Golf Club | Price Range |
| --- | --- |
| Driver | AED580 – AED3,560 |
| Putter | AED390 – AED1,800 |
| Sand Wedge | AED350 – AED870 |
| Fairway Wood | AED630 – AED1,700 |
| Hybrid | AED390 – AED1,500 |
| Club Set | AED770 – AED6,000 |
The Best Golf Courses in Dubai
Before we get right into our list of the best golf courses in Dubai, here are the criteria we considered in choosing them:
1. Arabian Ranches Golf Club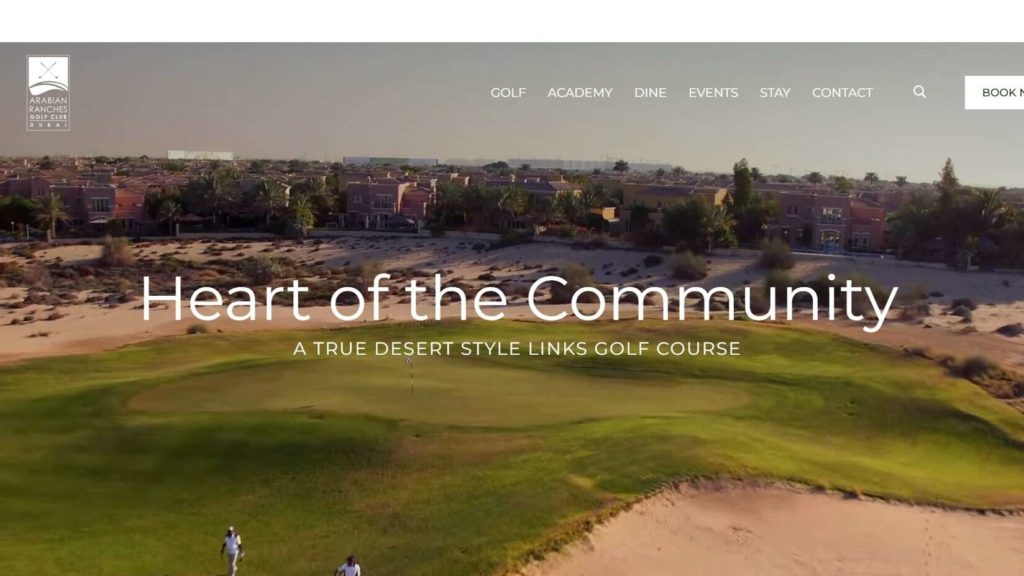 | | |
| --- | --- |
| Criteria | Ratings |
| Cost | ★★★★★ (5/5) |
| Location | ★★★★★ (5/5) |
| Skill Level | ★★★☆☆ (3/5) |
| Amenities | ★★★★☆ (4/5) |
Just 25 minutes away from the downtown of Dubai and the iconic Burj Khalifa, the Arabian Ranches Golf Club is top tier because of how near this verdant expanse is to golf players.
Literally, going for a session of golfing here is as accessible as driving down to your nearest mall.
Day passes and memberships are available for those interested. We personally recommend getting one of their membership packages because it includes so many discounts for their restaurants, golf shops, and other fees during your stay there.
However, it's not very welcoming for newbies or enthusiasts looking for a casual time on the field.
The Arabian Ranches Golf club offers its flagship 18-hole championship course designed for tournaments to everyone, but we found that its design, with strategically placed sandy areas, makes it a bit too challenging for some players.
It's a shame that they don't offer other courses for kids, such as a miniature golf course, for those who just want a fun time under the Dubai sun.
But where it lacks in the versatility of its courses, it makes up for the amenities on the grounds.
Besides being a premier golf course, the Arabian Ranches Golf club is also a high-end boutique hotel, with its rooms opening up to the views of the golf course and the city.
For those who want a more hands-on approach to learning how to golf, they have the latest technology at their practice facilities, as well.
And we personally love their two restaurants found in the grounds of the Arabian Ranch Golf club.
We definitely recommend checking out the Ranches restaurant on the weekends, as they have specialized buffets for almost every meal from Fridays to Sundays—perfect for post-tee times.
All in all, while it may prove to be challenging for amateurs, the Arabian Ranches Golf club rewards those who can successfully conquer their championship course.
All of this while being within arm's length to their luxurious boutique hotel, their delectable dishes in their two restaurants, and everything that downtown Dubai has to offer.
Varied payment packages
Membership offers discounts
Located right next to downtown Dubai
Has two restaurants in the club
Has a boutique hotel
Practice facilities equipped with the latest tech
Offers only one golf course
Championship course is not suitable for beginners
Customer Reviews
Premium service and experience
"One of the premium club in Dubai. The very beautiful and natural atmosphere makes this place so lovely.you can always listen the birds chirp and the wind blowing. This will give you an atmosphere that you are just near the entrance of a forest in this beautiful dessert.
The restaurant is amazing all the staffs are highly dedicated to serve you better.
Parking
A wide area is been arranged for the customers parking there is also reserved parking for the captains. A lovely place one should definitely visit in UAE." —Rafeek M, Google Reviews
The course is just something else!
"It actually happens to be a very refreshing course, the ambiance is breathtaking. The service team seems to enjoy every minute of their job, especially mentioning Simba…..Thank you for a great time." —Similo Nkomo, Google Reviews
2. Dubai Creek Golf & Yacht Club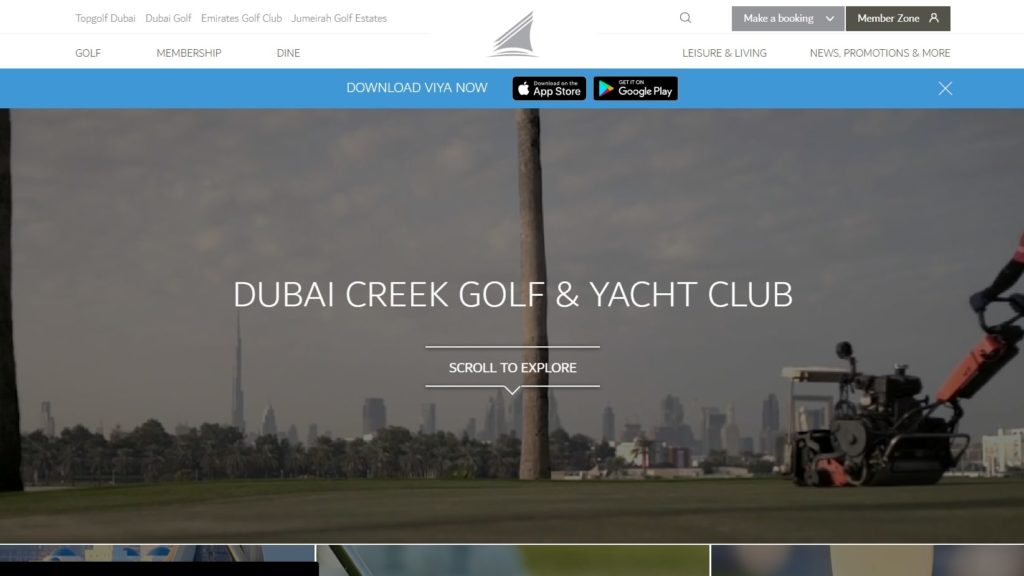 | | |
| --- | --- |
| Criteria | Ratings |
| Cost | ★★★☆☆ (3/5) |
| Location | ★★★★★ (5/5) |
| Skill Level | ★★★★★ (5/5) |
| Amenities | ★★★★☆ (4/5) |
Dubai Creek and Yacht Club is one of the three entries we have that are all under the same management, Dubai Golf, and is voted as one of the world's "Top 100 Must-Play Golf Courses."
And when we visited them, we exactly knew why. Located between Sharjah and downtown Dubai, and nestled in one of the many nooks of Dubai creek, this golf course is truly picturesque and accessible to many Emiratis.
The high quality isn't all just skin deep either. They have three championship courses, and a par 3 9-hole course for beginners that's incomparable when you're playing golf during the sunset.
They don't even stop there. We love their mini-golf course that we spent our time in just having fun along with some families and couples going on a date.
The six restaurants on the grounds are all well-known, with some winning their own culinary awards.
Our favorite out of them is the Boardwalk, where they serve amazing Mediterranian dinner with a view of the Dubai creek, the city skyline, and the sunset peeking in between skyscrapers.
If it's something casual and chill, we usually end up choosing the QD's Bar & Grill for some shisha and great cocktails.
Of course, all of this doesn't come cheap. Their individual tee times is one of the most expensive among our entries.
Their golfing memberships come at a high cost that lasts for a year—so it's really perfect for those who want to take up golf seriously.
We would like to think that the membership's perk of having a 25% dining discount to 18 restaurants in Dubai is worth it, but we did the math and it's really not worth it if you're just playing golf occasionally.
However, the fact that Dubai Creek Golf & Yacht Club is one of the most amazing destinations, not just for golf players but for anyone who wants Arabian luxury, as well, still stands.
With unforgettable views of the Dubai creek and the city, all while journeying through their many golf courses is very much worth the price tag for avid golf players.
Has many golf courses for all skill levels
Located right between Sharjah and Dubai
Award-winning restaurants
The courses have views of the creek and the city
Tee times are more expensive than usual
Memberships are too costly
Customer Reviews
Golf course design is beautiful
"Great gold course with nice green, smooth lifting divot grass. The driving range has some hitting bays with a radar tracker. The restaurant overlooks the beautiful Dubai creek. Miniature golf side putting green with massive undulations is fun." —Mark McHugh, Google Reviews
Superb course and great food
"Nice little academy par 3 course. Club house food was good and a nice view across the creek.
Looking forward to play the 18 in the future." —Neil P George, Google Reviews
3. Emirates Golf Club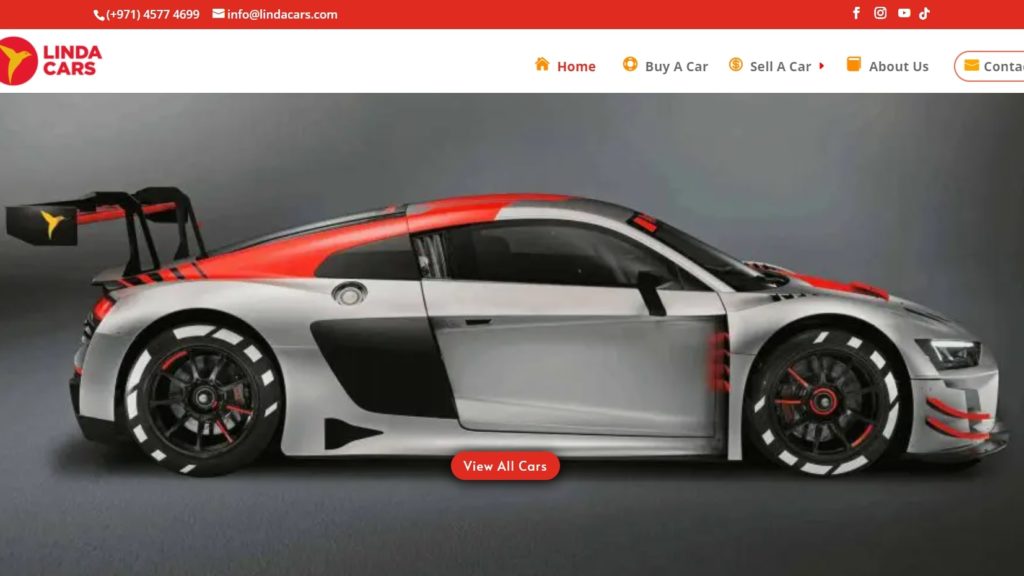 | Test | Info |
| --- | --- |
| WEBSITE | https://www.dubaigolf.com/emirates-golf-club/ |
| ADDRESS | 17/2, Al Naseem Street Emirates Golf Club, Al Thanyah 3, Hadaeq Mohammed Bin Rashid, Dubai - Dubai - United Arab Emirates |
| CONTACT DETAILS | +971 4 417 9999 |
| OPERATING HOURS | Every day: 6 AM–11 PM |
| | |
| --- | --- |
| Criteria | Ratings |
| Cost | ★★★☆☆ (3/5) |
| Location | ★★★★☆ (4/5) |
| Skill Level | ★★★★☆ (4/5) |
| Amenities | ★★★★☆ (4/5) |
Emirates Golf club is a sister to the Dubai Creek Golf & Yacht club but taken to the next level in terms of the stunning views it gives.
Located right smack in the center of Dubai and basically, right across Palm Jumeirah, this golf course is central to the city and offers amazing sights of the Dubai skyline and their beautifully designed clubhouse—giving our whole golfing experience a utopic feel to it.
However, being in the center means that the surrounding area sometimes experiences heavy traffic during rush hour.
The Majilis, their flagship championship course, is what we tried out. And while it was difficult we found that the course was very rewarding when we successfully faced its challenges.
However, we don't recommend this course when you're short on funds, as the tee times here can go up past AED1,000, even on weekdays.
They also have another championship golf course, the Wadi, which we found to be mundane compared to Majilis, as it felt somewhat ordinary despite the scenic background we played in.
But what we like about the Emirates Golf Club is that they also have a par 3 course that welcomes players of all skill levels.
Before and after tee times are also something to behold in this beautifully designed golf club. They have five restaurants ready to accommodate guests.
We personally love the Roseleaf Cafe because the ambiance and the quality of the pastries and coffee is just perfect for before and after golfing.
The taste of home cooking is very noticeable in this cafe, but we must warn you they only serve breakfast and lunch, so definitely make sure to stop by early while you're there.
We also like that they have squash and tennis courts that seem well-maintained. It's nice to know that they offer facilities for other sports, too.
Unfortunately, they don't have a hotel, but they have villas instead. We found their accommodations to be too impractical to be impressed by the grandness of it.
And, of course, as if the price of their tee times wasn't proof enough, golfing here can be quite an expensive experience.
Being under Dubai Golf, their memberships are also really designed for those looking at golf as a serious hobby or profession.
Despite that, the Emirates Golf Club makes a strong argument for the high cost with its impeccable location, the utopic design of the clubhouse, the views of Dubai, and the versatility of its courses.
Located right in the center of Dubai
The design of the clubhouse is something to see
Offers two championship courses and a par 3 course
Offers five great restaurants
Surrounding area may experience heavy traffic
Tee times are more expensive than usual
Memberships are too costly
Villas are too big for small groups
Customer Reviews
Great first-time experience with them
"Fantastic place, never played golf before and had an absolute blast here, they make it so much fun, easy to play and to get into.
They also do some really nice food as well, and drinks." —Steve Mc, Google Reviews
Golfing with a view!
"It is the best golf club in UAE that is centrally located. The service is very professional and you can enjoy playing golf while seeing the skyscrapers of Marina and JLT. They have the best restaurants and they are open till late in the evening. Parking is available. They have special courses for the beginners." —Shadow LB, Google Reviews
4. JA The Resort Golf Course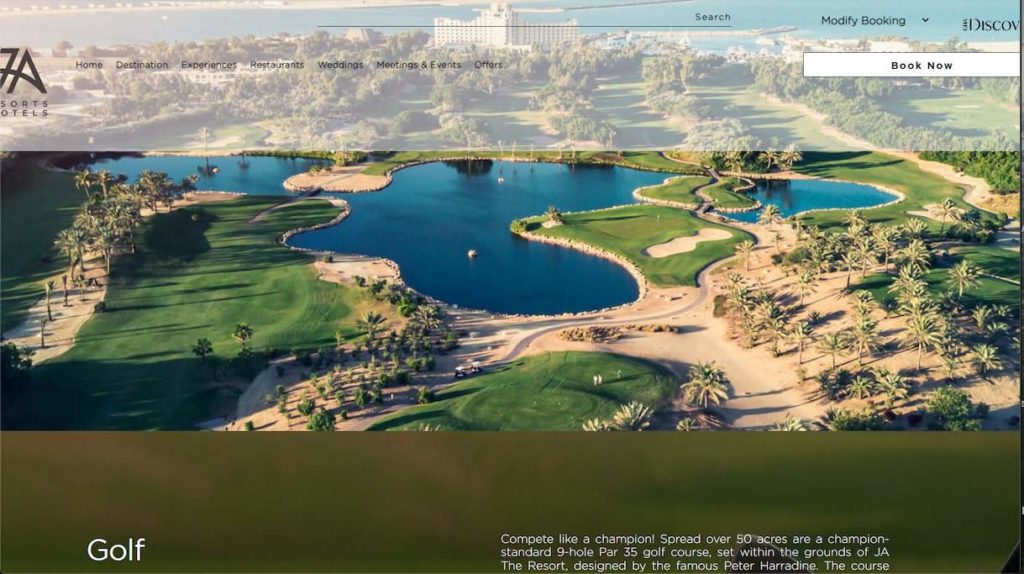 | | |
| --- | --- |
| Criteria | Ratings |
| Cost | ★★★★★ (5/5) |
| Location | ★★★☆☆ (3/5) |
| Skill Level | ★★★☆☆ (3/5) |
| Amenities | ★★★★★ (5/5) |
Located within the five-star hotel, JA Beach Hotel, JA The Resort Golf Course is one the best budget-friendly options we have in this entry.
So much cheaper even on peak days, this golf course changes the game with their seven-day packages and loyalty programs that give their regulars extra perks for playing golf with them.
However, we understand why their tee times come at a lower price than the rest. It's because of their location.
While technically inside JA Beach Hotel, the resort itself is actually located on the outskirts of the city, with no other notable destinations besides themselves.
But the remoteness of it all gives way to serene vistas of the nearby beach. Plus, the sea breeze adds another layer of challenge to the course that golfers so often like to face.
When we got there, we were a bit disappointed by the lack of options to chose for a golf course. They only have one nine-hole championship course, which is not so great for a group like us who all have different levels of skill in golf.
However, we made the most of it, and we thoroughly enjoyed ourselves throughout the course. The staff was very accommodating and shared a bit about the resort whenever we asked.
And it's not just the staff that was accommodating. We found out that the resort was some sort of a one-stop-shop paradise for people who like to stay active.
They also have tennis, squash, and badminton courts that were all well-maintained. We personally loved checking out the beach volleyball court, and we were even tempted to play.
They also have a shooting range, a spa, and a private garden, all perfect offerings for when you're taking a day off and want to do something else after golfing.
But we definitely have to give a shoutout to their amazing kid's club and babysitting services that allowed us to enjoy the day without worrying about our children.
And when we got hungry we could not settle with a decision because the resort has 25 award-winning restaurants and bars, which was just simply amazing.
Truly, the amenities of this resort were what made the whole trip quite special and a big factor that played in making JA Resort Golf Course one of our favorite golfing destinations.
Tee times and packages are great budget-friendly options
The course has great views of the beach
Has 25 award-winning restaurants and bars
Has other sports facilities, a spa, and a private garden
Offers babysitting services
Located on the outskirts of the city
Only has one golf course
Customer Reviews
Great service. Would certainly recommend
"Beautiful resort! The bed was so damn comfy. Very lovely having the animals on-site and being able to interact with them with permission from the staff. I only ate from the buffets for lunch and breakfast but was delicious and of great quality. Loved the entertainment in the evening on the beach. Every resort was beautiful and very well maintained. Needs more buggies during the busy times but they would call for more when guests asked for them." —Niccy McCorrie, Trustpilot
Brilliant service from start to finish
"Stayed at the beach resort. Fantastic service, great food, and a nice selection of gourmet experiences. Sette restaurant was more than we expected. Traveling with 2 kids was easy with the AI concept. Free shuttles to the malls and to the shooting club for mixing dinner which surprised us in quality. The pools were nice and Friday evening was devoted to the kids at the beach pool. Can only recommend." —Thomas Hamilton, Google Reviews
5. Jumeirah Golf Estates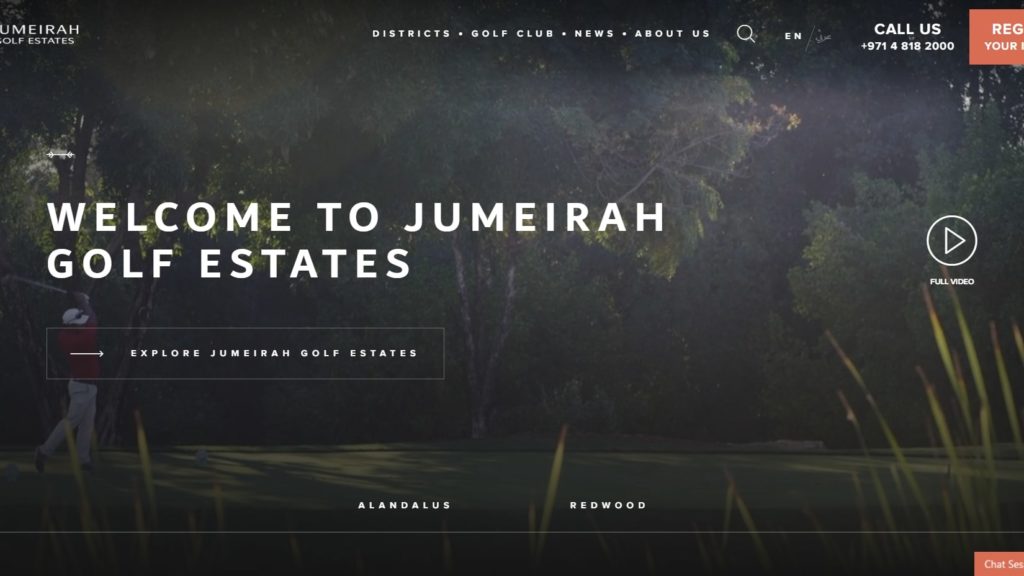 | Test | Info |
| --- | --- |
| WEBSITE | https://www.jumeirahgolfestates.com/ |
| ADDRESS | Jumeirah Golf Estates Head Office, Shaikh Mohammed Bin Zayed Road, Dubai, UAE |
| CONTACT DETAILS | +971 4 818 2000 |
| OPERATING HOURS | Every day: 8 AM–10 PM |
| | |
| --- | --- |
| Criteria | Rating |
| Cost | ★★★☆☆ (3/5) |
| Location | ★★★★☆ (4/5) |
| Skill Level | ★★★★☆ (4/5) |
| Amenities | ★★★★☆ (4/5) |
Golf is one of the sports that thrives on its exclusivity, and the Jumeirah Golf Estates takes that quite to heart and puts a twist on it.
Built by Dubai Golf to be a residential golf destination that offers luxurious housing and top-notch leisure facilities, it differentiates itself by knowing what kind of crowd it intends to attract.
Located near the wealthier residential areas of Dubai, it's not the most accessible golf course, but it is convenient for residents around the area.
It has its own districts and townhouses on the grounds, including its two championship courses: Earth and Fire.
The Earth course is very defined and sculpted, meant to mimic courses in Europe and North America, while Fire is designed to complement the desert landscape of Dubai.
Fire is suited for more experienced golfers because the sand and arid conditions provide an extra challenge to its players.
Despite trying out both courses, we felt that the options lacked variety in terms of skill level.
Both were challenging in different ways. Which one was more rewarding? Well, that depends on the player.
However, they do have a golf academy for those willing to transition from casual play to actually learning how to golf seriously on courses such as these two.
Past the golf courses, Jumeirah Golf Estates rises to the challenges they have set up for themselves.
They have turned it into a destination with three great restaurants and a sports bar. Both of which are frequented by some of Dubai's wealthiest.
But what we really like about this place is that they never forgot the familial aspect of this residential area.
They hold family days on the weekends where everyone is welcome to join activities, including water sports, games, win prizes, and enjoy the live entertainment.
Of course, all of this doesn't come without a high price. Just like our other Dubai Golf entries, the price for tee times is always more expensive.
Especially more so here because the golf courses prioritize their residents, so we missed out on some discounts because we don't live there.
Despite that, Jumeirah Gold Estates is truly a unique golfing destination that truly focuses on giving nothing but luxury to both its guests and residents.
Conveniently located for surrounding neighborhoods
Offers two uniquely designed championship courses
Has a golf academy
Has three restaurants and a sports
Organizes family events
Tee times are more expensive than usual
Memberships are too costly
Courses not recommended for beginners
Customer Reviews
A bucket list destination for golfers
"We visited Jumeirah Golf at the BMW Golf Cup International World Final DEC 2021. courses were in perfect condition. Very friendly staff. organized perfectly.
Have to come again.
Should be on your bucket list if you wanna have some great golf days. Thanks" —Jens H. Albrecht, Google Reviews
Best course there is!
"The best Golf Course where I ever play in.
Nice green, perfect fairway and very nice view. This course has international standards and the European Tour Final held here.
The lobby and the golf store are very nice." —Mastoni Damanik, Google Reviews
FAQs about Golf in Dubai
---
We hope this narrowed down your search for the golf course that fits you. Also, if you're looking for luxury services, then check out these articles: