Whether you want a great time with friends or a memorable date, a bar is one of the best places to sit down and enjoy great conversations over great drinks, food, and music.
That's exactly why we've tried out different bars all around the city to give you the best bars in Dubai. We explain the different factors we considered in choosing them and answer some FAQs about bars in Dubai.
How much does going to bars cost in Dubai?
Enjoying the nightlife and drinks available at bars can get quite expensive, but you can control your spending if you know the price range of drinks at bars in Dubai.
We've compiled the price ranges of the common types of drinks you can find in Dubai bars. Check them out below.
| Drink | Price Range |
| --- | --- |
| Beer | AED22 – AED35 per glass |
| Wine | AED35 – AED50 per glass |
| Cocktails | AED45 – AED130 per serving |
The Best Bars in Dubai
Before we get right into our list of the best bars in Dubai, here are the criteria we considered in choosing them:
1. SoBe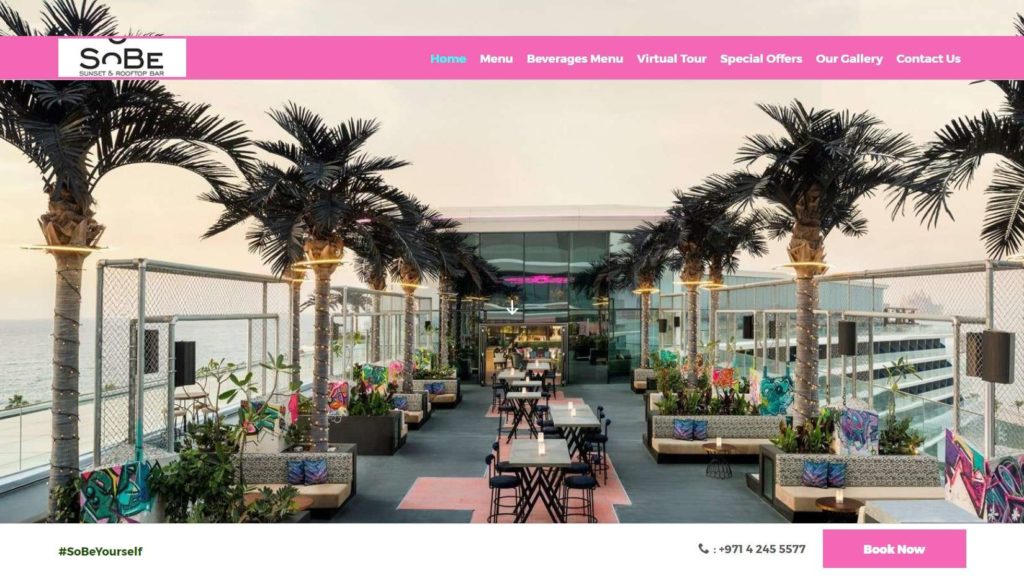 Test
Info
WEBSITE
https://www.sobedubai.com/
ADDRESS
W Dubai - The Palm, West Crescent, Palm Jumeirah, DXB
CONTACT DETAILS
+971 4 245 5577
OPERATING HOURS
Sunday to Tuesday: 5 PM–2 AM

Wednesday to Saturday: 5 PM–3 AM
| | |
| --- | --- |
| Criteria | Ratings |
| Service | ★★★★★ (5/5) |
| Decor | ★★★★★ (5/5) |
| Atmosphere | ★★★★★ (5/5) |
| Food & Beverage Selection | ★★★★☆ (4/5) |
Offering one of the rarest views in the vicinity of Palm Jumeirah, SoBe proves that being timeless means bars don't have to be devoid of colors.
Combining the effervescence of '90s Miami neon street art and the grandeur of '20s art deco, this rooftop bar with a 360-degree view of Dubai is vibrant and exploding with music and color.
We arrived midafternoon to catch the sunset, and we instantly knew why a lot of people call it one of the best sundowners spots in Dubai.
When the sunset bathes the whole bar in warm light, the view seemed like it was pulled straight out of a movie.
We are big fans of the atmosphere of the bar as a whole. The whole maximalist approach to the decor and the presentation of the food and drinks really complemented the grandness of the Dubai skyline.
And the staff's energy matched the place too. We enjoyed how friendly and energetic the waiters were.
They were very accommodating and even went above and beyond to get us a great spot to watch the sunset.
The vibrance of SoBe is also found in their food and beverage selection. We found the cocktails to be artistically presented and ready for our Instagrams.
Not only that, we enjoyed how they tasted, and the flavors really prepped us for a great night ahead.
The food was just delightfully unusual as their decor. The Chinese-Latino food menu was all plated and presented with drinking and partying in mind—which was really good because we did a lot of that at SoBe.
However, we found the menu to be designed badly. It appeared text-heavy and overwhelmed us.
We ended up just asking the waiter for recommendations instead.
All in all, while it may not be the most sophisticated bar in Dubai, it knows its strength lies in being bold and vibrant.
Those are the two keywords to having a great night out with friends, and that is exactly why SoBe is one of our favorites.
Energetic and accommodating staff
Unique and vibrant decor
Lively ambiance
Food and drinks tasted and looked great
Menu was too text-heavy and overwhelming
Customer Reviews
Will keep coming back
"We were on the terrace having a few drinks and it was a great experience. We had the pleasure of meeting Sara who looked after us wonderfully and made us have a great time. We will certainly come back to enjoy the experience again." —Andrea Albos, Google Reviews
Great vibes and excellent service!
"It's such a good vibe when I entered SoBe, we were sitting outside to enjoy the shisha. There was a DJ playing at that time. We were served by Ani. She's attentive and fast. She explained the food exactly like what we received on the table. The food and the beverage are excellent. SoBe is truly an experience. I would like to come back again to enjoy this place." —Octavine Christie, Google Reviews
2. Iris Dubai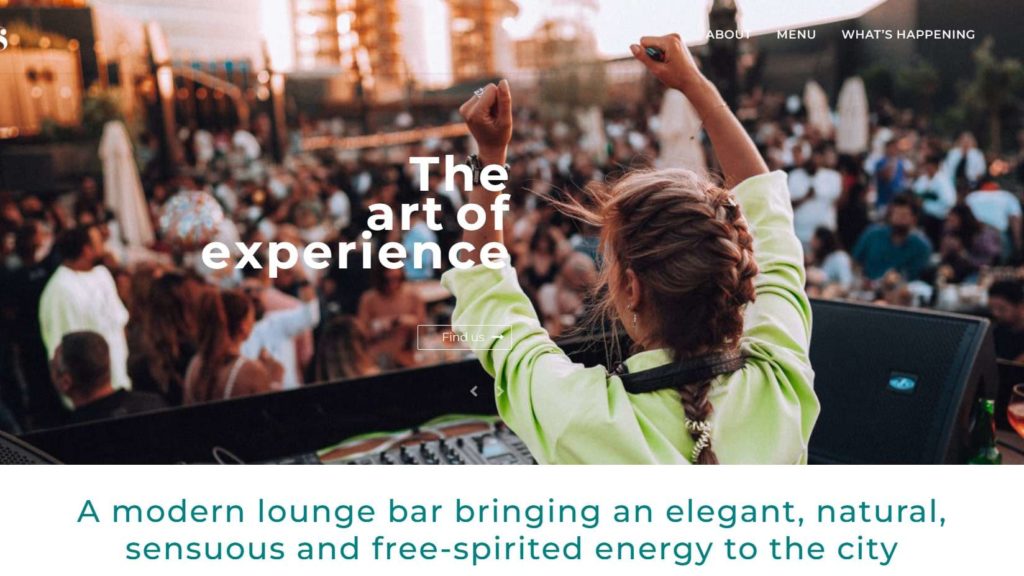 Test
Info
WEBSITE
https://irisdubai.com/
ADDRESS
Meydan Grandstand - adjacent to the Ticket Sales Office Dubai - United Arab Emirates
CONTACT DETAILS
+971 4 334 3355
OPERATING HOURS
Monday to Thursday: 6 PM–3 AM

Friday: 5 PM–3 AM

Saturday: 1 PM–3 AM

Sunday: 3 PM–3 AM
| | |
| --- | --- |
| Criteria | Ratings |
| Service | ★★★☆☆ (3/5) |
| Decor | ★★★★★ (5/5) |
| Atmosphere | ★★★★★ (5/5) |
| Food & Beverage Selection | ★★★★★ (5/5) |
For those who believe that day drinking is just as much as an option as drinking in the evening, Iris Dubai is right there with you.
We believe that this bar is the perfect choice for brunch and day drinking because of its food and beverage selections.
We love the unlimited sushi and wine they have on Wednesdays because it's perfect if you're tired of figuring out which drinks might taste the best and which dish would go well with it.
We also are big fans of how noticeably fresh the ingredients were in the preparation of the dishes and the drinks, although in terms of taste, there was not much to write home about.
However, we have to commend Iris Dubai for taking the time to give us the flavor profiles of each cocktail in their menu. It really made finding our favorite cocktails easier.
We like the bar's beach boho chic decor that, we think, complemented the sunlight that illuminated the place during brunch.
The decor wasn't overdone, so while the style is trendy, it's also sophisticated enough to stand the test of time.
Understandably, the lighting was minimal, but the lighting that was integrated into the fixtures of the bar helped make the bar cozier.
Besides being cozy, it was also pretty chill. The bar was located in the center of downtown Dubai, and we can actually hear the sound of the city around us.
But the great thing about it is it wasn't overwhelming whatsoever. Instead, it actually complemented the chill music that played over their speakers and the sounds of our conversations.
As for the bar's service, while we found everything to be okay, we were actually disappointed in finding out that tables have a two-hour limit—which really put a disappointing end to our time there.
On top of that, the waiters could stand to be a bit friendlier and more attentive. But it must have been the music and sounds of customers talking that made it hard for us to get their attention.
Iris Dubai exemplifies how great brunches can be with carefully created atmosphere and decor.
And while it's being dragged down by questionable service and customer policies, they still make a strong argument as to why they're the best brunch and bar spot in Dubai with their fresh dishes and curated cocktails.
Fresh ingredients
Beach boho decor
Unlimited sushi and wine on Wednesdays
Great cozy urban atmosphere
Service is questionable
Dishes are not that remarkable
Customer Reviews
Chic and excellent ambiance
"It's been a while since I've been here! Reminded me what I enjoy about the service and the ambiance. It's a great getaway from the hustle and bustle of downtown, but doesn't lose its chic vibe!
Thank you Valeriya for being so attentive and amazing." —Yesh Amarasekara, Google Reviews
Great music and clear branding!
"Iris for me ranks the classiest Bar/Club in Dubai. Great music and service. They are continuously upgrading the brand which is always a plus. Definitely worth getting a table if your looking for a place to hang out and have a good time with friends." —Faisal Al Humaid, Google Reviews
3. The Penthouse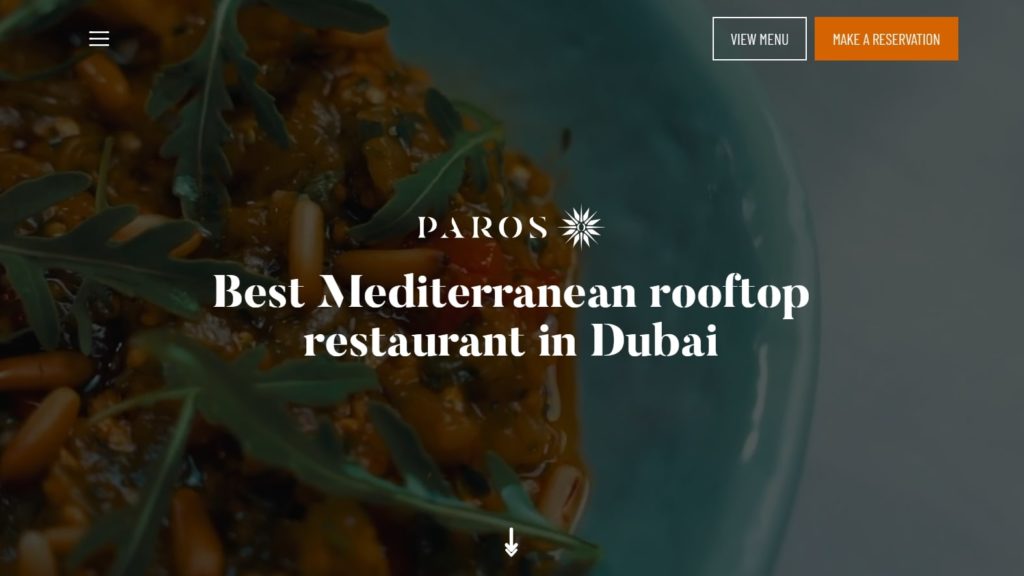 Test
Info
WEBSITE
https://thepenthouse.co
ADDRESS
No 1 Palm Jumeirah - Dubai - Dubai - United Arab Emirates
CONTACT DETAILS
+971 52 900 4868
OPERATING HOURS
Sunday to Wednesday: 4 PM–3 AM

Thursday to Saturday: 4 PM–4 AM
| | |
| --- | --- |
| Criteria | Ratings |
| Service | ★★★★★ (5/5) |
| Decor | ★★★★☆ (4/5) |
| Atmosphere | ★★★★☆ (4/5) |
| Food & Beverage Selection | ★★★★★ (5/5) |
One of Dubai's most famous sunset and nightlife hotspots, The Penthouse upholds its awards with much pride and energy and proves that they're the best in Dubai every single night.
Known for their award-winning dining experience and artisanal cocktails conceptualized and perfected in their own bars, they have always been the leader of the pack.
And we saw why. The service we got matched the acclaim that their Japanese-French fusion cuisine had garnered.
We enjoyed how our waiter took the time to suggest dishes and drinks that go together when he knew it was our first time there.
However, we have to warn you that you have to book well in advance because the place is packed almost every night, and it's often difficult to get a table.
The decor was minimalistic and sophisticated, with just enough color to make the place pop and feel lively enough for when the DJ starts to turn up the energy with their set.
We also like that there was a clear intention with the arrangement of the furniture and the room to put the focus on the rooftop view of Jumeirah—a view to behold at night.
But other than that, there was nothing remarkable about it, and this is understandable because we think the Penthouse is self-aware enough to know that the real takeaway here is the view.
We also like the fact that for a smartly decorated bar, the crowd is very lively and composed of young influencers and socialites.
The atmosphere perfectly balances giving you and your friends space to enjoy the night while lending itself to possibilities of meeting new people as the night goes on.
So we definitely recommend trying to look your best because the possibilities are just as intoxicating as the drinks they serve here.
Another part of the Penthouse that we really like is their Hit Parade Fridays where the DJs put on the top 40 hits and commercial house and electronic music for everyone to jam to.
All in all, the Penthouse makes it clear that they deserve all of the acclaims they got. They know the secret to allowing their customers to create unforgettable moments all while enjoying delectable food and drinks at their table.
Excellent service
Award-winning food and drinks
Great rooftop views of Jumeirah
Sociable and lively atmosphere
Decor is forgettable
Difficult to get a table
Place can get too packed
Customer Reviews
Great place for girl's night out
"If you're looking for a place to chill, party, girl's night out or just for a date! @thepenthousedubai is the perfect place to be! The place is so cool with beautiful outdoor seating facing the spectacular views of Jumeirah.
Tried their delectable foods and had fun exploring their drinks. Their staffs are very accommodating and so friendly. Truly a perfect place to go after a day's work." —Michelle Espiritu, Google Reviews
Excellent vibes all around!
"The penthouse has amazing views. The vibe is great. If you are a model or just like photos of yourself then this is the place. It is very expensive with a huge minimum spend per table but it is worth it. The food quality is top-notch. The truffle fries are additive here. The drink selection is great as well. I highly recommend going out with a group of friends or celebrating a special occasion. The vibe is amazing and the music is also very good." —Mazen Saber, Google Reviews
4. Paros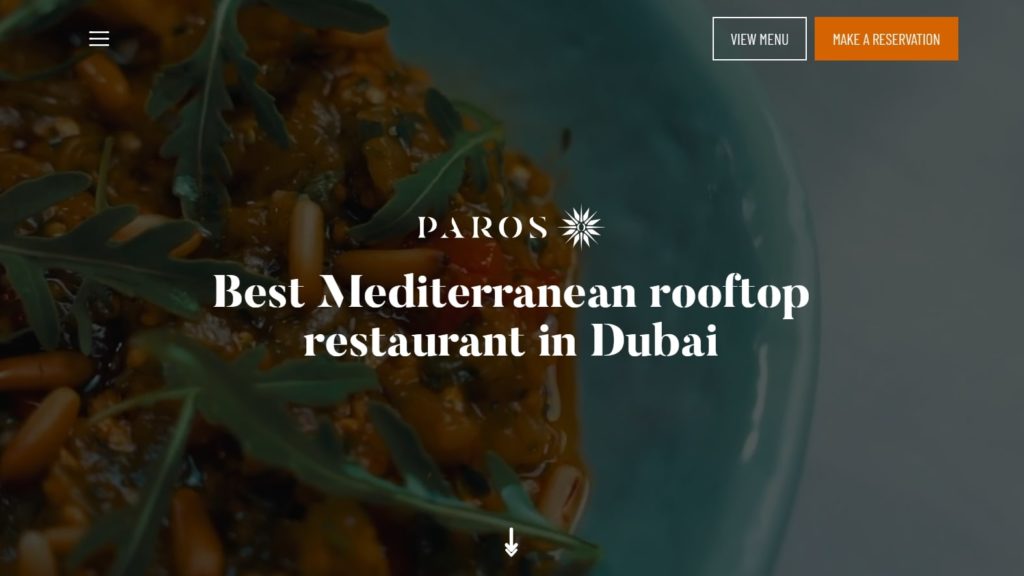 Test
Info
WEBSITE
https://www.parosdubai.com/
ADDRESS
DMCC Plot No. 2-27, Al Thanyah - Dubai - United Arab Emirates
CONTACT DETAILS
+971 4 574 1111
OPERATING HOURS
Saturday to Wednesday: 12 PM–1 AM

Thursday to Friday: 12 PM–2 AM
| | |
| --- | --- |
| Criteria | Ratings |
| Service | ★★★☆☆ (3/5) |
| Decor | ★★★★★ (5/5) |
| Atmosphere | ★★★★★ (5/5) |
| Food & Beverage Selection | ★★★★☆ (4/5) |
While technically a Mediterranian restaurant, Paros serves remarkable drinks and has the telltale signs of a great bar—which is why we included them in this list.
Yet another rooftop bar that opens itself to the view of the Dubai skyline, Paros has a minimalistic, cozy, boho decor that evokes a sense of casualness and sophistication.
But what differentiates Paros from other rooftop bars is their atmosphere. The crowd was varied, from couples to friends to groups of coworkers.
Their conversations filled up the space, which meant something important to us. The fact that we could hear the voices of people around us meant that the music's volume was just right.
Paros also takes it up a notch when it comes to entertainment value. There was a point in the night that we thoroughly enjoyed.
A solo performer came out and took it upon himself to sing from one table to another, and this really brought the energy up for everyone.
We also have to commend the host for doing his best to accommodate us, as we came without a reservation, and he still managed to get us a table.
However, we found the waiter to be quite overbearing at times. He asked for our order multiple times within a span of 30 minutes even though we kept telling him we weren't ready yet.
Despite that, what they brought to our table was great. The menu contained almost everything—from energy drinks to coffee and tea to whole spirit bottles.
The cocktails were exotic, as these were concocted by their in-house bartenders and can't be found anywhere else.
We highly recommend the Kafis cocktail for when you're day drinking, Aethios and Rose Negroni for something refreshing, and their Anassa for something strong.
Their menu doesn't have pairings indicated anywhere, so we had to ask our waiter for recommendations—to which they answered confidently.
All in all, Paros got their decor and atmosphere spot on to give way to customers having a great night out with them.
And while the service can still be improved, we're willing to give them a pass because we had a great time with their food and drinks that night.
Sophisticated and cozy decor
Rooftop bar
Great range of drinks
Service needs improvements
Menu doesn't have recommended pairings
Customer Reviews
Great service. Would certainly recommend
"Great rooftop bar at Taj, JLT. The venue is accessible with google maps. Parking & valet available. Nice choice of all types of beverages. Food options are tasty & well portioned. We tried & loved the brochetta & pulled lamb pizza. The view from the venue is spectacular. Surely recommend it." —Sunil Iyer, Google Reviews
They won me over!
"I wasn't expecting much from this as my experience in Shamiana (another restaurant on the same premises) wasn't that great. But they won me over with their service. Awesome view with shisha and drinks. I am going there again this weekend." —Khushboo Banka, Google Reviews
5. Zuma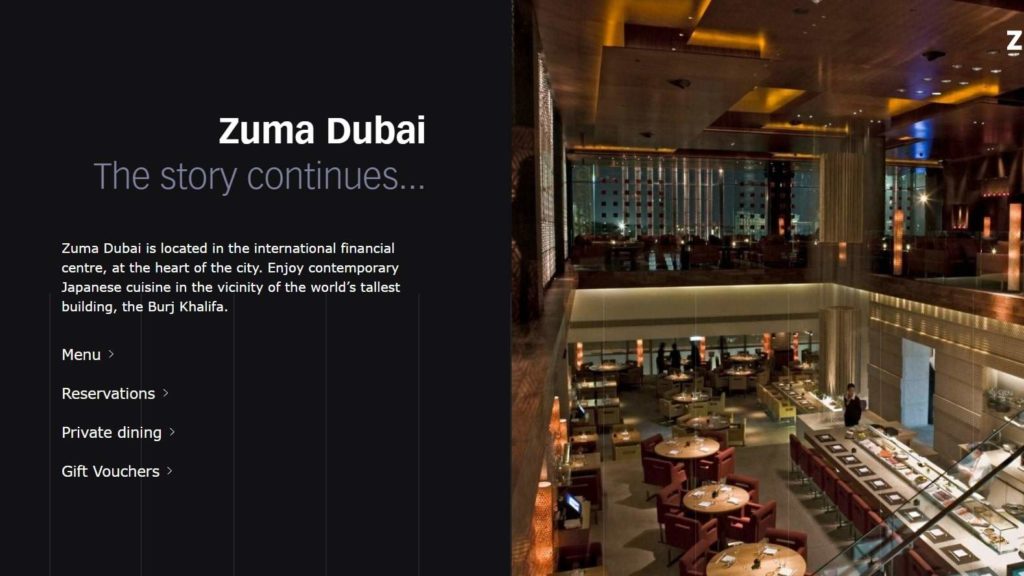 Test
Info
WEBSITE
https://zumarestaurant.com/locations/dubai/
ADDRESS
Gate Village 06, Podium Level - Al Mustaqbal St - Dubai - United Arab Emirates
CONTACT DETAILS
+971 4 425 5660
OPERATING HOURS
Monday to Friday: 12 PM–3:30 PM & 7 PM–1 AM

Saturday: 1:30 PM–6 PM & 7 PM–1 AM

Sunday: 12 PM–4 PM & 7 PM–12 AM
| | |
| --- | --- |
| Criteria | Ratings |
| Service | ★★★★☆ (4/5) |
| Decor | ★★★☆☆ (3/5) |
| Atmosphere | ★★★★☆ (4/5) |
| Food & Beverage Selection | ★★★★★ (5/5) |
Ranked the 23rd best bar in the world, Zuma elevates the meaning of going out to grab drinks and couples it with contemporary Japanese food and drinks.
We love that the cocktails are inspired by the Japanese philosophy of attaining perfection to give bold and intense flavors.
That being said, their dishes and cocktails are for those with finer palettes and may not always be everyone's favorite, but it's undeniable that what they serve is elevated and unheard of anywhere else.
Their staff and host also exemplify their prestige with their level of service. While they may come off as snooty, they were still accommodating.
They also were very efficient and knowledgeable about the menu and drink pairings.
The decor is sophisticated and contemporary with high-end seating. However, we found the lighting to be too bright and stark for such an intimate setting.
And because of this, the atmosphere is rather formal and stylish. We personally found it to be too rigid and uptight to let our hair down, enjoy our drinks, have fun conversations, and listen to the soft music that filled the place.
Despite that, it really is a place to go to if you want to impress someone. The level of excellence they put in their food and drinks is something that we won't forget anytime soon.
Excellent contemporary Japanese food and drinks
Sophisticated decor and ambiance
Knowledgable and well-trained staff
Ambiance can be too uptight
Lighting is too stark and bright
Customer Reviews
Top-notch quality all around!
"Top place, top quality, and standard. One of the best in the region with great consistency and amazing vibes. The one to go place if you want to party and enjoy a good night out. Well done to the team with a food that is on point and great service." —Cláudio Cardoso, Google Reviews
Best course there is!
"We went to Zuma for lunch w colleagues to celebrate birthdays and wedding anniversaries. This place serves Japanese cuisine. It is incredible. The atmosphere and vibes are pleasant. The servers were attentive to customers' needs. Every meal I ate left a gastronomical experience. And since it was my first time to try it there, I went w what was recommended.
We had 2 starters and 1 main course (inclusive of miso soup) and had one or 2 a la carte orders. We had a salad, cold dishes, and signature dishes. The hotpot mushroom risotto was exceptionally tasty! By the time that order came, I already had my fill but I still tried it and it did not disappoint at all. I highly recommend that dish.
Even it was lunchtime, we had wine and a cocktail because why not? 🙂 Chili passionfruit martini was my fave! A must-try! Overall, Zuma is great for the value of money. I'd definitely come back." —Edel M., Google Reviews
FAQs about Bars in Dubai
---
We hope this helped you in picking out a bar for your next night out in Dubai. Also, if you're looking for other ways to celebrate milestones in your life, then check out these articles: