The 3 Best Go-Kart Companies in Dubai
Feel the thrill of racing against other people in a controlled environment with go-kart establishments!
If you're looking for your next fun day with friends, here are our top picks for Dubai's best go-kart places.
How Much Does Go-Kart Racing Cost
Go-kart places usually charge per session. It can vary, but that is the general method of pricing.
The table below shows how much it could cost for you to rent a go-kart and race around a track:
| Test | Info |
| --- | --- |
| Session | Price (in AED) |
| Single Session | 105 - 150 |
| Two Sessions | 250 - 300 |
| Three sessions | 350 - 400 |
The Best Go Karts in Dubai
Here's how we assessed these places, for reference:
1. Dubai Autodrome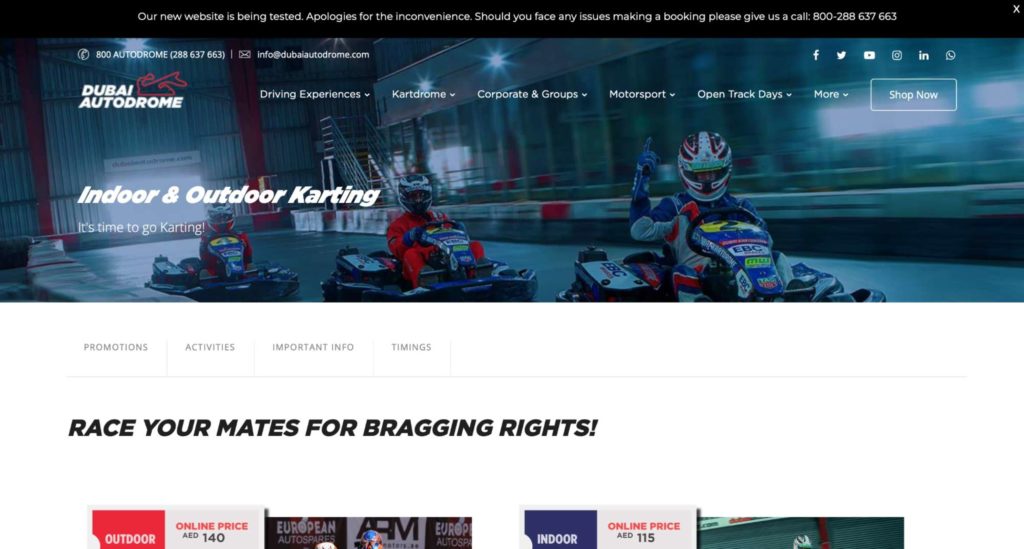 | | |
| --- | --- |
| Criteria | Ratings |
| Price | ★★★★★ (5/5) |
| Service | ★★★★☆ (4/5) |
| Customer Service | ★★★★★ (5/5) |
| Facilities | ★★★★★ (5/5) |
Dubai Autodrome is a racing company that has over a decade of experience in managing customers and races around the UAE. Calling themselves the heart of UAE motorsport, this establishment has proven that self-proclaimed moniker to be quite true.
The company offers various entertainment services. Aside from kart racing, they also have a laser tag facility, and allow drift karting, to name a few.
In addition, they also allow their facilities to be used as the venue for parties, corporate events, and major racing events.
Races such as the FIA GT Championship and European Touring Car Championship (and a lot more) have been held in Dubai Autodrome!
Dubai Autodrome offers outdoor and indoor racing. For the models, the company allows clients to pick from their wide range of kart models.
When it comes to pricing, we noticed that their rates are quite expensive.
Other racing companies offer 15-minute sessions for a cheaper price. Dubai Autodrome offers 60-minute sessions for a higher price.
This is longer than usual, and with their facilities, we believe it is definitely worth the money!
Prices start at 400 AED per person. If you have the budget, we recommend giving this place a try.
Moving on to their staff, employees at Dubai Autodrome are amazing at handling customers of different ages. They are also well-trained and can easily respond to concerns and inquiries.
Looking at their facilities, we noticed that the company has a lot of space. Wide, open spaces are utilized for race tracks.
Also, these tracks are equipped and well designed as well!
Having a lot of available racing tracks makes this establishment more appealing to racers and customers. Not only can they choose from a variety, but they also wouldn't worry about running out of opportunities to book a session because of other customers.
Various kart models to choose from
Offers indoor and outdoor racing
Open 24/7
Great facilities
Can get very busy
Expensive
Customer Reviews:
Complete Equipment, Great Staff
"I liked how kids age 7 and above who are in love with racing cars can enjoy such an experience.. They will definitely enjoy the experience from guidance, the indoor Kartdrome provides you with all the required equipment and guidance before going in to the race. They rank your driving according to the fastest time between all laps. The place provides free parking and you can watch your kids racing. Good for group of teenagers and adults to go and have fun." – Dana D.
2. Kart Mania Sports Tracks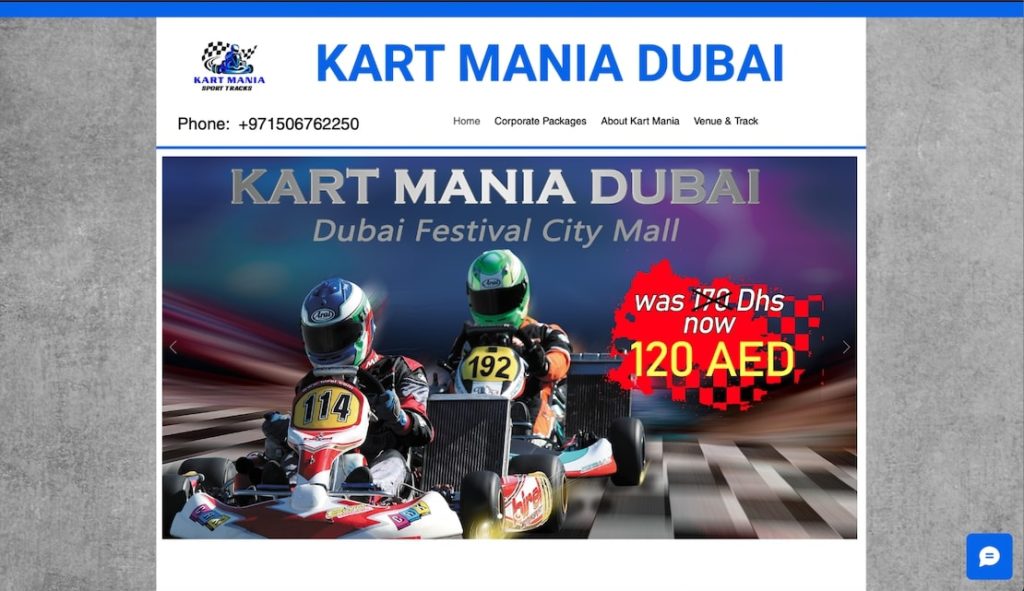 | Test | Info |
| --- | --- |
| SERVICES | Kart Racing (for parties, events, and regular days) |
| WEBSITE | https://www.kartmaniadubai.com |
| ADDRESS | Crescent Dr - Dubai Festival City - Dubai - United Arab Emirates |
| CONTACT DETAILS | Phone: +971 50 676 2250 |
| OPERATING HOURS | 5:00 PM - 12:00 AM (Monday - Sunday) |
| | |
| --- | --- |
| Criteria | Ratings |
| Price | ★★★★★ (5/5) |
| Service | ★★★★☆ (4/5) |
| Customer Service | ★★★★★ (5/5) |
| Facilities | ★★★★☆ (4/5) |
Kart Mania is a company that specializes in renting their venue and services for events and parties. They also allow individuals to come in and race in their tracks if they're not booked for the day.
What we noticed the most about this company are their cheap, affordable prices. Rates range from 150 AED to 340 AED per person for events
For corporate events and parties, Kart Mania actually organizes or holds different kinds of races for the guests. These kinds include standard race, mini grand prix, and super grand prix.
On the other hand, on regular days, clients can book starting around 120 AED. The company's price range is the cheapest we've found in all of the establishments we've looked at.
Customers can choose between availing of a 15-minute karting session or a 30-minute one. We must point out that they also require customers to pay a 10 AED registration fee.
Their karts also come from different brands or models, so there are a lot of vehicles to choose from!
We observed, however, that the company only offers an outdoor racing track. So if you're looking for an indoor race track for go-karting, this will not be the company for you.
Regardless of that minuscule limitation, Kart Mania has a pretty nice outdoor track. It is wide and spacious enough for racers to do laps around. Also, their track is designed pretty well to induce tension and more fun during racing.
The staff employed in this establishment are trained in road safety rules. In addition, they are also aware of the safety regulations when it comes to go-karting.
This is great, as this means that they can guide their customers on how to properly have fun as they race on the grounds of the company. In addition, their expertise means that they can potentially avoid any mishaps or accidents.
Overall, we recommend Kart Mania if you're looking for an affordable go-kart provider that has a great outdoor racing track!
Affordable rates
Big race track
Outdoor racing only
Registration fee required
Customer Reviews:
Very Good Service
"Went there on a sunny February afternoon. We were the first ones in but they were accommodating enough to start the tracks a little earlier for us. The service was very good and instructions were detailed. All the suits were stored in plastic packets so they appeared clean and well kept. Then we were provided helmets and the actual ride was also a lot of fun for the kids. I would comfortably recommend this place for future visits. The mall is close by and there is plenty of parking available" – Tom Jose Tharayil
3. Ekart Zabeel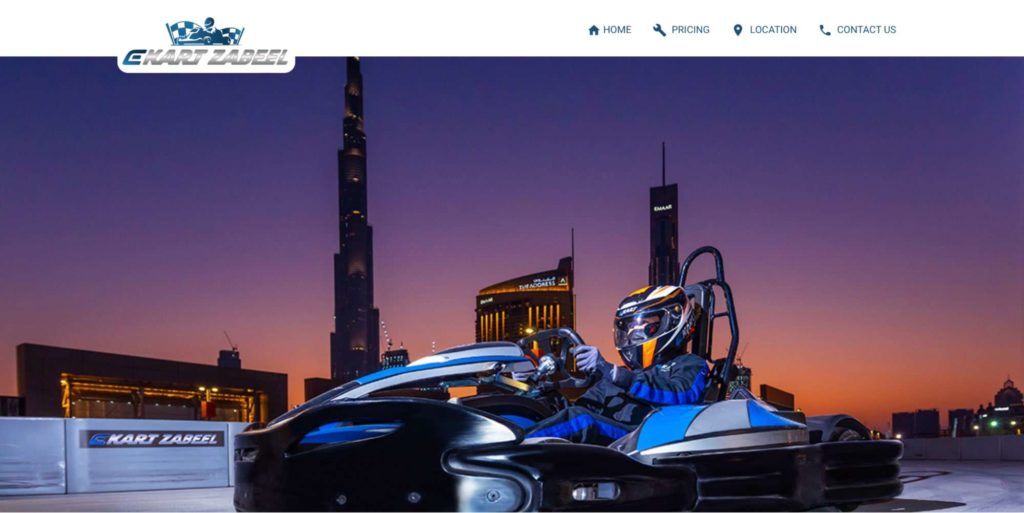 Test
Info
SERVICES
Kart Racing
WEBSITE
https://www.ekartzabeel.ae
ADDRESS
The Dubai Mall Zabeel, the rooftop on the 9th floor, Dubai, United Arab Emirates
CONTACT DETAILS
Phone: +971 800 382246255

Email: [email protected]

OPERATING HOURS
10:00 AM - 11:00 PM (Monday - Sunday)
| | |
| --- | --- |
| Criteria | Ratings |
| Price | ★★★★★ (5/5) |
| Service | ★★★★☆ (4/5) |
| Customer Service | ★★★★★ (5/5) |
| Facilities | ★★★☆☆ (3/5) |
If you're looking for a go-kart track that you can easily visit while going around in a mall, this establishment would be perfect for you!
Ekart Zabeel is a racing company located in a very fun part of the Dubai Mall. The track is on the rooftop of the mall!
We do have to point out that there is fun in racing on top of a high building– but it does get too hot sometimes. Be prepared to sweat a lot if you will be racing in this place.
With that out of the way, let's talk about the services available. Ekart Zabeel dabbles a bit in holding events for corporations.
But they mostly focus on catering to everyday customers. What we noticed is that they offer them at such low rates.
The price range starts at around 95 AED for a single-session ticket. The company also offers tickets which can be used twice for a higher price.
This affordable rate is great. However, we have to point out that the sessions are shorter compared to the companies we've looked at.
The company allows customers to race around their track for only eight minutes per session. Compared to the offers we've seen from other companies, which are around 15 to 60 minutes, this is quite short.
When it comes to their facilities, we observed that their race track is quite small. If you like to race on a wider, bigger track– definitely look at another establishment!
Also, Ekart Zabeel only has one, outdoor racing track. For those who would want to race indoors, this establishment would not be able to cater to them.
Moving on to their staff, we observed that they are friendly and helpful towards their customers, especially to the younger age demographic.
Overall, we recommend this place for its convenient location and good rates!
Affordable prices
Great location
Helpful and friendly staff
Small race track
Race karts a bit difficult to control
Customer Reviews:
Friendly and Polite Staff
"Highly recommended! Well explained in detail. Friendly and polite staff. Best refresher course for 7 min. Rooftop is like on top of the world! Keep it up. Will visit once again!" – Nikerockin, via Google Reviews
FAQs About Go-Karts in Dubai
---
We hope that our recommendations have given you ideas on where to spend your next karting session!
Finding more ways to enjoy life and treat yourself? Here are our recommendations on how to enjoy payday!