The 5 Best Factory Outlets in Dubai
Looking for a good shopping bargain during your travels? There's no other good place to spend time browsing for potential purchases than a factory outlet.
A factory outlet or store is an establishment where you can get branded items for a relatively good price. This is because manufacturers sell their stock directly to the public.
Outlet stores are usually branded stores that are grouped in outlet malls. If you're on the lookout for some great factory outlet locations in Dubai, this list has got you covered!
The Best Factory Outlets in Dubai
The outlets mentioned in this list are big, general factory outlets that either host multiple branded outlets in one location, or are just one shop that hosts different brands.
In addition to that, the establishments were assessed based on four different factors. The criteria considered for this list are as follows:
1. Winners Outlet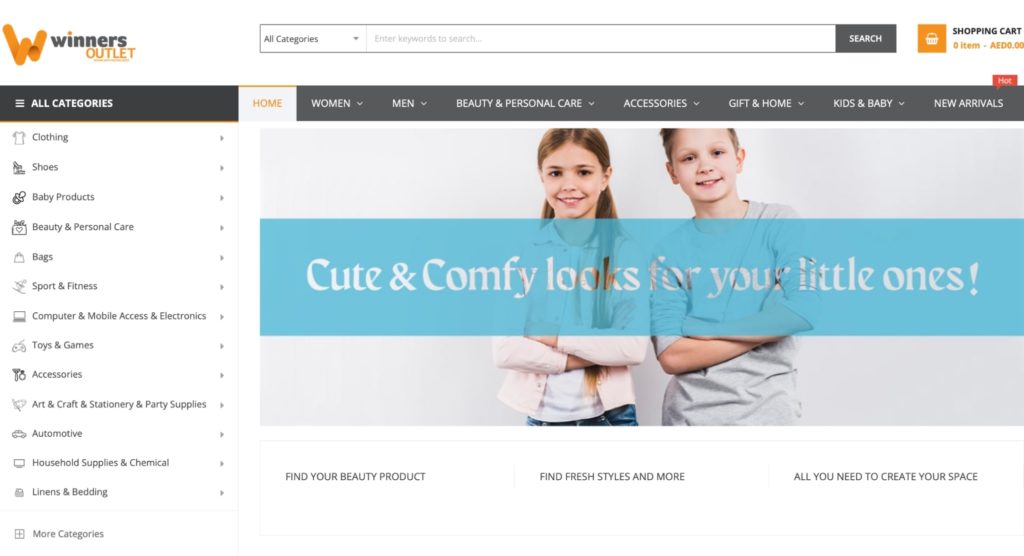 Test
Info
PRODUCTS
Clothes

Shoes

Beauty Products

Bags

Toys

Electronics

Jewelry

Accessories, Art Supplies

Party Supplies

Household Supplies

Automotive Accessories

Linens

Bedding

Sports Equipment

Baby Products

WEBSITE
https://www.winnersoutlet.com
ADDRESS
Dubai, Deira, Opposite Deira City Centre Metro Station (exit no.3)
CONTACT DETAILS
Phone: +971-4-2255-100

E-mail [email protected]

WhatsApp: +971-58-566-1205

OPERATING HOURS
10AM- 12AM (Monday - Saturday) 2PM - 12AM (Friday)
| | |
| --- | --- |
| Criteria | Ratings |
| Variety | ★★★★☆ (4/5) |
| Price | ★★★★★ (5/5) |
| Space | ★★★★☆ (4/5) |
| Customer Service | ★★★★★ (5/5) |
Winners Outlet has a lot of items available. This company offers a lot of variety when it comes to brands and product types.
Not only does this place have clothes for different genders and ages, but the outlet also sells different objects such as household supplies, toys, electronics, and more!
For being just one big store in Deira, the location certainly seems overwhelming when you come in. The huge array of different products for sale will pull you in to browse through the store for a very long time.
However, if you're the type of person to get easily overwhelmed by the sheer amount of choices, it's best to not spend a long time here. Better get to the area where you want to buy something from!
Aside from having a physical store, the company also offers an online shopping service. The online application displays all items that are in the store.
A good thing about their delivery service is that they offer it for free if you spend 300 AED ($81.67)! But, in case you don't meet that price, an additional 15 AED ($4.08) will be charged for shipping.
Winners Outlet store features international brands such as Zara, Bershka, Desigual, and Pull and Bear. What we noticed, however, is that while they have different clothes from these brands, there aren't really a lot of sizes available.
On their online store, most if not all of the clothes on sale only come in one size (and one stock). So get ready to not find your size if you ever drop in the physical store (or even in the online store).
Another thing we observed about Winners Outlet is its online shopping website. While they try to be as organized as possible when it comes to their product catalog, the platform loads oddly on web browsers.
It may just be because of how the website was coded, but some of the buttons are too small, making the website look really crowded. In addition, it seems that the overall size of the website is a little too large for the other elements embedded in the platform.
It honestly looks a little out of scale. Our best advice for you as you navigate the website is to look really hard (or zoom in).
Online shopping service
Affordable prices
Delivers across UAE
Excellent staff
Customer Reviews
Affordable Prices, Friendly Staff
"In love with this place! everytime I'm there I just can't help but finding myself getting more and more.. there's almost nothing you can't find there of all original brands and very affordable prices. The staff there will instantly put you on ease with their helpful friendly behavior. Totally RECOMMENDED shopping experience. Thank you Winners!" – Majd Rawas, via Google Reviews
Quality Items, Excellent Customer Service
"Highly recommended shop for quality items. What they offer is the best quality, their prices are reasonable and new offerings are always irresistible. 😊😊 I always love shopping here , all the staff are amazing in providing an excellent customer service . Their shop is well worth seeking out." – Chloe Nick, via Google Reviews
2. Labels Factory Outlet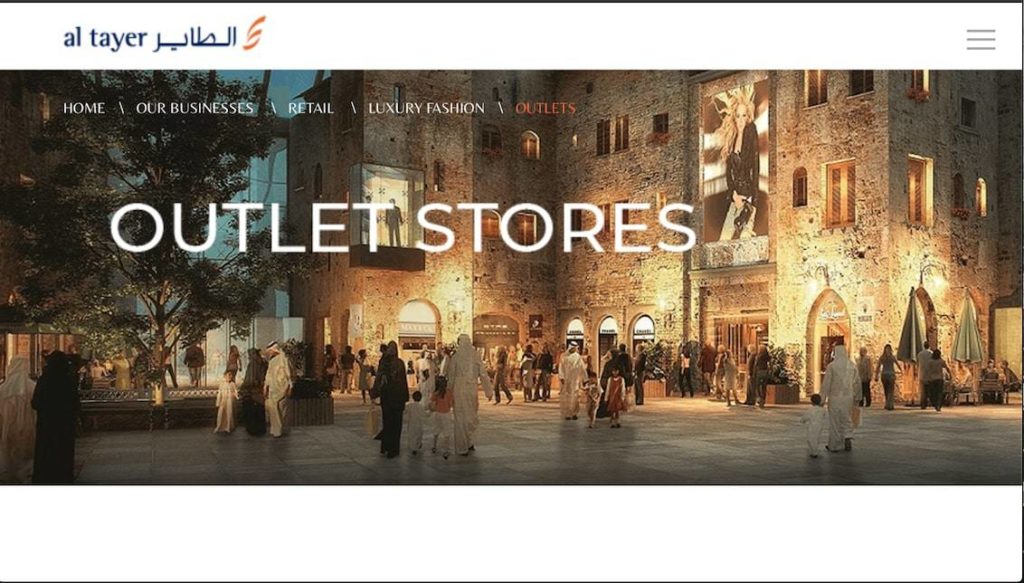 Test
Info
PRODUCTS
Clothes (for kids and adults)
WEBSITE
https://www.altayer.com/retail/luxury-fashion/outlets*
ADDRESS
Dubai Outlet Mall - Dubai - United Arab Emirates
CONTACT DETAILS
Phone: +971-4-201-1111
OPERATING HOURS
10AM- 10PM (Sunday- Thursday)

0AM - 12AM (Friday- Saturday)
*note that the linked website via Google reviews says different things compared to the reviews and other blog posts about this label store (eg. Luxury brands, two different outlet stores in the same location — via the official website)
| | |
| --- | --- |
| Criteria | Ratings |
| Variety | ★★★☆☆ (3/5) |
| Price | ★★★★★ (5/5) |
| Space | ★★★★☆ (4/5) |
| Customer Service | ★★★☆☆ (3/5) |
Labels Factory Outlet is a store near the popular Dubai Outlet Mall. The establishment houses two brands, Gap and the Banana Republic.
When it comes to item variety, the store has clothes for men, women, and children. The catch is that there are not a lot of options for brands or sizes. Some customers reported that it gets difficult to find a size that would fit them.
We recommended going here if you're aiming to look for brand-exclusive clothes and deals. If you're just going here to shop in a general sense, you're not gonna get a lot of options.
The outlet's space is well organized and the available items for sale are easy to see. Aesthetically, it doesn't really stand out though.
However, the location's system of organization is quite impressive! The moment you go near the entrance, you can instantly see what items are on sale— no need to fully go inside hoping for a discount only to find there were none.
According to the customers we've conversed with, some of the staff in this store can get busy during peak seasons and may not be readily available to attend to your needs.
That's something we'll be placing here for consideration. Some of us would prefer to shop on our own, really. However, if you're the type of person who wants full staff assistance, then perhaps it's best to visit when it isn't too busy.
The last thing we would like to point out about this company is their official website. Well, the listed "official website" of this establishment.
The website gets really confusing. Some of the stores featured in this list provide a dedicated website for their actual establishment.
Since the store doesn't really offer an online shopping service, we recommend just going straight to the physical store instead.
Affordable prices
Organized product collection
Good quality products
Variety in terms of clothing types
Confusing Website
Lack of sizes
Limited customer service
Few brands available
Customer Reviews
Great Product Deals
"One of the most visited store in The Outet Mall. Great deals on Gap for kids and few for adults. Sometimes you are lucky to get addional 30% on the discounted price.
Sizes can be an issue, limited staff to assist. Overall a great value worth store. " -Shanky Bola, via Google Reviews
3. Dubai Outlet Mall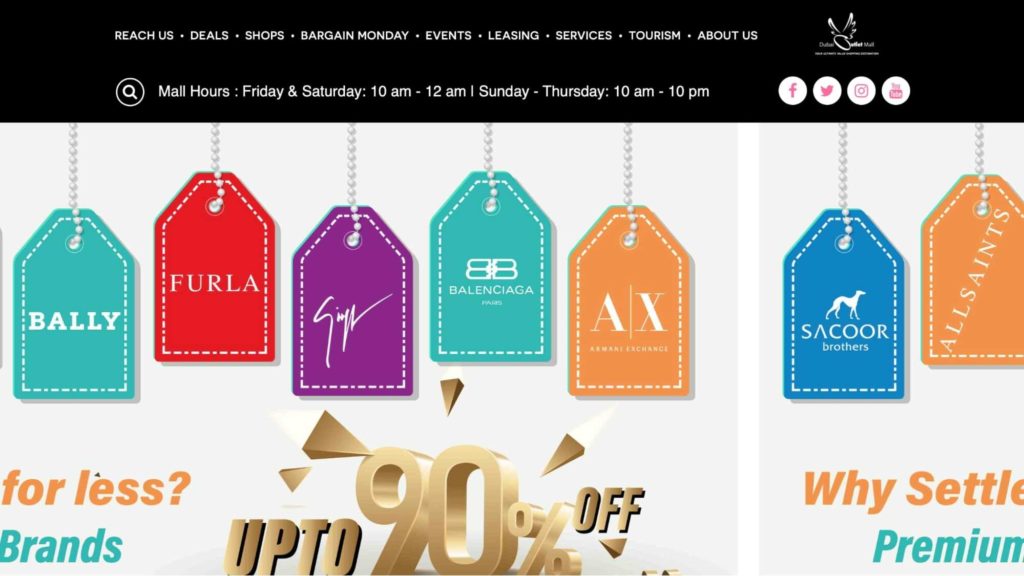 Test
Info
PRODUCTS
Clothes, Shoes, Accessories, Fragrances, Kitchenware
WEBSITE
https://www.dubaioutletmall.com
ADDRESS
Dubai Al-Ain Road (Route 66), Dubai, UAE
CONTACT DETAILS
Phone: +971-44-234666

Fax: +971-43-679009

E-mail: [email protected]

OPERATING HOURS
10AM- 10PM (Sunday - Thursday)

10AM - 12AM (Friday- Saturday)
| | |
| --- | --- |
| Criteria | Ratings |
| Variety | ★★★★★ (5/5) |
| Price | ★★★★☆ (4/5) |
| Space | ★★★★★ (5/5) |
| Customer Service | ★★★★☆ (4/5) |
This is it, the big one. Literally (also figuratively).
Dubai Outlet Mall (DOM) was opened in 2007 by the Al Ahli Holding Group. Years after its initial opening, the outlet store now holds 240 retail outlets with over 1,200 brands.
Yeah, that's right— it's the main outlet store indeed. If you're looking for variety when it comes to brands, product types, and options, this is the place where you need to go!
We recommend hunting out each shop where you want to browse and find the ones with discounted prices. Since it holds some luxury brands, chances are, some of the items on sale would get really expensive (even if it is an outlet mall).
Unfortunately, just like with other outlet stores — sizing is an issue. Shops are usually sold out of the most common sizes.
Other customers report that they end up buying not what they want, but what was available.
When it comes to space, the DOM definitely does not hold back. Overall, the shopping mall has a total size of 1,100,000 sq ft. Make sure to not wear heels while walking around, because this place is big!
One downside of this location, however, comes in its parking. Customers frequently complain about the mall lacking enough parking facilities.
Best to avoid the times when customers tend to flock to the mall so you have a chance to have a space for your car!
Fortunately, while their parking leaves more to be desired, their customer service does not. The DOM is equipped with a team of staff that can speak multiple languages, such as Arabic, English, French, Farsi, Russian, Turkish, Urdu, Hindi, Chinese, Tagalog, and Kyrgyz.
Rest assured that the customer service staff will be ready to help when needed. You just need to approach their desks, which are located at the main entrance of the mall.
Customer Reviews
Many Selections, Good Quality Brands
"Every time, I visited Dubai, I always shop for this mall. It is better prices and good quality brands. You can find many selections there such as Burberry, Coach, Adidas, Lacoste, Diesel and many different brands that I'm not familiar with. There is many shops for men that you can buy for your work or casuals. I believe still missing some of the good brands comparing to Outlet Malls around the world. You need to spend the whole day to find the best clothes and good prices. You always can spend more money than you plan🤨😕" – Osama Almatrafi
"Very simple mall not like those fancy ones we have gotten used to. But has a large variety of brands all outlet stores. You have to take time out hunt each shop and your sure to wall out with good brands on discounted prices. Being outlet biggest challenge can be limited range of sizes." – Eating Bro (EB), via Google Reviews
Amazing Offers and Discounts
"One stop solutions for having discounted items all over the year. This mall is an amazing concept with reduced prices by outlets of multi companies. I really loved the vibe of this mall during sales as they have amazing offers and discounts. Almost all the shops outlets are their but main issue at times is the display models are of previous session. But as far as you are getting discount it's cool. I would like to visit it again" – engineer infood, via Google Reviews
4. DIKOCHI Outlet Jebel Ali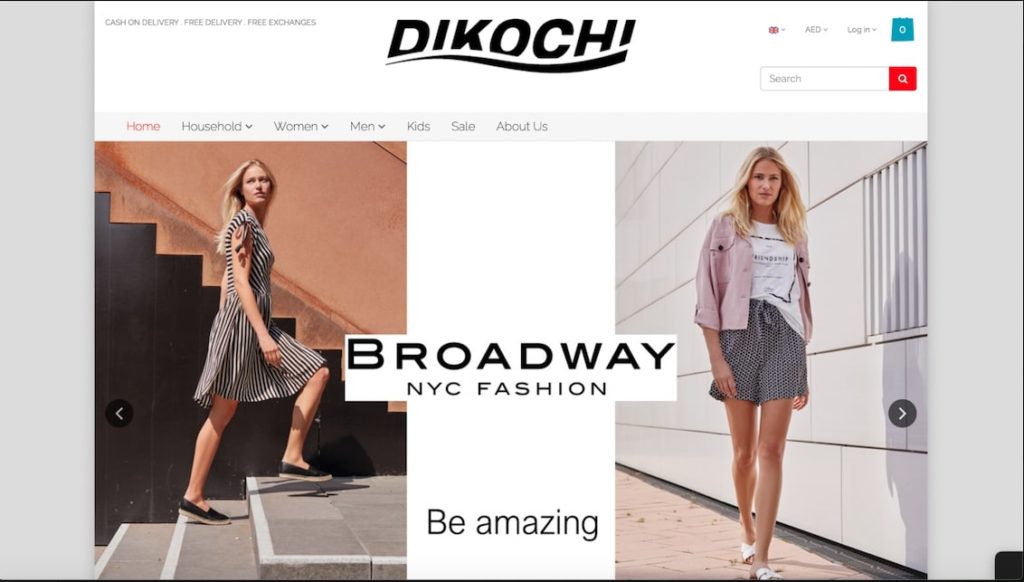 Test
Info
PRODUCTS
Clothes

Shoes

Accessories

Fragrances

Kitchenware

WEBSITE
http://www.dikochi.com
ADDRESS
Jebel Ali Free Zone, 9041 Dubai, U.A.E.
CONTACT DETAILS
Telefax: 048818817

E-mail: [email protected]

OPERATING HOURS
8AM- 8PM (Monday - Sunday)
| | |
| --- | --- |
| Criteria | Ratings |
| Variety | ★★★★★ (5/5) |
| Price | ★★★★☆ (4/5) |
| Space | ★★★★★ (5/5) |
| Customer Service | ★★★★☆ (4/5) |
Established in 2004, the DIKOCHI Factory Outlet offers a wide variety of brands and products in their 2,000 square foot showroom.
Aside from hosting brands such as Adidas, Fila, Lacoste, and many others, the outlet also has exclusive brands. Currently, the store is the sole distributor of European brands such as Tom Tailor, Haily's, Zabaoine, and Bianco & Nero.
Paired with constant discounts and offers, DIKOCHI provides its customers the opportunity to grab great purchases for its products.
We recommend heading here for their exclusive brands, especially during special promos and sales.
Their showroom, as mentioned earlier, presents different products from different brands. It is well-organized, where customers can clearly see which items are at a bargain or at a special discount.
The products are displayed in various sections. While this does help in terms of organization and provides customers an easier way to navigate through their collections, we noticed that the space tends to look too narrow with all these products.
Aside from its physical store, the outlet has an official website dedicated to showcasing its collection and more information about them.
While the website seems to offer an online shopping service, it also doesn't. When you pick up items to put on your cart, the website tells you to visit the main location to get the item.
The good thing about the "online shop" they have is that it tells you if they have an item in stock. So a customer can just check if the item they want is in stock, to avoid driving far to their location.
Brand variety
Affordable prices
Item variety
Customer Reviews
Cheap, Good Variety
"Its a factory outlet for cheap but branded clothes ( not too sure if they r originals or rejected or fake) but yes they have good variety in all kind of shoes which also seems original which is a big plus. Also to notice is the perfume section which has good brands of perfume and they r all original but at very reasonable prices. I would rank it as a must visit at least once for people looking for cheaper options of shopping in dubai." -Syed Irtaza Imam Abidi
Great Deals
"Great deals , contains brands , although stuff sells out fast, the problem is that they dont have sizes so you only have what you see , some brands prices are very cheap compared to the price at the malls, If you have time in your visit, you need to visit it at least once, And follow them on twitter as they sometimes inform you when there is a sale or discount" -Mahmoud Sameh
5. The Outlet Village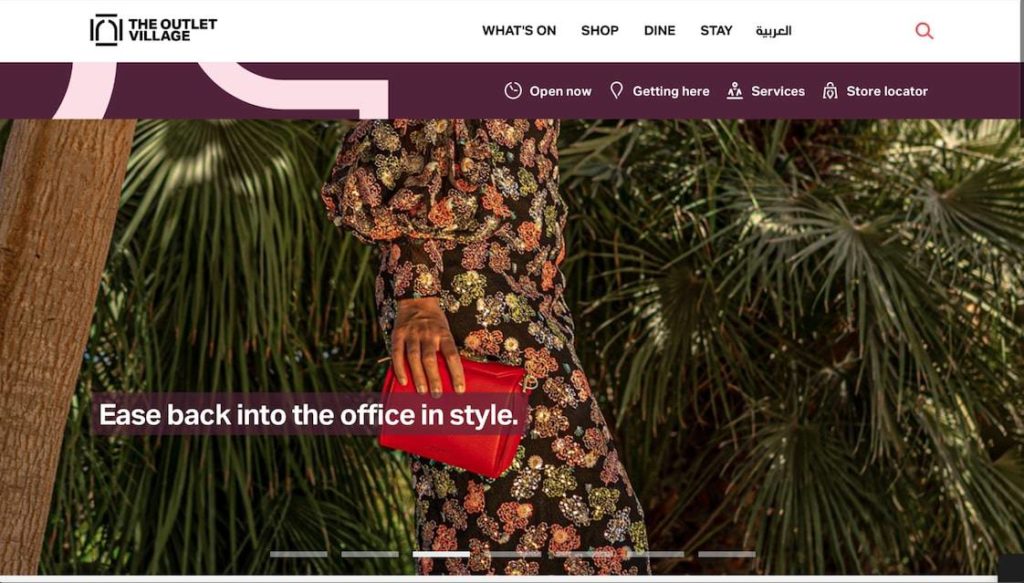 Test
Info
PRODUCTS
Clothes

Shoes

Accessories

Fragrances

WEBSITE
https://theoutletvillage.ae
ADDRESS
Jebel Ali Free Zone, 9041 Dubai, U.A.E.
CONTACT DETAILS
Phone: +971-800-738245 (+971-800-RETAIL)

E-mail: [email protected]

OPERATING HOURS
10AM - 11:00 PM (Monday - Thursday)

10AM- 12:00 AM (Friday - Sunday)
| | |
| --- | --- |
| Criteria | Ratings |
| Variety | ★★★★☆ (4/5) |
| Price | ★★★☆☆ (3/5) |
| Space | ★★★★★ (5/5) |
| Customer Service | ★★★★☆ (4/5) |
Shop in style as you take the aesthetically pleasing sights in the Outlet Village!
The outlet offers a wide range of brands, specifically luxury ones such as Armani, Dolce and Gabbana, and Mont Blanc. It also houses common outlet stores like Adidas and Lacoste.
Just like the rest of the stores in this list, there is a chance that sizes might be out of stock (especially during sales and promos). You will certainly spend a long time browsing — but there's a chance you might end up not getting anything at all.
The variety this location offers applies to brands. From high-end to common brands, you'll spend a long time looking for products you'd like to buy!
Aside from browsing for good luxury brand deals, we also recommend traveling here not only for the Village's gorgeous Italian-inspired architecture.
Speaking of architecture, one of the things we love the most about Outlet Village is its picturesque sights. Based on the medieval hill town San Gimignano in Tuscany, Italy, the store provides eye-candy views that can definitely be a great addition to your social media page.
When it comes to pricing, customers shared that the products sold in the Outlet Village come at generally reasonable discounts. Without these bargains, the items on sale are on the level of pricing with regular shopping malls.
It's best to really head here when there are promos and offers, although you might not find a wide range of sizes for clothing and shoes.
Brand variety
Picturesque sights *
Large space for walking around
Parking
Customer Reviews
Fair Variety, Well-Organized
"Small size shopping outlet located on the road going to Abu Dhabi. The place is nicely designed overall and well organized. There are fair variety of brands plus some dining options. Consider this place as a regular shopping mall but with constant discount so basically manage your expectations when it comes to offers. The place is overall worth visiting if you have a car and would like to do some light shopping." – Yousef A. Almubarak
Reasonable Prices
"Relatively quiet, clean and orderly mall dedicated to what you would expect from an outlet mall – out of season clothing at generally OK discounts compared to original prices. Whilst the focus is on clothing, there's a few food and coffee outlets to take a break. The mall itself isn't huge, but if you're after a bargain there's plenty to browse through. Items here change with the season as you would expect with clothing, and prices can range from ok to good but during sales season other malls around Dubai can be just as good or even better. However, you can do a major shop here any time of year for reasonable prices. The venue is a little away from the more populous areas of Dubai so generally people arrive by car to which there's plenty of parking out the front." – Adrian M, via Google Reviews
Nice Architecture and Parking
"Very nice architecture and plenty of parking. Otherwise loads of mainly premium brands offering products at what seems to be first inflated and then discounted prices. Walked all the way through and, although shopping lover, walked out empty handed because I either wasn't willing to pay a discounted fortune and otherwise didn't find any bargain I couldn't have found in another regular shopping mall anywhere in Dubai" – Arnd Herrmann
FAQs about Factory Outlets in Dubai
---
We hope that this article has provided you with the information you need for your next shopping trip to Dubai. Looking for more fun activities to do aside from shopping? Check our piece on what to do to enjoy your payday in the country here!