The 5 Best Facelift Clinics in Dubai
We naturally lose our skin's elasticity over time. Collagen, the most abundant protein in the human body responsible for elasticity, gets produced less as we age, resulting in wrinkles and fine lines that become more prominent.
Thankfully, modern science and technology have made it possible to disguise the signs of aging. Getting a facelift is one of the most popular ways to get young-looking skin again.
For all those with this goal, our list of the best facelift clinics in Dubai can help you choose the right place for this procedure. But first, let's talk about the pricing, so you come prepared for the financial cost of this surgery.
How much does a facelift cost?
Medical procedures are almost always costly, even more so if your insurance doesn't cover the operation.
Luckily, anyone can always save up for this. Read on below to see just how deep you need your pockets to go to afford this procedure.
| | | |
| --- | --- | --- |
| Type of Procedure | USD | AED (Rounded off) |
| Mini Facelift | 3,500-8,000 | 12,900-29,400 |
| Classic Facelift | 6,000-10,000 | 22,000-36,000 |
Things to note:
The prices may actually be higher with a popular surgeon. One who is considered a "celebrity plastic surgeon" for instance, can demand a price of 17,700 USD (65,000 AED) for the procedure.
A skilled surgeon is worth the expense. Remember that a botched surgery follows you for life.
You can always have other procedures done along with your facelift. Ask your surgeon about it.
Just in case you're interested to know about other facial surgical procedures, you can check the list below to see how much they cost.
| | | |
| --- | --- | --- |
| Other Common Procedures | USD | AED (Rounded off) |
| Blepharoplasty (Eyelid Surgery) | 3,000-5,000 | 11,020-18,400 |
| Rhinoplasty | 5,500-8,000 | 20,200-30,000 |
| Brow Lift | 4,000-7,500 | 14,700-28,000 |
| Otoplasty (Ear pinning) | 3,000-5,000 | 11,020-18,400 |
| Chin Augmentation | 3,200-5,000 | 11,800-18,400 |
The Best Facelift Clinics in Dubai
Luckily for us, some of the best facelift clinics and surgeons are operating in Dubai. Read on below to get to know them.
1. Dr. Adnan Tahir Aesthetics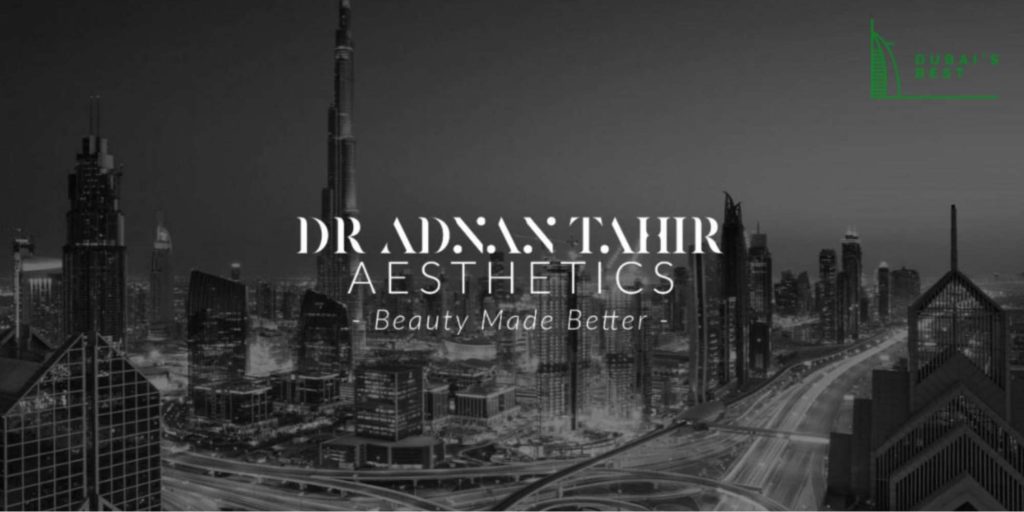 Address:
Valiant Clinic, City Walk 13th Street | Maison Lutetia, Festival City Dubai
Website:
https://adnan-tahir.com/
Contacts:
+971-505674770 |

[email protected]

Services Offered:
Facelift, Rhinoplasty, Otoplasty, Breast Augmentation, Breast Reduction, Tummy Tuck, Liposuction, Fat Transfer, Upper Arm Lift
Starting our list is a renowned celebrity plastic surgeon who's popular in Dubai, operating one of the best facelift clinics. A UK-trained surgeon, Dr. Adnan Tahir has 18 years of plastic surgery experience under his belt.
We're particularly impressed by his invaluable experience with surgically treating burns and in cancer and trauma reconstruction. Even before he became famous, Dr. Adnan had already handled plenty of plastic surgery cases.
Under his care, patients may choose among any of the three types of facelift procedures he offers.
A neck lift incision targets the jowls, fatty deposits around the chin area, and any loose skin on the neck. This is for those who only want the focus to be on their neck area.
A full facelift is one where the incision is larger—a continuous cut from the temple, going around the ear, and then down to the lower scalp. Whenever needed, another incision on the chin is made to further define the contour of the neck.
A short scar facelift is one where, as the name implies, the incision is shorter. For people with less skin laxity (or skin aging that's not as progressed), this mini-facelift is suggested.
Dr. Adnan Tahir and his team will then set up a post-operative appointment with you to make sure that there are no complications following the operation.
Being the famous surgeon that he is, it should come as no surprise that he's also one of the most expensive around. Excluding VAT, his full face and neck lift starts at 17,695 USD (65,000 AED).
But that expense comes with peace of mind, of course. You can rest assured that you are in good hands with someone who has a track record as good as his.
Extensive experience in plastic surgery
Post-operative meeting with the surgeon
Customer Reviews
Blown away by the results.
"I came to Dr. Adnan for my first time getting botox. He was extremely professional and explained the whole process to me beforehand since I was quite nervous. I felt no pain during the process and I'm blown away by the results. He has done exactly what I asked for – subtle and natural. Will certainly be back!" –Holly Jervis
A gifted surgeon. An artist.
"Dr. Adnan is a gifted surgeon who has really honed his craft. He takes the time to listen to what it is that you want and delivers! He really is an artist and does what it takes to give you the aesthetically pleasing look you are hoping for. I am so pleased with my results! His staff is friendly and efficient, and I had an overall pleasant experience. I highly recommend Him! He's truly the best!" –Laila Benali
2. Aesthetics International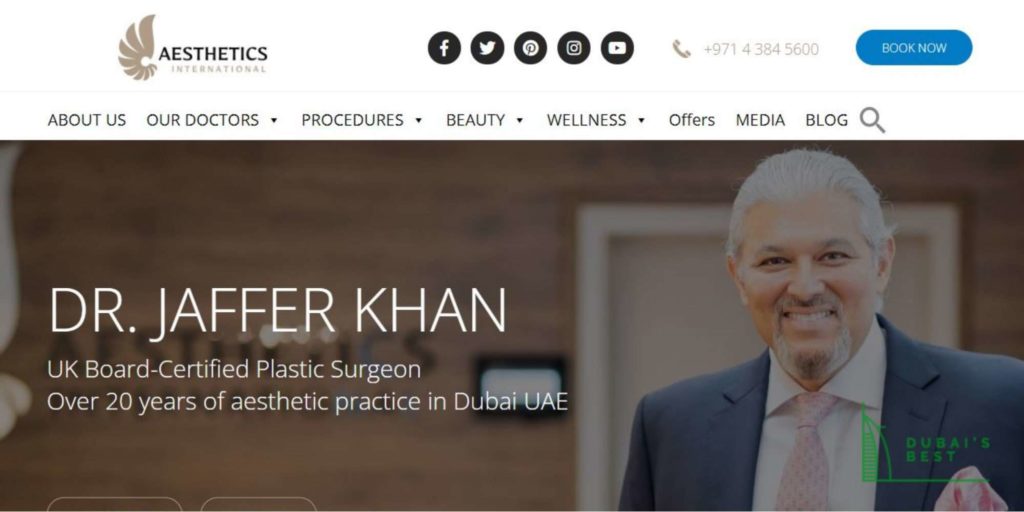 Address:
Utamah Villa #1049c, Intersection of Al Wasl Rd & Al Thanya Rd, Opposite Union-Coop Supermarket, Jumeirah, Dubai, United Arab Emirates
Website:
https://aesthetics.ae/
Contacts:
+971-43845600 |

[email protected]

Services Offered:
Facelift, Rhinoplasty, Otoplasty, Blepharoplasty, Injectable Fillers, Face Art (by Dr. Khan), Liposuction, Brazilian Butt Lift, Breast Lift, Breast Reduction, Breast Augmentation
Another UK-trained surgeon, Dr. Jaffer Khan leads a team of international surgeons who are all specialists in their area of expertise. These days, Dr. Khan also leads a training program in Dubai called the MCH or Masters in Aesthetic Plastic Surgery.
Considered one of the best facelift clinics in Dubai, this clinic offers two types of facelift procedures. One is the standard facelift that is designed to address more advanced signs of aging around the face and the neck.
The other one is called the Minimal Access Cranial Suspension, or MACS for short. This is best for those with only minimal sagging.
One of our favorite things here is that before the procedure itself and during the in-depth consultation, Dr. Khan will let you see what the ideal results should look like using an advanced technology called the Crisalix 3D Imaging software. However, this only shows the ideal results – it's not guaranteed that you will achieve the very same look.
Patients are informed of the procedure and what to expect, including the bruising and the swelling that will occur about 48 hours post-operation. Patients may return to their normal, daily routines after about two weeks.
Should the patient wish for it, a handful of other surgical procedures may be done along with the facelift such as blepharoplasty, facial fillers, and anti-aging injections.
Uses Crisalix 3D Imaging feature to help you see the outcome of your procedure
3D image can cause disappointment in cases where the actual outcome varies from the projected image
Customer Reviews
Dr. Jaffer Khan made me look natural.
"Dr. Jaffer Khan is a highly experienced medical professional and ARTIST! I loved the result of my lip filler. He was able to immediately determine what my face required and made it look so incredibly natural with the results I wanted (bigger but within the contours of my lips and face, not just pure volume and overdone). The staff at this clinic are also wonderful and his assistants were also very helpful. One thing though is you will pay a premium over other aestheticians providing the same service, but you are paying for QUALITY and to avoid looking like a duck honestly!" –Amany Rajab
Value for money in a clean and safe environment.
"My go-to aesthetics clinic in Dubai. Dr. Jaffer Khan is the best when it comes to your face. You couldn't be in better hands 🙂 I also had a very good coolsculpting experience here. It was comfortable and everything was explained to me in-depth. Expect value for money in a clean and safe environment!" –Rosalind Berdos
3. Dr. Matteo Vigo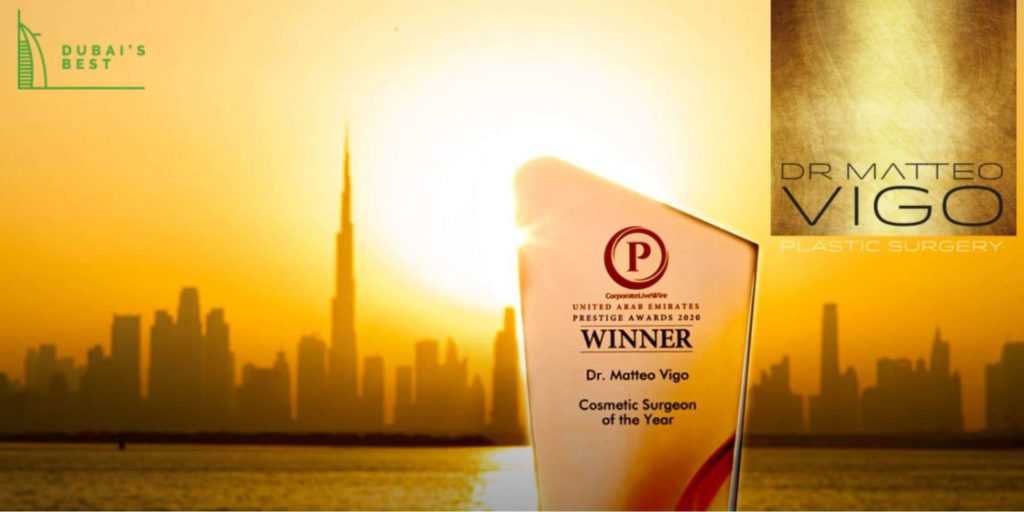 Address:
Healthbay Polyclinic – Al Wasl Road, Verve Villas Umm Al Sheif, Dubai
Estelaza Clinic – Silicon Oasis, Nibras Oasis 2, Dubai
Amwaj Polyclinic – Building P11 Jumeirah Beach Residence, Dubai
Website:
https://www.plasticsurgerydubaiuae.com/
Contacts:
+971-562825825 |

[email protected]

Services Offered:
Blepharoplasty, Brazilian Butt Lift, Breast Augmentation/Reconstruction, Body Lift, Face and Neck Lift, Liposuction, Stem Cell Treatments (Anti Aging, Scar Treatments), For Men (Brotox, Hair Loss)
Hailing from Milan, Dr. Matteo Vigo has more than a decade of Plastic and Reconstructive Surgery experience. Expanding beyond this expertise, Dr. Vigo is now exploring the use of stem cells in regenerative medicine.
Dr. Matteo divides his time across three clinics today. This may be good news for those who are concerned about travel time and distance.
Among the extensive list of both surgical and non-surgical procedures that he currently offers is the facelift, which he classifies as either a mini-facelift or the extended face and necklift procedure. Both options will be discussed with the patient.
The entire procedure may be performed under local anesthesia, conscious sedation, or general anesthesia. Incisions are usually made around the ear, but the position of the scar may be discussed with the surgeon.
He also offers a variety of other cosmetic surgery procedures, of course. The only downside is that his status as the sole surgeon at all of his clinics means booking can be difficult.
Can offer other surgical procedures to be done along with the facelift.
There is only Dr. Matteo Vigo which means booking may take a long time.
Customer Reviews
My life totally changed. Dr. Vigo healed me inside out.
"I came to you hopeless about having a normal life because of my abnormal breast shape that affected my breath, neck, and spinal cord. 3 months now after the surgery, my life totally changed. I have a beautiful breast shape as if it's my rebirth. Thanks a million, Dr. Matteo Vigo! The professional surgeon who healed me inside out. Very highly recommend Dr Vigo." –May El Gezery
Dr. Matteo has given me better than I could have hoped for.
"From start to finish, Dr. Matteo was amazing. His PA Sarah is efficient and friendly, even coming to check on me post surgery. Dr. Matteo understood what I wanted to achieve and has given me better than I could have hoped for. He was incredibly professional, understanding and friendly. Pre surgery and post surgery the service was second to none. I could not have asked for, or expected more from Dr. Matteo and his team. I have experience with other surgeons and Dr. Matteo is by far the most caring and professional, not to mention skilled. I am so very grateful to him for helping me achieve exactly what I needed. I cannot recommend him more highly!" –Sarah McLoughlin
4. Al Shunnar Plastic Surgery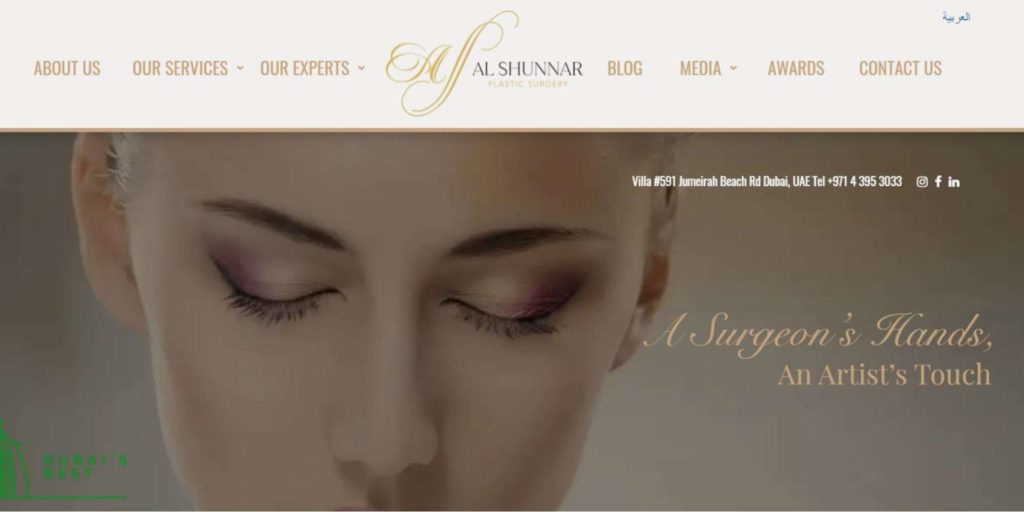 Address:
Villa 591 Jumeirah Beach Rd Dubai, UAE
Website:
https://alshunnarplasticsurgery.ae/
Contacts:
+971-43953033 | +971-504358760 |

[email protected]

Services Offered:
Facelift, Forehead Lift, Facial Fat Grafting, Blepharoplasty, Otoplasty, Liposuction, Waist Sculpting, Coolsculpting, Breast Lift, Breast Reconstruction
Next on our list is a multi-awarded clinic founded by a female surgeon, Dr. Buthainah Al Shunnar, who is double board-certified by the American Board of Plastic Surgery and the American Board of Surgery.
What we like about them is that they're very methodical, as you may expect of a clinic with renowned surgeons. Every case starts with the patient getting a consultation, of course, and extensive checks to ensure that patients are candidates for the procedures they want.
They do turn down smokers who wish to have a facelift procedure, though. So, if you're a smoker, mind that you need to quit smoking for at least a few months before you pay them a visit.
As for the surgeon itself, you may have to specifically request for Dr. Al Shunnar herself (in case you want to be under her care) as there are two other surgeons there, one of whom is a consultant too.
Still, the other two plastic surgeons—Dr. Sawan and Dr. Machado—are both experts in their own right, with more than 20 years of experience each.
Multi-awarded clinic and surgeons
You may be reassigned to two other surgeons if Dr. Buthainah is not available
They will turn down smokers who want to have a facelift
Customer Reviews
I felt completely safe.
"This is hands down the best clinic in UAE. Dr. Buthainah really cares about her patients, and I think this is what makes this clinic different than any other. I had a hard time trusting clinics but after finding this one, I felt completely safe and wouldn't want to go anywhere else! They are very professional and the place is very clean." –Sally Emelee
I haven't met anyone able to make botox and fillers look so natural as the doctors there.
"Best and most professional plastic surgery clinic in town! The entire team is so kind and helpful, that I feel really special and well taken care of every time I go. I haven't met anyone who is able to make botox and fillers look so natural as the doctors there. I look and feel younger and happier. Thanks so much." –Karam Annab
5. Cocoona Centre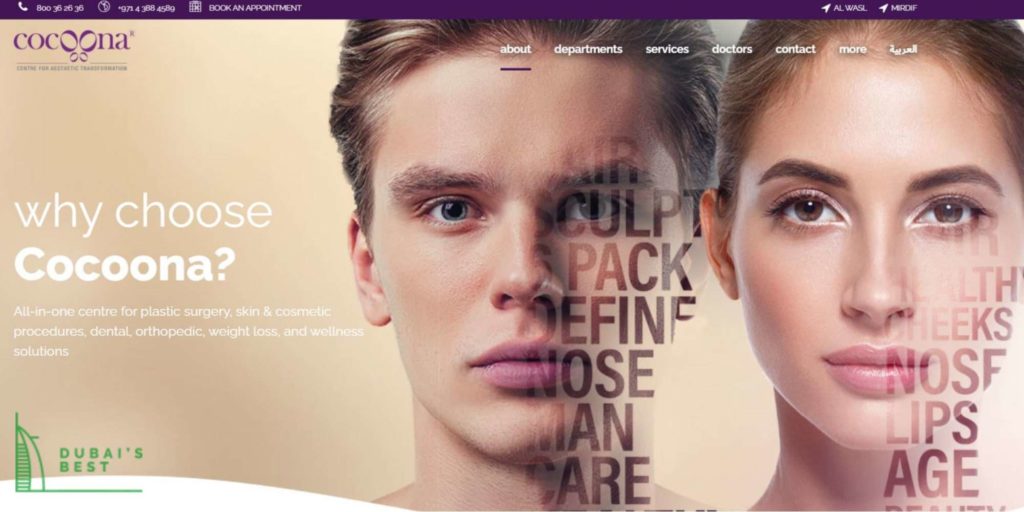 Address:
Villa 898, RAAJI Street, Al Wasl Rd, Dubai
Mirdif 35 Community Center, Dubai
Website:
https://cocoona.ae/en/
Contacts:
+971-568655598 | +971-43884589 |

[email protected]

Services Offered:
Breast Augmentation, Facelift, Liposuction, Rhinoplasty, FUE Hair Transplant, Tummy Tuck, Arm Lift, Blepharoplasty, Laser Hair Removal
This is a clinic that goes far beyond offering skin services. Here at Cocoona Clinic, you will find dentists, nutritionists, hair transplant surgeons, and specialists who offer laparoscopy and bariatric surgery.
This clinic was founded by one of the best plastic surgeons in UAE, Middle East, Africa, and even India. Here, you'll find Dr. Sanjay Parashar leading a team of doctors with a wide variety of specializations.
What sets this clinic apart is the Patient Safety Assurance offer, which works like insurance of sorts that covers up to 50,000 AED. No other clinics in Dubai have this offer, so it's definitely a strong reason to consider them.
However, they do make it clear that if the complication came about as a result of an underlying medical condition, the PSA won't be able to cover the expenses for it. In addition, the complication must be reported within 10 days after hospital discharge.
Still, to have insurance like this is so much better than to have none at all. Combine this with their huge range of cosmetic procedures and specialties and you have a number of compelling reasons to try this clinic.
A wide range of specialties
Offers Patient Safety Assurance of up to 50,000 AED that is free
Accepts many different kinds of insurance
The Patient Safety Assurance does not cover complications arising from pre-existing conditions
Customer Reviews
So happy about the outcome.
"Thank you very much Dr. Rani for the amazing job done of breast augmentation. You made me feel very comfortable from the initial consultation stage all the way, explaining to me about all the possible options and risks involved and giving me time to decide on what I exactly wanted without feeling rushed. You kept on following up on all the post ops check ups and reminding of the stuff I needed to do for faster healing, you are very professional and caring. I am so happy about the outcome of the procedure done. The nurses are so caring as well.
Thank you so much Dr. Rani, you are the best." –Claire Simiyu
Nothing worked until I was treated at Cocoona Clinic.
"I have suffered acne and pigmentation issues for the last 15 years, attended medical procedures of numerous doctors in UAE and abroad, but nothing worked on me until I was treated by Dr. Purva at Cocoona clinic. Her pragmatic approach and customized procedures and medicines worked like magic on me. Plus she is super motivating and friendly. I would definitely recommend her to everyone going through body image issues related to skin condition." –Ammara Khurshied
FAQs about the Best Facelift Clinics in Dubai
More Resources for Self Improvement