The 5 Best Restaurants for Dim Sum in Dubai
By Hadi Taljeh
Dim sum are a wide range of small dishes that are traditionally enjoyed during brunch. It is a staple and well-loved classic in Chinese restaurants.
Finding the perfect assortment of dim sum is not easy in a city with thousands of restaurants like Dubai. So, we searched far and wide to give you our favorite restaurants for dim sum in the metro.
We included our criteria in choosing them and also answered some FAQs about dim sum in Dubai.
How much does eating dim sum in Dubai cost?
The cost of ordering dim sum varies depending on the restaurant, the ingredients used, and the number of dishes you will order.
To give you a starting point, we made a table of the average cost of a meal for two in each of our entries for this list below.
| Restaurant | Average Cost of Dim Sum |
| --- | --- |
| New Shanghai | AED300 |
| Long Yin | AED350 |
| Hutong Dubai | AED680 |
| Maiden Shanghai | AED685 |
| Royal China | AED350 |
The Best Restaurants for Dim Sum in Dubai
Before we get right into our list of the best restaurants for a dim sum in Dubai, here are the criteria we considered in choosing them:
1. New Shanghai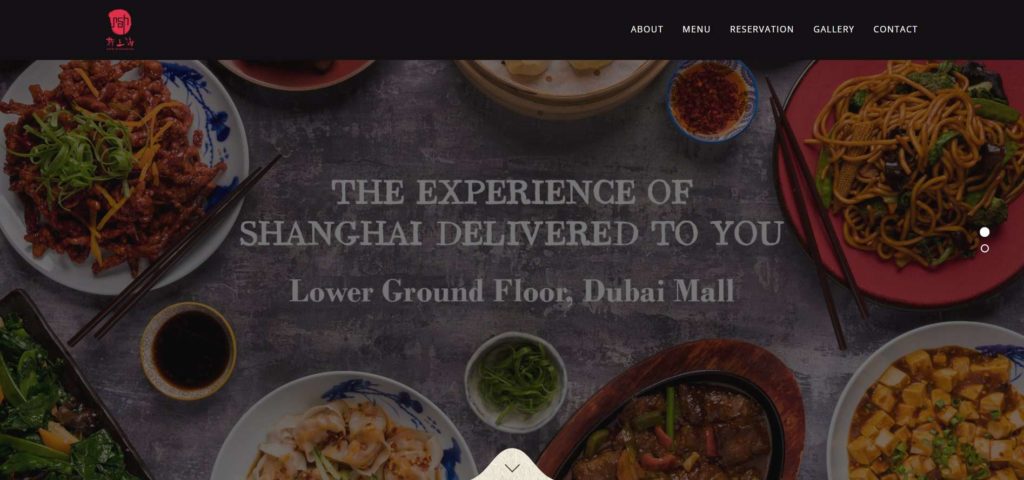 Test
Info
WEBSITE
https://newshanghaime.com/
ADDRESS
Unit LG - 126 - 4 - Financial Center Rd - Downtown Dubai - Dubai - United Arab Emirates
CONTACT DETAILS
+971 4 224 6819

E-mail: [email protected]

HOURS
Every day: 10 AM–10 PM
| | |
| --- | --- |
| Criteria | Rating |
| Quality of the Ingredients | ★★★★★ (5/5) |
| Range | ★★★★☆ (4/5) |
| Uniqueness | ★★★☆☆ (3/5) |
| Tea Selection | ★★★☆☆ (3/5) |
Inspired the bustling streets and vibrant energy of its namesake, New Shanghai serves ancient family recipes straight from Shanghai City.
Authentic Shanghai-style dim sums are the focal point of its menu.
The traditional classics like chicken & cabbage dumplings, mixed vegetable dumplings, and the widely favored prawn dumplings are the stars of the show and with great reason.
Each dim sum dish has a sense of richness and amazing umami flavors that is hard to pinpoint but undeniably intoxicating with every bite we took.
However, it is kinda disappointing that it only has six dim sum dishes on the menu, and there is no one-of-a-kind dim sum available.
We think that this is the restaurant sticking to its traditional recipes, but we also feel it's necessary to bring something new dishes to the table to excite customers and fans of dim sum.
Despite that, the dim sums are prepared with high-quality fresh ingredients and we can really taste it in the lightness of the vegetables and the rich fattiness of the meat it uses.
It was also disappointing to find out that it only has green and black tea to enjoy the dim sum with. We were missing some favorites like the Oolong and Chrysanthemum teas.
Despite that, New Shanghai delivers an authentic dim sum dining experience. The multi-generational recipes being used are incomparable and undoubtedly authentic.
Authentic Shanghai dim sum
Recipes have been passed down from generation to generation
Uses the freshest and highest quality ingredients
Very limited dim sum selection
Only has 2 teas on its menu
Customer Reviews
All the dishes were filled with flavor
"Recently went for dinner at New Shanghai Restaurant.
We ordered several dishes for the table so we could get a taste of everything. All the dishes were great and filled with flavor. There were also a lot of vegetarian options for non-meat eaters.
All the waiters were friendly and very helpful.
The artwork and decorations suited the restaurant really well." —Joshua Taylor, Google Reviews
Fresh and flavorful food
"A brilliant establishment – food was very quick, excellent portion sizes and it was fresh and bursting with flavor.
The staff was attentive and responsive, with a lot of recommendations if asked.
You must must must try the kung pao prawns!!" —Torey Marshall, Google Reviews
2. Long Yin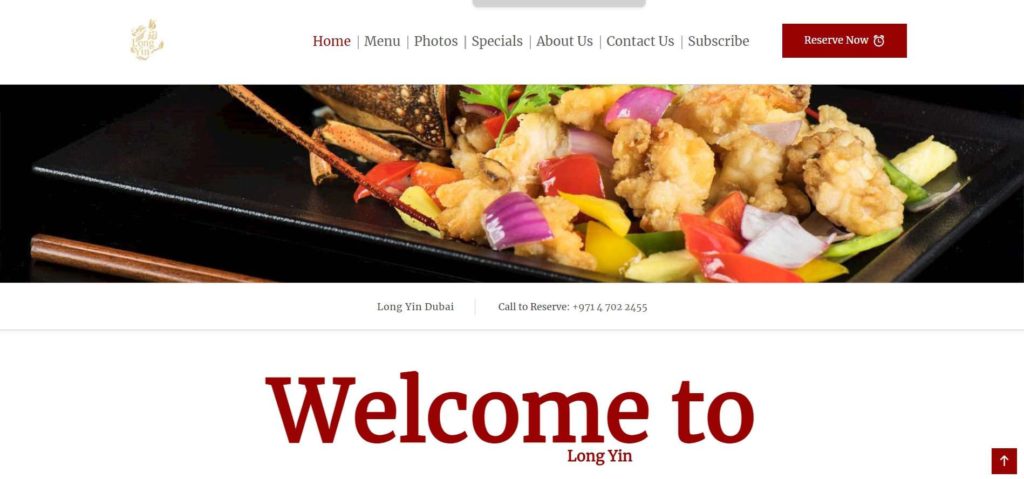 Test
Info
WEBSITE
https://www.longyin-dubai.com/
ADDRESS
Le Meridien Dubai Hotel & Conference Centre Airport Road Garhoud Near Internatinal Airport - Dubai - United Arab Emirates

Has 2 other locations in the city

CONTACT DETAILS
+971 4 3305103
HOURS
Every day:

12 PM–3 PM

6 PM–11 PM
| | |
| --- | --- |
| Criteria | Ratings |
| Quality of the Ingredients | ★★★★★ (5/5) |
| Range | ★★★★★ (5/5) |
| Uniqueness | ★★★★☆ (4/5) |
| Tea Selection | ★★★☆☆ (3/5) |
Extending the culinary legacy of Chinese cuisine to Dubai, Long Yin comes into Dubai's restaurant scene with several Cantonese and Schezwan fares.
With 34 steamed and deep-fried dim sums on its menu, it has one of the biggest selections on our list.
We love how it puts together versions of dim sums taken from several regions of not just China, but all over Asia.
We love how this diverse selection reflects the ancient tradition of dim sums being enjoyed at reunions and get-togethers.
We personally recommend the chicken dim sum soup for a heart-filling meal and prawn siu mai has a delicate balance of richness and spiciness.
Another great thing about Long Yin is that all its dim sums are prepared using a combination of the finest cuts of meat and the freshest catch of the day.
All of these are prepared by George Chee, a chef with 3 decades of experience with Chinese cuisine and a certified master in dim sum artistry.
There's something special about this restaurant's menu that is not noticeable at first glance. Some of the dim sums are traditional in theory but have subtle twists to them that make them unique.
We especially were delighted with the chicken and shrimp foie gras siu mai, and prawn on toast with sesame seeds.
However, one of the biggest disappointments with Long Yin is that it seems to forget its roots and traditions of dim sum when it came to the tea selections.
In the wide selection of spirits and wine, the only tea option we can choose was generic green tea, which was nowhere near as special as the dim sum we enjoyed.
Despite that, Long Yin delivers a wide selection of innovative dim sum options that trace its roots and influences back to East and Southeast Asia.
Prepared with fine cuts and fresh catch of the day
Dim sum are subtly unique
Has 34 dim sum options
Customer Reviews
Great option for a Chinese feast!
"Had a feast earlier tonight and one of the Chinese restaurants here in Dubai serving authentic Chinese cuisine. Enjoyed their soft-shelled salt and pepper crabs, barbeque Peking duck, Shrimp hakaw dumplings, cucumber with sesame oil salad, and vegetable hofan noodles. Ended my Lunar New Year dinner with friends on a sweet note with their mango pudding. Can't wait to try out their other dim sum and main dishes on my next visit."—Guia Yu, Google Reviews
An amazing culinary experience
"Chinese food at its best! You might end up emptying your wallet here but let me tell you it's a journey worth taking. From the gazillion of dishes on the menu, you are bound to get confused at first but you can ask their very attentive and knowledgeable waitress about their recommendation. I've been here three times already and I had the same amazing experience every time." —Ahmed Salem, Google Reviews
3. Hutong Dubai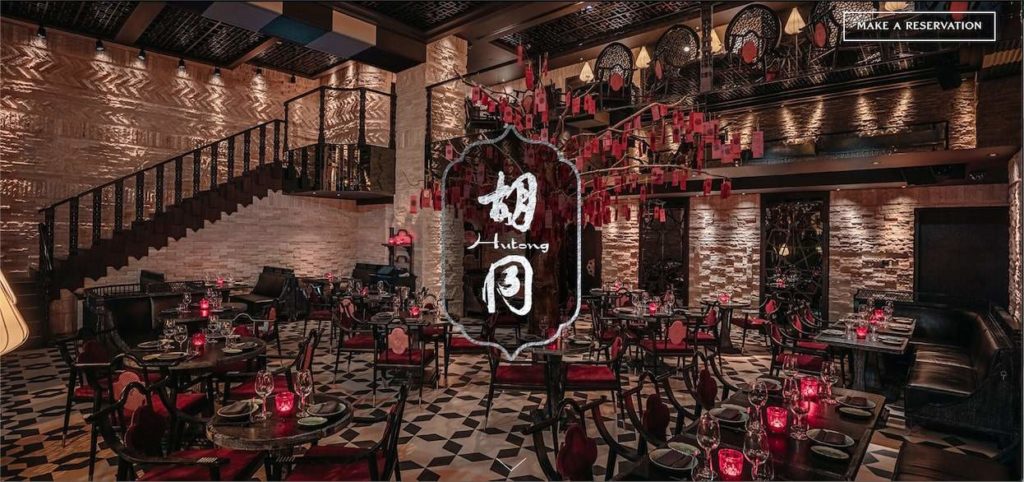 | | |
| --- | --- |
| Criteria | Ratings |
| Quality of the Ingredients | ★★★★★ (5/5) |
| Range | ★★★★★ (5/5) |
| Uniqueness | ★★★★★ (5/5) |
| Tea Selection | ★★★★★ (5/5) |
With 16 dim sum options, on top of a signature menu that includes 3 more dim sums, Hutong brings in the fiery style of Northern Chinese cuisine to a sophisticated dining experience.
We love how it puts a different take on traditional dim sum classics to create a menu that is inspired but totally different than traditional Chinese restaurants.
From its Charcoal Beef Xiao Long Bao to the Wild Mushroom and Truffle Bao, its dim sum has a luxurious and decadent twist to it that fits Hutong Dubai's extravagant and sophisticated brand.

Of course, the restaurant cannot pull off the kind of dim sums it has without importing and using fresh and high-quality ingredients. The restaurant carefully sources ingredients from credible farmers only.
And the result is these uniquely amazing bite-sized treats that we simply cannot compare nor find anywhere else.
The simple yet amazingly effective twists to traditional xiao long bao and dumplings are just enough to separate it from others while not overshadowing the simplistic beauty of dim sum.
The tea selection doesn't fall short, either. Boasting several teas on its menu, the restaurant has the classic black and chrysanthemum teas, as well as special in-house teas like silver tip jasmine.
All in all, despite the steep prices, Hutong Dubai ensures you get your money's worth with decadent and uniquely inspired dim sums.
Has a unique take on traditional dim sum dishes
Decadent and luxurious menu items
High-quality and fresh ingredients
Great tea selection
More expensive than most dim sum restaurants
Customer Reviews
You must not miss the all-you-can-eat dim sum buffet!
"Very elegant and glamorous restaurant in the heart of the Financial Centre of Dubai.
The interiors are a perfect combination of modernity and traditional Chinese style.
I went there for the 'All you can eat' dim sum and I was really impressed, such delicious and fragrant gourmet dumplings.
I was observing as well the dishes served to the other tables and they all looked amazing, especially the Peking Duck.
Very welcoming and professional staff.
The prices are in line with the quality of the food and the service.
Strongly recommended…" —Caius Bernardi, Google Reviews
Such a wonderful dining experience
"Visited with a friend for their Friday brunch and we had such a wonderful experience. I was concerned there would not be enough food but between the 6 of us, there was plenty. From the entertainment and music to the food quality and service, we were very impressed. The ambiance is lovely and they even have a Peking duck station. The brunch packages start from 288AED for the soft package. They also have their own valet parking. I'd definitely visit again!" —Sarah Nossy, Google Reviews
4. Maiden Shanghai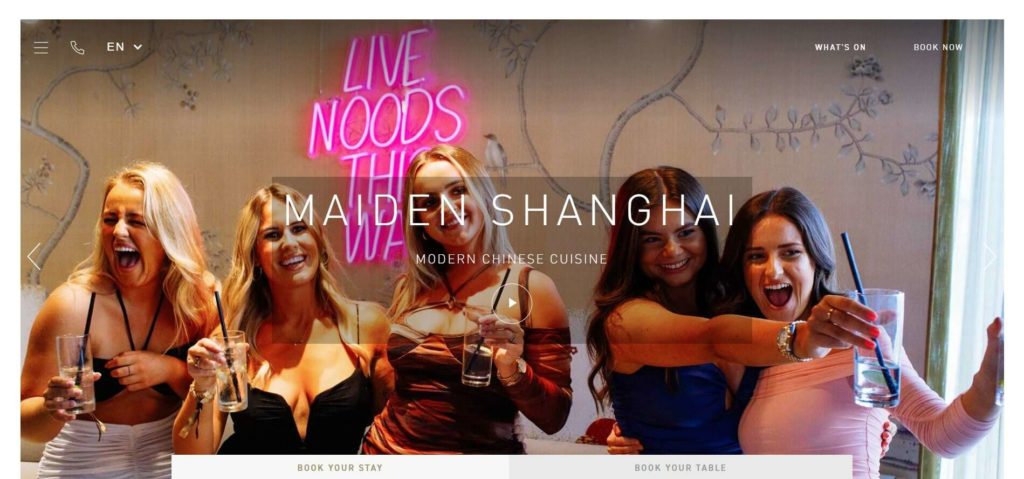 | | |
| --- | --- |
| Criteria | Ratings |
| Quality of the Ingredients | ★★★★★ (5/5) |
| Range | ★★★☆☆ (3/5) |
| Uniqueness | ★★★★★ (5/5) |
| Tea Selection | ★★★★☆ (4/5) |
With a penchant for drama, Maiden Shanghai wowed us with its vast space with lanterns and chandeliers, and its exciting takes on dim sum.
A perfect destination for birthday dim sum lunches and group parties, Maiden Shanghai combines the beauty of dim sum with the fun casualness of cocktails.
While not 100% authentic, we love that Maiden Shanghai chooses to break the mold and serve up dim sums that are meant to be eaten during cocktail brunches.
From the Baked Wagyu Puff to the classic Chicken and Shrimp Siu Mai, the restaurant's menu may be limited to 6 choices but each one brings a sense of party and fun to the table.
And as you can tell from the couple of dim sum items we have mentioned, Maiden Shanghai likes making its dishes with luxurious ingredients, and we'd be lying if we tell you we cannot taste the difference.
Its tea selection is no exception, either. For a brunch spot known for its great cocktails, Maiden Shanghai also serves a few tea options for the traditional types like us.
It has Lapsang Souchong (Black tea), Longjing (Green tea), and Camomile Tea (Herbal tea) — all of which are easy on the palette, flavorful, and perfectly fit the dim sums' flavor profiles.
Serves luxurious and unique dim sums
Has great quality tea
Combines brunches and dim sum
Very limited dim sum and tea selections
Customer Reviews
Definitely worth the money
"Fantastic dinner with a great view! I just can't get enough from this venue: I've celebrated New Year's eve here as well as my birthday brunch!! The ambiance and staff's attention are amazing. I really enjoyed the delicious chef's special "Peking duck" and the recommendation of cocktails. The presentation of a desert "Almond rice bowl" was so spectacular and Instagrammable. So happy with my dinner here tonight!"—Lucy Mila, Google Reviews
Would definitely recommend
"We had the best service ever from Ahmed, Garry, and the team at the terrace! From start, they were very welcoming and even pulled a chair for me! They were very attentive and even made some dumplings off the menu for my friend! The food was also delicious! Loved all the starters and the cocktails too! Definitely coming back soon. Thanks a lot for the experience." —Farida Nasieku, Google Reviews
5. Royal China
| | |
| --- | --- |
| Criteria | Ratings |
| Quality of the Ingredients | ★★★★★ (5/5) |
| Range | ★★★★★ (5/5) |
| Uniqueness | ★★★★★ (5/5) |
| Tea Selection | ☆☆☆☆☆ (0/5) |
Known across the world for serving excellent Chinese food, Royal China offers dim sum selections prepared by award-winning chefs.
Made with the finest and freshest quality ingredients, the restaurant artfully creates dim sums with Cantonese flavors that are well-loved around the world.
Boasting its separate 10-page menu, Royal China has one of the largest dim sum selections on our list.
From savory classics to bite-sized sweet treats, it has such a diverse selection that caters to everyone's expectation of a dim sum feast.
And it doesn't limit itself to the classics, too. We have to give a special shoutout to its decadent Black Gold Yolk Lava Buns, and Black Sesame Dumplings in Peanut Crumbs.
These are some of the many unique items it has on hand, alongside some classics that we very immensely enjoyed as much.
Although what we didn't expect, and were sorely disappointed by, was the lack of tea selections.
There were no tea items on its menu at all. When we asked about it, the staff told us that they have complimentary tea, that's all.
Despite that, while it was unusual for us to enjoy dim sum without tea to have it with, the flavors are undeniable and right on the money.
Dim sum prepared by award-winning chefs
Has a 10-page menu for dim sum alone
Has some unique items
No tea selections, at all
Customer Reviews
Great business lunch experience
"First of all, I would like to thank "Sara" for her great welcoming and hosting in the restaurant.
I and my team had a great business lunch together and the service was excellent. I really loved the recommended dishes of the sautéed string beans, crispy prawn rolls, mixed meats noodles, and the sweet & sour fillet fish.
Also, the place was so lovely and I really loved the decoration there. they have a very nice touch on the table where they deliver the food and it goes around for all to share the dishes 😀
Once more thank you for "Royal China Restaurant" on the wonderful lunch and excellent service."—Yara M, Google Reviews
Great traditional Chinese food spot
"An underrated Chinese restaurant. The serving here is more of traditional Chinese dishes, not the trendy diffusion once. But the quality food is Excellent and the food is delicious. The main problem is that the air-conditioning is not good. So it gets really warm if the restaurant is packed. Service was okay but could be more friendly." —Habib Al Mulla, Google Reviews
FAQs about Dim Sums in Dubai
---
We hope this helped you in finding a restaurant that serves dim sum for your next lunch out with friends. Also, if you're looking for other ways to celebrate moments or reward yourself, then check out these articles: