The 5 Best Dietitians in Dubai
Losing weight is a long process that involves time, effort, and guidance. Dieting is one of the ways that we can achieve this goal.
There are various types of dieting that we can opt to do. However, each one of these methods has its own pros and cons.
Sometimes, we need an expert to guide us to ensure we wouldn't get any health issues when we try to alter our food intake. Here are our top recommendations for the best dietitians in Dubai!
How Much Do Dietitians Cost?
Dietitians mainly offer their expertise through consultations. Their usual services cover dietary and nutritional planning for both regular individuals and others who have specialized needs because of a medical condition or their profession.
The following table lists the common procedures or services dietitians will charge you for, so you could be prepared when you book an appointment with them:
| Services Offered | Average Length | Cost (in AED) |
| --- | --- | --- |
| Initial Consultation | 60 - 80 minutes | 650 - 1000 |
| Check-up Appointment | 30 - 45 minutes | 360 - 500 |
| Follow-up Appointment | 45 - 55 minutes | 300 - 500 |
The Best Dietitians in Dubai
Here are the following factors we've considered in assessing the experts we've included in this list:
1. Katharina Elbracht of Beyond Nutrition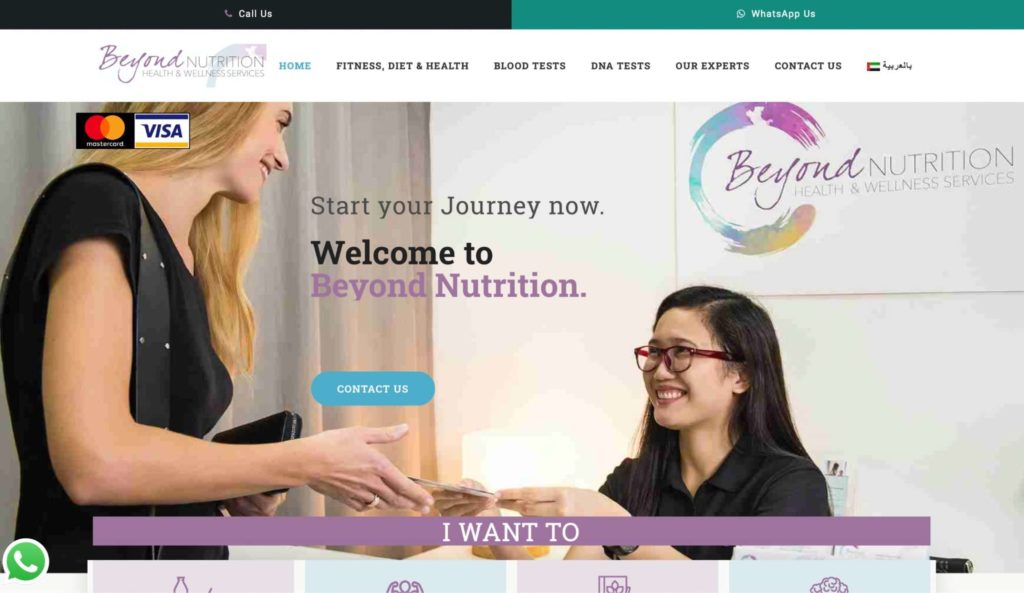 Test
Info
SERVICES
Vegan and Vegetarian Nutrition, Medical Nutritional Therapy, Weight Loss Consultation, Arabic and Middle Eastern Nutrition, and more!
WEBSITE
https://www.beyond-nutrition.ae
ADDRESS
HDS Tower - 2601 Cluster F - Jumeirah Lakes Towers - Dubai - United Arab Emirates
CONTACT DETAILS
Phone: +971 4 243 4166

Email: [email protected]

OPERATING HOURS
9:00 AM - 6:00 PM (Monday - Friday)

10:00 AM - 4:00 PM (Saturday)
| | |
| --- | --- |
| Criteria | Ratings |
| Expertise | ★★★★★ (5/5) |
| Customer Service | ★★★★☆ (4/5) |
| Facilities | ★★★★☆ (4/5) |
| Pricing | ★★★★☆ (4/5) |
Katharina Elbracht is a clinical dietitian working for Beyond Nutrition, a German-owned health and wellness center. This particular clinic specializes in providing advice related to weight loss and fitness-related issues.
Elbracht's contribution to this center, aside from managing it, is her expertise in medical nutrition therapy and plant-based nutrition. She has ten years of experience in providing advice and diet plans.
What's great about this dietitian is that she is licensed by the German Dietitian Association (VDD) as well as the Dubai Health Authority (DHA). This means that she has passed multiple standards and that consulting with her will be worth your money.
Her previous clients have shared with us that she is very kind and easy to talk to. During sessions, this dietitian will properly explain how you can achieve your goal of either getting to a certain weight or improving your overall well-being.
She mostly handles clients that want to receive help on maintaining or starting a vegetarian and vegan nutrition. Aside from that, she also specializes in providing dietary advice for people who have food intolerances and allergies.
One of the main reasons why she's in this list is her focus on giving out middle-eastern dietary or nutritional plans and advice.

This means that she knows the region she is in very well, and she considers culture, religion, and tradition in part of the food she would recommend a patient to take.
Ten years of experience 
Licensed by the Dubai health authority (DHA) 
Provides Middle-eastern focused plans and advice
Appointment required 
Focuses more on patients who prefer plant-based meals 
Customer Reviews:
Great Service, Specialist's Extreme Attention to Detail
"My partner and I sought out Beyond Nutrition in October of 2020 as we wanted to learn how to eat more nutritiously. We specifically requested consultations with Katharina Elbracht as she specializes in vegan nutrition. We were first asked to do some blood work to make sure all our markers were in order, and then scheduled regular sessions where we went through both general and specific eating and lifestyle advice which includes what vitamins to take, lifestyle habits to implement to better reach our goals, portion control, and quality of food. During every follow-up consultation we would analyze the previous week/s in detail and discuss what went well and what we can improve. Katharina also provided us with meal recipes which we have really enjoyed and they're easy to make. It's been a great experience so far and we've learned so much." – Beatrice, via Google Reviews
2. Tina Choueiri Chagoury of Weight Loss Clinic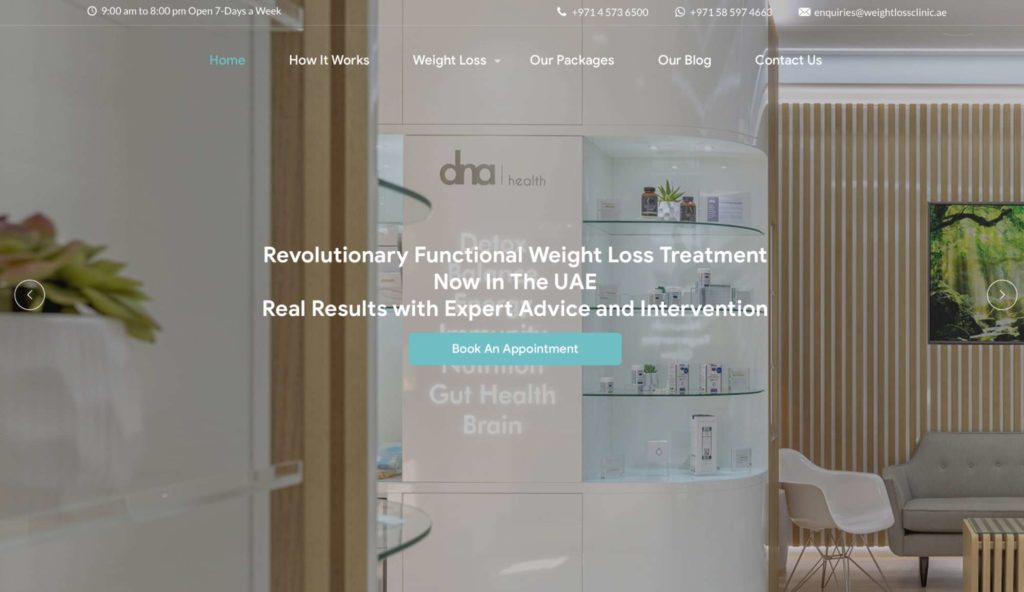 Test
Info
SERVICES
Weight-loss Programs
WEBSITE
https://weightlossclinic.ae
ADDRESS
Weight Loss Clinic, Al Sufouh Road Al Qasr Hotel, Next to Talise Spa - Dubai - United Arab Emirates
CONTACT DETAILS
Phone: +971 4 573 6500

Email: [email protected]

OPERATING HOURS
9:00 AM - 8:00 PM (Monday - Sunday)
| | |
| --- | --- |
| Criteria | Ratings |
| Expertise | ★★★★★ (5/5) |
| Customer Service | ★★★★☆ (4/5) |
| Facilities | ★★★★★ (5/5) |
| Pricing | ★★★☆☆ (3/5) |
Tina Choueiri Chagoury is a licensed clinical dietician from Weight Loss Clinic, an establishment that provides a range of packages that help people to lose weight.
It's important to note that these packages were made by Chagoury and the other specialists in the clinic, but they're not heavily-focused on nutrition and diet.
Interested parties who would wish to seek her advice will have to avail the packages. However, we mostly recommend her if you're interested in just losing weight, would like to gain muscles, or have better health via dieting.
Moving on to why you should go to her: Chagoury has experience in spades. She has a master's degree in public health, and has more than 20 years of clinical experience honing her knowledge and craft.
Part of her service is to make sure that she finds the root cause of a patient's weight gain through testing. This is to both address the weight gain and totally uproot the issue at hand.
Following this, she would then provide you a thorough dietary program aside from the fitness routines or medical procedures the clinic will provide you. This is personally catered to addressing your weight gain or other issue.
We recommend taking one of the weight-loss packages and choosing Chagoury as your dietitian for her decades of clinical experience and post-graduate education!
Over two decades of experience 
Has a master's degree in public health 
Licensed clinical dietician 
Expensive 
Appointment required 
Customer Reviews:
Focused and Efficient Staff, Amazing Service
"I opted for their body reset program. The team is super focused and really help you through the weight loss process. They understand your body and guide you to a healthy and sustainable weight loss process. The body reset program is just great – i lost 11 kg in 2 months!" – Nadia Khan
3. Yasmine Haddad of My Pedia Clinic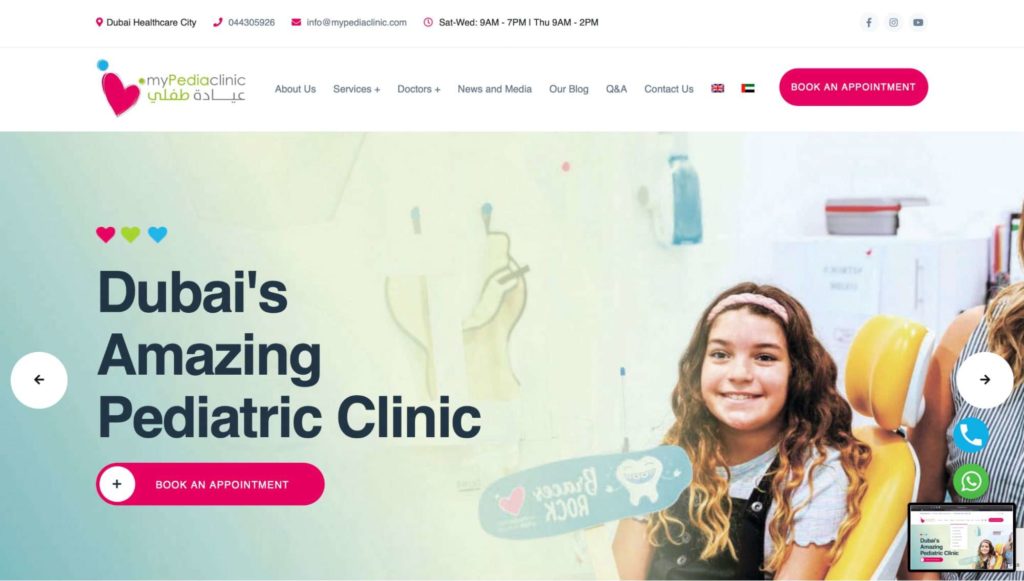 Test
Info
SERVICES
Tackling Child Obesity, Weight Management for Diabetes Patients, Nutritional Advice for Pregnant and Menopausal Women, Nutrition for Hormonal Imbalances, Gut Problems, and more!
WEBSITE
https://mypediaclinic.com
ADDRESS
Al Razi Building No 64 Block B First Floor Unit 1011 Dubai Health Care City - Dubai - United Arab Emirates
CONTACT DETAILS
Phone: +971 055 931 1752

Email: [email protected]

OPERATING HOURS
9:00 AM - 7:00 PM (Sunday - Wednesday)

9:00 AM - 2:00 PM (Thursday)
| | |
| --- | --- |
| Criteria | Ratings |
| Expertise | ★★★★★ (5/5) |
| Customer Service | ★★★★☆ (4/5) |
| Facilities | ★★★★☆ (4/5) |
| Pricing | ★★★★☆ (4/5) |
Yes, she's part of a pediatric clinic. No, she doesn't treat only kids, she can also accept adult patients.
Yasmine Haddad is a licensed clinical dietician that is part of My Pedia Clinic, an award-wining healthcare establishment in Dubai. One of the awards they've won is Dubai Healthcare City Authority's Best Multispeciality Clinic in 2020.
This clinic, as their name implies, focuses more on providing their services towards children. However, in Haddad's case– she also extends her nutritional and dietary expertise towards people of other age brackets.
This dietician focuses more on handling child obesity, dealing with the nutritional issues of children with special needs (such as Autism). She also offers advice for weight management for diabetic patients who need a more specific meal plan.
A great thing about Haddad is that aside from being a licensed clinical dietician, she also has a master's degree in Food Technology. This means that she has a great understanding of food and how it's made.
In addition, she also has more than fifteen years of experience in the profession. She has worked in UAE and in Lebanon, catering to both children and adults.
Interested parties can avail her services for as low as AED 500 for initial consultations, which is the most affordable we've seen thus far.
Overall, we recommend Yasmine Haddad for specific meal plans or advice for children with autism and special needs. In addition, she's also good at providing her expertise for general weight management!
Affordable consultation fees 
Dietitian is licensed by Dubai Health Authority 
Offers dieting and nutritional advice for diabetes patients 
Specialist has 15 years of clinical experience
Specialist focuses more on kids 
Appointment required 
Customer Reviews:
Clear Expert Advice, Helpful Staff
"My Pedia Team was very helpful , you can enter to your appointment without any delay , Dr. Yasmine is cooperative and can handle children with special needs , Thanks for taking care of my son 😊 Also, I have visited the nutritionist Dr. Yasmine Haddad and she helped my son to gain weight in a short period of term by following the healthy diet food , answering my questions clearly and advising me , i will be back again for sure . Thanks alot 👍" – Hamda Almuhairi
4. Rawan Nucho of Right Bite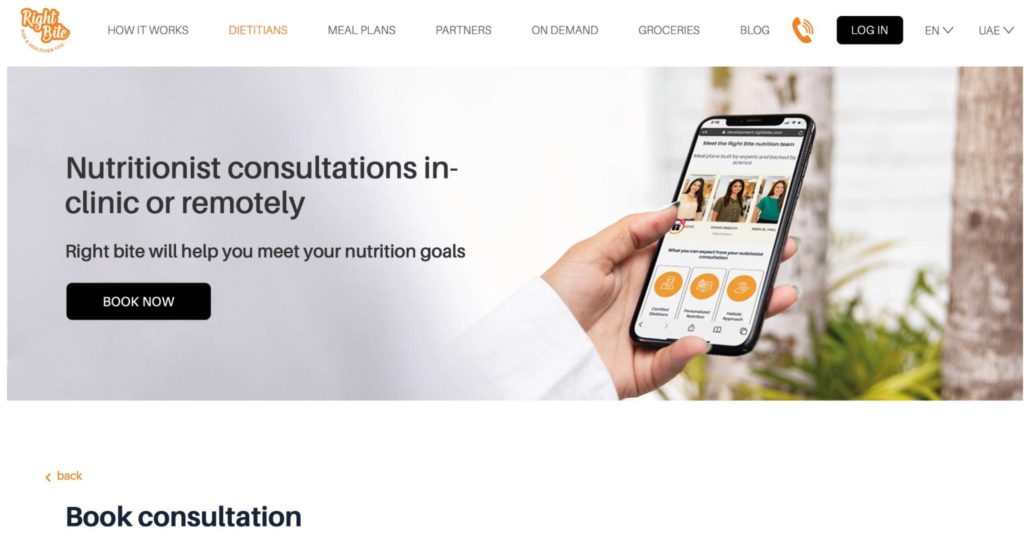 Test
Info
SERVICES
In-clinic consultation, digital consultation
WEBSITE
https://rightbite.com/en-ae/dietitian-expertise
ADDRESS
The Offices 4, One Central Dubai World - Dubai
CONTACT DETAILS
Phone: +971 4 338 8763
OPERATING HOURS
8:00 AM - 7:00 PM (Monday - Thursday)

9:00 AM - 1:00 PM (Friday, Sunday)

(Closed on Saturdays.)
| | |
| --- | --- |
| Criteria | Ratings |
| Expertise | ★★★★★ (5/5) |
| Customer Service | ★★★★☆ (4/5) |
| Facilities | ★★★★☆ (4/5) |
| Pricing | ★★★★☆ (4/5) |
Rawan Nucho is the head clinical dietitian of Right Bite, a company that mainly provides nutritional meals for clients.

This particular clinic also offers counseling and guidance for people who want to start on a new diet to improve their health or to just lose weight.
Rawan Nucho is armed with a master's degree in Human Nutrition and Nutritional Genomics from the University of New Haven in the United States.
After her education, she moved on to various hospitals and companies, amassing over ten years of experience!
As a Dubai Health Authority-certified professional, Nucho develops and designs meal plans for clients and educates people through webinars and conferences.
Even if she is preoccupied with her administrative duties in the clinic, this dietician is still available for consultations. What's great is that you can actually avail her expertise via a digital medium or by just visiting the physical location of Right Bite.
Nucho specializes in health coaching and advising people on their weight loss and management journey. In addition, she can help athletes or any sports-inclined individuals as she is also proficient in fitness and sports nutrition.
DHA certified dietitian 
Specialist has a master's degree related to nutrition 
Dietitian has ten years of experience 
Can do physical or online consultations 
Appointment required 
Specialist may be difficult to book
5. Niloofar Falah of Shapezoom Dubai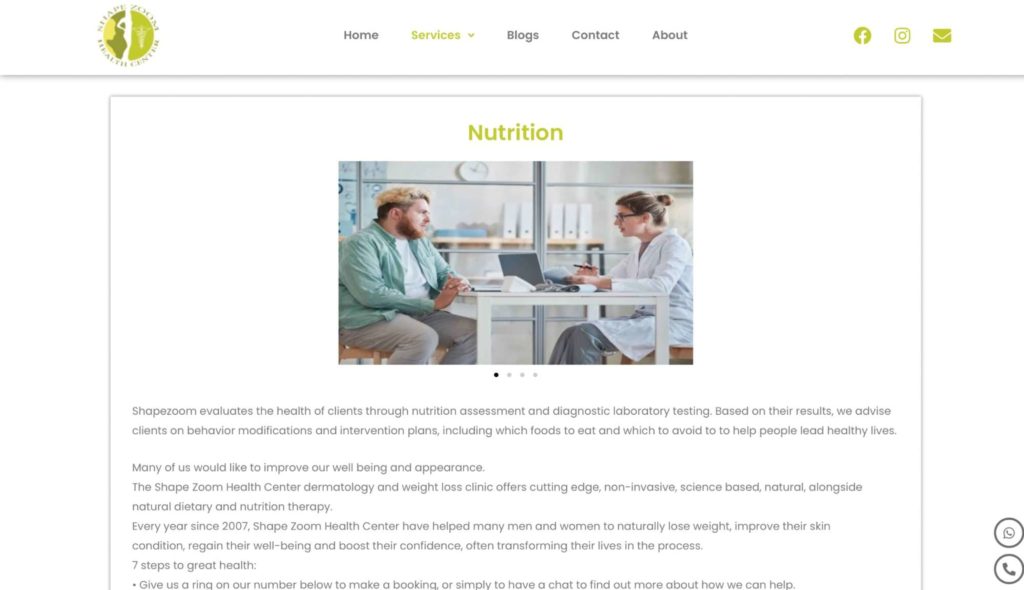 Test
Info
SERVICES
Nutritional and Dietary Consultation
WEBSITE
https://shapezoomdubai.com
ADDRESS
Shape Zoom Health Center - 831a Al Wasl Rd - Al Safa - Al Safa 2 - Dubai - United Arab Emirates
CONTACT DETAILS
Phone: +971 4 338 9684

Email: [email protected]

OPERATING HOURS
11:00 AM - 6:00 PM (Monday - Sunday)
| | |
| --- | --- |
| Criteria | Ratings |
| Expertise | ★★★★★ (5/5) |
| Customer Service | ★★★★☆ (4/5) |
| Facilities | ★★★★☆ (4/5) |
| Pricing | ★★★★☆ (4/5) |
Niloofar Falah is a nutritionist and dietician with over 14 years of experience. She is the founder and director of Shape Zoom Dubai, a dermatology and weight loss clinic founded in 2007.
This clinic offers natural dietary plans and advice or nutrition therapy. They also accommodate people who want to lose weight casually.
Falah has worked on nutrition-related medical conditions such as obesity, diabetics, eating disorders, and more. She has also provided dietary advice and plans for pregnant women, children, and athletes.
People can also hire her if they are looking for an expert that is experienced in offering advice on how to improve their general well-being through nutrition.
What sets this woman apart from the rest of the nutritionists that we've looked at is that she is a food industry engineer. This suggests that she has a higher level of insight pertaining to food and how it is made.
For interested individuals, expect that Falah will conduct a nutritional assessment and diagnostic laboratory testing. Only after these initial tests will she be able to tell you how to achieve your particular fitness and wellness goals.
If you're looking for a clinical nutritionist and dietician that can provide treatment for certain medical conditions and help with weight loss and management, Niloofar Falah may be the right person for the job!
Specialist has over 14 years of experience 
Dietitian is a DHA-certified nutritionist and dietitian 
Offers a wide range of nutritional advice 
Appointment required 
Focuses more on weight-loss 
FAQs About Dietitians in Dubai
---
Hopefully these experts can guide you on the right dietary track! If you're interested in seeking other healthcare services, here are our recommendations for the top medical centers in Dubai!