5 Best Credit Cards in Dubai
Featured Image Source: Mark O Flynn via Unsplash
Credit cards get a pretty bad rep for encouraging cardholders to spend way more than they should—but all it takes is an awesome credit card package and a little self-control!
Aside from allowing you to pay for your shopping later on at an agreed date, credit cards are a great alternative to cash because of the exclusive perks and discounts that go with your shiny plastic. Score some of the best deals with our list of the best credit cards in Dubai!
But before we get to our list, let's talk about what you'll have to pay when you get a credit card in Dubai.
The Cost of Getting a Credit Card in Dubai
If you're new to getting a credit card, the first thing you need to know is that credit cards have no fixed rates and the amount you pay depends on several factors.
Think of your credit card as a short term loan facility. The bank is pretty much covering your expenses in exchange for interest, annual fees, foreign transaction fees, and other charges, which you'll eventually have to pay for at the end of every billing cycle.
Credit cards have a spending limit too, which is up to your creditworthiness. When you apply for a card, credit card companies check on your payment history, your accounts, your job and salary, your assets, and other details that tell them how much you can comfortably spend and how likely it is for you to pay your bills on time.
Here's a table of the usual rates, fees, and charges that credit cardholders pay:
What you need to pay
What it's for
Annual fee
This is what you pay simply for getting to use the credit card.
 
There's a good mix of credit cards that do not charge you an annual fee or charge as low as only AED 400.
Interest rate or Annual Percentage Rate (APR)
This is basically what you pay the card company for lending you money. You can avoid paying for this by paying the full amount on your bill on or before the due date.
 
Some cards have rates as low as 0%, but have higher annual fees and other charges you might want to be wary of.
 
Usually, interest rates are variable—meaning they change from time to time depending on several factors. But before the company can change the rate, they have to give you notice.
Late payment fees
Each billing cycle, you have the option of not paying in full and just paying for the minimum amount due.

If you fail to pay for even the minimum on its due date, you'll have to pay for this in addition to your already growing interest.
Balance transfer fees
You only get charged this if you use your card to pay for another credit card bill, or transfer your debt to another card.

Some companies have fixed rates for this, while some charge you a certain percentage of what you transferred.
Foreign currency exchange fees/foreign transaction fees
This is usually charged when you make purchases overseas or buy online from foreign merchants.

Not all credit cards charge this, so be sure to scout for one that doesn't.
The Best Credit Cards in Dubai
Now that you know more about the cost of getting a credit card in Dubai, it's time to get a credit card for yourself! Check out our top picks of the best credit cards in Dubai!
1.   Citi Ultima Emirates Card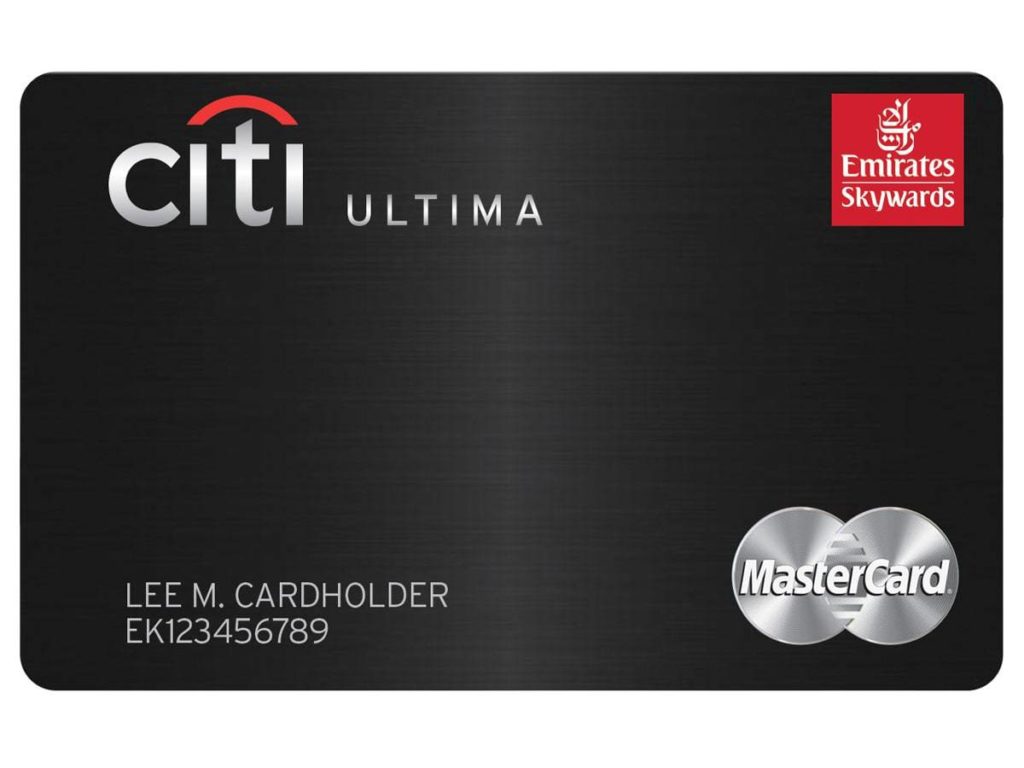 | | |
| --- | --- |
| CREDIT CARD COMPANY | Citibank |
| MINIMUM SALARY | AED 36,750 |
| ANNUAL FEE | AED 3,000 |
| INTEREST RATE | 3.25% |
| FEATURES | Easy instalment plans, Emirates Skyward Miles, Skywards Silver Membership, Access to 1000+ airport lounges, 0% Instalment Plan for Emirates flights, Travel insurance, Reel and VOX movie discounts, Dining and Entertainment discounts in 95+ countries, International Concierge, Complimentary Unli Golf, Marhaba Silver Meet and Greet Service |
| REQUIRED DOCUMENTS | Emirates ID Valid Passport copy UAE Visa copy |
One of the most premium cards available right now, the Citibank Ultima Emirates Credit Card is a worthy addition to any person's wallet. Fully embodying luxury, the card is 100% metal in a sleek charcoal grey colour.
Because the minimum salary to get the card and the annual fee are some of the highest among credit cards in Dubai, a stellar credit score is imperative for a successful application. Although this may discourage others, many cardholders still think the perks that come with the Citibank Ultima Emirates Card are well worth the cost.
The card is an absolute globe-trotter's dream. If you love taking Emirates flights, then you'll be happy to hear that the Citibank Ultima Emirates Card gives you a complimentary Skywards Silver membership that entitles you to extra luggage and access to the Dubai Airport Emirates lounge.
Along with a guest, you also get access to over a thousand airport lounges around the world.
On top of the Skywards Miles you earn every time you spend, you get a bonus of 25,000 Skywards Miles just for signing up. You also get 10,000 Skywards Miles for every year that you renew.
More than just a credit card for travellers, you get complimentary golf at various clubs in Dubai and Abu Dhabi. Moviegoers will also be delighted by the 1+1 movie ticket deal at Reel and VOX cinemas.
Several major travel perks and rewards
Instant cash loan
Accessible via mobile app
Complimentary golf in exclusive UAE clubs
Higher annual fee and minimum salary than most credit cards in Dubai
No Cash-Back
Charges 2.99% for overseas transactions
2.   ADIB Cashback Visa Platinum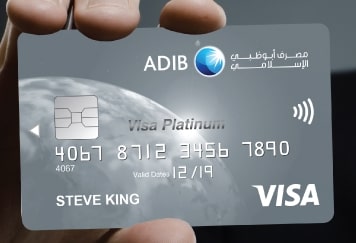 | | |
| --- | --- |
| CREDIT CARD COMPANY | ADIB |
| MINIMUM SALARY | AED 10,000 |
| ANNUAL FEE | AED 1,000 |
| INTEREST RATE | 3.09% |
| FEATURES | 1% Cash-Back, Free Supplementary Cards, 100% Cash Withdrawal Limit, 55-day Grace Period, Roadside Assistance Package, Access to Veloce Lounges, Valet Parking |
| REQUIRED DOCUMENTS | Original and copy of valid passport, Original and copy of valid Emirates ID, Bank account statement (last 3 months), Salary certificate from current employer​ (not more than 30 days old)​ |
With an average minimum salary and a low annual fee, applying for an ADIB Visa Platinum Card shouldn't be too difficult as long as you comply with all the requirements and the bank approves of your credit rating.
While it isn't as fancy as some of the other cards on the list, what draws cardholders to the ADIB Visa Platinum Card is the 1% Cash-Back feature that applies to any purchase you make with the bank. This applies to all purchases, even the ones you make abroad!
1% might not seem like a lot now, but it will sure feel like it when you're buying something as pricey as a car or fine jewellery.
An ADIB Visa Platinum Card also entitles you to a comprehensive Roadside Assistance Package. This means you get a free car rental after an accident, fuel delivery facility, lockout facility, service for flat tires, unlimited towing within the city, and inter-Emirate towing up to 3 times a year.
Some nice add-ons include access to airport lounges around the world through Veloce Lounge and 4 standard valet parking coupons every month in major malls around Dubai and Abu Dhabi.
The only downside to the ADIB Visa Platinum Card is that the perks and rewards that accompany the card aren't as impressive as those of the other cards on the list. If you're hoping for a card that gets you discounts and freebies from your favourite retail stores, this probably isn't the one for you.
1% Cash-Back anywhere
Waived annual fee on your first year
Sharia Compliant
Online and phone application available
Limited perks and rewards compared to other credit cards
Non-AED transaction fee of 3.1%
3.   Citi Simplicity Credit Card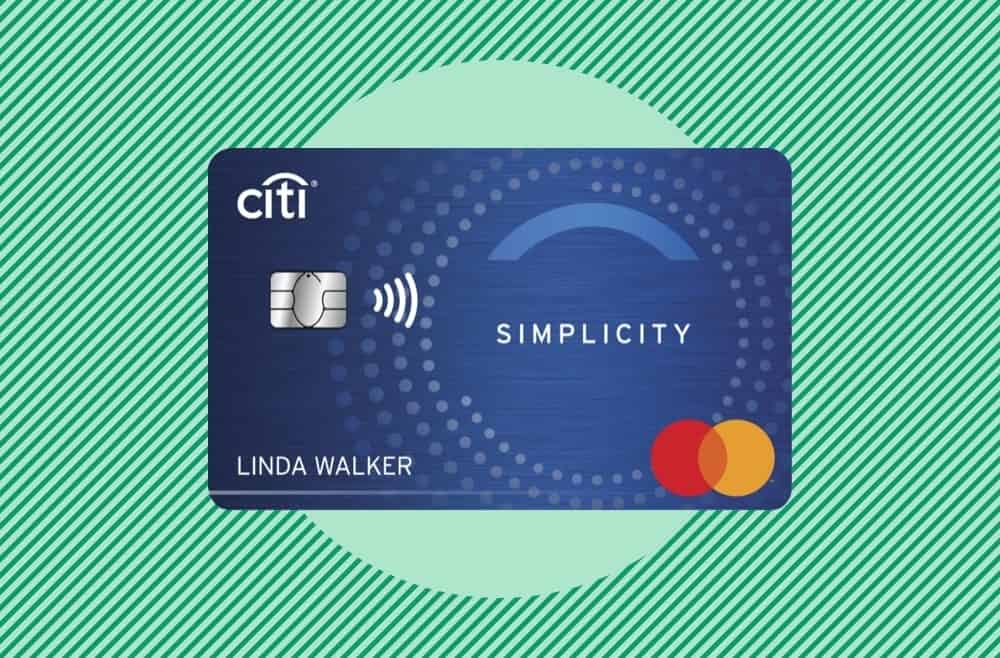 | | |
| --- | --- |
| CREDIT CARD COMPANY | Citibank |
| MINIMUM SALARY | AED 5,000 |
| ANNUAL FEE | None |
| INTEREST RATE | 3.5% |
| FEATURES | 0% Annual Fee for life, No Late Payment Fee, No Cash Advance Fee, No Over-the-Limit Fee, Easy Instalment Plan, Instant Cash Loan, Free Supplementary Cards for family, 500+ Dining & Entertainment discounts, Access to select Middle East airport lounges |
| REQUIRED DOCUMENTS | Emirates ID Passport and UAE Visa copy |
True to its name, the Citibank Simplicity Credit Card keeps your shopping fuss-free with no annual fee, no late payment fees, no cash advance fees, and no over-the-limit fees. This means you get all the basic services of a credit card without having to worry so much about the cost!
Though many Citibank credit cards are popularly known to require high credit scores, the Citibank Simplicity Card shouldn't be too difficult to acquire as it requires a minimum salary of only AED 5,000. Just take note that other factors like your credit history length, payment history, and credit mix still matter.
While there is still an interest rate, the bank gives you a grace period of 52 days to settle your outstanding balance. Balance transfer fees are also payable through a 6-month instalment at 0% interest.
With the Citibank Simplicity Card, you get 50% off your total bill in restaurants like Johnny Rockets, Domino's and Subway in the UAE. You also get exclusive discounts in some of the leading health and sports clubs.
Given its affordable terms, you can expect that the perks won't be as many as other high-end credit cards. The only travel benefit that comes with the card is access to some airport lounges in the Middle East.
If you're more after the privilege of utilizing a credit card at a reasonable cost over luxurious perks and rewards, then the Citibank Simplicity Card is the simple answer to your needs.
0% Annual Fee for life
No late payment fee
Low minimum salary
Accessible via mobile app
No Cash-back
No rewards program
2.99% per month for overseas transactions
Perks mostly available within the Middle East only
4.   SCB Manhattan Platinum Credit Card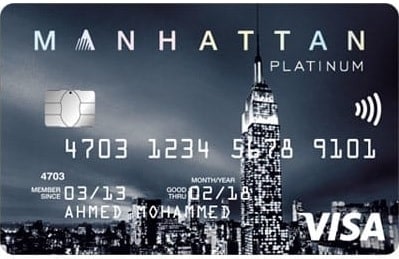 | | |
| --- | --- |
| CREDIT CARD COMPANY | Standard Chartered Bank |
| MINIMUM SALARY | AED 5,000 |
| ANNUAL FEE | 525 |
| INTEREST RATE | 3.45% |
| FEATURES | Visa Timeout, Rewards Program, 1+1 Coffee at Costa Coffee, Expedia and Agoda discounts, Golf discounts, 1+1 VOX movie tickets, Airport Dining via DragonPass, Hotel discounts, Free Supplementary Cards (up to 2), Credit Shield Insurance, Dining and Entertainment discounts |
| REQUIRED DOCUMENTS | Copy of Emirates ID / Passport and Visa copy Salary Transfer Letter or Bank Statement/Salary Certificate |
With a minimum salary of AED 5,000 and an annual fee of only AED 525 every year, the SCB Manhattan Platinum Card is an affordable luxury.
Despite the interest rate being slightly higher than some of the credit cards on our list, the pay-offs are worth it. From coffee to golf discounts, the Manhattan Platinum Card gives you all-around benefits for everyday living.
One of its best features is its loyalty program, 360° Rewards. Every time you use your card in Dubai and anywhere else around the world, you earn points that can get you even bigger discounts than you already have with your card.
While the card may not be the best for those who prefer flight discounts and added miles, it does offer extensive hotel and accommodations perks. With a Manhattan Platinum Card, you get a discount of up to 12% from Agoda and up to 10% off or USD 50 from Expedia.
You also get a number of VIP privileges and upgrades from well-known luxury hotel chains like the Mandarin Oriental, Shangri-la, and Park Hyatt. You get dibs on the best room rates and automatic room upgrades when you book ahead!
Waived annual fee for first year
Contactless payment available
Several hotel and accommodations perks
Loyalty rewards program
No travel perks
No Cash-Back
5.   Mashreq Solitaire Credit Card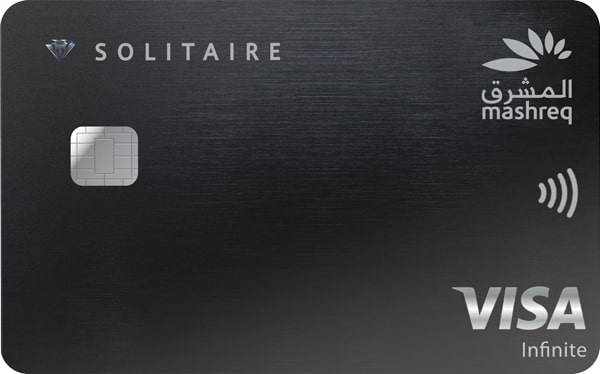 | | |
| --- | --- |
| CREDIT CARD COMPANY | Mashreq |
| MINIMUM SALARY | AED 25,000 |
| ANNUAL FEE | AED 1,500 |
| INTEREST RATE | 3.69% (3.33% for first 6 months) |
| FEATURES | Easy Instalment Plan, Zomato discount, Uber discount, Complimentary Golf, Fine Dining discounts, Unlimited FitnessFirst visits, Valet Parking, Airport Lounge access via LoungeKey, Rewards Program, Car Assistance, Luxury Yacht Charter discount, Marhaba Silver Meet & Greet, Multi-Trip Travel Insurance, 50% off on VOX and Reel movie tickets |
| REQUIRED DOCUMENTS | Emirates ID Passport and UAE Visa copy |
One of the most deluxe credit cards in Dubai, the Mashreq Solitaire Credit Card offers a long list of benefits you won't want to miss out on. Enjoy it all—dining discounts, ridesharing discounts, airport lounge access, and a whole lot more!
With an interest rate of 3.45% and an annual fee of AED 1,500, which may be on the pricier side for some, you're paying for exclusive perks rarely offered by other cards around the world.
Food enthusiasts will rejoice at the dining discounts the Solitaire Cardholders are entitled to. On top of the 20% discount on Zomato, you also get up to 30% off in the UAE's restaurants of the highest tier.
For fitness buffs, you won't have to spend on a gym membership any longer. With the Solitaire Card, you get unlimited complimentary visits to the FitnessFirst Club!
And while valet parking may sound mundane, there's nothing simple about the complimentary valet parking you get with the card. With the Solitaire Card, you'll enjoy free valet service at locations like the Dubai Mall, Dubai International Airport, Mall of the Emirates, Ferrari World, and Yas Water World.
Annual fee waived for the first year
55 days interest-free period
Luxury yacht charter discount
Access to 900+ airport lounges worldwide
Valet parking at premium locations
Cash-Back up to AED 2,000
No free supplementary cards
Higher interest rate compared to other cards on the list
Tips on Choosing a Credit Card in Dubai
Check out what fees they charge and how much.
Don't get a credit card from the first bank that offers you one. Before you jump on board, look for other options and compare their interest rates and the fees that they charge.
A credit card is supposed to make life easier for you, not the other way around! Avoid getting a credit card just because it comes with a special discount for your favourite shoe store—those cash-back points aren't going to pay the bills!
Get a card with the best perks and discounts according to your interests.
Some credit cards offer more perks for a certain kind of shopper. Get a card that offers benefits you can really utilize.
For example, when you use some credit cards, you get instant miles or huge discounts from their partner airline. These credit cards obviously work best for travel bugs!
Look up reviews from previous and current cardholders.
Do your research and ask around if their clients are happy with the credit card. In essence, check if you're getting good value for your money.
Ask about unwarranted charges, if they have excellent customer service, or if the perks and discounts are really worth it.
Review the fine print.
To avoid any shocking charges when the bank sends your statement of account, make sure you thoroughly sift through the contract before signing. This will save you from any disputes in the future.
If you find something that wasn't agreed on or explained with clarity, that's a red flag! Either ask for a revised contract or consider other credit card options.
FAQs on Credit Cards in Dubai
---
Grab incredible deals that give you the most value for your money with the best credit cards in Dubai!
Do you think we missed out on a credit card worthy of being on our list? Send us a message and tell us about it!
Already thinking of what to buy with your new credit card? We suggest a new mattress for your bedroom! Pick one from our list of the best mattresses in Dubai!