The 5 Best Contractors in Dubai
Whether it's a home renovation project, commercial space construction, or remodeling job, taking the DIY route is a big risk.
For this reason, hiring a professional and licensed contractor that can help you conceptualize, manage and execute the project can be an excellent advantage.
To help you out, we've searched for the best contractors in Dubai and assessed all of them. You'll learn everything you need to about each one here!
How much do contractors in Dubai charge?
Contractors in Dubai charge based on several factors, including materials, labor rates, and the size of the project. Besides that, since they cater to a broad range of construction services and projects, their overall professional fees can greatly differ.
Nonetheless, we listed some of the most common projects handled by contractors together with their current price range for your reference.
Of course, you still need to talk with your contractor to get a more precise quote for the construction project you have in mind.
CONTRACTOR SERVICES
PRICE RANGE
Bathroom Renovation
10,000 AED - 20,000 AED
Kitchen Renovation
2,300 AED - 29,000 AED
Home Renovation
60,000 AED - 140,000 AED (for four to five-room villa)

350,000 AED - 400,000 AED (for single or two-story detached homes)

Swimming Pool Construction
60,000 AED - 80,000 (for small pools)

130,000 AED - 300,000 AED (for large pools)
Top Contractors in Dubai
In any case, here are the key factors we took into consideration when we selected our top picks for this listicle:
1. AlNaboodah Construction Group LLC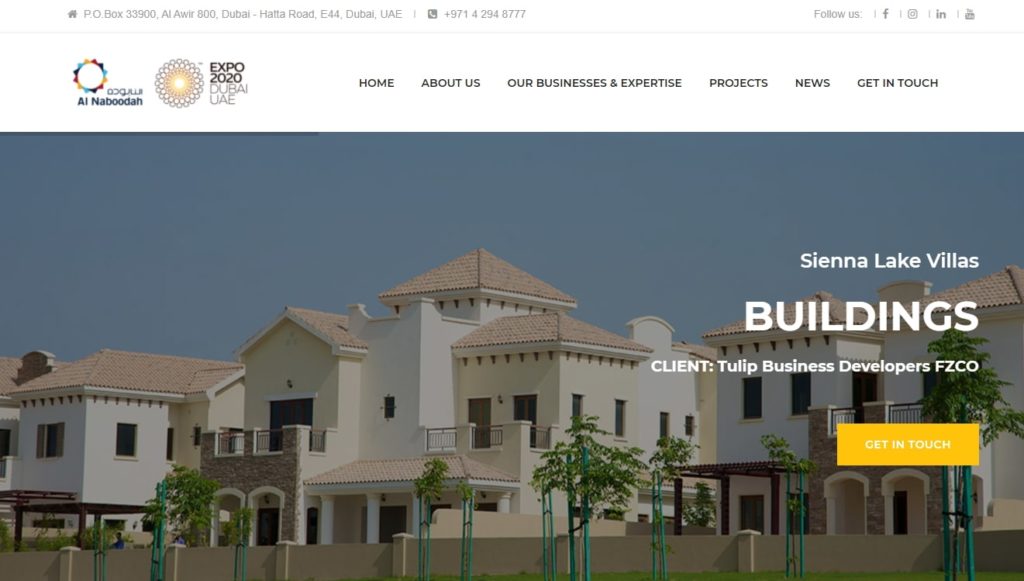 Test
Info
SERVICES
• Civil Engineering

• Building

• Mechanical, Electrical and Plumbing Engineering (MEP)

• Fit-Out

• Microtunneling and Direct Drilling

• Underground Services

WEBSITE
http://www.alnaboodahconstruction.com/home
ADDRESS
Al Awir 800, E44 - Dubai-Hatta Road - Dubai - United Arab Emirates
CONTACT DETAILS
+971 4 294 8777
OPERATING HOURS
Monday - Friday 7:30 AM - 6 PM
| | |
| --- | --- |
| SCOPE OF SERVICES | ★★★★★ |
| EQUIPMENT | ★★★★★ |
| NETWORK | ★★★★★ |
Al Naboodah Group Enterprises, a family conglomerate in the UAE, founded the Al Naboodah Construction Group LLC in 1958. Now, it has more than 14,000 people under its wing.
They have proven experience in the field and a diverse team with international expertise in civil engineering, building, as well as mechanical, electrical, and plumbing engineering (MEP).
Through this, the contracting company has accomplished a variety of large-scale and iconic projects not just in Dubai but also across the UAE.
To name a few, the Al Naboodah Construction Group is behind Palm Jumeirah, Dubai International Airport Expansion, Business Bay, Dubai World Central, and Dubai Water Canal Project. Quite a resume, we think.
On top of these successful projects, this contracting company also bagged numerous awards in the EXPO 2020 – The Better Together Awards (2018-2019) and the MEP Awards (2015 – 2017).
All these things just actively demonstrate how great AlNaboodah Construction Group and its people are with their craft.
Another notable feature about them is that they are self-sufficient. This means that they supply asphalt, concrete, and heavy-duty equipment and machinery for their projects.
This is an excellent point of convenience for their tradespeople and the clients because they can easily access and choose the materials required for the project.
To sum up everything we've stated so far, this contracting company is an excellent pick for people looking for a trusted and well-known firm for large-scale construction projects. However, due to their coveted services, you can expect that their rates are on the high end.
As such, they may not be ideal for those operating on a strict budget or small plans. You'll get quality with them, without a doubt, but you'll also pay for that quality.
Self-sufficient contracting company 
Extensive team of experts in the construction industry
Accomplished a range of projects in Dubai and the UAE 
Won various excellence awards 
Rates for services are not stated on website
Services can be more focused on large-scale projects 
Not open on Saturdays and Sundays 
2. ARCO Turnkey Solutions Contracting LLC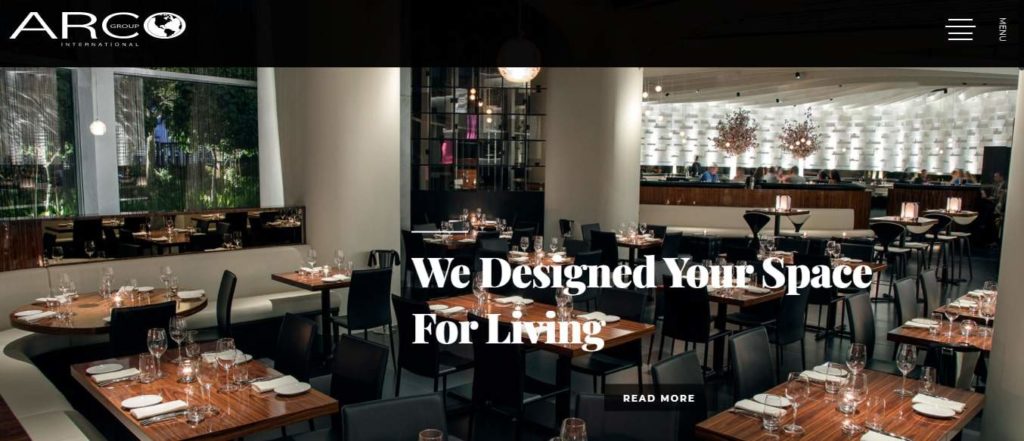 Test
Info
SERVICES
• Design and Fit-Out (Living and Commercial Interiors)

• Project Management

• Design Development

• Civil Construction

• Engineering

WEBSITE
https://www.ARCOgroup.org/#
ADDRESS
Plot no. 597-543 - Dubai - United Arab Emirates
CONTACT DETAILS
+971 4 882 9072
OPERATING HOURS
Saturday - Wednesday 9 AM - 6 PM

Thursday 9 AM - 1 PM
| | |
| --- | --- |
| SCOPE OF SERVICES | ★★★★☆ |
| EQUIPMENT | ★★★★★ |
| NETWORK | ★★★★★ |
Next on our list is ARCO Turnkey Solutions Contracting, which was established in 1984. From its humble beginnings, the company has grown into one of the most easily recognized contracting groups regionally and internationally.
While this firm offers common building and design services, they mostly specialize in providing sustainable and integrated construction plans for restaurants, as well as entertainment and retail establishments.
As such, you'll likely be familiar with some of their past work. They've handled notable projects such as the Motiongate, VIP Terminal-Dubai South, Atelier M, Huqqa The Market, Inner City Zoo, Marina Home, and more.
Furthermore, what we like most about this contracting company is its well-equipped 20,000 square meter facility. They have in-house joinery, steel, glass, marble, mechanical, electrical, and plumbing engineering (MEP), civil, lighting, and signage divisions.
With their well-furnished in-house facilities, they can provide autonomous project management with ease. In addition to that, the team can conveniently access the site, materials, and other equipment needed for the project because they formed partnerships with a vast network of sub-consultants and sub-contractors.
Through this, they guarantee to provide efficient and timely delivery without compromising the quality of the project.
All in all, if you're looking for a dependable contractor for your business establishment, ARCO Turnkey Solutions Contracting can be a good pick. However, if you need help in a simple residential construction or renovation project, and you want to cut costs, it might be better to just opt for a reliable local contractor near you.
Extensive experience in the construction industry
Spacious and well-equipped facilities
Vast network of sub-consultants and sub-contractor 
More focused on commercial projects 
Shorter operating hours on Thursdays
3. Wade Adams Contracting LLC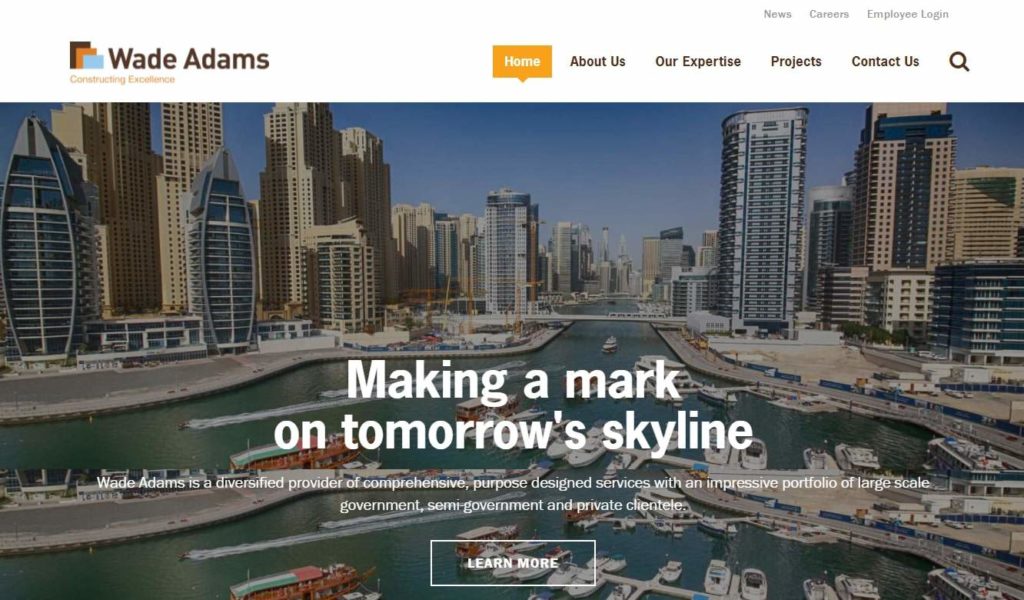 Test
Info
SERVICES
• Interchanges, Tunnels, and Highway Projects Management

• Water Supply, Drainage and Sewerage System Installation

• Construction of Infrastructure for Residential Complexes

• Mechanical, Electrical, and Plumbing Systems (MEP)

• Marine Works

• Dam Construction

• Bulk Earthworks and Grading

• District Cooling and Chilled Water Systems

• Residential, industrial and Building Complexes

• Irrigation, Landscaping and Theming Works

• Airport Construction

• Jogging and Cycle Tracks

• Oil and Gas Sector Project Management

WEBSITE
https://wadeadams.com/
ADDRESS
Vision Tower, Al A'amal Street - Dubai - United Arab Emirates
CONTACT DETAILS
+971 4 453 5000
OPERATING HOURS
Monday - Thursday 8 AM - 5 PM

Saturday 8 AM - 5 PM
| | |
| --- | --- |
| SCOPE OF SERVICES | ★★★★★ |
| EQUIPMENT | ★★★★★ |
| NETWORK | ★★★★★ |
Another full-service contracting company you can look into for your next project is Wade Adams Contracting. With its comprehensive menu of services, fully-equipped facilities, and over 11,000 employees, this firm offers a diverse range of end-to-end services throughout the Gulf region.
From design, planning, building, and renovation, Wade Adams seems to be able to handle projects of any size, location, and complexity. Their over-four decades in the industry and teams' relevant international and local experience certainly help.
Among other things, we also want to mention the impressive portfolio of this contracting company. From residential complexes to tracks, roads, and landscaping, they've certainly accommodated a diverse range of project requirements.
Since the firm is considered an international authority when it comes to tunnels, interchanges, and highways, some of their best works include major roads. These include the following:
The Al Khawaneej Second road
The improvement of interchange no. 5 along Sheikh Zayed Road
The Palm Jumeirah Bridge's viaducts and ramps
Another project that makes them stand out from other entries on this list is the oil storage terminal at Hamriyah Free Zone.
Aside from converting the bitumen tanks to gas oil tanks, they also took care of the modification of sumps, pipe works, control systems as well as the installation of the new control system.
To put it simply, this contracting company can cater to everything from simple to complex construction projects. They do tend to focus more on large-scale projects, though, so that may be a concern if you want something much smaller done.
Has a large team of workers
Offers comprehensive services  
Features impressive portfolio of large-scale projects
Can cater to residential and commercial projects
Does not operate on Sundays 
Several complaints on customer service staff efficiency 
4. Binladin Contracting Group LLC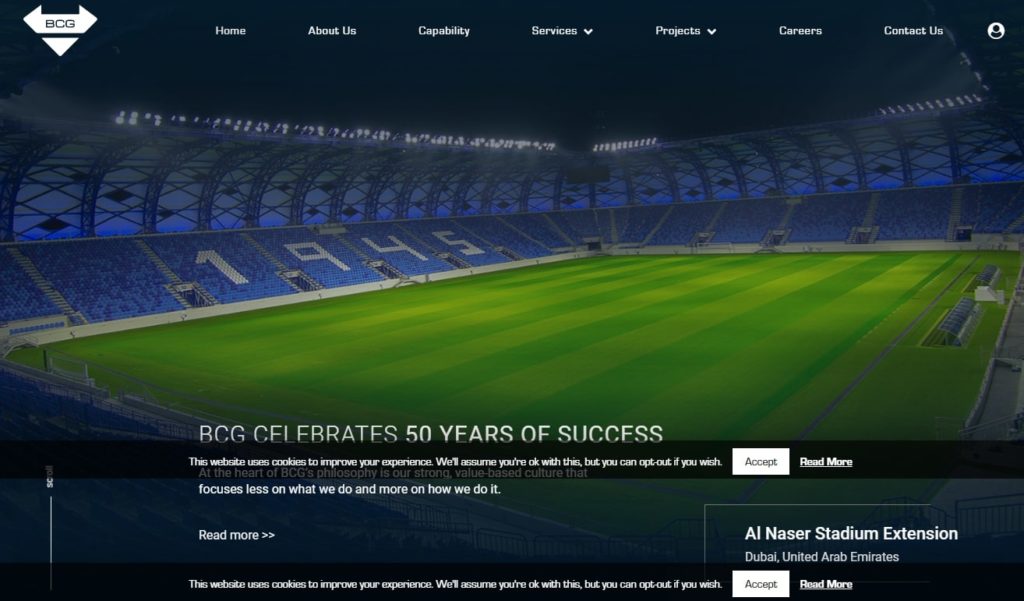 Test
Info
SERVICES
• Design and Build

• Engineer, Procure, Construct (EPC)

• Roads and Tunneling

• Operation and Maintenance

• Piling and Shoring Solutions (for Public and Private Sector Clients)

WEBSITE
https://www.bcg-uae.com/
ADDRESS
Bin Ladin Building,Abu Baker Al Siddique Road,Al Khabaisi Area - Dubai - United Arab Emirates
CONTACT DETAILS
+971 4 453 5000
OPERATING HOURS
Sunday - Wednesday 8 AM - 4 PM

Thursday 8 AM - 2 PM
| | |
| --- | --- |
| SCOPE OF SERVICES | ★★★★☆ |
| EQUIPMENT | ★★★★★ |
| NETWORK | ★★★★★ |
For over 50 years, the Bin Ladin Contracting Group has been providing an array of services and in-house facilities, materials, and equipment to their clients.
They aim to be a one-stop service and solution, which we think is a good thing for clients because they no longer have to deal and meet with multiple companies and suppliers for just one project.
Besides that, since all the aspects of the job will be handled by one team, clients can better manage the logistics and financing of their projects.
Additionally, if you're after a contractor that can offer you piling and shoring solutions, Binladin Contracting Group can also be an excellent match for you. You see, it is the only contracting company on this list that offers these services.
The firm's piling division features full-service piling and shoring solutions to both public and private sector clients. You can benefit from these services if you need to build a sturdier base or enhance the provision or foundation system of the construction project you have in mind.
For reference, some of the biggest projects they have managed are Putra Mosque, Al Naser stadium Extension, Pearl Jumeirah, Sharjah International Airport, and more. If you would like to better grasp the company's previous works, we advise that you visit their website and look through their online portfolio.
Offers piling and shoring solutions 
Features in-house facilities, materials, and equipment 
Provides a wide array of services
Mostly handles large-scale projects 
Does not operate on Fridays and Saturdays 
5. Airolink Building Contracting LLC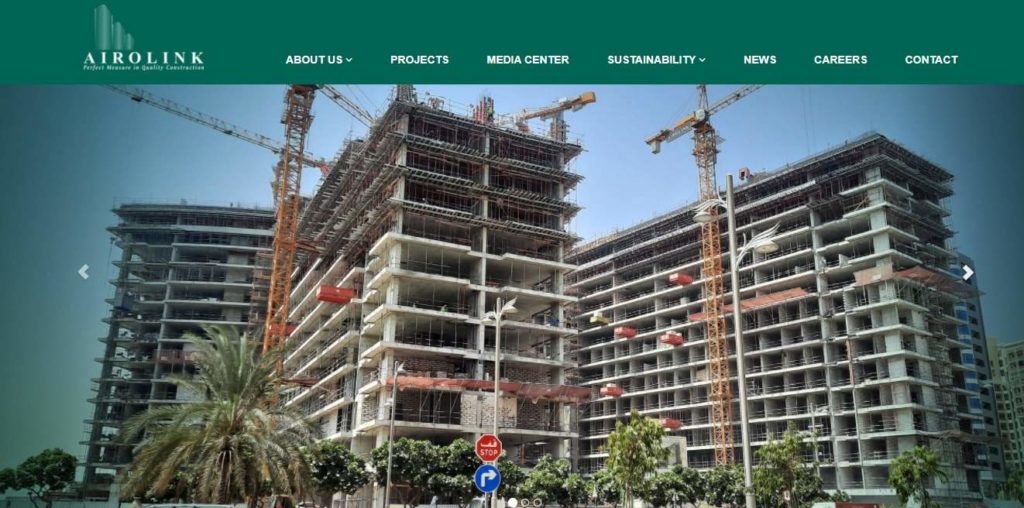 Test
Info
SERVICES
• Land Selection

• Requirement Comprehension

• Methods Preferences

• Feasibility Analysis

• Theoretical Design

• Relevant Specialist Selection

• Pre-Engineering

• Budget Estimation

• Contract Negotiation and Implementation

• Site Preparation

• Soil Improvement

• Embankment and Bunds

• Water Reservoirs and Channels

WEBSITE
https://www.airolinkgroup.com/index.html
ADDRESS
Business Central Towers - 25th floor - B - Dubai Media City - Dubai - United Arab Emirates
CONTACT DETAILS
+971 4 447 3448

+971 4 447 3449

OPERATING HOURS
Monday - Saturday 8 AM - 6 PM
| | |
| --- | --- |
| SCOPE OF SERVICES | ★★★★★ |
| EQUIPMENT | ★★★★★ |
| NETWORK | ★★★★★ |
Airolink was first established in Europe, but through innovations, they expanded their reach and founded Airolink Building Contracting LLC in Dubai in 2008.
This firm is fairly new in the industry compared to other contractors on this list. However, in our opinion, it's not much of a disadvantage because of their extensive track record in commercial, industrial, and residential projects
That track record, in our opinion, reflects why they are considered one of the most reputed contractors in Dubai.
Aside from offering essential pre-construction services such as budget estimation, land selection, and theoretical design, we also like that they provide complete turn-key construction projects.
This means that the contractor will be responsible for the design and construction of the project, and the owner can just sit back and wait for the work to be done. Once everything is complete, the owner can "turn the key" and immediately use the new building, establishment, or facility.
Of course, the contractor will still consult with the owner for them to deliver a specifically tailored solution and results for the project.
In addition to that, we also like their commitment to promoting and supporting sustainable services and solutions. They seem to adhere to strict environmental policies for every project they handle.
To top it off, they also communicate and consult with the local community to perform the construction services without breaking any building codes or rules.
Provides pre-construction services
Offers turn-key solutions and services 
Supports sustainable construction methods
Fairly new in the industry compared to other entries 
Does not operate on Sundays 
Tips to Remember When Hiring a Contractor
Planning a construction or renovation project is not easy, so choosing the right contractor for the job is vital. Here are some tips you can consider before and after hiring a contractor.
Check out multiple estimates.
Getting at least three estimates or quotes from different contractors is a good way to see the competitive rates for the services you require. Make sure to check the cost breakdown for building materials, labor, and other expenses.
Just remember to be cautious when comparing estimates because some contractors may offer you lowball bids and surprise you with low-quality materials and hidden expenses.
Look for local contractors as much as possible.
If the construction project is in Dubai, it's best to first look over the local contractors near you. Aside from the fact that they are easier to contact and they have a physical address, they are also knowledgeable about the building codes and rules in your area.
On top of that, if there are problems or issues on or after the project, you can conveniently have in-person meetings to resolve the issue immediately and avoid miscommunication.
Make sure that the contractor is insured and bonded.
When a contractor is fully insured, it means that they have various insurance coverages, so you will not be legally held liable for any problems or accidents that may arise while their team is carrying out the job.
On the other hand, if the contractor is bonded, it means that you will be financially protected in case their team didn't finish the job or project they are hired to accomplish for you. This surety bond is good protection against financial loss because there is a certain amount guaranteed if the project fails or when it is done poorly.
Note that if it's a licensed and well-established contractor, they will definitely show you their certificate of insurance and trade or construction license number for verification.
Assess the outcome of their past work.
As property owners, you have to ensure that your specific requirements and preferences for the project are met, so we recommend that you look at the contractor's past work and check the reviews of their past clients.
Through this process, you can get a glimpse of the quality of their materials, workmanship, and customer service.
Besides that, if you think you can't rely on results alone, you can also ask the contractor if they can let you visit their current job site. This can also be a good way to see how safe and organized the contractors and their team are when working on a property.
Secure a clear and comprehensive contract before the project begins.
This step is essential for ensuring that you can understand the details and allocate the risks for the project.
Make sure to draw up a clear contract that states the payment schedule, worker's compensation, start date, and projected completion date, the materials and products to be used, cancellation clause, and other distinctive specifications you may have.
If it's a large-scale construction project that involves a substantial amount of money, we suggest that you let a lawyer review the contract. This can help ensure a clear project route and prevent conflict and misunderstanding throughout the construction.
FAQs About Contractors in Dubai
---