The 5 Best Companies for Computer Repairs in Dubai
Computers are an important tool for many jobs nowadays. So it becomes just that more inconvenient and stressful when it breaks down.
That's why we're sharing with you our top picks for the best companies for computer repairs in Dubai. We also included the factors we considered in picking them, as well as answered some FAQs about computer repairs in Dubai.
How much does getting your computer fixed in Dubai cost?
The cost of having your desktop or laptop fixed can vary depending on the time spent on the repair, the cost of the parts that need to be replaced, and the complexity of the problem.
To give you a starting point, we made a table containing the most common repairs done for personal computers and laptops along with their price range.
| Test | Info |
| --- | --- |
| Repair Type | Price Range |
| Software Repair | AED150 - AED550+ |
| Hard Drive Replacement | AED360 - AED820 |
| Liquid Damage Repair | AED360 - AED900+ |
| Motherboard Replacement | AED550 - AED1100+ |
| Fan Repair/Replacement | AED360 - AED640 |
| SSD Upgrade | AED550 - AED1500 |
| Laptop Screen Replacement | AED460 - AED225+ |
| Memory/RAM Upgrade | AED180 - AED730 |
| Power Jack Repair (for laptops) | AED360 - AED720 |
| Keyboard Replacement (for laptops) | AED290 - AED720 |
| Virus Removal | AED180 - AED360 |
| Data Recovery | AED360 - AED3600+ |
The Best Companies for Computer Repairs in Dubai
Before we get into our list of the best companies for computer repairs in Dubai, here are the criteria we considered in choosing them:
1. PC Care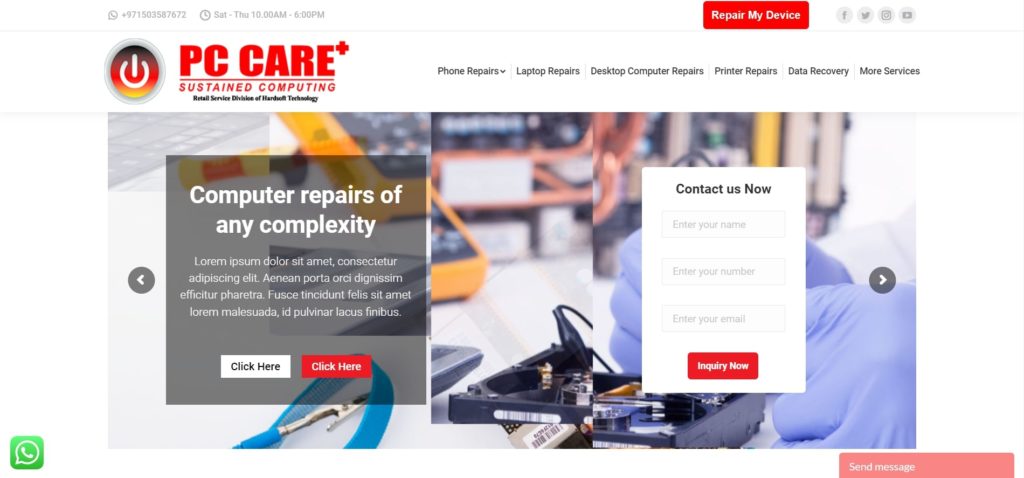 | Test | Info |
| --- | --- |
| WEBSITE | https://pccare.ae/ |
| ADDRESS | KML Business Center, Al Meydan Road, Near Dubai Bowling Center Above Wall Mart Hypermarket Office 214 - Dubai - United Arab Emirates |
| CONTACT DETAILS | +971503587672 |
| OPERATING HOURS | Saturday to Thursday: 10 AM–6 PM |
| | |
| --- | --- |
| Criteria | Ratings |
| Service Features | ★★★★★ (5/5) |
| Technical Proficiency | ★★★★★ (5/5) |
| Service Quality | ★★★★★ (5/5) |
Established in 2006, PC Care has been providing a wide range of gadget repair services. From laptops and desktops to printers and smartphones, PC Care knows how to handle everyone's day-to-day gadgets.
We love how invaluable its services are, especially when it comes to offices. Printers break down all the time, and these are vital tools in the office space.
Adam, whose 3-year-old laptop stopped working because of a broken motherboard, found PC Care and never looked back.
He shared with us how the whole process was seamless and easy. The company's team personally picked up his laptop a couple of hours after he called, and by the end of the day, he already received a call reporting the laptop's condition and the expected turnaround time.
And while Adam's laptop needed more time for fixing due to the lack of parts needed at the store, the process was still smooth.
We also love that PC Care's updates really give its customers a sense of relief, knowing that everything is being handled for them.
It also provides a warranty repair that lasts for 1-2 years, assuring that the quality of its services is excellent and the parts are genuine and checked prior to installation.
Adam also shared with us how streamlined the team was in coordinating with him right from the start, up until the moment he got back his laptop.
It's evident that this company has been at it for quite some time, establishing a process that is efficient and convenient for both the team and its customers.
All in all, it's hard to find faults with PC Care when its experience with handling all kinds of technical problems for everyday gadgets is masterful.
Free pick-up and delivery
Offers a wide range of services for different gadgets
Team's process is streamlined and efficient
Provides daily updates on the repairing process
Sourcing unavailable parts can cause delays
Customer Reviews
Excellent and affordable services
"Hana and PCCARE team were extremely helpful and professional when I reached out to them to have my Mac repaired. They did a thorough job and got the laptop back to working condition without charging a bomb. I'm glad they provide such good service and I wish them good luck." —Geo George, Google Reviews
Unbelievably fast!
"Hana and her team were superb. Apple store told me these 2 ipads could not be fixed. Hana and her team had the ipads collected fixed and dropped back to me within 24hours. I was astounded by the amazing service i received and great price. Highly recommend them to anyone." —Sonya Coates, Google Reviews
2. Computer Laptop Repair in JLT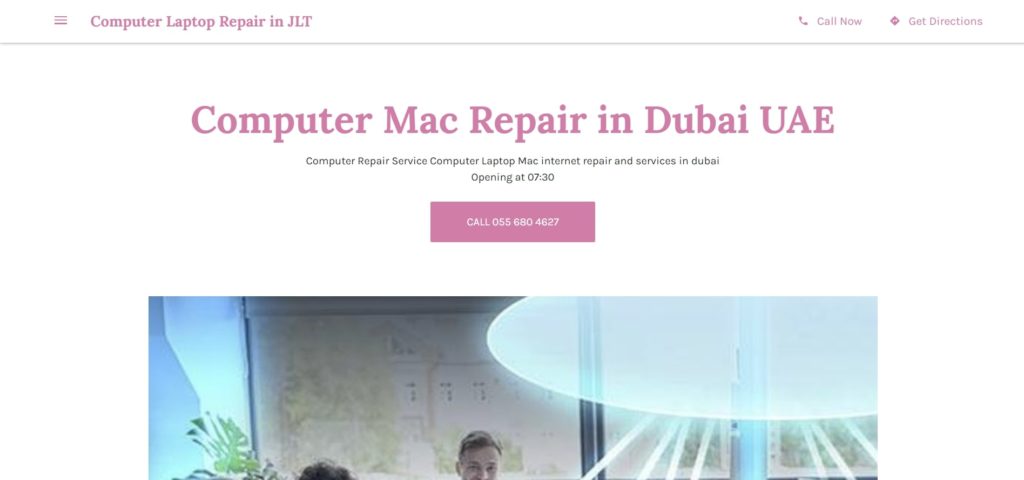 | | |
| --- | --- |
| Criteria | Ratings |
| Service Features | ★★★☆☆ (3/5) |
| Technical Proficiency | ★★★★☆ (4/5) |
| Service Quality | ★★★★★ (5/5) |
Located in a central location in the city, Computer Laptop Repair in JLT is all about quick turnaround times and friendly service.
Anna, whose Macbook has been suffering from serious lagging issues, has decided that it was time for it to get checked and repaired.
Computer Laptop Repair in JLT went to pay her a visit personally and did the fix right in front of her.
We really like this because it lets customers know what they're doing, and the best part about it, as shared by Anna, is that the technicians finished within an hour.
We are amazed at how fast they finished this with no problem at all. On top of that, the team was very friendly and courteous, which is proof that they do home visits a lot.
The one critical weakness that the company has that really struck a nerve with us is the fact that it doesn't give out warranties for its repairs.
It really put things in a different light because it made us think that the parts and software it uses to fix computer problems may not be genuine and could pose some problems in the future.
There's also the possibility they finish up so fast because they may just be providing band-aid solutions to the customers' problems.
Although we have to acknowledge that there is a possibility Anna's repair needed did not need a warranty at all, and if so, then the technicians did not inform her of that.
It's been a couple of months since Anna got her Macbook repaired and she shared with us that it's still working properly.
And while the company does offer complete services for computers from replacing parts to fixing software and recovering data, it would be great if it could also fix other everyday gadgets like smartphones and printers for versatility.
All in all, while having no warranties is a huge drawback, Computer Laptop Repair in JLT is a great option for emergency repairs that could save a critical file or have your laptop ready for an important presentation because of how quick its service is.
Does home visits for free
Quick and amazing repairs
Covers all kinds of computer fixes
Does not give out warranties
Only fixes computers
Customer Reviews
Quick and affordable service
"My laptop keyboard had water in it and upon the initial contact with the team, they were very responsive. They took down the details of my laptop and within 2-3 days they confirmed it could be changed. Imran from their office came and within an hour had replaced the keyboard and also upgraded my computer which is now running very fast. Thank you very much for the quick and affordable service." —Rayomand Jeejeebhoy, Google Reviews
Another level of quality service!
"Highly recommended, and a joy to experience this level of quality service in Dubai. Arriving at work I pulled my phone from my pocket and it went flying to the floor, and for the first time in 10-years, I had a smashed iPhone screen. Within 2-hours Computer Laptop repair in JLT had got to my office in JLT, repaired it professionally and in a very friendly manner, and were on their way. Superb, and none of that "we'll be 10-minutes sir" approach. They did what they said they would do, at the price they quoted and in the timescale agreed. Well done, and thoroughly recommended." —Ahmad Ali, Google Reviews
3. GEEKS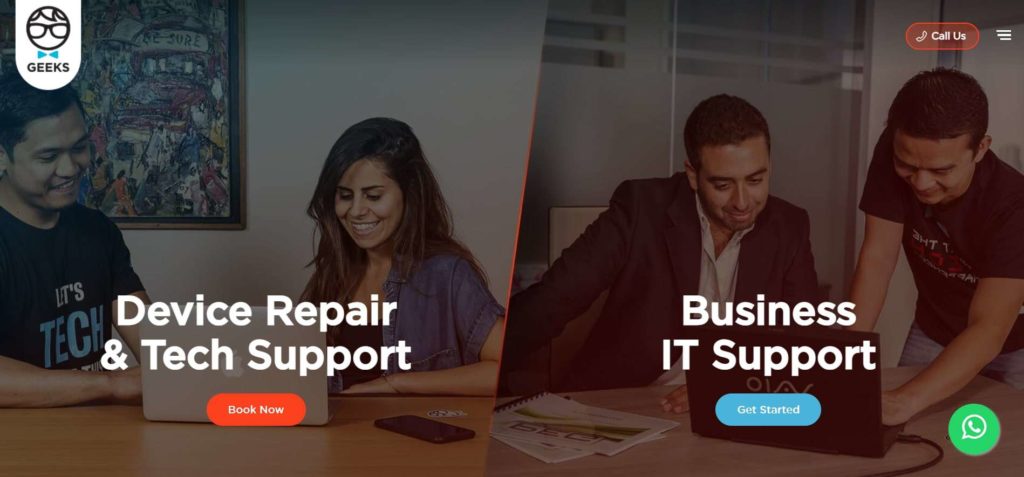 Test
Info
WEBSITE
https://geeks.ae/
ADDRESS
1901, HDS Business Center, Cluster M, JLT, Dubai.
CONTACT DETAILS
+971 4608 6888

+971 5470 14608

OPERATING HOURS
Monday to Friday: 9 AM–6 PM

Saturday: 9 AM–3 PM
| | |
| --- | --- |
| Criteria | Ratings |
| Service Features | ★★★★★ (5/5) |
| Technical Proficiency | ★★★★★ (5/5) |
| Service Quality | ★★★★★ (5/5) |
Dubai's leading IT support company, GEEKS has been providing on-demand and automated IT support for both businesses and consumers all over the city.
Leonard, the HR manager for a perfume company in Dubai, has been getting GEEKS to provide IT support to all of his employees.
He shared with us that the company is always just one call away and can get to their office within a couple of hours.
We love how it has such a streamlined on-demand model of its services. It's as easy as logging a request, waiting for its IT support team to arrive, and letting them do their jobs.
The company has so many service features, especially for businesses. It provides annual maintenance services that let it monitor your IT infrastructure and prevent issues through predictive and proactive support functionalities.
But we especially love its enterprise device & repair management services that come with a customized platform for businesses.
This platform allows employees to create employee logins, schedule on-site repairs, track repair histories, and view all invoices for your enterprise-issued devices. It's basically hiring GEEKS as the company's very own IT department.
And these GEEKS are actually extensively trained by the company's own managers who have years and years of experience.
The only weakness this company has, while understandable, is that its excellent on-demand services are quoted as more expensive than your usual computer repair companies.
Despite that, we can clearly see why GEEKS is one of the biggest IT support companies in Dubai.
More than just providing services to fix and address issues with your computer, it makes the act of inquiring so seamless and effortless through its amazing service features.
Efficient and convenient IT support services
Great services for companies and businesses
Support team is extensively trained
More expensive than other computer repair companies
Customer Reviews
Quick, efficient, and excellent service from the GEEKS
"I had my macbook pro repaired recently. They collected the laptop from my home, did an assessment, let me know the issues within a day and the associated costs, repaired and returned within a couple of days. Quite happy with the support and pricing. Highly Recommended." —Ajith Kumar, Google Reviews
Cannot recommend them highly enough!
"I highly recommend Geeks.ae for high quality repair especially for out of warranty devices. their customer service is top notch as well and all my questions and requests have been attended to in a prompt manner. I would like to special mention Jibin from the customer service team for being my point of contact from inquiry until the delivery of my device who made my experience with Geeks seamless.
Their price is also competitive and provides original replacement parts.
I will definitely be using their services if needed in the future." —Jaesonne John Anda, Google Reviews
4. Laptop Repair Dubai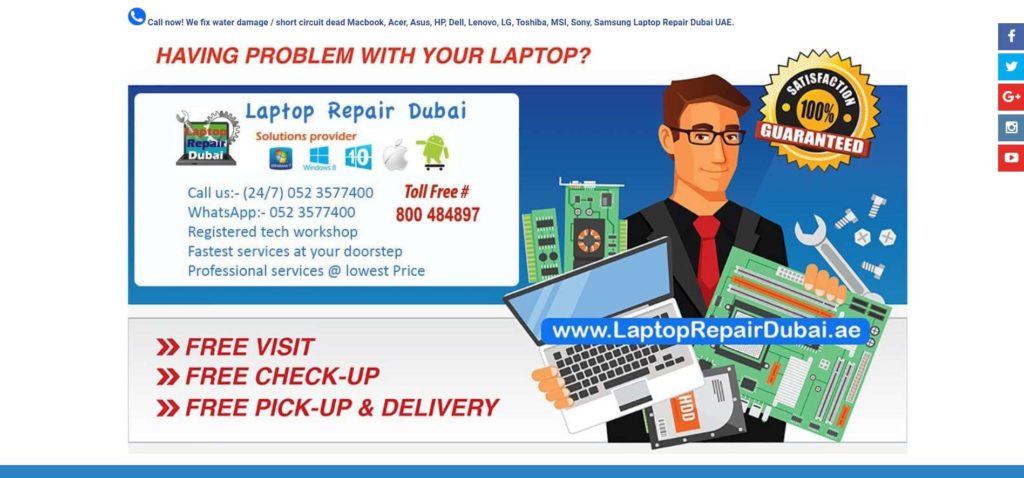 | Test | Info |
| --- | --- |
| WEBSITE | https://laptoprepairdubai.ae/ |
| ADDRESS | IT Center Building - Al Raffa Road - Al Fahidi - Dubai - United Arab Emirates |
| CONTACT DETAILS | +971 52 357 7400 |
| OPERATING HOURS | Saturday to Thursday: 10 AM–10 PM |
| | |
| --- | --- |
| Criteria | Ratings |
| Service Features | ★★★☆☆ (3/5) |
| Technical Proficiency | ★★★★★ (5/5) |
| Service Quality | ★★★★★ (5/5) |
Bur Dubai's favorite local computer repair company, Laptop Repair Dubai has been providing its service with a free visit from its team, free check-up, and free pick-up & delivery.
The economical choice for anybody, this company addresses all kinds of issues relating to computers.
Maggie accidentally spilled water over her keyboard and damaged it. Laptop Repair Dubai was happy enough to quickly send support to fix her keyboards in no time.
We love that besides liquid damage, this company fixes even the most niche issues that people don't even bother to address. This includes fixing the disc holder of older desktop and laptop models.
The service was as quick and as efficient as it can be. Maggie was please with how fast it fixed something as devastating as spilling water over an electronic gadget with such ease.
However, we think its weak point is definitely the lack of service features. Besides the free checkups, visits, and deliveries, there really isn't anything that gives it an edge over other companies.
And while one can argue that those free services are what makes them different, some computer repair companies offer the same.
Despite that, its willingness to fix niche issues, efficient and quick service, and convenient free services are enough for us to consider them in our list.
Free convenient services offered
Can address niche technical issues
Fast and efficient service quality
No special features that differentiate them from the rest
Customer Reviews
Great service. Would certainly recommend.
The best laptop repairing service in the heart of Bur Dubai. Thank you for the excellent service you gave yesterday for my Samsung laptop. The technician was very good and so polite. I'm very satisfied with the new laptop screen. Thank you so much for this professional and quality service. Will highly recommend you to all my friends." —Ronald Williams, Google Reviews
The free diagnostic service won me over!
"My laptop hinge was broken. They offered a free diagnostic at my location, which was very convenient, and most importantly they fixed it within 24h at a very reasonable price and delivered it at my door. Nice guys, good at what they do." —Deema Malki, Google Reviews
5. Laptop Repair Service Dubai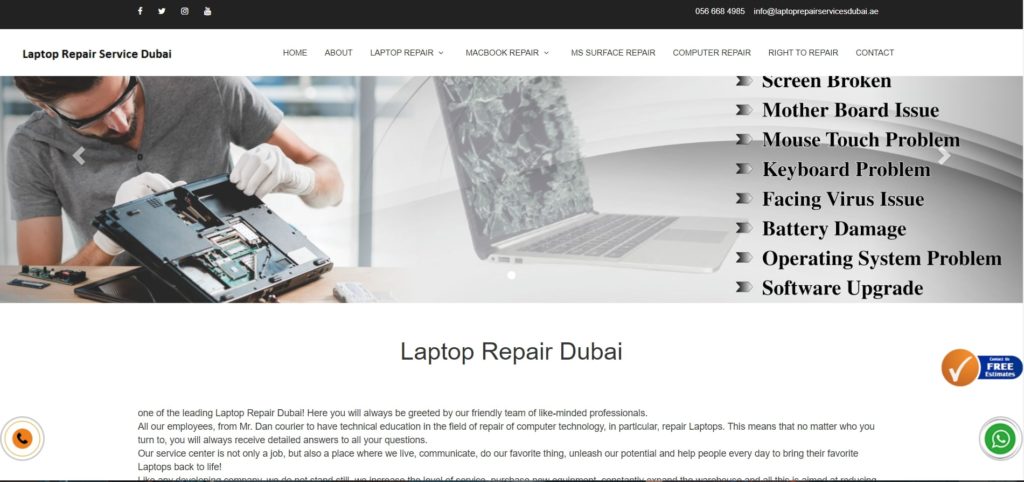 Test
Info
WEBSITE
https://www.laptoprepairservicesdubai.ae/
ADDRESS
The Regal Tower business bay Near Zoom market Office Number 44 - Dubai - United Arab Emirates
CONTACT DETAILS
+971 56 668 4985

056 668 4985

OPERATING HOURS
Saturday to Thursday: 10 AM–8 PMFriday: 2 PM–8 PM
| | |
| --- | --- |
| Criteria | Ratings |
| Service Features | ★★★★☆ (4/5) |
| Technical Proficiency | ★★★★☆ (4/5) |
| Service Quality | ★★★★☆ (4/5) |
For over 9 years, Laptop Repair Dubai has slowly risen among the ranks and is now easily one of our favorite computer repair companies in Dubai.
Its team is its bread and butter. No matter who you turn to, you can always expect to get detailed answers to all your questions.
Meena, who was once struggling with the broken thumbpad on her laptop, found Laptop Repair Dubai and was impressed by how knowledgeable the team was and how competitive it priced its service.
We love how its technicians all undergo extensive training and are equipped with high-precision equipment — making them the perfect guys to call when some computer repair teams refuse to take in the issues you're experiencing.
We also love that the company has seasonal discounts that really make availing its service more accessible.
On top of that, it also offers a guarantee of 3 to 6 months. If the malfunction the customer experienced occurs again within that time frame, then the company will fix it for free.
It also offers free diagnostic services and delivery of repaired laptops. We also like that it never requires a downpayment.
Meena shared with us that the company always makes sure to give her the cause of the breakdown, as well as the price and terms of solving the problem before the technicians start working on it.
Another great thing that we love about its service is that it continuously looks for new ways to increase the level of service it provides. It also purchases new equipment in its efforts of reducing the cost of laptop repair for customers.
If there's one thing that we can point out as its weakness, it's that it's too focused on specializing in fixing laptops.
Meena shared with us that her friend didn't get the same quality of service that she got because the team lacked members that specialized in desktops, which is a much more complicated setup compared to laptops.
Despite that, we're confident that within a few years, Laptop Service Repair Dubai will have covered that weakness and expand its ability to provide excellent service to desktop owners.
Specializes in laptop repairs
Knowledgeable and highly trained team
Offers guarantees and discounts
Always expanding and innovating service quality
Too focused on laptop repairs alone
Customer Reviews
Impressed with their same-day results
"Satisfied with their quick service! Mr. Danish attended to my request immediately and was able to fix my Lenovo laptop and returned back within the same day. Service priced at was reasonable as well.
Problem: The bezel cracked making the laptop unable to close and open smoothly and the screen popped open near the hinges (see pictures attached of before and after." —Ranjeeta Pal, Google Reviews
Loved getting updated daily!
Had to send my laptop for hardware repairs and these guys did an outstanding job. Always kept me informed about the repairs and status. And very well priced. It took them less than 2 days to diagnose fix the motherboard and replace the keyboard. Thats great service. Highly recommended" —Craig Bolton, Google Reviews
FAQs about Computer Repairs in Dubai
---
It's always stressful when your computer breaks down, but these computer repair companies are here to help you.
If you're looking for other repair services for your house or office, then check out these articles: