The 5 Best Restaurants for Chinese Food in Dubai
From dumplings and noodles to feast staples like suckling pig and pecking duck, Chinese restaurants are famous around the world for the explosion of flavors and complexity put into each dish.
And it can be hard to pick out the best in a big bustling city such as Dubai. But we're sharing with you our top picks as well as the factors we considered in choosing, and we also answered some FAQs about Chinese food in Dubai.
How much does it cost to eat Chinese food in Dubai?
The cost of eating at a Chinese restaurant may vary depending on the restaurant and the dishes you will be ordering.
To give you a starting point, we've made a table of the average amount of money a pair of customers spend at our chosen restaurants.
| Chinese Restaurant | Average Amount of Money Spent |
| --- | --- |
| Hutong | AED680 for 2 people |
| Xiao Wei Yang | AED130 for 2 people |
| The Chuan | AED370 for 2 people |
| Chinese Palace | AED80 for 2 people |
| Royal China | AED350 for 2 people |
The Best Restaurants for Chinese Food in Dubai
Before we get right into our top picks for the best restaurants for Chinese food in Dubai, here are the factors we considered for our entries on this list:
1. Hutong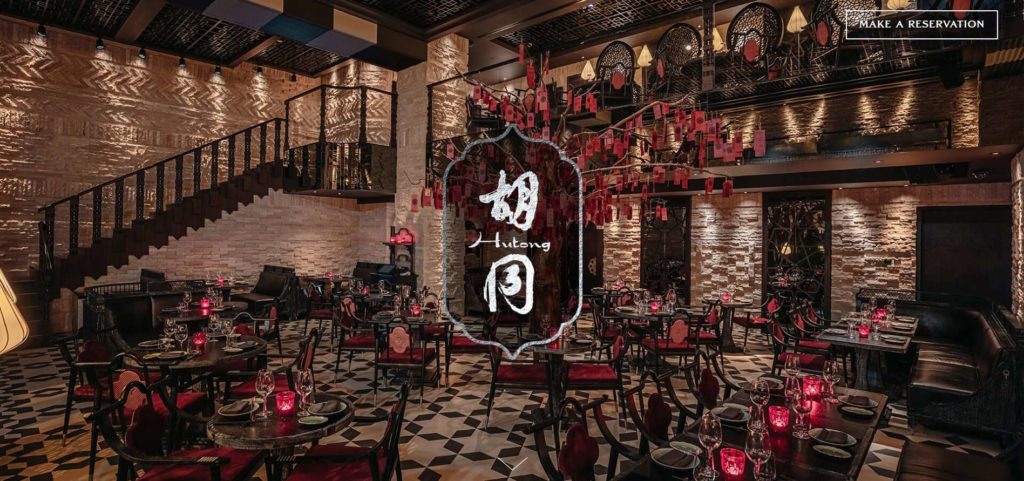 | Test | Info |
| --- | --- |
| WEBSITE | https://www.hutong-dubai.com/ |
| ADDRESS | Gate Building 6, Ground Floor, DIFC Dubai UAE, P.O. Box 125150 |
| CONTACT DETAILS | +971 4 220 0868 |
| OPERATING HOURS | Every day: 12 pm - 4 pm, 6 pm - 2 am |
| | |
| --- | --- |
| Criteria | Rating |
| Authenticity | ★★★★☆ (4/5) |
| Customer Service | ★★★★★ (5/5) |
| Ambiance | ★★★★★ (5/5) |
| Location | ★★★★☆ (4/5) |
With a fiery Northern Chinese-style menu, amazing dim sum selections, and unique cocktails, Hutong serves up a contemporary Chinese dining experience unlike any other.
A menu that has a penchant for simple chili, Hutong showcases Northern China's spicy food that fits right in with Dubai's spicy and flavorful palette.
And while the menu is largely based on a lot of traditional Chinese dishes, such as the famous Peking duck, Hutong has found a way to inject spice and creativity into every food item.
Another great thing about Hutong is the staff's attention to detail and willingness to accommodate every customer that comes through their doors.
We came in without a reservation, and with only an hour left before the restaurant closes, but the host still managed to get us a table without a second thought.
On top of that, the whole time we were eating, the waiter was very friendly and asked if there was anything we needed often.
But what really closes the deal for us is the restaurant's ambiance. Reflecting the fiery flavors of their food, Hutong embellishes its space with flashes of red found in the upholstery, and the tree centerpiece is adorned with red banners.
We love the expensive-looking stone walls the complex and mesmerizing wooden half walls, and the patterned flooring.
The location isn't bad, either. Despite the lack of multiple branches, Hutong still shines among the other high-end restaurants in DIFC.
All in all, Hutong is a great pick for luxurious Chinese food. From start to beginning, the menu stays true to its identity, and the service and the ambiance elevate the whole experience even more.
Serves innovative Northern Chinese food
Friendly and caring staff
Amazing ambiance
Centrally located
Only has one location in the city
Food may be too spicy for some
Customer Reviews
Extremely delicious
"I visited Hutong for dinner and business lunch, extremely delicious good variety of food and drinks. The ambiance, decoration, tables and the bar is amazing, very professional staff, friendly, and full of knowledge of the menu. Great Valle parking service is available and it's free for the first 3 hours. You won't be disappointed. Can't wait to go back🤩" —Nihan Aksoy, Google Reviews
Everything they serve is perfection
"We got the Expo tasting menu plus a few additional starters on the side. I can't explain how much we enjoyed our night here, from the mellow ambiance to the service we received plus the food tasted unreal.
Hands down one of the best Peking ducks I've had, it had enough crispiness and was not too fatty. The remainder of the duck was stirred fried with veggies and finished off with lettuce cups.
We were served by a lovely gentleman named Gerald who greeted us each time by our name and that made the experience more personal. To be honest everyone there was so lovely & helpful.
Definitely try the Peking duck, Sichuan-styled Lobster & seared scallops!" —Maianh Dinh, Google Reviews
2. Xiao Wei Yang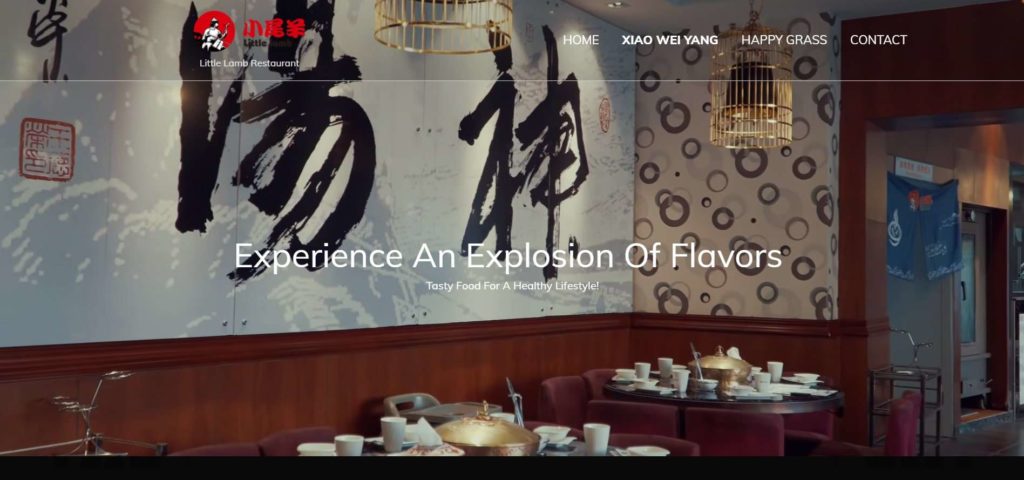 | | |
| --- | --- |
| Criteria | Rating |
| Authenticity | ★★★★★ (5/5) |
| Customer Service | ★★★★☆ (4/5) |
| Ambiance | ★★★☆☆ (3/5) |
| Location | ★★★★★ (5/5) |
This budget-friendly Chinese hotpot restaurant is our top picks for feasts with friends and family.
With a menu surrounding hotpot prepared and cooked with traditional Chinese and Mongolian techniques, this restaurant offers a uniquely multicultural dining experience that we just love.
We definitely recommended its lamb tenderloins and any of its amazing noodles. On top of that, all of the ingredients are farm-fresh and the sauces are all made in the kitchen.
Another great thing about this restaurant was that the staff never let our plates get empty. Sure, there were moments when we had to wait a little bit longer for our refills, but it was because of how busy the restaurant is.
However, when it comes to the ambiance, Xiao Wei Yang could use some improvements. The large space means that it has a lot of customers, which generates a lot of noise.
While large gatherings are its selling point, the noise can get overwhelming at times, and we would end up talking louder than we usually would.
But that's okay because this hotpot restaurant has 5 branches in the city, so it's easy to find one with fewer customers.
We also love that these are all centrally located in the city. On top of that, its Dubai Marina branch feels like a little secret that's located just a little bit away from the crowd.
All in all, if you're looking for budget-friendly Chinese food that you can enjoy with friends and family, then Xiao Wei Yang is a must-try.
Affordable hotpot Chinese food
Has multiple branches
Attentive staff
Can host large groups
Restuarant can get very busy
Restaurant can get overwhelmingly noisy
Customer Reviews
There's nothing better than this!
"Authentic Chinese Hot Pot Restaurant in Dubai. Nothing better than this. There are things in life that can be explained and then there is stuff that is experienced. This place is certainly the later. It's a MUST go restaurant." —Zeeshan Baloch, Google Reviews
An all-time favorite
"The best Chinese hotpot so far, you can always invent a new sauce! Have been to a couple of other hotpots, and this one is always my favorite! Little green lamb!" —Islom Khamraev, Google Reviews
3. The Chuan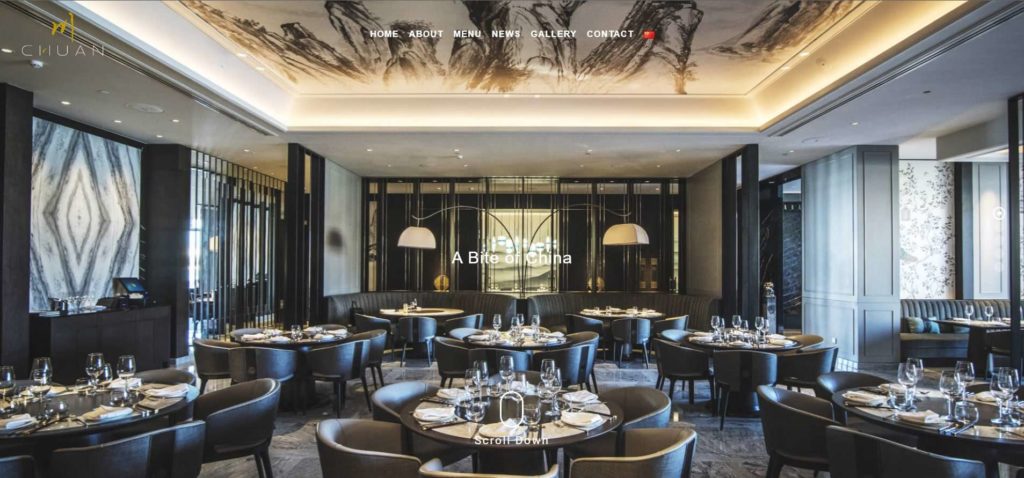 Test
Info
WEBSITE
http://www.chuanseafood.com/
ADDRESS
The Pointe Palm - The Palm Jumeirah - Dubai - United Arab Emirates
CONTACT DETAILS
+971 4 564 3888
OPERATING HOURS
Saturday to Sunday: 12:30 pm - 12 am

Monday - Friday: 4:30 pm - 12 am
| | |
| --- | --- |
| Criteria | Rating |
| Authenticity | ★★★★★ (5/5) |
| Customer Service | ★★★★★ (5/5) |
| Ambiance | ★★★★★ (5/5) |
| Location | ★★★★☆ (4/5) |
Inspired by the major rivers of China that brought about the culture of this amazing civilization, The Chuan is a love letter to the endless stream of food culture that traveled back and forth between China and Middle East.
Unapologetically authentic, this restaurant's menu has no Western-style substitutes and only serves pure and unadulterated Chinese food.
Pair this with a view of the sea that we can see through 3 sides of the restaurant, and we got an extravagant dining experience that was unforgettable.
We also love how knowledgeable the staff was. We got confused with the menu at first because some items were prized based on their weight, but they immediately helped us clear that up and even recommended us some amazing dishes we would never have tried.
As for its ambiance, well it's unrivaled. A view of the sea through the floor-to-ceiling windows, an elegantly designed dining area accentuated with black leather upholstery, and the dark grey carpet make for a classic and extravagant vibe to the dining experience.
And while it's quite some ways away from the central parts of the city, The Pointe at the Palm makes a great destination for dates and personal celebrations.
With a little bit of effort, we were rewarded with a great evening that translated very well through our photos.
All in all, The Chuan offers authentic Chinese food on an extravagant platter. With an incomparable view and ambiance, this restaurant is an automatic favorite for us.
Authentic Chinese food
Has a great view of the sea
Knowledgeable staff
Extravagant and elegant ambiance
Located far away from the central parts of the city
A little bit more expensive than other restaurants
Customer Reviews
One of the best Chinese restaurants out there
"Wow! This sister restaurant of Long Ten really impressed me. Authentic Chinese dishes and alcohol in a gorgeous two-level restaurant with an impressive wine rack and view of the world's largest fountain. Don't forget to ask the restaurant to validate your parking ticket." —Sarah Nossy, Google Reviews
I want to give it 6 stars
"Food was fantastic. Service by Minn was superb. He offered great recommendations for all three courses. If 6 stars were available, this restaurant deserves it. We had the chef's recommendations: Peking duck and codfish. The chef with over 10 years of experience gives you a live experience when serving the duck. Don't skip the dessert menu- some delicious treats there as well. We will certainly come back." —Robin Fraiture, Google Reviews
4. Chinese Palace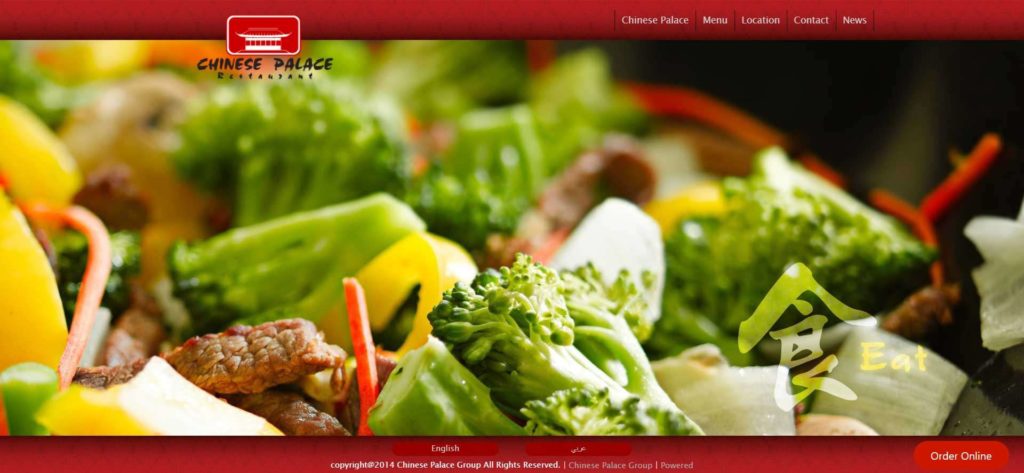 Test
Info
WEBSITE
https://chinesepalaceae.com/
ADDRESS
Al Ghurair Centre Food Court 2nd Floor - Dubai - United Arab Emirates

Has 8 more branches in the city

CONTACT DETAILS
+971 4 227 1510
OPERATING HOURS
Sunday to Wednesday: 10 am - 11 pm

Thursday to Saturday: 10 am - 12 am
| | |
| --- | --- |
| Criteria | Rating |
| Authenticity | ★★★★☆ (4/5) |
| Customer Service | ★★★★☆ (4/5) |
| Ambiance | ★★★☆☆ (3/5) |
| Location | ★★★★★ (5/5) |
Serving up authentic Chinese fast food goodness in Dubai since 1980, Chinese Palace has become a staple Chinese food choice in the city.
With savoriness as the main flavor component of every Chinese Palace dish, we love how the menu is full of quick yet flavorful selections that are reminiscent of actual authentic Chinese food.
As for its customer service, it's as fast food as it gets. Nothing exceptional, but the staff does move quickly and efficiently.
While they can stand to be more personable, we understand how fast food operates and they do what they do best.
The restaurant's locations are kiosks in mall food courts. While it's hard to enjoy a restaurant's ambiance when it's competing with 10 other eateries, we love that the kiosk's design was made to stand out.
Bright red accents and brightly lit signage make it hard to miss it in a crowd of other fast food selections.
And when it comes to their location, we can't really complain. With 8 branches located inside major malls, it's harder to avoid Chinese Palace than to look for one.
All in all, Chinese Palace is such a great quick fix for authentic Chinese cravings wherever you are in the city of Dubai. With generations of experience in serving great Chinese food, Chinese Palace is definitely one of our favorites.
Serves authentic Chinese fast food
Located in a lot of major malls
Situated in food courts
Service is nothing exceptional
Customer Reviews
My favorite fast food restaurant
"My Go-To brunch would be this Soy Garlic Chicken Wing bowl. It's new on their menu and I loved it. The sweetness of chicken compliments the vegetables and egg. Got lots of vitamins in one bowl. The service is excellent TOO! This brand has 11 outlets all over Dubai. It's all located in the mall's food court. A MUST visit place!" —Shaine Agawa, Google Reviews
The value for money is too good to miss
"Value for money combo meals. Good variety of choices. Clean and tasty. Ask for the single or double combo and choose your items. The only improvement that may be useful is the plates – if they are better quality plastic it would feel more sturdy." —Ravindran Raghavan, Google Reviews
5. Royal China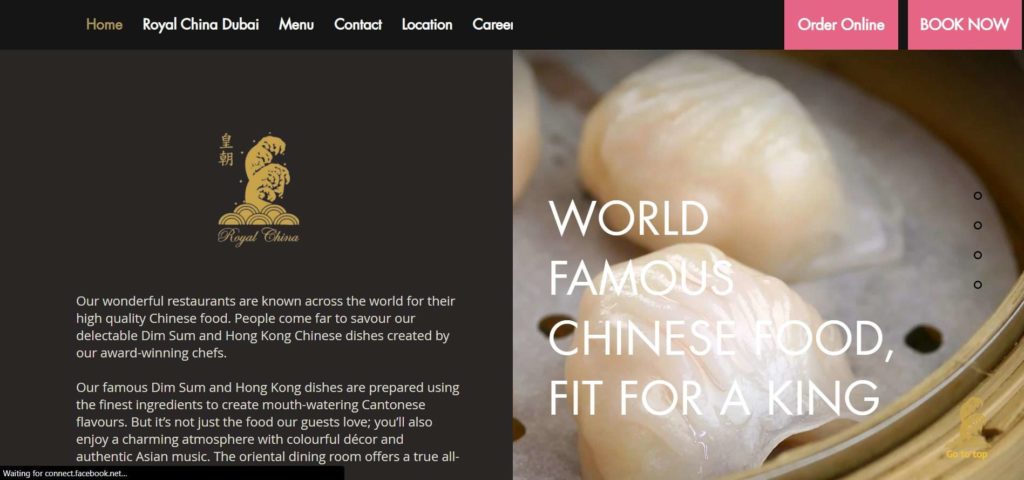 Test
Info
WEBSITE
https://www.royalchinadubai.com/
ADDRESS
4L2-011 The Balcony, Precinct Bldg. 4, DIFC, Dubai, U.A.E
CONTACT DETAILS
+971 4 3545543

+971 50 142 8553

OPERATING HOURS
Every day: 11:30 am - 1 am
| | |
| --- | --- |
| Criteria | Rating |
| Authenticity | ★★★★★ (5/5) |
| Customer Service | ★★★★★ (5/5) |
| Ambiance | ★★★★☆ (4/5) |
| Location | ★★★★☆ (4/5) |
Known across the world for its amazing Hong Kong-style Chinese food and delectable dim sum selections, Royal China is another beloved DIFC restaurant.
What we love the most about Royal China is it maintains a delicate balance of celebrating beloved classic dishes and introducing some great innovative contemporary ones.
We never not order its amazing authentic Peking duck, served with some delicious and aromatic savory pancakes.
The service is fit for royalty, with a staff that pays attention to every detail and makes sure they appear effortless doing everything.
The ambiance is also something to behold, decked out in luxurious finishings like the bright red chandeliers laced with expensive-looking tassels, and the ornately designed chairs that felt amazing to sit in.
The place was very well-lit, as well. The floor-to-ceiling windows let natural light in and are diffused by the intricate wall panels to soften it.
However, it got a bit too warm for comfort the longer we stayed there because of a malfunctioning air conditioner.
As for location, while the restaurant only has one branch in DIFC, the place is centrally located and is one of our top picks for a great business lunch.
All in all, Royal China serves up some delectable and luxurious Hong Kong-style dishes that we are sure you will be coming back for time and time again.
Serves Hong Kong-style dishes and dim sum
Excellent service
Luxurious ambiance
Centrally located
Only has one location
It gets a bit warm in the restaurant
Customer Reviews
Innovative food
"My favorite restaurant. So nice and tasty food. Duck one love 🙂 staff so kind and friendly. If you don't know what to order they will help you. Amazing design inside. I will back here again and with pleasure." —Kate Aleks, Google Reviews
Underrated Chinese restaurant
"An underrated Chinese restaurant. The serving here is more of traditional Chinese dishes, not the trendy diffusion once. But the quality food is Excellent and the food is delicious. The main problem is that the air-conditioning is not good. So it gets really warm if the restaurant is packed. Service was okay but could be more friendly." —Habib Al Mulla, Google Reviews
FAQs about Chinese Food in Dubai
---
We hope this helped you in finding a Chinese restaurant to try out. Also, if you're looking for other ways to celebrate moments or reward yourself, then check out these articles: