The 5 Best Services for Carpet Repairs in Dubai
Persian rugs and Turkish carpets are big in Dubai. They're widely used to spice up a room and bring the styling together. So when a carpet gets damaged, it's hard to ignore that spot under your feet.
That's exactly why we went out to look for the best services for carpet repairs in Dubai. We explain the different factors we considered in choosing them and answer some FAQs about carpet repairs in Dubai.
How much does getting a carpet repaired in Dubai cost?
The cost of carpet repair services can vary depending on the size of the carpet, the carpet material, and the extent of the damage.
To give you a starting point, having a carpet repaired can cost anywhere from AED400 to AED1100 or AED7 per square foot.
The Best Services for Carpet Repairs in Dubai
Before we get right into our list of the services for carpet repairs in Dubai, here are the criteria we considered in choosing them:
1. Al Madaen Carpet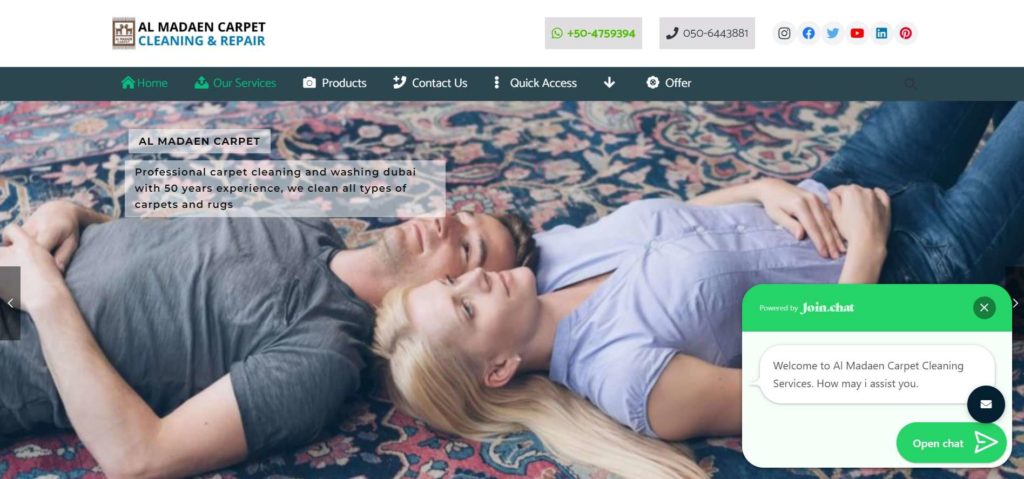 Test
Info
WEBSITE
https://carpetcleaningrepairing.com/
ADDRESS
41 Dubai Satwa Centro Building Shop 8 – Dubai United Arab Emirates
CONTACT DETAILS
050-6443881

04-34544880504759394

OPERATING HOURS
Saturday to Thursday: 9:30 AM–9 PM

Friday: 4:30 PM–8 PM
| | |
| --- | --- |
| Criteria | Ratings |
| Experience | ★★★★★ (5/5) |
| Methods | ★★★★★ (5/5) |
| Range of Services | ★★★★☆ (4/5) |
With over 50 years of experience in carpet cleaning and repairing, Al Madaen Carpet has established itself to be the number one go-to choice for anything related to Persian carpets.
For over half a century, it has mastered techniques that allow it to restore rugs of all kinds.
Kassy, who has an antique Oriental rug in her living room, found this company when the fringes on the sides started to unravel. She shared that the technicians pre-inspected the rug before picking it up and bringing it to the facility.
Besides worn fringes, Al Madaen Carpet also covers a gamut of rug problems, from faded colors to flood damage to shrinking.
We also love that its pick-up and delivery services come for free and its specialists can fix a rug no matter the material. As for the range of service, unfortunately, this company specializes in and only offers carpet washing and repairs.
Unlike other carpet repair services that also offer upholstery washing and restoration, Al Madaen Carpet limits itself to carpets.
That being said, it does offer a wide range of cleaning services, such as power washing and stain removal.
All in all, it is undeniable that Al Madaen Carpet is the master of carpet cleaning and repair.
It is the biggest and oldest company to provide this kind of service. And even though its services are limited, it knows where it shines and sticks to that.
Has 50 years of experience
Specializes in fixing many carpet problems
Team is specially trained in rug repair techniques

Only offers carpet cleaning and repairing
Customer Reviews
A service like no other
"Dear all, I have never seen, such professionals in carpet cleaning.
I've been to Germany, Austria, and Iran. But my carpets have never been treated so well. The selection of carpets is also wonderful. Really impressive. My family and I also felt extremely comfortable.
Yours, David." —Bernhard Rainer, Google Reviews
This company knows what they're doing!
"The quality presented by Al-Madaen professional Persian carpet Cleaning And repairing Company Dubai . was phenomenal and because of it, I'd happily recommend them to others for their oriental Persian handmade carpets & rugs cleaning requirements. This company knows their way around All kinds of carpets and rugs. And compared to other companies which charge very high prices. These guys have the lowest rates and highest quality" —Jovana Liliitaly, Google Reviews
2. Al Falaj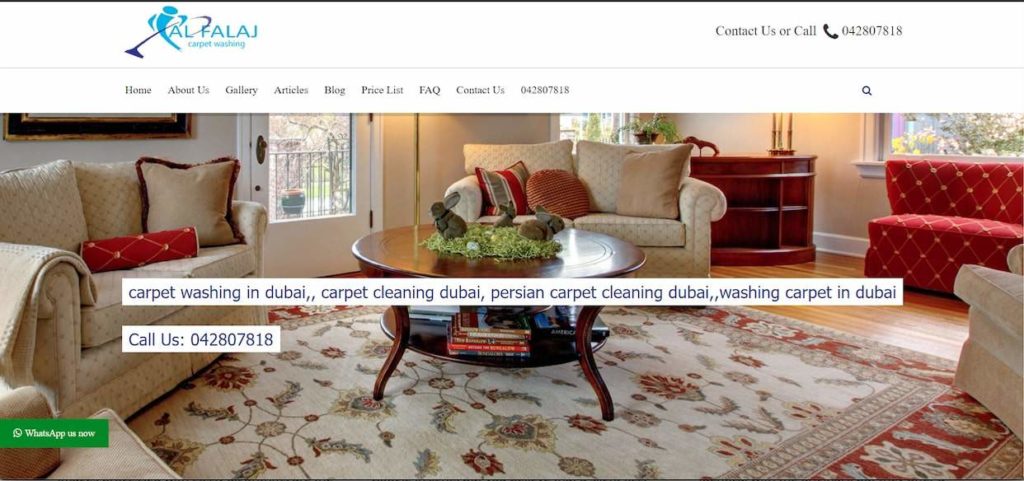 Test
Info
WEBSITE
https://washingcarpet.com/
ADDRESS
Al Qusais Industrial Area 5, 82925, Dubai
CONTACT DETAILS
042807818

0561114494

OPERATING HOURS
Saturday to Thursday: 8 AM–8 PM

Friday: 2 PM–6 PM
| | |
| --- | --- |
| Criteria | Ratings |
| Experience | ★★★★☆ (4/5) |
| Methods | ★★★★★ (5/5) |
| Range of Services | ★★★★☆ (4/5) |
Starting as a carpet washing company, Al Falaj has since then expanded into repairing carpets as much as cleaning them. Its team of carpet repairers is known to be able to fix carpets by hand with skills and techniques that have been passed down in history.
Sonya's Russian carpet ended up having a hole after a candle fell from her table. Thankfully, Al Falaj patched it up with no problem.
Its repairers patched it back flawlessly, to the point that she wasn't able to tell there was a hole there beforehand.
And just like Al Madaen Carpet, this company picks up and delivers carpets for free. But what gives it an edge is that it also takes up emergency rush jobs, which come in handy for when a party goes awry.
However, another similarity that it shares with Al Madaen Carpet is the fact that it doesn't offer any other services besides cleaning and repairing carpets.
This is unfortunate because most of the time, damage to carpets also means that upholstery from furniture would also need some checking — opportunities that both companies are missing out on.
All in all, Al Falaj knows the value of all carpets and how to handle the damages. With a team of expertly trained carpet repairers willing to fix problems by hand, Al Falaj provides a service that is almost incomparable to others.
Specializes in carpet washing
Can fix carpets by hand
Expertly-trained repairers
Only offers carpet cleaning and repairing
Customer Reviews
Goodbye color bleeding problems!
"I highly recommend M/s Al falaj carpet washing and repairing. They fixed the color bleeding of my valuable Persian rug and bought its beauty and glory back at a reasonable price.
I endorse Al Falaj is a highly professional company in Dubai and the job was done with care and precision. Moreover, they have an extremely clean and tidy workplace.
Highly recommended with satisfaction." —Kaisar Ahmad, Google Reviews
Spotless job from Al Falaj
"Absolutely fantastic for cleaning carpets. Previously used dry clean service and my carpet still had marks and seemed 'tired'. With Al Falaj, my carpet came back spotless and the pile was totally revived – my old carpet was as new as when I bought it! And, their service was most professional and friendly." —Shirley de Villiers, Google Reviews
3. Carpet Solutions Dubai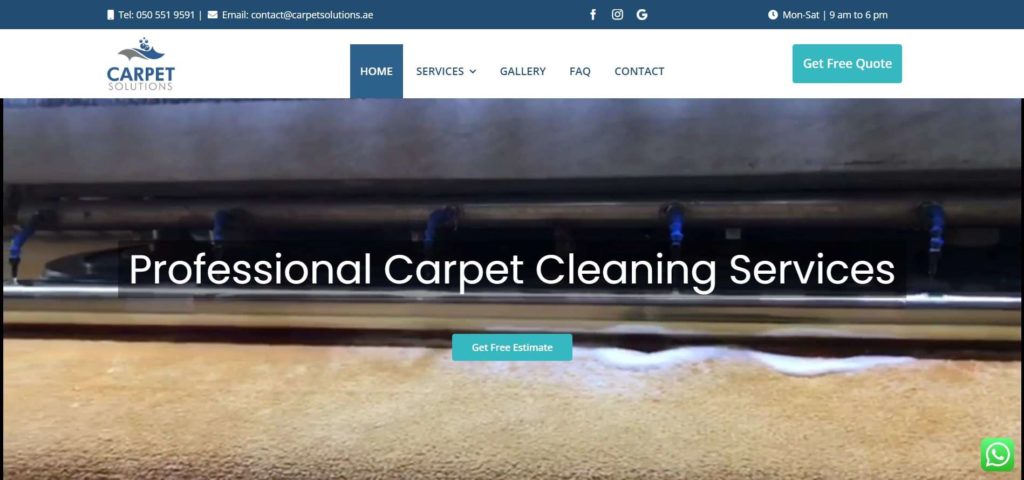 | Test | Info |
| --- | --- |
| WEBSITE | https://www.carpetsolutions.ae/ |
| ADDRESS | Dubai Investment Park 2, Plot 597-Unit W/H-9, Dubai-UAE |
| CONTACT DETAILS | 050 551 9591 |
| OPERATING HOURS | Monday to Saturday: 9 AM - 6 PM |
| | |
| --- | --- |
| Criteria | Rating |
| Experience | ★★★★★ (5/5) |
| Methods | ★★★★☆ (4/5) |
| Range of Services | ★★★★☆ (4/5) |
With over 10 years of experience and more than 50,000 jobs completed, Carpet Solutions Dubai has been a force to be reckoned with thanks to its efficient and excellent service.
Christopher has been looking for a certified carpet repair company to address the stretching that is happening to his family's heirloom carpet, and he found it with Carpet Solutions Dubai.
We love that the company's whole approach starts with a solution expert that comes over to customers to assess the damage and recommend a fix to their problems.
And then each operator, who understands the complex methods needed to address the damages, may either fix it on-site or have it delivered to the facility.
Its repairers believe that the need to replace carpets should only be done if it is beyond repair and unsalvageable. They have a good handle on their capabilities to restore rugs to their best versions.
However, the company mostly specializes in cleaning carpets and upholstery, which means that the types of damages it covers are limited. Its skills are limited to water and pet damage, burns, and stretching.
As for its range of services, we love that besides cleaning and fixing carpets, it can also clean upholstery. And when it comes to cleaning, its staff only uses eco-friendly solutions to remove the dirt and stains.
All in all, Carpet Solutions Dubai may specialize in cleaning carpets and upholstery, but its efficient service makes us unable to count them out of our favorites.
Has over 10 years of experience
Efficient service
Offers cleaning services for upholstery and carpets
Can fix a limited range of carpet damages
Customer Reviews
Excellent customer service
"I used this service while shifting to a new apartment. So far it's been the most easy-going, professional, extremely helpful, and the most satisfying service that I have experienced. Not only in a particular field but in any service you can think of. They are the best, truly appreciate their care for the customers and professionalism.
100% recommended." —Aisulu Mukanbetova, Google Reviews
The bubblegum was no match for them
"Amazing service – managed to remove chewing gum which had been tramped into my 100% wool rug! They picked the rug up from my apartment, professionally cleaned it and removed all stains, and returned to me within less than 24 hours looking like a brand new rug! So impressed, and really friendly and professional service! Highly recommend." —Rebecca Neville, Google Reviews
4. Red Carpet Cleaning Services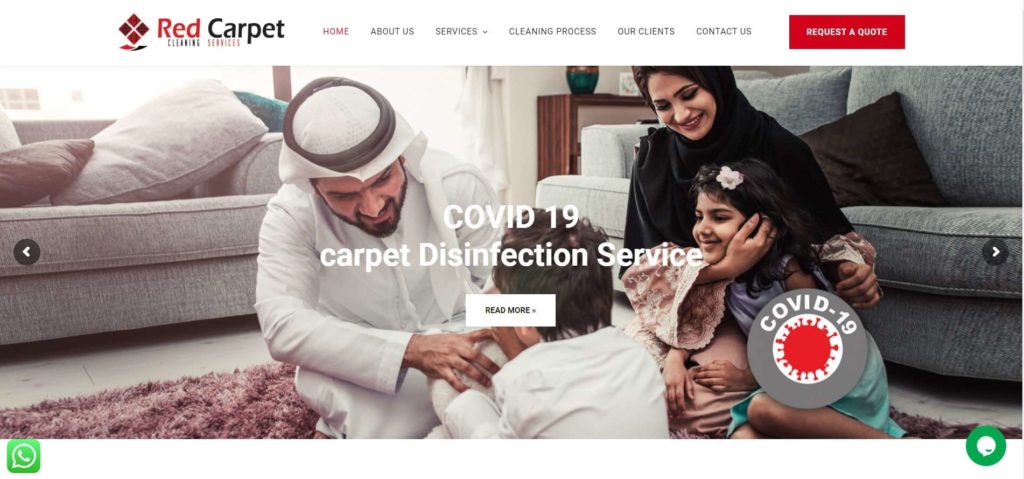 Test
Info
WEBSITE
https://www.redcarpetllc.ae/
ADDRESS
AL RASHIDIYA - BLK 3 - Marrakech St - Umm Ramool - Dubai - United Arab Emirates
CONTACT DETAILS
+971 (0) 4 283 3332

+971 (0) 55 412 7077

OPERATING HOURS
Saturday to Thursday: 8 AM–5 PM
| | |
| --- | --- |
| Criteria | Ratings |
| Experience | ★★★★☆ (4/5) |
| Methods | ★★★☆☆ (3/5) |
| Range of Services | ★★★★★ (5/5) |
Sometimes, carpets only go through mild damages that can be fixed within a few hours — that's where Red Carpet Cleaning Services comes in.
A government-certified professional carpet cleaning company for commercial and residential properties across Dubai, Red Carpet has been the go-to option for carpets that need emergency fixes.
David, found out about this company when he needed an on-the-spot stain removal service before his parents visit him. Red Carpet was there within a couple of hours and finished the job in less than one with its latest cleaning technological tools.
Besides that, the company can also do color restorations for worn-out rugs. And while we also think that these two repair services are severely limited, we do love that, for soft fixes, Red Carpet Cleaning Service can provide quick and efficient service.
Since it does mainly focus on cleaning, it is able to train its cleaners on carpet problems. And the result is a spotless and bright carpet.
As for its range of services, it is natural for the company to have more than just stain removals and color restoration because carpet repairs are not its specialty.
From Mosque carpet cleaning to luxury yacht cleaning services, Red Carpet is experienced in handling expensive spaces and carpets.
All in all, if you're looking for a quick fix for that pesky blot on your carpet or maybe you're thinking of finding a way to bring back its colors, Red Carpet Cleaning services can do that for you quickly.
Quick and efficient service
Wide range of cleaning services
Uses latest cleaning technologies
Professionally trained cleaners
Only offers stain removal and color restoration
Customer Reviews
They can handle any kind of stain
Red carpet is very professional and they take care very well of the clients and the clients' carpets the have well-experienced people in the workshop who can handle all kind of stains we are using red carpet services from last 1 year." —Adnan Khan, Google Reviews
I love their service here
"Red carpet employers came in with a smile as they introduced themselves. Great guys and hard workers, especially staff like Peter and Sharmaine. We have some carpets to be treated in Movenpick, especially corridor carpets. Now Our carpets look brand new, amazing. I highly recommend them bc of their high professionalism, always on time, they do what they say they will do, they keep you updated on when they are arriving g, also very friendly people and trustworthy. Not only that but the price is incredibly reasonable! I only leave a good review when a company has earned it and this company has definitely earned this review." —Saleesh George, Google Reviews
5. Carpet Washing & Carpet Repairing Experts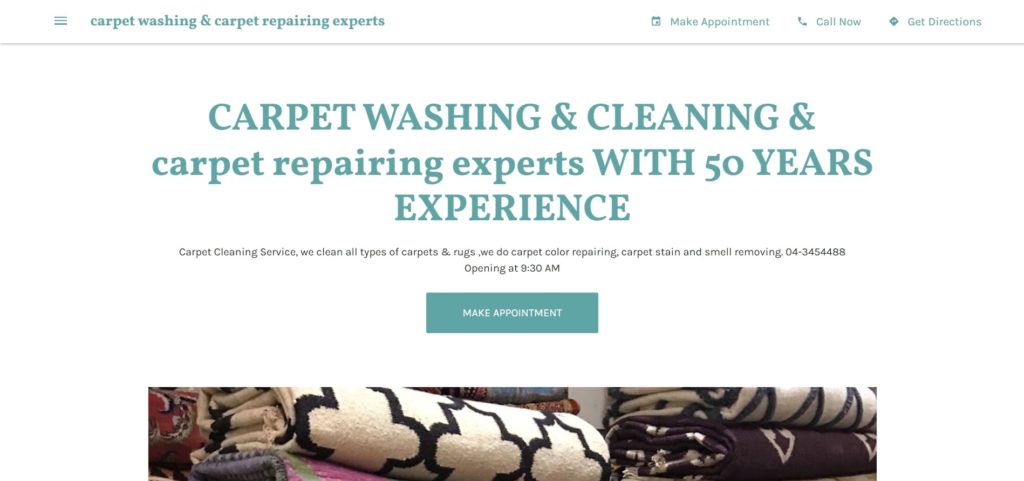 | | |
| --- | --- |
| Criteria | Ratings |
| Experience | ★★★★★ (5/5) |
| Methods | ★★★★★ (5/5) |
| Range of Services | ★★★★☆ (4/5) |
With 50 years of experience, Carpet Washing & Carpet Repairing Experts is as old as Al Madaen Carpet.
With Persian carpet repairers under its roster, this niche is covered by almost every carpet repair company, but nobody specializes in them as this one does.
For only 15 Dirhams per square meter, it is also one of the cheapest options we have on this list.
Ahmed, who bought a Persian rug from a flea market successfully restored it to its pristine condition with Carpet Washing & Carpet Repairing Experts.
Color restoration is one of the company's many specialties, but our favorite is the quality of its carpet cleaning.
Its specialists understand that different types of rugs require different methods of cleaning, so they offer dry cleaning, handwashing, and automated carpet washing.
The range of the company's services is limited to carpet cleaning and repairing only. However, its extensive knowledge of carpets means that it can address problems appropriately.
All in all, Carpet Washing & Carpet Repairing Experts is almost incomparable when it comes to experience and expertise.
And while it may be limited with its services, the services it does offer are among the best in the city. That earns them a spot in this list.
Has 50 years of experience
Specializes in Persian carpets
Cheap rates
Knowledgable in different methods of cleaning
Only offers carpet cleaning and repairing
Customer Reviews
Willing to do the toughest carpet jobs
"Tried cleaning carpet at home myself and made things worse, called them and they arrived the same day to collect my carpet. Took a week to receive the carpet back, only because it was so dirty and they had clean the carpet twice. Very professional, and friendly staff. Happy with the results and for a good price." —Gayatri Manoj, Zomato
They are the best!
"best carpet repairing and cleaning I have ever seen
they were very careful with our Persian carpets
and they had free picking up and free delivery services
which were very helpful
thanks" —Jeffrey Siso, Google Reviews
FAQs about Carpet Repairs in Dubai
---
We hope this helped you in finding services for carpet repairs in Dubai. If you're looking for other ways to maintain your home, then check out these articles: