The 5 Best Cooking Classes in Dubai
Whether you're looking to impress guests at your next dinner party, or to take that first step towards having your own restaurant, cooking classes are a great way to expand your culinary skills.
To give you the best bang for your buck, we attended some cooking classes in Dubai to give you our top picks. We also explain the different factors we considered in choosing them and answer some FAQs about cooking classes in Dubai.
How much does going to cooking classes cost in Dubai?
Attending a cooking class can vary depending on the length of the course, the type of cuisine, and the level of technique required for the class.
On average, taking a 12-month course in UAE costs AED7826. The cheapest course, which lasts for 2 hours, costs around AED99.
On the other hand, more premium courses can go up to AED80000 for a 12-month course.
The Best Cooking Class in Dubai
Before we get right into our list of the best cooking classes in Dubai, here are the criteria we considered in choosing them:
1. Apron and Glove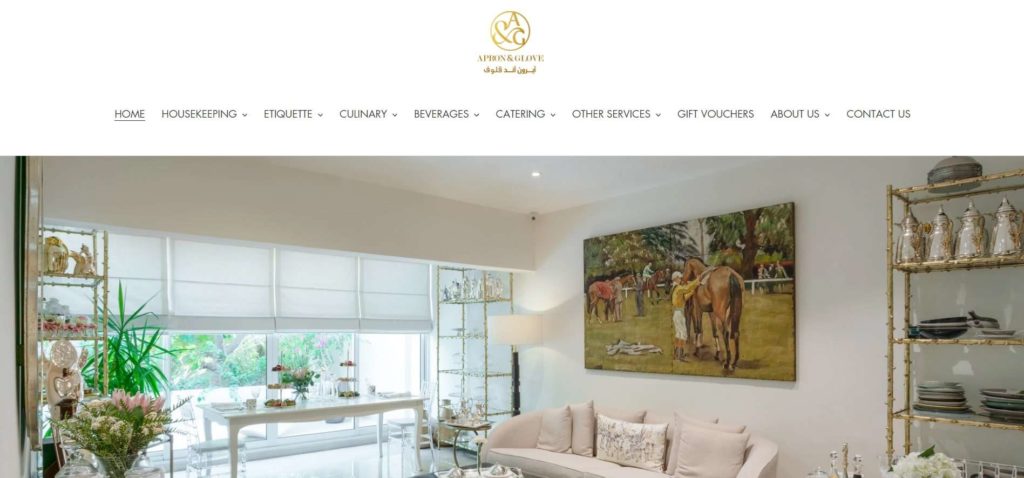 | Test | Info |
| --- | --- |
| WEBSITE | https://apronandgloveacademy.com/ |
| ADDRESS | 993 Al Wasl Rd - Al Manara - Dubai - United Arab Emirates |
| CONTACT DETAILS | +971 4 221 1130 |
| OPERATING HOURS | Sunday to Thursday: 9 AM–6 PM |
| | |
| --- | --- |
| Criteria | Ratings |
| Range of Menu & Recipes | ★★★★☆ (4/5) |
| Teaching Style | ★★★★☆ (4/5) |
| Facilities | ★★★★★ (5/5) |
With a dream to become a one-stop-spot for students to hone their skills on etiquette, culinary skills, and housekeeping, Apron and Glove is a boutique academy concept that has been paving the way in the lifestyle industry.
Its Hot Kitchen course covers over 14 impressive cuisines, from Emirati cuisine to French cuisine. Students have an option to choose one cuisine to focus on.
We love that the range of cuisines it has are pretty diverse and that all of these are being taught in a professionally equipped hot kitchen.
Although when we joined one of its classes, we quickly realized that each cuisine only covers very few dishes — which was disappointing as it felt like we didn't get much bang for our buck.
We were also let down by the cooking class as it was mostly just a demonstration, so we had a hard time catching up with the expert chef.
We would have liked more guidance, but we can imagine that the 3-4 hour course would have much even fewer dishes being taught if the chef looked over every student.
Despite that, cooking in the hot kitchen was a dream come true. The place was spotless, the equipment was well-maintained, and everything that we needed for that class was there — there was no need to do a quick grocery run for the ingredients before joining.
All in all, it has its shortcomings, most of which really just came down to the practicality of ensuring a sufficient number of dishes to be taught in such a limited time.
But it really does provide such a great environment to hone anybody's culinary skills. The facilities adhere to professional standards and the overall experience was fun and educational.
Wide range of cuisines being taught
The course only lasts for a few hours
Professionally-equipped kitchen
Environment was clean and organized
Engaging class and teacher
Each cuisine only teaches a few dishes
Lacks hands-on guidance from the chef
Customer Reviews
Everything you need to learn for home-making is here
"An integrated center for everything related to home-related training, they have the most wonderful training of butlers. In addition to cooking" —Fatma Mohammad, Google Reviews
Great vibes and excellent service!
A fun and entertaining way to learn how to cook authentic Italian food. Professional staff, spotless environment and a great night all around." —Loretta, Apron & Glove Academy website
2. Top Chef Dubai
| Test | Info |
| --- | --- |
| WEBSITE | https://www.topchefdubai.com/ |
| ADDRESS | Villa 196, Jumeirah Beach Road, PO BOX 212085, Jumeira 1 |
| CONTACT DETAILS | 043855781 |
| OPERATING HOURS | Saturday to Thursday: Class times vary Check the class calendar here. |
| | |
| --- | --- |
| Criteria | Ratings |
| Range of Menu & Recipes | ★★★★☆ (4/5) |
| Teaching Style | ★★★★☆ (4/5) |
| Facilities | ★★★★★ (5/5) |
This cooking studio was founded by a team of passionate gourmets eager to share their culinary knowledge with those who love food as much as they do.
Top Chef's homey studio is home to French chefs who all hold French cooking classes. They also hold classes for other cuisines if a visiting chef is willing to speak and teach.
At a glance, we were disappointed by the fact that this school is limited to French cuisine, however, we quickly realized that it is such a multi-faceted cuisine — it never runs out of different types of cooking classes to hold.
With French cuisine alone, it has a wide range of classes, from the basics like making Sourdough bread to the more advanced ones like cooking up some technically difficult French gourmet dishes.
We also love that the teaching style was a combination between a demonstration and a workshop. The chef really took us through every step of the recipe, and gave us tips and tricks, too.
We really liked that, at one point, we were all huddled together at one counter so that we can closely observe the chef and allow him to double-check our work.
However, we wished that the class that we took taught more than just one dish. But at the same time, the recipe we were learning required a lot of time to prepare and cook.
Our favorite part about the class was that we got to eat what we made in the school's amazingly styled dining room.
We love that this was a part of the experience. More than just learning a new recipe, we also got the time to meet new people and share each other's efforts and experiences in the kitchen.
As for its facilities, we love that all we literally had to bring was ourselves and our desire to cook that day.
Everything else, from the apron to the ingredients, was all neatly laid out on our counters. On top of that, we actually got a digital copy of the recipe after our class, which we thought was a great way to say thank you and ensure that we can repeat what we learned at our homes.
All in all, we had such a great time cooking with Top Chef Dubai. We love that there was a sense of community and harmony during the classes.
And despite our class being limited to only one recipe, we felt like we learned it enough that we can really do it on our own. Of course, the recipe that was sent to our emails would help a lot too.
Offers different kinds of French cooking classes
Classes end with a great dining experience
Well-equipped kitchen
Chef demonstrated and did some hands-on teaching
Class was limited to just cooking one dish
Cuisine being taught was just French cuisine
Customer Reviews
Everyone was so patient and fun
"We booked a private class on my birthday and it was a really amazing experience. Nadira is so knowledgeable and patient. She involved us throughout the whole process and the food was absolutely delicious. The menu was up to us to customize according to our preferences and we all thoroughly enjoyed it. 100% recommended!!" —Dana Ahmad, Google Reviews
Best birthday gift!
"Had an absolutely amazing evening with Nadira & team at TopChef Dubai. Did the Culinary Art class and we cooked a 3-course dinner that tasted delicious. The foods they use are top quality and we learned a lot. Well-equipped kitchen and cozy atmosphere overall. It was my partner's birthday and they put extra effort into making it festive with surprise desserts, birthday songs & party hats. We would love to come back – highly recommended!" —Johanna Krüger, Google Reviews
3. Vandana Jain Culinary Courses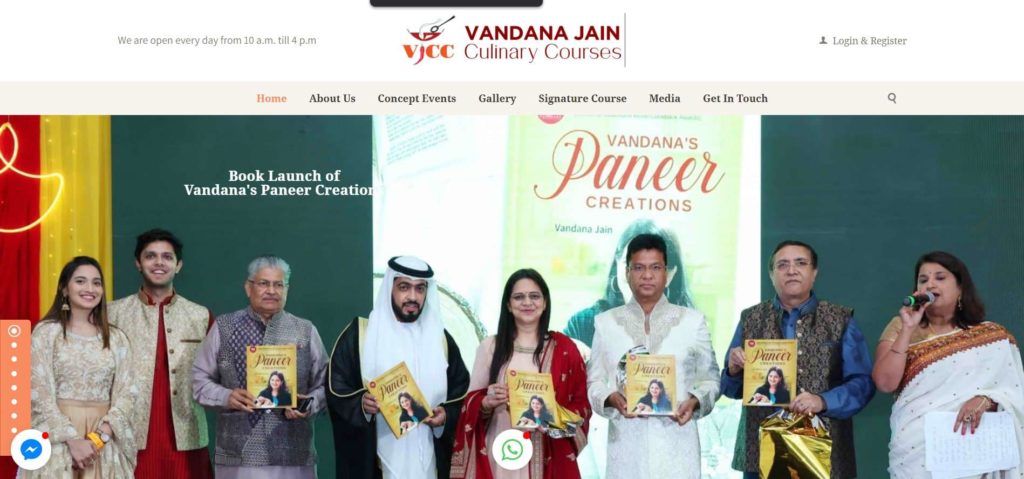 | Test | Info |
| --- | --- |
| WEBSITE | https://www.vandana-jain.com/ |
| ADDRESS | Latifa Towers, Sheikh Zayed Road - 1202 12th floor - Dubai - United Arab Emirates |
| CONTACT DETAILS | 043855781 |
| OPERATING HOURS | Every day: 10 AM–4 PM |
| | |
| --- | --- |
| Criteria | Ratings |
| Range of Menu & Recipes | ★★★★★ (5/5) |
| Teaching Style | ★★★★★ (5/5) |
| Facilities | ★★★★☆ (4/5) |
This modern culinary training facility was founded by Vandana Jain, a chef who helped popularize Indian vegetarian/ vegan cuisine.
Through its cooking classes, Vandana aims to make the perfect home chef in the simplest way by educating and developing unexplored culinary skills for anybody interested.
We love that besides teaching vegetarian/vegan Indian cuisine, which is taught by Vandana herself, it also holds classes for Italian, Mexican, Chinese, and Japanese cuisines.
All of these are being taught through its 85 courses that students can choose from. All these courses are also designed around aspects like the flexibility of time, and their budget.
We decided to take up the Indian vegan course, which was taught by Vandana herself.
We love how the main principle she follows in cooking is simple yet amazing flavors can be achieved through basic recipes that suit your means.
And while the class was mostly just demonstrations since this course is apparently always full and doing a hands-on approach has become impractical, we still enjoyed the amount of knowledge she shared with us.
The facilities were not restaurant-level, but that wasn't the point. We appreciated that our cooking classes only involved the things you'd usually find in your house's kitchen.
This way, it was easy for us to work around the limitations of our own kitchen, and we were able to cook within our means.
However, at some point, cooking in a kitchen that barely fit all of the students got difficult, and we had a hard time moving around without the fear of bumping into someone.
All in all, Vandana Jai Culinary Courses is perfectly equipped with knowledge and facilities to help anybody take their cooking to the next level.
The quality of learning doesn't just end at the creativity and complexity of the recipes, but it also extends to practicing cooking within your own means.
Offers 85+ cooking courses
Courses span over 5 cuisines
Equally values quality and practicality of cooking
Some kitchens were too small for the number of students
Customer Reviews
Best place to elevate your cooking
"I am so glad I found VJCC and joined it. Vandana mam is the best mentor and pays personal attention to your progress. Her knowledge of culinary skills is commendable. The courses are designed well and are very focused. The location is convenient. If cooking and baking is your hobby and you want to take it to next level, then VJCC is the place." —Namrata Pankanti, Google Reviews
Vandana is an extraordinary teacher
"Vandana Jain's cooking classes are an amazing experience for anyone; she will bring out the best in you and make you a master Chef; A lady with lots of patience and passion for cooking; be it a beginner or a regular student, she gives each one individual attention and sees that we're doing our best; value for the money you have paid for the class; she knows cooking in any level and also she sees to it that we're experts in our own way in the Culinary journey" —Rashmi Govindan, Google Reviews
4. Mamalu Kitchen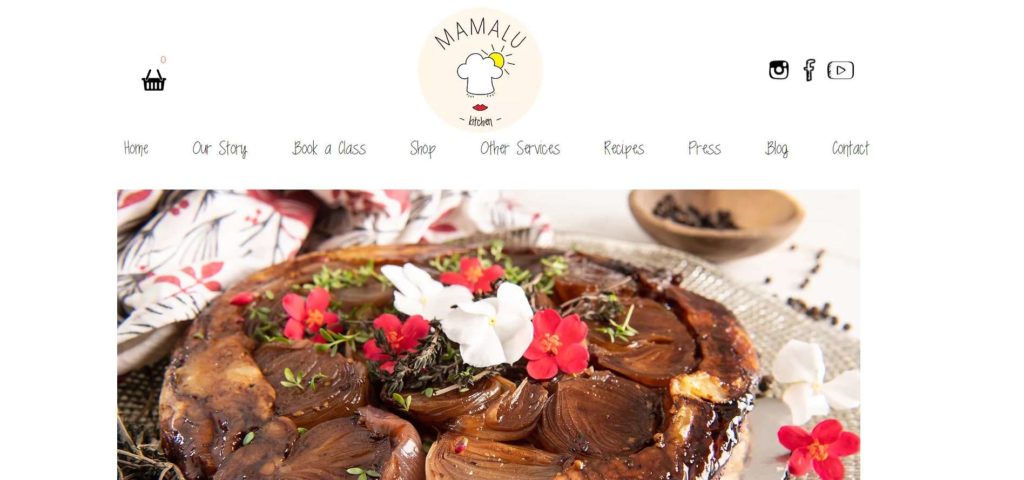 | Test | Info |
| --- | --- |
| WEBSITE | https://www.mamalukitchen.com/ |
| ADDRESS | 447Q+F78 - Nakheel Mall Palm Jumeira Dubai - Dubai - United Arab Emirates |
| CONTACT DETAILS | +971 52 747 9512 |
| OPERATING HOURS | Every day: 9 AM–5 PM |
| | |
| --- | --- |
| Criteria | Ratings |
| Range of Menu & Recipes | ★★★★☆ (4/5) |
| Teaching Style | ★★★★★ (5/5) |
| Facilities | ★★★☆☆ (3/5) |
Launched in 2016 to help housekeepers and nannies, Mamalu Kitchen quickly started taking in mums/children, schools, couples, corporations, and even husbands.
Mamalu Kitchen teaches traditional Arabian cooking and recently started Easy Freezy – a class that focuses on all-natural, easy-to-cook frozen food products for families on the go.
Besides that, it has a variety of classes, all unbounded by specific cuisines. From truffles to basics of Thai cuisine, Mamalu Kitchen has a different class each day.
While we enjoy the variety of this kitchen studio, we wish that it had a routine or weekly classes that students can come to expect.
By having a different class each day, regular students lack the depth and technical proficiency that everyone learns when they focus on one type of cooking.
Despite that, the classes are well-handled. On top of the chef actually demonstrating recipes, they also have assistants that go around to check and help students get the techniques right.
We actually think this is the best approach to a cooking class out of all our entries. It's quite efficient and effective because it ensures that the class goes without distractions and that everyone can catch up with some help.
As for its facilities, we felt like it was adjusting its classes based on the appliances and tools that were available, instead of the other way around.
At one point, we suggested if a technique would be done more efficiently with a different kind of tool, to which the chef agreed but admitted that they don't have enough of that tool for everyone in the class.
Despite that, Mamalu Kitchen shines in the variety of classes it offers. It's the best option for when friends and couples want to look for an activity they can all go to together, but not for those who are seriously looking to enhance their cooking skills.
Offers a different cooking class each day
Has a chef and assistants to facilitate the class
No regular routine classes that help master technical skills
Some cooking tools are unavailable
Customer Reviews
Cooking was made even more fun
"I attended the Sicilian Cooking with my sister and niece and thoroughly enjoyed it. The staff & the wonder were super friendly and were very welcoming. The place was really clean and tidy. This session helped me destress & I'll surely go back again. Thanks for everything & see you again soon. 😊." —Juhaina Al Fardan, Google Reviews
Helped me jumpstart the chef in me
"Was invited by a friend last month to take a class with them, even though I can't cook to save my life. One of the best experiences I've ever had while learning. I never knew it would be so enjoyable. Highly recommend going for a class." —Harry Politis, Google Reviews
5. Culinary Boutique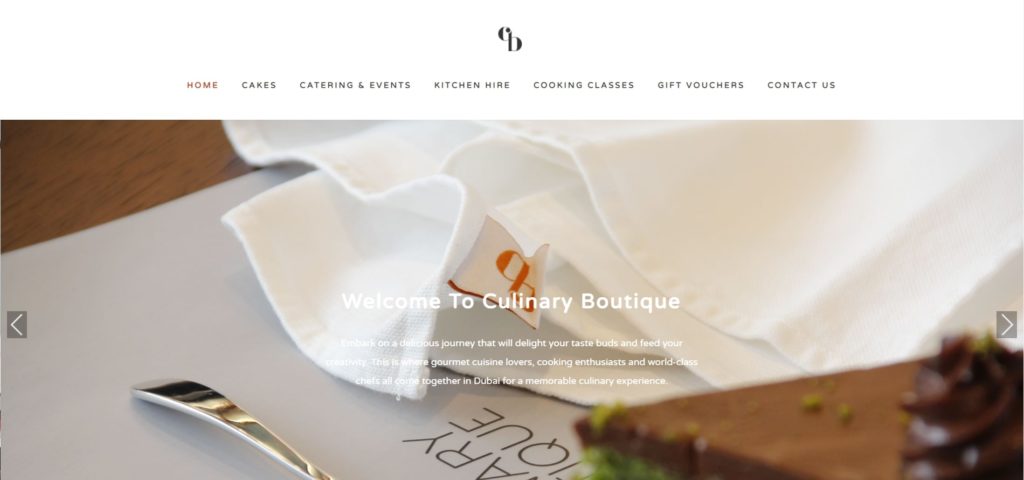 | Test | Info |
| --- | --- |
| WEBSITE | https://culinaryboutique.com/ |
| ADDRESS | Villa 56, Jumeirah 1Has another branch in the city |
| CONTACT DETAILS | +971 4 345 0023 |
| OPERATING HOURS | Every day: 8 AM - 10 PM |
| | |
| --- | --- |
| Criteria | Ratings |
| Range of Menu & Recipes | ★★★★★ (5/5) |
| Teaching Style | ★★★★☆ (4/5) |
| Facilities | ★★★★★ (5/5) |
With over 100 cooking classes, Culinary Boutique has been offering world-class hands-on training and facilities for those pursuing cookery as a hobby or lifestyle.
We love how its range of cooking courses spans a variety of cuisines, from Italian to Thai to Arabic cooking.
And the best part about this is that all of these classes are held weekly, making it a great option for those who really want to focus on a specific way of cooking.
We really love the fact that students can hop on and off whenever they want wherever they are in the course, giving them control and flexibility over their culinary journey.
Another strong point of this school is that its instructors are very hands-on with their approach to teaching.
We really appreciated that they allowed us to go creative with how we wanted to approach the recipes and encouraged us to put our own spin on them.
However, their hands-on approach delayed the class. And at some point, we sometimes found ourselves not knowing what to do while the instructor helped the other students.
Despite that, we can really say that having someone really check your work every step of the way resulted in great dishes.
The facilities were clean and well-organized. The way the kitchen was kept up to standards proved that the instructors are well-experienced in the culinary industry.
All in all, Culinary Boutique is one of our top picks because it really allows students to go in-depth into the cuisine and courses they want to focus on while giving them control over their culinary journey.
Offers in-depth cooking courses every week
Hands-on approach to teaching
Facilities were professionally maintained
Hands-on approach stalled the class at some point
Customer Reviews
A fun cooking class experience
"We had a cooking class here and it was a lot of fun, it tasted so good as well😻😻
Most importantly, the kitchen was really clean and it was quite a fun experience 😊 thanks so much." —Noaf Alblooki, Google Reviews
Impressed by everything from Culinary Boutique!
"First of all, I don't leave online reviews generally but this experience tonight was way above expectations and I want to share this with people so they get to enjoy the same as i did! Amazing concept (it's a cafe, restaurant, and cooking school), super good attention to every detail, you can feel there is the concept behind everything in this place! I traveled around the world over the last 10 years and I know exactly when something is outstanding… well this is. I worked in Italy for 2 years and ate in approx 200 different restaurants but the mushroom risotto here is the best I've ever had. The quinoa salad we just ordered because my wife is vegetarian blew me away too! And the lentils … generally I hate lentils, just ordered it for my wife, but these chefs were able to bring possibly the best out of lentils, I loved it! And the salmon… I just ordered it because I wanted a lot of protein after my heavy workout… it came as a pretty big portion, with a sauce that was WOW!!! Thumbs up guys well done and do more marketing when covid goes away… incredible job!" —Danny Laczo, Google Reviews
FAQs about Cooking Classes in Dubai
---
We hope this helped you in picking out a cooking class in Dubai. If you're looking for other ways to learn new skills or further a hobby, then check out these articles: