5 Companies for the Best Blinds in Dubai
Featured Image Source: Mitchell Griest
The colour and style of your blinds can make or break the look of your space. To get the best-suited blinds for your home interior, get the services of one of the companies that provide the best blinds in Dubai.
In this article, we've provided a guide on how to choose a provider that can give you the best blinds in Dubai. So you're prepared for the cost of blinds in Dubai, we've even researched their prices and compiled them in the table below.
At the end, we've also included a list of the best blinds company in the city so you can find your ideal blinds ASAP.
How Much Do Blinds Cost in Dubai
The table below contains the cost of the most common blinds available in Dubai. The actual price may vary depending on your chosen provider.
| | |
| --- | --- |
| Pleated blind | AED19/panel |
| Roller blind | AED95 to 625/panel |
| Cellular blind | AED75 to 115/panel |
| Roman blind | AED125/panel |
How to Pick a Company for the Best Blinds in Dubai
To ensure that your blinds will last you long, choose a reliable blinds company. Find a company for the best blinds in Dubai today with these tips below as your guide.
Opt for a provider that offers a variety of options
Blinds shouldn't only keep sunlight out of your space and give you privacy. It should also fit your home interior and contribute to the room's overall look. That's why it's important to find a blinds provider that offers a wide range of options.
A good blinds company should not only offer different types of blinds but also allow you to choose from a variety of designs.
Meanwhile, if you want your blinds to be in a particular style that is not available in the market, it would be best for you to look for a blinds company that offers customisation services.
Choose a company that provides installation services
A blinds company that provides installation services saves you from the hassle of looking for a different provider for the service. At the same time, it also reduces the total cost of getting blinds for your home.
If your blinds provider does offer installation services, you should still check their expertise.
A provider that has more years of experience in installing blinds ensures you that your blinds will be put up properly and that the installation will last long.
Look for a warranty
Opt for a blinds provider that offers a warranty. This is important especially if you're getting blinds for your entire house or even just for several windows in your home.
A guarantee protects you from the costs of getting faulty or substandard products. It makes the blinds company responsible for providing a replacement for your blinds.
It's also a plus if your blinds provider offers a warranty on their installation service. This enables you to call them over to fix the installation for no added cost.
The Companies for the Best Blinds in Dubai
Now that you know what to look for in a reliable blinds provider, let's get you started on your search with this list of companies for the best blinds in Dubai!
1.   Dubai Blinds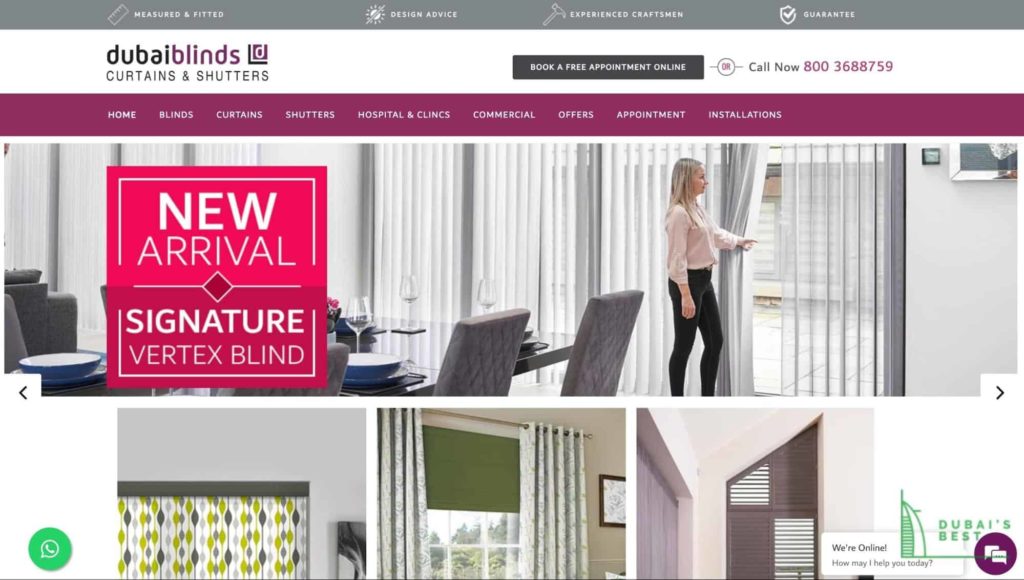 | | |
| --- | --- |
| BEST FOR | Free consultation, quotation, and fitting service |
| WEBSITE | http://www.dubaiblinds.com/ |
| ADDRESS | Area E4, Unit 016, SAIF Zone, Sharjah, United Arab Emirates |
| CONTACT DETAILS | 800 368 8759 +971 6 557 0609 [email protected] |
| OPERATING HOURS | Saturday – Friday: 9:00 AM – 9:00 PM |
If you want to have a wide variety of options, Dubai Blinds offers a variety of blinds in Dubai.
Besides the common roller, panel, vertical and Roman blinds, the company also has faux wood and wood and aluminium Venetian blinds. They can also motorise your choice of blinds for your convenience.
Dubai Blinds also enables you to make an informed choice for your blinds. You can book an appointment and consult for free with one of their advisors. This advisor will discuss with you the different styles of blinds for your space in the comfort of your home.
After the consultation, you can get a quote and measuring services for free. Dubai Blinds will then start the production of your made-to-measure blinds at their factory.
Provides installation services
12-month guarantee
Special offers available
Can supply for commercial spaces and even hospitals
Customer Reviews
Dubai Blinds received a perfect 5-star rating on Google from almost 1,000 customers. Deena R., one of their satisfied customers, said:
"Manoj and Reynan were incredible! On-time, accommodating, and they were so fast with installation. They also very kindly tried to keep the noise at a minimum when I told them my parents were asleep in the next room. Thank you for your help. Would recommend to friends."
Another previous client, Vince Cami, reviewed:
"Richard and the team from Dubai blinds are very professional and friendly. They completed curtain and blind installations in a flawless and timely manner with perfect results. Highly recommended."
2.   Creative Touch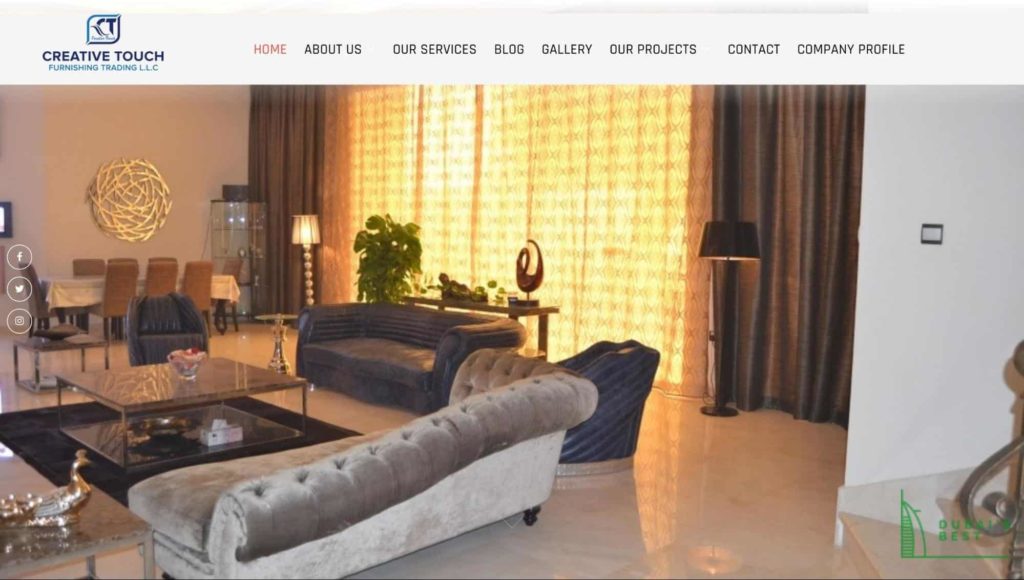 BEST FOR
Procurement of blinds
WEBSITE
https://creativetouchdubai.com/
ADDRESS
Naif Rd., Deira, Dubai, United Arab Emirates
CONTACT DETAILS
+971 55 549 1562
+971 4227 3224
+971 4223 2764


[email protected]

OPERATING HOURS
Saturday – Thursday: 9:00 AM – 9:30 PM
Creative Touch can provide your home furnishing needs in Dubai such as carpets, wallpapers, upholstery, and blinds.
They are the ideal blinds provider for people who don't have a design in mind. They have an in-house interior designer who can guide you in choosing the type of blind and design that best fits your home interior.
Furthermore, Creative Touch also qualifies as one of the providers for the best blinds in Dubai for the lengths they go to provide clients with the best-suited blinds.
Their procurement specialists can find you your ideal blinds from their many international manufacturer contacts. Because of this, they are the trusted blinds provider by many commercial clients in Dubai.
Wide global network for blinds procurement
Provides installation service
No guarantee
Blinds are not made-to-measure
Customer Reviews
Happy client Zohaib Haider reviewed Creative Touch. They said:
"Having dealt with quite a few suppliers in the market, I have always been disappointed with the quality and efficiency of their work. It was very frustrating to keep looking for suppliers for the house and there was no dialogue/consultative approach.
Having worked with Creative Touch, the owner himself was actively involved in doing a site visit, evaluating options, and recommending the one that best fits considering the size, design of the apartment, and timelines.
I was impressed with the approach and became sceptical of the delivery like we do here in Dubai. To my surprise, the blinds they installed in my living room and blackout curtains in the bedrooms was even better than what I had pictured.
From then on, I've recommended them to hotels, friends, and all of them have only come back to thank me. I have no hesitation in recommending them!"
Ivan Moniz also shared:
"I have recently purchased from Creative Touch and indeed had a good experience. Right from selecting till fitting, everything was taken care of.
I would love to recommend them for your house requirements. Do try and you will not regret."
3.   Blinds & Curtains Dubai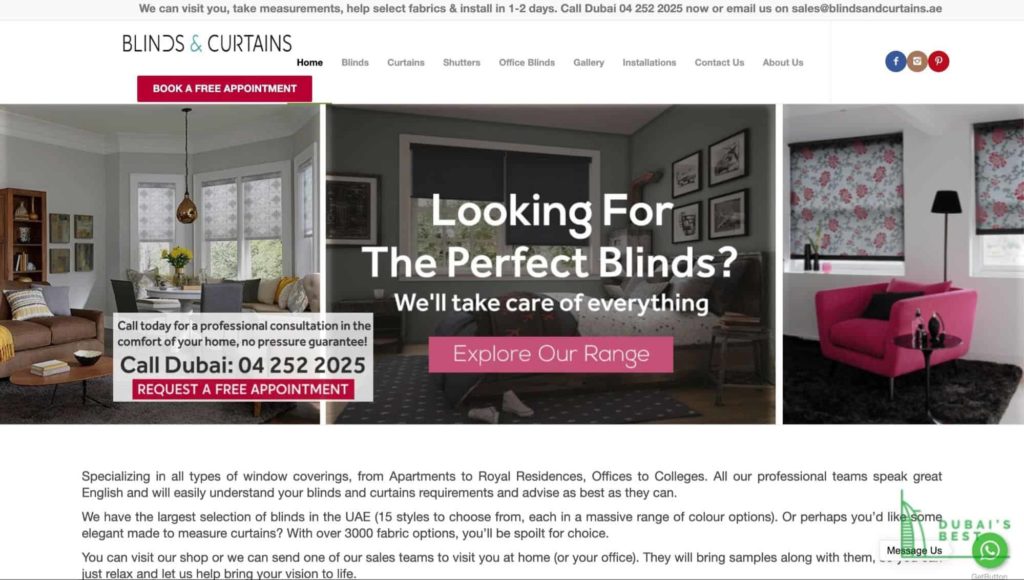 BEST FOR
Quick consultation and installation process
WEBSITE
https://blindsandcurtains.ae/
ADDRESS
Shop 9, 6 Street, Oud Metha, Behind Lamcy Plaza, Dubai, United Arab Emirates
CONTACT DETAILS
04 252 2025


[email protected]

OPERATING HOURS
Saturday – Thursday: 9:00 AM – 6:00 PM
Blinds & Curtains Dubai can provide you with any type of window covering, such as curtains, shutters, and blinds.
For blinds, they offer 15 different styles, such as the Eton and Patricia blinds. These blinds also come in a wide variety of colours so you can find one that best suits your space.
They can also make you custom blinds that perfectly fit your windows. You can even opt to have your blinds automated.
For your convenience, you can choose to visit their Oud Metha shop or you can ask them to come to you for a consultation. The best part is that Blinds & Curtains Dubai can finish the consultation, fitting, and installation within 2 days.
Due to their efficient services, they are trusted not just by residential clients, but also by commercial clients, including those in property development.
Lifetime guarantee
Provides installation services
Tendency to be fully booked
Customer Reviews
Elisabeth Mueller shared their experience with Blinds & Curtains Dubai, saying:
"Excellent experience and highly professional service!!! I requested a quote and it was done in no time. I had a couple of change requests and Lorna and the B&C team were always very helpful.
The installation of the Duplex blinds and curtains was executed very professionally and exceptionally fast. Rick and Ray did a great job. I can highly recommend Blinds & Curtains Dubai, well done, thank you I am still very happy with it."
Meanwhile, Franzine Roxas reviewed:
"Best service ever! First off, they are the only company that replied when I asked for a quote. I was able to get a home visit/consultation the next day.
The prices were reasonable and Teddy was able to turn it around and install our blinds for 2 bedrooms in only 2 days! This is absolutely amazing given that a long weekend is coming and we would've had a tough time sleeping in the rooms for the next 4 days if he hasn't made it possible.
Special thanks to Rey as well for the quick installation. Highly recommended!"
4.   Rimini Blinds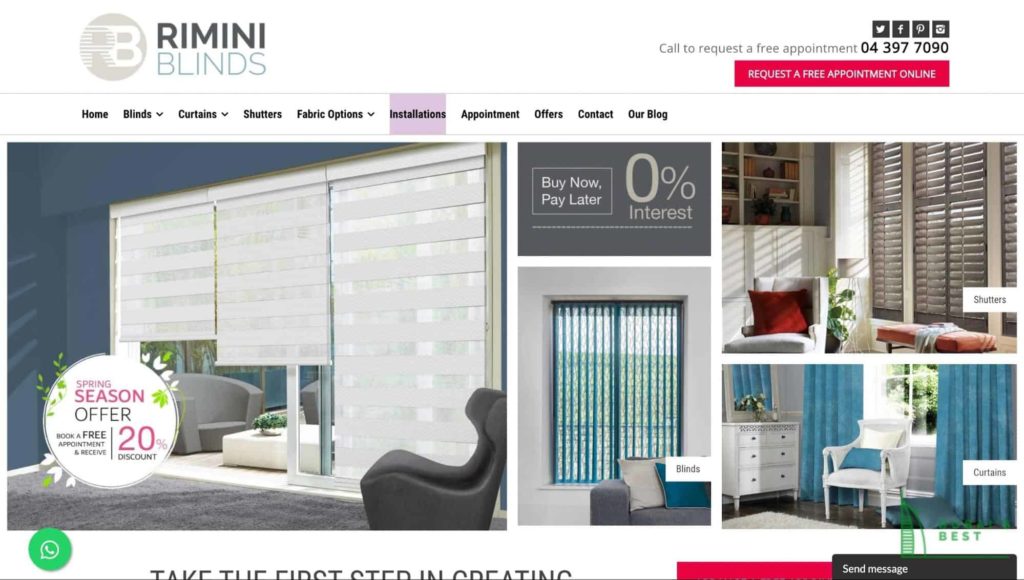 Rimini Blinds provides made-to-measure blinds in different styles, including duplex, vertex, and honeycomb.
They can also print your organisation or business's logo on your blinds, an offering that makes them unique from other blinds providers in Dubai. Plus, they provide motorisation services for your ease of use.
So the children in your home can play freely and you retain your peace of mind, they can also equip your blinds with a child-safety device.
What's more, Rimini Blinds offers discounts on their blinds and other window cover offerings. You can also buy now and pay later with zero interest.
Provides installation services
Lifetime guarantee
Offers discounts
No maintenance or cleaning service
Customer Reviews
Joe Agan, one of Rimini Blinds' previous customers, shared:
"We are so happy for our blinds installed by the 2 best of your team Rex and Renel.
Our villa's windows are not in equal length and they did an amazing job installing the blinds properly. It's a bit tricky but they did it right.
Thank you, Rimini Blinds for making our home more lovely. God bless your team and company."
Another satisfied customer, Kristijan Binski, said:
"I could not be happier with the service provided by Rex and Renel! These 2 amazing guys understood our fairly complex and unique idea and made it possible without any troubles. They were also very fun and friendly and we really enjoyed chatting with both of them.
The quality of the vertical blinds and sheer curtain that we ordered seems to be great and our home looks 10 times better! All in all, we are really happy and wish to see more professional staff in Dubai like these two! Thanks, guys you are awesome!"
5.   Curtains Expert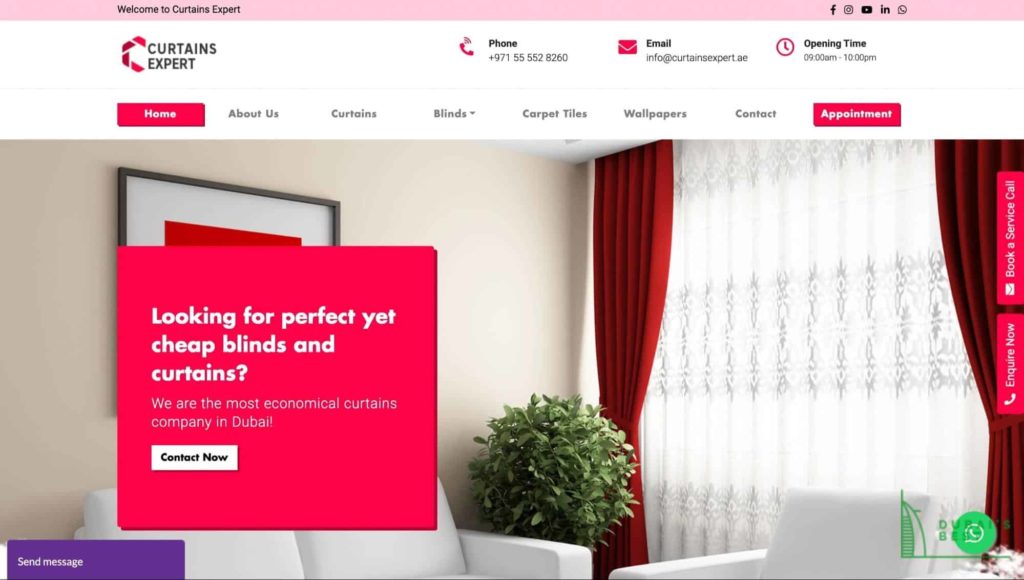 BEST FOR
Blinds installation, maintenance, and cleaning services
WEBSITE
https://curtainsexpert.ae/
ADDRESS
Naif St, Deira, Dubai, United Arab Emirates
CONTACT DETAILS
04 271 0056
+971 55 552 8260


[email protected]

OPERATING HOURS
Saturday – Friday: 9:00 AM – 10:00 PM
Besides curtains, Curtains Expert provides other home maintenance needs in Dubai, such as carpets, wallpapers, and blinds.
They can make blinds with custom designs that perfectly fit your windows. They can even supply motorised blinds.
Their services also include free consultation and installation. In fact, they have experienced staff who can install your blinds properly and tidily so you're assured of the quality of your blinds installation.
Due to the company's expert service, they have gained residential clients as well as clients in the corporate, medical, hospitality industries, and more.
Provides installation, maintenance, and cleaning services
24/7 customer service
Requires advanced payment
No guarantee
Customer Reviews
Previous client Gemma Barlow was pleased with Curtain Expert's service. They reviewed:
"Really terrific service. I have used these guys three times now for 3 different houses, each time adjusting the original curtains and making new blinds. They are very quick with high attention to detail and very professional. Highly recommended."
Alice Letitia also shared:
"I rarely write google reviews, however, I felt impelled to commend the wonderful, efficient, and professional service provided by Curtains & Blinds Expert! They are very fair regarding pricing and the finished product is of high quality. Would highly recommend it!"
FAQs about the Best Blinds in Dubai
---
That's all for our list of companies for the best blinds in Dubai. With one of these providers, you'll surely get a sturdy window cover that best fits your home interior.
Do you know other blinds providers in Dubai we should add to this list? Let us know by sending us a message.
If you're also looking for a reliable moving service provider in the city, you should definitely check out our list of the best movers in Dubai.