The 5 Best Barber Shops in Dubai
Finding a barber shop that understands how you want your haircut is a journey that all men go through, and it's rare that we ever find it the first time around.
To help you along on this grooming journey, we scoured the entire city to give you the best barber shops in Dubai. We're also sharing with you the factors we considered in choosing, and answering some FAQs about barber shops in Dubai.
How much does it cost to go to a barber shop in Dubai?
The cost of going to a barber shop depends on which services you will be availing of. Some barber shops offer packages that include multiple services at a discounted price.
To give you a starting point, we've made a table of the price range of the common services that barber shops offer in Dubai.
| Grooming Services | Average Amount of Money Spent |
| --- | --- |
| Haircut | AED75 - AED175 |
| Hair Trim | AED85 - AED100 |
| Beard Trim/Shave | AED40 - AED130 |
The Best Barber Shops in Dubai
Before we get right into our top picks for the best barber shops in Dubai, here are the factors we considered for our entries on this list:
1. Bô Barbershop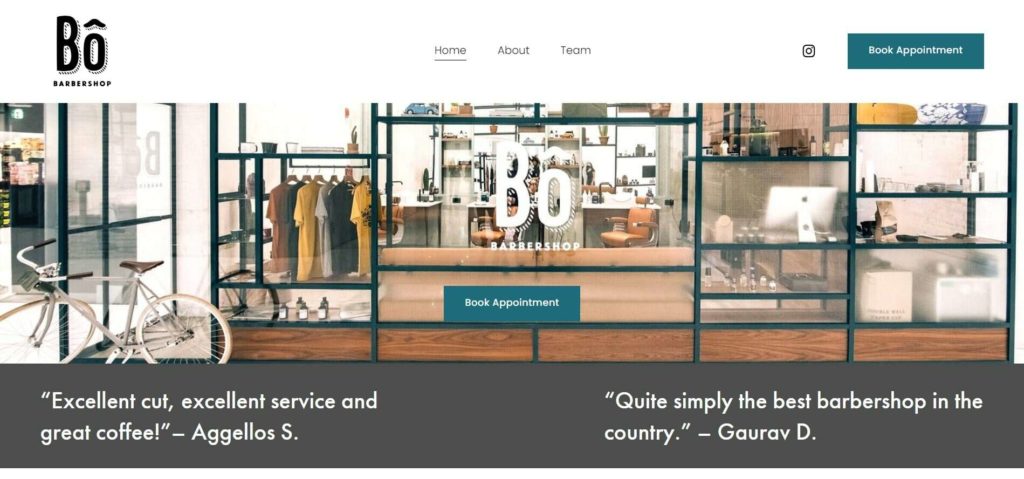 Test
Info
WEBSITE
https://www.bobarbershop.com/
ADDRESS
The Bay Gate, Al Mustaqbal Street

Business Bay, Dubai, United Arab Emirates

CONTACT DETAILS
+971 58 999 2614
OPERATING HOURS
Monday to Friday: 9 am - 9 pm

Saturday to Sunday: 10 am - 8 pm
| | |
| --- | --- |
| Criteria | Rating |
| Service | ★★★★★ (5/5) |
| Atmosphere | ★★★★☆ (4/5) |
| Range of Services | ★★★★★ (5/5) |
| Location | ★★★★☆ (4/5) |
Bô Barbershop proves that great things come in tiny cozy barber shops. With only 3 chairs and a passionate and highly competent team, this barber shop prioritizes the quality of service more than the quantity.
Johnny has been one of its loyal customers for the past 3 years. He comes in every month for his usual and told us he always comes out feeling like himself again.
We love that the shop has a mellowed-out chill vibe that resonates in its service. The priority is to get customers relaxed and comfortable and get that mindset to stay until the next haircut.
The shop's decor is inspired by its love of the outdoors, camping, and surfing. The accents are drawn from earthy colors, like the khaki leather upholstery and the deep browns on the wall panels.
Besides that, we also love that its barista serves great coffee to accompany each customer in their grooming journey.
It also sells some apparel that we found to be actually quite chic, despite the relative disconnection to the services the shop offers.
As for the range of its services, we love that it covers the basics, from haircuts to beard trimming. On top of that, it also has hair treatments and a face mask option.
However, we noticed that it lacks services for the nails, which is not necessary but could be a great addition to its offerings.
On the topic of its location, while the shop only has one branch — which is such a big drawback for a barber shop that only has 3 chairs — we do love the fact that it's right in the middle of the city.
Found in Bussiness Bay, surrounded by offices, hotels, and commercial destinations, it's a prime location that's perfect for a great barbershop like this one.
Highly passionate and competent service
The atmosphere is relaxed
Serves coffee
Centrally located
Only has 1 location
Apparel being sold is distracting
Customer Reviews
A barber shop unlike any other in the world
"Genuinely the best barber I've ever had. After getting cuts around the world, I still haven't found an artist as skilled as Oliver. Service is also unparalleled to top it off. An amazing team as well. A vibe you won't find anywhere, great music and great ambiance." —Imraan Karim, Google Reviews
Impressive barber shop
"It is my first time at Bô's and I am impressed with the experience. V is helpful and able to understand the hair type and texture, thus enabling him to give the best haircut for you. Great service, lovely vibes and they do serve coffee for free. Highly recommended." —Mervin Joseph, Google Reviews
2. CG Barbershop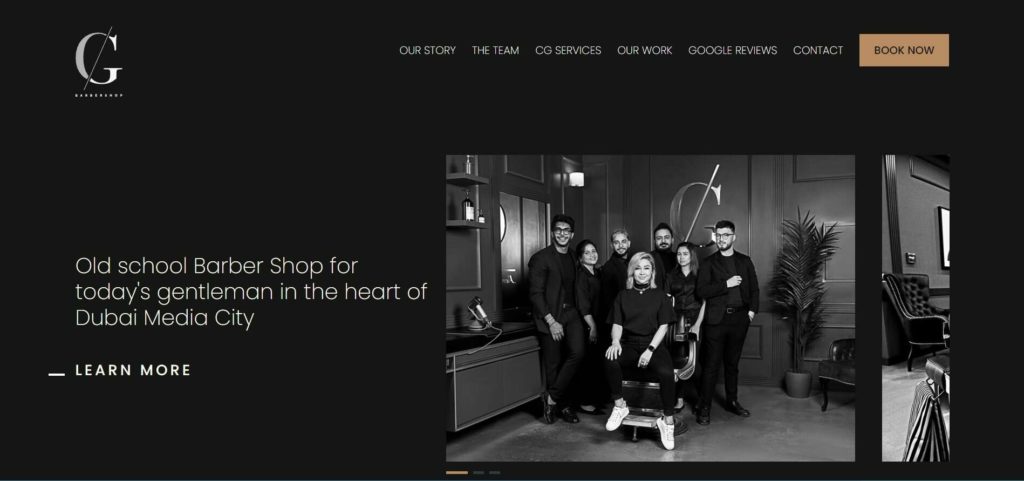 | Test | Info |
| --- | --- |
| WEBSITE | https://cgbarbershop.com/ |
| ADDRESS | Arjaan by Rotana, Al Sufouh Complex - Dubai - United Arab Emirates |
| CONTACT DETAILS | 04 227 4666 |
| OPERATING HOURS | Every day: 10 am - 8 pm |
| | |
| --- | --- |
| Criteria | Rating |
| Service | ★★★★★ (5/5) |
| Atmosphere | ★★★★☆ (4/5) |
| Range of Services | ★★★★★ (5/5) |
| Location | ★★★★☆ (4/5) |
A barber shop that keeps the old traditions alive and led by Carlos Gamal, who has been cutting hair since he was 11, this is CG Barbershop.
Dedicated to technical barbering and grooming, this barber shop is composed of widely recognized and skilled barbers and hair stylists.
So it's no wonder that Christian gets his hair cut here every 2 weeks.
As a model, he loves going here because CG Barbershop does clean and simple haircuts the best. He shared with us that the accuracy and careful consideration of many factors before every haircut is what keeps making him come back.
We love that CG Barbershop really focuses on the techniques and fundamentals of cutting hair, and its barbers are possibly the best ones at this.
We also love the overall gentlemen's den vibe that the barber shop exudes. While the execution is kind and the styling feels somewhat inauthentic, it's undeniable it conjures the high society fantasy that it gives in its haircuts.
From the black leather chairs and minimalistic contemporary decor to the elegant finishings on the wall and the ceiling, CG Barbershop knows what its services are about and we can see that in the shop's vibe.
On top of that, it serves great shots of espresso alongside some small finger snacks that are perfect while you're waiting for your turn in the chair.
Another great thing about this barber shop is its range of services. While it keeps things traditional and technical, it implements this in modern offerings.
From basic haircuts and skin fades to hair and beard coloring, CG Barbershop knows where hair trends are headed and is prepared to accommodate these with competence.
As for its location, it only has one, and it's found in the Al Sufuoh complex, which is a resort complex that is a local hotspot for those looking for a place to spend their weekend in.
Specializes in technical barbering and grooming
Team is composed of widely recognized barbers and hair stylists
Luxurious atmosphere
Wide range of grooming services
Only has 1 location
Interior styling feels inauthentic
Customer Reviews
High-quality equipment for high-quality haircuts
"My first time there. Overall experience was great. Quality of cut was really professional. They use Dyson products so the entire salon is a Dyson showcase. Right from dryer to straightener etc. They sell the same." —Aamir Jaffar, Google Reviews
I'll never go anywhere else
"I got a Skin fade & beard trim along with Keratin Short Hair – Wash Application | Straighten | Wash | Style
From the beginning till end Abidel instilled confidence which made me feel comfortable. He knew exactly what he was doing and what I wanted. If you want a haircut go to a barbershop. If you want The best look go to the professionals at CG Barbershop. I wouldn't go anywhere else." —Wilton Nova, Google Reviews
3. Goodfellas Dubai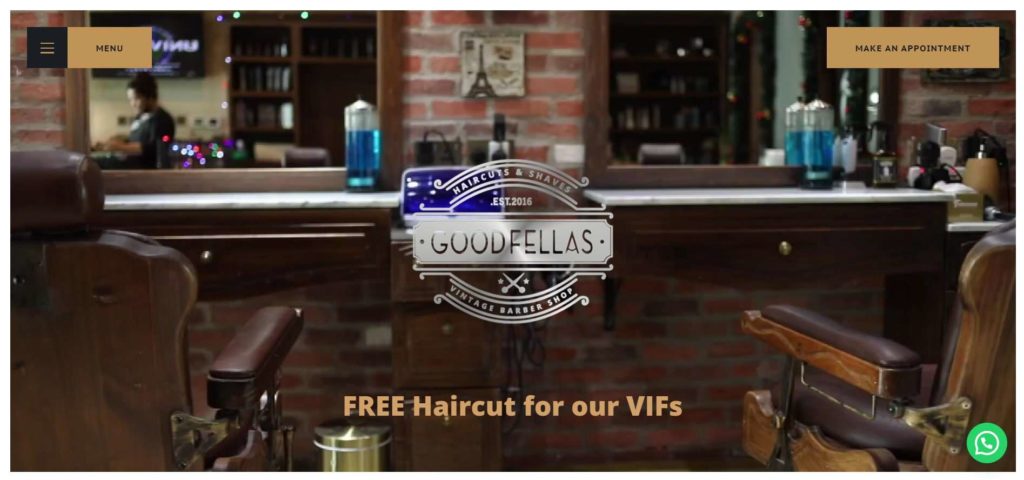 Test
Info
WEBSITE
https://www.goodfellasdubai.com/
ADDRESS
Shop 1, MAG 218 Building, Marina Drive - Dubai Marina - Dubai - United Arab Emirates
CONTACT DETAILS
+97145539882
OPERATING HOURS
Sunday to Thursday: 7 am - 12 am

Friday to Saturday: 9 am - 12 am
| | |
| --- | --- |
| Criteria | Rating |
| Service | ★★★★★ (5/5) |
| Atmosphere | ★★★★★ (5/5) |
| Range of Services | ★★★★★ (5/5) |
| Location | ★★★★☆ (4/5) |
Goodfellas Dubai is a barber shop that was created for those who appreciate premium quality, time and flawless looks. First and foremost a gentleman's salon, this barber shop takes pride in its reasonable prices for the best quality services.
Naji, who has been going to Goodfellas for a year now, keeps coming back because of its friendly barbers and close-knit service.
We love how the barbers here become friends with their customers, making it easier to communicate with them about the haircut they want to get.
We also love that the barbers take their time to cut, making sure every line and detail gets the attention it deserves. However, we have to admit the haircuts do take a while to finish, so make sure you have time on your hands.
As for its atmosphere, we love the mix of elegance and industrial masculinity in the interior. While brick walls and distressed wooden shelves are overplayed in barber shops, we really appreciate the attention the detail that comes with achieving it.
The comfy leather upholstery and the intricate knobs on the drawers give that authentically vintage look to the space.
Where it starts to all apart for us is in its range of services, or the lack thereof. Sadly, Goodfellas Dubai only offers haircuts, shaving, and beard and mustache trimming.
And while these cover the basics of a barber shop's services, it is severely lacking in specialized services that do more than just maintain the length and look of hair.
We really think that hair treatments, manicures and pedicures, and facial treatments would really go a long way for this barber shop.
As for its location, Goodfellas is located in downtown Dubai, accessible to almost everyone in the city. It's a great location because it serves both locals and tourists, with the shop found in one of the biggest commercial destinations downtown.
Friendly and competent service
Cool and relaxed atmosphere
Centrally located
Limited range of services
Only has 1 branch
Customer Reviews
Glad I found them the first time around
"I got my first haircut/shave in Dubai here and I've never gone anywhere else. Zaid does a fantastic job and I'd be hard pressed to find someone else that would do a better job. It's just nice to sit in the chair, say nothing and he knows exactly what to do. I highly recommend Zaid and GoodFellas for your next haircut." —Salvador Arteaga, Google Reviews
I highly recommend them
"I have been with Goodfellas Vintage since I moved to Dubai. After trying a few barbers I met BASEL and ever since I have been cutting my hair, shaving, and fading with him.
He looks for detail and attention and is a great modest barber.
Highly recommended!!!!
Thanks for the great consistent haircuts and beards" —Naji Safiti, Google Reviews
4. Fade & Shave Barbers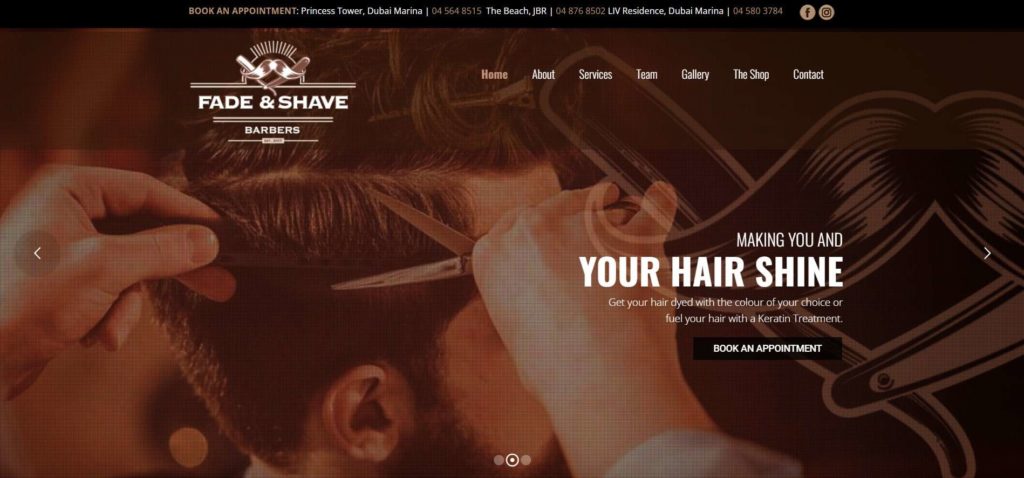 Test
Info
WEBSITE
http://fadeandshave.ae/
ADDRESS

Shop 1, MAG 218 Building, Marina Drive - Dubai Marina - Dubai - United Arab Emirates




Has 2 more locations within the city

CONTACT DETAILS
(+971) 4 564 8515
OPERATING HOURS
Sunday to Thursday: 10 am - 12 am

Friday to Saturday: 9 am - 12 am
| | |
| --- | --- |
| Criteria | Rating |
| Service | ★★★★★ (5/5) |
| Atmosphere | ★★★☆☆ (3/5) |
| Range of Services | ★★★★★ (5/5) |
| Location | ★★★★★ (5/5) |
This quaint boutique-style barber shop in Dubai Marina is one of our favorites because of its versatile and highly-skilled team that combines traditional fundamentals with modern sensibilities.
Karam has been getting his haircuts here ever since he moved to Dubai 2 years ago. Besides the convenient location, he says the barbers' skills are unrivaled.
We love how the barbers are handpicked for their expertise, ensuring that each has a certain skill level to execute haircuts to the customer's satisfaction.
As for its range of services, this is the most complete barber shop in terms of service variety. From keratin treatments and massages to manicures and pedicures, on top of the basics, Fade & Shave boasts numerous services that cover the whole gamut of men's grooming.
However, one of its weak points is definitely the atmosphere of the space. Despite the great music and free wifi, the barber shop looks far from luxurious.
We feel like the styling feels too cluttered and busy, with wires and bottles everywhere we looked. On top of that, the walls and flooring feel mundane, like we could be at anybody's house.
But the shop makes up for it in accessibility. It has 3 branches found all over the city, and all strategically placed for maximum convenience.
Versatile and highly-skilled team
Wide range of services
Has multiple branches all over the city
Busy and cluttered space
Atmosphere feels mundane
Customer Reviews
Our barber was the best!
"Holiday in Dubai and lockdown back home. I and my brother did not have a haircut in 4 weeks' time. We called fades and Shave and Spoke to Anwar at 23:10 (shop closes at 00:00) and we arrived at 23:30. Anwar took out the time to cut us both and kept the shop open way past closing time (we were getting cut till 00:40) and he did a great job. He is a very skilled and excellent barber.
No hurry in cutting our hair,
great service and of course a great haircut for us both. Highly recommend Anwar from Fade & Shave." —Nabeel Siddiqie, Google Reviews
Will keep coming back
"Great guys have been here already a couple of times and are very satisfied with the haircut and they do. I was lucky to get a cut from Shadi today, I never had a nicer lineup before. The guy deserves 5 big stars if you go there make sure you ask for him.
Definitely, I'll be returning." — Talal Hakim, Google Reviews
5. Akin Barbershop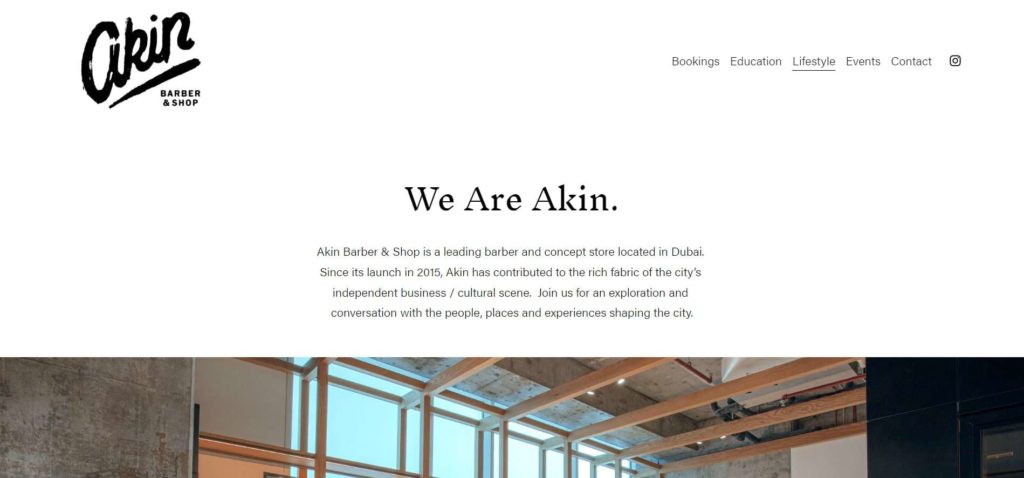 Test
Info
WEBSITE
akinbarbershop.com
ADDRESS

Round About, Burj Al Salam - 6th St - Trade Centre - Trade Centre 1 - Dubai - United Arab Emirates




Has 1 more branch in the city

CONTACT DETAILS
+971 52 364 7092
OPERATING HOURS
Every day: 9 am - 8 pm
| | |
| --- | --- |
| Criteria | Rating |
| Service | ★★★★★ (5/5) |
| Atmosphere | ★★★★★ (5/5) |
| Range of Services | ★★★★☆ (4/5) |
| Location | ★★★★☆ (4/5) |
A contemporary concept store and a leading barber shop, Akin Barber Shop has been putting the indie business and cultural scene in the city's spotlight since 2015.
A community first and a barber shop second, we love that Akin is composed of multidisciplinary people who have their own craft coming together to make this space.
Hasan, who fell in love with the barber shop the moment he stepped into it, has been getting his hair cut here for the past 2 years.
He shared with us that he loved the indie chic vibe that the space and the service offer. He feels like he's coming in to hang out with friends while getting a haircut.
We love that the team is composed of dynamic and creative individuals, always looking to try out something new. This makes them our favorite for when we want to try out a new haircut.
As for its atmosphere, that's where this shop really shines. Bare cement walls paired with geometric tiles give the whole place a really clean and hygienic feel.
The beautiful white leather chairs and the exposed ceiling give it that understated cool chicness that's hard to achieve without looking pretentious.
We also love that to complete our experience here, we enjoyed the great coffee selections brewed by its in-house barista.
When it comes to its services, it has enough to cover a great range of hair grooming needs.
From haircuts and shaves to hair treatments, Akin Barber Shop has all you need for hair needs. However, other than that, there is nothing else.
We think that offering other grooming services for other body parts would greatly give it more versatility that could help round out the shop.
As for its location, it's great that it has 2 locations in the city. However, the address of these locations is somewhat strange, in our opinion.
They are literally a 10-minute drive away from each other, which means it doesn't have wide coverage of the city.
Creative and dynamic team
Friendly and excellent service
Amazing indie chic atmosphere
Has numerous hair grooming services
Has 2 branches
Lacks more services for other body parts
Branches are situated near each other
Customer Reviews
Amazing service
"Have been going to Akin for years now and got a haircut from Kate today. Excellent work done, calm, clean, and well done with the haircut. Didn't have to guide her or anything. Well done Kate! Will definitely come back for more." —Zouheir Barake, Google Reviews
I love the personalized service
"By far the best barber in Dubai, the haircuts and beard trims are always on point. I really love the personalized service you get from start to finish and at the great price point." —Sammie Khodr, Google Reviews
FAQs about Barber Shops in Dubai
---
We hope this helped you in finding your favorite barbershop. Also, if you're looking for other self-care guides, then check out these articles: