Top Ten Street Food Spots in Dubai
Hungry but a little pressed for time? Don't fret as we can guide you to some really amazing street food dining spots here in Dubai for quick stops on your work or tour breaks!
Whether you're hungry for some nice, Asian-inspired sticks or even a small bowl of hot soup for a windy day, check out our favorite street food places and dining spots here in Dubai!
Spend a Lovely Evening at Shiraz Nights
Menu: Breakfast, Sandwiches, Trays, Mains, Appetizers
Location: Opposite Kuwaiti Supermarket, Street 18 A, Baniyas Square, Baniyas, Dubai
Social Media: Instagram; Facebook
Website: https://www.shiraz-nights.com/ 
Hours: Mondays – Sundays: 8:00 AM to 2:00 AM
Price Range: $$$$
With a specialization in Persian cuisine, Shiraz Nights provides good quality meals at low prices, ensuring good value for money and a filling meal for every customer that walks through its doors.
Shawarma would be their most well-known pick– though, as it's a crowd favorite, customers must be prepared for a slight wait for it. Nevertheless, they are guaranteed to always be properly grilled and a good, hearty part of the meal. 
Of course, keeping in line with the restaurant's focus on meat dishes, their kebabs are a popular item. As it is served along with a healthy helping of rice, the portion can be rather large, even just for one person, so keep it in mind.
Saffron in general features in a good amount of the dishes on the Shiraz Nights menu, and it counts towards their sweets as well, such as in their saffron rice cake– which makes a good end to the meal. 
Pro Tip: 

Take note that every meal comes with its free salad, yogurt and halwa– keep it in mind before going gung-ho on ordering lest you end up eating too much!
Enjoy Delicious Sandwiches at Basatta Street Food
Menu: Saj Collection, Sandwiches, Platters, Hawawashi, Rice Bowls
Location: Cloud Restaurant L.L.C, Orra Marina Tower, Marina Promenade, Dubai Marina, Dubai
Social Media: Instagram; Facebook
Website: https://www.basatta.com/ 
Hours: Mondays – Sundays: 10:30 AM to 2:00 AM
Price Range: $$$
Though initially focused on delivery, those looking to sit down and enjoy some street food should definitely pay a visit to one of Basatta's outlets. It's a great spot for those looking for classic Arabic street food in the city.
For a filling meal, consider ordering one of their fatteh rice bowls. It is topped with shawarma with meats of the customer's choice and spiced with garlic dressing, making it a good pick for a quick lunch or dinner.
Otherwise, the restaurant is also famous for its sandwiches and sliders. The chicken shawarma sandwich comes with pickles and garlic dressing, with the shawarma strips cooked on a skewer before being placed within the sandwich. 
As it incorporates bits of Egyptian cuisine into its menu, one sweet treat that is a must-try in the restaurant is their Egyptian rice pudding. The milk it uses is thick and the usage of shorter grained rice makes for a more filling pudding overall. 
Pro Tip: 

If you want to bring home a taste of Basatta to your group or family, make sure to order one of their Sliders Sharing Boxes, filled with six to twelve of their signature sandwiches.
Take a Lovely Walk Down Soul Street
Menu: Starters, Mains, Street Style Grilled BBQ, Dessert, Soul Street Signatures
Location: FIVE Jumeirah Village Hotel, District 14, Street 1, Jumeirah Village, Dubai
Social Media: Instagram; Facebook
Website: https://soul.st/dubai/ 
Hours: Mondays – Sundays: 12:30 PM to 3:00 AM
Price Range: $$$
Soul Street offers not just an amazing array of different street food, it also has a great nightlife experience. It's definitely a good final stop after touring the city the whole day with friends or colleagues.
Their starter menu is extensive, with over four cuisines featured– Asian, Indian, European, and Latin. The tacos are a crowd favorite, with an entire event dedicated to them, even, and are made with slow cooked beef to ensure flavor.
Another breakout hit would be their salmon sushi starter, featuring only the freshest cuts of salmon. The fish is rather fatty and sweet, and melts in the mouth, making it a good entry to the following meals. 
The Pad Thai, featuring shrimp, eggs, peanuts and oyster sauce, is a popular main course to take in. A surprising factor is its unexpected spicy kick, which is sure to get any guest awake enough to enjoy the night ahead. 
Pro Tip: 

If you're visiting on a Saturday, try not to miss out on Soul Street's Nomad Brunch– free-flowing drinks and bottomless street food for everybody. 
Dine Like Royalty at the Sultan Dubai Falafel Restaurant
Menu: Falafel, Shawarma, Grilled, Light Meals, Sweets
Location: 24 Al Muraqqabat St, Deira, Dubai
Social Media: Instagram; Facebook
Website: https://www.instagram.com/falafelsd/?hl=en 
Hours: 
Sundays – Fridays: 8:00 AM to 1:00 AM
Thursdays – Saturdays: 8:00 AM to 1:30 AM
Price Range: $$
With a roadside location along the Al Muraqqabat Street, the Sultan Dubai Falafel Restaurant is a reliable pick for some classic, traditional Lebanese cuisine. Outdoor seating ensures comfort when dining at the restaurant, as well.
As given in their name, the restaurant's stand-out pick would be its falafel sandwiches– which are very flavorful and fresh. They're perfect for sharing, too, because they come at a rather low price.
For another stand-out dish, the restaurant's shawarma and meat offerings also should not be passed up on. Customers hoping to take home a taste of the restaurant can try going for their meat kebab platters– featuring over a kilogram of grilled meats.
Lastly, for an out of the norm recommendation, their pizzas are also very flavorful and well-received, along with being not too oily, which makes it a filling but still light meal. 
Pro Tip: 

The restaurant features a special rotating menu called their Daily Meal– be sure to check on which ones are on offer for the day you visit. 
Get a Taste of Italy in Vicolo Italian Street Food
Menu: From Italy with Love, Insalate, Italian Street Food, Pasta al Dente, Pizza and More
Location: Ground Floor, Building 4, Dubai Design District (D3), Dubai Design District, Dubai
Social Media: Instagram; Facebook
Website: http://vicolodubai.com/ 
Hours: 
Mondays – Fridays: 8:00 AM to 11:00 PM
Saturdays – Sundays: 10:00 AM to 11:00 PM
Price Range: $
When it comes to Italian cuisine, their street food is not usually the example that comes to mind– which is the exact corner of the market that Vicolo targets. Its menu brings lesser-known Italian foods to the Dubai tabletop. 
Seafood lovers can try starting with their frittura di strada, which is crispy fried squid and tartar sauce. Aside from being a light and refreshing pick with its faint taste of lime, it is also one of the more familiar offerings.
Those who enjoy vegetables, on the other hand, may be interested in their parmigiana. A savory eggplant cake served with tomato, basil and cheese should tickle anyone's fancy.
Lastly, for a heartier option, Vicolo offers a good amount of customization on its menu, ranging from build your own pasta dishes to even your very own Italian paninis. This freedom of customization is part of its appeal. 
Pro Tip: 

Vicolo's focus on customization doesn't end there just yet– if you ordered a Pizza Romana, then you can get it upgraded with additional toppings for a fairly low price! 
Enjoy your Daily Fix at The Daily DXB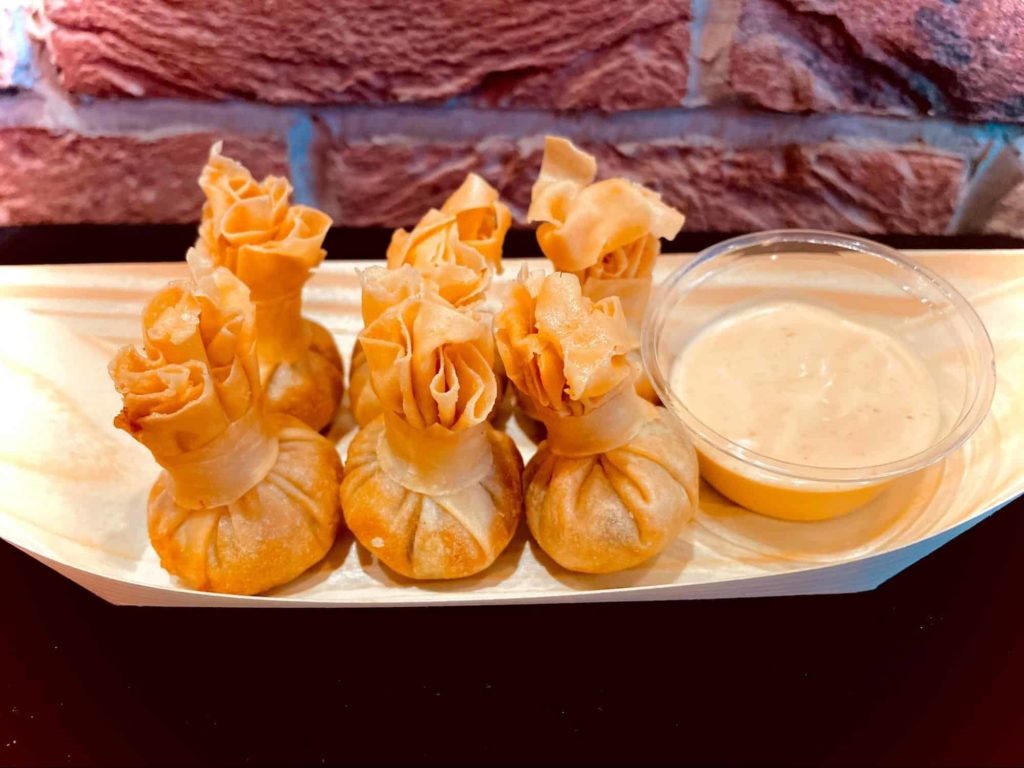 Menu: The Roost, Walk The Wok, St. Mia, Wanna Poke, The Market
Location: Dubai International Airport, Terminal 3, Concourse B, Dubai
Social Media: Instagram; Facebook
Website: https://www.lagardere-tr.com/en/brands/daily-dxb 
Hours: Open 24 hours, 7 days a week
Price Range: $
With a position at the Dubai International Airport, The Daily DXB has a rather unique presentation. Instead of being just one restaurant, it splits itself up into five kiosks, all specializing in different cuisines. 
The main crowd favorite would be their Asian dishes in the Walk the Wok kiosk, particularly their ramen. The shoyu ramen is a stand-out, with bamboo shoots, chicken broth and the customer's choice of meat.
Customers who prefer something healthier can try the Wanna Poke kiosk, serving customizable poke bowls that are made with fresh ingredients. This customization allows both vegan and nonvegan palates to be satisfied.
Lastly, for something more filling before a flight, the pizzas served at the restaurant are also a good choice. The truffle chicken alfredo pizza with white sauce is a crowd favorite, especially with its large portion sizes. 
Pro Tip: 

Due to the presence of five different kiosks with all their own menus, the staff are willing to give recommendations based on your tastes, such as your preference of sauce on pizza. 
Order an Authentic Pita at Pita Greek
Menu: Street Bites, Pitas, Greek Sweets and Drinks, Breakfast, Main Course
Location: Downtown Kitchens, Fountain Views, Sheikh Mohammed Bin Rashid Boulevard, Downtown Dubai, Dubai
Social Media: Instagram; Facebook
Website: http://www.pitagreekdubai.com/ 
Hours: Mondays – Sundays: 9:00 AM to 11:00 PM
Price Range: $
Pita Greek already features both its main specializations in the name– Greek cuisine and pita bread. The restaurant's laidback, street-food concept, parking spaces and indoor/outdoor seating make it a good place to unwind for a while. 
To start with, the pita bread made in the restaurant is all handmade, using traditional methods. The kebab pita with minced lamb and roasted pepper sauce is a rather popular choice, along with the kopanisti for vegetarians.
For something lighter, the offerings on their street bites menu are also all good choices. We recommend the Hercules' fries, though be warned that the garlic sauce and roasted pepper sauce both have quite the kick to them.
Finally, for sharing a sweet treat, the Greek yogurt sundae is made with caramelized bananas and chocolate sauce. The serving size is also large, which also makes it perfect for sharing. 
Pro Tip: 

Pita Greek's location gives it a rather amazing view of the Burj Khalifa in the distance. You can try to get an outdoor seat to fully appreciate the view. 
Create Your Own Combo Meal at Hangry Sticks
Menu: Choose Your Sticks, Main, Side Dish, Create your Combo, Cold Drinks
Location: 230 Jumeirah St, Jumeirah, Jumeirah 1, Dubai
Social Media: Instagram; Facebook
Website: https://www.instagram.com/hangrysticks/?hl=en 
Hours: Mondays – Sundays: 11:00 AM to 12:00 AM
Price Range: $
Hangry Sticks has a focus on Thai cuisine and street food, with some rather unique choices on their menu. Though small, the dining area should be a good place to put your feet up and relax with some light meals.
A good starter would be their best selling tom yum soup. It already comes with rather large shrimps and mushrooms, and the broth simmered with herbs and traditional Thai spices is very flavorful.
Their sticks, as stated by their name, is the main highlight of the restaurant– all of the offerings marinated and basted with their own homemade sauce. The whole grilled squid is a must-try, especially with a side of their spicy sauces. 
For some good value for money at the restaurant, you can try ordering the rice combo set. For only around 40 AED, you can get three sticks, rice, and a soft drink and dip of choice to go along with it. 
Pro Tip: 

If you want to take home the restaurant's sticks, then you can look into their set offerings– you can get anywhere from 6 to 130 sticks, which makes it a perfect snack for large gatherings and groups. 
Wok This Way with Wok Boyz
Menu: Soups, Appetizers, Wok Your Way, Signature Street Food, Add-Ons
Location: Ground Floor, Al Durrah Tower, Sheikh Zayed Road, Trade Centre Area, Dubai
Social Media: Instagram; Facebook
Website: http://www.wokboyz.com/ 
Hours: 
Sundays – Thursdays: 11:30 AM to 11:45 PM
Fridays – Saturdays: 11:30 AM to 1:15 AM
Price Range: $
Wok Boyz, as the name implies, is a restaurant that has a focus on bringing the street food of the Far East to Dubai. With its menu packed with the various street foods of Asian cuisine, there's always something for even the pickiest of eaters.
Its signature street food menu starts with the classic Pad Thai, which customers can get with a variety of toppings. To go along with it is curry laksa, a Malaysian soup with steamed noodles and choice of prawn, chicken, or vegetables. 
For customers who prefer rice over noodles, the nasi goreng served is also quite nice. Aromatic, earthy and smoky, it serves for a good pick-me-up to stave off hunger pangs on a daily commute.
Finally, there's also their ramen. Nothing beats a hearty bowl of ramen as a good evening meal– with a stand-out being their mixed meat bowl, coming with chicken, beef and prawns to supplement the delicious broth. 
Pro Tip: 

If you have a hankering for something more custom, the Wok Your Way offer by the Wok Boyz allows you to customize your very own bowl, with your own noodles, proteins, vegetables and toppings. 
Fall Head Over Heels for the Thali at Rangoli
Menu: Breakfast, Special Chaat, South Indian, Soups, Combos & Mealbox
Location: Shop 10, Ground Floor, Al Kifaf Oasis Building, Street 4 A, Al Karama, Dubai
Social Media: Instagram; Facebook
Website: http://www.rangolirestaurants.com/ 
Hours: Mondays – Sundays: 9:00 AM to 11:30 PM
Price Range: $
Rangoli is a restaurant specializing in Indian cuisine, with a menu doing its best to feature as much of the varied dishes the cuisine brings as it can. With vegetarian and vegan friendly options, it's sure to satisfy any palate. 
The first stand-out pick from their extensive Indian menu is their tikka masala, particularly the paneer tikka masala. With paneer cooked in red gravy and capsicum cubes, the spice is sure to be an exciting challenge.
For customers that aren't particularly fond of spice, though, we recommend going for one of their curries instead– especially the malai kofta. This curry, made with neutral ingredients and soft, fried potato balls, is a filling and flavorful choice.
Last but not least, the restaurant also offers sweets– with a popular choice being their kulfi, which is traditional Indian ice cream. With the dessert being served on a stick, it does bring a feeling of street food. 
Pro Tip: 

Visitors unsure of what to order due to the large menu can get their Special Gujarati Thali. It's basically a sampler that already contains small servings of each type of snack they serve.
---
Dubai has plenty of amazing spots not just for fancy fine dining but also for casual eating inside or outside most establishments. We hope you're able to enjoy our list of amazing street food spots here in Dubai.
If you're interested in other gastronomic spots, check out our guide to affordable food in Dubai or our top fine dining spots in Dubai here!